September, 8, 2011
9/08/11
10:15
AM ET
There aren't any games on the ACC schedule this week that are going to really earn much national spotlight, but there are some important games and potential upsets brewing. Here are 10 things to watch in Week 2, in no particular order:
1. Records at Virginia Tech.
Coach Frank Beamer is one win shy of 200 during his career at Virginia Tech, and receiver
Jarrett Boykin
needs just two more catches to become the school's all-time leader in receptions. If Beamer beats East Carolina, he will join only nine other FBS head coaches who have won that many games at one school.
[+] Enlarge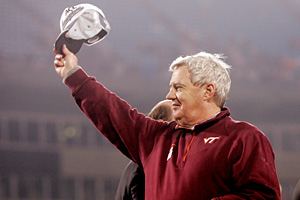 Jeff Blake/US PresswireFrank Beamer can win his 200th game at Virginia Tech this weekend.
2. NC State's offensive line.
Quarterback
Mike Glennon
put up respectable numbers in his starting debut, but it didn't help that he was sacked four times, including a blind-side hit that jarred the ball loose and was returned for a touchdown.
3. Wake Forest linebacker Kyle Wilber.
Speaking of sacks against NC State, Wilber is one shy of moving into the top 10 on the school's career list for sacks. He's also worth watching on special teams. He had the fourth blocked kick of his career against Syracuse when he knocked down a field goal attempt with 2:07 left to play.
4. Georgia Tech's passing game.
The Yellow Jackets' passing game flourished like never before under coach Paul Johnson, but can they keep it up on the road against better competition?
5. Boston College's defense.
The Eagles led the nation a year ago in rushing defense, but allowed Northwestern 227 yards on the ground last weekend. Next up is a Central Florida offense that just racked up 560 total yards against an overmatched Charleston Southern team.
6. Talented true freshmen.
There were rookies making their debuts all over the ACC last weekend, but some proved right away they're going to make an impact this year. At Virginia, true freshman cornerback Demetrious Nicholson returned an interception 31 yards and
Darius Jennings
had a team-best 13 plays that went for 20 or more yards. At Clemson, three different freshmen scored touchdowns in
Sammy Watkins
,
Mike Bellamy
and
D.J. Howard
. FSU played 11 true freshmen.
7. Florida State's defense.
It was definitely a highlight in the season opener against Louisiana-Monroe, but the program has never posted back-to-back shutouts during its tenure in the ACC. This could be the first, as Charleston Southern is coming off a 62-0 drubbing by Central Florida. The Noles haven't had back-to-back shutouts since 1980.
8. Clemson quarterback Tajh Boyd.
He was a different player between the first and second half against Troy last week. Which one will show up for four quarters against Wofford on Saturday? At halftime Clemson trailed 16-13, and Boyd was just 6-of-12 for 65 yards. He wound up throwing for 264 yards and three touchdowns.
9. BC receiver Jonathan Coleman.
He is taking over for injured teammate
Ifeanyi Momah
, who suffered a season-ending left knee injury (ACL) against Northwestern. The sophomore played in all 12 games last year and had 14 catches for 260 yards. More will be needed from him now.
10. UNC cornerback Charles Brown.
He's making his first appearance this year after missing all of last season as a result of the NCAA's academic investigation and sitting out the James Madison game for accepting $86.94 worth of benefits. Brown has six career interceptions for 191 yards.
July, 24, 2011
7/24/11
9:41
PM ET

Boston College:
Linebacker Luke Kuechly led the nation last year with 110 tackles -- so many that his dad often gave him grief last year about how many were legitimate. "He's always like, 'You just walk by the ball and they give you tackles,'" Kuechly said with a laugh. "I'm like, 'Dad, man, I'm working for those.' He said, 'No, you're not, they're just tallying them up for you.'"

Clemson:
The pace of Clemson's offense has sped up under first-year coordinator Chad Morris, and it starts at the heart of the line. Instead of looking to the sideline and getting the play, Clemson center Dalton Freeman said he's running straight to the ball. "When you're looking at the sideline for a couple of years, waiting to hear the signal, to going straight to the ball and getting into your stance, it's a big transition but it's been a smooth one."

Duke:
Quarterback
Sean Renfree
said his improved decision-making was the biggest difference down the stretch last season. "Towards the end of the season I was thinking you don't have to score every series," he said. "Do the little things to give yourself a chance in the fourth quarter." Renfree, who's visibly bigger, faster and stronger, said he's much more confident entering his second season as starter.

Florida State:
The Seminoles are already preparing for their Sept. 17 home game against Oklahoma. "I watch film on them every day," said defensive end Brandon Jenkins. "That's a key factor." Jenkins said last year's 47-17 loss stuck with them for a long time, but they're "going to try to change that this year." He said the Noles have grown most in leadership and maturity since that loss.

Georgia Tech:
While Georgia Tech might not find its next 1,000-yard rusher this fall, A-back
Roddy Jones
said the Jackets will get their yards by committee this year. "I think there will definitely be at least two," he said of the B-backs. "We have four who are capable of doing the job. I don't think any of them will be as explosive as [Jon] Dwyer was, but every single one is capable of being as effective as Anthony [Allen] was."

Maryland:
Linebacker Kenny Tate said his move from safety to linebacker isn't as significant as some might think. "It's really not a huge change," he said. "… I still have the freedom to move around, I'm just closer to the line." Tate said he has heard that the move could be a boost in his NFL stock because he can showcase his ability to blitz and also play safety.

Miami:
The Hurricanes will be hunkered down in a hotel to stay focused during the first few weeks of summer camp, according to center Tyler Horn -- who said the team could use it. "Obviously what we did last year was not good enough," Horn said. "The focus has been an emphasis and being mentally tough … Nothing but good can come out of it."

North Carolina:
Quarterback
Bryn Renner
lost a video game to offensive lineman Jonathan Cooper, and Cooper immediately got the silent treatment. Cooper said Renner is "very competitive. He hates to lose." One of the adjustments Renner will have to make, Cooper said, is accepting the ups and downs of his position. "You're not always going to be the glory guy, you're going to have to take some of the falls with it as well."

NC State:
Tight end
George Bryan
said he kept his personal feelings out of former quarterback Russell Wilson's decision to transfer. He didn't know until he found about it on TV. "I trust whatever decision was made," he said. Bryan said he hopes Wilson does well at Wisconsin. "If it's on TV, I'll definitely watch it and be cheering for him."

Virginia:
Cornerback Chase Minnifield said he "doesn't have many expectations" for himself: Just an All-American, All-ACC, and the best corner in the country. "I don't really care what my interceptions are," he said. "I think a good corner is a guy who doesn't give up too many passes and doesn't give up any touchdowns. If I can get that done, I'll be all right."

Virginia Tech:
Safety Eddie Whitley said he has seen quarterback
Logan Thomas
making "big strides, even from spring to now." Whitley said Thomas is ahead of the curve, but expects opponents to disrespect Thomas' IQ and arm strength. During voluntary workouts this summer, Thomas would run a play, and ask Whitley what coverage the defense was in and why, and how he can throw the ball better against it.

Wake Forest:
One priority for the defense is creating turnovers, as the Demon Deacons ranked tied for No. 94 in the country last season with 17. Linebacker Kyle Wilber said the players were young, "cocky and arrogant" and thought they were going to easily strip the ball last year. "If we don't help out our offense and put them in the best position they can be in, how do we expect to win?"
September, 3, 2009
9/03/09
9:32
AM ET

Posted by ESPN.com's Tim Griffin
Iowa State 31, North Dakota State 17 (Thursday):
The Paul Rhoads era begins Thursday in Ames against a tricky opponent in the Bison, who are 3-2 in their last five games against FBS opponents -- including a victory at Minnesota in 2007. They'll challenge a young Iowa State team struggling to find its identity on defense. But even with those uncertainties, Craig Bohl's team likely won't have enough offense to stick with
Austen Arnaud
and Co. in their first game running Tom Herman's no-huddle defense.
Baylor 31, Wake Forest 28:
The Bears learned their lesson last season in Waco, falling into an early 17-0 deficit before losing a 41-13 blowout. Art Briles decided not to start Robert Griffin in that game, but he's been in the Bears' starting lineup ever since. The key will be the performance of new Baylor tackles Danny Watkins and Phillip Blake, who will protect Griffin from Wake Forest's pass rush. Wake Forest starting defensive ends Tristan Dorty and Kyle Wilber have accounted for only seven career starts and will be outweighed by more than 50 pounds per man by the Baylor tackles. The Bears rushed for at least 200 yards in four of the last five games last season. If they can maintain that balance with Griffin's passing on Saturday, they can steal an upset victory.
Oklahoma State 34, Georgia 31:
Mike Gundy's team comes into this game with more hype than any Oklahoma State team in history with the highest national ranking to start the season. The Cowboys will face a couple of potentially troubling personnel losses after starting tight end
Jamal Mosley
(quit team) and starting middle linebacker Orie Lemon (season-ending knee injury) were lost earlier this week. The Cowboys won't be facing a team unaccustomed to road success as Mark Richt's team is an incredible 30-4 on the road, including a 5-2 road record against top 10 teams. The Bulldogs will be a physical challenge and hammer away at the Oklahoma State defense that struggled late last season. But I'm expecting the Oklahoma State offensive triplets to prove too much for Georgia in a shootout.
Illinois 35, Missouri 31:
The Illini are looking to turn the tables after losing four straight against the Tigers in the annual Arch Rivalry since it returned to St. Louis in 2002. Missouri quarterback
Blaine Gabbert
will make his first career start, only a few long touchdowns passes from his old high school in the St. Louis area. Missouri linebacker Sean Weatherspoon has played big against the Illini in previous seasons with two interceptions last season. He's promised to "squeeze the pulp" out of Illinois quarterback
Juice Williams
again this season. But in the end, Williams' experience and play-making abilities will prove to be a little much for the Tigers to overcome.
Nebraska 45, Florida Atlantic 17:
Zac Lee
makes his first career start as the Cornhuskers attempt to build on momentum that saw them finish with a four-game winning streak, punctuating that with a Gator Bowl victory over Clemson. It will be important for the Cornhuskers to get a lot of work for an inexperienced set of running backs that features only two players -- Roy Helu Jr. and
Marcus Mendoza
-- with previous college experience. The Cornhuskers will face old rival Howard Schnellenberger, who claimed a memorable national championship while at Miami by beating them in the 1984 Orange Bowl. The Owls are coming off a victory over Central Michigan in the Motor City Bowl. Quarterback
Rusty Smith
was the MVP of that game and comes into the contest as the Sun Belt Conference's leading career passer. But look for Nebraska's talented defensive front to repeatedly pressure him and set the tone for the victory.
Oklahoma 48, BYU 20:
The Sooners and Cougars christen the Dallas Cowboys' new stadium in Arlington, Texas, in its first college football game. Both teams are alike on offense as they have standout quarterbacks and tight ends and rebuilt offensive lines that are question marks coming into the game. Look for Oklahoma's dominance along the defensive front to be the difference in this game, helping to extend BYU's losing streak of 12 games to ranked nonconference opponents. BYU quarterback
Max Hall
struggled against better opponents last season and will be flummoxed by Oklahoma's veteran defense that returns nine starters from last season.
Texas A&M 28, New Mexico 17:
Mike Sherman and the Aggies will be looking for a better start than last season, when they dropped a season-opening loss to Arkansas State that deflated much of his momentum in starting the program. Look for the Aggies to play better Saturday with improved play in the trenches after their struggles last season. A&M running backs
Cyrus Gray
and
Christine Michael
should be primed to dictate the pace.
Texas 51, Louisiana-Monroe 7:
The Longhorns start off a pillow-soft nonconference schedule and shouldn't face much of a challenge from the War Hawks, who finished 4-8 last season and were picked to finish seventh in the Sun Belt this season.
Colt McCoy
returns for his fourth season as starter and the Longhorns' offense should prove multiple problems for the smaller Louisiana-Monroe team. Watch for Texas to try to feature
Vondrell McGee
as it hopes to give him a chance to grow into a comfortable role in the offense. The Longhorns have won their last nine openers by a margin of 43 points. This one should be right in that range.
Kansas 55, Northern Colorado 10:
Mark Mangino's team comes in with more hype about a potential Big 12 North title than in any previous season in school history. The Jayhawks shouldn't be challenged much by a Northern Colorado team that was 1-10 last season and has lost its last two openers to FBS schools by an average of 44.5 points per game. Look for
Todd Reesing
and an explosive set of Kansas wide receivers to have a huge night against the outmanned Bears.
Texas Tech 56, North Dakota 10:
It's a name the margin game for the Red Raiders, who will be trying to build the confidence of a developing offense keyed by new quarterback
Taylor Potts
. Mike Leach has won six straight openers, scoring an average of 45.7 points per game. I'm expecting a big offensive showing by a group intent on showing it still has firepower even after Graham Harrell and Michael Crabtree are gone.
Kansas State 31, Massachusetts 14:
It's reunion weekend as Bill Snyder returns to the sideline to begin his second tour of duty after a three-season sabbatical.
Carson Coffman
will get the nod at quarterback and celebrated junior college transfer Daniel Thomas gets the start at running back. The Minutemen hope for better luck than their last game against a Big 12 team when they were blown out at Texas Tech last season. Look for them to stay closer, but they'll be facing too much emotion for them to overcome in Manhattan with Snyder's return.
Colorado 24, Colorado State 14 (Sunday):
Dan Hawkins plans to wait until game day to name his starter. It shouldn't matter if the Buffaloes' running attack plays to its level against a CSU defensive front that allowed 190 rushing yards last season and returns only one starter. Colorado State is inexperienced at quarterback and the Buffaloes should prevail -- no matter who is their quarterback.