NCF Nation:

Lance Thompson
January, 17, 2012
1/17/12
11:09
AM ET
One thing's for sure about Alabama coach Nick Saban when it comes to hiring assistant coaches: He's flexible.
Look at his last two hires.
New offensive coordinator Doug Nussmeier comes to Alabama after spending the last three seasons as Washington's offensive coordinator. Nussmeier has never previously worked under Saban, although Nussmeier has worked with people Saban has worked with, including former Alabama offensive coordinator Jim McElwain, the man Nussmeier is replacing.
[+] Enlarge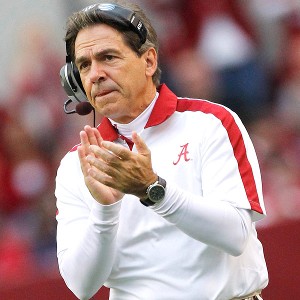 AP Photo/Dave MartinAlabama coach Nick Saban has had a busy offseason already, hiring a new offensive coordinator and a new outslide linebackers coach.
Nussmeier and McElwain also previously worked as offensive coordinators at Fresno State under former Fresno State coach Pat Hill, who told The Birmingham News that Nussmeier had a lot of the same qualities as McElwain. Hill and Saban worked together as assistants with the Cleveland Browns in the early 1990s.
Then there's new outside linebackers coach Lance Thompson, who's embarking on his third different stint under Saban. Not only that, but Thompson left Alabama following the 2008 season for a job on Tennessee's staff when Lane Kiffin assembled the highest-paid collection of assistant coaches in the country.
Thompson worked for Saban at LSU in 2002 and 2003 before rejoining him at Alabama in 2007. Thompson spent the last three seasons on the Vols' staff, but wasn't considered by Derek Dooley for the defensive coordinator's job and was looking to get out. It just so happened that Alabama had an opening after Sal Sunseri was hired as the Vols' new defensive coordinator.
So, in essence, the Crimson Tide and Vols swapped.
There's also a back story here that will no doubt be downplayed at Alabama now that Thompson is back with the Crimson Tide.
But remember Kiffin's loudmouthed tour around the state of Tennessee following national signing day in 2009?
It's when he made his infamous comments about Urban Meyer allegedly cheating in an attempt to get Nu'Keese Richardson. Of course, Kiffin was dead wrong in his understanding of the NCAA rules (
imagine that
) and wound up being reprimanded by the SEC.
During that same "signing day celebration" tour, Thompson also reportedly popped off about Saban and referred to Saban as the "other guy."
And according to the Knoxville News-Sentinel, Thompson boasted to a crowd in Knoxville of Saban: "He ain't getting any more of my (recruits)."
Kiffin added: "Nick Saban should have started his (signing day) press conference by saying, 'Our great class that we signed ... I'd really like to thank Lance (Thompson) because Lance signed eight of those guys.' "
It's merely a guess, but something says Saban and Thompson won't be doing any signing day tours around the state of Alabama this February.
But Thompson's return to the Capstone is proof that Saban can forgive and forget, and it's also worth noting that Thompson's reasons for leaving Alabama the first time weren't all football-related.
Either way, he's back and has a clean slate, and if he recruits the way he did the last time he was at Alabama, nobody in that state will even remember his time in orange.
January, 17, 2012
1/17/12
5:00
AM ET
Now that hiring season for head coaches is complete, here are three items about hiring assistants:
1. It's two weeks before signing date and Washington head coach Steve Sarkisian already has the best class ... of new assistant coaches. Sarkisian hired line coach Tosh Lupoi from Pac-12 North rival California, Lupoi's alma mater and only employer. Lupoi, known for his recruiting prowess, joins new coordinator Justin Wilcox and linebacker coach Peter Sirmon, both of whom who came from Tennessee.
2. Alabama head coach Nick Saban likes coaches who know what he expects, which is why he just hired Tennessee defensive line coach Lance Thompson … for the third time. Thompson went with Saban to Alabama in 2007 and left for Knoxville three years ago, which means Thompson missed both of the Crimson Tide's BCS titles (he won a ring with Saban and LSU in 2003). Out of the eight jobs that Thompson has held since 1995, Saban and George O'Leary (at Georgia Tech and UCF) each have hired him three times.
3. If you are looking for an example of grace and class in a difficult situation, read
Tom Bradley's statement
after 37 years as a student, player and coach at Penn State. Jay Paterno, Joe's son, also said goodbye after playing for his father and spending 17 years on his staff. I can't help but think, after all these years and all that stability, they are finally learning how the rest of the business lives -- at the whim of the head coach and his record.
January, 13, 2012
1/13/12
4:03
PM ET
South Carolina coach Steve Spurrier announced Friday that Joe Robinson will be the Gamecocks' new special teams coordinator and tight ends coach.
Robinson, who was the 2010 FootballScoop Special Teams Coordinator of the Year, joins South Carolina's staff after one season as North Carolina's defensive line coach.

He replaces John Butler, who left South Carolina this week to
join Penn State's staff
.
"We are pleased to announce Joe Robinson as our special teams coach," Spurrier said. "He has many years of experience and his special teams had the No. 1 overall ranking in the SEC in 2009. Our special teams will be in good hands under coach Robinson, and we look forward to having him and his family become Gamecocks."
Before arriving at North Carolina, Robinson spent three seasons as the defensive line coach and special teams coordinator at LSU. In 2010, the Tigers finished in the top 13 nationally in net punting, kickoff return average and punt return average. In 2009, LSU's special teams combined to rank No. 1 overall in the SEC, as the Tigers led the league in both kickoff coverage (44.5 net average) and punt returns (18.9). LSU was the only team in the league to rank among the top three in the conference in four special teams categories.
"I'm excited to be here and thankful to become part of Coach Spurrier's staff," Robinson said. "He's done a great job with this program and my family is excited about this opportunity."
Robinson's hire still leaves two vacancies on Spurrier's staff. He still has to find a replacement for running backs coach Jay Graham, who left for Tennessee, and must find someone to coach linebackers, now that defensive coordinator Ellis Johnson is the head coach at Southern Miss. Lorenzo Ward was promoted to defensive coordinator and will coach cornerbacks.
A few names to keep an eye on to coach South Carolina's linebackers are former Arkansas assistant Kirk Botkin and current Tennessee defensive line coach Lance Thompson, who coached linebackers in the past.
Air Force running backs coach Desmont Kitchings could also be looked at for the running backs job. He served as Vanderbilt's running backs coach from 2008-10, and offensive coordinator in 2010.
January, 22, 2009
1/22/09
6:42
PM ET
Posted by ESPN.com's Chris Low
Tennessee has thrown open its checkbook to assemble what athletic director Mike Hamilton referred to Thursday as the best staff in America.
It's also going to be the highest-paid staff in America in terms of the nine on-the-field assistants.
The Vols will pay their nine position coaches a total of $3.625 million in 2009, which includes a $300,000 retention bonus that defensive coordinator Monte Kiffin will receive on Dec. 31 of this year.
That's about $1.7 million more than Tennessee paid its nine assistants last season, although head coach Lane Kiffin ($2 million) is making $550,000 less than former head coach Phillip Fulmer ($2.55 million) would have made in 2009 under his old contract.
Alabama's nine assistants were the highest-paid group in the SEC a year ago at $2.4 million, but Tennessee's new salary structure blows that figure away.
According to a study done by The Oklahoman last July, Texas' nine assistants were slated to make $2,383,134 this past season. But that didn't reflect the $475,000 raise defensive coordinator Will Muschamp received in November when he was promoted to coach in waiting.
"While our coaches' salary model is unique, we feel it is a great model for Tennessee," Hamilton said. "Coach Kiffin understands the power of putting together a great team, and he used the budget we provided to assemble what many will consider to be the best staff in America."
All assistant coach contracts have liquidated damage clauses that would require the coach to pay the university approximately six months of their total 2009 compensation should they leave for a position equal to or less than their current position.
Here's a rundown of what each Tennessee assistant is making:
Monte Kiffin, defensive coordinator, $1,200,000*
Ed Orgeron, recruiting coordinator/defensive line, $650,000
Jim Chaney, offensive coordinator/offensive line, $380,000
Lance Thompson, linebackers, $350,000
Eddie Gran, running backs/special teams, $185,000
James Cregg, tight Ends/tackles, $150,000
David Reaves, quarterbacks, $150,000
Frank Wilson, receivers, $150,000
Willie Garza, secondary, $110,000
* Monte Kiffin will also receive a bonus of $300,000 on Dec. 31, 2009.
Chaney, Orgeron, Thompson and Monte Kiffin will all receive three-year contracts. The other assistant coaches will receive two-year deals.
January, 22, 2009
1/22/09
1:40
PM ET
Posted by ESPN.com's Chris Low
Once you get in this family, there's no getting out.
I keep thinking about that famous line from "The Sopranos" as I watch the assistants in the SEC change addresses within the conference at a dizzying pace.
That's not to mention the former SEC assistants, head coaches and players who have flocked back to the league this year and found their way onto different staffs.
I can't ever remember a year quite like this where jumping from one SEC port to another was this prevalent. In some cases, coaches were just looking for work. In others, coaches simply got better deals, while some jumped at the chance to reunite with guys they'd worked with in the past.
Consider:
Lance Thompson, after two years at Alabama under Nick Saban, joins Lane Kiffin's staff at Tennessee.
Former Auburn coach and linebacker James Willis leaves his alma mater for bitter rival Alabama to replace Thompson.
John Chavis ends up at LSU after 14 seasons as Tennessee's defensive coordinator.
Former Alabama defensive back Lorenzo Ward, after one year at Arkansas, leaves for South Carolina to reunite with Ellis Johnson, who left Arkansas a year earlier after spending 28 days on the Hogs' staff.
Trooper Taylor is back in the SEC at Auburn after spending last season at Oklahoma State and the previous four at Tennessee.
David Reaves leaves South Carolina for Tennessee to work under Kiffin, who is Reaves' brother-in-law.
Tracy Rocker leaves Ole Miss for Auburn, where he became the first SEC player in history to win the Outland Trophy and Lombardi Award in 1988.
Former Auburn defensive ends coach Terry Price replaces Rocker at Ole Miss.
Ron Cooper, after five years at South Carolina, leaves for LSU.
Former Ole Miss head coach Ed Orgeron is the recruiting coordinator and defensive line coach at Tennessee after spending last year with the New Orleans Saints.
Former Tennessee running back Jay Graham, who also worked as a graduate assistant for the Vols, is now the running backs coach at South Carolina.
Former Ole Miss assistant Frank Wilson has a cup of coffee at Mississippi State earlier this month before bolting for Tennessee.
Tony Hughes, after a year at Southern Miss, replaces Wilson at Mississippi State. Hughes worked under Orgeron all three years at Ole Miss.
Former Auburn assistant Eddie Gran lands at Tennessee.
Former Arkansas offensive coordinator Gus Malzahn is back in the SEC at Auburn after spending the last two years at Tulsa.
Carl Torbush, who last worked in the SEC as Alabama's defensive coordinator in 2002, is back in the league as Mississippi State's defensive coordinator.
January, 16, 2009
1/16/09
12:50
PM ET
Posted by ESPN.com's Chris Low
Scouring the SEC to see what else is out there: