NCF Nation:

Landon Walker
November, 29, 2011
11/29/11
9:00
AM ET
The Clemson team that will face Virginia Tech on Saturday in the Dr Pepper ACC championship game is not the same Clemson team that beat the Hokies 23-3 earlier this year.
That Clemson team was ranked No. 13 in the country and undefeated.
This
Clemson team is ranked No. 20 and has lost three of its past four.
"I feel like ever since obviously Virginia Tech's only loss, ever since that game they've been -- the sky's the limit for them they've been doing nothing but great things," said Clemson offensive lineman Landon Walker. "Every game they've played their offense has just gotten better every game.
[+] Enlarge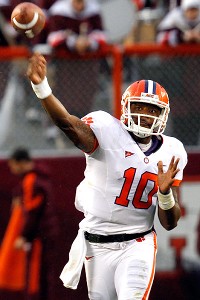 AP Photo/Steve HelberClemson needs Tajh Boyd to return to his early-season form if it hopes to knock off Virginia Tech.
"And it seems like we were going that way until about three weeks ago. Georgia Tech kind of was a downfall for us. We didn't play as good as we wanted to at Wake and obviously NC State and South Carolina. We haven't been ourselves the last three, four weeks."
There is only one game left for Clemson to determine which team it wants to be, and it's no mystery where the Tigers have come unraveled in the past month. It started with turnovers, as Clemson had 11 during a three-game span against Georgia Tech, Wake Forest and NC State. Turnovers, though, didn't entirely explain the program's third straight loss to rival South Carolina. Pass protection was a bigger factor, as quarterback
Tajh Boyd
was sacked five times. Three of those were the fault of the offensive line, which has allowed 11 sacks in two games and struggled without injured starter and senior left tackle Phillip Price, whose status is still questionable for Saturday.
"We're missing some plays, we're not protecting quite as well, and there's a combination of things, got a few guys that aren't playing quite as well as maybe they played earlier in the season," coach Dabo Swinney said. "But big-picture wise, again, we certainly didn't finish the way we wanted to, but we did finish with the second-best record in this league, and we're 9-3, and we've earned the right to play for the league title, and that's what we're focusing on, these four quarters."
Clemson's most complete performance of the season remains its 23-3 win over Virginia Tech on Oct. 1. The defense hasn't come anywhere near that kind of domination since, allowing an average of 35.5 points per game over the past six games. The only time one of Clemson's opponents hasn't scored more than 30 points during that span was in the win over Wake Forest, which lost 31-28 on a last-second field goal. The defense has also allowed an average of 420.3 total yards and 246 rushing yards in the three losses.
The focus, though, has been on Boyd, who earlier in the season had played his way into the Heisman Trophy conversation. Through the first eight games, Boyd had 24 touchdowns and three interceptions and the Tigers were undefeated. Since the win over North Carolina on Oct. 22 -- the last of the eight-game winning streak --Boyd has four touchdown passes to seven interceptions.
"I would say he's not playing with the confidence that he was at that time," Swinney said. "I think just the pressure and the sacks, quarterback pressure and the sacks, have been a problem, and then the turnovers. You know, all of those things affect especially a young player. He's a first-year starter and everything was going perfect for him, and then all of a sudden he's had some mistakes, and he's got to fight his way through it. That's his part of the growing pains of having a young quarterback. It's disappointing, but we've got to do a good job this week of making sure we give him a chance and make sure our protection is shored up."
That's not going to be easy against a Virginia Tech defense that is No. 8 in the country with 3.08 sacks per game.
Clemson has a lot of work to do if it's going to beat Virginia Tech twice this year, but if it does, the mistakes of the past four weeks will be overshadowed by the program's first ACC title since 1991.
"One of our goals was to win the state championship and beating South Carolina," tight end
Dwayne Allen
said. "But a bigger one, one that comes after that, is to win the ACC championship. And winning the championships, which is something that hasn't been done here in over 20 years, will wipe away the aches that we've been having with the taste of defeat the past couple of weeks."
There's only one championship left to win.
September, 24, 2011
9/24/11
9:43
PM ET
CLEMSON, S.C. -- This change didn't happen overnight.
In January, offensive coordinator Chad Morris was hired. In February, Clemson signed one of the most talented recruiting classes in the country. In March, an offensive overhaul began. And this past summer, quarterback
Tajh Boyd
said, some veterans on Clemson's roster got together and decided this season would be different.
With its
35-30 win
over No. 11 Florida State on Saturday, Clemson proved it is.
"We hear Clemson can't win two games back-to-back, Clemson can't do this, Clemson can't do that," Boyd said. "It's really fine because we have everything we need in this stadium right here."
[+] Enlarge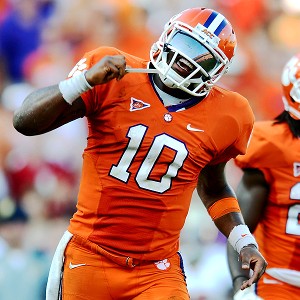 AP Photo/Richard ShiroTajh Boyd threw for 344 yards on 23-of-37 passing with three touchdowns in an upset win over No. 11-ranked Florida State.
Including back-to-back wins over ranked opponents.
In a span of two weeks, Clemson found ways to beat defending national champ Auburn, and a Florida State team that was lauded by many as a national title contender for 2011. For Clemson, a program widely regarded as one of the most inconsistent in the country, its 4-0 start proves the Tigers are capable of consistency. After all, it's only the second time in 23 years that Clemson has defeated Top 25 teams on back-to-back weekends and the first time they've done it at home. More importantly for the Tigers, though, Saturday's win came against a Florida State team heavily favored to win the Atlantic Division.
If you thought Florida State was "back," you might want to reconsider.
"We're back," said Clemson offensive lineman Dalton Freeman. "A lot of people have been doubting us and saying it's the same old team. In the past we've been very inconsistent, but a lot of things have changed and we're just hoping to keep the ball rolling. ... We're just clicking right now. If we can keep it rolling and continue to get better, we have a chance to be pretty special."
Now, as Clemson prepares to travel to Virginia Tech for its first road test of the season, it does so undefeated, with confidence, and with an early lead in the Atlantic Division race. While it's still very early in the conference schedule, Clemson's chances at returning to the ACC title game for the first time since 2009 look even better considering how Atlantic Division opponents Maryland, NC State and Boston College have struggled this month.
"The biggest thing, it's not 4-0, it's the first ACC game," defensive coordinator Kevin Steele said. "In this league, if you don't win that first one, it puts you behind the eight-ball. In that regard, it helps us to win that first one, because it makes it difficult if you don't. Somebody else is driving when that happens, particularly when it's a divisional game."
All of the hype in the ACC this past offseason belonged to Florida State -- in retrospect, probably a year too early. The Seminoles, whose misfortune with injuries to key players continued against the Tigers, struggled to run the ball and sustain drives against Clemson. They couldn't key in on any one playmaker for the Tigers, as eight different players caught passes and four different players scored.
Florida State was just 3-of-10 on third-down conversions, was only in the red zone twice, and had just 29 rushing yards -- its fewest against Clemson since 2003. The Seminoles' defense, which entered the game allowing an average of only 11 points, was gashed for 455 yards. It was the first time Clemson ever passed for more than 300 yards against Florida State. The up-tempo offense under Morris cranked out 33 more plays than Florida State and had the ball almost 10 minutes longer.
If there were any questions about whether or not Morris was a good hire, the output against the Noles should answer them.
"There's a lot of teams with talent that don't win," Morris said. "It's about guys buying into what you're doing. There's nothing more common in this world than unsuccessful people with talent. We've got the talent, and we've got the scheme, and these guys are believing. It's like a puzzle -- it fits together."
Talent has never been the problem at Clemson. Whatever was missing, the Tigers seem to have found it in the past two games, though nobody can pinpoint it.
"There's something different here at Clemson, man," said Rennie Moore, whose sack on FSU backup quarterback
Clint Trickett
helped seal the win for Clemson. "I know everyone feels it. I'm proud of my team, man, I'm proud of the coaching staff, I'm proud of Clemson. We're 4-0, we're in the driver's seat, it's time to keep doing what we're doing, man."
Despite Clemson's win over Auburn in Week 3, doubts about Clemson's No. 21 ranking in the Associated Press still remained, as critics pointed out Auburn's abysmal defense. Coupled together with the win over Florida State, though, Clemson validated the offseason changes both on and off the field.
Still, Boyd isn't holding his breath that Clemson has made a believer out of everyone just yet.
"There's never going to be a point where you silence everybody, and that's fine," Boyd said. "We really do feed off that. It is what it is. We believe in ourselves as a team and a unit."
And so far, they've gotten everything they needed out of Death Valley.
August, 15, 2011
8/15/11
9:00
AM ET
It was a busy weekend in the ACC. Here's a look back at the highlights from the scrimmages, according to the sports information departments of the teams that provided reports:

BOSTON COLLEGE
Coach Frank Spaziani told reporters after the 70-minute scrimmage that there were some good things, but "it's like a jigsaw puzzle with all the pieces in the box; they're not connected yet."
Offensive highlights:
Defensive highlights:
Linebacker Nick Clancy and defensive back Sean Sylvia led the team with four tackles each.
Sophomore linebacker Jake Sinkovec had one interception and one fumble recovery.

CLEMSON
Quarterback
Tajh Boyd
had an impressive performance, as he completed 10 of 12 passes for 168 yards and a touchdown to highlight the new offense in Clemson's 75-play scrimmage in Memorial Stadium on Saturday morning.
Offensive highlights:
Defensive highlights
:
The first-team defense did not allow a scoring drive.
Martin Jenkins led the team with seven tackles, including a tackle for loss.
Corico Hawkins had five tackles and a fumble recovery, while freshman defensive end Corey Crawford had five stops, including a sack.
Special teams highlights:
Clemson's three kickers, Chandler Catanzaro, Ammon Lakip and Brian Symmes were a combined 16-of-16 on the day in field goal attempts and extra points against a live rush.
Notable:
Three Tigers missed the scrimmage because they were going through graduation exercises across the street from Memorial Stadium in Littlejohn Coliseum. Starting offensive tackle Landon Walker, starting safety Rashard Hall and reserve defensive end Kourtnei Brown all graduated from Clemson on Saturday. It was especially noteworthy for Hall, who has been at Clemson just three years. He joins Nick Eason (now in the NFL with the Arizona Cardinals) as the only scholarship football players to graduate with two years of athletic eligibility remaining.
Four players missed the scrimmage due to injury. Those players were defensive back Xavier Brewer (sprained foot), defensive back Garry Peters (bruised calf), Andre Branch (head injury), DeShawn Williams (sprained ankle).

GEORGIA TECH
Georgia Tech coach Paul Johnson had mixed reviews after the Yellow Jackets' first scrimmage, which ran 90 minutes inside Bobby Dodd Stadium on Saturday morning.
"It was like a lot of first scrimmages, there were way too many balls on the ground and way too many penalties," Johnson said. "But we hit some big plays. When you play against each other there's positives and negatives on both sides. It's a starting place and we'll look at it and try to make some improvements."
Offensive highlights:
While no official statistics were kept, quarterback Tevin Washington passed for well over 100 yards, including a 63-yarder to senior A-back Roddy Jones. Redshirt freshman quarterback Synjyn Days threw the only touchdown of the day, to true freshman Jeff Greene.
Greene ran with the first unit Saturday as most of the veterans -- junior Stephen Hill, senior Tyler Melton, sophomore Jeremy Moore and junior Daniel McKayhan -- all sat out with injuries.
Washington scored the only other touchdown Saturday on a 1-yard QB keeper.
Defensive highlights:
Defensive end Emmanuel Dieke had a sack, true freshman Jamal Golden intercepted a Vad Lee pass, and Steven Sylvester and Isaiah Johnson both recovered fumbles.
Special teams highlights:
Sophomore Justin Moore booted a 45-yard field goal on his only attempt.
David Scully's 52-yard attempt was long enough, but just wide left.

MIAMI
The most important news out of Miami's first scrimmage was that quarterbacks
Jacory Harris
and
Stephen Morris
combined for five touchdown passes and only one interception. That sounds like improvement. Miami's quarterbacks combined for 407 passing yards on 38-of-52 passing for six touchdowns and only one interception.
Offensive highlights:
Receiver Tommy Streeter had the best offensive day for the Canes, catching five passes for 71 yards and three touchdowns, two of which came from Harris.
Lamar Miller had runs of 16 and 31 yards on the opening drive.
Defensive highlights:
Senior defensive back JoJo Nicolas led all defenders with eight tackles (six solo), with two tackles for loss.
Ramon Buchanan and freshman Gionni Paul and each had six total tackles, with Paul also recording a tackle for loss.
The defense totaled eight tackles behind the line of scrimmage for a total loss of 29 yards

VIRGINIA TECH
The Hokies' offense was the highlight, but what does that mean for the defense? Coach Frank Beamer pointed out that there were some long plays allowed, as the offense racked up 398 yards of total offense in the 78-play scrimmage at Lane Stadium on Saturday afternoon. The touchdowns came against Tech's second- or third-team defense, though, so the jury is still out.
"I thought it was a good first scrimmage -- better than most," Beamer said, according to the team's scrimmage report. "You take into consideration that you're trying to get everyone some work, people who don't know quite what they're doing, and that makes things a little ragged. I thought overall, though, it was a sharp scrimmage. The quarterbacks made some nice plays and Wilson got a couple of long plays against the defense, and we need to see what's going on there. Overall, the effort was good and the play was good."
Offensive highlights:
Backup quarterback Mark Leal led the quarterbacks with 116 yards passing, completing 6 of 13. He also threw an interception. Beamer said Leal is No. 2 on the depth chart behind Logan Thomas. Ju-Ju Clayton, who has dropped to No. 3 on the depth chart, completed 6 of 10 for 51 yards, while starter Thomas completed 4 of 8 for 79 yards, with an interception, in limited action.
Tailback David Wilson scored against the Hokies' second-team defense on a 22-yard run. Wilson led all rushers with 57 yards on five carries. Freshman Michael Holmes added 54 yards rushing on a game-high 11 carries.
Defensive highlights:
Freshman tackle Luther Maddy led the team with eight tackles, including two for a loss, and a sack. Freshman Michael Cole added six tackles, while Telvion Clark and Jack Tyler each finished with four.
Barquell Rivers had three tackles and an interception.
Jayron Hosley and freshman Ronny Vandyke also had interceptions. Hosley intercepted a Logan Thomas pass, while Vandyke intercepted a Trey Gresh attempt.
Special teams highlights:
The kickers connected on 5-of-6 attempts. Cody Journell hit from 35, 22 and 35 yards, while Justin Myer drilled a 52-yarder and a 28-yarder. "Cody's kicking extremely well," Beamer said. "Myer has a load of potential, and he needs to win some of the kicking contests during the week. That shows consistency, and that's where he is right now. Cody is usually winning it or right in the running at the end."
June, 24, 2011
6/24/11
3:30
PM ET
I know there are many ACC enthusiasts out there who will be saddened to hear that I am not going to rank the offensive linemen by position (centers, guards and tackles). Instead, I'm going to put them all together and just rank the top 10 offensive linemen in the ACC this year.
[+] Enlarge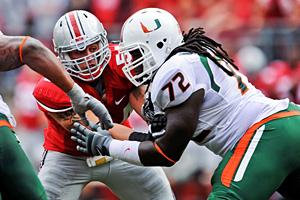 Jamie Sabau/Getty ImagesBrandon Washington started every game last season and was credited with 56 pancake blocks.
1. Brandon Washington, Miami:
He was one of three offensive linemen to start all 13 games last year and finished second on the team with 56 pancake blocks. He graded out at 99 percent against Pittsburgh, the highest grade of any starter all season, and 95 percent against Virginia Tech.
2. Andrew Datko, Florida State:
He has played his entire career at left tackle, where he has protected the quarterbacks' blind side extremely well. He allowed just one sack in 11 games (all starts) last year, stifling heralded pass-rushers from Oklahoma, Miami, Clemson, Florida and Virginia Tech. He was penalized just three times and had only five missed assignments in 691 snaps. Datko's season average grade of 87 was second on the team only to Rodney Hudson.
3. Blake DeChristopher, Virginia Tech:
He's the veteran on the offensive line, with 37 career starts. He was a second-team All-ACC selection at tackle last fall when he graded out at 83 percent with a team-leading 59 knockdown blocks.
4. Jonathan Cooper, North Carolina:
He is the veteran on the line with 22 career starts. He started all 13 games last year and played a team-high 875 snaps. He led the Tar Heels in knockdown blocks for the second straight year with 55. He graded out at 83 percent, tied with James Hurst for the best on the team.
5. Jaymes Brooks, Virginia Tech:
He's entering his third season as starting right guard, and is powerful and explosive. He had a season-high nine knockdowns against Florida State in the ACC championship game, and eight in the opener against Boise State.
6. Dalton Freeman, Clemson
: He has started each of the past 22 games at center and finished second on the team with 58 knockdown blocks. He allowed just two sacks and was third on the team with a grade of 80.6 percent. He led the team in knockdown blocks in six games and four of the last seven.
7. James Hurst, North Carolina:
He was one of the top freshmen in the country last year, and made an immediate impact with 12 starts at left tackle. He was third on the team with 33 knockdown blocks and tied with Cooper for a team-high grade of 83 percent.
8. Omoregie Uzzi, Georgia Tech:
He was a second-team all-conference guard last year and started all 12 games he played in. He's strong, has good lateral quickness, and has become more fundamentally sound. He should be the leader of the line this year.
9. Zebrie Sanders, Florida State:
He started all 14 games last year and was the only Seminole lineman credited with at least one knockdown block in 13 of 14 games. He finished second on the team with 37 knockdown blocks, and had a season average grade of 81 percent, which was the best of his career. He ranks third among all FSU linemen with 37 career starts, including 23 consecutive.
10. Landon Walker, Clemson
: He has played in 39 games (35 starts). Last year he had 30 knockdowns, at least one in every game, and had five and a team-high 87 percent grade against Auburn.
June, 24, 2011
6/24/11
2:00
PM ET
Ranking offensive linemen is not easy. But hey, either is being an offensive lineman. Here are your best "big uglies."

1. North Carolina:
Three starters and one part-time starter return from last year's team, and this line could be the biggest and best since Butch Davis was hired. Guard Jonathan Cooper (22 starts), center Cam Holland (20) and tackle James Hurst (12) have combined for 54 career starts. Travis Bond has four starts and is the leading candidate to take over at the other guard position.

2. Miami:
The Canes return nine of their top 10 offensive linemen including four starters from last year, and Joel Figueroa was granted a sixth season of eligibility. Even with the coaching change, the Canes should be strong up front. Center Tyler Horn is a veteran, Brandon Washington is a difference-maker, and there's enough competition that Seantrel Henderson spent most of the spring as a backup.

3. Clemson:
First-year offensive line coach Robbie Caldwell has four returning starters to work with in Landon Walker, Antoine McClain, Dalton Freeman and David Smith. They also have top reserve Mason Cloy, who has 19 career starts and has played in 38 games. There is plenty of depth for a dependable rotation.

4. Virginia Tech:
All four returnees started every game last year, and there is enough depth that the Hokies should be able to rotate the most players up front they ever have. It's a veteran group led by Blake DeChristopher, Andrew Lanier, Jaymes Brooks and Greg Nosal.

5. Florida State:
Despite the losses of Rodney Hudson and Ryan McMahon, there's experience up front. This fall, the starting lineup will consist of tackle Andrew Datko, left guard Bryan Stork or David Spurlock, center Jacob Fahrenkrug, right guard Spurlock or Stork, right tackle Zebrie Sanders. Just how good they'll be remains to be seen as the majority of them were out with injuries this past spring.

6. NC State:
The Pack lost Jake Vermiglio and will be without injured left guard Andrew Wallace for about half of the season, but Zach Allen, Camden Wentz and R.J. Mattes are returning starters. There's also a lot of talent waiting to emerge with young players like Duran Christophe, Rob Crisp, Tyson Chandler, Torian Box and Andy Jomantas.

7. Virginia:
Four players return with a combined 64 career starts in Anthony Mihota, Austin Pasztor, Oday Aboushi and Morgan Moses, who started the final seven games of the season as a true freshman. Pasztor is in his fourth season as a starter and has 32 career starts.

8. Boston College:
Despite the losses of Anthony Castonzo, Thomas Claiborne and Rich Lapham, the Eagles are almost settled up front, it's the experience behind the starters that's reason for concern. The No. 2 offensive line is comprised entirely of redshirt freshmen. Mark Spinney returns at center, the projected starting guards are Nathan Richman and Ian White, who started three games as a freshman, and the tackles are Emmett Cleary and John Wetzel.

9. Maryland:
It's been an injury-prone group the past two seasons and that didn't change this past spring. Left tackle Justin Gilbert, one of the top linemen on the team, reinjured the same knee he had ACL surgery on and will be out until October. R.J. Dill was also injured this spring, though he played in the spring game, and Justin Lewis was rehabbing from offseason surgery. Pete White also missed practices, so the group needs to solidify the two-deep roster.

10. Georgia Tech:
The Jackets return three starters in guard Omoregie Uzzi, guard Will Jackson and tackle Phil Smith. Sophomore Jay Finch played extensively last season and Ray Beno and Nick McRae were key reserves. Redshirt freshmen Catlin Alford and Morgan Bailey could also work their way into the rotation. Uzzi will be the leader of the line, but they were outplayed by the defense this spring.

11. Wake Forest:
Four starters are back, but the Deacs will sorely miss the experience and leadership of former center Russell Nenon. Garrick Williams started the final three games of 2010 -- two at guard and one at center, but he struggled with the snaps towards the end of spring and isn't where the staff needs him to be yet.

12. Duke:
The Blue Devils should take another step forward this season under offensive line coach Matt Luke, and they need to -- Duke's running game was last in the ACC last year and 104th in the country. Brian Moore replaces a three-year starter at center, but given his experience at right guard the past two seasons, it should be a smooth transition. That will leave a hole, though, at the right guard position, where Laken Tomlinson and John Coleman are the top candidates.
September, 30, 2010
9/30/10
10:19
AM ET
Here's a look at what to watch this week in the ACC: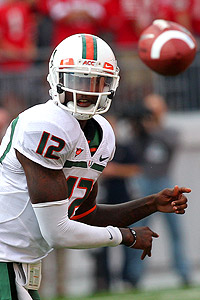 Aaron Josefczyk/Icon SMIThe Hurricanes need Jacory Harris to cut back on his interceptions.
Turnovers in Death Valley and College Park. Miami quarterback Jacory Harris has thrown six in the past two games. Clemson is No. 7 in the country in turnover margin, gaining seven and losing two. Duke had five turnovers this past weekend against Army and Maryland is tied for No. 10 in the country in turnover margin with 10 gained and four lost.

Clemson's offensive line vs. Miami's defensive line. One particular matchup will be right tackle Landon Walker against Miami defensive end Allen Bailey, but it needs to be a group effort. Protecting quarterback Kyle Parker and giving him time will be key, but it won't be easy. Miami is second in the nation in sacks, averaging 4.67 per game, and leads the nation in tackles for loss with 11.33. Bailey also played 12 snaps at tackle against Pitt.

Boston College's quarterback. The Boston Globe has reported that freshman Chase Rettig will start against Notre Dame, but coach Frank Spaziani hasn't confirmed it. All we know for sure is that it won't be Dave Shinskie. Regardless, it could be the difference in the game.

FSU's revamped offensive line. Left tackle Andrew Datko has missed the past two games with a shoulder injury and is listed as day-to-day. Henry Orelus and Garrett Faircloth are both expected to play. Zebrie Sanders could move from right to left tackle.

Georgia Tech's energy. That's right, it's that simple, and it's been missing. Paul Johnson said this week he wants his team to "play like their hair's on fire" and with a sense of urgency.

Atlantic vs. Coastal. All five ACC games this weekend are interdivisional matchups, the first time that has happened since the ACC split into the Atlantic and Coastal divisions in 2005. The Atlantic Division has home-field advantage in four of the five matchups.

The record books. NC State quarterback Russell Wilson needs one more touchdown throw to move into sole possession of second place in NC State history in that category behind ACC record-holder Philip Rivers. With 59 touchdown passes for his career, one more will also move him into seventh place in the ACC record books.

Virginia Tech in the red zone. The Hokies have been inside the 20-yard line 18 times and scored nine touchdowns. They kicked four field goals last week against Boston College, but will need to have more success against the No. 19 offense in the country or make more even stops on defense.

Virginia's defense vs. Florida State's offense. Virginia boasts the ACC's top scoring defense, allowing just 12.3 points per game. Florida State's offense is third in the conference in scoring (35.2/game) and ranks first in total offense (434.5 yards/game). Virginia has allowed 280.3 yards per game, which ranks second in the league to Miami.

North Carolina's revamped secondary against ECU quarterback Dominique Davis. The Tar Heels' secondary was one of the positions hit hardest by the suspensions, but those players have held their own. They'll get another challenge against the No. 9 scoring offense in the country and a passing game averaging just shy of 300 yards per game.
June, 21, 2010
6/21/10
9:01
AM ET
Clemson offensive line coach Brad Scott isn't quite ready to say his group is "there yet," but he saw definite signs this past spring that the Tigers' front should be better than it was a year ago.
It's going to have to be.
[+] Enlarge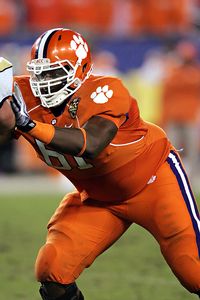 Cliff Welch/Icon SMILeft tackle Chris Hairston has evolved into the leader of Clemson's veteran offensive line.
The roles have reversed at Clemson, where the superstar skill players have graduated, and the offensive linemen are now among the most experienced players on the field. With four starters returning, they'll be depended upon heavily this fall to usher in a new duo of running backs while the offense could possibly also be under the direction of a rookie quarterback, should
Kyle Parker
decide to pursue his baseball career.
"We're the veteran bunch now," Scott said. "We lost Jacoby [Ford] out there at receiver, we lost C.J. [Spiller] at running back. ... We need to be able to load the team up on our shoulders. We don't need to be the weak link. I think that our guys understand that. Even though we're young at running back, we're talented there still. They know that both of those backs have gotten some experience last year and are good players. This spring there was evidence these guys are going to do what they need to do to accept that role and that responsibility."
It starts with left tackle Chris Hairston, who will be in his third season as a starter and has become the leader of the group. Hairston has started 23 of the past 27 games and was missed when he was out of the lineup. Clemson was 9-3 last year when he started and 0-2 when he was out with an injury. His performance in the Tigers' 40-37 overtime win against Miami was key, as Hairston graded out at 85 percent and had seven knockdown blocks.
Landon Walker is also a returning two-year starter at tackle. He started 12 games last year and had 33 knockdown blocks, including five against TCU when he held All-American Jerry Hughes without a sack and just two tackles.
Dalton Freeman is the returning starter at center, a position he took over for the final nine games of 2009. His first start came against Wake Forest, the school his father played for. The Tigers also have Mason Cloy, who started five games last year at center but suffered a broken leg in the ACC title game.
Junior Antoine McClain started all 14 games last year and was second on the team with 68 knockdown blocks. He had 12.5 against Georgia Tech in the regular season and 10 more in the ACC title game.
Scott said the most progress has been seen in run blocking, but the overall communication has been better, as is their ability to know the calls and techniques that need to be executed in a split second against ever-changing defenses. Both Hairston and Walker's pass protection also continues to improve. That will be vital if rookie
Tajh Boyd
will be taking over at quarterback.
"Certainly we think we'll be a solid group again," Scott said. "They made great strides last year and by the end of the year were playing pretty doggone good. The kids have matured, they're more confident, certainly understand the system, and had a pretty good spring. The depth is always the issue, developing the young players, but I think we're gaining from the experience most of these young men have had over the last two years."
June, 18, 2010
6/18/10
9:00
AM ET
On Monday, NC State quarterback
Russell Wilson
buried his father. Our thoughts and prayers are with him this weekend as our fathers are celebrated. Wilson's father, Harrison, died on Friday after a long illness, but at his funeral, his son remembered fondly what an impact he had on his athletic career. Russell's father played football at Dartmouth and then made it to the last cut for the San Diego Chargers AFTER completing his law degree.
According to school spokesman Annabelle Myers, Russell and his brother spoke at the funeral and told countless stories about their dad waking them to throw baseballs to them, and how the three of them would go out and one would play quarterback, one would play wide receiver, and one would play running back.
These are the moments and memories our dads deserve a big thanks for this weekend. In honor of Father's Day, here's a look at some of the ACC's 'Famous Fathers,' and the players who share their legacies. Thanks to the sports information directors in the league and Mike Finn in the Greensboro office for making this post possible:
BOSTON COLLEGE
Redshirt freshman defensive end Max Holloway's father (Brian) played 10 seasons in the NFL (with Patriots and Raiders). His maternal grandfather, Johnny McKenzie, played 19 seasons in the NHL, winning two Stanley Cups with the Boston Bruins.
Junior wide receiver Chris Fox's father (Tim) was an All-American at Ohio State under Woody Hayes and played 10 years in the NFL (with the Patriots, Chargers and Rams).
Redshirt freshman wide receiver Hampton Hughes' father played for six years for the Dallas Cowboys.
Junior linebacker Mike Morrissey's father (Jim) played nine seasons in the NFL for Chicago and Green Bay.
CLEMSON
QB Mike Wade, LB Chris Richardson and Landon Walker: Their fathers, Mike Wade Sr., Chuckie Richardson and Gary Walker, played on the national championship team in 1981.
DUKE
Kicker Paul Asack's father Phil Asack was a 1971 Duke graduate who lettered for three seasons before joining the San Diego Chargers.
Redshirt sophomore offensive tackle Conor Irwin's father Tim Irwin played football at the University of Tennessee and in the NFL from 1981-94 with the Minnesota Vikings, Tampa Bay Buccaneers and Miami Dolphins. As an aside, his uncle, King Irwin, played football at Georgia Tech.
Wide receiver Matt Pridemore's father Tom Pridemore played at West Virginia and for the Atlanta Falcons.
Receiver Brandon Braxton's father David Braxton played for the Minnesota Vikings, Phoenix Cardinals and Cincinnati Bengals.
FLORIDA STATE
QB Christian Ponder's father, David, was a defensive lineman at FSU from 1980-83.
Redshirt freshman defensive end Dan Hicks' father is former FSU standout and NFL veteran Dan Footman.
Incoming freshman linebacker Christian Jones' father, Willie Jones Sr., was a standout defensive end for the Seminoles (1975-78) and a second-round draft choice of the Oakland Raiders in 1980 and returned to FSU as a graduate assistant football coach in 1988.
Quarterback Clint Trickett, who enrolled as a freshman in January and took part in spring practice, is the son of FSU assistant head coach/offensive line coach Rick Trickett. Travis Trickett, another son who has been a videographer in the FSU football program, will be the graduate assistant on offense this season.
GEORGIA TECH
Junior safety Cooper Taylor's father, JimBob Taylor, played quarterback at Tech.
Senior wide receiver Kevin Cone's dad, Ronnie, played running back at Tech.
Senior running back Lucas Cox's brother, Michael, was a three-year starter at fullback for Tech and now plays for the Kansas City Chiefs.
MARYLAND
Defensive lineman Joe Vellano's father, Paul, played for Maryland (1971-73). He was an All-American defensive lineman in 1972 and All-ACC in 1972-73.
Defensive back Austin Walker and defensive lineman Alex Walker are the sons of Doc Walker, who starred at UCLA from 1974-77 before being drafted by the Cincinnati Bengals. He also started at tight end from 1980-85 for the Washington Redskins, playing for the 1982 Super Bowl championship team. Their father is currently a local sports-talk radio host for Sportstalk 980 and also covers ACC football for Raycom television.
Running back Davin Meggett's father, Dave, played in the NFL for three different teams -- the New York Giants (1989-1994), the New England Patriots (1995-1997) and the New York Jets (1998).
MIAMI
Backup quarterback A.J. Highsmith's father, Alonzo Highsmith, and running back Damien Berry's father, Kenny Berry, played for Miami. Highsmith played at Miami from 1983-86 and in the NFL for seven years. Berry was at Miami from 1987-89.
Backup quarterback Spencer Whipple is the son of assistant head coach and offensive coordinator Mark Whipple.
NORTH CAROLINA
Punter C.J. Feagles's father, Jeff, is currently the New York Giants punter and has played 21 seasons in the NFL.
Backup quarterback Bryn Renner's father, Bill, was a punter at Virginia Tech and for the Green Bay Packers.
Offensive tackle Brennan Williams' father, Brent, played in the NFL from 1986-93 with the Patriots, Seahawks and Jets.
Linebacker Shane Mularkey's father, Mike, is the offensive coordinator for the Atlanta Falcons.
NC STATE
R.J. Mattes' father, Ron, played at Virginia, where as a senior in 1984 he was an all-ACC defensive tackle for George Welsh. He also played offensive tackle in the NFL for the Seahawks, the Bears and the Colts. He is now coaching at Virginia as offensive line coach.
VIRGINIA
Wide receiver Jared Green is the son of Darrell Green, who was a standout cornerback for the Washington Redskins and a 2008 inductee into the Pro Football Hall of Fame. Jared gave his father's induction speech at the ceremony.
Cornerback Chase Minnifield is the son of Frank Minnifield, a Pro Bowl cornerback for the Cleveland Browns, playing from 1984-92.
VIRGINIA TECH
Zac Evans is the son of George Evans, who was a starter on the Hokies' offensive line and lettered from 1979-82.
Kenny Lewis, Jr., is the son of Kenny Lewis, Sr., a standout running back for the Hokies who is enshrined in the Tech Sports Hall of Fame.
Beau Warren's father, Donnie Warren, played 14 years in the NFL for the Washington Redskins.
Freshman linebacker Chase Williams, who entered school in January, is the son of Gregg Williams, the defensive coordinator of the Super Bowl Champion New Orleans Saints.
Linebacker Jeron Gouveia-Winslow is the son of Kurt Gouveia, who was also a starter for the Redskins.
Wiley Brown's father, Chuck Brown was deemed the Godfather of GoGo music.
WAKE FOREST
Quarterback Brendan Cross is the son of former 49ers center Randy Cross.
Linebacker Joey Ehrmann is the son of Joe Ehrmann, who played for the Colts and Lions.
Center Chance Raines' father, Mike, was an All-American at Alabama under Bear Bryant.
Quarterback Ted Stachitas' father, Len, is vice president of the National Football Foundation and the executive director of the NFF's Play It Smart Program, a highly successful youth development program.