April, 25, 2013
4/25/13
4:00
PM ET
In a few hours, the NFL draft will officially begin. But for the Big 12, a very average first round awaits.
Colleagues Mel Kiper Jr.

and
Todd McShay released

their latest mock drafts, and we'll take one final look at how it could shake out.
Oklahoma offensive tackle
Lane Johnson
's stock continued to rise, and McShay has him at No. 4 to Philadelphia in his mock draft, which is higher than I've seen him on most mock drafts all season. Kiper says Johnson won't hear his name called until the 11th pick, heading to San Diego.
Kiper, though, does see
Geno Smith
heading to the Eagles at No. 4, which is about as high as I've seen the West Virginia quarterback being picked. McShay says Smith will still be on the board at the end of the first round. That's a big difference of opinion.
McShay says Smith's teammate, receiver
Tavon Austin
, will be off the board at No. 13 to the
New York Jets
, but Kiper has him going to the Rams three picks later.
McShay has another Big 12 talent in the No. 16 spot to the Rams, but he says it'll be Texas safety
Kenny Vaccaro
.
Those are the only Big 12 players in our ESPN mock drafts, but when you look at the league's history since 2000, it's mostly just an average draft. The Big 12 has slimmed down to 10 teams, but over the past 12 drafts, the Big 12 has averaged exactly five first-round picks.
There won't be any history like we saw in 2010 when the Big 12 had the first four picks and five of the first six before landing nine first-rounders, but it's not going to be a boring night like back in 2008 (Kansas CB Aqib Talib) and 2000 (Oklahoma OL Stockar McDougle) when the Big 12 had just one first-round pick. It might feel like the league's experiencing a bit of a downturn, but after having at least seven first-round picks in the past three drafts, this year is more like a regression to the mean.
Landing three or four first-round picks, especially with a 10-team league, is a pretty average performance for the Big 12. Nothing to crow about, but nothing to be too concerned about, either.
A lot of dreams will officially come true tonight, though, and that's a cause worth celebrating.
Here are the number of first-round picks for the Big 12 since 2000:
2012: 5 picks
2011: 8 picks
2010: 9 picks
2009: 7 picks
2008: 1 pick
2007: 4 picks
2006: 3 picks
2005: 5 picks
2004: 4 picks
2003: 6 picks
2002: 4 picks
2001: 3 picks
2000: 1 pick
April, 12, 2013
4/12/13
9:00
AM ET
ANN ARBOR, Mich. -- The Michigan Man label carries a price tag. Those who earn it invest their bodies and their minds.
Some pay with deferred income.
For
Taylor Lewan
, becoming a Michigan Man carries a very hefty price tag, one with two commas. Lewan, the Wolverines' All-America left tackle, passed up millions in January when he announced
he would return to Michigan
for his senior season. After an excellent junior season and a solid performance against South Carolina in the Outback Bowl, Lewan had, in the view of most analysts, locked up a spot in the first round of the NFL draft. Some projected him as a top-10 pick.
"Everybody knew what Taylor could have been worth," Michigan defensive end
Frank Clark
said. "The type of season Taylor had -- All-American, All-Big Ten, he won the [Big Ten] offensive lineman of the year award -- I knew he was gone.
"I mean, who wouldn't be?"
So why did it take Lewan all of 3½ hours to decide he'd be back at Michigan in 2013? Two words meant more to him than three letters and two commas.
He wants a title that, in his own blunt assessment, he doesn't deserve yet.
"I can't call myself a Michigan Man," Lewan told ESPN.com, "but that's what I want to become."
Lewan's decision to return served as an acknowledgement that his journey at Michigan isn't complete. He hasn't helped the Wolverines to their 43rd Big Ten championship (and first since 2004). He hasn't put himself among the greats -- Jake Long, Dan Dierdorf, Jumbo Elliott, Jon Jansen -- to play tackle for the Maize and Blue. He hasn't restored Michigan to the standard that coach Brady Hoke talks about on a daily basis.
But the decision also acknowledged how far Lewan had come at Michigan and how his view on the school had changed. Because when he arrived, the thought of leaving millions on the table for another year in school was laughable.
"When I came here, I didn't know anything," Lewan said. "All my friends are Ohio State fans, so I was always like, 'Ohio State's badass.' That's all I thought. I didn't know. I was getting away from Arizona for a couple years. I had no idea what I was getting myself into. The first couple years I was here, I still didn't know any of the tradition. I was playing for myself, I was playing for the opportunity to go to the NFL as soon as possible. That was my focus."
"

I enjoy the pain of it. Maybe I'm a little messed up in the head, I don't know, but I enjoy hitting my face on another man's face and trying to put him in the dirt and make him feel every single inch of it. Something about that, it puts me on cloud nine.

"

-- Taylor Lewan
Things began to shift when Hoke arrived and started his push to restore Michigan to glory.
"Coming into a room and expecting excellence, talking about a Big Ten championship every single day, knowing we have 42 championships and there needs to be a 43rd, that repetition, talking about it, talking about it, it makes you think," Lewan said. "Now I know more about the tradition here. I know more about the winged helmet, 115,000 people at the game, the largest stadium in the country. There's a
tractor or something under the stadium
because it fell in while they were building.
"The little things, it becomes a part of you."
Hoke calls it "an education," and Lewan will continue his on the field and in the classroom and outside of it at Michigan. Winning a Big Ten title and completing his degree factored into his decision, but Lewan also wants more out of his college experience.
He hopes another year at Michigan allows him to do what few college football players can -- engage in campus life.
"As a football player, the biggest thing you do is hang out with the football people," he said. "Maybe some hockey guys, maybe some baseball guys here and there. I don't really know what Michigan has out there. If you play college football, your college experience is officially different from everybody else's and that's how it's going to be. I think it would be cool to see the different societies going on at Michigan, meet different people, all the things they do to contribute to the University of Michigan.
"I contribute in such a little way compared to some other people. I'm a source of entertainment. The things other people do are much bigger than what I do."
Lewan's perspective is refreshing, but don't tell anyone around Schembechler Hall that the things he does are small.
Michigan quarterback
Devin Gardner
knows his blind side will be sealed this fall. Wolverines offensive line coach Darrell Funk knows he'll have arguably the nation's best offensive lineman anchoring the front five and helping lead a group that must replace starters at all three interior positions. Clark knows he'll have the best possible preparation for opposing offenses by battling the 6-foot-8, 308-pound Lewan every day in practice.
"When Taylor announced [his return], that was pretty much at the peak of recruiting," Funk said. "All the arguments around the country were who has the No. 1 player? Who has the No. 1 recruit?
"I know when I went home that night, thinking of who got the No. 1 player in the country; I know I did."
Lewan often says the decision to return to Michigan is his and his alone. Like many high-level NFL prospects staying in school, he'll take out an insurance policy to guard against a career-threatening injury.
But there was no doubt in his mind when he made the announcement. If there had been, he'd be meeting with NFL teams right now and likely planning a trip to New York on April 25. Instead, he's preparing for Michigan's spring game Saturday at the Big House.
"People are going to absolutely think, 'He's crazy, he left all this money,'" said Lewan, whose decision drew skepticism from
ESPN's Mel Kiper

and others. "It doesn't matter. If I don't do what I'm supposed to do now, I shouldn't be in the NFL anyway.
"It wouldn't be fair to Michigan for me to hold anything back. There's no foot-out-the-door attitude."
Lewan thinks he can improve every part of his game in his final season, from pass protection to double-teams to base blocks to the screen game. He's "nowhere near perfect" despite having a unique blend of size and athleticism that allows him to defeat pass-rushers in one-on-one matchups.
Funk notes that while Lewan certainly could have made the jump -- "Everyone that I talked to knew he was in that elite status" -- he also has areas to upgrade, such as certain run-blocking techniques.
"The scary thing about him," Funk said, "and I know it and he knows it, when we really break him down on tape, he's got two to three things that when he improves on those, his stock's going to rise even further."
Funk has coached talented offensive linemen who need to be prodded to finish blocks. Lewan is the opposite, playing to the whistle and sometimes beyond it.
He earned a
reputation for being "nasty"
even before he made his debut as a redshirt freshman in 2010. In 2011, Lewan and Michigan State defensive end
William Gholston
exchanged unpleasantries during a game in East Lansing. Gholston received two personal-foul penalties and a
one-game suspension for punching Lewan
, but Lewan wasn't exactly a saint in the game.
[+] Enlarge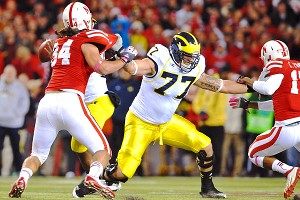 AP Photo/Dave WeaverTaylor Lewan and his coaches agree that the offensive lineman has things to work on his senior year.
Funk has seen Lewan rein things in a bit, but Lewan's desire to dominate opponents still burns.
"If I do my job and do it 100 percent between the whistles and just try to physically dominate someone every single play and make them hurt at the end of the game, that's enough for me to go home happy every Saturday," he said. "I enjoy the pain of it. Maybe I'm a little messed up in the head, I don't know, but I enjoy hitting my face on another man's face and trying to put him in the dirt and make him feel every single inch of it.
"Something about that, it puts me on cloud nine."
Lewan wasn't always this way. A future in contact sports seemed unlikely after his career as a young hockey player ended very early.
"I played for a team called the Tarantulas," Lewan recalled. "It was a mite league, so there was no checking allowed. I was good. I would wield the stick. I was money at hockey. And then they had tryouts for a team and it was pee-wee, so you could check all of a sudden. Some guy laid me out. This guy hit me so damn hard.
"I got up and just skated off. I was done."
Despite a love for baseball, Lewan eventually warmed to football and the contact it brought. He started nine games at left tackle as a redshirt freshman and has remained a fixture there ever since. Lewan earned second-team All-Big Ten honors in 2011 before making numerous All-America teams last fall.
Lewan will hold his own draft party of sorts later this month. He'll watch the first-round selections, rooting on top linemen such as Texas A&M's
Luke Joeckel
, Central Michigan's
Eric Fisher
and Oklahoma's
Lane Johnson
, as well as USC quarterback
Matt Barkley
, with whom he played in a high school all-star game.
"Watching them fulfill their dreams and knowing that someday I'll hopefully be there, it's just so cool to see," he said. "There's no jealousy or anything. If I'd wanted to leave, I would have left."
He's too busy enjoying himself at Michigan, whether he's growing an incredibly weak mustache as part of the line's "Muzzy Maulers" campaign, competing daily against Clark on the field and in the weight room, or tormenting Gardner in every way possible ("He's a bully, a big bully," Gardner said. "He picks on me, and he's so large I really can't do much about it. And he protects my blind side, so it's a lose-lose").
Michigan could have managed without Lewan, but his return "lifted a weight off our shoulders," Clark said.
"It brought joy back to the team," Clark continued. "He's one of the characters on the team, one of the motivators, one of the leaders. When I found out he's coming back, that's when it really clicked for me that it's bigger than the NFL for him. It's bigger than the money."
Lewan used to be a football player who happened to play for Michigan. He has become something more.
"The statement he made when he was asked why he came back and he said, 'You've never played football at Michigan,' that speaks volumes," Hoke said. "His goal is to help mold a young offensive line. His goal is to win a Big Ten championship. His goal is to become a better football player in all aspects. All those things are why he came back, but he wouldn't have come back if he didn't play football at Michigan."
Lewan isn't sure how a Big Ten championship in 2012 would have affected his decision. He'd like to think he would have stayed. Maybe he would have bolted. The bottom line, he said, is it didn't happen.
His career is incomplete. He wants to be a champion. He wants to be a Michigan Man.
"I don't think there's any doubt about it," Hoke said. "The way he's carried himself, the way he's led, how he approaches every day, he's put himself in that position."
January, 22, 2013
1/22/13
1:30
PM ET
Every year, we see players take the leap. It's a natural progression in college. Contributors become impact players. Solid starters become superstars and there are plenty of moves in between. Only players who have played two full seasons in college football count. That means no freshmen or transfers. My regrets to guys such as
Calvin Barnett
,
Lache Seastrunk
and
Devonte Fields
.
Here are my picks for the Big 12's most improved players:
[+] Enlarge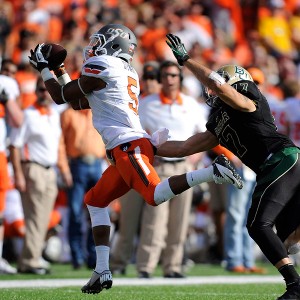 Jerome Miron/USA TODAY Sports Oklahoma State's Josh Stewart stepped in at receiver and delivered a 101-catch, 1,210-yard season.
Josh Stewart, WR, Oklahoma State:
Stewart takes the honor of being the Big 12's most improved player by a landslide. A year ago, he was a bit player on a high-powered offense, grabbing 19 catches for 291 yards. The Cowboys lost their three best receivers from last season's team (Justin Blackmon, Josh Cooper, Mike Harrison) and needed somebody to step up. This season, Stewart answered the bell for an offense that needed him, catching 101 balls for 1,210 yards and seven scores.
Kerry Hyder, DL, Texas Tech:
Hyder was arguably the biggest reason for Texas Tech's defensive resurgence this season, racking up 14 tackles for loss to rank fifth in the Big 12. A year ago, he had just five among his 42 tackles. This year, he made 56 stops, but had 5.5 sacks alone and broke up four passes.
Terrance Williams, WR, Baylor:
Williams was a really good receiver a year ago, putting together maybe the quietest 900-yard receiving season ever. This year, though, he was better than anyone could have predicted. I voted for him for the Biletnikoff Award after leading the nation with 1,832 yards and 12 scores on 97 catches, up from 59 a year ago. He made the jump from great player to true superstar. He'll be an NFL first-rounder.
Jason Verrett, CB, TCU:
Verrett had a nightmare start to 2011, getting burned by Robert Griffin III in a painful loss in Waco to begin the season. This year, he was unquestionably the Big 12's best shutdown corner and arguably one of the best in the country. Ask any Big 12 receiver. He's fast, physical and his great hands helped him grab six interceptions (fifth-most nationally) and break up a ridiculous 16 passes. That's 22 pass defenses. No other Big 12 player had more than 15.
Tony Pierson, RB, Kansas:
Pierson was a great complement to power back
James Sims
, and ranked 10th in the league with 760 yards on just 117 carries. While Sims was suspended to begin the season, he had a pair of 120-yard games and topped 200 yards against Texas Tech, but his yards per carry (6.5) gets him on this list. Among the 25 Big 12 backs with at least 75 carries this year, only Seastrunk had a higher yards-per-carry average.
Lane Johnson, OT, Oklahoma:
Johnson was a good tackle last season, but he made a decent argument for being the best in the Big 12 this year. He was solid all season long, but seeing him shut down Big 12 Defensive Player of the Year Devonte Fields in the regular season finale made a big impact on me. He also played well against possible top-five pick
Damontre Moore
, who was largely quiet in the Cotton Bowl loss to Texas A&M.
Bryce Hager, LB, Baylor:
Hager's tackle numbers are a little inflated because of Baylor's early defensive struggles, but he led the Big 12 with 124 stops after making just 13 in limited duty a year ago as a freshman. If you watched him late in the year against K-State or UCLA, you saw how good Hager and his partner in crime at linebacker,
Eddie Lackey
, could be. It seemed like he was in
Collin Klein
's face all day, and the game may have been different without him.
January, 10, 2013
1/10/13
11:00
AM ET
The Big 12 had nine teams in bowl games this season, and here is the best of the best in the Big 12's postseason. Let's get to it.
[+] Enlarge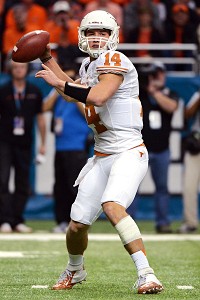 Brendan Maloney/USA TODAY SportsDavid Ash's big plays fueled Texas' comeback against Oregon State.
QB: David Ash, Texas:
He edges out
Clint Chelf
because of his game-changing plays in the Longhorns' win against Oregon State. Ash had the best play of the entire bowl season with a crazy escape and acrobatic touchdown pass to
Johnathan Gray
, and he hit
Marquise Goodwin
on a 36-yard bomb to put the Longhorns ahead in the final minutes. He finished 21-of-33 with 241 yards and two touchdowns and ran for 22 yards and a score.
RB: Lache Seastrunk, Baylor:
Seastrunk helped Baylor rout UCLA with 138 yards and a score on 16 carries in the Bears' Holiday Bowl win.
RB: Glasco Martin IV, Baylor:
How many rushers did the Big 12 have this bowl season who had at least 95 yards? Two, and both played for Baylor. Martin scored three touchdowns in the Holiday Bowl and carried the ball 21 times for 98 yards. Heck of a night for the Bears backs.
WR: Darrin Moore, Texas Tech:
Moore was the most consistent receiver in the bowl season with 11 catches for 84 yards, keeping the chains moving for the Red Raiders in their Meineke Car Care Bowl win against Minnesota.
WR: Stedman Bailey, West Virginia:
Despite playing in a snowstorm, Bailey had the best performance of any Big 12 receiver. He caught eight balls for 121 yards and a pair of touchdowns. It wasn't enough to get the Pinstripe Bowl win, but no other Mountaineer scored a touchdown.
WR: Marquise Goodwin, Texas:
The track star's touches were limited, but he had a huge impact. His 36-yard grab with 2:24 to play proved to be the game winner, and he finished with four catches for 68 yards. He also had one carry -- which he turned into a 64-yard touchdown, looking as fast as any player in college football while streaking to the end zone.
TE: Ernst Brun Jr., Iowa State:
Brun caught four passes for 102 yards, including a 69-yard touchdown, to get the first-quarter party started for the Cyclones, which scored 17 points in the quarter. The rest of the game was forgettable, but Brun had one of the longest plays of Iowa State's season.
OL: Cyril Richardson, Baylor:
The Bears' left guard was a big reason why Baylor had so much success running the ball. Baylor racked up 306 yards on the ground against UCLA.
OL: Lane Taylor, Oklahoma State:
Purdue's
Kawann Short
is a stud and arguably the team's best player, but Taylor helped Oklahoma State rack up 58 points and helped hold the Boilermakers defensive tackle to just one tackle and one sack. Short had minimal impact throughout the game.
OL: LaAdrian Waddle, Texas Tech:
The Red Raiders ran the ball well -- on the few occasions they did -- and
Seth Doege
had plenty of time. Waddle was a big reason why for both.
OL: Lane Johnson, Oklahoma:
Texas A&M wrecking ball
Damontre Moore
declared for the NFL draft before the Cotton Bowl, but credit Johnson at tackle, who helped hold him to five tackles, one tackle for loss and zero sacks, despite
Landry Jones
throwing 48 passes.
OL: Ivory Wade, Baylor:
Those 306 yards rushing for the Bears didn't come easy. Most of them came on the interior, and Wade was a solid presence in the middle of the line.
DEFENSE
DL: Chris McAllister, Baylor:
He was one of a handful of guys to hold UCLA's
Johnathan Franklin
to 34 yards on 14 carries, had five tackles, including two sacks, and batted down a pass to help keep UCLA's passing game grounded.
DL: Alex Okafor, Texas:
Okafor is my defensive MVP of the Big 12 bowl season. He gave Oregon State's offensive line nightmares and helped the Longhorns stage a late comeback with 4.5 sacks, five tackles for loss and eight stops. He also forced a fumble.
DL: Meshak Williams, Kansas State:
The Wildcats had a rough night against Oregon, but Williams played pretty well with nine tackles, two tackles for loss and a sack.
DL: Terrance Lloyd, Baylor:
Lloyd was part of the Baylor gang who helped UCLA have its worst running game of the season. He had four tackles, three tackles for loss and a sack. No zone read for you.
LB: Terence Garvin, West Virginia:
Garvin was everywhere for the West Virginia defense, which largely struggled in a blowout loss to Syracuse. He forced a fumble, recovered a fumble, broke up a pass, had two sacks, made three tackles for loss and had 15 tackles.
LB: Tyler Johnson, Oklahoma State:
Johnson blew up what Purdue likes to refer to as its "passing game." He made six tackles, had two sacks and forced two fumbles, including a huge hit on Purdue quarterback
Robert Marve
.
LB: Eddie Lackey, Baylor:
Lackey was another part of Baylor's defense that put together one of its best games of the season. He made 2.5 tackles for loss, a sack and five tackles.
DB: Jason Verrett, TCU:
Most of Michigan State's night was frustrating in the passing game before some late success, and Verrett was a big reason for those struggles. He broke up two passes, made a tackle for loss and had 12 tackles.
DB: D.J. Johnson, Texas Tech:
Johnson made 14 tackles and is on this team for one of the biggest plays of Texas Tech's season. The defense hadn't forced a turnover since Oct. 20, but Johnson picked off a Gophers pass in the final minute with Minnesota driving and the game tied. He returned it 39 yards, helping to set up the winning field goal as time expired.
DB: Jeremy Reeves, Iowa State:
Reeves returned a
Cody Green
interception 31 yards for a touchdown in the first quarter of the Liberty Bowl loss. He had six tackles with a tackle for loss and a pass breakup.
DB: Daytawion Lowe, Oklahoma State:
No second-half comebacks for Purdue. Lowe opened the half with a 37-yard fumble return for a score and made seven tackles with half a tackle for loss.
SPECIALISTS
KR: Jakeem Grant, Texas Tech:
This one is pretty simple. Grant returned a kickoff 99 yards for a score, giving Texas Tech a 7-3 lead early in the first quarter of its Meineke Car Care Bowl win.
PR: Josh Stewart, Oklahoma State:
Purdue faked a punt to keep its opening drive alive but punted on its next set of downs. The always-shifty Stewart delivered a 64-yard punt return, giving Oklahoma State the ball on the Purdue 19-yard line. The Cowboys scored for a 7-0 lead to kick off the Heart of Dallas Bowl rout.
K: Jaden Oberkrom, TCU:
He edges out Texas Tech's
Ryan Bustin
, who kicked a 28-yard winner, for making all three of his attempts, including a crazy 53-yarder for a 16-14 lead with 2:42 to play. He also made kicks of 47 and 31 yards.
P: Quinn Sharp, Oklahoma State:
He narrowly edges out Oklahoma's
Tress Way
(five punts, three inside 20, long of 58 yards, average 49.4 yards) for this award after pinning Purdue inside its 20-yard line on two of his three punts. He boomed a 65-yarder and averaged nearly 53 yards on his three punts. He was more valuable for Oklahoma State because field position mattered to Purdue. It didn't to Texas A&M.
January, 4, 2013
1/04/13
2:30
PM ET
Kickoff is only a few hours away, and I'll be there in person shortly, but here's who I'm taking in the Big 12's season finale in Cowboys Stadium.
My pick: Texas A&M 41, Oklahoma 37
I really just don't buy that Oklahoma's defense can slow
Johnny Manziel
enough to win this. I do think there are a ton of outside factors that might influence how well he plays or doesn't play. He's a young guy, and who knows how he truly handled the time away on the awards circuit? The coaches have had only good things to say, but will he look rusty, and will Mike Stoops have a solid plan to slow him down and keep him contained?
Additionally, how will the loss of Kliff Kingsbury affect him? I do think this game comes down to exactly how "Johnny Football" plays, but I like his chances to overcome that stuff and play well. Oklahoma's defense plays well, too. The Sooners lock down on
Sean Porter
and
Damontre Moore
and keep them out of
Landry Jones
' face, and Jones plays well in his final start, just not quite well enough to win.
Texas A&M's backs,
Ben Malena
and
Christine Michael
, are criminally underrated and overshadowed by Manziel, and they'll be the X factors in this one and help the Aggies control the game down the stretch. This offensive line is battle-tested in an SEC full of defensive lines much tougher than the Sooners'.
Luke Joeckel
and
Jake Matthews
will prove why they're both projected to be NFL draft first-rounders and will ultimately win this game for the Aggies with a bruising running game in the final quarter.
December, 10, 2012
12/10/12
11:26
AM ET
Congrats to all these guys for turning in fantastic seasons. Naturally, there will be some snubs and some things that need to be explained. Check the blog later today for more thoughts.

Without further ado, here's the All-Big 12 team from ESPN.com.

OFFENSE

QB: Collin Klein, Kansas State
RB: Joseph Randle, Oklahoma State
RB: James Sims, Kansas
FB: Trey Millard, Oklahoma
WR: Stedman Bailey, West Virginia
WR: Terrance Williams, Baylor
WR: Tavon Austin, West Virginia
TE: Jace Amaro, Texas Tech
OL: Cyril Richardson, Baylor
OL: Gabe Ikard, Oklahoma
C: Joe Madsen, West Virginia
OL: Lane Taylor, Oklahoma State
OL: LaAdrian Waddle, Texas Tech

DEFENSE

DL: Devonte Fields, TCU
DL: Meshak Williams, Kansas State
DL: Calvin Barnett, Oklahoma State
DL: Alex Okafor, Texas
LB: A.J. Klein, Iowa State
LB: Arthur Brown, Kansas State
LB: Jake Knott, Iowa State
CB: Jason Verrett, TCU
CB: Aaron Colvin, Oklahoma
S: Ty Zimmerman, Kansas State
S: Tony Jefferson, Oklahoma

SPECIALISTS:

PK: Quinn Sharp, Oklahoma State
P: Quinn Sharp, Oklahoma State
KR: Tyler Lockett, Kansas State
PR: Tavon Austin, West Virginia

Honorable mention: Geno Smith, QB, West Virginia; Landry Jones, QB, Oklahoma; Anthony Cantele, K, Kansas State; Kenny Vaccaro, S, Texas; Justin Brown, PR, Oklahoma; Tanner Hawkinson, OL, Kansas; Jake McDonough, DL, Iowa State; Lane Johnson, OL, Oklahoma; John Hubert, RB, Kansas State; Travis Tannahill, TE, Kansas State; Durrell Givens, S, Iowa State; Cody Davis, S, Texas Tech
October, 28, 2012
10/28/12
2:46
AM ET
NORMAN, Okla. -- After Notre Dame sacked
Landry Jones
on the game's final play, the Oklahoma offensive line looked like a bowling ball had rolled through it. Left tackle
Lane Johnson
crumbled when he tried to stand up. Right tackle
Tyrus Thompson
keeled over to his knees. And moments before, tailback
Damien Williams
had limped his way to the locker room.
In Norman once again, football tough and sound prevailed over finesse and style as the Fighting Irish slugged their way to a resounding
30-13 victory
to knock the Sooners permanently from the national title picture.
"We played hard, we played with energy, we played with toughness," said Oklahoma center
Gabe Ikard
. "But when it comes down to it, they controlled the line of scrimmage.
"Things are not going to go your way when that happens."
Click
here
to read the full story at SoonerNation.
August, 24, 2011
8/24/11
2:30
PM ET
The premiere of the hour-long special following Oklahoma's fall camp, "Hard Knocks" style, was last night on ESPN. I hope you checked it out.
It was pretty fantastic.
Miss it? Here's
the re-air schedule.

Off to a few thoughts:
I really enjoyed all the segments regarding Austin Box, a senior linebacker who died back on May 19. There's no doubt how much he meant to this team. It was written all over each player's face during the scene in the team chapel during camp when they players were re-shown the video that was first shown at Box's funeral back in his hometown in Enid. I was at the church on that emotional day, and 50 of Box's teammates were, too.
In a lot of those segments, you got a sense of what this team means to Travis Lewis, and what Box meant to Lewis. One of Box's teammates that wasn't at his funeral was Lewis, who told me at Big 12 Media Days last month that he just couldn't do it. Lewis, of course, isn't going to delve into what exactly that means with the media, but with his teammates? You saw part of it in his speech when he took the podium in front of the team, and Lewis showed exactly why he's this team's leader. That kind of presence? You just can't replace it. Lewis will be around, but he won't be on the field for awhile for Oklahoma. The show gave fans a look at what that means. Being a good leader and isn't about being the loudest or the funniest. Lewis is often both. But being a true leader is about competing and setting an example, and communicating to your teammates. Lewis does both, and you saw just how easily it came to him when he injected meaning into the team's new tradition of breaking down huddles with a "12" chant. All Lewis did was speak from his heart, and the result was a short, profoundly powerful words. "When Travis speaks, people listen," linebacker Corey Nelson said. Now you know why.
On to less serious things: Kenny Stills' hair needs its own show. Outstanding. Just when you thought there was no trail left to blaze on the Mohawk front, Stills takes it a step further. Keep that mane flowing all season, sir.
True freshman offensive lineman Nila Kasitati stole the show early with his Haka dance. His hometown of Euless, Texas, a suburb of Dallas, has a high Pacific Islander population, and Kasitati brought some of that flavor to Norman. Pretty awesome. The Sooners say they're not perfecting it, but I'd love to see them bust it out before a big game this fall.
Small thing here, but take note: The cold tubs early in the show that Oklahoma has? Chalk that up to great facilities. I've seen other programs across the league that simply use big metal tubs filled with ice. The Sooners' setup looked quite a bit more high tech.
Great stuff from Stoops, throughout. He's got a personality, but us media types rarely get to see it. If the cameras are around long enough, I suppose it comes out eventually. Stoops introducing us to his dogs and talking about his kids' relationships with his players showed one facet of his personality, contrasted with the fiery personality he shows with his players on the practice field. We don't get to see either of those very often. A nice look inside. His tour around his office was good, too.
Lane Johnson: Take that Bob Stoops impression on the road. You'll make millions. Stoops peeking his head in to ask "What's going on over here?" was by far the funniest part of the show.
Outside of lots of contact scored by speed metal, it was tough to tell who was doing what in the Oklahoma drill, but Corey Nelson looked like he was eating up a few running backs.