NCF Nation:

lane kiffin fired
September, 29, 2013
9/29/13
5:35
PM ET
Lane Kiffin has suffered through the slings and arrows from media and fans during all three of his head-coaching stops, so the distinguishing aspect of USC's news conference on Sunday over his termination was that no one said anything bad about Kiffin.
Athletic director Pat Haden, who deemed it "disrespectful" to talk about his upcoming coaching search, started by thanking Kiffin and lauding his effort. He said he had received no complaints about Kiffin from assistant coaches or players. Interim coach Ed Orgeron said Kiffin was always receptive to him and said he would have handled the early-season QB controversy the same way. The players said they had been 100 percent behind Kiffin.
Haden also again noted that Kiffin had been handed a tough job. Severe NCAA sanctions undoubtedly made it more difficult to win like USC is accustomed to winning.
And yet ...
"I've said all along, we've graded on a curve," Haden said, "but we failed on the curve, too."
Haden said he made his final decision during the Trojans' 62-41 loss at Arizona State, but he also noted that "this has been brewing for a while. It hadn't felt particularly good, even since the Hawaii game."
Haden said he and Kiffin met for 45 minutes at the airport after the USC charter landed around 3 a.m. Haden admitted that Kiffin was blindsided and fought for his job.
"Lane was clearly disappointed," Haden said. "Lane is a great recruiter. He battled me. He really tried to keep his job and I respect that."
There will be changes with Kiffin gone. For one, Orgeron said QBs coach Clay Helton will take over as offensive coordinator and playcaller, though Orgeron added that he didn't think the offense would change much philosophically.
Cody Kessler
will remain the starting QB.
Orgeron also said USC will again open practices to the media.
"I want us to have some fun over these next eight games and let the chips fall where they may," he said.
Of course, the first question is whether Orgeron has a chance to become permanent head coach. Orgeron was head coach at Ole Miss from 2005 to 2007, so he knows the basics of running a program and he has a long history at USC, ranging back to the glory days under Pete Carroll. To this, Orgeron would merely say he is focused on the Trojans' next eight games, but he didn't seem to want to close the door on the possibility.
It will be interesting to see how the players react. Orgeron is as fiery a coach as there is in the nation, and his intensity works on players in practice, games and in recruiting. But can he re-motivate a team that is pretty media savvy when it comes to saying the right things to reporters at news conferences but that also seems pretty indifferent on the field?
We'll get our first impression when Arizona visits on Oct. 10, a Thursday night game.
Said Orgeron, "We're here to answer the bell."
September, 29, 2013
9/29/13
4:16
PM ET
The stories will say that Lane Kiffin had lost a fan base, lost his team and lost too many games by too many points. And the stories will be true -- Kiffin's biscuits had been burning on the coaching hot seat for days, weeks, months.
But if we're going to put on our truth helmets, the stories should also say that Kiffin was fired because an athletic director lost his resolve. He was fired because USC alums and boosters, almost prideful in their arrogance, think a roster of 56 scholarship players -- oops, make that 55 with the loss of the team's only true star, wide receiver
Marqise Lee
-- shouldn't affect the Trojans' program.
Pat Haden, the AD who just two months ago said he was "100 percent" supportive of Kiffin, decided he was zero percent behind his coach after Saturday evening's 62-41 loss at Arizona State. This is the same AD who said he would judge Kiffin not just by wins and losses, but by other factors, including academics, NCAA compliance and the character of his players.
"And Lane Kiffin gets very high marks in all of those areas," Haden said at the time.
What a joke. Of course it was about the wins and losses. It's always about the wins and losses at USC -- and, to be fair, at almost any other major college football program.
To read the rest of Gene Wojciechowski's story,
click here
.
September, 29, 2013
9/29/13
11:45
AM ET
The problem with coaching USC is you're coaching USC. If you don't really understand what that means, then you're doomed to fail.
That's the lesson learned by Lane Kiffin, who was fired shortly after the team's charter flight landed in Los Angeles early Sunday morning after his team's 62-41 loss at Arizona State, the school announced before any reporter could claim the news story prize.
[+] Enlarge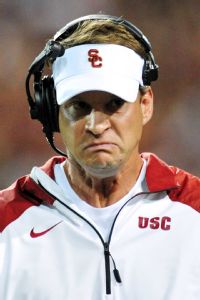 Matt Kartozian/USA TODAY SportsLane Kiffin could never quite live up to USC's lofty expectations.
Kiffin went 28-15 in three-plus years while the Trojans were buried under difficult NCAA sanctions, but the key span is the past 11 games. He lost seven of those, essentially starting a downturn just after folks started to wonder if he actually might be a good coach.
If you can recall USC in December 2011, the Trojans were coming off an impressive 10-2 season that included a win at Oregon. Quarterback Matt Barkley shocked many when he announced in front of a strategically placed Christmas tree during a Heritage Hall news conference that he would return for his senior season to take care of "unfinished business."
That, of course, meant a Pac-12 and national title.
The Trojans headed into the 2012 offseason overbrimming with talent and expectations. They were ranked No. 1 in the preseason AP poll. Yet, little thereafter went well. And that falls, not unfairly, on Kiffin.
He just never seemed capable of getting out of his own way and just coaching his collection of athletes, which in just about every case were more physically talented than the guys on the other side of the field.
Did USC have depth issues due to scholarship reductions? Sure. But that didn't change the fact that the area where USC consistently seemed to be most lacking was coaching, in terms of preparation, motivation and execution. And the offensive play calling, which Kiffin refused to give up despite pointed criticism, was fundamentally flawed in one simple way: The plays Kiffin called more often than not didn't work.
He too often tried to be clever or tricky. He also seemed to react poorly when things weren't going well. An early sack or turnover would seemingly spook him into an overly conservative plan. His complicated schemes seemed simplistic and predictable in execution compared to simpler schemes from other Pac-12 programs that seemed more imaginative and effective.
Further, USC had been eclipsed not only in the Pac-12 by Oregon and Stanford, it also had lost ground to its previously struggling rivals, UCLA and Notre Dame. Trojans fans are demanding as a whole, but losing to the Bruins and Fighting Irish is a deal-breaker.
Kiffin was most consistent as a recruiter, even with scholarship limitations. But the downturn even caught up with that. The Trojans presently have only seven commitments, and they are not ranked among the nation's top 40 classes.
USC remains one of the nation's best college coaching jobs. The high school talent in the surrounding area is among the best in the country. The school also has the resources to make the next coach among the nation's highest paid.
Athletic director Pat Haden likely decided to make a decisive move now so he could get a head start on his search. No sense in allowing the ship to continue to sink. He'll immediately start getting back-door feelers from NFL and college head coaches and top assistants -- many probably already have made inquiries. Lots of names will circulate, from Boise State's Chris Petersen, to St. Louis Rams coach Jeff Fisher, to Denver Broncos defensive coordinator Jack Del Rio, to Washington coach Steve Sarkisian, to Texas A&M coach Kevin Sumlin.
Kiffin was unquestionably burdened with tougher circumstances than many coaches who take over college football superpowers. Yet such an explanation only goes so far in this win-now age.
While he flickered potential during the 2011 season, his ultimate downfall was this: His teams never consistently looked like USC should. And he never consistently looked like a guy who should be fronting USC.
September, 29, 2013
9/29/13
8:29
AM ET
By
ESPN.com staff
| ESPN.com
The USC Trojans have fired coach Lane Kiffin not six hours after dropping to 3-2 after a blowout loss to Arizona State.
Trojans athletic director Pat Haden broke the news to Kiffin after the team's arrival back in Los Angeles early Sunday morning after the 62-41 loss at Tempe, Ariz., the school said in a statement on its website.
USC has lost seven of their past 11 games dating to last year and both of their first two in Pac-12 play this season.
(Read full post)
.