January, 31, 2012
1/31/12
3:25
PM ET
We've already taken a look at what the recruiting needs were for the Atlantic Division. Let's shift our attention to the Coastal Division. Here's a look at where each school's biggest holes will be in 2012 or are anticipated to be in the near future:
DUKE

Offensive skill positions:
After last year's rare class that didn't include either a quarterback or running back, both positions are needed in this group. Quarterback
Thomas Sirk
-- the MVP of the 57th annual Florida Athletic Coaches Association North-South All-Star Football Classic last December -- has already enrolled in school while
Shaquille Powell
-- a PARADE All-American running back from Las Vegas -- has committed to the program. In addition, with David Cutcliffe's offense, wide receivers and tight ends also are a priority.
Kicker:
Will Snyderwine
, who earned first team All-America honors as a junior before struggling through a sub-par season in 2011, graduated, but Duke has a commitment from Ohio native
Ross Martin
, considered the No. 2 placekicking prospect in the country by ESPN.com.
Safety:
With the transition to a 4-2-5 alignment that utilizes three safeties, this becomes an annual point of emphasis. The Blue Devils lose All-American
Matt Daniels
to graduation.
GEORGIA TECH

Defensive line:
This is the most glaring need in the current class. The Yellow Jackets have to replace senior starters
Logan Walls
(DT) and
Jason Peters
(DE), but return
Izaan Cross
(DE) and solid backups
T.J. Barnes
(DT),
Emmanuel Dieke
(DE) and
Euclid Cummings
(DE). The Jackets are expected to sign about 18 players in this year's class, and five of them should be defensive linemen.
Wide receiver:
This is another glaring need after the departures of
Stephen Hill
, who decided to leave early for the NFL draft, and
Tyler Melton
.
Darren Waller
and
Jeff Greene
, who both played last season as true freshmen, have lots of potential, but the position still needs depth.
MIAMI

Defensive backs:
There's still a lot of depth with this group, and the return of
Ray-Ray Armstrong
and
Vaughn Telemaque
helps, but the Canes have to replace two starters in the secondary and have six commits in the current class to help do that.
Defensive line:
The Canes have to replace
Adewale Ojomo
,
Micanor Regis
,
Andrew Smith
and
Olivier Vernon
from last year's two-deep. The defensive end position was a particular focus in this class.
Receiver:
This position lost a lot with the departures of
Tommy Streeter
,
LaRon Byrd
and
Travis Benjamin
.
Allen Hurns
is now the veteran of the group, along with redshirt senior
Kendal Thompkins
. There are five receivers currently committed in this class.
Quarterback
: Beyond
Stephen Morris
, Miami has a lot of questions at the position and not a lot of experience. True freshmen
Gray Crow
and
Preston Dewey
are already on the roster, along with redshirt sophomore
Ryan Williams
.
NORTH CAROLINA

Defensive line:
This is one of the biggest areas of concern after the departures of
Quinton Coples
and
Tydreke Powell
.
Receivers
: Larry Fedora's offense will make good use of this group, but he needs to replace standout
Dwight Jones
.
Linebackers:
This group was thin to begin with in 2011, and now the Heels need to replace outgoing senior
Zach Brown
.
Kevin Reddick
is now the main man.
Safety:
UNC will have to replace two starters in
Matt Merletti
,
Charles Brown
and
Jonathan Smith
, so this position will have to be rebuilt for the future.

VIRGINIA
Defensive back:
This should be the main priority in this class. The Cavaliers will lose four DBs, including two starting safeties in Rodney McCleod and
Corey Mosley
, and standout cornerback
Chase Minnifield
. They'll also miss
Dom Joseph
, who came in for the nickel packages.
Demetrious Nicholson
, who started as a true freshman last year, is suddenly the veteran of the group.
Offensive line:
The Hoos will have to replace their starting center and left guard. Redshirt freshman center
Cody Wallace
could get a promotion, and sophomore right guard
Luke Bowanko
started in the bowl game. They've got some big bodies waiting in the wings, but they'll have some questions to answer here this spring.
Kickers:
This position needs to be rebuilt, as the Cavaliers lose
Robert Randolph
, who finished sixth all time in scoring at UVa, kickoff specialist
Chris Hinkebein
, and four-year punter
Jimmy Howell
. The position is wide open heading into the spring.
VIRGINIA TECH

Running back:
This one is a no-brainer, as the Hokies have lost four players here in the past two years.
David Wilson
and his backup,
Josh Oglesby
, were the latest to depart, and
Tony Gregory
just had ACL surgery and is out for the spring. The staff likes
Michael Holmes
, who redshirted last year, and
J.C. Coleman
enrolled last week.
Receiver:
The Hokies will miss
Danny Coale
and
Jarrett Boykin
, and next year's class has three seniors in
Dyrell Roberts
,
D.J. Coles
, and
Marcus Davis
. The future of the position is young, and the staff is still going after several uncommitted players pretty hard.
Defensive line:
This year's class already includes at least five committed defensive linemen, and the Hokies will be particularly thin at noseguard. They had some players graduate early who didn't play a lot, but at least provided depth.
Linebacker:
The Hokies have four committed, and are still chasing another just to build the depth. The staff missed on some recruits at this position last year and would like to make up for it in this class.
June, 23, 2011
6/23/11
10:30
AM ET
You asked, I answered. Readers (particularly @AsylumGodfather) were calling for more position rankings, so the receivers are up next. This could be the strongest position group in the conference, and one of the more difficult to rank, so I looked back on a few stats to help me separate them, including how some of these guys did against their best competition (i.e.
Danny Coale
versus FSU, wow). Here's the final verdict of which teams in the ACC have the best combination of depth and talent:
1. Virginia Tech:
With
Jarrett Boykin
and Coale returning, the Hokies' passing game has a chance to flourish this fall. Boykin, Coale and
Dyrell Roberts
were the team's top three receivers last year for the second straight season, combining for 113 catches, 1,882 yards and 11 touchdowns. Add to that
Marcus Davis
,
D.J. Coles
,
E.L. Smiling
-- it's a bottomless cup of depth and talent.
2. Duke:
Conner Vernon
has 128 catches in his first two collegiate seasons and
Donovan Varner
ranked fourth in the ACC in pass receptions (60) and seventh in yardage (736). Their combined 274 receptions are the most of any active duo in the ACC. They are the top two returning leaders in catches per game, and Vernon is the ACC's returning leader in receiving yards per game. The Blue Devils also have sophomore
Brandon Braxton
(14 catches), who could make a name for himself as the third option this year.
3. Florida State:
Every Seminole who caught a pass last season returns.
Bert Reed
,
Taiwan Easterling
and
Rodney Smith
return with a combined 50 career starts. Reed ranks second among all returning ACC receivers with 141 career receptions.
Willie Haulstead
had 38 catches last season, Smith had 31, and there's plenty of rising talent like
Christian Green
.
4. North Carolina:
Like Florida State, North Carolina returns all of its receivers, including two who redshirted last season.
Dwight Jones
, who had 946 yards and 62 receptions, leads the group, but
Erik Highsmith
(25 catches, 348 yards and three touchdowns) must be accounted for as well. Defenses also can't forget about
Jheranie Boyd
, who is a deep threat.
5. Miami:
The Canes will miss the production of Leonard Hankerson, but they don't have to if one or two of the other players show more consistency.
Travis Benjamin
has big-play capabilities and averaged 17.3 yards on his 43 catches last season. There is no shortage of other options with
LaRon Byrd
,
Aldarius Johnson
,
Tommy Streeter
,
Allen Hurns
and
Kendal Thompkins
. Which one will rise to the occasion?
6. Clemson:
It was the
DeAndre Hopkins
show last season, and he should again highlight the Tigers' passing game. As a true freshman, Hopkins had 52 catches, the most by a first-year player in school history.
Jaron Brown
returns with 10 career starts, and the Tigers also have
Marquan Jones
(21 catches) and
Bryce McNeal
(19).
7. Maryland:
The Terps have to replace their top two receivers from a year ago in Torrey Smith and
Adrian Cannon
, and no clear frontrunners emerged this spring.
Quintin McCree
leads all returners with 16 catches, followed by
Kevin Dorsey
(15),
Ronnie Tyler
(13),
Kerry Boykins
(10), and
Tony Logan
.
8. Boston College:
True freshman
Bobby Swigert
led the Eagles last year with 39 catches and four touchdowns in five starts. The Eagles are hoping to get a significant boost from the return of
Colin Larmond Jr.
, who missed all of last season with a knee injury, but the young group should be better regardless because of the experience gained last season.
9. Virginia:
The Cavaliers will miss
Dontrelle Inman
, who averaged 16 yards per catch on 51 receptions, but returning starter
Kris Burd
finished fifth in the ACC last season in pass receptions (58). The group will also get a boost from the return of
Tim Smith
, who missed almost all of last season with an injury, and
Matt Snyder
(30 catches) and
Ray Keys
(three catches).
10. NC State:
NC State has to replace its top two receivers from a year ago, and
T.J. Graham
is the team's leading returning receiver with 25 catches.
Steven Howard
,
Jay Smith
and
Quintin Payton
all have experience, and redshirt freshman
Bryan Underwood
,
Tobias Palmer
and Everett Proctor have also been competing for playing time.
11. Wake Forest:
Chris Givens
(35 catches, 13.7 average),
Michael Campanaro
(10 catches) and
Danny Dembry
are the lead candidates to start, but the Deacs are missing a spark like Kenny Moore (2007) and D.J. Boldin (2008) provided. There were too many dropped passes in the spring game, so this group has some work to do in summer camp.
12. Georgia Tech:
Yes, Georgia Tech throws the ball, just not often enough or efficiently enough to be anywhere but last place on this list.
Stephen Hill
led the Jackets last year with 15 catches for 291 yards and three touchdowns. He should show progress this fall now that there's no pressure on him to be the next Demaryius Thomas. If he doesn't show more consistency, the Jackets could turn to
Daniel McKayhan
,
Tyler Melton
or
Jeremy Moore
.
March, 22, 2011
3/22/11
9:49
AM ET
Miami has released its
second depth chart of the spring
, and the most noticeable change is at quarterback, where
Jacory Harris
has moved back to the No. 1 spot, followed by
Stephen Morris
and
Spencer Whipple
. (And Miami fans aren't sure whether to celebrate or panic.)
Running back
Storm Johnson
has moved up to the No. 1 spot, and
LaRon Byrd
and
Travis Benjamin
are once again the top receivers.
Defensively, redshirt freshman Travis Williams is in the top linebacker spot Ramon Buchanan used to occupy before
he was suspended
this week. Sophomore
Eduardo Clements
, who played primarily on special teams in 2010, has moved from running back to cornerback.
Strong safety Ray-Ray Armstrong is back at No. 1 after being limited at the beginning of spring ball but is now back to full participation. True freshman cornerback Thomas Finnie is apparently the real deal. It was surprising to see a true freshman in a starting role on
the first spring depth chart
, but he has maintained his hold on that spot. Linebacker Jordan Futch has moved from the middle to outside.
January, 24, 2011
1/24/11
10:00
AM ET
This morning we looked at the main recruiting needs for the Atlantic Division. Here are the priorities for each team in the Coastal Division:
DUKE
Offensive line:
The Blue Devils will have to replace one starter in center Bryan Morgan, and it's still a relatively young group, but with several redshirt sophomores on the roster, the staff wants to load up two grades behind them to fully stock the position for the future.
Defensive line:
This has always been Duke's deficiency, which means it will always be a priority to catch up and build depth. The Blue Devils will have to replace two starters in Wesley Oglesby and Patrick Egboh. Noseguard Charlie Hatcher will be a redshirt senior.
Cornerback:
Duke only loses one starter, cornerback Chris Rwabukamba, but it's another position that has been weak and needs better athletes.
GEORGIA TECH
Offensive line
: The early departure of Nick Claytor to the NFL didn't help the depth, but there were still several young players who gained valuable experience and others who redshirted to help the depth. While no true freshman is likely to make an immediate impact, the staff is still looking to build the numbers up front.
Linebacker/defensive line:
The Jackets need to find more athletes who are suited for Al Groh's 3-4 scheme. Fast athletes who are versatile enough to play a hybrid role, with the ability to move in space, will be a priority in this class.
MIAMI
Quarterback:
With
Jacory Harris
being a senior, A.J. Highsmith moving to defense, and
Spencer Whipple
struggling in what little time he has played, the position needs a boost. It didn't help that Teddy Bridgewater reneged on his commitment.
Linebacker:
This is a position former coach Randy Shannon had put an emphasis on building, and there are young players and depth, but it was also a veteran group in the 2010 two-deep, with mainly juniors and seniors.
Wide receiver:
The upperclassmen did all of the work in 2010, with
Leonard Hankerson
leading the way.
Travis Benjamin
,
Aldarius Johnson
and Laron Byrd will all be seniors. An influx of young talent is needed.
Defensive end:
The staff is looking to improve the depth here, get stronger up front, and build upon the success from 2010. Marcus Robinson, Adewale Ojomo, and Micanor Regis will all be seniors.
NORTH CAROLINA
Tailback:
Injuries depleted this group in 2010, and
Anthony Elzy
,
Johnny White
and
Shaun Draughn
were both seniors.
Ryan Houston
was able to redshirt and will return as a fifth-year senior, but the Tar Heels need more dependable runners and a foundation for the future.
Defensive line:
The Tar Heels have to prepare for some departures, especially on the interior, where all four players on the two-deep roster in 2010 were juniors.
Secondary:
UNC will have to replace three starters in the secondary this spring, and three backups this year were juniors. Because of the NCAA investigation, this is a group in which backups had to develop quickly, so there are some experienced younger players, but the group still needs to reload.
Tight end:
The loss of Zach Pianalto and his backup,
Ed Barham
, leaves the position thin.
VIRGINIA
Offensive line:
With starting right guard B.J. Cabbell gone, starting center Anthony Mihota a senior, and starting left guard Austin Pasztor a senior, the staff has to prepare for some departures. Morgan Moses and Oday Aboushi are talented young players, but the rotation needs more of them.
Defensive line:
End Zane Parr's decision to leave early for the NFL draft hurt the position's depth, and the Cavs will also have to replace John-Kevin Dolce at tackle. Three other players in the two-deep will be rising seniors, and with Virginia switching back to a 4-3 defense under Mike London, the Cavs have to rebuild up front.
Secondary:
Cornerback is of particular concern, as Chase Minnifield will be a senior, and starter Mike Parker will graduate.
VIRGINIA TECH
Running back:
The early departures of
Ryan Williams
and
Darren Evans
to the NFL left
David Wilson
as the only tailback with any significant experience. Overall, the Hokies have four tailbacks on their current roster.
Defensive line:
The Hokies will have to replace redshirt senior starters Steven Friday and John Graves, and starting left end Chris Drager will be a redshirt senior this year.
Wide receiver/tight end:
Starters
Jarrett Boykin
and
Danny Coale
will be seniors, and tight end
Andre Smith
will graduate.
Secondary:
Half the players on the two-deep roster against Stanford were either juniors or seniors, and the Hokies will have to replace rover Davon Morgan and cornerback Rashad Carmichael.
September, 24, 2010
9/24/10
1:30
AM ET

LaRon Byrd talks about Miami's win over Pitt.
September, 8, 2010
9/08/10
9:06
AM ET
It's possible that Miami could become a national contender before it wins a title in its own ACC Coastal Division.
Then again, it's also possible things stay status quo in Coral Gables for at least another season.
[+] Enlarge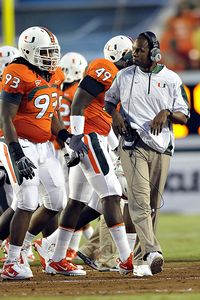 Steve Mitchell/US PresswireIf Miami upsets the Buckeyes, it would be the program's first win over a top 5 team under Randy Shannon as head coach.
Saturday's game at No. 2 Ohio State will reveal just how far Miami has come in four seasons under coach Randy Shannon. The matchup is reminiscent of Miami's glory days, as it's the first meeting between the two schools since they met in the national championship game at the 2003 Fiesta Bowl.
The difference this time around is that the Buckeyes are the ones who have been getting all the glory -- and deservedly so. Expectations are high for the Rose Bowl champs, who boast a Heisman Trophy candidate in quarterback
Terrelle Pryor
and one of the stingiest defenses in the country.
The implications of a win loom large for Miami. An upset of the Buckeyes would immediately skyrocket Miami into the national picture and give the program its first win over a Top 5 team since beating No. 3 Virginia Tech, 27-7, in Blacksburg on Oct. 13, 2005. It would also be the first win over Ohio State since 1999.
"The opportunity we have on Saturday is going to be huge for us," said linebacker Colin McCarthy. "It's going to give us an opportunity to get back to where we know we should be. As far as our mindset going into this game, it's going to be tough. The atmosphere at Ohio State is not the easiest place to play at, but we've played in big games and I think we're ready for the opportunity."
Ohio State is coming off a 45-7 win over Marshall last Thursday, in which the offense racked up 529 total yards. Pryor led a balanced offense with 247 yards passing and three touchdowns, while the Buckeyes held Marshall to just 199 yards.
McCarthy said the Canes respect Pryor and his offensive line, and they're preparing for the Buckeyes to establish the run first and then try to beat them with deep passes.
"He's a dual threat quarterback," McCarthy said. "He can run the ball and pass the ball. We have to limit him to doing just one. I think that will put us in the best situation to win."
The Hurricanes are 6-2 against Top 5 teams since the 2000 season, with the lone losses coming at No. 5 Florida in 2008 and against Ohio State in the 2003 national championship game. The loss to the Gators is the Hurricanes' only loss against a Top 5 team in a true road game since the Canes lost at No. 2 Virginia Tech during the 1999 season.
"We're looking at it as just another game on the schedule, but at the same time, there's a lot of meaning behind this game," said receiver
LaRon Byrd
. "They're a great team. I know it's going to be a good game, the media's going to hype it up, the fans are going to be riled up. We've just got to go in and play confident and work on our assignments and execute."
September, 23, 2009
9/23/09
9:52
AM ET

Posted by ESPN.com's Heather Dinich
When Miami coach Randy Shannon took over the program three seasons ago, there were only about three or four scholarship receivers on the roster -- far below the usual eight to 10 most schools carry. So this offseason, when receivers coach Aubrey Hill faced the popular question, 'You've got so many receivers, wouldn't you rather just have one guy?' his response was logical:
"I said, 'If you're at Christmas, would you rather have one toy, or as many toys as you can?"
| | |
| --- | --- |
| | |
| | AP Photo/J. Pat Carter, File |
| | Miami offensive coordinator Mark Whipple has plenty of options. |
Now, after building depth with recruiting classes that included some of the elite talent in the country, and players who could contribute immediately, the Hurricanes' toy box overfloweth.
Twelve different players have caught at least one pass for the No. 9-ranked Hurricanes heading into Saturday's showdown at No. 11 Virginia Tech. And six of them have at least five catches. Seven different players have scored touchdowns in wins over two ranked ACC opponents. Three different receivers have run a reverse. Miami returns nine of its top 10 leaders in all-purpose yards from 2008. Running backs
Graig Cooper
and
Javarris James
have helped the Canes to a 7-2 record when they combine for at least 25 carries. And, of course, they've finally got a quarterback to lead them all in
Jacory Harris
.
"This Miami team we're getting ready to play," said Virginia Tech coach Frank Beamer, "Wow."
Receivers
Travis Benjamin
,
Thearon Collier
,
Davon Johnson
and
Kendal Thompkins
bring straight speed, quickness, elusiveness and big-play capabilities.
Leonard Hankerson
and
Aldarius Johnson
are talented possession players with great hands who move the chains.
LaRon Byrd
and
Tommy Streeter
can stretch the field deep with their speed and height. Cooper is elusive, while James is the power back, and
Lee Chambers
and
Mike James
provide dependable depth at the position. Tight ends
Jimmy Graham
and
Dedrick Epps
have both given the offense a boost, while the offensive line makes it all possible.
| | |
| --- | --- |
| | |
| | Steve Mitchell/US Presswire |
| | Graig Cooper has averaged 5.2 yards per carry so far. |
"The opposing team can't just focus on one player," said Byrd. "You look at a lot of teams in the country, like Oklahoma State. They have
Dez Bryant
, so you have the defense lock on Dez Bryant and the offense is going to have a tough time. You look at Alabama,
Julio Jones
. They lock down on him and Alabama is going to have a tough time. You look at us, we have so many weapons you can't just lock on one player. If you double up on Travis Benjamin, then Aldarius Johnson is going to have a big game. If you double up on him, then Hankerson is going to have a big game, and so forth and so forth."
Miami's versatility is not only in its athletes, but also in its playbook. The addition of offensive coordinator Mark Whipple, coupled with the wide array of abilities, size and speed on the roster, has made Miami's offense the total package and extremely difficult to defend.
"He's just so creative, bringing so many different offenses and making it Miami's offense," Hill said. "He's been one of the most creative offensive coordinators I've been around and knowing how to set-up plays, run and pass. That's been really good for the whole coaching staff and also the players because they're really, really excited to come into the meeting room to see what the mad scientist is creating next."
In fact, some of the Canes have gotten into it so much some have tried to write their own plays on the board.
"Some have had consideration," Hill said with a chuckle, "and some haven't."
Almost all of the players, though, have had their moments in the spotlight.
"We spread the wealth around to each guy," Shannon said. "They know that they have to run their routes and everything full speed because they don't ever know when Jacory is going to throw the football to them. That's the difference in this team.
"The best thing about it is the competition in practice. You don't have to worry about a guy getting too extreme as far as thinking he's the guy who makes the offense run, or he's the guy who makes the defense run. We've got depth at those positions to say, 'You know what? You don't want to work hard? OK, fine. We love you, and you're part of this program, but we're going to go with somebody else.' That's a big help."
And it's a nightmare for opposing defenses -- even ones as renowned as Virginia Tech's.
"I've got a lot of respect for them," said Virginia Tech defensive coordinator Bud Foster. "They're just right now, really a complete football team."
August, 14, 2009
8/14/09
10:27
AM ET
Posted by ESPN.com's Heather Dinich
The ACC has released its preseason all-conference team last month, now ESPN.com is releasing ours. Here's the final version with minimal tweaks from the original ballot:
OFFENSE
QB Riley Skinner, Wake Forest
RB C.J. Spiller, Clemson
RB Jonathan Dwyer, Georgia Tech
WR Jacoby Ford, Clemson
WR LaRon Byrd, Miami
TE Greg Boone, Virginia Tech
OT Anthony Castonzo, Boston College
OT Jason Fox, Miami
OG Thomas Austin, Clemson
OG Rodney Hudson, Florida State
C Ryan McMahon, Florida State
PK Matt Bosher, Miami
DEFENSE
DE Willie Young, NC State
DE Jason Worilds, Virginia Tech
DT Vince Oghobaase, Duke
DT John Russell, Wake Forest
LB Sean Spence, Miami
LB Quan Sturdivant, North Carolina
LB Dekoda Watson, Florida State
CB Stephan Virgil, Virginia Tech
CB Patrick Robinson, Florida State
S Morgan Burnett, Georgia Tech
S Kam Chancellor, Virginia Tech
P Travis Baltz, Maryland
SP C.J. Spiller, Clemson
Posted by ESPN.com's Heather Dinich
There are some teams in the ACC that are stacked at a particular position or positions -- meaning there's not just depth there, but depth and legitimate all-conference talent. Here's a quick look at who in the conference is simply loaded:
UNC front seven: All four starters return on the defensive line, and there is outstanding depth both there and in the secondary. On the line, tackle Cam Thompson is coming off his best season at UNC, tackle Marvin Austin and end E.J. Wilson both started the majority of games last season, and Robert Quinn had 6.5 tackles for loss, two sacks and two forced fumbles.
Linebackers Bruce Carter and Quan Sturdivant both started every game last season, and the position is the deepest it's been in recent years. Carter led the team with 11 tackles for loss and Sturdivant led the nation with 87 solo tackles.
Georgia Tech running backs: Jonathan Dwyer, Roddy Jones, Anthony Allen, Marcus Wright -- so many players, only one football.
Georgia Tech secondary: Morgan Burnett, Rashaad Reid, Mario Butler, Dominique Reese, and Cooper Taylor all have experience, and the group also welcomes back Jerrard Tarrant from a suspension.
Virginia Tech running backs: Darren Evans and Ryan Williams are all the Hokies will need, but they've also got Josh Oglesby and Kenny Lewis Jr. as players they can count on.
Boston College secondary: The Eagles return DeLeon Gause, Wes Davis and Roderick Rollins, who have combined for 32 career starts. This should be the best group BC has had in a while.
Clemson defensive line: The Tigers return three starters across the front, and coach Dabo Swinney has said this unit could be the strength of the entire team. Ricky Sapp is the leader, senior Kevin Alexander is a returning starter, and there are really three starters returning for the two defensive end positions, including DaQuan Bowers, who started six games last year and finished with 47 tackles, the most among the linemen.
Miami wide receivers: Travis Benjamin, Aldarius Johnson, Thearon Collier, LaRon Byrd, Kendal Thompkins, Tommy Streeter ... the Hurricanes could field a team that consists entirely of receivers.
Florida State offensive line: The Noles are oozing with talent here. Tackle Andrew Datko, guard Rodney Hudson and center Ryan McMahon combined to start all but one game last season. What was the youngest offensive line in the FBS last season could be one of the best this year. For the first time since 2004, all five starters return.
Wake Forest offensive line: The Demon Deacons return eight offensive linemen with a total of 118 career starts among them. Jeff Griffin and Joe Birdsong are Wake's returning starters at tackle while Barrett McMillin and Joe Looney each started at guard in 2008. Russell Nenon, who started the season at guard, moved to center at midseason following an injury to Trey Bailey. Bailey returns after fully healing from a broken ankle. The Deacons also welcome back Chris DeGeare who missed the 2008 season while getting his academics in order.
Posted by ESPN.com's Heather Dinich
And around the ACC we go ...
For those of you wondering why there's not a lot of news coming out of Virginia Tech, don't hold your breath for a lot of links in 2009. Frank Beamer is tightening access, which is unfortunate. In the past, they've been one of the most accommodating staffs to work with.
Louisville transfer Anthony Allen is just one of the many reasons Georgia Tech has for optimism in 2009.
Miami safety Vaughn Telemaque is trying to rebound from an injury-hampered season, and he's got roommate LaRon Byrd to lean on in the process. Receiver Leonard Hankerson, meanwhile, is trying to get rid of the "drops." Miami's offensive line appears to be a strength now that Matt Pipho has had a solid spring at right tackle.
Former Maryland receiver Darrius Heyward-Bey isn't just putting his best foot forward for NFL scouts, he's also putting his personality on display.
Many Clemson fans are watching the quarterback competition this spring, but who they're throwing it to is also important.
March, 24, 2009
3/24/09
11:09
AM ET
Posted by ESPN.com's Heather Dinich

There is no questioning the talent on Miami's roster. It's the intangibles that not even the staff can predict. They've got a new offense, a new defense, a new quarterback, and they're all trying to find some chemistry and get the program back to where they want it to be. They have the talent to do it.
Here's the thing, though. Miami's schedule simply doesn't allow the Canes any margin for error. There are no William & Marys to work out the kinks. The Miami Hurricanes have to play their best football in September, or it's going to be a long season.
Gut feeling? There will be no in-between for this team. Miami will either start the season 4-0 or 0-4.
The good news is first-year offensive coordinator Mark Whipple's confidence oozes down to the players, and receivers coach Aubrey Hill said they're picking up the offense quickly. For such a young team, they're preparing the right way, and that's critical.
"Sometimes you have a lot of young kids who say Yeah, I want to win, but don't really do the little things to win and then you have to call them out on it," Hill said. "We haven't had to do that at this point. And also, in fairness to those guys, they are very competitive. When you learn a new offense, you have some things you have to correct, but when you come out the next day, you're not having to correct the same mistakes. So, that's a good sign."
Receiver LaRon Byrd is also a good sign. He's been studying a lot of game film. Not just any game film, though, vintage Miami film.
"You get the best of both worlds -- you've got a great offense you can learn from and you can learn from great cornerbacks who played on the 2001 team," Byrd said. "Not to say that last year was a downfall year, but at the same time it's not the Miami way. Like coach Shannon always preaches, when you look at great teams like that, from the five national championships, everybody around here expects to win at least 10 games a year. Every great program has their downfall, but hopefully we're going to rise again. I think we can get it started this year right here."
Byrd is one of many young players on Miami's roster growing into his reputation. So are players like Sean Spence, Travis Benjamin and Aldarius Johnson. They're a young team carrying expectations similar to the 2007 Virginia Tech team that had veterans like like Macho Harris, Xavier Adibi and Brandon Flowers.
"It's such an unknown," Hill said. "When you look at Virginia Tech over the last several years, teams that have won the ACC championship, what they've done, you know the players they had. There are so many new names on our team, but at the same time, if they're not new names, they're fairly young. But at the same time, our coaching staff feels very comfortable that even though we have young players, to a certain degree they're proven because they've already played."
The Canes circled the first game, and that's it. Everyone knows they're playing Florida State, and the players and coaches refuse to look past the Noles.
"Maybe if you're somewhere else, not necessarily within the ACC, maybe you wallow and say wow, man, this is a tough schedule," Hill said. "At the University of Miami ... we feel we can compete and play against anybody."
They can't afford to start the 2009 season believing anything less.
November, 20, 2008
11/20/08
7:45
PM ET
Posted by ESPN.com's Heather Dinich
ATLANTA, Ga. -- Talk about a bummer for a senior on senior night. It looks like defensive tackle Vance Walker's nagging ankle injury will keep him from starting on senior night, breaking a streak of 23 consecutive starts. Walker is dressed, but if he plays, it will only be because he guts it out. Senior Elris Anyaibe will make his first career start.
Between his ankle and quarterback Josh Nesbitt's, things do not look good for the Yellow Jackets, and the game hasn't even started yet. Here are a few other quick notes before kickoff:
Either senior Jahi Word-Daniels or true freshman Rashaad Reid will start at cornerback. That's a game-time decision.
Senior Andrew Smith will make his first career start at wide receiver in place of Correy Earls. He will also handle punt return duties.
Late arriving crowds aren't uncommon here, but a six-car accident on I-85 might have something to do with this one.
The temperature isn't unbearable. It's 48 degrees. I'm ok in my sweater, since I know you were all concerned.
Miami's Laron Byrd will start in place of Travis Benjamin at wide receiver. Benjamin will play, only in certain situations, and he won't return kicks. Thearon Collier will handle that.
November, 2, 2008
11/02/08
12:35
PM ET
Posted by ESPN.com's Heather Dinich
Maryland won without playing. The Terps are in sole possession of first place in the Atlantic Division and can be considered the frontrunner because they are the only team in the division without a loss to a division opponent. In fact, the Terps are 3-0 against the Atlantic Division, and would win the tiebreaker over Wake Forest if need be. Georgia Tech helped the Terps by beating Florida State, which lost its share of the division lead. Maryland will play in a hostile environment Thursday night at Lane Stadium, but a loss would be more damaging to the Hokies than it would the Terps. Boston College is now on the outside looking in.

The Coastal is chaos. Miami's win over Virginia threw it all out of whack. While that's great for the Hurricanes, there are now five teams each with two conference losses. While Virginia Tech remains the only team without a Coastal Division loss, that won't matter if the Hokies lose to Maryland -- or anyone else for that matter -- and other teams finish with a better conference record. The upcoming game between North Carolina and Georgia Tech will be very interesting, especially considering both teams have lost to the same opponents -- Virginia and Virginia Tech. This division is more than likely going to need the tiebreaker.
Miami and Georgia Tech are officially ahead of schedule. Never mind that both teams had new defensive coordinators coming into this season, or that Georgia Tech was in its first year under Paul Johnson and Miami in its second under Randy Shannon. Does anyone realize how many freshmen made key plays this weekend for both of these teams? Miami freshman quarterback Jacory Harris threw the game-tying pass to freshman Laron Byrd and freshman Aldarius Johnson caught the pass for the lead in overtime. In Atlanta, Georgia Tech would have lost had it not been for two true freshmen defenders determined to get the football on Florida State's final possession, and after the ankle injury to Josh Nesbitt, they were led by a freshman quarterback. Both programs became bowl bound by Nov. 1 and are equally in the mix for the ACC championship.
Wake Forest has an offense. Offensive coordinator Steed Lobotzke should have silenced some critics this weekend. The Deacs' 33 points were the most they had scored since their 41-13 season-opening win against Baylor. It was the most points Wake has scored against an ACC opponent this season. The Deacs were averaging just 8.5 points and had scored just two touchdowns in four ACC games. They also cured their red zone woes. Wake Forest entered the Duke game 11th in the ACC in red zone success, scoring on 18 of 25 trips. The Deacons improved that mark by scoring on three of four trips inside the red zone.
Clemson coach Dabo Swinney can win on the road in the ACC. He even got the Gatorade bath to prove it. With the win over Boston College, Swinney avoided becoming the first Clemson coach ever to start his career 0-2. The question now is whether it was the start of a turnaround, and the Tigers figured out how to win games, or if it was an anomaly in a season filled with disappointing trends. If it was the beginning of some serious change, then Swinney will get some serious consideration to keep his job. If not, he won't. That simple.