NCF Nation:

Larry Black Jr.
February, 28, 2013
2/28/13
1:00
PM ET
There's reason to be cautiously optimistic about Indiana football in 2013. The Hoosiers improved their wins total last fall by three and amazingly in November found themselves in contention to represent the Leaders Division at the Big Ten title game. All but three starters return, including the playmakers from an offense that finished second in the Big Ten. Quarterback
Tre Roberson
has
recovered from a broken leg
and will compete to reclaim his starting job this spring. The schedule features eight home games for just the second time in team history. IU isn't without major concerns, namely a defense that hasn't consistently stopped anyone for more than a decade and
recently lost co-coordinator Mike Ekeler to USC
. The team only went 4-8 in 2012 and must build much better depth at several positions, starting in spring ball, which kicks off Saturday.
ESPN.com caught up with IU head coach Kevin Wilson to discuss the spring.
What's the big theme for your team entering the spring?
Kevin Wilson:
We've got enough guys back, we're stronger, we're mature, we understand each other and understand the standard. We've just got to continue to work at a higher level. When you're not mentally or physically as strong as you want to be, you've got to gain on it. There's different levels of that. It's nice that we get a lot of guys back, but you start over. We are starting over at a better spot because a lot of guys are back. We're building a foundation to play better football next year.
Where would you like to be from a depth standpoint by the end of the spring?
KW:
Everybody's got depth issues and we could be better in certain areas, but we only lose about four or five guys who really played [in 2012]. We've got a lot of what's back, and we've got, on paper, a nice recruiting class that will help, but really it's not about the depth as much as it's about competition. Guys are pushing guys to be on the field. We've got a lot of guys back who have been second-teamers and the first-teamer [ahead of them] is back. Now how do you push that first-teamer and beat him him out? A great example is at quarterback. We've got three guys that have all played, they've all played kind of well, their stats are OK, but we haven't won a lot of games. There's really not a proven winner. We've got guys that look like they can do OK, but they haven't proven they can win at a high level of Big Ten football. I think that will be an awesome competition. We want to see that across the board.
[+] Enlarge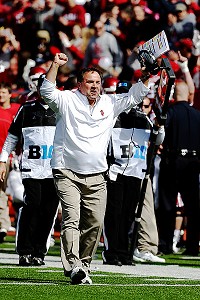 AP Photo/Darron CummingsWith numerous key players returning, Indiana coach Kevin Wilson is optimistic heading into spring workouts.
How do you identify winners in that group or other groups when you're not playing games?
KW:
Sometimes you'll see who moves around, who gets the group in the end zone. But that sometimes can be skewed. A guy busts a coverage and a guy scores a touchdown, does that mean the quarterback is a better quarterback? Sometimes it's a play where there's not a good call and he's got to throw it out of bounds and it's a great play because there's nothing open. I just think your body of work, your body language, your leadership skills. Are you the best extension of the coaching staff and what we're trying to do? The game's called football and we put the football in your hands every snap. It's got to be a guy you trust because you give him the game, every game, and say, 'Go play.'
Right now, those guys have all had some fair stats, but we want to see winning football played at that position.
How is Tre [Roberson] physically, and what do you expect out of him?
KW:
He's been full-go. Right now, we're doing our offseason program, our agility program, and he's full-go. There's no limitations. I don't want him to be tackled, but we don't tackle the quarterbacks anyway, so I would anticipate he'll be out there every day. He's gotten bigger. When he got hurt, he was under 185 [pounds], right around there, and now he's pushing 200 pounds. He's bigger, stronger, looks good running. I don't think he's at full tilt, but every day he gets stronger, every day he gets better and every day he gets more confident. Knock on wood, he should have no limitations, and he'll compete every day with those other two guys [
Cameron Coffman
and
Nate Sudfeld
].
You really bring back a lot at wide receiver, running back and tight end. How much competition is there at those other offensive positions?
KW:
We've got everybody back except [center]
Will Matte
on offense. We didn't lose a quarterback, we don't lose a running back, we don't lose any receivers. So we've got basically the crowd back. It's the same deal. Our kids realize, though, that the deal is we're going to play a number of guys. It doesn't matter whether you go out there first or second, we're going to play six, seven, eight, nine guys. We need to have one or two more receivers than we have. We're going to [use] two tight ends at least, with two or three running backs and seven or eight receivers. So when you say depth, it would be nice to see some of these guys that redshirted continue to come on and help us as complementary tight end guys and complementary receivers.
The tempo we play with, you've got to play a number of skill guys. A lot of guys are back, they've seen that we're going to throw the ball to them, and they believe they have quarterbacks who will get it to them so they can make plays. I'm expecting that receiver group to pick it up. We'll see if they can keep plugging along there.
You lose a few pieces up front on defense. How does the defensive line shape up entering the spring?
KW:
We signed two JC guys, one guy is here now [Jordan Heiderman]. We redshirted a big guy who we like. We did sign a couple of guys there, so some of those guys might get into the mix when preseason rolls around. But we need to play better across the board because we're making tweaks with what we're doing. We definitely need to play better run defense.
Schematically, will there be some new things on defense?
KW:
I don't know if it's that. We've just got to look at the position we're putting guys in, where we're playing them. It's not major [changes]. Same with offense, you're always playing to your strengths and weaknesses. Right now, we've played OK on offense, and not very good on defense. So we have to keep coming on both sides. Defensively, we're developing players, but we have to make sure we're putting them in the right spots with play calling to play winning football.
We have enough guys coming back. We should continue to improve this program. We should continue to take a very positive step this year. That being said, we have to play better football on the defensive side. We made some subtle changes from Year 1 to 2. It still wasn't what we needed. There won't be wholesale changes, major deals, but we've got to keep looking for what works.
Where do you see the leadership emerging on the team, and can the secondary be a strength for you guys because you have quite a few players back who have played?
KW:
Probably more competition and depth back there than we've had. And I think we've signed a couple kids who can get in the mix to help us. The linebacker corps got real beat up last year.
Jacarri Alexander
and
Chase Hoobler
missed some games, two of our starting three missed four, five, six games independent of each other. It took a toll. We're losing [Adam] Replogle and [Larry] Black and Will Matte and Nick Sliger, those are the four guys who really played. The fifth guy would be Charles Love, the backup tight end. So when you look at the football team, basically everyone's back, so with the leadership, hopefully you'll see that linebacker corps pick up and the secondary. We've got to establish a standard of what winning defensive football is at Indiana, and how we're going to play it. We'll build a mindset, we'll do some subtle structure things to hopefully position our players in better places, and we'll tackle better and get off the field and make stops and get some turnovers.
We've got to take a step offensively, be more wide open, continue to improve, take care of the ball and score more points. And we've got to improve defensively. When you're a 4-8 football team, that's not good. We're definitely moving in the right direction. Nineteen starters are back, and 14 of them are sophomores and juniors. So we've got some guys we can work with, and we've got the best recruiting class we've brought in. We basically have five seniors on scholarship and we signed 22. So we've got the core team back. It needs to get better. I think we'll make some nice additions as preseason comes around, and hopefully we'll continue to be more competitive and play the brand of football we're trying to build here.
November, 8, 2012
11/08/12
11:00
AM ET
Last year, as Indiana was struggling to a 1-11 record, first-year coach Kevin Wilson got a pick-me-up from perhaps the foremost expert on Hoosiers football.
Former IU coach Bill Mallory, who still lives in Bloomington, Ind., and stops by practice a couple of times a week in the fall, told Wilson that better times were on the horizon.
"He told me, 'I promise you you're getting there,'" Wilson recalled this week. "He was just consistently reaffirming me. Coach Mallory was big a year ago and throughout the offseason on just sticking to your guns and what you believe in."
Indiana football has hardly arrived as a power. But because of some special circumstances in the Big Ten this year, the Hoosiers are about to play their biggest game in nearly 20 years this weekend when Wisconsin comes to Memorial Stadium. A win by Indiana (4-5, 2-3 Big Ten) would tie Wilson's team with the Badgers in the Leaders Division standings and give the Hoosiers the head-to-head tiebreaker with two games to go. Because Ohio State and Penn State are on probation, that would put Indiana in control of the Leaders berth in the Big Ten title game.
As unlikely as it seems, Indiana has a chance to get in position for its second-ever trip to the Rose Bowl and first since 1968.
"I don't remember a game where so much stuff was at stake," Hoosiers senior defensive tackle
Larry Black Jr.
told ESPN.com.
[+] Enlarge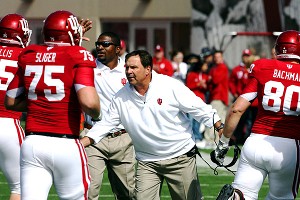 Brian Spurlock/US PresswireWould an extended Big Ten slate change the way coaches like Kevin Wilson of Indiana schedules his non-league games?
That's because it has been a long, long time. Indiana won an emotional game at the end of the 2007 season against Purdue to clinch a bowl berth in honor of late coach Terry Hoeppner, who passed away right before the season. But that was for a minor postseason game, not a potential Big Ten title. The last time the Hoosiers played a game this meaningful in the conference race was 1993, when they started 7-1 and were ranked No. 17 heading to Penn State in early November. They lost that game by a touchdown and finished 8-3 in the regular season.
The 1993 campaign was also the last time the program won three consecutive Big Ten games, which it will be attempting to do this week after beating Illinois and Iowa. In fact, since '93 Indiana has won only 32 conference games in 19 years, while the 2007 season was its lone bowl appearance during that time. The Hoosiers fired coaches Cam Cameron, Gerry DiNardo and Bill Lynch and became known as a graveyard for football. But one man still kept the faith.
"That negative cloud of 'Oh, you can't win here' just makes me want to vomit," said Mallory, who led IU to six bowl games in his 13 seasons as head coach. "I have to count to 10 and keep my composure when people say those things. I believe strongly in what this program can do here."
Mallory said the school just needed to make a stronger commitment to the sport, which it has done in recent years
with massive facility upgrades
, including improvements to the stadium and a total makeover of the coaches' offices and weight room.
"I think we've finally woken up to the fact that we've got to match up to the others in this conference," Mallory said. "It's unbelievable how far we've come. People say it's a basketball school, but they'll like football if you start winning."
Mallory also liked what he saw early on from Wilson, who shared some of his beliefs in how the program should be run. And that makes sense, since Wilson's early coaching mentor was former Northwestern head coach Randy Walker, who played under Mallory at Miami (Ohio).
"Coach Wilson preaches a lot of same things I heard when I was here as a player," said current Indiana assistant coach Mark Hagen, who played at IU from 1987 to '91. "We were a team that went out every week and expected to win, and people had to account for us on Saturday or they'd get beat. That's a team we want to become. We know we're not there yet, but we're taking strides to become that."
Taking strides is the key phrase there. While Indiana has a unique opportunity at hand, this is still a team that lost to Ball State and Navy and had a five-game losing streak before beating Illinois two weeks ago. Wilson does not want his young team getting ahead of itself, which is why he has made sure to stress all week that the Hoosiers still have a losing record and must focus only on day-to-day improvement.
"They don't replay our games on the Big Ten Network, we always play in bad TV spots and we don't get much coverage," Wilson said. "We're a long way from being a good football team."
Wilson went as far as to say this isn't a big game because of his team's record. Still, he's hoping for a big-game atmosphere at Memorial Stadium, something that hasn't happened too often. There was far less than a full house for last week's Iowa game, though inclement weather might have played a factor. Many Indiana fans are already geared up for basketball season as the No. 1-ranked Hoosiers open Friday night at home against Bryant University. Buzz for football is building slowly on campus.
"I think it's definitely growing," said Nathan Brown, sports editor for the Indiana Daily Student newspaper. "I would expect as the week goes on and the word spreads that there will be a much bigger crowd. There were probably a lot of students maybe right after last Saturday's game who still didn't exactly know what the implications of this game against Wisconsin would be."
Black said he noticed a difference on campus last Sunday, when people were congratulating him on the Iowa victory as he went to breakfast.
"Maybe that's how it is when you start winning," he said.
The Hoosiers are starting to rediscover that feeling after a long drought. They might just be doing it at the most opportune time.
February, 15, 2012
2/15/12
9:00
AM ET
We covered all the offensive position groups in our postseason rankings series
here
,
here
,
here
and
here
. Now it's time to turn our attention to the defensive side of the ball.
Defensive tackle was the strongest position in the league in 2011, so that makes this a competitive situation. There are some major changes from
our preseason order
as well. Remember this is about overall production, and depth matters along with star power. The top four on this list are really, really strong.
Here we go:
[+] Enlarge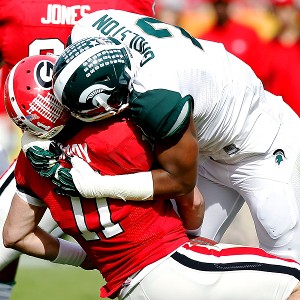 J. Meric/Getty ImagesWilliam Gholston and the Spartans' defensive line helped key a Michigan State win over Georgia in the Outback Bowl.
1. Michigan State:
The Spartans finished with the top total defense in the Big Ten and one of the best in the nation, and it all started with a dominant front. All-American tackle
Jerel Worthy
commanded extra attention inside and was joined by
Kevin Pickelman
and
Anthony Rashad White
as forces inside.
William Gholston
was brilliant at times, never more so than in the Outback Bowl win over Georgia. And freshman
Marcus Rush
turned in an outstanding season at the other defensive end spot. The Spartans had no weaknesses at this position in 2011.
2. Michigan:
We projected the Wolverines would make a significant leap in '11, but the amount of improvement still surprised us. The combination of head coach Brady Hoke and defensive coordinator Greg Mattison, both defensive line coaches at heart, and valuable seniors
Mike Martin
and
Ryan Van Bergen
made this the backbone of Michigan's Sugar Bowl run. The Wolverines were especially tough in short-yardage situations because their defensive front was so stout.
3. Penn State:
Big Ten defensive player of the year
Devon Still
wrecked just about everybody's game plan with a huge senior campaign.
Jordan Hill
had a solid, underrated year next to him inside.
Jack Crawford
stayed healthy and contributed 6.5 sacks, while
Eric Latimore
and
Sean Stanley
combined for another 7.5 quarterback takedowns.
4. Illinois:
Defensive end
Whitney Mercilus
was a consensus first-team All-American who led the nation in sacks and forced fumbles. Nobody saw that coming. He had good company along the line as well, with guys like
Akeem Spence
inside and
Michael Buchanan
at the other end spot. The Illini may have faltered down the stretch as a team, but the D-line stayed strong throughout the year.
5. Wisconsin:
The Badgers didn't have many household names on the defensive line, and certainly no one stood out like J.J. Watt the year before. But Bret Bielema relied on a solid group of veterans that helped the team finish third in the league in total defense and fifth in sacks.
Patrick Butrym
,
Louis Nzegwu
,
Brendan Kelly
and
Ethan Hemer
were part of a group that played better than the sum of its parts.
6. Ohio State:
The Buckeyes had one of the best defensive players in the league in
John Simon
, who had 16 tackles for loss and seven sacks in a breakout season. Tackle
Johnathan Hankins
emerged as a disrupter at 335 pounds. But Ohio State didn't get its usual production elsewhere on the line, got beat up as the season went along and lacked depth, which is one reason why Urban Meyer went out and signed so many pass rushers in his first recruiting class.
7. Nebraska:
The biggest disappointment from the preseason, as the Huskers tumbled from their No. 1 ranking last summer.
Jared Crick
's season-ending injury hurt the production, but he was not putting up huge numbers before he tore his pectoral muscle.
Cameron Meredith
,
Baker Steinkuhler
and
Eric Martin
had some nice moments, but Nebraska wasn't nearly as fierce up front as we thought it might be.
8. Purdue:
Kawann Short
turned in his best season, with 17 tackles for loss and 6.5 sacks from his interior spot, while
Bruce Gaston
and
Gerald Gooden
provided solid support. But the Boilermakers' pass rush off the edge lacked explosiveness until freshman
Ryan Russell
started to come on late in the season. Everyone except Gooden returns, and with a new position coach Purdue hopes this unit can go from decent to great in 2012.
9. Iowa:
Another disappointing crew, as the Hawkeyes proved it's not easy to replace three draft picks off the defensive line and simply reload.
Mike Daniels
and
Broderick Binns
were the senior anchors, but Iowa's pass rush was sluggish until late in the season. And there wasn't a whole lot of depth behind them. This group loses three starters and will be extremely young in 2012.
10. Northwestern:
We ranked the Wildcats 10th in the preseason as well, but we still expected better things out of this group. Northwestern generated very little pressure on opposing quarterbacks and ranked last in the Big Ten in sacks.
Vince Browne
, a projected all-conference pick in the summer, had a subpar season with only 3.5 tackles for loss after putting up 15.5 in 2010. It's clear this group needs to get better for Northwestern to take the next step.
11. Minnesota:
The Gophers weren't as terrible on the defensive front as they were in 2010, when they finished last in the nation with only nine sacks. In fact, they more than doubled that total with 19 last season. Still, it was a mostly anonymous crew that gave quarterbacks too much time to carve up the secondary in the passing game. Jerry Kill still needs to find more playmakers at this position.
12. Indiana:
The Hoosiers had problems all over the defense, and the line was no exception.
Adam Replogle
and
Larry Black
gave the unit some veteran leadership in the middle, but Indiana resorted to playing a lot of kids at the defensive end spots. The results were about what you'd expect.
November, 1, 2011
11/01/11
5:00
PM ET
With a 1-8 record and prospects bleak for getting a Big Ten victory, Indiana can only hope for better things in the future.
In some ways, that future has already begun.
A youth movement is in full effect in Bloomington, for better or worse. On Saturday versus Northwestern, the Hoosiers did three things no other FBS team in 2011 has done, according to the school. They started 12 freshmen. They started eight true freshmen. And they had seven freshmen start on defense.
[+] Enlarge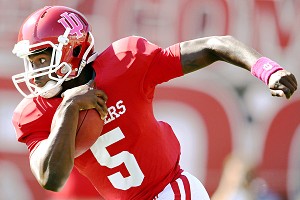 Andy Lyons/Getty ImagesIndiana's Tre Roberson has shown that he can run. Now he aims to be a more efficient QB.
IU first-year head coach Kevin Wilson said he didn't simply throw in the towel on the season and start grooming players for next year.
"They're truly the best guys," he said. "They're practicing the best."
And that tells you a lot about the challenge facing Wilson. It's one thing to play some young guys. Just look at Indiana's opponent this week, Ohio State. The Buckeyes have inserted true freshmen into key roles like quarterback
Braxton Miller
and receiver
Devin Smith
, while mixing in plenty of other fresh faces. But they also are surrounded by battle-tested veterans and leaders.
The Hoosiers are perilously short on leadership. When I asked Wilson on Tuesday about his upperclassmen who were leading the way for the youngsters, he didn't need to speak in generalities. He gave a short list of the upperclassmen who are doing so, which included senior tight end
Max Dedmond
, senior offensive linemen Justin Pagan and Andrew McDonald, senior linebackers Jeff Thomas and Leon Beckum and junior defensive linemen Adam Replogle and Larry Black. And that's where he stopped.
"From there it kind of falls down to the freshmen," Wilson said. "We don't have much in between there."
The lack of senior leadership became even more evident this week when star receiver
Damarlo Belcher
, expected to be a key player on this season's team, was dismissed from the program after serving a suspension last week. Wilson said he tried to develop some senior leadership in the first few weeks after he took the job last winter.
"We didn't do a good job, in hindsight," he said. "We had some seniors who maybe didn't have things go their way or maybe didn't buy into our system. They were used to doing things a certain way."
So Wilson has gone young. Real young. He has already started 11 true freshmen, six redshirt freshmen and 10 sophomores this season. There have been some nice success stories in there, like promising true freshman quarterback
Tre Roberson
, sophomore transfer
Stephen Houston
at running back and freshman safety Mark Murphy. Wilson says it's not a matter of just playing his guys instead of those he inherited; he points out that he didn't actually recruit many of the current freshmen.
But at least he likes the looks of his young players, many of whom were in the first class recruited after Indiana upgraded its football facilities.
"I think it was a more competitive recruiting class," he said. "And the skill set of that freshman class is a little bit better maybe than some of the other classes."
The Hoosiers have some young talent. More upperclassmen leadership to guide them would be very helpful. But they may have to find their own way toward a better future.