May, 22, 2013
5/22/13
9:00
AM ET
This fall will mark the final college football season that concludes with a BCS title game. The era has had its ups and downs for all, so here we will take a look at the best and worst of the past 15 years in the Big East:
BEST
1. BCS bowl performances:
For all of the heat that this conference gets, it will likely exit the BCS era with no worse than a .500 record in BCS bowls. The Big East is 8-7 in BCS bowls during the past 15 years, winning its past two (Louisville over Florida in the 2013 Sugar, West Virginia over Clemson in the 2012 Orange.) The ACC, by comparison, has a 3-13 record in BCS bowls.
2. National title game appearances:
Miami and Virginia Tech might both be ACC members right now, but the schools had combined for three national title game appearances as members of the Big East. Virginia Tech lost to Florida State in the Sugar Bowl following the 1999 season and Miami fell to Ohio State in the Fiesta Bowl following the 2002 season, while the Hurricanes defeated Nebraska in the Rose Bowl following the 2001 season. The Big Ten has three title game appearances, the ACC has three and the Pac-12 has three only if you count USC's appearances following the 2004 and 2005 seasons, both of which were vacated by the NCAA.
3. Realignment replacements (the first time around):
After losing Boston College, Miami and Virginia Tech to the ACC, the Big East was able to scoop up Cincinnati, Louisville and USF from Conference USA as football members (and Marquette and DePaul as non-football members). Cincinnati has won a share of four of the past five league titles and Louisville has won a share of the past two, in addition to appearing in a pair of BCS bowl games.
[+] Enlarge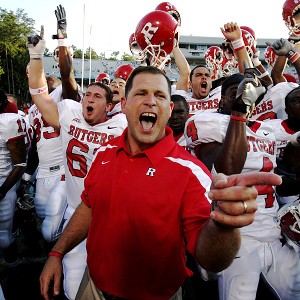 Bob Donnan/USA TODAY SportsGreg Schiano scooped up the accolades by leading Rutgers to an 11-2 mark in 2006.
4. Coaches:
Virginia Tech's Frank Beamer won five different coach-of-the-year awards (Bear Bryant, Eddie Robinson, AP, Walter Camp and Maxwell) in 1999. Miami's Larry Coker won the Bryant award in 2001. Rutgers' Greg Schiano won five different coach-of-the-year awards (Liberty Mutual, Robinson, Home Depot, Walter Camp and Maxwell) in 2006. Cincinnati's Brian Kelly won the Home Depot award in 2009, giving the conference 12 coach of the year awards from four different coaches during the BCS era.
5. Bowl record:
Matchups can often get more and more uneven as we look at the landscape of bowl games, but the Big East has certainly taken care of business when it comes to the postseason, going 46-29 in bowl games since the 1998 season.
WORST
1. Realignment losses (the next time around):
This almost goes without saying, as no conference has suffered from realignment more than the Big East. Gone or soon-to-be gone are Boston College, Miami, Virginia Tech, Pitt, Syracuse, West Virginia, Rutgers and Louisville in football. (TCU, Boise State and San Diego State all left before playing a down as football-only members.) Notre Dame and the Catholic 7 (DePaul, Georgetown, Marquette, Providence, Seton Hall, St. John's and Villanova) all left in other sports.
2. Status/money:
As a result of realignment, the Big East no longer has a guaranteed tie-in to an elite bowl game. And it is not sharing in the same revenue split from the future playoff as the ACC, Big 12, Big Ten, Pac-12 and SEC. Simply put, there will be one less major conference starting in the 2014 season, as the Big East simply is not in the same place that it was as recently as two years ago.
3. BCS bowl appearances:
The Big East's 15 BCS-bowl appearances are the lowest among any AQ school, as the conference has never received more than one bid in a year. The ACC received two following the 2011 season, with conference champion Clemson going to the Orange Bowl (and getting crushed by Big East champion West Virginia) and Virginia Tech going to the Sugar Bowl (and losing in overtime to Michigan).
4. QBs in draft:
Louisville's
Teddy Bridgewater
may change things with another strong performance in 2013, and there have been other notable performances in recent years (WVU's Pat White, for one), but outside of Virginia Tech's Michael Vick (No. 1 overall, 2001) and Syracuse's Donovan McNabb (No. 2, 1999), the Big East has not had a quarterback drafted in the first round in the BCS era.
5. Conflicting interests:
The divide between basketball and football schools played a large part in the split-up of the Big East. So, too, did the trust and double-speak. Look no further than departing member Pitt and its chancellor, Mark Nordenberg, who led a five-school contingent that sued Boston College in 2003 following the Eagles' departure for the ACC, saying at the time: "This is a case that involves broken commitments, secret dealings, breaches of fiduciary responsibility, the misappropriations of conference opportunities and predatory attempts to eliminate competition."
February, 13, 2013
2/13/13
9:00
AM ET
Syracuse has
officially made the move
into the ACC football blog. Now it's Pitt's turn. The Panthers will become full members of the ACC on July 1, joining the Coastal Division with former Big East partners Miami and Virginia Tech. As far as we're concerned, here in the blogosphere, the move has been made.
Andrea Adelson and Heather Dinich are here to welcome Pittsburgh into the ACC blog. C'mon in, there's plenty of room.
Heather Dinich:
Andrea, one of the biggest surprises of the 2012 season was Pitt's 35-17 win against Virginia Tech on Sept. 15. It wasn't just that Virginia Tech lost, it was how Pitt won -- convincingly, by manhandling the Hokies up front on both sides of the ball. Few, if any, saw that coming, as Virginia Tech was outworked and outmuscled by a team that had lost its first two games of the season, including to Youngstown State. How concerned should the rest of the Coastal Division be about the 2013 Panthers?
[+] Enlarge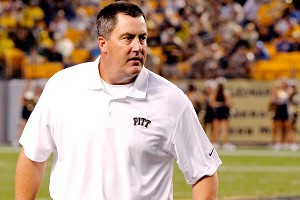 AP Photo/Keith SrakocicPittsburgh needs head coach Paul Chryst to stabilize a staff that has endured turnover in recent seasons.
Andrea Adelson:
Heather, that was a great shock to us all, because up to that point, Pitt had not proven to be very good up front. In fact, the Panthers struggled for much of the season to gain consistency on their offensive and defensive lines. That win was one of their most complete of the season, topped only by their 27-6 win against No. 18 Rutgers later in the year. I am on the record as saying I believe Pitt will have an
opportunity to contend
for the Coastal Division. First, quarterback play should be improved dramatically, with either former Freshman All-American
Tom Savage
or four-star recruit
Chad Voytik
at the helm. Second, the Panthers have a solid running back in
Rushel Shell
and an unheralded receiver in
Devin Street
. And third, the Panthers return nine starters on defense, including All-Big East tackle
Aaron Donald
. I also think this team will be better in Year 2 under Paul Chryst. It's actually the first time since 2009 and '10 that the Panthers have had the same head coach in back-to-back seasons.
Having said that, there are a few concerns. First and foremost is playing consistently week in and week out. Those who follow me on the Big East blog know I referred to this team as "Good Pitt/Bad Pitt" all season because of the Jekyll and Hyde performances. Pitt followed a lose two, win two pattern all season. Chryst needs to find a way to get his team to play at the same level every single week. Second, the offensive line has to be better, because it has been pretty bad the past several years. Pitt won't be able to play the way Chryst wants to play on offense if the line doesn't improve. And third, Pitt is searching for yet another defensive coordinator since Dave Huxtable has gone to NC State. So that's my take. What will Pitt find in the Coastal this year?
HD:
A much-improved Virginia Tech team. A Miami team ready to play for the league title (if it's eligible, of course). An eligible North Carolina team ready to contend for the Coastal Division title in the second season under Larry Fedora. A Georgia Tech team that returns the bulk of its playmakers and should get upgrades at quarterback (
Vad Lee
) and defensive coordinator (Ted Roof). Duke will have something to prove, as it has had some significant staff changes, including the departure of senior quarterback
Sean Renfree
and record-setting senior receiver
Conner Vernon
. Virginia had a staff overhaul, but coach Mike London should be feeling some heat to get back to a bowl.

Overall, the Coastal Division should be much, much better than it was last year. Heck, it can't get much worse, as the Hokies had their worst season in 20 years, two teams were ineligible, and Georgia Tech needed a waiver just to play in a bowl game. The Coastal Division is more balanced than the Atlantic Division, and Pitt will fit right in, adding to that parity. I'm looking forward to seeing Pitt-Miami and Pitt-Virginia Tech on a more regular basis. Miami has yet to play for the ACC title since joining the league, while Virginia Tech has owned it. Make no mistake -- last season was an anomaly in Blacksburg. What will it take for Pitt to follow the Hokies' path in the ACC?
AA:
Great question, Heather. No. 1 on the list has to be coaching stability. The Pitt program has been set back because of the missteps over the past three years with head coaches. Most everybody believes Chryst is a solid football coach, but he is going to need time to get this program where he wants it. And he has exceptional resources to get the job done, with state-of-the-art facilities and extremely fertile recruiting ground in the Pennsylvania area. Pitt does not have to go far to find some of the most talented players in the nation. They finished
just outside the top 40
on signing day last week. They can sell their ties to the Steelers, playing in an NFL stadium, and their incredible history, filled with national championships and Hall of Famers. Now, you could come back and say, "Well, Miami has all that, and more, and the Canes have failed to dominate the ACC as predicted." Very true. But you also make my point for me. Miami's weakness has been at the head-coaching position, as well, with Larry Coker and Randy Shannon unable to continue the success Miami had in the Big East. Al Golden now has the Canes in position to be the favorites in the Coastal.
Virginia Tech? Well, Virginia Tech has had Frank Beamer, the picture of coaching stability. After Wisconsin lost coach Bret Bielema, many wondered whether athletic director Barry Alvarez would approach Chryst, a long-time Wisconsin assistant and Wisconsin graduate. But Chryst let it be known he did not have any intention of leaving Pitt after a year on the job. He is committed to the Panthers. Now the administration has to show its commitment by giving him time to build. If he's as good as many think he can be, Pitt will be fine.
January, 14, 2013
1/14/13
5:00
PM ET
The Miami football teams of the early 2000s churned out NFL prospects left and right, producing 20 first-round picks between 2001-04.
Do you know what else Miami produced in the early part of that decade? Head coaches. The Miami coaching staffs of 2000 and 2001 -- staffs that had a huge role in the recruitment and development of those pro prospects -- have produced both NFL and college head coaches.

Not just one or two, either.
With the Cleveland Browns'
recent hire of Rob Chudzinski
, the 1999-2000 staff under Butch Davis produced six head coaches -- three of them now in the NFL.
Rob Chudzinski, tight ends coach. Interestingly enough, his former boss (Davis) left Miami after the 2000 season to coach Cleveland.
Greg Schiano, defensive coordinator. Left for Rutgers after 2000 season and now Tampa Bay Bucs head coach.
Larry Coker, offensive coordinator. Succeeded Davis after the 2000 season, now head coach at UT-San Antonio.
Chuck Pagano, defensive backs. Now coaching Indianapolis Colts, and became an inspiration for his battle with leukemia.
Curtis Johnson, receivers coach. Entering his second year as Tulane head coach.
Mario Cristobal, graduate assistant. Spent six years as FIU head coach before rejoining Miami staff last week.
As for the 2001 staff, which helped Miami win the national championship and produced
arguably the greatest team
in college football history:
Mark Stoops, defensive backs. Replaced Pagano and is now head coach at Kentucky.
Randy Shannon, defensive coordinator. Succeeded Coker and served as Miami coach from 2007-10.
Chudzinski and Johnson. Both remained on staff.
Lots of folks mention the Nick Saban coaching tree, but when you look at the staff Davis assembled, the group he had around him in the late 1990s and 2000 is pretty impressive.
We can sit here and debate Davis and his abilities as a head coach, and go back and forth on his role in what went down at North Carolina. But it's hard to ignore the fact he has a pretty good eye for talent -- both among players and coaches.
November, 14, 2012
11/14/12
10:00
AM ET
At Ohio State, historic seasons are recorded in three ways.
1. Big Ten championships:
the Buckeyes have won or shared 34
2. Rose Bowl championships:
the Buckeyes have 7
3. National championships:
the Buckeyes have 13 (including all selections), most recently the BCS national title in 2002
At a traditional power like Ohio State, if no championship is won, the season is pretty much forgotten.
Ohio State's seniors entered their final season with the sobering knowledge that they couldn't achieve any of these goals. A postseason ban for NCAA violations deprived them of competing in the Big Ten title game or any bowl game. The only championship they could win was the Leaders Division.
Their only chance to truly make history was to do something that often has proven harder than winning the Big Ten, the Rose Bowl or even the national title. They had to be perfect. Only 10 previous Ohio State teams have recorded undefeated, untied regular seasons. Only five previous Ohio State teams -- 1916, 1944, 1954, 1968 and 2002 -- finished the postseason without a loss or a tie. Only two previous Buckeye squads, the 2002 and 2006 versions, started a season 12-0.
Add in the fact Ohio State had a new coach (Urban Meyer), a partially new staff and a mostly young team coming off of the program's first 7-loss season since 1897, and the idea of perfection seemed more fantasy than reality.
It's real now.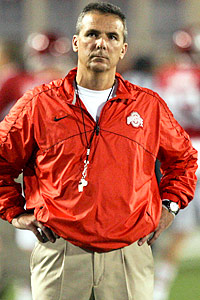 Pat Lovell/US PresswireUrban Meyer and the Buckeyes could accomplish a rare 12-0 season at Ohio State, despite being on probation.
"It's right in front of us," Buckeyes senior tight end
Jake Stoneburner
told ESPN.com. "Not that we didn't have anything to play for, but the two things we had to play for were win every game and beat Michigan. So both goals are hopefully going to be able to happen at the same time. We can win our side of the conference, but there's no Big Ten championship or anything like that, so all you can play for is win every game and go undefeated.
"So far, we've done a pretty good job of that."
Ohio State sits at 10-0 for the first time since 2007. The Buckeyes are one of just four undefeated teams in the FBS (No. 1 Kansas State, No. 2 Oregon and No. 3 Notre Dame are the others). They have quite possibly their two toughest games left, a trip Saturday to Wisconsin followed by The Game against archrival Michigan on Nov. 24 at Ohio Stadium.
The focus inside the Woody Hayes Athletic Center this week is Wisconsin, just like it had been Illinois, Penn State and Purdue in previous weeks. But Ohio State's quest for perfection is in the home stretch.
"It'll be one of those things where, after the Michigan game, if we are 12-0, we'll look back and be like, 'Wow, we really did it. We really went 12-0,'" Buckeyes linebacker (formerly fullback)
Zach Boren
told ESPN.com. "But we still have two huge weeks ahead of us."
Let's attempt to put into context what a 12-0 season would mean for Ohio State and Meyer, with help from the fine crew at ESPN Stats & Info:
Ohio State would be the fourth team on postseason probation to record an undefeated season. Auburn was most recent to do it in 1993 (11-0). Oklahoma also recorded back-to-back undefeated seasons in 1973 (10-0-1) and 1974 (11-0), winning the AP national title in 1974.

Few undefeated teams from major conferences suffered as many losses the previous season as Ohio State's seven in 2011. You have to go back quite a few years for some of the better comparisons. Purdue went from 1-8 in 1942 to 9-0 in 1943. Stanford went from 1-7-1 in 1939 to 10-0 in 1940. Ohio State went from 3-5 in 1943 to 9-0 the following year.

Meyer would tie Wisconsin coach Bret Bielema for the most wins in his first season in the Big Ten. He's already the third Ohio State coach to start his career at 10-0 -- Earle Bruce (1979) and Carroll Widdoes (1944) are the others.

Widdoes (12-0) and former Michigan coach Fielding Yost (29-0) are the only Big Ten coaches to start their careers with 12 or more wins.

Meyer would become just the second coach to go 12-0 or better in his first season at a school. Larry Coker went 12-0 at Miami in 2001, winning a national title, and Chris Petersen went 13-0 at Boise State in 2006. Terry Bowden might be the best comparison to Meyer, as he went 11-0 with probation-laden Auburn in 1993.
The potential historical significance isn't lost on the Buckeyes, especially the seniors.
"That's how I want to go out," Stoneburner said. "It'd be nice to go 12-0 and get an opportunity to play for a national championship or play for a Rose Bowl, but we were able to play for a Rose Bowl [three seasons ago], we were able to play for a Sugar Bowl [two seasons ago, later vacated] and a Fiesta Bowl [four seasons ago]. The one thing we can't say is that we went undefeated throughout a season.
"For this class and what we've gone through, for us to be able to go 12-0, that'd be probably my biggest accomplishment since I've been in school. We're going to make sure we do everything to make that happen."
Boren credits Meyer and the staff for keeping the focus on the immediate. The team doesn't shout "12-0!" at the end of practice or have any signs about going undefeated. Instead, the signs around the complex point to the next win total. There were a lot of 10s displayed before the last game against Illinois, and there are a lot of 11s displayed this week.
Meyer said Tuesday he considered selling the Wisconsin game as Ohio State's Big Ten championship and the Michigan game as the Buckeyes' bowl. But the team doesn't need that.
"I don't think we're going to have to make any special T-shirts or talk about bowl games or championships," he said. "... There's no issue with us getting ready for this game."
The Buckeye seniors also understand that this season is a starting point.
"We wanted to make sure we had a good first year under Coach Meyer and a good last year for us," Boren said. "This program's just going to take off, and we wanted to help any way possible. We knew if we could set the tone this year and have a good season, even when nothing really counted, that the younger guys will learn how to win."
The three championships will be back on the table in 2013. Ohio State likely will be favored to win the Big Ten and possibly the Rose Bowl, and the Buckeyes will be mentioned as a potential national title contender. They'll attempt to record a season to remember.
Just like they're doing now.
"Any time you can go undefeated and finish strong, especially with this senior class, you'll definitely leave a legacy," Boren said. "Even in a season where we can't go to the Big Ten championship game or a bowl game, you can still have a season that you will always remember."
August, 17, 2011
8/17/11
4:12
PM ET
CORAL GABLES, Fla. -- There were police on guard Wednesday morning to help control the flow of media access to Miami's football practice. Players, assistant coaches and university officials have declined to comment or have been instructed not to. Athletic director Shawn Eichorst declined an interview request from ESPN.com. So did university president Donna Shalala. Even one member of Miami's marching band and a member of the cheer squad both declined to talk about the NCAA investigation hanging over Miami's football program right now.
While silence is prevalent here on campus Wednesday, former booster Nevin Shapiro can't seem to say enough about the U. His allegations, some of which have been supported by the research and investigation of Yahoo! Sports, could be devastating to the future of Miami football.
And yet the only person answering questions right now is first-year coach Al Golden.
While his candor is refreshing, he's not the one who needs to answer for this mess.
Former athletic director Paul Dee, who once sat as chairman on the NCAA's Committee on Infractions and lambasted USC for its violations, has some explaining to do. Former athletic director Kirby Hocutt, who abruptly resigned to become athletic director at Texas Tech after he hired Golden, has some questions to answer. (Hocutt did not immediately return a call to his office.) Shalala, who can be seen in a Yahoo! Sports photo accepting a donation that was allegedly comprised of illegal money, needs to address the issue beyond the statement released earlier today. And former coaches Randy Shannon and Larry Coker, under whose watch these alleged violations took place, also need to state their cases. (Shannon did not return a text message to his cellphone.)
Funny how the majority of Miami officials who are accountable for this mess are gone.
And Golden is left to clean it up -- not that you could tell from his demeanor or practice this morning.
The only difference on the practice field was a little bit of extra intensity.
"The coaches are more fired up today," said Rob Dunning, Miami's assistant communications director, who routinely watches the Canes practice.
Defensive line coach Jethro Franklin was not pleased with his group's pressure on quarterback
Jacory Harris
.
"Keep the quarterback in the pocket!" he barked. "DON'T. BREAK. CONTAIN! Pass-rush lanes!"
The staff is doing its best to maintain a sense of normalcy, but there is nothing normal about the allegations that have been levied against the program.
How much of it is true? Who knew about any of it? How
didn't
they know?
All questions that need to be answered -- and not by Golden.
September, 8, 2010
9/08/10
9:00
AM ET
Football practice has begun at UT-San Antonio, but the preparations are far from over.
There is so much to do to get ready for its inaugural season, coach Larry Coker has taken on many different jobs. He is coach, yes, but he is also ambassador, salesman and architect all wrapped up as the face of a program eagerly anticipating its arrival in 2011.
"It's been very hectic, very busy, but it's been a very good busy," Coker said in a telephone interview.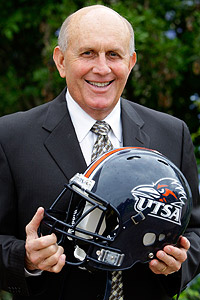 AP Photo/Eric GayLarry Coker has embraced the challenge of building a football program from scratch.
Four seasons removed from his job as Miami head coach, Coker has settled in just fine at San Antonio. When he became head coach of UTSA in 2009, he saw great vision for football in South Texas, and the opportunity to start a program from the ground up.
Of course, he probably did not envision working out of modular buildings and holding practices at a high school field while plans are drawn up to build a football complex. But those are minor details. The important piece is building tradition at a program that has high hopes to move from FCS to full FBS member within a short three-year window.
That is why you may have heard UT-San Antonio as a potential candidate to join the WAC as that conference anticipates its next move. But WAC talk aside, what goes into building a program makes the days and hours tick away.
"We bought one of those clocks that shows the hours, minutes and days," said athletic director Lynn Hickey, who helped push to add football to the UTSA athletic department. "It goes so fast, so Coach Coker when he first got here, I made him take the clock with him because it made me too nervous."
Given the recent reports of athletic departments sinking further into financial trouble, Hickey is taking a risk adding football, the most expensive sport to run. The school is in the middle of a $15 million fundraising initiative to make improvements to its athletic facilities. But Hickey believes there will be a return on the investment.
The school will play its home games at the Alamodome, and both she and Coker say the excitement throughout San Antonio has grown.
"When I took the position here, the school president asked, 'Should we add football?'" Hickey said. "I said, 'No sir, it's cost prohibitive. I spent 15 years at Texas A&M, I knew what big-time football was. But after being here a year, and understanding the needs not only of this campus but of this community and all of South Texas, for us not to go forward would have been the wrong thing.
"Are you taking some chances? Are you throwing the dice a little bit? Maybe, but the response we've had has been outstanding."
Hickey said the best-selling T-shirt on campus reads, "UTSA football, still undefeated."
For Coker, the business of getting down to football has just begun. He signed his first recruiting class in February and finally has a chance to coach them up with his complete staff. His recruiting area is primarily in the state of Texas, and though he tries to downplay his accomplishments, the prospective players are thrilled to play for a coach who won a national championship with the Hurricanes in 2001.
But of course, that comes with heightened expectations when UTSA begins play next season. Coker is ready for that, but more than anything, he cannot wait to lead his team out onto the field for the first time.
"People assume you hire a national championship coach and you're going to win immediately, so those expectations have to be tempered," Coker said. "I haven't had to do that yet because we haven't started playing, but I'm sure I will have to at some point."
August, 27, 2010
8/27/10
3:05
PM ET
As the WAC figures out its next step, one school that commissioner Karl Benson discussed about becoming a potential member is UT-San Antonio. The school begins play next season on the FCS level under former Miami coach Larry Coker. But in June 2012, UTSA plans to notify the NCAA it wants to begin play on the FBS level in 2014.

While Benson said identifying teams already in FBS would be a priority, he did not rule out adding schools that intend to join FBS. UTSA would fulfill the transitional requirements that go along with moving up a division and would be bowl eligible in 2015.

Athletic director Lynn Hickey has had discussions with Benson, but realizes what happens is out of her control.

"The fastest we can go is to declare in June 2012 that we want to move to FBS, that year we really need to have an idea that we can either be independent or have a new conference home with that time line in mind," Hickey said in a phone interview Friday. "We've got a little bit of time. The difficulty of the conference situation right now is so fluid. It's not only day-to-day but hour-to-hour, so there's just so many things out there we can't control."

UTSA had planned to play as an independent on the FCS level while searching for an FBS conference. But the Southland Conference passed a new rule in June that says all members must have its varsity sports within the league. The school must make a decision next July about whether it wants to stay in the Southland with football included, go independent, or find a new conference and stay independent in football.

There also is potential NCAA legislation that says an FCS school cannot move to FBS unless they have an invitation to a conference, but that legislation has not even left committee.

Hickey said she has been in talks with several other conferences about finding a home. Benson mentioned the importance of the state of Texas to the WAC's future -- if the conference is able to survive the latest round of shakeups.

"Everything is in their court," Hickey said. "It was quite honestly an honor for our name to be mentioned in the press conference (Benson) had, but our role right now is to make sure we're going forward with our plans and making sure we have put in the ground work and laid the foundation so if an opportunity does come up that we are seen as an asset and seen as an institution that another group of schools would like. In the meantime, we're in a good conference."
December, 3, 2009
12/03/09
5:00
AM ET
1. There's one pothole on the road to Florida State coach Bobby Bowden finishing his career against his former school, West Virginia, in the Gator Bowl. It depends on Virginia Tech going to the Chick-fil-A Bowl. Why would the Hokies balk? Well, they've already played in Atlanta twice this year. Do Hokie fans want to make that six-hour drive again? Not only that, Virginia Tech is 9-1 everywhere else and 0-2 in Atlanta, losing to Alabama and Georgia Tech.

2. Kirk Ferentz of Iowa took himself out of the Notre Dame discussion on Tuesday, saying he is not a vagabond coach. But the real reason Ferentz would never survive in the Irish fish bowl came later. Someone asked Ferentz if he ever would consider a job as a TV analyst. "That won't happen," Ferentz said. "Never say never. I can say never on that one. ... I can't wait to tailgate and I may never go into the stadium."

3. If Oregon wins the Civil War on Thursday night, the Ducks' Chip Kelly will become only the second coach in the past 33 years to reach the Rose Bowl in his first season. John Robinson of USC did so in 1976, followed by Larry Coker of Miami in 2000. Only Oregon State stands in the Ducks' way. The Beavers, on their last visit to Autzen Stadium, won their first game in Eugene in 14 years.
April, 16, 2009
4/16/09
11:41
AM ET
Posted by ESPN.com's Tim Griffin
The weekend is coming. If you can't wait for the spring games, here are a few links to get you ready.
August, 6, 2008
8/06/08
12:00
PM ET
Posted by ESPN.com's Heather Dinich
If Clemson somehow manages to trip over itself en route to the program's best chance at the ACC title since 1991, there's a very good chance Tigers fans will feel like tossing themselves down the Hill in frustration instead of running down it like a champ.
But odds are Tommy Bowden, regardless of what happens, will still be king of it because of his latest contract extension.
The hot seat is the one that has finally been removed in the ACC's game of musical coaching chairs, and stability has replaced turnover -- at least for 2008.
The turmoil came in 2006 when North Carolina coach John Bunting was fired before the season was over, Miami's Larry Coker was fired at the end, Tom O'Brien left NC State and Jeff Jagodzinski replaced him. Last season, Georgia Tech fired Chan Gailey.
Some coaches will be scrutinized more than others this season -- including both Bowdens -- but not to the point where they should have to worry about finding a "For Sale" sign in their front yards. It's not like a contract extension equals guaranteed job security, but Tommy Bowden has come right out and said the bull's-eye is on his players this year, not him. And it would have to be an absolute miserable season for Bobby Bowden to leave after this year, and there is too much talent on his roster for that.
There is margin for error at Miami, where Randy Shannon is still trying to build the program his way and with his players, but another season with just two conference wins won't fly for long at the U.
Just having David Cutcliffe in Durham is an improvement, and any reasonable person would give him at least four years to make a difference there.
Maryland coach Ralph Friedgen has had three losing seasons in the past four years, but he's also been to bowl games five times in seven seasons and raised the expectations of the program. Part of the recent slump can be attributed to Friedgen assuming the dual role of offensive coordinator and head coach the past two seasons, which turned out to be too much last year. Prior to that, the play-calling was too conservative under former coordinator Charlie Taaffe. The Terps should see improvement with James Franklin calling the plays this year.
The only other coach who might not be getting any love letters from fans this year would be Virginia's Al Groh. Some were questioning the length of his stay in Charlottesville just a week ago when two more of his players got into trouble. But Groh, the ACC's 2007 Coach of the Year, is coming off a 9-4 season and has a defense that should win him a few more this year.
Who has the most to lose this season? Clemson fans, not their coach.
July, 23, 2008
7/23/08
8:26
AM ET
Posted by ESPN.com's Heather Dinich
Good morning from Annapolis, Md. No, Paul Johnson is not here, but I still call this place home.
Not that I'm here that often during the season. One of the better trips this year will be to Tampa, for the ACC Championship. Anything has got to be better than the half-empty stadium in Jacksonville, and ACC officials all but promised it will be. The key will be a smaller venue, bigger city and cheaper tickets. More ACC alumni, too. But you know the No. 1 rule in real estate - location, location, location.
So far the rule seems to apply to ACC football, too -- more than half of the seats there are already sold.
Want one? Check out their web site.
In addition to talking up Tampa on Tuesday, ACC commissioner John Swofford gave his take on the state of the ACC yesterday, so that's where much of the news came from. And yes, he is pleased with the way things are going.
Even in the face of numbers like these.
Also addressed on Tuesday in the final day of the ACC football kickoff was the new rule changes. Here's a more in-depth look at the clock change for this season.
Swofford and SEC commissioner Mike Slive are ready for a change in the BCS, but believe it or not, some coaches are OK with the status quo. The coaches in the Triangle don't mind it so much, either.
Speaking of coaches in the Triangle, somebody else noticed how Butch Davis dressed on Monday, too. And David Cutcliffe and Jenny Craig in the same sentence? More on how the Blue Devils slimmed down to shape up.
And more on food -- Gregg Doyel says recruiting at Wake Forest is like is like visiting a seven-course buffet and being allowed to pick only from the salad bowl.
Despite the high hopes for the Carolina schools, Clemson is obviously the best team this year. If the Tigers are going to win it all, though, quarterback Cullen Harper said they will need a little luck.
It appears Florida State has the speed. Who's the fastest at FSU? Redshirt freshman Brandon Paul is ready for a "race-off" to find out.
Elsewhere in Florida, former Miami coach Larry Coker is gearing up for his second season as a TV analyst for ESPN but hasn't ruled out returning to the sidelines. Click here for his take on that and the Hurricanes' move to Dolphin Stadium.
Back to the BCS -- remember that excuse for not going with the plus-one, that whole thing about academics?
Well, how about playing in the Congressional Bowl the same day you've got a final exam? Given its locale, Maryland would be a natural fit for this game. Given its potential, it won't have to worry about it.
The bigger question is who -- if anyone -- will qualify for it.