October, 27, 2014
Oct 27
10:00
AM ET
It was convenient for us all to write off North Carolina after another embarrassing start to its season, but one thing is becoming quite apparent about these Tar Heels under Larry Fedora.
They rise only after they have fallen hard, refusing to give in to the gut punches and the critics. Are they making things difficult on purpose? Because they seem to thrive on the rush that comes when they have been dismissed.
[+] Enlarge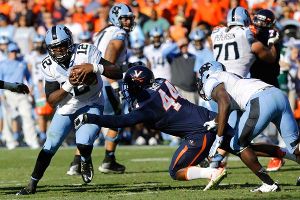 Geoff Burke/USA TODAY SportsMarquise Williams and the Tar Heels beat Coastal Division foe Virginia in Week 9, and are looking ahead to the final four games of the season.
Two seasons in a row now, North Carolina has been labeled the biggest disappointment in the ACC through midseason. The Tar Heels are now following a similar trajectory to last season, when they overcame a 1-5 start to make a bowl game.
However, there is a key difference in 2014: North Carolina still has a shot to win the Coastal, despite a 2-4 start. In 2013, UNC began 0-3 in conference play. Right now, the Tar Heels are 2-2 and control their destiny. Indeed, the coaching staff has modified the popular one-play-at-a-time cliché into: One for the Coastal.
"Fedora's been telling us we still have a chance to win. That's still our goal," linebacker
Jeff Schoettmer
said.
Here, then, is another lesson in Crazy Coastal 101.
Duke leads the Coastal with a 2-1 conference record. Pitt, Miami, Georgia Tech, UVa and North Carolina have two conference losses each. North Carolina still has Miami, Pittsburgh, Duke and NC State left on the schedule. So for the fun of it, let's say the Tar Heels win out. That would put them at 6-2 in the conference, with a 5-1 record inside the Coastal Division.
In this scenario, Miami and Pittsburgh would have more than two conference losses, so they'd be out. Now let's turn our attention to Duke and Georgia Tech. Let's say all three teams finish in a three-way tie atop the Coastal at 6-2.
North Carolina would be 2-0 in their mini-group and would win the tiebreaker. The Tar Heels also would have a tiebreaker over Virginia, should the Hoos somehow finish 6-2.
Coastal. Champions.
All right, all right, we are getting ahead of ourselves, but the Coastal is the most unpredictable in college football and North Carolina is perhaps its most unpredictable team. In September, it lost to East Carolina
70-41
; In October,
it nearly upset
No. 6 Notre Dame in South Bend -- the yin and yang of the Tar Heels' season to date.
"We're going to keep fighting. We're going to continue to go all out," quarterback
Marquise Williams
said. "It changed when we lost to Notre Dame."
Its
28-27 win
against Virginia on Saturday also fits in the unpredictable category, after the Tar Heels fell behind 14-0 and trailed for nearly the entire game. The
final five minutes
featured an interception from a defensive tackle; Williams being forced out of the game because his helmet came off, only to watch backup
Mitch Trubisky
throw the go-ahead score; a gusty onside kick call from Fedora that made him look like a genius; and a game-clinching flag on Virginia with a minute left to play.
Now, a crucial Coastal showdown in Miami awaits on Saturday, where the Tar Heels' defense must find a way to slow down
Duke Johnson
.
The focus will be on that group, as it usually is, but North Carolina beat Virginia thanks to a much better defensive effort in the second half. The Hoos only had three points after halftime and totaled 443 yards, just the third time all season the defense held an opponent under 500 yards. It also was the first time since September that its opponent did not score 30 or more points.
Virginia is not nearly as explosive as Miami, so there is little doubt the task will be much tougher in South Florida. But if North Carolina can get out with a win, it will be much harder for anyone to dismiss this team.
"Our guys are confident," Fedora said. "They feel good about where we're at. They know on the outside nobody believes it, but that's OK. We only need the guys in that room to believe it, and they're believing it."