October, 9, 2011
10/09/11
6:30
PM ET
The lawyer for Ohio State wide receiver
DeVier Posey
says the NCAA ignored documentation that shows Posey performed the work for which he was paid by a former booster.
Attorney
Larry James provided documentation
to the Associated Press and other media outlets that he believes shows Posey didn't violate NCAA rules for receiving pay for work he didn't perform. The NCAA on Friday suspended Posey five games after concluding the Buckeyes senior was overpaid by 48.5 hours and $727.50.
Some notes from the AP story:
James produced detailed records of work hours for each of the players involved, at one point correlating Posey's phone records with his work record, saying they showed that Posey was indeed on the job site and not collecting money without even appearing for work as alleged by the NCAA.
Posey told the NCAA he worked alongside union laborers. James said that was why there was such a disparity in his pay compared to the other players. The NCAA concluded that Posey worked only 21.5 hours at a rate of $15 an hour, and therefore was paid for 48.5 hours of work that was not performed.
James told Ohio State's student newspaper,
The Lantern
, that the NCAA didn't consider the records and documents he sent, only the evidence provided by the university. You can see some of the documents James provided
here
and
here
.
In an Oct. 5 letter from Crabbe, Browne & James to the NCAA reinstatement staff, James said the athletes "did not know the precise method by which their wages were being calculated" and that Posey "had no reason to believe that his wages may have been miscalculated or that he may have been overpaid." ...

"These statements are patently false," NCAA spokeswoman Stacey Osburn told The Lantern in an email. "To ensure a fair process for the involved student-athlete, each reinstatement decision is determined based on its own merits. The staff carefully reviews all information that the university puts forward during the reinstatement process. Posey's withholding condition is based on his own actions and responsibility for the violation."
There's not much James can do at this point, as the NCAA already has ruled on Posey and the other Ohio State players who worked for the former booster. But it does shed some light into the investigative process.
July, 26, 2011
7/26/11
7:14
PM ET
Here's the final odd twist in a college career full of them ...
Ohio State on Tuesday declared
Terrelle Pryor
ineligible for the 2011 season and banned the former starting quarterback
from associating with the program for five years.
[+] Enlarge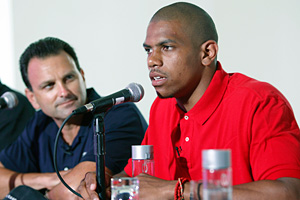 AP Photo/J Pat CarterOhio State's letter declaring Terrelle Pryor ineligible is good news for Pryor and agent Drew Rosenhaus.
The school's decision was exactly what Pryor wanted.
Pryor's attorney Larry James asked Ohio State for a letter stating that the quarterback wouldn't have been eligible for the entire 2011 season, rather than just suspended for the first five games for selling memorabilia items to Edward Rife. In order to be eligible for the NFL's supplemental draft, Pryor needed to show that his circumstances with Ohio State had changed significantly after the Jan. 15 deadline to apply for the NFL's regular draft.
Ohio State's declaration Tuesday certainly qualifies as changed circumstances.
The NCAA launched a new investigation into Pryor and his car usage while at Ohio State around the time of Jim Tressel's resignation as coach. Pryor's failure to cooperate with the NCAA's investigation led to him being declared ineligible as well as the five-year ban from the program. As James told the Associated Press, failing to cooperate with an NCAA investigation is "the death knell" for a player's eligibility.
Then again, if he knew he was leaving Ohio State and had hired an agent (Drew Rosenhaus), what incentive did Pryor have to cooperate? Ohio State, meanwhile, likely faces no repercussions from declaring Pryor ineligible for this reason.
The ban prohibits Pryor from using Ohio State's athletic facilities or receiving free tickets to games from coaches, players or alumni. The only association Pryor can have with Ohio State athletics -- as athletic director Gene Smith wrote in the letter James requested -- is the use of tutoring facilities should he return to complete his degree.
"I have appreciated your willingness in the past to consent to lengthy interviews by the institution and the NCAA, and to provide certain financial records," Smith said in the letter. "I was disappointed to learn from your attorney that as of June 7, 2011, you have chosen not to interview [any more] with the representatives of the NCAA and the Ohio State University.
"In light of that decision the university must declare you ineligible for intercollegiate competition because you failed to cooperate with the university in violation of NCAA Bylaw 10.1 [which requires, among other things, cooperation and forthright, honest answers]. In addition, due to that failure to cooperate, the university must disassociate you from its athletic program for a period of five years."
Although Pryor has to be pleased with the decision in the short term, being persona non grata around the Woody Hayes Athletic Center has to sting a bit. Many former Ohio State players return to Columbus to work out in the NFL offseason -- there were a ton who showed up this spring during the lockout.
I wouldn't expect to see Pryor in Columbus any time soon. But his path to an NFL training camp now appears to be clear.
June, 2, 2011
6/02/11
3:34
PM ET
It has been a rough week for
Terrelle Pryor
, but things could be looking up for the embattled Ohio State quarterback.
Pryor had
his driver's license reinstated Thursday
after providing proof of insurance at an Ohio Bureau of Motor Vehicles office. The quarterback had his license suspended after failing to provide proof of insurance during a February traffic stop, but he continued to drive, as we all saw Monday before and after an Ohio State team meeting.
Now his issues with the BMV appear to be resolved.
How does Pryor stand with the NCAA, which is investigating his use of cars?
According to his lawyer,
he should be fine
.
"I'm satisfied that this should go away," Columbus attorney Larry James said.
James also had this to say to
The Associated Press
.
"He may have had three or four loaner cars, period," he said. "So you take the three cars that the mom purchased over that time period, and the loaner cars, and this is how the story gets turned into a tornado."
If everything checks out with the cars, Pryor should avoid further penalties. He's not out of the woods yet, but the most recent developments -- license reinstatement, proof that the infamous Nissan 350z is owned by Pryor's mother -- turn down the heat a bit.