June, 24, 2013
6/24/13
12:45
PM ET
We asked you in our SportsNation poll which of the 2013 season openers involving SEC teams was the most attractive, and the Georgia-Clemson tilt was a runaway winner.


With more than 11,000 votes cast, the Aug. 31 matchup between the Bulldogs and Tigers in Death Valley (the ACC version)
received 51 percent of the vote
.
The Georgia-Clemson game would be my pick, too. For one, this will be the first meeting between the old rivals since 2003, and there have been some memorable games in the series, which dates back to 1897.
I can still hear the late Larry Munson bellowing, "Oh my God! Oh my God!" after Kevin Butler kicked a 60-yard field goal in the waning seconds to lift Georgia to a 26-23 win in 1984.
The Bulldogs have won the past five in the series. But in the 12 meetings prior to that, Clemson held a 6-5-1 advantage.
It's a great rivalry. The two campuses are separated by about 75 miles, and it's a game that means a great deal to both fan bases.
The season opener that came in second in our poll was LSU vs. TCU in Arlington, Texas. That game received 15 percent of the vote, and a close third was Alabama vs. Virginia Tech in the Chick-fil-A Kickoff Game, which received 14 percent of the vote.
November, 21, 2011
11/21/11
9:11
AM ET
His gravely voice was perhaps the most recognizable in the SEC. His style was like none other.
In my book, Larry Munson was as much an institution in this league as Bear Bryant, Steve Spurrier, Herschel Walker and Archie Manning.
[+] Enlarge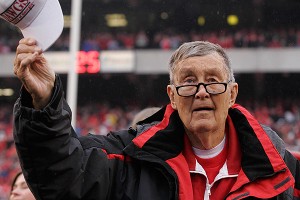 Brett Davis/US Presswire Legendary Georgia broadcaster Larry Munson died Sunday night in Athens. He was 89.
The only difference was that Munson didn't play the game or coach it. He described the game on the radio for more than 40 years with the kind of raw emotion that Georgia fans came to revere.
There will never be another like Munson, not even close. Nobody else could pull it off no matter how hard he tried.
The legendary Georgia broadcaster died Sunday night in Athens. He was 89.
I still remember the first time I heard Munson on the radio. It was sometime in the mid 1970s, and he sounded like the guy sitting at the bar with his friends agonizing his way through a game.
He wasn't talking to you. He was talking with you.
The joy in his voice when the Bulldogs scored was dripping with emotion. So was the pain when they fumbled the ball away.
Munson's passion was what made him so special. You hung on his every word, and even if you weren't a Georgia fan, you came to appreciate the way he truly made you feel that you were there with him at the game.
Keep in mind that there were very few college football games on television in the 1970s or the early 1980s.
It was a treat to be able to turn on the radio in those days and hear Munson paint the picture as only he could.
The Bulldogs were "We," and when a Georgia player picked off a pass or scooped up a fumble, it was "Our guy has the ball and is running down the field."
He has too many memorable calls to recount them all here.
I still laugh out loud any time I think about his "Run Lindsay!" call on Lindsay Scott's 93-yard touchdown catch and run to beat Florida in 1980. An ecstatic Munson exclaimed, "I broke my chair. I came right through my chair, a metal steel chair …"
Of course, there were so many memorable Walker calls.
"He's running over people! Oh you Herschel Walker!"
Mark Richt's first signature win, a last-minute 26-21 victory at Tennessee in 2001 featured the famed, "We just stepped on their face with a hobnail boot and broke their nose. We crushed their face."
In those days, I was covering Tennessee for The Tennessean newspaper in Nashville and can still hear Munson groaning, "There's that song again," any time the Tennessee band would crank up "Rocky Top."
I've told my favorite Munson story many times, but it's fitting to tell it again.
Not long before his retirement in 2008, Munson -- wearing one of his customary warm-up suits at that time -- came bopping into a crowded men's room at halftime of a Georgia game at Sanford Stadium.
Looking at the long line to the only stall in the place, he huffed a few times and then proceeded to work his way to the front of the line and knocked on the door.
"Are you getting close in there?" Munson repeated a couple of times.
He might as well have been calling a key goal-line stand for the Dawgs.
It was absolutely priceless, and to this day, I've wondered what the guy in the stall thought when he heard that voice – of all voices -- knocking on his door.
I've missed Munson dearly since he retired. It's just not the same going to a Georgia game without Munson calling the action.
I'll miss him even more now that he's gone.
He had a profound impact on my life and my career. He was one of two legendary SEC broadcasters that inspired me at a young age, the other being longtime Tennessee play-by-play man John Ward.
As a kid growing up in the Carolinas, both were larger than life. I knew early on that covering the SEC in some capacity was what I wanted to do.
From the time I was 12, it was my goal.
I will forever be indebted to both men for giving me something to shoot for and helping me get to where I am today.
And to Munson, hunker down, my friend.
You've touched more lives than you'll ever know.
September, 7, 2011
9/07/11
5:10
PM ET
More than 30 years after he played his first game at Georgia, Herschel Walker remains almost larger than life.
And for that matter, the guy looks like he could still play. Maybe he has one more toss sweep left in him.
I'd pay to see it.
As an admitted SEC football junkie, I remember vividly moments in time that have defined this league.
I can still see the Bear leaning up against the goal post prior to games.
I can still see Danny Wuerffel pinpointing passes where only his receivers could get them in Florida's Fun 'n' Gun offense.
I can still see Antonio Langham's pick-6 in the inaugural SEC championship game.
But no image more clearly defines the greatness of this league to me than Herschel Walker taking a pitch, turning the corner and then bulldozing a defender with, as the venerable Larry Munson would say, "those big thighs."
Walker is, was and always will be SEC royalty.
He burst onto the scene as a freshman in 1980 and didn't even hit the field until the second half of his first game against Tennessee. The Bulldogs trailed 15-2 in that contest on the road and needed a jolt.
Walker gave them a jolt all right. He ran over Bill Bates on his way to an epic 16-yard touchdown run, spawning a legendary career that produced 5,259 rushing yards -- an NCAA record for three seasons.
We're treated to a closer look at Walker later tonight when "Herschel" premiers at 8 p.m. ET on ESPNU. It's Episode 1 in "Storied," a new series ESPN is doing with the SEC.
Walker was on
The Scott Van Pelt Show
earlier and also
made the rounds in Bristol
.
January, 18, 2010
1/18/10
10:00
AM ET
The last decade in the SEC was wrought with sweeping change just about everywhere you looked and the kind of on-the-field dominance that made everybody else around the college football landscape envious.
Five times over the past 10 years, an SEC team hoisted the crystal BCS national championship trophy at season's end.
LSU won in 2003 and 2007, Florida in 2006 and 2008 and Alabama in 2009.
And that's not even counting Auburn in 2004. The Tigers went 13-0, but never got a chance to play for the national title.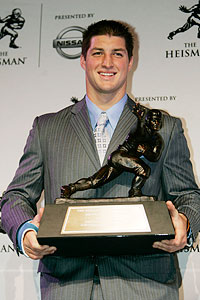 James Lang/US PresswireTim Tebow became the first sophomore in college football history to win the Heisman Trophy.
Coaches came and went at a dizzying pace, and even the leadership at the top of the conference changed hands. Roy Kramer, the father of the BCS, retired after leading the conference through expansion, and Mike Slive took over when he was appointed as the seventh SEC commissioner in 2002.
During the decade, every school had at least one coaching change. And if you include everybody, there were 31 different head coaches who held the reins at some point.
Alabama led the way with five.
The first one, Mike DuBose, was on the scene during the whole Albert Means scandal, which led to the Crimson Tide being placed on NCAA probation and handicapped the program for a large chunk of the decade.
But the most recent one, Nick Saban, led the Crimson Tide back to the promised land. They're coming off their first national championship in 17 years, and in doing so, extended their streak of being the only school in the SEC to win a conference title in every decade since the league was formed in 1933.
The decade said goodbye to Steve Spurrier, who left Florida following the 2001 season to take his shot in the NFL. He only lasted two seasons with the Washington Redskins and was back in the SEC in 2005 -- but not with the Gators.
Spurrier wanted a new challenge and took on a big one, trying to elevate South Carolina into an SEC contender. After five seasons in Columbia, Spurrier is still looking to break through. He's lost at least five games every season he's been at South Carolina.
Saban is also on his second stop in the league this decade, although he's found success much quicker than Spurrier the second time around. Saban won a national title at LSU in 2003 and was lured to the NFL in 2005 when he took on the Miami Dolphins' head job.
Like Spurrier, Saban lasted two years and was back in the SEC. But much to the chagrin of the LSU faithful, he was at Alabama.
In his last two seasons, he's 17-1 in SEC games and became the first coach in the AP poll era (since 1936) to win national titles at two different schools when Alabama defeated Texas in the Citi BCS National Championship Game.
The decade also saw the first black head football coach in SEC history when Sylvester Croom was hired at Mississippi State in 2004. Croom faced with a major rebuilding job and took over a program riddled by NCAA sanctions. The Bulldogs won eight games, including a bowl game, during his fourth season, but a 4-8 season the next year and a struggling offense were too much for him to overcome.
Not even Tennessee's Phillip Fulmer, who won a national title in 1998 and was the dean of the league, was immune from the league's cannibalistic ways. He was fired following the 2008 season, his second losing season in four years.
Urban Meyer hit the league in 2005, fresh off a BCS bowl appearance at Utah.
Everybody wondered if his spread-option offense would work in the SEC. The next year, a guy named
Tim Tebow
walked onto campus, and the Gators proceeded to win two of the next three national championships.
In the process, Tebow became the first sophomore in college football history to win the Heisman Trophy. He also earned the distinction that same season of being the first major college football player ever to run and pass for 20 touchdowns in the same season.
Before he was done, Tebow broke Herschel Walker's SEC record for career rushing touchdowns, racking up 57. He also passed for 88 touchdowns, shattering Danny Wuerffel's SEC record for career touchdown responsibility.
Two of the last three Heisman Trophy winners were bred in the SEC. Alabama running back
Mark Ingram
won it this past season, becoming the first player in Alabama's storied history to win college football's most prestigious individual award.
And lastly, the decade said goodbye to a broadcast legend when Larry Munson, 87, retired from the booth two games into the 2008 season. He called Georgia games for 42 years, keeping fans on the edge of their seats every step of the way.
There will never be another one quite like him.
February, 25, 2009
2/25/09
3:17
PM ET
Posted by ESPN.com's Chris Low
OK, you know what I love about the SEC.
Now it's time for me to vent. Here's what I hate about the SEC:
No more Larry Munson: I'm sorry, but it almost doesn't feel like Georgia football anymore without the iconic Munson calling the action on the radio. Man, do I miss him. He made the game come to life over the airwaves, and you could feel his passion with every tackle, every first down and every time the Bulldogs kicked off. I miss seeing him in the press box when I go to Sanford Stadium, and I miss hearing the growl in his voice right before a key third-down play. Hunker down, Larry. You were a big part of everything that's right about SEC football.
The recruiting circus: If you don't recruit great players, you're not going to have a chance in the SEC. But the whole circus that surrounds recruiting and the way these prospects are made out to be stars before they ever get to campus is absurd. No wonder we have guys waiting until March to sign. They love the adulation. They love being told how great they are. They love being recruited. But as we've seen time and time again in the SEC, Mr. Five Star in the recruiting process doesn't always become the next Herschel Walker. And likewise, Mr. Recruiting Nobody often times becomes Mr. All-SEC.
Florida-Georgia game traffic: If you ever wanted to know about Union Avenue in downtown Jacksonville, and I mean really get to know the street block by block, try navigating your way to Jacksonville Municipal Stadium for the Florida-Georgia game. There is no worse traffic for any sporting event in America. And before NASCAR fans pipe up, yes, I've been in race traffic before. I've come to the conclusion that the only sure way to avoid a three-hour commute through downtown Jacksonville for one of the SEC's hottest rivalries is to sleep in the parking lot the night before. Anybody got any room in their motor home?
Soaring ticket prices: Sadly, it's the world we live in now, but attending SEC football games has become insanely expensive. It's to the point where the average family simply can't afford to attend games -- and certainly not on a regular basis. Look at some of the ticket prices around the league. In 2008, the average price of an SEC ticket (including the minimum donations required by the schools to buy that ticket) was more than $110, which is an 80 percent increase over what it was just a decade ago. Where does it stop? Well, that depends on where the arms race in college athletics stops.
Charlie Strong can't get a head job: What else does the guy have to do? He's had some interviews, including Vanderbilt when Bobby Johnson got the job, but nobody has been willing to pull the trigger. When you look around this conference over the last four or five years and see less qualified coaches getting head jobs, you can't help but think that race is indeed a factor. And that's shameful. For the record, Strong is one of the best defensive coordinators in the country. He's bright. He's an excellent recruiter. He's paid his dues (also working at Notre Dame and South Carolina), and he can coach. In Florida's two BCS National Championship Game wins, Strong held the opposition to a total of 21 offensive points. Sounds like head coaching material to me.
September, 23, 2008
9/23/08
12:22
AM ET
Posted by ESPN.com's Chris Low
| | |
| --- | --- |
| | |
| | Rick Diamond/Getty Images |
| | Larry Munson, in his 43rd season calling play-by-play for the Bulldogs, is calling it quits. |
The first time I ever heard Larry Munson on the radio, I remember asking my dad why he kept referring to everybody as "we" and "they" and "our guy" and "their guy."
And then there was that gravely voice of his.
I didn't know what to make of him.
He was different, almost irreverent at times, and yet, insanely entertaining. There was a brilliance about him that didn't immediately register with a 12-year-old kid who'd always heard that the best broadcasters weren't supposed to be homers.
Munson was a homer all right, but he was also a treasure. I equate his voice with southern college football much the same way as I do Bear Bryant's houndstooth hat, Howard's Rock and Tiger Stadium on a Saturday night.
Whether you loved Georgia or hated Georgia or could care less, you went out of your way to hear Munson call a game. I can't begin to tell you all the Saturday evenings in the fall when I was on my way back from a game at Clemson or South Carolina and couldn't wait to get in the car and listen to Munson paint a picture as only he could.
Scanning that dial and listening through all the static on 750 WSB in Atlanta was annoying, but it was worth it just to hear Munson.
He's the kind of iconic figure you think will be around forever. Sadly, he announced Monday that failing health will keep him from doing any more Georgia games, which means he won't be in the booth this Saturday when Alabama comes to Sanford Stadium. Munson will turn 86 on Sunday.
I think I probably speak for my generation (all generations, for that matter) when I say there's a real emptiness knowing that I'll never get to hear him call another Georgia game. I was looking forward to seeing him this weekend -- and realizing that he was coming to the end of his career -- wanted to tell him personally how much enjoyment I'd gotten out of listening to him over the years.
For those who haven't had the pleasure of meeting him, he's as much fun off the air as he is on the air. It's never dull with Munson.
There are so many stories, but one stands above all the rest several years ago during a Georgia-Tennessee game.
It was halftime of a night game, and the line to the men's room in the press box was fashionably long. So, here comes Munson in his customary wind suit, his face more contorted than usual when he sees the line.
Having a limited amount of time before he has to be back on the air, Munson maneuvers his way to the only stall, which is occupied.
In his trademark voice, much the same way as he might call a key third-down play for the Bulldogs, he knocks on the door of the stall and exclaims, "Are you getting close in there?"
I laugh as hard now when I think about that story as I did the day it happened. I just wonder what the guy in that stall thought when he heard that unmistakable voice.
We'll all miss hearing your calls -- Tiders, Vols, Tigers, Gators, Gamecocks, all of us.
You've touched more people than you'll ever begin to know.