NCF Nation:

Las Vegas 2009 bowls
December, 22, 2009
12/22/09
4:32
PM ET
Experience at quarterback, coaches will tell you, is about as important as anything, and both BYU and Oregon State have that well covered heading into the MAACO Bowl Las Vegas tonight.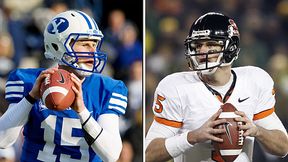 US PresswireMax Hall and Sean Canfield lead potent passing attacks heading into the MAACO Bowl Las Vegas.
Experience? BYU's
Max Hall
has won 31 games, more than any other previous BYU quarterback. And there have been a lot of good ones.
Oregon State's
Sean Canfield
isn't exactly a rookie. He'll be making his 24th start against the Cougars.
That experience probably means neither figures to get rattled.
"The chances of rattling [Hall] are tough," Beavers coach Mike Riley said. "You're talking about a guy who has been through a lot in his career and played a lot and has been productive as heck. It's just like we said with Sean. The best thing that happened for Sean is to play for a long time in one stretch and grow and gain the confidence."
Quarterbacks -- duh -- are always important, but these two are their offenses' engine, though Hall is probably a bit more critical to the Cougars.
Who has the edge?
Consider:
Hall finished ranked third in the nation in passing efficiency. Canfield ranked 15th. It's fair to counter, however, that Canfield faced more talented secondaries in the Pac-10.

Canfield completed 70 percent of his passes for 3,103 yards and 21 touchdowns with six interceptions. Hall completed 68 percent of his passes for 3,368 yards with 30 touchdowns and 14 interceptions. Those interceptions might catch your eye, but Hall only threw four in the final seven games.

Both pass defenses are questionable. Oregon State ranked 60th in the nation in pass efficiency defense; BYU was 40th. The Beavers will be missing starting cornerback Tim Clark, while the Cougars will have a speed disadvantage in the secondary.

Canfield is a higher-rated NFL prospect, in large part because Hall lacks ideal size. Mel Kiper rates Canfield the fifth-best senior quarterback.

Neither defense had a lot of sacks in 2009. BYU ranked 53rd in the nation with 24; Oregon State 106th with just 15. BYU's offense gave up 21 sacks, which ranked 54th in the nation. Oregon State surrendered 29, which is 87th.

Both quarterbacks have help. Canfield has the Rodgers brothers, receiver James and running back Jacquizz. Hall has All-American tight end Dennis Pitta and running back Harvey Unga.
So, who has the edge?
Too close to call. The game sets up as though both offenses will move the ball well and both quarterbacks will have time to distribute the ball to their playmakers.
Canfield's key is to get the ball to the Rodgers brothers in space so they can stress the Cougars with their speed and elusiveness.
Hall didn't play terribly well in the Cougars rivalry-game victory over Utah to conclude the season -- he completed just 12 of 32 passes -- but he kept his cool and threw the game-winner in overtime. He needs to stay in rhythm and take what the defense gives him.
Both veteran quarterbacks figure to play well. The one who plays better, however, likely will lead the winning team.
December, 22, 2009
12/22/09
11:00
AM ET
BYU (10-2)
1. Stop the run:
It seems like a simple enough suggestion, but few have been able to stop Oregon State's running game and most of the time it's led to a loss.
Jacquizz Rodgers
is fast and he's small, which makes him hard to find. He's had a touchdown in all but one game and had seven 100-yard rushing games this season. BYU has been pretty stout against the run, allowing an average of 112 yards, and the Cougars allowed more than 200 rushing yards just twice.
2. Get Hall in a groove:
BYU quarterback
Max Hall
seems to be at his best when he can get into a rhythm early and gain some confidence. That will be key against an Oregon State passing defense that hasn't been great this season, but stiffened a bit at the end of the year. The Beavers allow 238.67 passing yards per game and they allowed two or more passing touchdowns in seven games this season. Look for tight ends
Dennis Pitta
and
Andrew George
to be top targets in this game.
3. Don't forget the other Rodgers brother:
Jacquizz Rodgers is a great running back, but his brother, receiver
James Rodgers
, might be the best player on the team, period. Rodgers ranks first on the team in receiving yards with 1,004 and nine touchdowns on 87 catches, and he's second on the team in rushing with 289 yards and a score. He's a great vertical threat and will be one of the toughest receivers (if not the toughest) the Cougars have faced this season. Look for BYU to double Rodgers and force quarterback
Sean Canfield
to find other options.
December, 21, 2009
12/21/09
11:01
AM ET


BYU will play in the MAACO Bowl Las Vegas for the fifth consecutive season in what will be the first matchup between ranked teams in Las Vegas. The Cougars hope this year is better than the last. Last season, the Cougars lost 31-21 to Arizona and gave an uninspired effort. This year, the Cougars face an Oregon State team that was a win away from the Rose Bowl and should present some speed challenges for the BYU defensive front.
WHO TO WATCH:
Max Hall, QB, BYU
All season the Cougars have been as good as quarterback Max Hall and it will be no different in the MAACO Bowl Las Vegas. Hall should have some success against an Oregon State secondary that is allowing 238.67 yards per game. However, the Beavers stiffened against the pass late in the season. They did not allow more than 201 yards in any of the final four games of the season.
WHAT TO WATCH: The front seven
BYU's defense has been criticized for its lack of speed and it will be tested against Oregon State running back
Jacquizz Rodgers
, who ranks 17
th
in the country with 114.75 yards per game. Rodgers might be the smallest back the Cougars have faced this season and he'll be tough for BYU's bulky interior to find and keep up with.
WHY TO WATCH:
BYU has thrilled before
The Cougars have a flair for the dramatic. In the first game of the season, they upset Oklahoma at the new Dallas Cowboys Stadium. At the end of the regular season, they defeated Utah in an overtime thriller. Since this is the only game outside of the BCS bowls with two teams ranked in the top 20, it promises to be yet another late-game thriller.
PREDICTION:
Oregon State is going to bring more speed than BYU has seen most of this year and that's going to be a problem for the Cougars defense. The Beavers combine a talented running game with a decent passing game and that will keep BYU off guard. While this will basically be a home game for the Cougars, I think Oregon State takes it 35-24.
December, 21, 2009
12/21/09
10:28
AM ET
Breaking down Tuesday evening's Las Vegas Bowl between No. 18 Oregon State (8-4) and No. 14 BYU (10-2).


WHO TO WATCH
: This is a primetime matchup of skill players. BYU will offer up quarterback
Max Hall
, tight end
Dennis Pitta
and running back
Harvey Unga
. The Beavers will counter with quarterback
Sean Canfield
and the Rodgers brothers, running back Jacquizz and receiver James. The difference for the Beavers is speed. The Rodgers brothers have it, while the Cougars are mostly about power. Canfield has been accurate all season, and if he can distribute the ball in space to the Rodgers brothers, all three could have a star turn.
WHAT TO WATCH
: The Beavers pass defense. Starting cornerback
Tim Clark
broke his leg in the season-finale vs. Oregon, so an already thin crew is even thinner --
said coach
Mike Riley, "We're thin. We're absolutely thin.'' Even with Clark, the Beavers ranked sixth in the Pac-10 in pass defense and pass efficiency defense. They surrendered 20 TD passes -- only Washington State surrendered more -- and their eight interceptions were tied for second fewest in the conference. Moreover, they only recorded 15 sacks, which ranked ninth in the conference, six fewer than No. 7 Stanford. Hall and BYU rank 12th in the nation in passing and have accounted for 31 TD passes.
WHY TO WATCH
: It's the first matchup of ranked teams in the bowl seasons, and it's always interesting when the Pac-10 and Mountain West square off. The MWC annually wants to prove itself vs. BCS conferences -- perhaps paving the way for it to become one? -- while the Pac-10 doesn't want to endure dismissive sniffs from its BCS conference brethren. As for the game itself, there will be a lot of playmakers on both sides of the field.
Jacquizz Rodgers
, for one, could make a statement for the 2010 Heisman Trophy race, while Canfield could improve his already blossoming NFL draft prospects.
PREDICTION
: BYU 33, Oregon State 30. So much of a bowl game is about which team is more motivated. Last year, Oregon State also lost a Civil War rivalry game with Oregon that knocked it out of the Rose Bowl, but the Beavers got blown out and embarrassed and wanted to exorcise that memory -- particularly the defense -- in the Sun Bowl. They were motivated. This time? They lost a heartbreaker. That's a different sort of touchstone. As for BYU, sure the Cougars are playing in their fifth consecutive Las Vegas Bowl. But they are riding high after a win over Utah in their rivalry game and surely will recall that they were out-hustled by Arizona in the bowl last year. That will be a lesson, and they will be plenty motivated this time to take a Pac-10 scalp.