NCF Nation:

Latroy Pittman
December, 8, 2014
12/08/14
3:00
PM ET
Florida's trip to Birmingham, Alabama, for the aptly named Birmingham Bowl is more than just a trip for one final game, it's about making a good first impression with the new man in charge.
The embattled Gators' end to the 2014 season probably can't come soon enough for fans -- or the players, for that matter -- but it will serve as more than just a way to officially usher out the Will Muschamp era. This is the first major tryout for players in front of new head coach Jim McElwain. More than just pride is on the line for a team looking to get back on track with new leadership taking over at the conclusion of the game.
[+] Enlarge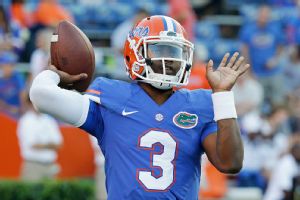 AP Images/John RaouxNew Florida coach Jim McElwain will surely have his eye on the passing ability of Treon Harris this month.
McElwain won't roam the sidelines on Jan. 3, but he will be in attendance to watch what some of his future players have when the ball is live, especially on the offensive side. That's where most of the pressure is, and that's where most of the improvement has to come from once McElwain starts directing this team during spring practice.
For a team that could return just five starters on offense, Florida's game against East Carolina is an important one for players looking to revamp their careers under a more offensive direction.
Of course, it starts with freshman quarterback
Treon Harris
, who assumed the starting role in November after veteran
Jeff Driskel
failed to improve or win games. The young and very green quarterback has shown flashes of special ability here and there, but against better competition, Harris hasn't exactly been a world beater. Maybe that was because of perplexing conservative play calling in key moments, but, honestly, Harris the passer isn't as dangerous as Harris the runner. And if Harris is going to keep the starting job under McElwain's watch, he'll have to get that right arm going in a hurry.
That starts in Birmingham. Harris, who went 3-2 as a starter and threw for 896 yards and seven touchdowns, doesn't have to become an overnight passing sensation against the Pirates, but this is a chance for him to show his new coach some development from a little less than a month of work. The Harris who couldn't hit anyone late against Florida State won't win a starting job in a Jim McElwain offense. But Harris can prove that he's better than that and get a leg up on spring practice before getting a total reboot from the quarterback whisperer.
Then, you look at Florida's young receiving corps and running backs. All of them will be battling for jobs next spring with some veterans departing.
Demarcus Robinson
is easily the Gators' most talented receiver, but he needs to be more consistent and that will come with some help. This would be a great opportunity for
Ahmad Fulwood
and
Chris Thompson
to show something in a meaningful game. The same goes for seniors-to-be
Latroy Pittman
, who proved to be a safety net at times on third down this fall, and
Valdez Showers
, who never really found a role in Kurt Roper's offense.
As for running backs, the future definitely begins with
Kelvin Taylor
and
Brandon Powell
, who could compliment each other well in McElwain's offense.
Defensively, McElwain will likely just be interested in seeing what he has to work off of in 2015. Being an offensive guy, he probably won't spend extensive time on the other side, but when you're a new, offensive-minded coach playing to your strengths, it's good to know what chances you can and can't take because of the guys lining up on the other side. And with Florida possibly returning seven defensive starters, McElwain will have a little buffer to start with.
This game isn't the end all when it comes to impressing McElwain. Everything will change once he implements his plan, but the bowl game will provide McElwain with some good intel on the team he'll have once he's officially handed the keys to the program, and it's much better to start on the new boss' good side.
August, 7, 2014
8/07/14
10:30
AM ET
»
More team previews:
ACC
|
Big 12
|
Big Ten
|
Pac-12
|
SEC
Previewing the 2014 season for the
Florida Gators
:
2013 record:
4-8 (3-5 SEC)
Final grade for 2013 season:
Pardon the pun, but there's just no way to give a passing grade to a team that could hardly complete a forward pass. An incomplete grade might be warranted by the Gators' ridiculous number of injuries, but the final judgement for these Gators is inescapable. The team that lost home games to FCS Georgia Southern and Vanderbilt, lost seven games in a row and broke its 22-year bowl streak gets a well-deserved F.
Key losses:
DT Dominique Easley, OG Jon Halapio, C Jonotthan Harrison, WR Solomon Patton, DB Jaylen Watkins, LB Ronald Powell, CB Marcus Roberson, CB Loucheiz Purifoy, QB Tyler Murphy, DB Cody Riggs
Key returnees:
QB
Jeff Driskel
, RB
Kelvin Taylor
, RB
Matt Jones
, WR
Quinton Dunbar
, WR/KR
Andre Debose
, RT
Chaz Green
, LT
D.J. Humphries
, C
Max Garcia
, DE
Dante Fowler Jr.
, DL
Jonathan Bullard
, LB
Antonio Morrison
, CB
Vernon Hargreaves III
[+] Enlarge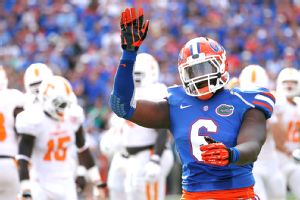 Mark LoMoglio/Icon SMIDante Fowler Jr., a preseason All-SEC first-team player, hopes to lead the Gators back to respectability.
Projected starters:
QB Jeff Driskel, RB Kelvin Taylor, WR Quinton Dunbar, WR
Demarcus Robinson
, WR
Latroy Pittman
, TE
Jake McGee
, LT D.J. Humphries, LG
Tyler Moore
, C Max Garcia, RG
Trenton Brown
, RT Chaz Green, DE Dante Fowler Jr., DT
Leon Orr
, DT
Darious Cummings
, DE Jonathan Bullard, LB
Neiron Ball
, LB Antonio Morrison, LB
Jarrad Davis
, CB Vernon Hargreaves III, CB
Jalen Tabor
, S
Jabari Gorman
, S
Marcus Maye
Instant impact newcomers:
TE Jake McGee (senior transfer from Virginia), CB Jalen Tabor, CB
Duke Dawson
, DL
Gerald Willis
III, OT
David Sharpe
Breakout player:
Florida expects its offense to be improved, but the Gators, under coach Will Muschamp, are still all about defense. Sophomore linebacker Jarrad Davis has drawn raves from coaches and teammates for being a high-motor playmaker with a nose for the ball. One of the quickest learners on the team, Davis surprised everyone when he worked his way into the starting lineup as a true freshman. Big things are expected for his follow-up performance.
Most important game:
For a head coach on a very hot seat and a team champing at the bit to erase the memory of a 4-8 season, every game will be important in 2014. Muschamp and Florida can't afford many losses, but one foe looms above the rest -- Georgia. The Gators dominated this series for years, but Muschamp has lost three in a row to his alma mater. These games are always closely contested, full of emotion and extremely important in the SEC East race. But this year Muschamp and his players ought to have a little something extra: desperation.
Biggest question mark:
There are holes and concerns on defense, but addressing them should be a piece of cake compared to the monumental task of resurrecting Florida's offense, which ranked No. 113 out of 123 FBS teams last season. New coordinator Kurt Roper brought a no-huddle, shotgun, spread offense from Duke with the promise of a better fit for Driskel and several underutilized receivers. Will they find success right away?
Upset special:
Florida visits Tuscaloosa, Alabama for a showcase game against the Crimson Tide in Week 4, but the Gators' best chance for an upset will be a couple of weeks later in the Swamp. LSU, ranked No. 13 in the preseason coaches' poll, is Florida's permanent SEC West opponent. The teams have played every year since 1971, and the rivalry has become hotly contested with both winning seven times in the last 14 meetings. In that span, the road team has won six times, so anything goes when these talent-rich programs clash.
Key stat:
When he was hired, Roper said, "Our whole philosophy on offense is points per game. It's not yards, it's not going up and down the field, it's how many points we can get." Last year, Roper's
Duke Blue Devils
ranked 41st in the FBS with 32.8 points per game. Florida, by contrast, ranked 112th with 18.8 PPG.
Preseason predictions:
ESPN Stats & Info:
7.55 wins
Bovada over-under:
7.5 wins
Our take:
Florida's schedule is as brutal as ever with visits to Florida State and Alabama, the top two teams in the preseason coaches' poll. The SEC East promises to be a minefield as well. But the Gators get to play nine out of 12 games in their home state. As tough as this slate looks, the bye weeks are positioned perfectly. Florida looks to be 3-0 heading into the game against Bama. Then the first bye week offers a chance to recover, reevaluate and prepare for a big test at Tennessee. The Gators return home for two critical games against LSU and Missouri before the second bye precedes the all-important Georgia game. If Florida can make the most of those byes, defeating the Vols and Dawgs might be the difference between seven and eight wins. Beat both East rivals, and the Gators could have a solid chance at nine.
March, 26, 2013
3/26/13
3:00
PM ET
Loucheiz Purifoy
might want to have an IV of both water and Gatorade hooked up to him once spring practice ends. He's about to spend the next few months running his tail off as he
prepares to be one of those rare two-way college football players
this fall.
[+] Enlarge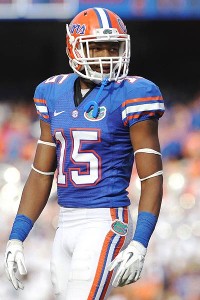 Kim Klement/USA TODAY SportsFlorida Gator fans could see Loucheiz Purifoy playing on both sides of the ball in 2013.
Will Muschamp kicked off spring by announcing that he'd be experimenting with Purifoy, who is one of Florida's best overall defenders and the most physical cornerback on the team, at wide receiver for the first seven practices. He made it clear that he needed Purifoy on offense in order to help the Gators out with depth at a position that has gaping holes. But Muschamp has also made it clear that Purifoy could be in the mix for playing time on offense to go along with his defensive and special teams duty.
"He's an athletic freak and he's a guy we want to get the ball, and he's done a good job so far," quarterback
Jeff Driskel
said of Purifoy. "He's really embraced the challenge and done a good job."
Purifoy won't be the next A.J. Green or Julio Jones at receiver, and chances are that he won't be the next Champ Bailey if he really does play both offense and defense, but he will get every chance to be a difference maker for the Gators.
The plan is to have Purifoy play more corner than anything, but if the Gators can't find consistent players at receiver, Muschamp might have to turn to Purifoy more than expected. Yes, Purifoy is a better corner than receiver, but when it comes to what might help the Gators more this fall, there's a chance he could be more valuable at receiver.
But a lot has to happen in order for this to be true. Florida's receivers have to fall behind in their development and the coaches have to feel comfortable with Purifoy's replacements. One player who could make a possible Purifoy transition easier is incoming freshman
Vernon Hargreaves III
. Many feel Hargreaves, who was a five-star prospect and the top corner prospect in the 2013 recruiting class, is ready to play at the college level right now.
Obviously, throwing a true freshman out at corner is a little dangerous, but with some vets around him, the Gators won't have to rely on just Hargreaves once he arrives.
In all likelihood, Purifoy will stay a starter at corner, but if Muschamp is serious about playing him for around 60 snaps a game and getting him into the offensive playbook more this summer, there's a real chance Purifoy could be a nice offensive weapon for the Gators because he's extremely physical and can stretch the field.
The thought of a corner taking reps away from receivers has to motivate this relatively unproven group of pass-catchers. Five true freshmen, including ESPN 150 early enrollee
Demarcus Robinson
, will compete with vets
Quinton Dunbar
and
Andre Debose
, and rising sophomores
Latroy Pittman
and
Raphael Andrades
for playing time this fall.
Dunbar is turning heads this spring, but we've heard that before, and Debose is still struggling with consistency. This position is wide open and Purifoy will get another crack at it in 2013. He'll go through a world of pain this summer to get his body in proper shape and if he continues to progress at receiver, the coaches won't hesitate to use him if the Gators really need him.
November, 6, 2012
11/06/12
11:00
AM ET
Nine games into Florida's season and it's pretty clear there's a great wide receivers famine in Gainesville. And the Gators have two weeks to feed their passing game.
Florida might sport an impressive 8-1 record (7-1 SEC), but what it doesn't sport is much of a threat to pass. There's an abundance of speed and athleticism at receiver, but no complete packages.
When the Gators take on No. 10 Florida State on Nov. 24 in Tallahassee, something has to be different or they won't stand much of a chance -- not with FSU owning the nation's No. 1 defense and the fourth-best pass defense.
That leaves two weeks of cupcake ball against Louisiana-Lafayette and Jacksonville State for the Gators to fine-tune that passing game and find some weapons not named
Jordan Reed
.
[+] Enlarge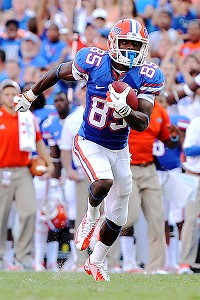 Kim Klement/US PresswireFrankie Hammond got off to an explosive start, but he and his fellow Florida WRs have been mostly quiet in 2012.
Outside of the junior tight end and his 33 catches, the Gators really don't have any true receiving threats. Reed, who has been quarterback
Jeff Driskel
's saving grace this season, leads Florida with 371 receiving yards and has three touchdowns. He's the only receiving target with more than 20 receptions and more than 230 yards. He's Florida's only player with more than three catches in multiple games this season.
You can't have your tight end be your best receiver and expect the offense to be balanced or threatening against good defenses, but that's what the Gators are stuck with.
Since the Tennessee game on Sept. 15, Driskel has averaged just 122 passing yards with six touchdowns (four in the South Carolina game). He's taken a good amount of criticism for his decision making, and some of it has certainly been appropriate, but if fans are going to groan about him holding onto the ball for too long, they should also groan about the lack of separation taking place down the field.
"We're going to have to be more explosive," Driskel said.
Yes, and more reliable.
"It is what it is," coach Will Muschamp said about his passing game.
"It's easy to go pick at that and that's what everybody's decided to do at this point."
Very easy.
It's obvious this part of Florida's cupboard is pretty bare. Florida is last in the SEC in passing and is the only SEC team that doesn't have a wide receiver with more than 20 catches this year. Right now,
Quinton Dunbar
leads all Florida wideouts with 20 receptions. He's failed to record more than three catches and 40 yards in a single game.
Frankie Hammond
had that 50-yard catch-and-run in the opener and a 75-yarder against Tennessee, but has caught just nine passes for 66 yards and a touchdown since.
Utility man
Trey Burton
has 11 receptions for 126 and no touchdowns.
Omarius Hines
has moved between tight end and running back, but has 12 catches, and
Andre Debose
, who has loads of talent but poor work ethic, has just two receptions on the season.
All of these players have been on campus for at least three years.
True freshman
Latroy Pittman
shined this spring, but has managed just two catches this fall.
Harp on Driskel's play all you want, but nudge some of that animosity over to the receivers as well.
Nothing exemplifies the Gators' receiving woes quite like the past month. Florida went three games without 100 yards passing in that span and have just one touchdown in the past two games, including the 17-9 loss to Georgia.
Imagine Florida's SEC championship game hopes with a decent passing game.
It hasn't helped that the Gators have had a lot of
receiving recruiting misses over the years
, starting with major ones from the Urban Meyer era. Muschamp also whiffed on two big 2012 recruits in ESPN 150 members
Stefon Diggs
(signed with Maryland) and
Nelson Agholor
(USC).
All decent offenses have at least one guy quarterbacks can rely on to make plays in the deep game. Florida doesn't have that, and it's hurting the creativity in Brent Pease's offense. It's hard to fool defenses when they don't respect your passing game and continuously load the box without repercussions.
There's no magic pill or new formation. This one comes down to outplaying your man and creating opportunities … and it can't continue to only be Reed.
What the Gators have done this year has been very impressive. Soon, they'll be 10-1. But if Florida is going to have a chance at a BCS berth -- or a bowl win -- the passing game has to improve. And that means the wide receivers have to show up.
August, 24, 2012
8/24/12
11:15
AM ET
As the season gets closer we're continuing to look at some of the SEC's newcomers in 2012.
This time, we're taking it a little further by involving all of the new faces that could see the field this fall.
Today, we're looking at true freshmen, redshirt freshmen, transfers and junior college transfers who could help teams right away. So we don't get too cluttered, we're picking three players from each team.
I'll take a look at the candidates in the Eastern Division, while Chris will pick his Western Division players later today.
Let's see who could strut his respective stuff in the East this fall:

FLORIDA

GEORGIA

KENTUCKY

MISSOURI

SOUTH CAROLINA

TENNESSEE

VANDERBILT
July, 11, 2012
7/11/12
2:06
PM ET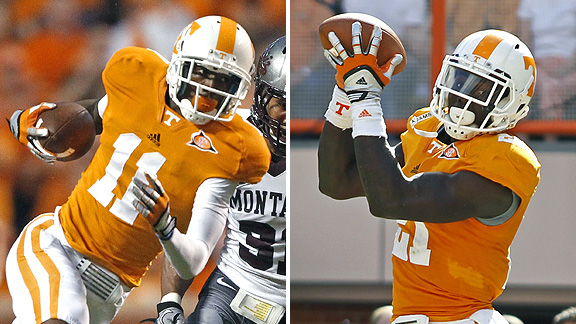 AP Photo/Wade PayneJustin Hunter (11) and Da'Rick Rogers (21) are considered to be the best receiving duo in the SEC.
Our SEC position rankings continue with a look at schools' wide receiver and tight end groups.
Past rankings:
On to the league's wide receiver/tight end groups:
1. Tennessee:
The Vols are equipped with two of the top wideouts in the league with
Da'Rick Rogers
, who was second in the SEC in receiving last year, and
Justin Hunter
, who might be the SEC's top deep threat. It sounds like Hunter will be 100 percent this fall after his ACL injury last year. Junior college transfer Cordarrelle Patterson is big, fast and possesses the big-play gene. The speedy
Zach Rogers
is back and is so is talented tight end
Mychal Rivera
.
2. Arkansas:
Cobi Hamilton
is now Arkansas' primary receiver, and he might be the league's most complete wideout. He can make the big-play and elude defenders along the way. While
Marquel Wade
's status is still unclear, if he does return, he'll be a major lift for this offense because of his playmaking ability in the slot.
Julian Horton
and
Javontee Herndon
have always impressed coaches in practice and now will get their chances to in games. Tight end
Chris Gragg
should be even more involved and is the league's top tight end.
3. Georgia:
While
Malcolm Mitchell
could go back and forth between receiver and corner, when he's at receiver he's Georgia's top offensive threat and was one of the league's best as a rookie. There are vets behind him, starting with reliable senior
Tavarres King
, who had a very good spring, senior
Marlon Brown
, who seemed to take a big step in his game this spring. Sophomores
Michael Bennett
and
Chris Conley
combined for 48 catches for 608 yards and seven touchdowns last year. Unproven tight ends
Arthur Lynch
and
Jay Rome
will replace Orson Charles and Aron White.
4. Texas A&M:
This isn't the fastest group out there, but there are some pretty reliable weapons, starting with star
Ryan Swope
, who could have left for the NFL after catching 89 passes for 1,207 yards and 11 touchdowns last year.
Uzoma Nwachukwu
was third on the team with 50 catches for 639 yards and three tight ends --
Nehemiah Hicks
,
Michael Lamothe
and
Hutson Prioleau
-- return. Keep an eye on junior
Nate Askew
, who could be a downfield threat this fall.
5. LSU:
Odell Beckham
Jr. was one of the top rookies last year and could be even better in Year 2. He'll be joined by potential deep threat and big-play target
Jarvis Landry
, who developed some good chemistry with quarterback
Zach Mettenberger
this spring.
Russell Shepard
is talented, but he's been wildly inconsistent. Keep an eye on junior
James Wright
and incoming frosh
Avery Johnson
, who is the younger brother of Patrick Peterson. Also, tight end
Chase Clement
is on the John Mackey watch list.
[+] Enlarge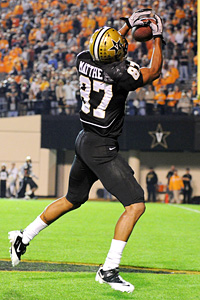 Don McPeak/US PresswireWide receiver Jordan Matthews is one player the Commodores will be counting on this fall.
6. Vanderbilt:
This group surprised last year and returns most of its components, starting with
Jordan Matthews
, who was fourth in the SEC in receiving last year. Sophomore
Chris Boyd
was solid last year, hauling in 31 catches and eight touchdowns.
Jonathan Krause
is very good in space and should see his role increase this fall after a solid spring. The coaches are excited about former QB
Josh Grady
moving to receiver. Replacing tight end Brandon Barden won't be easy.
7. Alabama:
There is more speed out wide in Tuscaloosa, but there's a lot more youth. The Tide could turn to freshmen Chris Black, Amari Cooper and Eddie Williams to help develop a more downfield passing game. More will be expected from veterans
Kenny Bell
and
Kevin Norwood
, while sophomore
DeAndrew White
possesses a ton of speed. Still no word on
Duron Carter
. Tight end
Michael Williams
was solid last year, but will be used even more this fall.
8. Mississippi State:
There is a lot of experience here, but this group has still underperformed at times, especially senior
Chad Bumphis
, who has yet to live up to all the hype that followed him from high school. Seniors
Chris Smith
and
Arceto Clark
combined for 65 catches last year, while the staff is very excited about the big-play potential redshirt freshman
Joe Morrow
possesses. Tight end
Malcolm Johnson
serves as a very reliable tight end target, as well.
9. Missouri:
The Tigers lost two starting receivers and stud tight end Michael Egnew, but three of the top five pass catchers are back, including inside threat
T.J. Moe
, who led Mizzou in receiving last year. Big things are expected from
Marcus Lucas
, who can stretch the field with his speed and physicality, and the coaches think
L'Damian Washington
can also be a downfield threat. Also, Dorial Green-Beckham, last year's top recruit, should make an immediate impact.
Eric Waters
is replacing Egnew, but has just two career catches and suffered a knee injury this spring.
10. Auburn:
Emory Blake
is one of the league's top downfield threats and has been one of Auburn's most consistent offensive weapons. So has tight end
Philip Lutzenkirchen
, who should be more of a passing threat with the addition of transfer fullback
Jay Prosch
. There is a lot of depth, but it's unproven.
Trovon Reed
was supposed to be a star, but had a lackluster second year. Seniors
Travante Stallworth
and
DeAngelo Benton
have 15 and 14 career catches, respectively.
Quan Bray
has shown potential and could have a bigger role this season and keep an eye on freshman Ricardo Louis.
11. Florida:
The Gators have struggled here since 2009 and still lack proven playmakers.
Andre Debose
is probably the best bet to be one, but he's been very inconsistent.
Quinton Dunbar
has the speed to be an outside threat, but caught just 14 passes last year. And the coaches are still waiting for senior
Frankie Hammond
Jr. to turn things up. True freshman Latroy Pittman had a great spring and the coaches are excited about his potential. Tight end
Jordan Reed
is one of the most athletic players in the league and will be a bigger target with two young quarterbacks throwing the ball.
12. South Carolina:
Now that Alshon Jeffery is gone, the Gamecocks have questions and inexperience here. The fast, athletic
Ace Sanders
is the only returning pass catcher with at least 20 catches from last year (29). The hope is
Bruce Ellington
will be more of a factor this fall. Tight ends
Justice Cunningham
and
Rory Anderson
combined for 26 catches and four touchdowns.
Damiere Byrd
has blazing speed, but caught just one pass last year.
DeAngelo Smith
had a solid spring, and the coaches hope he can be a downfield threat. A lot will be expected from incoming freshman Shaq Roland.
13. Ole Miss:
Sophomore
Donte Moncrief
is a budding star in this league and thinks he'll be even better in Hugh Freeze's spread offense.
Ja-Mes Logan
caught 20 passes last year, but had a very good spring. But Nickolas Brassell was an academic casualty and
Randall Mackey
had to move over from quarterback. The coaches are looking for consistency from
Terrell Grant
and
Vince Sanders
, who are both pretty unproven. Tight end
Jamal Mosley
is expected to do more in the spread and averaged 13.8 yards per catch last year.
14. Kentucky:
Joker Phillips' goal this spring was to find more playmakers and he thinks he did with sophomore
Demarco Robinson
, who had five receptions last year, and redshirt freshman
Daryl Collins
. The hope is that they'll take some pressure off of
La'Rod King
, who is really the only proven receiving threat on the team. Tight ends
Ronnie Shields
and
Tyler Robinson
did well this spring, but combined for just 10 catches last year.
May, 17, 2012
5/17/12
10:30
AM ET
We're taking a look at some of the breakout SEC players from this spring:
Marcus Caffey, CB, Kentucky: Caffey spent his first year on Kentucky's campus looking up at the rest of the running backs on the roster. But the coaches didn't want to waste his talent, so he moved to cornerback, a position in desperate need of bodies. The Caffey experiment worked, as he immediately adapted to his new position and left spring with one of the starting corner spots. The youngster is a bigger body at corner, which will help him when taking on some of the league's bigger receivers.
Dee Ford, DE, Auburn: After missing most of last season with back issues, Ford came back very strong this spring. The rising junior caused plenty of issues for Auburn's offense all spring with his play off the edge. The rust that was supposed to come with missing most of the previous season wasn't there, and he left with the starting defensive end spot opposite Corey Lemonier. Ford was named the defensive MVP of Auburn's spring game and registered four tackles, including two for loss and one sack.
Joe Morrow, WR, Mississippi State: Morrow showed that he can be that receiver who really stretches the field in Mississippi State's offense. He was a big-play machine in Starkville this spring with some tough catches and the ability to fly by defenders. The redshirt freshman wasn't ready to play last season and still has some maturing to do, but the staff expects him to expand the Bulldogs' passing game this fall. He caught six passes for 97 yards and a touchdown in the spring game.
Latroy Pittman, WR, Florida: Coach Will Muschamp said Pittman was one of the most consistent players this spring and had a knack for making the tough catches. Muschamp also said that he had a tremendous work ethic this spring, but must stay grounded. The early enrollee isn't the fastest player out there, but he's big, physical and will immediately help a very unproven receiving corps. He caught two passes for 51 yards in the spring game.
Antonio Richardson, OT, Tennessee: Richardson spent last year on special teams, but the coaching staff always had an eye on him. The hope was that he'd make a big impact this spring, considering the issues Tennessee had up front last season. The 6-foot-6, 329-pound rising sophomore impressed all spring and left with the starting job at left tackle. He's not only big but he's extremely athletic and tough, making him a solid option at the line's most important position.
Demarco Robinson, WR, Kentucky: On a team that was in desperate need of more offensive firepower, Robinson was one of the most impressive players at Kentucky's camp and if spring is any indication, he'll have a lot of passes thrown his way. Coach Joker Phillips said Robinson made play after play in practice this spring and should help take some pressure off of rising senior La'Rod King in the passing game. He caught nine passes for 146 yards and two touchdowns in Kentucky's spring game.
T.J. Yeldon, RB, Alabama: Yeldon enrolled early at Alabama this spring and did more than just go through the motions. The 6-foot-2, 216-pounder continuously showed off an array of moves and wasn't afraid to take a little contact. Yeldon put everything together in Alabama's spring game, where he totaled 179 yards rushing and receiving and scored on a 50-yard pass. He also earned the Dixie Howell Award, which goes to the game's most valuable player. With Trent Richardson gone, Alabama will look to draw more from its stable of running backs this fall. Eddie Lacy might be listed as the starter, but Yeldon showed this spring that he's capable of getting some carries here and there.
Adrian Hubbard, LB, Alabama: Hubbard had a monster spring for the Crimson Tide. He takes over for Courtney Upshaw at the Jack position and the people at Alabama think he might be the Tide's top pass-rusher this fall. The rising sophomore earned the Dwight Stephenson Lineman of the Game Award given to the spring game's most valuable lineman after registering seven tackles, including four tackles for loss and 3.0 sacks.
Steven Jenkins, LB, Texas A&M: Jenkins started six games last year, but was still fifth on the team in tackles. The former juco college transfer was all over the field for the Aggies this spring and made a lot of plays at the Will linebacker position. He's very fast and athletic and should really excel in his second year in Mark Snyder's 4-3 defense.
April, 7, 2012
4/07/12
7:35
PM ET
GAINESVILLE, Fla. -- The adventure as
a guest coach
at Florida's spring game continues ...
12:00 p.m.:
A host of former players get together for a flag football game dubbed the "Battle of the Decades," with players from the 1980s, '90s and 2000s participating. Thankfully, none of the old guys is hurt from all that running.
12:10:
The quarterbacks come out and SI.com's Andy Staples and I try to meticulously dissect every single part of
Jeff Driskel
's and
Jacoby Brissett
's games to figure out which one is better. Like everyone around Florida's program, we're unable to.
12:20:
I walk over to punt-return drills, nearly getting clocked by a ball the wind carried over toward me.
Marcus Roberson
,
Trey Burton
,
Loucheiz Purifoy
and
De'Ante "Pop" Saunders
are taking reps.
12:29:
One-on-ones between receivers and defensive backs begin. It's light, but it's something to look at and we still can't figure out which quarterback is better, but tight end
Jordan Reed
impresses with a one-handed catch and true freshman receiver Latroy Pittman out-muscles his opponents for a few tough catches.
12:35:
The offensive line goes through drills which incorporate a lot of spinning, slapping, pulling and pushing. It's humorous, until you realize how much bigger they are than you. Then you just think it's dangerous. Offensive line coach Tim Davis screams "Spin, spin, spin," until he's blue in the face and his voice is hoarser than before.
[+] Enlarge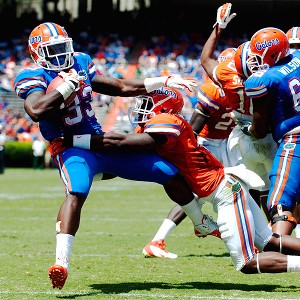 AP Photo/Phil SandlinRunning back Mack Brown (33) stumbles in for a touchdown during Florida's spring game Saturday.
12:49:
After watching the offensive line go at the defensive line, headlined by a rough battle between
Sharrif Floyd
and
Xavier Nixon
, the team jogs to the middle of the field for one last huddle before hitting the locker room.
12:51:
We're in the locker room and the fun begins. After the team splits up by position, the coaches start going over last-minute game plans and emphasizing technique. "Stay under control!" running backs coach Brian White yells. "Let's get this crowd jacked up! Have people leave this (game) knowing we're going to flat-out dominate up front!" Defensive coordinator Dan Quinn preaches mental toughness in loud, quick bursts. He doesn't want to see any walking around or hands on hips. He wants energy and aggression on the field. "Ball Out U!" he screams. "Put out great (expletive) tape! When we turn on the tape I want to make sure I can't wait to watch you."
12:57:
The excitement is growing inside the locker room. An animal is waiting to be unleashed. Players are hyped, as White walks around with a smile on his face saying, "Lotta nervous faces in here today," over and over. He's followed by verbose defensive backs coach Travaris Robinson, who constantly taunts the receivers and pretty much every offensive player. "Let's get to those quarterbacks today and get in their faces!"
12:59:
Floyd sits and stares at the floor, like he's ready to destroy it. The person giving bear hugs and high-fives at the Gator Walk is ready to rip someone apart like a bear. He sits in silence as a coach tosses him smelling salt. He sniffs and doesn't flinch. He's ready.
1:04:
Defensive end/Buck
Ronald Powell
shoots up out of his chair and starts dancing around, yelling inaudible words of encouragement to his teammates. He's pushing guys and slapping their pads. "Play
yo
game, baby! It's just practice! Everything you do, you've done before!"
1:05:
Floyd stands and walks to the center of the locker room. His teammates huddle around him. Players go silent when he speaks. "Do
your
job, not the man next to you!" His voice is deep, loud and haunting. He keeps shouting "aggressive" over and over, which fuels his teammates even more and incites a frenzy before head coach Will Muschamp arrives.
1:07:
Following the Lord's Prayer, Muschamp delivers a short pregame speech. "Fast and physical. Offense, run the ball down their throats!" The place explodes as players exit the locker room, tapping the orange "GRIND" sign above the locker room door on the way out.
1:10:
Kickoff.
We didn't get to actually coach or call plays, but here are some observations from the sideline:
Davis was very hands-on with linemen when they made mistakes. He made them verbally repeat their mistakes and asked them what they had to do to correct them. He was extremely thorough with players and took time to teach between plays.

Offensive coordinator Brent Pease was really concerned with clock management. He was constantly telling the quarterbacks not on the field to make sure that the one in the game knew about the clock and knew when it was running out, even though there was no delay-of-game penalty. That communication failed early in the scrimmage.

Even though Pittman had a pretty impressive day, receivers coach Aubrey Hill and receiver Andre Debose were coaching him on his routes, helping him get out of his breaks faster on the sideline.

Driskel and Brissett looked like old fishing buddies out there. They were joking with each other after plays and helping each other when they made mistakes. Competition didn't stop them from cooperating.

Tyler Murphy appears out of the quarterback race, but he showed some excellent coaching skills. He was spouting terminology and trying to help as much as he could. He was by Pease's side almost the whole time and was able to find a lot of the little things the other QBs missed. He might know the offense the best, but isn't as skilled as the others.
Quick quotes:
Running back Mack Brown after getting popped during his touchdown run: "He picked me good. He Goldberged me."

Receiver Solomon Patton after Chris Johnson's 15-yard run in the fourth quarter: "Man, we got some backs."

Debose to walk-on Michael McNeely after his 52-yard catch: "I bet you thought that ball was in the air forever, huh?"
2:53:
Blue defeats Orange 21-20 and I debut with a victory. As Muschamp jogs to meet Florida's band director, he stops to congratulate me on my win and I announce my retirement from the coaching profession.
April, 3, 2012
4/03/12
10:34
AM ET
Newcomers come in all shapes and sizes.
There are freshmen newcomers, junior college transfers and regular transfers. Regardless, they all come in with the expectations of playing immediately. JUCO standouts and transfers maybe more so than rookies, but the days of automatically redshirting true freshmen are over. Like, dead.
Last year, the SEC saw a few newcomers make immediate impacts. A great example is Georgia linebacker
Jarvis Jones
, who transferred from USC back in 2010, but didn't play until last fall. All he did was lead the SEC in sacks and tackles for loss. There was Arkansas linebacker
Alonzo Highsmith
, who came from the JUCO ranks to be one of the Hogs' most productive linebackers.

Freshman
Isaiah Crowell
had an up-and-down season, but was sixth in the SEC rushing, and was named the SEC's freshman of the year. His classmate, wide receiver
Malcolm Mitchell
, wasn't too bad, either. You also can't forget about South Carolina defensive end
Jadeveon Clowney
, who was seventh in the SEC with eight sacks.
So, as spring practice begins to wind down around the conference, we're taking a look at five newcomers to keep an eye on in 2012. Some are on campuses, some aren't. Some are obvious choices, and you could be surprised by a couple. Top newcomers can be top league players, or players who will make big impacts on their teams at a position of need.
We're going in alphabetical order, so here's our list:
February, 1, 2012
2/01/12
12:45
PM ET

Lane Kiffin's battles with Florida were pretty entertaining when he was at Tennessee. Now, thousands of miles away, Kiffin is still frustrating the Gators.

Wednesday, Kiffin and his USC Trojans staff nabbed two top Florida prospects from the Gators when No. 5 defensive tackle Leonard Williams (Daytona Beach, Fla./Mainland) and No. 6 wide receiver Nelson Agholor (Tampa, Fla./Berkeley) both signed with USC. Each was thought to have Florida and USC as their final two schools.

Kiffin certainly isn't a stranger to recruiting in this part of the country and he hit the Gators at two positions of need, especially with Agholor, who might have competed for immediate playing time with all of Florida's unproven wide receivers.

Now, Florida will hold out a lot of hope for No. 3 athlete Stefon Diggs (Olney, Md./Our Lady of Good Counsel), who will make his college decision on Feb. 10. Diggs is expected to play wide receiver in college, and Florida needs a top-flight receiver in this class. The Gators only have two wide receivers in their 2012 class, in No. 24 WR Latroy Pittman (Citra, Fla./North Marion) and No. 152 Raphael Andrades (Tallahassee, Fla./Lincoln).