NCF Nation:

Laurence Maroney
August, 5, 2010
8/05/10
11:00
AM ET
The house of pain is in effect y'all
I say the house of pain is in effect
You know the house of pain is in effect y'all
And anyone that steps up is gettin' wrecked
And, with those poetic lines from Everlast, we enter the Big Ten's House of Pain. All week at ESPN.com, we're exploring the most-painful losses in a team's history. What constitutes pain? First, the game has to be significant. A rough loss in a going-nowhere year doesn't sting as much as one that prevented a team from reaching its ultimate goals.
Painful losses often happen against rivals. Painful losses often have especially painful endings. Painful losses often take place at the worst possible times. Although blowout defeats certainly can qualify as painful, losses that culminate with crunch-time turnovers, field goal makes or misses or generally bizarre plays usually stick out more.
The most important criteria: painful losses linger for you, the fans.
Trust me, this wasn't easy, and I know many of you will disagree with the choices. But I only got to pick one game for each Big Ten team. A special thanks to the Big Ten sports information staffs for helping me with the project.
Here goes ...

ILLINOIS
Date:
Nov. 3, 1990
Opponent:
Iowa
Site:
Memorial Stadium (Champaign, Ill.)
Final score:
Iowa 54, Illinois 28
After winning a Citrus Bowl championship the previous January, Illinois entered the 1990 season with raised expectations. The Illini lost the opener but won their next six, rising to No. 5 in the national rankings. They had big dreams, but rival Iowa changed everything by crushing them in front of their own fans at Memorial Stadium. John Mackovic's team had no answer for Iowa's Nick Bell, who rushed for 168 yards. After allowing one touchdown in its opponents' previous 49 possessions, Illinois watched Iowa reach the end zone on its first five drives. Illinois' 2000 loss to Michigan deserves honorable mention.

INDIANA
Date:
Nov. 7, 1988
Opponent:
Illinois
Site:
Memorial Stadium (Champaign, Ill.)
Final score:
Illinois 21, Indiana 20
Indiana went to Champaign ranked No. 20 nationally and boasting a 4-1 mark in Big Ten play after a win against Iowa. The Hoosiers seemingly had the game in hand, up 20-9 with less than four minutes remaining. But Illinois quarterback Jeff George, an Indianapolis native who attended Indiana's archrival Purdue before transferring, led the comeback and fired a touchdown pass with 21 seconds left. Illinois' drive came after Indiana quarterback Dave Schnell fumbled on a bootleg. The loss took Indiana out of the race for the Big Ten championship. Indiana's most painful moment came against Anthony Carter and Michigan in 1979.

IOWA
Date:
Jan. 1, 1986
Opponent:
UCLA
Site:
Rose Bowl (Pasadena, Calif.)
Final Score:
UCLA 45, Iowa 28
Iowa felt the pain both for what happened during the game and what happened soon afterward. Maxwell Award winner Chuck Long led the fourth-ranked Hawkeyes into Pasadena, but he was sacked four times by the Bruins. Tailback Ronnie Harmon had a miserable day, fumbling four times after doing so just once all season and dropping a wide-open touchdown pass. Some believed Harmon threw the game. An Iowa win could have led to a national championship after No. 1 Penn State and No. 2 Miami both lost in their bowl games.

MICHIGAN
Date:
Nov. 24, 1973
Opponent:
Ohio State
Site:
Michigan Stadium (Ann Arbor, Mich.)
Final score:
Ohio State 10, Michigan 10
Michigan has had its share of painful losses -- Appalachian State, Ohio State in 2006, Colorado in 1994 -- but this tie with the hated Buckeyes really stung the Maize and Blue. The game featured its share of pain, as Michigan rallied from a 10-0 deficit to tie things up, but missed two field goals in the closing moments. The controversy really started afterward, as Big Ten athletic directors voted that Ohio State should play in the Rose Bowl ahead of Michigan. The Big Ten's no-repeat rule had been scrapped just two years earlier. Michigan coach Bo Schembechler called the decision "an embarrassment to the Big Ten Conference" and stewed about it until his death in 2006.

MICHIGAN STATE
Date:
Jan. 1, 1966
Opponent:
UCLA
Site:
Rose Bowl (Pasadena, Calif.)
Final score:
UCLA 14, Michigan State 12
The Spartans came to Pasadena undefeated and ranked No. 1 in the country. UCLA jumped ahead as the Spartans coughed up the ball four times in the first half. Still, Michigan State had a chance and outgained UCLA 314-212 in the game. The Spartans rallied and scored with less than a minute left, setting up a potential tying two-point conversion attempt. But fullback Bob Apisa was stopped short of the goal line by UCLA's Bob Stiles, who knocked himself out making the tackle. Alabama was awarded the AP national title. Michigan State's 2006 loss to Notre Dame and 1966 tie against the Irish deserve honorable mention.

MINNESOTA
Date:
Oct. 10, 2003
Opponent:
Michigan
Site:
Metrodome (Minneapolis)
Final score:
Michigan 38, Minnesota 35
Minnesota was 6-0 and entered the Little Brown Jug rivalry ranked No. 17 nationally. Led by tailbacks Marion Barber and Laurence Maroney, Minnesota led 28-7 after three quarters and 35-21 with 11:11 left. But Michigan couldn't be stopped in the fourth quarter and scored 31 points in the final 15 minutes, capped by Garrett Rivas' field goal with 47 seconds left. Minnesota rushed for 424 yards but still felt short. The Gophers arguably have never been the same. No Big Ten team has more painful losses than Minny.

NORTHWESTERN
Date:
Nov. 11, 2000
Opponent:
Iowa
Site:
Kinnick Stadium
Final score:
Iowa 27, Northwestern 17
Northwestern has seen huge leads evaporate (Michigan State in 2006), suffered shocking early losses (Miami University in 1995) and come very close to ending its bowl drought the past two seasons. But Rose Bowl opportunities don't come around too often for the Wildcats, and they squandered one by falling to Iowa. A week after an unforgettable win against Michigan and ranked No. 12 nationally, Northwestern was totally outplayed by a Hawkeyes team that went 3-9. On a day when Purdue opened a path to Pasadena with a loss to Michigan State, the Wildcats stumbled on the doorstep.

OHIO STATE
Date:
Nov. 22, 1969
Opponent:
Michigan
Site:
Michigan Stadium (Ann Arbor, Mich.)
Final score:
Michigan 24, Ohio State 12
The Buckeyes brought one of their greatest teams ever to "that state up North" to face a Michigan team regaining respectability under first-year coach Bo Schembechler. Although Michigan played at home and carried a four-game win streak into The Game, Ohio State was a 17-point favorite. The Buckeyes scored a quick touchdown but never really recovered, as a Michigan team inspired by Schembechler and a 50-14 loss the year before shut down Rex Kern and Co. Ohio State committed seven turnovers and suffered one of the biggest upsets in college football history. It also spawned the Ten-Year War between Schembechler and Woody Hayes. Ohio State's 1998 loss to Michigan State merits honorable mention.

PENN STATE
Date:
Nov. 6, 1999
Opponent:
Minnesota
Site:
Beaver Stadium (State College, Pa.)
Final score:
Minnesota 24, Penn State 23
Undefeated Penn State looked every bit like a national championship team, rising to No. 2 in the polls behind freakish defenders like LaVar Arrington and Courtney Brown. The Nittany Lions held a two-point advantage when Joe Paterno decided to punt rather than attempt a long field goal try in the closing minutes, trusting his dominant defense. Minnesota began the game's decisive drive with a Hail Mary pass from Billy Cockerham to Ron Johnson. Moments later, the Gophers converted a fourth-and-16 to set up the game-winning field goal by freshman kicker Dan Nystrom. Penn State lost its final two regular-season games. The Lions' 1979 Sugar Bowl loss to Alabama and their 2005 loss to Michigan gain honorable mention.

PURDUE
Date:
Oct. 16, 2004
Opponent:
Wisconsin
Site:
Ross-Ade Stadium (West Lafayette, Ind.)
Final score:
Wisconsin 20, Purdue 17
Purdue's program hasn't been the same since The Fumble. The Boilers came in 5-0 and ranked fifth nationally, while quarterback Kyle Orton had established himself as the Heisman Trophy front-runner. Purdue led 17-7 with eight minutes left and had a three-point advantage and the ball with 2:49 remaining. On third-and-3, Orton scrambled and made a lunge for the first down, only to have the ball knocked loose. Wisconsin's Scott Starks scooped it up and raced 40 yards for the game-winning touchdown with 2:36 left. Purdue lost its next three games and backslid to the Sun Bowl, where it fell to Arizona State.

WISCONSIN
Date:
Oct. 23, 1993
Opponent:
Minnesota
Site:
Metrodome (Minneapolis)
Final score:
Minnesota 28, Wisconsin 21
Wisconsin might have celebrated a national championship had it found a way to beat the rival Golden Gophers. The Badgers were 6-0 heading to the Metrodome but fell behind 21-0 to a Minnesota team that went 4-7 that fall. Wisconsin closed to within 21-14 and reached the Minnesota 8-yard line before Brent Moss was stuffed on fourth-and-1. The Badgers went on to share a Big Ten championship and reach the Rose Bowl for the first time since 1963, but they were so close to winning it all. Honorable mentions include 1999 against Cincinnati, 1998 against Michigan and 2005 against Iowa in Barry Alvarez's final game.
January, 21, 2010
1/21/10
9:00
AM ET
It's time to look back at the best Big Ten coaches of the decade. The top choice was a no brainer. After that, it gets interesting.
Here's a looksie:
[+] Enlarge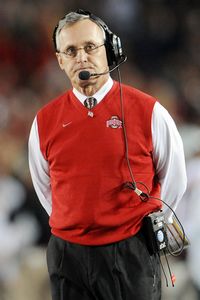 Chris Williams/Icon SMIOhio State coach Jim Tressel won six conferences titles and a national title, making the 2000s the decade of the vest in the Big Ten.
1. Jim Tressel, Ohio State:
Other than USC's Pete Carroll, no coach dominated a major conference this decade like Tressel dominated the Big Ten. Since 2001, Tressel has won a national title, six Big Ten titles (outright or shared), five bowls and four BCS bowls. He owns a 94-21 record at Ohio State, and, perhaps more impressive, a 59-13 mark in Big Ten play. This was unquestionably the decade of The Vest.
2. Kirk Ferentz, Iowa:
Ferentz revived a struggling Iowa program this decade and restored the Hawkeyes among the Big Ten's elite. Since 2002, he has guided Iowa to two Big Ten championships, four seasons of 10 or more victories and eight bowl games, winning five of them. Iowa owns four top-10 finishes this decade under Ferentz, who gets a slight edge over Lloyd Carr.
3. Lloyd Carr, Michigan:
It seems like a while since Michigan last won a Big Ten title, but Carr's teams claimed three of them (two shared, one outright) in the first half of the decade. Michigan finished first or second in the league in seven of the eight years Carr coached this decade. He struggled against Tressel and in the Rose Bowl, but Carr's accomplishments shouldn't be overlooked.
4. Joe Paterno, Penn State:
Paterno is right up there with Tressel in the second half of the decade, winning two Big Ten championships and averaging 10.2 wins per season between 2005-09. Four losing seasons in the first half of the decade sting a bit, but JoePa is getting better with age!
5. Joe Tiller, Purdue:
Tiller won his only Big Ten title in 2000, and Purdue reached bowl games in the first seven years of the decade. Purdue's all-time coaching victories leader made the Boilers into a consistent upper-half Big Ten team in the aughts.
6. Bret Bielema, Wisconsin:
Bielema probably hates being listed ahead of his boss and predecessor, but his record in the past four years speaks for itself. He owns a 38-14 record at Wisconsin (20-12 Big Ten) and has taken the Badgers to bowl games each year. Bielema coached Wisconsin's best team of the decade in 2006, a squad that went 12-1 and finished seventh in the final AP Poll.
7. Barry Alvarez, Wisconsin:
Alvarez was arguably the Big Ten's Coach of the 1990s, and he kept the program among the league's elite until he stepped down following the 2005 season. He had three seasons of eight or more victories and won three bowls during the decade. Alvarez's best season this decade came in his last, as Wisconsin went 10-3 and beat Auburn in the Capital One Bowl.
8. Glen Mason, Minnesota:
Mason coached Minnesota to six bowls in seven years until his dismissal after the 2006 Insight Bowl. He oversaw one of the nation's top rushing attacks this decade as backs Laurence Maroney and Marion Barber III piled up yardage. Mason had a 10-win season in 2003, but his inability to get Minnesota to the next level led to his firing. He went just 24-32 in Big Ten play this decade.
9. Mark Dantonio, Michigan State:
Dantonio has stabilized a Michigan State program that really underachieved for most of the decade. The Spartans have reached bowls in each of Dantonio's three seasons as head coach. Dantonio owns a 13-11 mark in Big Ten play, which is much better than his predecessors.
10. Pat Fitzgerald and Randy Walker, Northwestern:
The two Wildcats coaches share this spot after bringing consistency to a program that reached historic lows before 1995. Walker won a Big Ten championship in 2000 and took NU to three bowls in six years this decade. Fitzgerald, who took over after Walker's sudden death in 2006, owns 17-9 record (10-6 Big Ten) in the last two seasons. Expect him to be much higher on this list in the next decade recap.
January, 19, 2010
1/19/10
9:00
AM ET
Our decade recap continues with a look at the top players in the Big Ten from 2000-09. The league produced just one Heisman Trophy winner, Ohio State quarterback Troy Smith in 2006, but many other national award recipients on both sides of the ball.
We saw outstanding one-year performances from players like Brad Banks (2002), Larry Johnson (2002), James Hardy (2007) and Shonn Greene (2008), and impressive four-year career efforts from Paul Posluszny, James Laurinaitis, Mike Hart, Javon Ringer, Taylor Stubblefield and others.
[+] Enlarge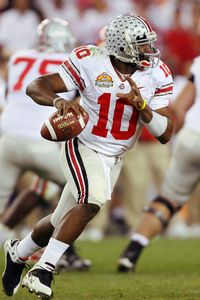 Jason Parkhurst/US PresswireOhio State's Troy Smith was the runaway winner of the Heisman Trophy in 2006.
The league produced solid linemen and linebackers the entire decade, while star quarterbacks and running backs were sprinkled throughout.
Believe me, it wasn't easy to get this list down to 10 players, but here goes.
I put more weight on players who had multiple outstanding seasons. Also, players who had most of their production in the 1990s didn't make the cut.
1. Troy Smith, QB, Ohio State:
The league's lone Heisman Trophy winner tops the list. Smith took home the Heisman, the Walter Camp and the Big Ten MVP awards in 2006. He also led Ohio State to a Fiesta Bowl championship following the 2005 season.
2. Braylon Edwards, WR, Michigan:
The 2004 Biletnikoff Award winner earned consensus All-America honors that year, completing a terrific four-year run in Ann Arbor. Edwards still holds the Big Ten record for career touchdown receptions with 39, two more than fellow Wolverine Anthony Carter.
3. A.J. Hawk, LB, Ohio State:
Hawk was the face of a ferocious Buckeyes defense during the mid part of the decade. The two-time All-American (unanimous in 2005) won the Rotary Lombardi Award and helped Ohio State to a Fiesta Bowl victory.
4. Joe Thomas, T, Wisconsin:
The Thomas-Jake Long debate is a good one, but I'm giving the edge to Thomas, the 2006 Outland Trophy winner. Thomas anchored several powerful Wisconsin offensive lines, earned consensus All-America honors in 2006 and twice made the All-Big Ten squad.
5. Paul Posluszny, LB, Penn State:
Posluszny is one of only two Big Ten players to win the Bednarik Award two times. He also took home the Butkus Award in 2005 and helped restore Penn State after the program had slipped from 2000-04.
6. James Laurinaitis, LB, Ohio State:
Laurinaitis was quite possibly the most decorated Big Ten player of the decade on either side of the ball. He joined select company at Ohio State in earning All-America honors three times (unanimous in 2007). Laurinaitis won the Butkus and Nagurski awards and twice earned Big Ten Defensive Player of the Year honors.
7. Greg Eslinger, C, Minnesota:
Laurence Maroney and Marion Barber III shared the rushing load, but Eslinger was the mainstay who created rushing lanes no matter who had the ball. The 2005 Rimington Trophy winner was Minnesota's only three-time All-Big Ten selection this decade.
8. Bob Sanders, S, Iowa:
No player meant more to Iowa's renaissance this decade than Sanders, the team's only three-time All-Big Ten selection in the aughts. Nicknamed "The Hitman," Sanders epitomized a program that got the most from its players for the majority of the decade.
9. Mike Hart, RB, Michigan:
We witnessed lot of great one-year performances from Big Ten running backs, but Hart was one of the league's few mainstays this decade. Despite being plagued by injuries as a sophomore, Hart finished fourth on the Big Ten's all-time rushing list (5,040 yards) and had 28 career 100-yard rushing games.
10. Antwaan Randle El, QB, Indiana:
Randle El brought a new brand of football to the Big Ten and had a record-setting career despite never reaching a bowl game. The dual-threat star won Big Ten MVP honors in 2001 and ranks fourth on the league's career total offense list with 11,364 yards.
Also considered:
Michigan T Jake Long, Michigan State WR Charles Rogers, Michigan State RB Javon Ringer, Iowa QB Brad Banks, Iowa T Robert Gallery, Purdue WR Taylor Stubblefield, Ohio State WR Ted Ginn Jr., Michigan DE LaMarr Woodley, Illinois RB Rashard Mendenhall, Penn State QB Michael Robinson, Penn State RB Larry Johnson, Purdue WR Dorien Bryant, Purdue WR John Standeford, Ohio State S Mike Doss, Wisconsin DE Erasmus James, Iowa RB Shonn Greene, Northwestern QB Brett Basanez, Illinois LB J Leman, Penn State LB Dan Connor.
September, 1, 2009
9/01/09
12:18
PM ET

Posted by ESPN.com's Adam Rittenberg
Duane Bennett
lost a season but gained a healthy dose of perspective, not to mention a new offense that makes running backs drool.
Bennett appeared destined for big things last fall at Minnesota. He racked up 140 rush yards, 125 receiving yards and three touchdowns (2 rush, 1 receiving) in less than two games before tearing the ACL in his left knee in the fourth quarter of a win at Bowling Green.
| | |
| --- | --- |
| | |
| | Tom Dahlin/Getty Images |
| | Duane Bennett is looking forward to going back to a run-oriented offense. |
After quickly establishing himself as the Golden Gophers' top back, Bennett could merely watch as the team struggled on the ground, finishing last in the Big Ten and 104th nationally in rushing (103.8 ypg).
"I felt I was taking a step in the right direction to really have a solid season last year," he said Monday night. "But once the injury occurred, we refocused and gathered our thoughts, never detoured from the vision but changed the way we went about it."
Bennett has fully recovered from the injury and returns to a seemingly perfect situation with the Gophers this fall.
The team's woeful rush attack in 2008 prompted head coach Tim Brewster to revamp the offense. This fall, Minnesota will employ a pro-style system that will accentuate a downhill run game.
Two years of the spread offense diverted Minnesota from its rushing roots, as the team fell from among the nation's elite in 2004 and 2005 to the middle of the Big Ten in 2007 and then to the bottom last fall. Brewster hired offensive coordinator Jedd Fisch and offensive line coach Tim Davis, the team's running game coordinator, to get things back on track.
"We still had a great game plan with the spread, but just jumping back into the I-formation was a great transition for us," Bennett said. "It gives us the chance to see the defense from a different perspective, having those seven-man boxes, eight-man boxes. It gets us back to what Minnesota's running game is all about, using a tight end and a fullback and really pounding the ball, playing like a Big Ten team is supposed to play."
Minnesota unveils its new offense Saturday in the season opener against Syracuse (ESPN2, noon ET), a team that ranked 101st nationally against the run last fall. Brewster expects to use a three-man rotation at running back with Bennett,
DeLeon Eskridge
and
Kevin Whaley
.
Bennett, who received a medical hardship waiver for 2008, went through winter workouts with his teammates and was allowed to do noncontact drills during spring ball. Brewster last week declared the sophomore "100 percent healthy," and Bennett has spent preseason camp absorbing the new offense.
"The cuts are a little more crisp," he explained. "You're able to use your linemen a lot more, really press the issue with those big guys up front. In the spread, it's all about speed and how you can get to one point faster than the defender, so I really felt that converting to the I-formation is good. We've been able to re-establish the dominance up front, really putting the game on the shoulders of the offensive linemen once again.
"Being able to get downhill, being able to see things from a North-and-South perspective instead of an East-and-West [perspective] is really going to help."
Minnesota's running tradition wasn't the deciding factor in Bennett's decision to play for the Gophers, but he's well aware of the names that came before him.
"I knew about Marion Barber, Thomas Tapeh, Terry Jackson, Laurence Maroney, all the consecutive 1,000-yard rushers they had over those years," Bennett said. "I wanted to go to a team that really established the run, and at that point in time, Minnesota was one of the best teams in the run game."
Minnesota hopes to reclaim that distinction this fall, and Bennett could be the man leading the charge.
October, 29, 2008
10/29/08
3:49
PM ET
Posted by ESPN.com's Adam Rittenberg
After exploring the Big Ten's crop of elite running backs early today, it seems appropriate to take a look back at the preseason running back rankings and how the league looks through the first nine games.
There are obviously some major differences between the lists, most notably the omission of one Shonn Greene in the preseason rundown. I obviously didn't think much of -- or know much about -- Greene and the other Iowa running backs, and ranked the Hawkeyes dead last in team rushing.
| | |
| --- | --- |
| | |
| | AP Photo/Charlie Neibergall |
| | Iowa junior Shonn Greene has rushed for at least 100 yards in every game this season. |
Before getting to the current top 10, here's an attempt to curb the inevitable Buckeye backlash. These rankings are based on production this season. If I did rankings based on which back will have the best NFL career, Chris "Beanie" Wells would top the list.
OK, let's begin.
1. Shonn Greene, Iowa -- He has come out of nowhere to rank third nationally in rushing average (144.3 ypg) this season. Greene has eclipsed 100 rushing yards in all eight games and boasts the nation's second-highest yards-per-carry average (6.52) among backs with at least 150 carries. The 235-pound junior has great size and a bruising running style that makes Big Ten defenders hate to tackle him.
2. Javon Ringer, Michigan State -- College football's iron man has received 65 more carries than any FBS back and continues to produce at peak levels. Ringer tallied 816 rushing yards and 10 touchdowns in the month of September, putting him on the Heisman Trophy radar. The Spartans senior has eclipsed 100 rushing yards in six games and 190 rushing yards in four games. No Big Ten player is more valuable to his team than Ringer this season.
3. Evan Royster, Penn State -- Despite averaging only 15 carries per game, Royster ranks 19th nationally in rushing average (107.8 ypg) with a blistering 7.2 yards-per-carry average. He's not a power back but enjoys running between the tackles and can gash defenses with his speed. Royster has five 100-yard rushing performances despite sharing carries with Stephfon Green and quarterback Daryll Clark.
4. Chris "Beanie" Wells, Ohio State -- The preseason Heisman candidate was sidetracked by a right foot/toe injury in the season opener and missed three games. He averaged 7.6 yards per carry in his first two games back from injury and overpowered defenders in road wins against Wisconsin and Michigan State. But like Ohio State's other skill players, Wells has been hamstrung by an underachieving offensive line and struggled last Saturday against Penn State.
5. Kory Sheets, Purdue -- Being the best player on a bad team hasn't been easy for Sheets, who aired his frustrations two weeks ago before coach Joe Tiller silenced him. Sheets has done his part for Purdue, ranking 26th nationally in rushing (100.8 ypg) and 20th in all-purpose yards (155.5 ypg). Despite playing behind a banged-up offensive line, the versatile Sheets has accounted for 45 rushing or receiving first downs.
6. Tyrell Sutton, Northwestern -- Like Sheets, Sutton has used his versatility to produce at a high rate behind the Big Ten's youngest and least experienced offensive line. Sutton ranks fourth on the team in receptions (30) and has eclipsed 100 all-purpose yards in six of eight games this season. The senior likely will miss the rest of the regular season after sustaining a wrist injury last Saturday at Indiana.
7. P.J. Hill, Wisconsin -- The three-year starter got off to a hot start, exploding for 210 rushing yards in the opener against Akron and racking up 112 in a win at Fresno State. He has slowed down considerably since then and likely will platoon with redshirt freshman John Clay for most of the remaining games.
8. Marcus Thigpen, Indiana -- Quarterback Kellen Lewis remains the Hoosiers' top rushing threat (67.3 ypg), but Thigpen has been a solid contributor as a runner, a receiver and a return man. He averages 5.7 yards per carry, 22.8 yards per reception and 22.9 yards per kickoff return. The 193-pound senior ranks 14th nationally in all-purpose yards (1601.1 ypg).
9. Daniel Dufrene, Illinois -- The Illini are more pass oriented this season behind quarterback Juice Williams, but Dufrene has done a nice job following the departure of Rashard Mendenhall. The junior averages 5.6 yards a carry and ties for third on the team with 17 receptions. He has lost some carries to freshman Jason Ford, who can be more effective in the red zone.
10. DeLeon Eskridge, Minnesota -- Thrust into a starting role as a true freshman, Eskridge has stepped up nicely, averaging 65 rush yards per game and scoring seven touchdowns for the upstart Gophers. He needs three rushing touchdowns to tie Laurence Maroney's school record for a freshman.
Solid reserve running backs include Wisconsin's John Clay, Iowa's Jewel Hampton, Penn State's Stephfon Green, Illinois' Jason Ford and Michigan's Brandon Minor.
October, 1, 2008
10/01/08
11:30
AM ET
Posted by ESPN.com's Adam Rittenberg
It's time to go inside five Big Ten teams preparing for the second round of league games.

Illinois: Head coach Ron Zook will increase his rotation on defense after the Illini dropped to last place in the Big Ten in points allowed (32 ppg). LinebackersRussell Ellington and Sam Carson and safety Donsay Hardeman all are expected to see more plays Saturday at Michigan (ABC, 3:30 p.m. ET). Zook has some versatility with Travon Bellamy , who can play both safety and cornerback. The coach attributed Illinois' run-stopping struggles (182.5 ypg allowed) to the back half as the team tries to overcome the losses of All-American middle linebacker J Leman and talented safetiesKevin Mitchell and Justin Harrison. "I don't foresee starting lineup changes," Zook said, "but I do see guys that are going to be held accountable. ... We're going to play more guys and our job is to make sure we fix it."

Michigan State: Defensive back Kendell Davis-Clark could be back soon after missing the last four games with a shoulder injury. Davis-Clark's return presents some interesting decisions for head coach Mark Dantonio, who originally shifted Davis-Clark from cornerback to safety afterRoderick Jenrette was asked to take a leave of absence from the team. Danny Fortener replaced Davis-Clark in the season opener at Cal and has performed well, ranking second on the team in tackles (29) with three pass break-ups and an interception. Davis-Clark, who started 11 games at cornerback last season, is listed behind Fortener on the depth chart for Saturday's game against Iowa (ESPN2, noon ET).

Minnesota: The Gophers continue to list three players as possible starters at running back on this week's depth chart, but head coach Tim Brewster acknowledged that freshman DeLeon Eskridge has taken the lead. Eskridge racked up a team-high 131 all-purpose yards in Minnesota's league-opening loss to Ohio State last week. With five touchdowns, he's already halfway to reaching Minnesota's freshman record of 10 set by Laurence Maroney in 2003. Another freshman, Shady Salamon, and junior Jay Thomas also remain in the mix for playing time. "If you had to say one of three guys stepped out, you'd say DeLeon Eskridge," Brewster said. "The other two guys will definitely continue to play some."

Ohio State: Aside from left tackle Alex Boone, none of the spots on Ohio State's offensive line are set in stone. True freshman Michael Brewster remains the starter at center, but Jim Cordle could move back over from guard if necessary. Cordle and a healthy Steve Rehring are listed as co-starters at left guard. Right tackle Bryant Browning also can play a guard spot, and Rehring is a possibility at tackle. Freshmen tackles J.B. Shugarts and Mike Adams also could be the mix at some point as much-needed competition increases up front.

Purdue: The Boilers' spread offense is at its best with a large rotation of receivers, and they're starting to see more playmakers emerge. Senior Desmond Tardy is listed as a starter on this week's depth chart ahead of junior Keith Smith after catching 10 passes for 175 yards and a touchdown last week against Notre Dame. Purdue also has seen encouraging moments from junior college transfer Aaron Valentin. Head coach Joe Tiller wants to see more from his other juco wideout, Arsenio Curry, who brings excellent size (6-foot-4, 217 pounds) but has yet to catch a pass. Tight end remains a question mark, as starter Kyle Adams is doubtful for Saturday's game against Penn State. Adams hasn't played since he hurt his knee on the opening kickoff of the season opener.