NCF Nation:

LaVell Edwards
December, 20, 2012
12/20/12
9:00
AM ET
SAN DIEGO, Calif. -- When the BYU Cougars declared their independence and left the Mountain West Conference following the 2010 season, it ended a conference association with San Diego State that began in 1978. Now fate -- and bowl tie-ins -- have reunited the teams when they meet tonight in the Battle of Coolest Coaches First Names Bowl (Rocky and Bronco), also known as the San Diego County Credit Union Poinsettia Bowl.
In the decades these teams squared off in the WAC and Mountain West, more often than not the Cougars walked away victorious. They owned a 27-7-1 record against SDSU, and that left the folks on Montezuma Mesa feeling a bit, well, emasculated over the years. As a result, a bitter rivalry was forged -- even if it was only recognized by the Aztecs.
"It seems like a lot of teams and programs view us as a rival," said BYU coach Bronco Mendenhall. "I think that stems from the old WAC and Mountain West, the more history there is, and especially with as a strong of a tradition that BYU has, if you've had a lot of success then you become the team to beat or the team that's disliked. I think coach [LaVell] Edwards did a great job of having an excellent program and BYU is viewed as that wherever you go."
Which is a polite way of saying the Cougars saw San Diego State the same way they saw Wyoming, Colorado State, New Mexico and every other conference opponent. BYU has one rival, and it plays in the Pac-12.
[+] Enlarge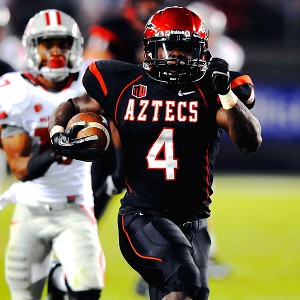 Christopher Hanewinckel/USA TODAY SportsSan Diego State's Adam Muema, averaging 6.4 yards per carry, faces a BYU defense allowing 2.7.
As for rekindling that "rivalry" tonight, Aztecs head coach Rocky Long isn't going to dig deep into his bag of motivation. Because the truth is, what's the point of trying to motivate players for a phantom rivalry?
"It would just be wasted talk for me to explain it to them," said Long, whose team enters the contest riding a seven-game win streak. "It doesn't mean a darn thing. And I don't think either team feels the rivalry. A rivalry was built up with BYU and everybody else because BYU was so good and so dominant. I think at San Diego State and my former university (New Mexico), those fans always felt there was a rivalry. I bet if you ask Bronco, there is one rivalry in BYU's vocabulary and that's Utah."
That's not to say the two programs didn't share some memorable moments during their three-plus decades as conference opponents. There was the greatest/worst tie ever (depending which colors you wear) in 1991, when Ty Detmer tossed six touchdowns and threw for 599 yards in helping BYU erase a 45-17 deficit. The teams tied 52-52, which gave BYU the WAC crown.
In their final Mountain West meeting in 2010, a potentially game-changing fumble wasn't overturned by replay officials -- and it was later revealed that two members of the instant-replay team in Provo were BYU alums and one was a paid school employee. While it was ultimately ruled as a technical error, it ignited both fan bases and prompted the Mountain West to change its policies regarding alumni in the replay booth.
It didn't help either that during basketball season, San Diego State's student section, "The Show," wore white dress shirts and bike helmets whenever BYU would come to town.
But none of that matters. Two years removed from being conference foes, it's ancient history.
"These guys don't remember it, nor do they really care," Mendenhall said. "And until you mentioned it, I didn't remember it. There is so much that goes into every year. There are certain folks that have an exceedingly vibrant passion for looking for something to invest their energy and emphasis in and those are the ones who keep it alive.
"I think any time there is time before games or extra time before games, to build intrigue, anything can be viewed as to add some more value or slant as to why this particular game has significance. It's really just two good teams playing as hard as they can. In terms of anything rivalry-wise, that's certainly not viewed from our perspective. We're just preparing for a really good team."
So that leads us to the real storyline in this game: SDSU's running attack versus BYU's staunch defense. The Aztecs (9-3, 7-1 MWC), playing in a third consecutive bowl game for the first time in school history, are paced by running back
Adam Muema
. He's a top-20 runner nationally with 1,355 yards and 16 touchdowns while averaging 6.4 yards per carry. He faces a BYU squad that ranks third nationally in total defense, fifth in scoring defense and second against the run. The Cougars (7-5 as independents) pushed Boise State and Notre Dame to the brink (worth noting that SDSU beat Boise) and they topped Utah State, which finished the season 11-2 and ranked 22nd.
Long and Mendenhall also have a history. Mendenhall was Long's defensive coordinator for four seasons at New Mexico and the two remain good friends. But like the imaginary rivalry, we shouldn't read too much into that, either.
"All the other stuff doesn't mean a thing," Long said. "Bronco isn't going to catch any passes. I'm not going to carry the ball. It's going to come down to the only people who matter. And that's the players on the field. We're glad the fans are into it. But the combatants, they are just going to go out and play football."
August, 15, 2012
8/15/12
3:59
PM ET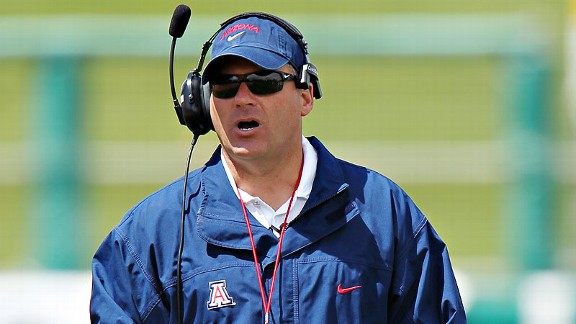 Chris Coduto/Icon SMICoaches around the country have implemented parts of Rich Rodriguez's hurry-up spread offense.
Here's an interesting story from Andrea Adelson about "
copycat coaches
." It's interesting not only because it's a good topic but also, for our purposes, because its central figure is new Arizona coach Rich Rodriguez, arguably the father of the modern day, run-first spread-option attack.
Andrea sent over the Q&A she did with Rodriguez, which we're going to publish in its entirety. It includes lots of background on Rodriguez and his innovative offense, which has been copied by a lot of folks -- yes, including that guy up in Eugene.
Thanks to Andrea for doing all the legwork and writing a nice story.
When was the first time you had coaches asking for pointers on your offense?
Rich Rodriguez
: When we went to Tulane, the second year we had a good year, with Shaun King. Then you had some games on TV, and that was the first time after that season that a lot of coaches started coming and visiting and calling. We beat BYU in a bowl game, and Lavell [Edwards] was the head coach, Norm Chow the offensive coordinator. So after the game, they said, 'Would you come over and talk some football with us? I'm thinking are you kidding me? This is Norm Chow and Lavell Edwards, the passing gurus. I said I'll do it on one condition. You have to give me some of your information, too. You have to teach me what you're doing. Norm and I have been friends since that time. It was a great trip.
What was your connection with Tommy Bowden at Tulane?
RR
: At Glenville, I went to the Bowden Passing Academy and I always talked football. Tommy had taken an interest in what we were doing. We never worked together when he called me to be offensive coordinator. It was really flattering. I asked, 'Will you let me run my offense?' He said sure. Tommy was the first big name, big coach, who took an interest in what we were doing. When we went to Tulane, there were a few folks. At Clemson, we saw a few more. Then at West Virginia, it wasn't as good the first year we were there, but after that it took off again. I can remember Urban [Meyer], when he first got the Bowling Green job, we were at a coaches convention hospitality bar. He told me, 'I'd like to run some of your offense.' So he sent his whole staff for a week, we traded some ideas and so we always traded ideas. The Oklahoma guys, Bob Stoops and I became friends. They would come to our place or we'd go to Oklahoma and spend the week. After the Sugar Bowl year in the 2005 season, we had a whole bunch more. Some 30 different staffs come in, Penn State, Ohio State some non-traditional non-spread coaching staffs. I said maybe I am being too open, but I thought it was a great opportunity for us to learn, too. To pick their brains.
July, 9, 2012
7/09/12
9:00
AM ET
Knute Rockne compiled a 105-12-5 record during his 13 seasons as head coach of Notre Dame. His teams have accounted for 12.3 percent of the wins in the program's history, the most of any man to coach the Irish.
[+] Enlarge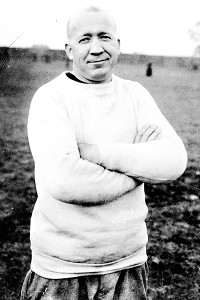 AP PhotoKnute Rockne laid the foundation for generations of Irish football.
Other coaches have put bigger dents in their schools' history books, notably:
Bobby Bowden, who has accounted 64 percent of Florida State's wins.

Joe Paterno, who has accounted for 49.5 percent of Penn State's wins.

Lavell Edwards, who has accounted for 49.2 percent of BYU's wins.

Chris Ault, who has coached 44.3 percent of the Nevada's wins (and is still going.)
Like other coaching greats, those four are, in many ways, the faces of their programs. Predecessors and successors dull in comparison, and their schools' football teams would not be the same without them.
Rockne's .881 career winning percentage remains the best among FBS coaches, and his six national titles and five unbeaten and untied seasons are not too shabby, either.
It is easy to brush aside Rockne's numbers when considering the other greats who roamed the Notre Dame sideline after him -- notably, Dan Devine, Ara Parseghian, Frank Leahy and Lou Holtz. Each, after all, has his own statue outside Notre Dame Stadium.
But the numbers don't tell the story of Rockne's impact at Notre Dame. His motivational tactics became renowned. His aerial attack was instrumental in growing the game. And he was a master showman, taking his team to bigger stages in faraway places.
On the surface, removing 105 wins from a program with 853 of them would do little damage to Notre Dame's eventful football history. But without Rockne to lay the foundation for what have become so many Irish traditions, it is impossible to imagine what the South Bend, Ind., school would look like some 80-plus years later.
February, 7, 2011
2/07/11
12:00
PM ET
July, 25, 2008
7/25/08
11:38
AM ET
Posted by ESPN.com's Tim Griffin
While developing a list of the top 12 non-conference matchups Thursday, I began thinking about ideal matchups for different schools across the conference.
If I were king of college football and could mandate opponents for different Big 12 teams, here are some of the choices I'd make and my reasoning. Let me know what you think, and if you could come up with better ones.
Baylor -- How about Vanderbilt? What could be better than watching two schools that face similar difficulties from the nation's toughest conferences? Both are private schools and have the benefit of strong coaches. It would be an entertaining game.
Colorado -- I originally thought Air Force would work because of the geographical proximity. But a better choice, I think, is UCLA, so we could watch Rick Neuheisel squaring off against his old team. And the two programs are relatively equal, which should make for some real competition on the field.
Iowa State -- You could argue for Florida and a return of Dan McCarney to Ames. But a better, more entertaining game would be to match the Cyclones against Minnesota. The two schools are relatively close and are at about the same levels in their respective conferences. You could bet that Mack Brown would be watching the matchup of his old protégés Gene Chizik and Tim Brewster.
Kansas -- ESPN has liked matching the coaching wiles and offenses of Mark Mangino and Toledo's Tom Amstutz in the past. But a better matchup would be to let Mangino call plays against Joe Paterno and Penn State. Jayhawks fans are still grouchy about how the 1969 Orange Bowl finished up. It would be kind of neat to see a rematch -- even if it's nearly 40 years later.
Kansas State -- Give me the Wildcats and Fresno State, the school they ducked earlier this season. I don't know what Ron Prince is afraid of. His Wildcats would match up very favorably with the Bulldogs.
Missouri -- There was a lot of bluster emanating out of Iowa City a couple of years ago when the Tigers and Iowa abruptly cancelled a series of upcoming games. But things have changed since then. The Tigers are white-hot and the Hawkeyes have taken a big step back. Let's see them finally play.
Nebraska -- It's hard to think of many for the Cornhuskers, who have played virtually every great national program in the past. I'd like to see them challenge South Carolina right now. I know that Steve Spurrier hasn't forgotten that 62-24 bludgeoning his Florida Gators endured at the hands of the Cornhuskers in the 1996 Fiesta Bowl. And the coaching battle between Spurrier and Bo Pelini would be delicious.
Oklahoma -- I used to think seeing Bob Stoops match wits with Spurrier would be neat. But a better matchup might feature the Sooners against Florida -- a game between two of the nation's most talented programs in recent history.
Oklahoma State -- It might be kind of cool to see the Cowboys square off with Les Miles' LSU team or the Southern Mississippi team now coached by Larry Fedora. But a better game -- and definitely more anticipated media scrum afterward -- would be to see the Cowboys meet Michigan State and Coach Mark Dantonio. The game would be close on the field and the fireworks after the game with Mike Gundy and Dantonio might be better than the game before it.
Texas -- After watching a BCS title game that lived up to the hype (and more), I could watch Texas against USC every day for the rest of my life. These two programs really should play more often, even if Vince Young and Reggie Bush don't have any eligibility remaining.
Texas A&M -- The rivalry for recruiting in East Texas is pretty intense and I think it would be kind of fun to see the Aggies hook up against Les Miles and LSU. The two old rivals played 49 times between 1899 and their most recent skirmish in 1995. It would be good to see them playing again.
Texas Tech -- Mike Leach once roamed the sidelines at BYU, where he intently watched coach LaVell Edwards' practices as a student. Those early sessions enabled him to glean some of the bedrock principles for his passing offense. Who says you can't go home again? A game between the Red Raiders and the Cougars would provide the kind of offense that fans dream about.
Let me know what you think and suggest some other potential dream non-conference games. I'll let others know about your choices.