October, 10, 2012
10/10/12
2:00
PM ET
Duke defensive coordinator Jim Knowles gave up a head-coaching job at his alma mater, Cornell, to come to Duke and take over one of the nation's worst defenses.
That's the kind of draw coach David Cutcliffe has to his assistants.
"That's why I did it, because of him," said Knowles, who also worked with Cutcliffe at Ole Miss. "He's that kind of guy. He's the right guy at the right time here."
Turns out Knowles was the right guy at the right time for Duke's defense, too. Less than three full years after he was hired, Knowles has turned his injury-laden group into one of the ACC's more respectable defenses. As Duke prepares to face Virginia Tech in Blacksburg on Saturday, it does so ranked higher than the Hokies this week in total defense, rushing defense, passes intercepted and sacks. Duke's improvement on defense has been one of the key factors in the Blue Devils' 5-1 start, as they are the only team in the ACC that can become bowl eligible this weekend with a win.
[+] Enlarge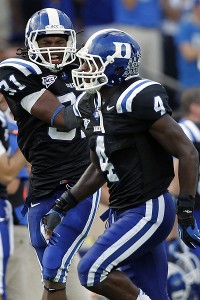 Zumapress/Icon SMIWalt Canty (4) and the Duke defense are turning heads.
"They are starting to make plays even if they're not in the perfect position," Knowles said. "We all try to have the perfect defense for every play, but it doesn't work out that way. What you need is guys who understand the system and react to what they see and things that are happening right in front of them. It's not a video game. As coaches we want to make it into a video game and draw up the perfect blitz. We call it 'pull your trigger.' They're really just starting to react to the play before it happens. That's a product of being in the system. That's the way you get better."
Duke, which gave up 180 rushing yards per game last year, is allowing fewer than 130 yards (and 3.7 yard per carry) this year. Duke already has more sacks from its defensive front (13.5) than it did all last season (12).
Duke -- a program usually filled with a bunch of polite players -- is finally looking a little mean, not to mention more comfortable in Knowles' 4-2-5 scheme.
"From last year to this year, I feel like we're playing more aggressive," said safety
Walt Canty
, who had 14 tackles, including three for loss in last week's 42-17 win over Virginia. "Last year it was still kind of a new system. This year we're more familiar with it, and there are a lot of older guys, and a lot of leaders on the field.
"That's one of our focuses on defense. We want to come out and try and be as aggressive as possible and try and force the offense into doing things they don't want to do."
So far, so good. Duke is tied for second in the ACC in turnovers gained with 12.
What makes Duke's defensive progress all the more impressive is how many injuries to key players they've had to overcome. In years' past, the program wouldn't have been able to do it because of a lack of depth and talent. The recruiting has improved, though, and there is no longer as much of a drop-off from the first- to the second-string defense.
Safety
Jordon Byas
missed the first three games after preseason knee surgery. Starters
Brandon Braxton
and
Lee Butler
were injured early in the Wake game. Starter
August Campbell
was hurt and then left the team. Backups
Corbin McCarthy
,
Taylor Sowell
,
Jared Boyd
and
Chris Tavarez
have all been hurt.
"It could have been devastating," Knowles said. "It really could have been devastating."
The secondary, which was hit the hardest by injuries, has also been one of the most improved groups on the defense. Last year, Duke ranked either last or next to last in the ACC in every significant defensive category. This year, the Blue Devils rank fourth in total defense and fifth in pass efficiency defense.
"Coach Cutcliffe has really built a great program," Knowles said. "We're at a point where the players are starting to believe. All coaches talk about that next-man-up philosophy, and that's hard to get to when you're struggling to build a program, but at some point it clicks. The guys who step in there are just expected to do it instead of people wondering if they're going to make a mistake. That's the growth and maturity of the program in general."
August, 20, 2012
8/20/12
10:00
AM ET
Not every school in the ACC gives scrimmage reports, but for those that do, we will gladly post the highlights. Here's a look back at what happened in the ACC this weekend, according to each school's report:

Boston College
Offensive highlights:
Junior receiver
Alex Amidon
had seven catches for 84 yards, including a 29-yard touchdown reception, in the situational scrimmage Sunday. The scrimmage featured six end-of-half/fourth-quarter situations with limited time on the clock and a limited number of timeouts.
Chase Rettig
went 18-of-32 for 168 yards, one touchdown and two interceptions.
Defensive highlights:
Justin Simmons
had two interceptions off second-team quarterback
Josh Bordner
.
Manuel Asprilla
intercepted Rettig at the goal line, and linebacker
Nick Clancy
intercepted a Rettig pass that was deflected by
Mehdi Abdesmad
a few plays later.
Special teams:
Gerald Levano
punted four times and averaged nearly 48 yards per punt. His first punt landed at the 2-yard line, while his second attempt went 60 yards. Kicker
Nate Freese
made his only field goal attempt, from 40 yards, and is now 6-for-6 on field goal attempts in the preseason.
Quotable:
"We got a lot of nice young guys on this football team, and if they come through and play well, good things can happen, and Justin [Simmons] is one of them," coach Frank Spaziani said. "He's as advertised. We did our homework and everything that you do on kids. He's a good prospect."

Clemson
Offensive highlights:
Tajh Boyd
threw for 218 yards and three touchdowns Saturday, while
Martavis Bryant
had four catches for 97 yards and had two touchdowns. Boyd was 13-of-22 for 218 yards, three touchdowns and two interceptions. Backup
Cole Stoudt
went 4-of-9 for 61 yards and led a touchdown drive on his first possession.
Andre Ellington
had an 8-yard touchdown run, while
Roderick McDowell
led all running backs for a second straight scrimmage with 65 yards on four carries.
Defensive highlights:
Coach Dabo Swinney praised the defensive line, where
Josh Watson
,
Grady Jarrett
and
DeShawn Williams
made plays.
Xavier Brewer
made a brilliant breakup of a long pass and added five tackles.
Jonathan Meeks
added an interception.
Tony Steward
made a big play with a 25-yard interception return.
Special teams:
Williams had a blocked a field goal. Backup kicker Spence Benton made a 53-yard kick that could have been good from 63 yards.
Quotable:
"We have two weeks to get dialed in," Swinney said. "We are going to turn the page on Monday after our last two-a-day (practices) and start getting ready for Auburn. We will have our guys penciled in on where they need to be."

Duke
Offensive highlights:
Quarterback
Brandon Connette
caught a 15-yard touchdown pass from
Sean Renfree
and ran for another in a 95-snap, controlled scrimmage Friday night at Wallace Wade Stadium. Renfree went 14-of-21 for 116 yards with one touchdown and one interception. Freshman
Shaquille Powell
had eight carries for 30 yards, while
Jela Duncan
had 28 yards on nine attempts. Garrett Patterson, who moved from defensive back to receiver this week during practice, had five receptions for 80 yards.
Defensive highlights:
Cornerbacks
Lee Butler
and
Tony Foster
each had interceptions while linebacker
Deion Williams
recovered one fumble. Freshman defensive end
Michael Mann
had one sack and one forced fumble.
Special teams highlights:
Freshman kicker
Ross Martin
made field goals of 43 and 48 yards and converted his only extra-point attempt.

Georgia Tech
Offensive highlights:
Broderick Snoddy
had a 70-yard touchdown run on the second series, while quarterback
Vad Lee
threw two touchdowns to A-back
B.J. Bostic
. Lee later added a touchdown run as he continues to work at quarterback and A-back.
Synjyn Days
and freshman
Justin Thomas
also took snaps at quarterback, and each led scoring drives.
Defensive highlights:
Nick Menocal
had an interception he nearly returned for a touchdown.
Jimmie Kitchen
recovered a fumble, while defensive lineman
Anthony Williams
had two sacks.
Special teams highlights:
Justin Moore
had a 29-yard field goal, while
David Scully
made a 31-yard field goal and all five of his extra-point attempts. There was no punting on Saturday.
Quotable:
"The guys are ready to play someone else," quarterback
Tevin Washington
said. "We've been hitting each other for two weeks and all summer doing drills against each other. Guys are just ready to go and get some new faces in front of us."

Maryland
Freshman
Stefon Diggs
continued to impress, as he had three first-half touchdowns -- a 68-yard punt return, a 98-yard kickoff return and an 11-yard reception. Quarterback
Perry Hills
ran the first-team offense and led Maryland to scores on three of his five drives.
On the opening drive, Hills took the Terps on an 18-play, 76-yard touchdown drive, He went 5-of-6 for 27 yards on the drive and also rushed for 36 yards, including a 16-yard touchdown run.
"I thought Perry [Hills] had a good day," coach Randy Edsall said. "I thought he did some good things. Of course there's going to be plenty of things that he could learn from, and get better, but I think that we didn't have any issues with delay of game, really didn't have any false starts. When you talk about the mechanics and the operation of the offense I thought he handled it really well."

Miami
The Hurricanes' scrimmage Saturday was cut short in the middle of the second quarter because of lightning in the area. Among the highlights in the abbreviated scrimmage:
Mike James
and
Duke Johnson
each had touchdown runs, and
Kelvin Cain
recorded a sack in the end zone for a safety.
Virginia Tech

Offensive highlights:
Logan Thomas
went 8-of-15 for 112 yards and a score, while backup
Mark Leal
went 6-of-16 for 111 yards, with a touchdown and an interception.
Kevin Asante
led all receivers with four catches for 79 yards, while
Corey Fuller
caught three passes for 68 yards. The Hokies also rushed for 174 yards.
J.C. Coleman
played with a broken hand and had 54 yards -- 52 coming on one run -- and
Trey Edmunds
added 45.
Tony Gregory
rushed for 36 yards, including a 26-yard touchdown run. Projected starter
Michael Holmes
had three carries for 21 yards.
Defensive highlights:
The projected first-team defense allowed a little more than 120 yards in four series (24 plays) and gave up just two field goals. Walk-on
Zach Snell
had six tackles, while
Ronny Vandyke
had five.
Desmond Frye
and
Antone Exum
each recorded four. The defense had five total sacks and
Bruce Taylor
had an interception.
Special teams highlights:
Cody Journell
made two field goals and missed one, while
Brooks Abbott
made one and had a 37-yarder blocked by
Kyle Fuller
.
Quotable:
"I thought it was one of the more productive offensive first scrimmages we've had around here," coach Frank Beamer said. "I think we did some good things, and I think we'll see some things we can improve. Overall, I think the effort was good. I always say this, but it's hard to come out pleased because if the offense makes plays, you're worried about your defense. If the defense makes plays, you're worried about your offense. Overall, I thought it was a good first scrimmage."
September, 12, 2011
9/12/11
6:46
PM ET
PALO ALTO, Calif., -- Is it worth getting picky over a pick? Stanford coach David Shaw thinks so.
That's why he wanted to wait and watch the game film before making any sort of judgment on Andrew Luck's first and only interception of the season, which came in the final five minutes of the first half Saturday against Duke.
Shaw said his initial thought was that there might have been pass interference.
With the Cardinal clinging to a 10-0 lead, it looked like they might be poised for another score before the break (which they did after enduring a surprise Duke onside kick and a great effort from the defense).
On third-and-8 at the Duke 38 yard line, Luck was working from the shotgun in a four-receiver set. The blocking wasn't airtight and Luck took a hit after he threw the ball. But he had enough time to pump fake a drag to wide receiver
Griff Whalen
before looking to
Chris Owusu
on a 7-yard up-and-in. I counted, unofficially, four seconds from snap to throw.
The pass looked to be a little behind Owusu, though not outlandishly uncatchable. It bounced, and then fell right into the hands of Duke's Lee Butler, who went 76 yards untouched for the score. It was Luck's first pick-six since at Arizona in 2009.
At question is whether the defender on Owusu, Duke's Johnny Williams, was getting a little too handsy.
"I need to see that one that was intercepted," Shaw said. "It looked like there was a lot of contact on Chris Owusu. The ball wasn't that high and he couldn't get up. Whether it was pass interference or not? We'll need to watch it on film."
As the pocket started to collapse, Luck said he felt the pressure – and he had been hit a few times leading up to that point. He took the blame – as any quarterback worth their salt should do on an interception – regardless of who is at fault.
"That was truly a poor decision that might have come about by them having a little more pressure," Luck said. "But it's something I wish I could take back. But maybe the pressure did have a correlation with that play."
Have a look at the play and
decide for yourself if there was pass interference
.
Watch it all the way through, and appreciate the hustle from running back
Stepfan Taylor
. He didn't get there in time, but you have to love that he didn't give up on the play.
September, 10, 2011
9/10/11
9:38
PM ET
DURHAM, N.C. -- For the second straight week, Stanford's offense tiptoed that ever-so-fine-line between sputtering and spectacular.
At times, they looked unstoppable. Others, leaky.
"Not good enough," said quarterback
Andrew Luck
. "Definitely not in the first half. Not good enough … I made a mistake here. Another guy makes a mistake there. It's hard to get into a rhythm when every other guy is making a mistake. But they had a good defense. They dialed up some stuff and had our number for a while."
[+] Enlarge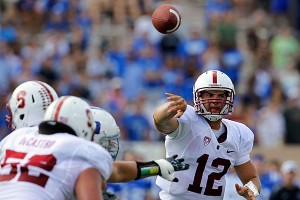 AP Photo/Gerry BroomeStanford quarterback Andrew Luck piled up 290 yards passing and four touchdowns against Duke on Saturday.
And yet the No. 6 team in the nation endured with a victory over Duke at Wallace Wade Stadium -- if you can call a
44-14 victory
and 504 total yards of offense enduring.
But heading into the locker room at halftime with a flimsy 17-7 lead, coach David Shaw recognized that there were some issues.
"We didn't make a lot of changes," Shaw said. "We just charged our guys to play physical and make plays down the field."
The second half was better -- and the Cardinal looked the part of a top-10 team. A closer examination of the stats shows that the Cardinal (2-0) actually had more yards in the first half, 253 to 251 in the second half. But numbers can lie.
The big difference came in the rushing attack. After 68 yards in the first half (including a paltry three yards in the second quarter), Stanford burst open for 137 rushing yards in the second half.
"The first half was a little disappointing," said center Sam Schwartzstein. "But that's the way football is. I'm happy with the way we answered some adversity."
The root of the problem was Duke running delayed blitzes. It tripped up the pass protection and led to Luck taking more hits than his offensive line was comfortable allowing -- including two sacks (one by contact, the second out of bounds).
"Way too many," said offensive tackle Jonathan Martin. "Our communication wasn't all the way down. Guys were coming free who shouldn't have come free. But we're getting there."
Luck finished the game 20-of-28 for 290 yards and four touchdowns. For the second-straight week, he was pulled in the second half.
"Pass protection-wise, it was the stunts [that bothered us]," Shaw said. "But as the game went on, our offensive line got better and better and better."
It looked like Duke (0-2) might grab some momentum before halftime, when Lee Butler intercepted a tipped ball and returned it 76 yards for a touchdown -- cutting Stanford's lead to 10-7 with 2:14 remaining.
Then Jekyll went to sleep and Hyde woke up. Stanford went from lethargic to lethal, needing only 43 seconds and four plays to move 59 yards for a 10-yard Luck-to-
Chris Owusu
touchdown. Stanford took a 17-7 lead at the break and never looked back. Owusu finished with seven catches for 106 yards.
"It's one of the most difficult things in sports, to regain momentum and we couldn't do that," said Duke coach David Cutcliffe. "We didn't make those plays to get that done."
One area that appears to have no consistency issues is the run defense -- which was outstanding for the second week in a row. The Blue Devils were limited to just 30 rushing yards, and if not for a late touchdown with 57 seconds left in the game, the defense would have pitched a touchdown-free performance again.
"It was going to happen eventually," joked linebacker Shayne Skov, who led the Cardinal with 11 tackles.
The front seven were relentless, notching six sacks and 14 tackles for a loss. Linebacker Chase Thomas looked like he was buying real estate in the Duke backfield, tallying 2.5 sacks and 3.5 tackles for a loss. After the Butler interception/touchdown, Duke shocked the Cardinal with an onside kick and recovered -- threatening to take the lead at the half. But the defense sacked Duke quarterback
Sean Renfree
twice in three plays, giving the ball back to the offense, which went on to score on the Owusu touchdown.
The secondary, however, continued to show holes. The Blue Devils threw for 305 yards and, had it not been for three missed field goals, the game might have been even tighter at the break.
In the second half, when the running game was cranking, the passing game opened up. For example, it allowed Stanford to run one of their three-tight-end sets. One goes to the post, one to the corner and the other up the middle.
Coby Fleener
was the guy who went up the middle, and the end result was a bullet from Luck, a mismatch for a shorter defender, and a 60-yard touchdown. The Cardinal went on to score touchdowns on their next four possessions.
"The shortest one (of the tight ends) is 6-5, so it's pick your poison," Shaw said. "When they are one-on-one, we feel like they are all open."
Fleener had a stellar game, catching two balls -- both touchdowns -- for 63 yards. But he too saw the inconsistency on offense.
"I think everybody saw us stall a lot in the first half," he said. "We can't be like that if we expect to win games down the road. We need to play 60 minutes, start fast, and finish similar to the way we did tonight."
Last week, Shaw received the game ball from his players for his first victory as Stanford's head coach. Saturday night, in a game of two halves, it wasn't so clear.
So who gets it this week?
"We'll watch film before we decide," Shaw said.
Probably a good call. Numbers lie.
September, 10, 2011
9/10/11
5:15
PM ET
DURHAM, N.C. -- A closer look at Stanford and Duke
at halftime
at Wallace Wade Stadium:


Stat of the half
: Duke is losing this game far more than Stanford is winning it. The Blue Devils are 0-for-7 on third-down conversion attempts and have missed three field goals (though, to their credit, the Blue Devils are 2-for-2 on fourth-down conversions).
Stat of the half, take 2
:
Andrew Luck
has taken more punishment in the first half than probably was expected. He's been knocked down three times and sacked once.
Best play
: Can't be the pick six, because it literally fell into Lee Butler's hands. That would get the award for being in the right place at the right time. All he had to do was run. I'm going with the 10-yard touchdown pass to
Chris Owusu
. It was a little wide receiver screen. Great first move by Owusu, great blocking, and it swung the momentum back in Stanford's favor.
Best call
: Hands down, the onside kick following Butler's interception return for a touchdown. In the end, it didn't end up hurting the Cardinal, who had two sacks on the next three plays. But you have to love the call by David Cutcliffe.
July, 1, 2011
7/01/11
3:30
PM ET
Moving on to the safeties …
[+] Enlarge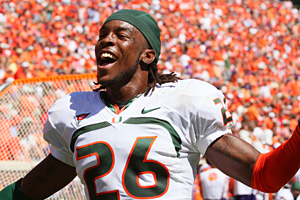 Marvin Gentry/US PresswireRay-Ray Armstrong is among the leaders of a strong Miami secondary.
1. Miami:
Vaughn Telemaque and Ray-Ray Armstrong return, but JoJo Nicolas moved to corner. Even though Armstrong wasn't a starter last year, he still ranked third on the team with 79 tackles and tied for the team lead with three interceptions.
2. Florida State:
The Seminoles return both starters in Nick Moody and Terrance Parks. Moody had 79 tackles last season and Parks had 44 and six deflections. The group was strengthened with the addition of Lamarcus Joyner, who moved from cornerback and proved this spring he's capable of being a safety.
3. NC State:
The Wolfpack has two of the best in Earl Wolff, the team's leading tackler last season with 95, and Brandan Bishop, who had 56 tackles and a team-high four interceptions. Dontae Johnson (22 tackles), also returns.
4. Virginia Tech:
Eddie Whitley is the lone returning starter, but he should be one of the best in the ACC. Antone Exum, who was the No. 2 free safety last season, moved to rover this spring. He played in every game last season and had five starts when Tech went to its nickel defense.
5. Virginia:
The Cavaliers return veteran starters in Rodney McLeod and Corey Mosley, who have combined for 41 career starts. Mosley had 52 tackles and two interceptions last season, and McLeod had 54 tackles and four pass breakups. Safety Dom Joseph (34 tackles) also returns.
6. Duke:
The Blue Devils return both starters in Matt Daniels and Lee Butler. Daniels, a senior, has started 25 career games and is one of the top returning tacklers in the ACC. Butler had 58 tackles and nine passes defended last season.
7. Boston College:
The Eagles return juniors Jim Noel, who had four interceptions in eight starts, and Okechukwu Okoroha, who started the final six games last fall. Noel, Okoroha, and Dominick LeGrande combined for 90 tackles last season.
8. Wake Forest:
Both starters return in Daniel Mack and Cyhl Quarles. Mack had 45 tackles and two interceptions last season. Duran Lowe (30 tackles) could unseat Quarles, who is Wake's leading returning tackler with 71 hits. Redshirt freshman Desmond Cooper is also competing for playing time.
9. Clemson:
Rashard Hall has 19 career starts and made 62 tackles and two interceptions last season. Safety Jonathan Meeks (28 tackles, one start) also returns, along with Carlton Lewis.
10. Maryland:
Just as Kenny Tate's move to linebacker bumped the Terps up in the ranking in that category, his departure from safety drops them a few notches as they now don't have any returning starters there. They do, however, have experience. Eric Franklin played in 11 games, with 23 tackles and three interceptions (tied for second on the team). Matt Robinson played in all 13 games and posted 29 tackles and forced a pair of fumbles. The Terps have plenty of depth with Austin Walker, Titus Till, Anthony Green and Desmond Haynes.
11. North Carolina:
Matt Merletti had five starts and Jonathan Smith, who lettered in 2008 and 2009 but missed all of last season, are the projected starters. They will be pushed by junior Gene Robinson (four starts, 30 tackles, one interception) for playing time.
12. Georgia Tech:
The Jackets had to replace both of their safeties in Mario Edwards and Jerrard Tarrant. Safety Fred Holton (11 tackles) and Isaiah Johnson (46 tackles, one interception) are the two most likely front-runners to start this fall.
February, 28, 2011
2/28/11
9:00
AM ET
Attention: There was actual ACC football played on Saturday -- 75 snaps in Wallace Wade Stadium.
Duke, the first ACC team to start spring practices, had its first spring scrimmage on Saturday, and the offense was the highlight. While it should be noted that five projected defensive starters were out with injuries, this is the kind of offensive progress Duke needs to see this spring, particularly in the running game. Defensively, it was a chance for some younger players to get some significant snaps.

OFFENSIVE HIGHLIGHTS:
Quarterback
Sean Renfree
, who could be the lone returning full-time starting quarterback in the Coastal Division, accounted for three touchdowns and running back
Patrick Kurunwune
had 154 yards on eight carries. Renfree completed 7 of 13 passes for 129 yards with touchdowns of 18 yards to tight end
Cooper Helfet
and 55 yards to wideout
Brandon Braxton
. Renfree also rushed for a 3-yard touchdown. Kurunwune took off on runs of 27, 37 and 75 yards en route to averaging an impressive 19.3 yards per attempt. Fellow running backs
Desmond Scott
and
Juwan Thompson
added 50 and 41 yards on the ground, respectively.
Thompson (62 yards) and wideout
Conner Vernon
(42 yards) led all receivers with three catches each while tight end
Braxton Deaver
finished with two catches for 63 yards.
DEFENSIVE HIGHLIGHTS:
Safety Jordon Byas led the defense with two pass breakups, one caused fumble and one fumble recovery. Defensive tackle Jamal Bruce chipped in a tackle for loss while linebacker C.J. France and defensive end Nick Sink combined on one quarterback sack. Duke is missing three injured players this spring -- linebacker Kelby Brown, safety Lee Butler and defensive end Kenny Anunike -- and noseguard Charlie Hatcher and safety Matt Daniels didn't dress for the scrimmage because of minor injuries.
QUOTABLE:
"I thought we ran the ball really well today," Renfree said, according to the team's scrimmage report. "I think it has to do with being multiple, and mostly it has to do with the performance of our offensive line. They did a great job. We've got a lot of good running backs and if you get holes for them, they're dangerous. That was lot of fun to see."
February, 24, 2009
2/24/09
10:12
AM ET
Posted by ESPN.com's Heather Dinich
As we head into spring football, there will be plenty of starting jobs up for grabs. It's no secret UNC needs to find dependable receivers, and Georgia Tech needs to replace three of four starters on its defensive line. Will FSU quarterback Christian Ponder keep his job, or will E.J. Manuel win it from him? Despite several quarterbacks returning with starting experience, spring could bring change throughout the ACC. Here's a look at five key position battles to keep an eye on:

Clemson quarterback -- Will Kyle Parker assert himself as the Tigers' quarterback of the future this spring, or will Willy Korn lock up the starting job? Korn played in six games last year and started one, but he has been plagued by a nagging shoulder injury. Michael Wade and Jon Richt (Georgia coach Mark Richt's son) will also compete to take over as Cullen Harper's successor.

Boston College quarterback -- Considering how Dominique Davis struggled in losses in the ACC championship game and the Gaylord Hotels Music City Bowl (he combined to throw three touchdowns, four interceptions and complete 40.5 percent of his passes), nothing is guaranteed. The previous coaching staff had high hopes for Justin Tuggle, and this spring is a chance for him to show Frank Spaziani and Co. why.

Virginia quarterback -- With cornerback Vic Hall working out at quarterback this spring, and two players returning with starting experience in Marc Verica and Jameel Sewell, this spot appears to be wide open. Hall was the Cavaliers' fifth-leading tackler last year (the top four have to be replaced), and made 24 straight starts at cornerback before his surprise appearance at quarterback in the season finale at Virginia Tech. Hall only threw the ball once against the Hokies but scored on 40 and 16-yard runs.

Virginia Tech linebackers -- The Hokies will have to replace Brett Warren and Purnell Sturdivant. Barquell Rivers, who started for the injured Warren in the Orange Bowl, should be a frontrunner, but Cam Martin and Cody Grimm are also experienced returners at outside linebacker. It's also possible some players in the secondary could get a look.

Duke cornerback -- Returning starter Leon Wright missed the last six games due to injury, and while he was out, Chris Rwabukamba played well in the 10-7 win over Vanderbilt, grabbing an interception at the Duke one-yard line. He started two games. Lee Butler saw playing time as a freshman last year, and Zach Greene enrolled in January and will participate in spring practice so he'll get an opportunity, too.