June, 30, 2011
6/30/11
2:00
PM ET
As advertised ...
1. Florida State:
The Noles have one of the best cornerback duos in the country in Greg Reid and Xavier Rhodes. They combined for 33 passes defended last season, the most of any pair of cornerbacks in the nation. Mike Harris had 41 tackles and four picks as a reserve.
[+] Enlarge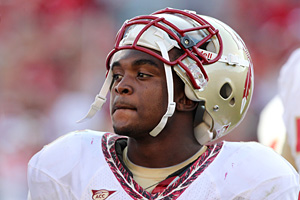 Matthew Emmons/US PresswireFlorida State cornerback Greg Reid is also one of the ACC's top return men.
2. Virginia Tech:
Jayron Hosley is one of the top boundary corners in the country, and the Hokies also have Kyle Fuller, who had six deflections last season, and Cris Hill (two deflections) at field corner.
3. Maryland:
The Terps return both starters in Cameron Chism and Trenton Hughes, who combined for 36 career starts. Chism is a strong cover corner who had 70 tackles and eight deflections last season. Hughes had nine pass deflections.
4. NC State:
Both starters return in C.J. Wilson and David Amerson. Wilson had 46 tackles, two interceptions and six pass breakups, and Amerson had 57 tackles. Justin Byers and Gary Grant also have experience.
5. North Carolina:
The Tar Heels lost some remarkable talent in their secondary, including cornerback Kendric Burney, but there is a lot of depth at the position. Jabari Price started four games last season, Charles Brown has 22 career starts but sat out last season, and Mywan Jackson and Tre Boston both have at least four starts each.
6. Boston College:
The Eagles will miss DeLeon Gause, but Donnie Fletcher has 17 career starts, 56 tackles last season, and led the team with five picks. C.J. Jones played in 12 games as a backup last season with 16 tackles. Dominique Williams also saw some time and had four tackles, and true freshman Al Louis-Jean, who was the No. 9 cornerback in the nation as ranked by ESPN Recruiting, enrolled early.
7. Clemson:
It's a young group, as the Tigers had to replace Marcus Gilchrist and Byron Maxwell. Xavier Brewer had 10 starts with 50 tackles and two interceptions last season, Coty Sensabaugh had 31 tackles in three starts, and senior Mansa Joseph will also be competing for playing time with sophomore Martin Jenkins.
8. Virginia:
The Cavaliers return both starters in Chase Minnifield and Devin Wallace, but Wallace was suspended and missed spring ball and is still suspended. Wallace had 38 tackles and six breakups last season. Chris Broadnax, Rijo Walker, Drequan Hoskey and Pablo Alvarez will all compete for playing time.
9. Miami:
The Hurricanes have to replace both starters in Brandon Harris and Ryan Hill. Jo-Jo Nicholas moved to corner and Brandon McGee, who was the nickel back last season, will compete along with
Lee Chambers
, Keion Payne, Nathan Gholston and true freshman Thomas Finnie, who had a great spring.
10. Georgia Tech:
The Jackets had to replace their entire secondary, including cornerbacks Mario Butler and Dominique Reese. They've still got several cornerbacks with experience in Rashaad Reid, who started 14 games in 2008 and 2009, Rod Sweeting (38 tackles, seven pass breakups, one interception), Louis Young (10 tackles), and Michael Peterson (six tackles, one pass breakup).
11. Wake Forest
: The Deacs have a deep enough secondary that they can live without the experience of cornerback Kevin Johnson, who started five games last season but will sit out this season while academically ineligible. Josh Bush had 33 tackles and four pass breakups last season, Kenny Okoro is a rising star, A.J. Marshall has three starts and Dominique Tate returns after missing last season while on academic suspension.
12. Duke:
Ross Cockrell is a returning starter and finished last season with 60 tackles and 10 passes defended. He was only a freshman but he tied for eighth in the ACC with passes defended with 10 in 12 games. Johnny Williams had four pass breakups last season.
July, 21, 2010
7/21/10
2:14
PM ET
Maybe it was an accidental slip.
Maybe it was wishful thinking.
But in a telephone interview Wednesday afternoon, Miami running back
Damien Berry
said leading rusher
Graig Cooper
is "coming back" after a severe right knee injury which could have sidelined him for the 2010 season.
"Our O-line is looking good, Jacory's healthy, Cooper's coming back: I feel like this could be a very promising season," Berry said.
Me:
Is that out there? Is Coop definitely coming back?
DB:
Coop is working hard, I hope he's back.
Miami hasn't made any official announcement regarding Cooper's status, but several of the players seem encouraged by the progress he has made.
"He's been in the rehab room getting better, every week he's getting better," said wide receiver
Leonard Hankerson
. "He's doing great."
With Cooper back, Miami could have the deepest group of running backs in the ACC.
Mike James
,
Lamar Miller
, Storm Johnson and
Lee Chambers
are all capable of significant carries. Berry said dividing up the snaps won't be a problem.
"It's not about who gets the carries, we're more concerned with winning games," he said.
Nor is he concerned about the group producing a 1,000-yard rusher.
"If I am that guy great, but if not, I'm not really worried about it because we're going to win games with or without a 1,000-yard back."
September, 23, 2009
9/23/09
9:52
AM ET

Posted by ESPN.com's Heather Dinich
When Miami coach Randy Shannon took over the program three seasons ago, there were only about three or four scholarship receivers on the roster -- far below the usual eight to 10 most schools carry. So this offseason, when receivers coach Aubrey Hill faced the popular question, 'You've got so many receivers, wouldn't you rather just have one guy?' his response was logical:
"I said, 'If you're at Christmas, would you rather have one toy, or as many toys as you can?"
| | |
| --- | --- |
| | |
| | AP Photo/J. Pat Carter, File |
| | Miami offensive coordinator Mark Whipple has plenty of options. |
Now, after building depth with recruiting classes that included some of the elite talent in the country, and players who could contribute immediately, the Hurricanes' toy box overfloweth.
Twelve different players have caught at least one pass for the No. 9-ranked Hurricanes heading into Saturday's showdown at No. 11 Virginia Tech. And six of them have at least five catches. Seven different players have scored touchdowns in wins over two ranked ACC opponents. Three different receivers have run a reverse. Miami returns nine of its top 10 leaders in all-purpose yards from 2008. Running backs
Graig Cooper
and
Javarris James
have helped the Canes to a 7-2 record when they combine for at least 25 carries. And, of course, they've finally got a quarterback to lead them all in
Jacory Harris
.
"This Miami team we're getting ready to play," said Virginia Tech coach Frank Beamer, "Wow."
Receivers
Travis Benjamin
,
Thearon Collier
,
Davon Johnson
and
Kendal Thompkins
bring straight speed, quickness, elusiveness and big-play capabilities.
Leonard Hankerson
and
Aldarius Johnson
are talented possession players with great hands who move the chains.
LaRon Byrd
and
Tommy Streeter
can stretch the field deep with their speed and height. Cooper is elusive, while James is the power back, and
Lee Chambers
and
Mike James
provide dependable depth at the position. Tight ends
Jimmy Graham
and
Dedrick Epps
have both given the offense a boost, while the offensive line makes it all possible.
| | |
| --- | --- |
| | |
| | Steve Mitchell/US Presswire |
| | Graig Cooper has averaged 5.2 yards per carry so far. |
"The opposing team can't just focus on one player," said Byrd. "You look at a lot of teams in the country, like Oklahoma State. They have
Dez Bryant
, so you have the defense lock on Dez Bryant and the offense is going to have a tough time. You look at Alabama,
Julio Jones
. They lock down on him and Alabama is going to have a tough time. You look at us, we have so many weapons you can't just lock on one player. If you double up on Travis Benjamin, then Aldarius Johnson is going to have a big game. If you double up on him, then Hankerson is going to have a big game, and so forth and so forth."
Miami's versatility is not only in its athletes, but also in its playbook. The addition of offensive coordinator Mark Whipple, coupled with the wide array of abilities, size and speed on the roster, has made Miami's offense the total package and extremely difficult to defend.
"He's just so creative, bringing so many different offenses and making it Miami's offense," Hill said. "He's been one of the most creative offensive coordinators I've been around and knowing how to set-up plays, run and pass. That's been really good for the whole coaching staff and also the players because they're really, really excited to come into the meeting room to see what the mad scientist is creating next."
In fact, some of the Canes have gotten into it so much some have tried to write their own plays on the board.
"Some have had consideration," Hill said with a chuckle, "and some haven't."
Almost all of the players, though, have had their moments in the spotlight.
"We spread the wealth around to each guy," Shannon said. "They know that they have to run their routes and everything full speed because they don't ever know when Jacory is going to throw the football to them. That's the difference in this team.
"The best thing about it is the competition in practice. You don't have to worry about a guy getting too extreme as far as thinking he's the guy who makes the offense run, or he's the guy who makes the defense run. We've got depth at those positions to say, 'You know what? You don't want to work hard? OK, fine. We love you, and you're part of this program, but we're going to go with somebody else.' That's a big help."
And it's a nightmare for opposing defenses -- even ones as renowned as Virginia Tech's.
"I've got a lot of respect for them," said Virginia Tech defensive coordinator Bud Foster. "They're just right now, really a complete football team."
Posted by ESPN.com's Heather Dinich

GEORGIA TECH: Both quarterbacks Jaybo Shaw and Josh Nesbitt have been cleared to play on Saturday against Clemson, and the Yellow Jackets are eager to gain some respect back after their all-too-interesting 10-7 win over Gardner-Webb last weekend. In order to do that, they'll need a better performance from the offensive line, which coach Paul Johnson said "took a bigger hit than they deserved" last week. "They weren't very good but neither was anybody else, so it wasn't like it was all them," he said. Johnson said that aside from the freshmen, there are only about three upperclassmen who were actually recruited to play on the offensive line.


VIRGINIA TECH: Coach Frank Beamer said he is preparing for the Boston College quarterback he saw on film against NC State, not the Chris Crane who threw the ball just four times against Rhode Island. "He made some great throws in that NC State game," Beamer said, "some throws down the field, right on the money, hit guys in dead stride, had zip on the ball. ... When he runs the option he's not going to be a blazer, but he kind of falls forward. You wouldn't think a big guy like that would. He presents some problems for you." Still, the Hokies' staff won't forget about backup Dominique Davis, who has also seen significant playing time.


MARYLAND: Coach Ralph Friedgen called the 31-0 loss to Virginia "one of the toughest losses" he ever experienced. He said there was a players-only meeting during the bye week and he was pleased with the two practices they had during that time. "What impressed me in our practices was not that we did everything right, that I saw a sincere desire to try to do things right." Now he's wondering if the Terps can sustain that desire on Saturday against Wake Forest. Friedgen also told reporters at his weekly news conference that sophomore left tackle Bruce Campbell will see more playing time.


MIAMI: Running back Javarris James is expected to play on Saturday at Duke after missing four games with a left ankle sprain. The addition of James and offensive lineman Reggie Youngblood could help the Hurricanes' struggling offense. "It really hurt us tremendously in that aspect because of the one-two punch that you have with Javarris and [Graig] Cooper," coach Randy Shannon said. "We can't ask Cooper to go in the game and play 20, 30 snaps and carry the football another 15 to 20 snaps and take another running routes. He's not there yet, he's a sophomore." Cooper has gained about 10 pounds since last season, but the staff noticed he wore down at the end of last season and they don't want it to happen again. The Hurricanes' ground game took another hit against UCF last week when Lee Chambers got "turf toe."


WAKE FOREST: Coach Jim Grobe told reporters on Tuesday he's not interested in the Clemson job, saying, "I'm a Wake Forest guy." Grobe said Clemson hasn't contacted him yet anyway, and he's hoping it's not a distraction for his players heading into the Maryland game. This has become an annual trend for Grobe, but it has also forced athletic director Ron Wellman to keep it lucrative enough for Grobe to stay. One thing is for sure: If Grobe is going to consider another job, it's got to be one where he can bring all of his assistants with him. In other Wake news, punter/placekicker Sam Swank is still listed as questionable with a strained right quad.