NCF Nation:

LenDale White
June, 28, 2012
6/28/12
9:00
AM ET
We're saying goodbye to the BCS today, even though the BCS isn't going away until 2014. Oh, well.
So what are the Pac-12/10's best and worst BCS moments?
Best

The Pac-12 has won one BCS national title (though just about everyone believes USC to be the "true" 2003 national champion). So that has to be conference's best BCS moment: USC's undisputed 2004 championship.
The 2004 Trojans were dominant with quarterback Matt Leinart; running backs Reggie Bush and LenDale White; receivers Steve Smith and Dwayne Jarrett; and a defense led by defensive tackles Shaun Cody and Mike Patterson and linebacker Lofa Tatupu. They outscored foes 496 to 169.
In the BCS national title game in Miami, they stomped Oklahoma 55-19 and made USC a repeat national champ under Pete Carroll.
Honorable mentions
In 2000, Washington beat Purdue in the Rose Bowl and Oregon State whipped Notre Dame in the Fiesta Bowl. The Pac-12 has produced two BCS bowl teams four times, but this is the only year it won both games.
While Utah was not a member of the Pac-12 in 2004 and 2008, it's worth noting the Utes capped undefeated seasons both years with wins in the Fiesta Bowl over Pittsburgh and the Sugar Bowl over Alabama.
Worst
Not to make this all about USC, but the worst BCS moment was USC's exclusion in 2003, despite being ranked No. 1 in both major polls.
Those who had eyes knew that the Trojans were the nation's best team. But the computer chips liked LSU and Oklahoma better, even though the Sooners were fresh off a 35-7 loss to Kansas State in the Big 12 championship game.
The AP poll would go on to crown USC the national champion, as did the Football Writers Association of America, after it whipped Michigan in the Rose Bowl. As for the coaches poll, it was contractually obligated to vote LSU No. 1 after its ugly win over Oklahoma. Three coaches, nonetheless, showed courage, rebelled and voted USC No. 1.
Honorable mentions
In 2001, Nebraska was picked over Oregon to play Miami for the national title, even though the Cornhuskers were stomped 62-36 by Colorado in their final regular-season game. The Ducks went on to whip Colorado in the Fiesta Bowl, while Nebraska got bludgeoned by the Hurricanes 37-14.
In 2004, Texas coach Mack Brown lobbied hard for his Longhorns to eclipse California in the national polls. It worked, as the 10-1 Longhorns climbed past the 10-1 Bears and quarterback Aaron Rodgers in the standings for no justifiable reason and thereby finagled their way into the Rose Bowl, where Cal hadn't been since 1959.
December, 5, 2011
12/05/11
1:00
PM ET
Taking stock of the Pac-12 heading into the bowl season.
Team of the week
: Oregon won its third consecutive Pac-12 championship with a 49-31 win over UCLA in the inaugural conference title game. The Ducks have officially become a mini-conference dynasty.
[+] Enlarge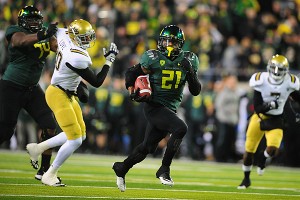 Mark J. Rebilas/US PresswireThis 30-yard touchdown run by LaMichael James set the tone for Oregon against UCLA.
Biggest play
: After UCLA fumbled on its first possession, Oregon faced a fourth and 1 on the Bruins 30-yard line in the first quarter. A defensive stop would have made a big statement. Instead,
LaMichael James
went 30-yards for a 7-0 lead. What seemed inevitable in any event seemed even more so at that moment.
Offensive standout:
James, the 2010 Doak Walker Award winner and Heisman Trophy finalist, is one of the best backs in the history of the Pac-8, Pac-10 and Pac-12. And, Huskies, USC and Beavers fans, to argue the point is to be stupid.
Consider:
James, a junior, rushed for 219 yards on 25 carries against UCLA, giving him 1,646 on the season. He becomes the first player in conference history to rush for 1,500 or more yards three times in a career. First. In. History. That's enough, by the way. But there's more!

James passed former USC back Marcus Allen (4,810 from 1978-81) for third on the Pac-12's career rushing list with 4,923 yards.

James tied USC's LenDale White (2003-05) for second in conference history in career rushing touchdowns with 52. He also equaled White's 342 career points, which is 10th in Pac-12 history.
If you want to argue, please, first insist the earth is flat. It's a more intelligent position.
Defensive standout
: Oregon linebacker Michael Clay had two sacks, six tackles, a forced fumble and fumble recovery in the Ducks win against UCLA.
Special teams standout
: UCLA punter Jeff Locke averaged 48.2 yards on four punts, killing two inside the Oregon 20-yard line.
Smiley face
: Washington State for hiring Mike Leach. We don't use a hashtag often on the Pac-12 blog, but this gets one: #brilliant!
Frowny face
: Arizona and Washington State conducted A-list coaching searches and got their man. It doesn't appear at this point Arizona State and UCLA are. We'll see who both end up with -- this frown can be turned upside down -- but it appears we're going to have an athletic director (or two) picking a third or fourth choice and then disingenuously insisting that's not the case.
Thought of the week
: Getting two BCS bowl berths for a second consecutive year means each Pac-10 team will take home at least $1.2 million more over the past two years than if it had just one. And, yeah, I mean Pac-10 because Colorado and Utah don't get a BCS bowl share this year. Commissioner Larry Scott had nothing to do with Oregon and Stanford getting good, but he is the commissioner of record during those two years. Just by standing around and smiling, it seems as though Scott makes revenue appear.
Questions for the week
: The Pac-12 is likely to be underdogs in five or six of its seven bowl games (
spreads will be released later today
). Oregon is expected to be favored against Wisconsin in the Rose Bowl and UCLA could go either way with Illinois in the Kraft Fight Hunger Bowl. So will the conference lay an egg -- as expected in Vegas -- this bowl season or will it step up and prove the experts wrong?
December, 3, 2011
12/03/11
2:30
AM ET
EUGENE, Ore. -- It would be unfair and perhaps even inaccurate to describe Oregon's celebration after winning the first Pac-12 championship game as subdued or distracted or somehow lacking that unfettered euphoric frenzy that erupts after landmark success. The Ducks partied after
whipping overmatched UCLA 49-31
. The grins were ear-to-ear. The emotions were authentically proud and in the moment.
Winning three consecutive conference championships is a special achievement for any program, but especially a program whose older fans can remember times when such results seemed unattainable.
But you know the "but" is coming. The but is this: After the Ducks finish celebrating, they need to get down to business. And that business is winning their final game, the one that would unmistakably announce the program's arrival as an elite program.
The Ducks have reached the Rose Bowl before. They have played for a national title. But they have walked away from that final game both times with the confetti falling on their triumphant opponents.
It won't surprise anyone that Ducks coach Chip Kelly didn't even sniff the bait when asked if he felt like the program needed to win a BCS bowl game after losing the past two seasons.
"Not based on the two previous losses," Kelly said. "I think our guys are going to go out there and compete, but not based upon anything that happened in the past. I've said this a lot, we're a forward-thinking operation."
Sure, fair enough. But not every Ducks fan or even Ducks player is so completely enmeshed in "The Tao of Chip." They know the simple fact that Oregon in just three seasons under Kelly has accomplished everything a program can in the Pac-12, other than winning a Rose Bowl or winning a national title.
"We really need to finish this season right," said tight end
David Paulson
, who caught one of three touchdown passes from quarterback
Darron Thomas
.
[+] Enlarge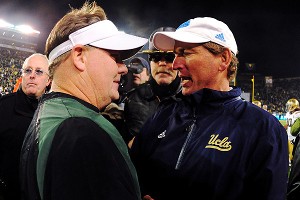 Kyle Terada/US PresswireChip Kelly is on to the Rose Bowl with his Ducks, while Rick Neuheisel, right, is out of a job.
"The last two seasons, we had great years but we didn't finish on a good note. I think for this program to keep growing, we need to finish the season. This year, we need to finish in the Rose Bowl."
The dispatch of UCLA takes second billing. It played out as expected. The Bruins fought hard but were overwhelmed by the Ducks' speed and relentlessness, even with do-everything back
De'Anthony Thomas
knocked out in the first quarter with an apparent concussion.
Oregon led 21-7 after a quarter, 35-17 at halftime and 49-24 entering the final frame. The result was never in doubt. Game MVP
LaMichael James
produced three touchdowns and 219 of the Ducks' 352 yards rushing. The Ducks outgained the Bruins 571 yards to 337.
The loss even took second billing for the Bruins. For them, it was more about Rick Neuheisel coaching his final game. He was fired this week and finishes his ill-fated career at his alma mater with a 21-28 record.
"There was a lot of heart and there was a lot of work," Neuheisel said. "We made it a game, at least for a time. I was thrilled we got that kind of effort, given the events of last week."
There was an abundance of graciousness when Neuheisel and his players met with reporters. They paid tribute to Oregon, Neuheisel paid tribute to his players and they, in turn, thanked him.
Said linebacker Patrick Larimore, "Being able to play under him has been truly a blessing for me and I know it has been for the rest of the team."
The Bruins had to play a clean game to have any chance and they did not. They lost three fumbles and threw an interception. They also were 1-for-3 on fourth down, while Oregon was 4-of-7. The Ducks, in fact, scored a pair of long touchdowns -- a 30-yard James run in the first quarter and a 25-yard pass to
Daryle Hawkins
-- on fourth-and-short plays.
Oregon, meanwhile, piled up a bunch of notable numbers. James, a redshirt junior, became the first back in conference history to produce three consecutive seasons with more than 1,500 yards rushing. That's a major achievement when you consider the history of Heisman Trophy winners and Pro Football Hall of Fame running backs the conference has produced. James' 52 career rushing touchdowns is tied with former USC running back LenDale White for second in conference history, and he passed Marcus Allen for third place on the conference's all-time career rushing list with 4,923 yards.
Thomas set a school record with his 63rd career touchdown pass.
As for getting to the Rose Bowl -- again -- it remains special, without question. It's certainly a source of jealousy among 11 other Pac-12 teams. Even Kelly admitted, "It means a lot."
"The Rose Bowl in this conference is the pinnacle," Kelly said. "If you don't have a chance to play -- obviously because of our two losses -- in the national championship game, there's no other game you'd rather play in than the Rose Bowl."
But the playing is not the thing to catch the consequence of becoming a college football king. And Kelly and Oregon, of all coaches and teams, should know that. After all, it's written all over the stadium and even has a special "WTD" shield.
Win the day.
Oregon needs to win the day on Jan. 2.
June, 30, 2011
6/30/11
12:00
PM ET
On Friday, the Pac-10 becomes the Pac-12, and life as we all have known it ends.
But before we move on as a 12-team league, let's look back at the best of a 10-team league.
On Wednesday, we looked at the
best players
. Thursday, it's the best teams.
We've listed 12 teams because that's the new magic number (Arizona fans, see if you can guess who came in 13th).
Again, no team before 1978 -- when Arizona and Arizona State joined the Pac-8 -- was considered.

1. 1991 Washington
: The Huskies finished 12-0 and split the national title with Miami.
Best player
: Defensive tackle Steve Emtman won the Outland Trophy and Lombardi Award.
Point differential
: Washington outscored its foes 495-115.
Best win
: Whipped Michigan 34-14 in Rose Bowl. Wolverines finished ranked sixth.
Comment
: Four wins over teams that finished ranked in the final top 25, including road victories at No. 15 Nebraska and at No. 8 California. Featured one of the great defenses in college football history, yielding just 9.2 points and 67.1 rushing yards per game. Eight Huskies earned first-team All-Pac-10 honors.

2. 2004 USC
: While the NCAA and BCS have nixed it in their own ways, the Trojans finished 13-0 and won the national title on the field.
Best player
: Quarterback Matt Leinart won the Heisman Trophy.
Point differential
: USC outscored its foes 496-169.
Best win
: Crushed Oklahoma 55-19 in the national title game.
Comment
: Basically a push for dominance with 1991 Washington. Beat four teams that finished ranked in the top 25, including the bludgeoning of Oklahoma. Eight Trojans earned first-team All-Pac-10 honors.

3. 2003 USC
: The Trojans finished 12-1 and split the national title with LSU. Their only loss came in triple overtime at California.
Best player
: Receiver Mike Williams was a consensus All-American.
Point differential
: 534-239.
Best win
: The completely dominant 23-0 victory at then-No. 6 Auburn in the opener set the tone for the season -- and caused many Pac-10 fans to question how good these highly rated SEC teams really are.
Comment
: The Trojans finished the regular season ranked No. 1 in both polls but lost out playing in the BCS title game because of the computer polls. LSU fans have been thanking the computers for that glitch ever since.

4. 2005 USC
: A 34-game winning streak came to an end with a nail-biting loss to Texas in the national title game. The Trojans finished 12-1.
Best player
: Reggie Bush won the Heisman Trophy.
Point differential
: 638-297.
Best win
: The 34-31 win at Notre Dame -- the "Bush Push" game -- was one of the all-time greats.
Comment
: Perhaps the best collection of offensive players in the history of college football: Matt Leinart, Reggie Bush, Dwayne Jarrett, Ryan Kalil, Sam Baker and Taitusi Lutui earned first-team All-Pac-10 honors. And don't forget LenDale White, Winston Justice, Steve Smith and Dominique Byrd.

5. 1978 USC
: Finished 12-1 and split national title with Alabama. Lost to Arizona State, 20-7.
Best player
: Charles White was a unanimous All-American.
Point differential
: 318-153
Best win
: A 24-14 win over the team that "claimed" the other half of the national title.
Comment
: Split national title -- coaches liked the Trojans; AP the Crimson Tide -- despite a decisive 24-14 USC at Alabama. So much for head to head.

6. 1979 USC:
Finished 11-0-1 and No. 2 behind Alabama. Tied Stanford 21-21.
Best player
: Charles White won the Heisman Trophy.
Point differential
: 389-171
Best win
: The 17-16 win over Ohio State in the Rose Bowl, in which White ran for a record 247 yards, including the game-winning touchdown with just more than a minute remaining.
Comment
: Team featured four future College Football Hall of Famers in White, Marcus Allen, Ronnie Lot and Brad Budde. By the way, THAT undefeated, untied Alabama team was really, really good: Outscored foes 383-67. So no sour grapes on that one.

7. 2001 Oregon
: The Ducks finished 11-1 and ranked No. 2 in both polls. The only loss was 49-42 versus Stanford (a really, really weird game, if you recall).
Best player
: Quarterback Joey Harrington finished fourth in the Heisman Trophy voting.
Point differential
: 412-256.
Best win
: A 38-16 win over Colorado in the Fiesta Bowl.
Comment
: The Fiesta Bowl victory caused plenty of folks to bemoan the Nebraska-Miami matchup in the BCS title game, considering Colorado had blown out Nebraska the final weekend of the regular season. As for the Stanford loss, the typically straightforward AP noted the game had "
everything but aliens landing on the Autzen Stadium turf
."

8. 1984 Washington:
Finished 11-1 and ranked No. 2 behind BYU. Lost to USC ,16-7.
Best player
: Defensive tackle Ron Holmes was a consensus All-American.
Point differential
: 352-145
Best win
: Shocked Oklahoma 28-17 in the Orange Bowl. Sooners finished ranked sixth.
Comment
: A controversial season. Before the Orange Bowl, Sooners coach Barry Switzer lobbied hard for the winner to be declared the national champion. As it was, BYU won the national title after beating a bad Michigan team in the Holiday Bowl. Does anyone believe BYU was better than the Huskies? No.

9. 2010 Oregon
: The Ducks finished 12-1 and No. 3 in both polls, losing the national title game to Auburn.
Best player
: Running back
LaMichael James
finished third in the Heisman Trophy voting.
Point differential
: 611-243
Best win
: The Ducks handed Stanford its only loss, 52-31, after trailing 21-3 early. Cardinal finished ranked No. 4.
Comment
: An innovative, exciting team to watch, one that played faster than perhaps any big-time college team in history.

10. 1996 Arizona State:
Finished 11-1 and ranked No. 4 in both polls. Lost Rose Bowl -- and potential national championship -- to Ohio State, 20-17.
Best player
: Quarterback Jake Plummer finished third in the Heisman Trophy voting.
Point differential
: 488-216
Best win:
The Sun Devils trounced top-ranked, two-time defending national champion Nebraska, 19-0.
Comment:
The Sun Devils lost one of the most dramatic Rose Bowls, when the swashbuckling Plummer was out-swashbuckled by Joe Germaine, who was raised in Arizona as an ASU fan.

11. 2000 Washington:
The Huskies finished 11-1 and ranked No. 3, their only loss coming at No. 7 Oregon. They beat Purdue 34-24 in the Rose Bowl.
Best player:
Marques Tuiasosopo finished eighth in the Heisman Trophy voting.
Point differential:
387-270
Best win
: Beat Miami, 34-29. Hurricanes finished ranked No. 2.
Comment:
This is not the most talented team on the list. In fact, some have
rated the 2000 Oregon State team
-- see below -- ahead of the Huskies. And based on NFL results, the Beavers were more talented than the Huskies. But head to head matters, and the win over Miami is better than anything Oregon State did.

12. 2000 Oregon State:
The Beavers finished 11-1 and ranked No. 4, their only loss a 33-30 decision at Washington, which finished ranked No. 3.
Best player:
Running back Ken Simonton was first-team All-Pac-10.
Best win:
Beat Oregon 23-13 in Civil War. Oregon finished ranked seventh in the coaches poll.
Comment
: One or two more plays at Washington, and the Beavers would have played for the national title. And they, by the way, were more talented than the Oklahoma team that did win the title. Notable Beavers: Ken Simonton, Chad Ochocinco (the Chad Johnson), T.J. Houshmandzadeh, Chris Gibson, DeLawrence Grant, LaDairis Jackson, Dennis Weathersby and Eric Manning. They spanked Notre Dame 41-9 in the Fiesta Bowl.
January, 21, 2010
1/21/10
11:54
AM ET
By
Tim Griffin
| ESPN.com
Mack Brown revived the glory at Texas in the last decade, claiming at least 10 victories in each of the last nine seasons, including a 25-2 record in the last two seasons. The Longhorns have finished in the top 10 in five of the last six seasons.

Darrell K. Royal/Texas Memorial Stadium now has more than 100,00 seats. The Longhorns have a designated successor for Brown in place with rising star Will Muschamp. And that pesky problem with Bob Stoops has been alleviated recently with four victories in the last five seasons over the Sooners.

Times are good for Brown.

Here's a look at the Longhorns' all-decade team during that time.

OFFENSE

QB: Vince Young

RB: Jamaal Charles

RB: Cedric Benson

WR: Jordan Shipley

WR: Roy Williams

TE: David Thomas

OL: Justin Blalock

OL: Jonathan Scott

OL: Derrick Dockery

OL: Leonard Davis

C: Lyle Sendlein

DEFENSE

DL: Brian Orakpo

DL: Cory Redding

DL: Shaun Rogers

DL: Casey Hampton

LB: Sergio Kindle

LB: Derrick Johnson

LB: Roddrick Muckelroy

DB: Earl Thomas

DB: Michael Huff

DB: Nathan Vasher

DB: Aaron Ross

P: Richmond McGee

K: Hunter Lawrence

KR: Quan Cosby

Offensive player of the decade: QB Vince Young. The most electrifying player of the decade capped his career by scoring the game-winning touchdown to lead his team to the national championship in his final drive. Brown finished with a 30-2 record, 6.040 passing yards and 3,127 rushing yards.

Defensive player of the decade: LB Derrick Johnson. He wasn't around when the Longhorns won the national championship, but was perhaps the best player at his position at the school since Tommy Nobis. He capped his career with the Nagurski and Butkus Awards after earning All-America honors in each of his last two seasons.

Coach of the decade: Mack Brown. Remember when people used to joke about his inability to win big games or how he coddled his players. That all changed as the decade progressed. Brown got tougher and made some astute moves at defensive coordinator to help his program take the next step with the addition of coaches like Gene Chizik and Will Muschamp.

Moment of the decade: Vince Young's run leads comeback victory to the 2005 national championship. Young's game-winning 8-yard TD run with 19 seconds left boosted the Longhorns to a 41-38 victory over USC in the 2006 Rose Bowl, providing the margin of victory in one of the greatest college football games in history. Michael Huff's fourth-down stop of LenDale White on the preceding drive set up Young's heroics to snap the Trojans' 34-game winning streak.
January, 20, 2010
1/20/10
11:22
AM ET
By
Tim Griffin
| ESPN.com
Every football fan has a different definition of what makes a game great. Some fans might prefer defensive struggles. Other enjoy torrents of points.

The Big 12 has provided a few of latter -- and more -- over the last decade with some of the most entertaining games in recent college football history.

Here are my favorite 10 games of the past decade. There are 10 to 15 other games that legitimately could have been included on this list.

1. Texas 41, USC 38 (Jan. 1, 2006): The Longhorns claimed the 2005 national title with a dramatic comeback capped by Vince Young's game-winning 8-yard TD run with 19 seconds left. Michael Huff's critical fourth-down stop of LenDale White set the stage on the preceding drive. And many observers still think that Pete Carroll could have gone for a game-tying field goal attempt on the final play of the game if he hadn't squandered a timeout before a two-point try after Young's TD run.

2. Texas Tech 39, Texas 33 (Nov. 1, 2008): Michael Crabtree's 28-yard touchdown reception from Graham Harrell with one second remaining capped the wildest victory in Tech history -- made even more improbable after Blake Gideon dropped an interception on the play before Crabtree's game-winning touchdown.

3. Boise State 43, Oklahoma 42 (Jan. 1, 2007): The Broncos won the 2007 Fiesta Bowl by fooling Bob Stoops' team with three gadget plays: a game-tying hook and ladder play in regulation, an option pass from wide receiver Vinny Perretta to Derek Schouman in overtime to pull within one point and a game-winning two-point conversion by Ian Johnson on a Statue of Liberty play. Johnson proposed to his girlfriend, Chrissy Popadics, on the field after the play. After all the excitement, of course, she accepted.

4. Oklahoma State 49, Texas Tech 45 (Sept. 22, 2007): This classic offensive battle produced 62 first downs and 1,328 yards and wasn't settled until Michael Crabtree dropped a potential game-winning touchdown pass in the end zone in the final minute of play. And we all still remember it more for the fireworks in the press conferences with Mike Leach and Mike Gundy than for what happened on the field, don't we?

5. Oklahoma 35, Texas A&M 31 (Nov. 11, 2000): Torrance Marshall's game-winning 41-yard interception return with 7:42 left enabled the Sooners to continue their charge to the 2000 national championship. Oklahoma overcame an 11-point deficit heading into the fourth quarter and a 10-point hole with less than 9 minutes remaining. Marshall's heroics gave the Sooners the lead and the Oklahoma defense did the rest, turning away the Aggies twice deep in Oklahoma territory late in the game.

6. Kansas 40, Missouri 37 (Nov. 29, 2008): Four lead changes in the final 6:52 made this game memorable, even though Missouri had already clinched the North title coming into the game. Todd Reesing and Kerry Meier hooked up five times on the game-winning drive, capped by a 26-yard touchdown pass with 27 seconds left. Missouri had one last hope, but Jeff Wolfert's 54-yard field goal attempt on the final play of the game was partially blocked by Phillip Strozier.

7. Texas 13, Nebraska 12 (Dec. 5, 2009) : In a conference that made its national reputation with wild offensive battles, it was refreshing to see a defensive struggle in the 2009 Big 12 title game. Nebraska, keyed by a ferocious defense that forced three interceptions and sacked Colt McCoy nine times, appeared to have taken control on a 42-yard field goal by Alex Henery with 1:44 left. Ndamukong Suh sacked McCoy a championship-game record 4.5 times. But McCoy withstood the rush and drove the Longhorns for the game-winning field goal after a controversial officiating decision put extra time back on the clock after it appeared the Longhorns had squandered their chance to win. Hunter Lawrence's 46-yard field goal as time expired gave Texas the victory.

8. Texas 56, Oklahoma State 35 (Nov. 6, 2004): The Longhorns were in a 35-7 hole late in the second quarter before Vince Young hooked up on a 4-yard TD pass to Bo Scaife shortly before halftime. That opened the floodgates, as the Longhorns scored touchdowns on six straight drives. Cedric Benson rushed for 141 yards and five touchdowns and Vince Young rushed for 123 yards and completed 12 straight passes at one point en route to a then career-high 278 passing yards. The Longhorns piled up 600 yards of total offense in the wild comeback, outgaining the Cowboys 266-to-minus-5 in the third quarter of the comeback.

9. Nebraska 40, Colorado 31 (Nov. 28, 2008): Alex Henery's school-record 57-yard field goal with 1:43 left gave the Cornhuskers the lead for good in this classic that Colorado needed to win to qualify for a bowl game. And Ndamukong Suh foreshadowed his monster season to come by icing the victory with a 30-yard interception return for a touchdown with 55 seconds left.

10. Baylor 35, Texas A&M 34 (Oct. 30, 2004): The Bears had been waiting for a long time for a chance to beat Texas A&M -- particularly after losing 73-10 to the Aggies in College Station the previous season. So it was understandable that Guy Morriss didn't hesitate to go for the win after pulling within one point in overtime on Shawn Bell's pass to Dominique Ziegler. Bell and Ziegler then hooked up again for the two-point conversion, snapping an 18-game winless streak to the Aggies.
October, 28, 2009
10/28/09
11:31
AM ET
Posted by ESPN.com's Ted Miller
It surely passed through most USC observers minds while watching
Allen Bradford
(finally) have his breakout game against Oregon State last weekend. As Bradford and his 235 pounds ran over and around the Beavers defense for 147 yards on 15 carries, the potential metaphor and then comparison was obvious.
He's thunder to speedy
Joe McKnight
's lightning.
| | |
| --- | --- |
| | |
| | Stephen Dunn/Getty Images |
| | USC running back Allen Bradford finally had a breakout game last Saturday against Oregon State. |
He's LenDale White to McKnight's Reggie Bush.
Bradford, a redshirt junior, has waited a long time for that many touches in a game. And it's been a frustrating wait. So maybe it's understandable that he's not eager to embrace a metaphor or a comparison. He'd just -- please and thanks -- like to keep getting opportunities to do his thing.
"Me and Joe will never be Reggie and LenDale," Bradford said. "All we can be is Joe and Allen, so that's what we're going to be."
Oregon coach Chip Kelly is fairly impressed with Joe and Allen. His Ducks are playing well on defense, but the Trojans will bring a lot of weapons to their trick-or-treat road trip to Autzen Stadium on Saturday night (8 p.m. EST, ABC).
Thunder and lightning?
"With their stable of running backs, they've got thunder and lightning and hurricane, typhoon -- you name any storm, they've got it," Kelly said.
It's a good line -- Kelly has at least one of those a week -- but it's not completely true. At least not presently. After all the talk the previous few years about the Trojans embarrassment of riches at tailback, a recession has hit Heritage Hall.
Stafon Johnson
suffered a season-ending throat injury in a weight room accident.
Marc Tyler
is out for the season with a toe injury.
Curtis McNeal
has been riddled with injuries.
C.J. Gable
, who started 11 games last year, has been nicked up and in the doghouse for unexplained reasons. Fullback
Stanley Havili
is questionable for Saturday with a shoulder injury.
McKnight always seems to be nursing some woe, too. He severely cut his hand against Oregon State.
Still, no matter why Bradford got his opportunity, he's glad he got it. And, yes, it was an inspired performance.
"(Receiver)
Damian Williams
just looked at me in my eyes (before the game) and said, 'Are you ready! Let's ball out!'" Bradford said, describing the pregame scene. "He saw the look on my face. He knew something was going to happen. Then we see Stafon -- we have this handshake we do before every game -- and it made me think about how blessed I am and how unfortunate it is for Stafon to go through that."
The 147 yards was a career-high for Bradford, as were the 15 carries, which are more carries than he's had during any of his previous two
seasons
. He appeared poised to make his mark in 2008, but a hip injury ended that possibility after two games and he took a redshirt year.
What Bradford has mostly done throughout his career is look impressive in his uniform -- he's built like a crate of bricks -- and impressive in practice. The reporters who regularly cover USC spend plenty of their downtime debating the relative merits of USC's running backs, and Bradford's remarkable runs during practices often earned him high marks.
But reporters don't make the depth chart.
"He's always had bright spots but he's really showed great consistency the last few weeks," coach Pete Carroll said.
Now that he's (finally) getting the ball, it might not be surprising that Bradford is disinclined to complain. He's not real clear on how often he asked the coaches why he wasn't getting playing time, though word is it happened on a regular basis. Early in his career, there was talk of him moving to fullback or even linebacker.
And, yes, Bradford, a Parade Magazine and USA Today first-team prep All-American in 2005, admits his eye did wander.
"Yeah, I thought about transferring plenty of times," he said.
But a number of current and former teammates, such as linebacker
Thomas Williams
and safety Kevin Ellison, talked him out of it.
And Bradford knew there were some areas where he fell short. Top of the list: blocking. A running back who can't stay in the game to block on a passing play is a liability -- it's a tell for an opposing defensive coordinator.
It might seem strange that a physically imposing player would struggle with blocking -- the 205-pound Gable, for example, is better at it than Bradford -- but it's actually not about muscle. Or even want-to. To make the right block, a running back has to be able to read the defense, sniff out a blitz and then used the proper technique to meet the on-coming charge.
"There's a lot of technical aspects to it," Carroll said. "It's not just being big and tough. It's much more than that."
Bradford's blocking is still a work in progress. But it's better.
He seems comfortable with the new attention. And carries. Another big performance inside raucous Autzen Stadium in a game that features Rose Bowl and potential national championship implications might become more than a breakout.
It could thunder an arrival.
Posted by ESPN.com's Tim Griffin

Here are a few factoids about Oklahoma's bowl history as we get ready for tonight's FedEx BCS National Championship Game against Florida.
Bowl record: 24-16-1
Current bowl streak: Lost 2
Most memorable bowl victory: Bud Wilkinson directed his team to the 1956 Orange Bowl, wrapping up the first time that the Sooners ever finished the season with a bowl championship and a national championship in the same season. After spotting Maryland a six-point halftime lead, the Sooners charged back to claim a 20-6 victory by scoring the game's final 20 points. Quarterback Tommy Harris rushed for a team-high 50 yards to pace the victory as the Sooners forced five turnovers and limited the Terrapins to nine first downs and 233 total yards.
Most disappointing loss: An explosive offense keyed by Heisman Trophy winner Matt Leinart and Reggie Bush enabled USC to dominate the Sooners in a 55-19 loss that ranks as the largest margin of defeat in an Oklahoma bowl game and also for a loser in a BCS title game. Leinart threw for 332 yards and five touchdowns and LenDale White rushed for 118 and two touchdowns to lead the Trojans to their first national championship under Pete Carroll. Oklahoma scored the first touchdown but the Trojans blew the game open by scoring 28 straight points midway through the first half.
Best individual bowl performance: Marcus Dupree rushed for 239 and had the Sooners ahead in the 1983 Fiesta Bowl until he was sidelined with leg injuries that kept him from playing in the rest of the game. Arizona State took advantage of his departure to claim a 32-21 victory over the Sooners, despite Oklahoma rolling up 417 rushing yards.
Record against Florida: First meeting.

Common 2008 opponents: None.
The number: 7. National championship won by Oklahoma in school history - more than any team in the Big 12.
January, 4, 2009
1/04/09
10:32
AM ET
Posted by ESPN.com's Tim Griffin
FORT LAUDERDALE, Fla. -- Oklahoma running back Chris Brown might never been confused with DeMarco Murray as an elusive breakaway threat.
| | |
| --- | --- |
| | |
| | Ronald Martinez/Getty Images |
| | Chris Brown leads the Sooners in rushing with 1,110 yards . |
But the steadiness of the underrated Oklahoma rushing leader is the main reason why Oklahoma offensive coordinator Kevin Wilson expects the Sooners to overcome playing without Murray in the FedEx Bowl Championship Series National Championship without many troubles.
"The one guy [Murray] has flash and the other guy [Brown] is just a pit bulldog," Wilson said. "He's just a grinder who comes to work every single day. What you see is what you get, and from him it's pretty good."
Brown led the Sooners in rushing with 1,110 yards and ranked sixth nationally with 20 touchdowns. He will be counted on, along with backup Mossis Madu, to replace the loss of Murray, who ruptured a tendon in his left hamstring on the opening kickoff of the Big 12 championship game and will miss Thursday's game.
The loss of Murray, who rushed for 1,002 yards during the regular season, might be expected to cripple the Sooners with the loss of their top long-distance threat.
Instead, it has only inspired Brown of the opportunity he has playing against the Gators.
Brown compares his running style and Murray's with the vaunted USC rushing game of the 2004 national championship team.
"I don't really like to compare me and DeMarco because we're good friends," Brown said. "But we're two different players. You see him making flashy cuts a little bit like Reggie Bush. I'll take that I'm like LenDale White. DeMarco can make something small into a big play. But I feel I'm more patient and willing to waiting on things to develop. You could call me the conservative runner on our team. "
The ability of Brown and Madu was best shown in the Big 12 title game after Murray went down. Brown rushed for 122 yards on 27 carries and scored three touchdowns and Madu chipped with a career-best 114 yards on 15 carries and three more scores to spark a 62-21 blowout over Missouri.
| | |
| --- | --- |
| | |
| | Jesse Beals/Icon SMI |
| | Mossis Madu (17) will be needed to step up after the loss of DeMarco Murray to an injury. |
Center Jon Cooper said that both remaining backs have the ability to be prime producers against the Gators, who ranked 16th nationally against the rush.
"DeMarco was a little flashier and he would try to make people miss where Chris just runs through them," Cooper said. "And Mossis is a combination of both. He hits the hole about as hard as anybody we've got. I don't know how fast he is, but he's pretty fast. And he's got the balance of Chris and the flashiness of DeMarco."
Florida players have noticed the strength and depth of the Sooners' running game. It makes them concerned about stopping Oklahoma's potent attack even with Murray out of the lineup.
"I don't think not having Murray will slow them down at all," Florida safety Ahmad Black said. "They have another one who comes off the bench who's almost as good. They rotate all of them out there. I don't think they'll take a step back at all. It will be a challenge to stop them."
Heisman Trophy winning quarterback Sam Bradford knows that balance will be important for his team's hopes to claim its first national championship since the 2001 Orange Bowl. Along with Tulsa, Oklahoma is the only team to rank in the top 20 nationally in rushing, passing, total offense and scoring.
And Bradford is convinced the Sooners still can consistently move the ball against Florida with their remaining players -- even without Murray.
"Obviously, DeMarco is a big part of our offense and we're going to miss him," Bradford said. "But I think that Mossis and Chris both are very good running backs and we're not going to lose much with them being in there.
"Running the ball like we did in the Big 12 championship game gives us a lot of confidence in what they can do. We see it from Mossis every day in practice and the Big 12 championship was just the first opportunity for him to show everybody else how good he is. It didn't surprise us how he played. And we expect him and Chris to come out and play well again."