January, 31, 2012
1/31/12
3:17
PM ET
National Signing Day is barely a week away, and Big Ten teams will be stockpiling for the future (and, in some cases, the present). Today we'll take a look at the recruiting needs of each Big Ten team, starting with those in the Leaders division. These needs are based on current rosters and anticipated departures in the near future. And to save you some email time, we do realize teams have already addressed needs in compiling their 2012 classes.
Let's get started ...

ILLINOIS
Wide receiver:
The Illini lose
A.J. Jenkins
, who accounted for 90 of the team's 226 receptions in 2011. No other Illinois player had more than 26 catches, so there certainly are opportunities for young players to emerge and make an immediate impact for the new coaching staff.
Linemen:
Illinois loses two starters from an offensive line that struggled down the stretch of the regular season. It's important to build depth there going forward. Despite
Whitney Mercilus
' early departure to the NFL draft, the defensive line returns some talented players. Still, defensive end
Michael Buchanan
is entering his senior year, and defensive tackle
Akeem Spence
is a bona fide NFL prospect who could enter the draft with a strong 2012 campaign.
Safety:
The Illini defense didn't have many weaknesses in 2011, but safety was a liability at times. The team returns experience for 2012, but will lose some key players after the season. An impact defensive back or two in the 2012 class would really help.

INDIANA
Defensive back:
This has been a primary recruiting need for the past few seasons, and it remains a pressing concern after Indiana surrendered a league-worst 8.5 yards per pass and a league-high 26 passing touchdowns in 2011. Indiana needs impact players and depth among the back four to be able to limit Big Ten offenses.
Defensive front seven:
Sense a theme here? Indiana needs defenders in the worst way, and the front seven is a huge piece to the puzzle. The Hoosiers return some experience at defensive tackle, but lose top linebackers
Jeff Thomas
and
Leon Beckum
. The coaches showed in 2011 that they're not afraid to play young players, and they need more contributors on the defensive side.
Quarterback:
Starter
Tre Roberson
returns, but Indiana needs bodies here after
Dusty Kiel
and Ed Wright-Baker both opted to transfer earlier this month.

OHIO STATE
Offensive line:
Three multiyear starters depart at center, left tackle and right tackle, so Ohio State's offensive line will have a very different look in 2012. The Buckeyes could use some immediate-impact linemen, like center Mike Brewster in 2008, and they'll look to build depth here.
Defensive end:
Ohio State appears loaded at defensive tackle for 2012 and beyond, but the team needs some more pure pass-rushers on the edge.
John Simon
, who had four more sacks than anyone on the squad in 2011, will be a senior this coming season.
Wide receiver:
The Buckeyes lacked reliable receiver options in 2011 and had their best wideout,
DeVier Posey
, for only three games because of suspension. Posey departs and Ohio State needs to build depth and increase competition in what should be a more wide-open offense under Urban Meyer.

PENN STATE
Quarterback:
New coach Bill O'Brien might be the quarterback whisperer Penn State has waited for, but he also needs to upgrade the talent on the roster.
Matthew McGloin
and
Rob Bolden
both must make significant strides, and while
Paul Jones
is an intriguing player, we've yet to see him in a game. Penn State needs more options here.
Wide receiver:
Top target
Derek Moye
departs, and Penn State returns only two players with decent but not great production in
Justin Brown
and
Devon Smith
. Brown looks like a potential impact player in 2012, but Penn State needs more options in the passing game.
Defensive back:
Penn State loses all four starters, although returning players like
Stephon Morris
,
Malcolm Willis
and
Adrian Amos
have logged playing time. Still, the Lions need some more players here to build depth and increase competition.

PURDUE
Offensive line:
This is one of few areas where Purdue loses a decent amount of production from 2011, as tackle
Dennis Kelly
and
Nick Mondek
both depart. Two more starters exit after the 2012 season, and Purdue wants to be a run-based offense. It's important to build some depth up front with the 2012 class.
Kicker:
Purdue loses the bionic-legged
Carson Wiggs
, who did more than make field goals from ridiculous distances. He also kicked off and served as a backup punter, attempting 45 punts over the past two seasons. The versatile Wiggs leaves a major void, and Purdue must address the specialist spot.
Defensive back:
The Boilers say goodbye to both of their starting safeties from the 2011 team. They also will lose starting cornerback
Josh Johnson
after the 2012 season, while
Ricardo Allen
might be an early entry candidate with a big junior year. While this isn't a pressing need right now, it could soon become one.

WISCONSIN
Quarterback:
Russell Wilson
saved Wisconsin in more than one way in 2011, and his departure is significant. The team's most experienced signal callers,
Jon Budmayr
and
Curt Phillips
, both are coming off of major injuries. Wisconsin typically doesn't play younger quarterbacks, but needs more options after a season where Wilson showed what the offense could be.
Wide receiver:
The Badgers typically get by with 1-2 good wideouts and an excellent tight end or two, but they could use more depth at the receiver position. Top target
Nick Toon
departs, and Wisconsin is pretty thin at receiver aside from
Jared Abbrederis
.
Defensive speed:
Oregon makes a lot of teams look slow, but the Rose Bowl spelled out what the Badgers must do to take the next step as a program. Wisconsin needs to upgrade its speed at all three levels of the defense, particularly the back seven, to prevent explosion plays. Michigan State also exposed Wisconsin's defense, so the need for speed certainly is there.
November, 1, 2011
11/01/11
5:00
PM ET
With a 1-8 record and prospects bleak for getting a Big Ten victory, Indiana can only hope for better things in the future.
In some ways, that future has already begun.
A youth movement is in full effect in Bloomington, for better or worse. On Saturday versus Northwestern, the Hoosiers did three things no other FBS team in 2011 has done, according to the school. They started 12 freshmen. They started eight true freshmen. And they had seven freshmen start on defense.
[+] Enlarge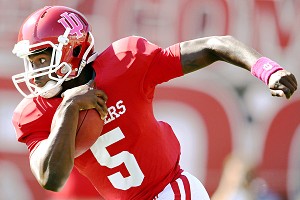 Andy Lyons/Getty ImagesIndiana's Tre Roberson has shown that he can run. Now he aims to be a more efficient QB.
IU first-year head coach Kevin Wilson said he didn't simply throw in the towel on the season and start grooming players for next year.
"They're truly the best guys," he said. "They're practicing the best."
And that tells you a lot about the challenge facing Wilson. It's one thing to play some young guys. Just look at Indiana's opponent this week, Ohio State. The Buckeyes have inserted true freshmen into key roles like quarterback
Braxton Miller
and receiver
Devin Smith
, while mixing in plenty of other fresh faces. But they also are surrounded by battle-tested veterans and leaders.
The Hoosiers are perilously short on leadership. When I asked Wilson on Tuesday about his upperclassmen who were leading the way for the youngsters, he didn't need to speak in generalities. He gave a short list of the upperclassmen who are doing so, which included senior tight end
Max Dedmond
, senior offensive linemen Justin Pagan and Andrew McDonald, senior linebackers Jeff Thomas and Leon Beckum and junior defensive linemen Adam Replogle and Larry Black. And that's where he stopped.
"From there it kind of falls down to the freshmen," Wilson said. "We don't have much in between there."
The lack of senior leadership became even more evident this week when star receiver
Damarlo Belcher
, expected to be a key player on this season's team, was dismissed from the program after serving a suspension last week. Wilson said he tried to develop some senior leadership in the first few weeks after he took the job last winter.
"We didn't do a good job, in hindsight," he said. "We had some seniors who maybe didn't have things go their way or maybe didn't buy into our system. They were used to doing things a certain way."
So Wilson has gone young. Real young. He has already started 11 true freshmen, six redshirt freshmen and 10 sophomores this season. There have been some nice success stories in there, like promising true freshman quarterback
Tre Roberson
, sophomore transfer
Stephen Houston
at running back and freshman safety Mark Murphy. Wilson says it's not a matter of just playing his guys instead of those he inherited; he points out that he didn't actually recruit many of the current freshmen.
But at least he likes the looks of his young players, many of whom were in the first class recruited after Indiana upgraded its football facilities.
"I think it was a more competitive recruiting class," he said. "And the skill set of that freshman class is a little bit better maybe than some of the other classes."
The Hoosiers have some young talent. More upperclassmen leadership to guide them would be very helpful. But they may have to find their own way toward a better future.
July, 8, 2011
7/08/11
10:15
AM ET
Here's the second part of my conversation with Indiana coach Kevin Wilson. You can read Part I
here
.
What is your plan for the the quarterback situation? Do you expect to name a starter early in camp, or closer to the opener?

[+] Enlarge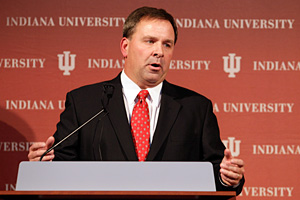 AP Photo/Darron CummingsNew Indiana coach Kevin Wilson is excited about some of the players his staff inherits.
Kevin Wilson:
Performance will dictate that. We don't need a revolving door where we just keep trying guys, or guys feel like as soon they make a bad play they're out. If we do make a decision and go with one guy, you want that guy to have self-confidence and know if he does go out and is a little off one day, he won't be looking over his shoulder the whole time. We've got to wait and see how they perform. We did go through spring with four guys getting a bunch of reps. We will add freshman Tre Roberson into the mix and see where he is. He was Mr. Football in Indiana, though it's a tough position to walk in as a freshman.
We've got to be careful in not trying to be so fair in our evaluation that we don't develop the right guys. So there has to be a point in time where, whether we name a starter or not, that we do pare it down and get a direction, so the guys who are going to be playing get the bulk of the practice reps and keep honing in and improving their game.
The position that really seems to stand out on your roster is receiver. Damarlo Belcher was just named to the Biletnikoff Award watch list, for example. How good do you feel about that group?

KW:
I really like them. They were learning in the spring to go hard every day and play up to their potential. I actually think they're more talented than maybe they've played. They're comparable to a lot of the kids I had at Oklahoma. And the tight ends group complements them very well. So the quarterbacks will have some good skill kids around them. If we take care of the ball and get some consistent line play, we should be a team that has a chance offensively to score some points.
The receiver position, it's solid. It needs to be a strength of our team. I think we can go about five or six deep, and we'll throw a couple of freshmen in the mix that we're intrigued by. I thought in the spring,
Kofi Hughes
was really good in some scrimmages. He needs to be a better and more consistent practice player every day, but in the scrimmages he stuck out. Damarlo led the Big Ten in receptions last year. I really like
Duwyce Wilson
, a sophomore who's coming on strong.
Jamonne Chester
came on strong.
Dre Muhammad
is a slot kid who had a nice spring.
Then we have some freshmen we'll get in the mix. Shane Wynn is a small kid, but he's quick and fast. Cody Latimer is a big kid out of Dayton who might be the best athlete of the whole class. I think that group walks out there and is maybe one of the best groups on the team.
Obviously, the defense has been a sore spot for some time. What did you see from that side of the ball this spring, and how can it get better this summer?

KW:
I didn't go back and study the past, but stats-wise and numbers-wise, it didn't look like we played great defense last year. I thought from where we started this spring to where we finished was good. I liked that there was some give and take between the offense and the defense -- there were some days in practice where the defense definitely had the edge. I'd actually like to see the defense pick it up and be a little bit more in control and steady every day.
I think we're going to be decent inside at defensive tackle, where we'll play four or five guys and maybe even a couple of freshmen. The defensive ends, I'd like to see those guys pick up their presence. Jeff Thomas and Leon Beckum are captain-type players for us at linebacker. We need a third 'backer to come through and some depth at 'backer. We might have to play some young guys there because we've got some second- and third-year guys who need to pick things up.
And in the back end, we need more consistent play. We need to start playing better. We made some changes in the scheme and structure of how we do things, so maybe that will hep. The bottom line is, you've got to be able to run, you've got to be able to tackle, you've got to be able to to cover, you've got to be able to make adjustments with checks. And you've got to mentally be a smart player.
We've got to play faster in the secondary. That doesn't mean just putting in a new player because his 40 time is faster. There are a lot of really good DBs who don't have great speed, but they're great technicians. Their knowledge is unbelievable, they've got great anticipation and they're great students.
Have you decided whether you will call plays this year?

KW:
We'll go through the preseason and figure it out. I'm leery sometimes, because there's so much going on on the field, of what you can and can't do. We've got enough going on now with getting up to speed in recruiting and getting some families relocated and some things around here with our facilities and dressing up our building. We'll have to sit down and iron some things out.
But I was very comfortable in the spring. I did some of those things, and I had [assistant coaches] Kevin [Johns] and Rod [Smith] do some of those things. I think we'll collectively do it as a group, then in time determine maybe who makes the final call, whether it's myself or one of those guys, as the season approaches.
Lastly, you're opening at Lucas Oil Stadium this year, site of course of the Big Ten championship game. How does that help the program, and do you foresee more games there in the future?

KW:
Well, it's Ball State's home game. For us, I'm not big on taking home games away from our place, just because of the fans and students and what it means economically. I am excited for our fan base that does travel from Iowa or Indianapolis or from the Northwest or Northeast corners of our state. And I do think it's kind of neat playing a game in a pro stadium. But I don't know if I would want to take a home game away from our campus.
July, 5, 2011
7/05/11
1:38
PM ET
It's time to jump back into our preseason position group rankings. We've made our way through the offenses and the front line of the defenses. Now it's time to take a look at the linebackers.
As always, this is a ranking of the entire position group, so depth matters in addition to individual star players.
Away we go:
[+] Enlarge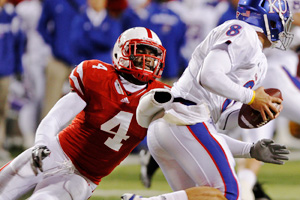 AP Photo/Nati HarnikNebraska's Lavonte David led the Big 12 last season with 152 tackles.
1. Nebraska:
Lavonte David set the school record with 152 tackles last year, best in the Big 12. He also added 15 tackles for loss and six sacks on his way to second-team All-America honors. David was a one-man wrecking crew last year but should get more help this year. Will Compton returns after an injury-shortened season, and Sean Fisher is back after a broken leg cost him all of 2010. With an excellent defensive front leading the way, the Cornhuskers' linebackers should make plenty of impact plays.
2. Penn State:
Is this the return of Linebacker U? The Nittany Lions technically only return one starter at the position but have plenty of talent. The unit got hit by injuries last year, including one that knocked Michael Mauti out of the lineup for several games. He's one of the best in the Big Ten when healthy, which he should be in 2011. Senior Nate Stupar led the team in tackles last year. Sophomores Gerald Hodges and Khairi Fortt are among the skilled youngsters battling for playing time. This could wind up as the deepest linebacking corps in the league.
3. Ohio State:
The Buckeyes lost two starters, including leading tackler Brian Rolle. But the Silver Bullets usually reload at linebacker. Senior Andrew Sweat should emerge as the unit's leader, and hopes are high for Etienne Sabino after he took a redshirt year in 2010. Sabino showed promise this spring and locked down a starting job. The battle is on for the third starting position. Incoming freshman Curtis Grant could make a sudden impact.
4. Wisconsin:
Much depends on the health of Chris Borland, who missed nearly all of 2010 and sat out the spring with a shoulder injury. The 2009 Big Ten Freshman of the Year will move to middle linebacker and should anchor the unit if he's sound. Mike Taylor finished second on the team in tackles for loss and interceptions last year, and Kevin Claxton is expected to take over at the strongside spot. The Badgers like what they have seen from redshirt freshman Marcus Trotter.
5. Iowa:
The Hawkeyes lost a lot of experience from the 2010 team, including leading tackler Jeremiha Hunter. While there's some concern about the leadership void, Iowa has good young building blocks here. James Morris was pressed into service as a true freshman and was terrific; another year of development should only make him better. Tyler Nielsen was missed down the stretch when he suffered a neck injury, and the senior provides a veteran presence. Players like Bruce Davis, Christian Kirksey and Anthony Hitchens need to take on bigger roles.
[+] Enlarge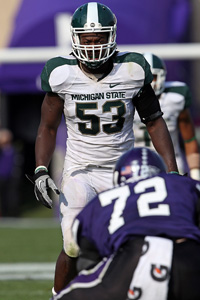 Jonathan Daniel/Getty ImagesReplacing two-time All-American Greg Jones will be a tall order for the Spartans.
6. Michigan State:
It would be difficult to overstate how much the Spartans will miss two-time All-American Greg Jones and Eric Gordon, who combined to start 95 games in their illustrious careers. But life goes on. The lone returning starter, Chris Norman, is a dependable veteran. The Spartans hope Max Bullough and Denicos Allen build on their potential, and TyQuan Hammock inspired confidence with his play this spring.
7. Minnesota:
An experienced linebacker group could be the strength of the Gophers defense this season. All three starters -- leading tackler Gary Tinsley, Keanon Cooper and Mike Rallis -- are back. Rallis needs to stay healthy after only appearing in 12 games the past two years because of injuries. Florida transfer Brendan Beal should provide a boost.
8. Purdue:
The Boilermakers are led by senior Joe Holland, who has 35 career starts under his belt. Junior Dwayne Beckford finished second on the team with 85 tackles a year ago. Will Lucas could break out after an excellent true freshman campaign. Senior Chris Carlino adds veteran depth.
9. Michigan:
The Wolverines struggled defensively last year, and the linebackers shouldered some of the blame. They lost Jonas Mouton to the NFL. Cam Gordon moves down from safety and adds some playmaking ability. Kenny Demens had 82 tackles last year at middle linebacker. Freshman Jake Ryan should contribute right away. This group still has a lot to prove.
10. Illinois:
The Illini have to rebuild after losing a pair of NFL draft picks at the position in Martez Wilson and Nate Bussey. Senior Ian Thomas now becomes the veteran leader. Sophomores Johnathan Brown and Houston Bates -- who had a strong spring -- will be counted on to step forward.
11. Indiana:
Fifth-year senior Jeff Thomas could be the centerpiece of the Hoosiers defense. Another fifth-year senior is Leon Beckum, though he lacks top-end speed. Overall, there isn't a lot of depth here.
12. Northwestern:
Linebacker play was a sore spot last season, and starters Nate Williams and Quentin Davie are gone. Bryce McNaul needs to recover all the way from shoulder surgery and has to stay healthy. Pat Fitzgerald thinks he has some talented young players at the position; they'll need to grow up fast.
Posted by ESPN.com's Adam Rittenberg
Better late than never.