NCF Nation:

Leonard Floyd
October, 9, 2013
10/09/13
7:00
AM ET
ATHENS, Ga. -- One of the prevailing images from last Saturday's win against Tennessee was Georgia's players dogpiling on top of
Marshall Morgan
to celebrate his game-winning 42-yard field goal in overtime.
It capped a day where the sophomore claimed the SEC's special teams player of the week award for the second straight week after booting the longest field goal in Neyland Stadium history, a 56-yarder in the first quarter, and the game-winner in OT. But it wasn't much fun to be in Morgan's position at the time.
[+] Enlarge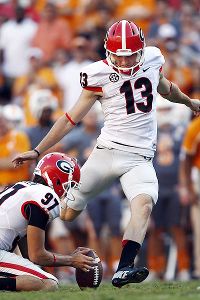 AP Photo/Wade PayneGeorgia kicker Marshall Morgan kicked a 56-yard field goal against Tennessee, the longest on the road in school history.
"I was trying to get them off me," said Morgan, whose Bulldogs (4-1, 3-0 SEC) host Missouri (5-0, 1-0) on Saturday. "That's a lot of weight. I've got asthma."
Otherwise, the Bulldogs' special-teams effort was memorable for the wrong reasons, continuing what has been a season-long trend.
Collin Barber
had a punt blocked for a touchdown -- the second time that has happened this season -- and
Blake Sailors
received a five-yard penalty for defensive delay of game after Georgia forced a third-quarter punt, giving Tennessee a fourth-and-1 that prompted the Volunteers to instead go for a first down.
Vols running back
Rajion Neal
then broke a 43-yard run that set up his game-tying touchdown run when Georgia's defense could have been off the field if not for the rarely-seen penalty.
"If you make a movement that it looks like you're trying to get somebody to jump offsides, if they jump offsides, it's on the defense. It's on us in that case," Georgia coach Mark Richt said. "I've never really seen that happen before and it was pretty crucial, obviously. We had a great stop and they were in a position to punt. I think it was a fourth-and-1 or less and they get the long run. A lot of bad plays happened after that point, and we learned a lesson. Can't do it."
Quayvon Hicks
-- one of three protectors in Georgia's punt shield lineup along with
Arthur Lynch
and
Josh Dawson
-- said there was a miscommunication on the play and accepted blame for the Tennessee block.
"I put that all on me," Hicks said. "I would say it was a miscommunication, but it was something that could have been prevented. It will be something that we're really working on, especially me as a player, to make sure that it doesn't happen in the future."
Hicks could have saved the day if he had blocked
Jalen Reeves-Maybin
before he darted through to deflect Barber's punt, but front-line blocker
Leonard Floyd
also barely got a hand on Reeves-Maybin.
Their collective whiff allowed the Tennessee rusher to break through, and Lynch said the decibel level in Neyland Stadium played a direct role in the miscommunication.
"It's so much easier going out and practicing and doing it, even if it's full-speed practice because you kind of have that communication barrier and it really was a lot louder than I think a lot of people thought," Lynch said. "
Lucas Redd
looked at me and was like, 'I had to read your lips.' That was one of the things that you just can't have those types of setbacks. I think we've cleaned it up."
A skeptic might point out that Georgia has vowed to clean up its special-teams errors several times recently, only to see another mistake lead to an opponent touchdown. Asked what he thinks the team needs to do to remedy those miscues, Hicks was direct in his response.
"It's really not what we think, it's what we're going to do," Hicks said. "Thinking, that's a part of football that really doesn't matter. I think Coach can only do so much. I know we're a very close team, so we're going to do what we have to do this week to make sure that not only in the Missouri game, but here on out, that that doesn't happen anymore. It's just something that could have been prevented. It could have cost us the game."
That seems to be the message that Richt is imparting to his club, as well. Georgia's errors in the kicking game are simply a quality-control issue, where a lack of attention to detail has allowed opponents to steal easy points.
A shaky snap might have cost Georgia the game in its lone loss. The Bulldogs are fortunate that their ensuing mistakes weren't so costly, but they know their luck will likely run out if they don't fix the problems -- and keep them fixed.
"Us as coaches, we've got to do a better job of simulating what's going to happen in the game and coaching and teaching properly where these guys can be more dependable," Richt said. "So it's a two-way street. Coaches gotta coach better, for sure, and the players have got to take on their responsibilities and take care of business.
"That's the way it is in life, so we're learning the hard way, and just by the grace of God the two times we had blocked punts, we still won the game. But the margin for error is just getting slimmer and slimmer."
September, 25, 2013
9/25/13
10:30
AM ET
We're continuing to look at the first quarter of the 2013 college football season today by checking out the effect true freshmen have had. We know that the days of freshmen sitting back and watching are over, and SEC teams have made sure to get the youngsters on the field as quickly as possible.
Who has received the best results from their freshmen through the first four weeks? Who not only has quantity but quality when it comes from the freshmen impact? Take a look:
[+] Enlarge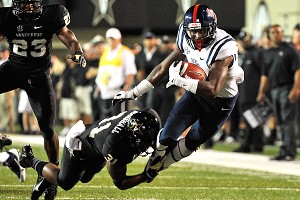 Frederick Breedon/Getty ImagesTrue freshman WR Laquon Treadwell has been one of several instant-impact rookies for Ole Miss.
1. Ole Miss:
The Rebels might have had the most talked about recruiting class this past spring,
and boy has it delivered
. Coach Hugh Freeze was concerned about the class receiving too much hype, but these kids haven't had trouble adapting to the college game. Heading into this week's Alabama game, Ole Miss has five true freshmen as starters on the depth chart. The headliners in the class have been defensive end
Robert Nkemdiche
, who has 10 tackles, including four for loss, and wide receiver
Laquon Treadwell
, who is averaging 5.3 catches per game and has 154 receiving yards. Tight end
Evan Engram
has also had a major impact, catching 11 passes for 175 yards and two touchdowns, while offensive tackle
Laremy Tunsil
will make his second straight start at left tackle. Starting nickel corner
Tony Conner
intercepted a pass on his first career defensive snap, while offensive lineman
Austin Golson
has played around 50 percent of the snaps.
2. Georgia:
The Bulldogs knew they were going to have to get a lot out of their freshman class, especially on the defensive side of the ball. Through the first four weeks of the season, six of Georgia's top 15 tacklers are freshmen: safety Tray Matthews (14), linebacker
Leonard Floyd
(12), cornerback
Brendan Langley
(10), safety
Quincy Mauger
(five), defensive lineman
John Taylor
(four) and linebacker
Reggie Carter
(four). The Bulldogs have played 14 true freshmen this season, which ranks third nationally. Ten of them have played on the defensive side of the ball and three of them -- Matthews, Floyd and Langley -- have started. In addition, freshman receiver
Reggie Davis
has two catches for 134 yards, including a school-record 98-yard touchdown reception against North Texas.
3. Arkansas:
The first thing you think about when you see this Razorbacks team is the running game. Alex Collins became the first freshman in SEC history to begin his career with three straight 100-yard rushing games and the first true freshman in the NCAA to record three straight 100-yard rushing games to start his career since Oklahoma's Adrian Peterson had nine straight in 2004. Collins leads the SEC with 481 rushing yards, is averaging 120.3 yards per game and has been named the SEC Freshman of the Week twice. Tight end
Hunter Henry
is second on the team with eight catches for 125 yards and a touchdown. Offensive tackle
Denver Kirkland
grabbed a handful of snaps against Southern Miss, while fellow tackle
Dan Skipper
blocked a field goal against Rutgers. Cornerback
D.J. Dean
has received a lot of snaps this fall as well.
4. Tennessee:
Fourteen true freshmen and 22 freshmen overall have played for the Vols this season. Three true freshmen have made starts this season: wide receiver
Marquez North
(four), defensive back
Cameron Sutton
(four) and wide receiver
Josh Smith
(two). North, who leads the team with 12 catches for 112 yards, became the first true freshman to start the season opener for Tennessee at receiver since Marsalis Teague in 2009, while Sutton is the first true freshman defensive back to start a season opener since
Justin Coleman
in 2011. Defensive back Malik Foreman intercepted a pass in his debut against Austin Peay, becoming the first true freshman to record a pick in his Vols debut in the season opener since Dwayne Goodrich in 1996. Defensive back
Devaun Swafford
recorded a pick-six in Tennessee's loss to Florida last week.
5. LSU:
The Tigers have played 14 true freshmen this season, and eight of those are defensive players. Cornerback
Tre'Davious White
is the only freshman to make a start this year, doing so against Kent State and Auburn. White has 17 tackles on the season, including one for loss, and has also forced a fumble and broken up a pass.
Kendell Beckwith
has received some good snaps at linebacker and on special teams. He also lines up at defensive end to provide more of a pass-rushing threat on third downs. Defensive lineman
Christian LaCouture
has seen time in the rotation along the Tigers' defensive line.
September, 9, 2013
9/09/13
7:00
AM ET
ATHENS, Ga. -- Winning is the best salve in sports, so Georgia's defensive lapses aren't as painful as they would have been if the Bulldogs had lost to South Carolina on Saturday and entered their bye week with an 0-2 record.
That alone is a relief for the young defenders who allowed 34 points and 460.5 yards per game against Clemson and South Carolina, surrendering 6.7 yards per play to the two highly ranked opponents.
"It definitely would have stunk. We probably would have been in full pads every day, hitting," outside linebacker
Jordan Jenkins
said of the bye-week practices. "It wouldn't have been a fun environment in Athens for these next two weeks."
The members of Todd Grantham's defense realize that their shoddy tackling would have been the reason for the extra hitting, just as it was the reason they practiced in full pads twice last week leading up to the South Carolina game. They are simply nowhere near where they need to be if Georgia is to remain in the national championship conversation through the rest of the season.
[+] Enlarge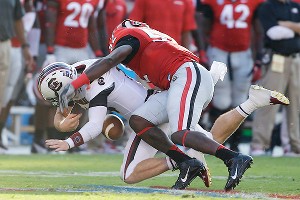 AP Photo/John Bazemore)Amarlo Herrera forces a fumble by South Carolina QB Connor Shaw.
The Bulldogs' offense has mostly bailed them out thus far, but there have been too many missed tackles and busted coverages preventing Georgia's defense from even being considered competent to this point.
"We've still got some things to fix," Jenkins said. "There were still some moments where some guys didn't know what to do. It still wasn't as much as it was last week, but we're just a defense that's coming along and we've just got to fix some small things. I know that's getting repetitive, but I feel like this week was really something that we needed as a defense."
South Carolina finished with 454 yards of total offense and actually averaged more yards per play than did Georgia -- 7.4 to 7.1 -- but there were a couple of bright spots for the Bulldogs in the second half.
For starters,
Amarlo Herrera
continued his difference-making play at inside linebacker. A week after notching 12 tackles against Clemson, Herrera made another 12 stops -- none bigger than when he met Gamecocks running back
Mike Davis
at the goal line on a fourth-down option run and forced a turnover on downs.
"They just came out in a formation that we knew and [South Carolina quarterback
Connor Shaw
] checked, so I kind of knew by the alignment what play they were going to run," Herrera said. "So I just ran to the running back."
Herrera also tracked down Shaw from behind in the third quarter and forced a fumble that
Josh Harvey-Clemons
recovered at Georgia's 25-yard line.
Because of those two giveaways, the Gamecocks mustered just six points in the second half on Saturday, despite generating 221 yards of offense and averaging 7.9 yards per play in the half.
Some of those yards played out in ugly fashion for the Bulldogs, such as when Davis broke a 75-yard run deep into Georgia territory, setting up a 3-yard touchdown run where he ran straight through tackle attempts by Herrera,
Ramik Wilson
, Harvey-Clemons and
John Taylor
. Or when
Nick Jones
twice burned freshman cornerback
Brendan Langley
for touchdown catches in the second quarter.
"It's not easy to play corner in this league, or any league for that matter, in college football," Georgia coach Mark Richt said. "You're going to get challenged, especially if you're a rookie. And he got challenged. He got beat once or twice, but he hung in there."
Certainly some of Georgia's early problems were to be expected. With a big group of inexperienced players taking over for 12 major contributors -- most notably NFL first-round picks Jarvis Jones and Alec Ogletree -- from the 2012 defense, naturally there have been some growing pains.
Langley is a true freshman who lined up against All-American
Sammy Watkins
and an array of other talented Clemson receivers in his first college game. Other new starters like
Leonard Floyd
, Harvey-Clemons,
Sterling Bailey
, Wilson and
Tray Matthews
intrigue the coaches with their talent, but sometimes frustrate them by not performing as consistently as they'd like.
"We're young and we're learning," Harvey-Clemons said. "A lot of us -- like me and Corey [Moore] -- this is our first time playing, so once we get together and get some games under us and get that chemistry going, I feel like there will be a lot of trouble for offenses to come."
The open date comes at a good time for the Bulldogs (1-1), allowing them to regroup from as tough a first two weeks as Georgia has ever faced in program history. With a week off followed by a visit from North Texas (1-1) before LSU (2-0) comes to Athens on Sept. 28, Grantham and company can use the rocky first two games as a teaching tool in a low-pressure environment before life gets difficult again.
LSU has diversified its offense this season and will present a bigger challenge than its run-heavy attacks of the past. And Tennessee's and Missouri's offenses will likely try to spread the field and tear holes in Georgia's defensive scheme, as well.
In short, this is a nice break, but the Bulldogs must be better prepared to be on the defensive soon. They know it as well as anyone.
"We find a way to make a play, make a turnover, keep grinding," Grantham said. "I think that I saw some improvement over last week. I thought our front guys were physically stout at the line of scrimmage. I think we've got to do a better job on the edges in the run game. … We've just got to keep working and if we do that, we'll be fine."
August, 30, 2013
8/30/13
8:00
AM ET
No. 5 Georgia and No. 8 Clemson will end a 10-year hiatus in their historic rivalry Saturday when the Bulldogs visit Death Valley n in one of the most intriguing matchups of opening weekend.
Let's examine five key elements involved in a game that could impact this season's BCS championship chase:
Big-play offenses:
Las Vegas is predicting two of the nation's most-prolific offenses to combine for around 70 points on Saturday night. And research provided by ESPN Stats and Information gives us plenty of reasons to see why many analysts expect a high-scoring game between the Bulldogs and Tigers.
Beyond simple scoring and total offense stats, they both ranked among the nation's top big-play offenses a season ago. Georgia ranked first nationally or tied for first in touchdowns of at least 20 yards (31), 30 yards (22) and 50 yards (12) and led the nation with an average of 7.09 yards per play.
Clemson, meanwhile, led the nation in completions of 25 yards or more (51) and touchdown passes that covered at least 25 yards (20). Clemson's
Tajh Boyd
had 11.2 percent of his passes go for completions of at least 25 yards, which was the highest of any quarterback in the country who attempted at least 150 passes.
Georgia quarterback
Aaron Murray
led the nation in yards per pass attempt (10.1) and percentage of attempts to gain 20 yards or more (16.1).
Both quarterbacks improved their accuracy on passes of 20-plus yards last season, with Murray completing 46 percent of such throws (an increase of 17.3 percent) and Boyd hitting on 51 percent (an increase of 14 percent).
Will Watkins step up?:
With Georgia breaking in a largely rebuilt secondary, this game would seem like a prime opportunity for Clemson's 2011 All-American receiver
Sammy Watkins
to exploit the Bulldogs' youth.
Watkins talked a big game about beating Georgia during the offseason, but will he reclaim his spot as the Tigers' top receiving target after losing that title last fall to DeAndre Hopkins. Watkins was third nationally in all-purpose yards (2,288) in 2011, but totaled fewer than half as many a year later (1,073). His touchdowns-per-touch ratio dropped from 1-in-9.6 to 1-in-17.8, as well.
Clemson quarterbacks targeted Watkins 44 fewer times (from 123 in 2011 to 79 last year) and his catch (82 to 57), receiving yardage (1,219 to 708) and touchdown (12 to three) totals all dropped severely.
Hopkins led the nation with 11 touchdown catches of 25-plus yards last season, so the Tigers desperately need Watkins to live up to the standard he set in 2011 and replace some of the departed star's production. Watkins is more than capable, posting 11 TD catches of 25-plus yards in his first two seasons as a Tiger.
Pound the run?:
An interesting subplot to Saturday's game is how Georgia offensive coordinator Mike Bobo will attack Clemson's defense. The Tigers also have some concerns in the secondary -- this on the heels of surrendering 7.32 yards per pass attempt a season ago. But conventional wisdom seems to dictate that Georgia uses its powerful running game -- paced by All-SEC pick
Todd Gurley
and
Keith Marshall
-- to extend drives and provide time for its defense to rest between series against Clemson's up-tempo offense.
Both players averaged better than 6 yards per carry last season, due in large part to their capabilities as home-run threats. They combined for 12 runs of 25-plus yards, eight of which went for touchdowns. Gurley alone had 27 carries that went at least 15 yards, which tied for fifth in the FBS.
Clemson ranked 57th nationally against the run last season, surrendering 155.92 yards per game on the ground in Brent Venables' first season as the Tigers' defensive coordinator. The Tigers were 71st against the pass at 240.3 ypg.
Murray on the big stage:
Fair or unfair, Saturday's game -- and the upcoming matchups with South Carolina and LSU in September -- will serve as another referendum on Murray's status as a big-game performer.
[+] Enlarge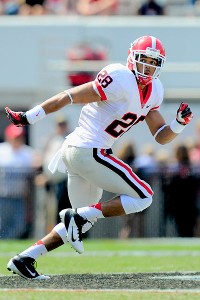 Dale Zanine/USA TODAY SportsDespite big-name offensive talent, Georgia-Clemson could come down to young defenders like Tray Matthews.
Georgia's quarterback caught plenty of guff over shortcomings against ranked opponents well into last season. He's 3-11 in his UGA career against teams that ended the season ranked in the AP Top 25 with 23 touchdowns versus 16 touchdowns against those teams. He's 25-2 with 72 touchdowns and 16 interceptions against teams that finished unranked.
The positive sign for Murray is that he has won two of his last three games against opponents that finished the season as a ranked team: Florida and Nebraska last season. Following an atrocious first half against Florida last season, Murray has tossed seven touchdowns against three interceptions in 10 quarters against ranked opponents, including the SEC championship game loss to Alabama.
Fresh-faced defenses:
Let's have some fun with numbers concerning Georgia and Clemson's defensive depth charts.
After losing 12 key players from last season's defense, Georgia defensive coordinator Todd Grantham appears set to trot out a large group of newbies. Of the 22 players listed on the Bulldogs' defensive two-deep in this week's game notes, 16 of them have never started a college game. Heck, nine of them, including seven true freshmen, have never PLAYED in a college game.
But a number of them -- including outside linebacker
Leonard Floyd
, defensive lineman
John Taylor
, safety
Tray Matthews
and cornerbacks
Brendan Langley
and
Shaq Wiggins
-- could play big roles on Saturday.
Meanwhile, Clemson has some experience issues of its own. Ten of the 22 players on the defensive two-deep have never started and three of them are freshmen. They're expected to be without injured freshman cornerback
Mackensie Alexander
, who at No. 4 in the 2013 ESPN 150 was Clemson's highest-rated signee in its most recent recruiting class.
It's easily conceivable that Saturday's outcome could be determined by which team's young defensive personnel acquits itself more effectively in its first game in leading roles.