NCF Nation:

Leonard Johnson
March, 7, 2012
3/07/12
9:00
AM ET
We're moving on with our 2011 postseason position rankings. Today, it's time for cornerbacks. If you missed it,
here's how I ranked them in the preseason
.
Here are the other position rankings we've done so far:
Depth is somewhat of a factor here, but I weighted it heavily toward the top two starters at the position.
[+] Enlarge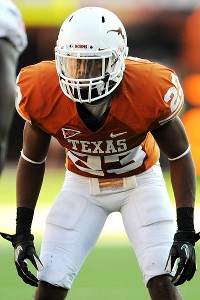 John Albright/Icon SMICarrington Byndom went up against some of the Big 12's top receivers and held his own.
1. Texas
— The Longhorns duo of
Carrington Byndom
and
Quandre Diggs
were by far the league's best at limiting the big play. Both are physical. Both return. Beware, Big 12 offenses. In just their first year as starters, they helped the Longhorns lead the league in pass defense. Diggs, a true freshman, led the team with four interceptions. Until the regular-season finale against Baylor, Texas and Alabama were the only teams that hadn't given up a touchdown pass longer than 20 yards. Obviously, that's way, way more impressive in the Big 12.
2. Kansas State
— K-State overachieved in a lot of ways this year, and perhaps nowhere more than at cornerback. Juco transfer
Nigel Malone
led the league with seven interceptions. Known entity
David Garrett
was even more solid, making 88 tackles and 6.5 tackles for loss. I ranked this unit 10th in the Big 12 before the season. They finished second. I was wrong.
3. Oklahoma
— The Sooners' corners were good, but not great, and underachieved slightly.
Jamell Fleming
and
Demontre Hurst
are supremely talented, but were susceptible to big plays this year. Granted, everybody in the Big 12 was, but the Sooners ranked fourth in pass defense. Fleming broke up 10 passes and intercepted two more. Hurst broke up 11 and had an interception.
4. Oklahoma State
— At times, Oklahoma State's
Brodrick Brown
was a legitimate shutdown corner.
Justin Gilbert
turned in a solid effort in his first year as a starter, which was much more important after a season-ending injury to
Devin Hedgepeth
in September. Gilbert picked off five passes, second-most in the Big 12.
5. Iowa State
—
Leonard Johnson
was quietly an NFL prospect that put together a huge year. He was a big reason for ISU's upset of No. 2 Oklahoma State, and helped shut down
Justin Blackmon
. He finished with 71 tackles, eight pass breakups and a pick.
Jeremy Reeves
added two picks and seven pass breakups.
6. Missouri
—
E.J. Gaines
led the Big 12 with 16 pass breakups, and the Tigers ranked fifth in the Big 12 in pass defense. Fellow first-year starter
Kip Edwards
added a pick and three pass breakups.
7. Texas A&M
— The team's top corner,
Coryell Judie
, was hampered by a hamstring injury all season, but production is production. It wasn't there for Judie, one of the league's top corners in 2010.
Terrence Frederick
had a good year with 13 pass breakups and a pick, but the Aggies were susceptible through the air all year.
Lionel Smith
and
Dustin Harris
filled in well in Judie's absence, but not well enough. A&M finished eighth in pass defense and helped five QBs set career highs for passing yardage in 2011.
8. Baylor
—
K.J. Morton
played well down the stretch for Baylor, but the Bears defense left a lot to be desired almost everywhere. They finished last in the Big 12 in pass defense, giving up over 290 yards a game. Morton picked off four passes and broke up six more. All four of his picks came in the final three games of 2011.
Chance Casey
broke up six passes and made 48 stops.
9. Texas Tech
— How's this for irony? The Red Raiders actually finished second in the Big 12 in pass defense. It doesn't matter much.
Tre' Porter
had the only interception for a cornerback all season, and broke up two passes. Injuries were a problem all season.
Cornelius Douglas
,
Derrick Mays
,
Jarvis Phillips
and
Sawyer Vest
filled the unit, but Tech faced 61 fewer pass attempts than Kansas and 111 fewer than the next team in the Big 12. That's what happens when you can't stop the run. Doesn't mean the corners played well.
10. Kansas
—
Greg Brown
picked off two passes and broke up three more.
Isiah Barfield
made 35 tackles and broke up five passes. The Jayhawks ranked ninth in the Big 12 in pass defense. They didn't get much of a pass rush to help the corners, but the corners were very poor in 2011.
January, 27, 2012
1/27/12
9:00
AM ET
Harrison Smith
's five-year Notre Dame career ended with him ninth on the school's career tackles list (309) and as the Irish's lone captain in 2011. He is now getting ready for the draft and will play in the 63rd Senior Bowl on Saturday in Mobile, Ala.
The safety will suit up for the North team, coached by Leslie Frazier and the Minnesota Vikings' staff. The game kicks off at 4 p.m. and airs on the NFL Network.
After Monday's weigh-in for the game, Scouts Inc.'s Todd McShay wrote that the 6-foot-2, 212-pound Smith
passed the eyeball test with flying colors
, something Smith said his brother texted him about. He joked that he's been getting feedback from plenty of sources --
Scouts Inc. thinks he's a potential Day 2 pick
-- but he'll try to block it all out as he readies for the NFL.
You've been hearing so much from so many different people -- from media, from scouts. How do you take all that and put it aside and focus on the task at hand?
Harrison Smith:
I think after playing at a place like Notre Dame, where the spotlight's always on you, the media's always there, people are watching you every weekend, you're always on TV -- I think it just becomes part of it. And that's something that, don't get me wrong, I'm nervous before all the games I play in, I'm nervous going out and playing in front of scouts and stuff like that, but it's not like a bad nervous. It's just part of it. And once you get used to it you don't realize that you focus on what you're doing and who you're looking at before the snap, and just the basics of football. All that other stuff isn't even in your mind until you walk off the field.
Can you take me a little bit through the process so far: Where you went after the bowl game, the process of choosing an agent, where you're training and what not?
[+] Enlarge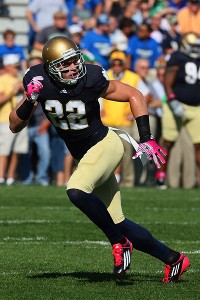 Brian Spurlock/US PresswireIrish safety Harrison Smith finished up his senior season with 93 tackles and seven interceptions.
HS:
I ended up going with a guy named Brian Murphy, who's actually a Notre Dame grad, and he's got a lot of Notre Dame guys that I've played with. That's just a little bonus, but I liked him. I liked what he's about. So there was that process and then after that I start training, getting ready for playing in the Senior Bowl, going to the combine, pro day. So I worked out a couple weeks at home with Charles Petrone. He's a guy I've always worked out with, and he's always done me right. I've never seen a guy make improvements on all the guys that he trains as well as he does. There was never a question as to where I was training. I always knew I would train with him if I ever got lucky enough to pursue the NFL. And before the Senior Bowl I actually went out and worked out with some other players, a lot of guys who signed with the same agency as me, just to get a feel of other guys who were going to the game and get some camaraderie and stuff like that, and that kind of leads me to this point.
You mentioned having the same agent as some other Notre Dame guys. Who specifically in the league right now, either Notre Dame or non-Notre Dame players, has been advising you? Have you developed any relationships and have any mentors in the NFL right now?
HS:
From those guys, I played with David Bruton and Kyle McCarthy. I had a year with Tom Zbikowksi but I didn't get to know him as well as I got to know David and Kyle. And Kyle, I actually played alongside Kyle. So that's a guy who's kind of helped me through the process. And also Sergio Brown's a guy who's up there, stayed in touch with him. He's gotta be happy right now. (Brown's Patriots are in the Super Bowl.) But those guys have all been great. And then on top of that, Chad Pennington's a guy who worked out with Charles Petrone when he was coming up, because he's from my same area. He went to my rival high school. He's just a great guy. If I've ever had a question or needed advice, he's a guy who's done it all and he's a smart guy who just cares about people and doesn't mind spending some of his time helping me out. So he's another guy that I'm fortunate to be in contact with.
With the Senior Bowl prep this past week, how much have you learned about yourself going up against some of the better guys in the country? How much of a measuring stick has this week been for you?
HS:
I think it's been a good measuring stick, but at the same time I think when you turn on tape, that's when you really find out what a guy's about. Tape from tough games, that's when it really counts. That's when everything's on the line, this is just kind of a smaller snippet of that. At practices here everything's on the line, too, because you got all the scouts, all the coaches on the team watching you, and you've got to perform under the spotlight. So I think this is a small snippet of everyone's college career. I think it kind of gives those guys who are checking us out and grading us an increased level of the athletes around and just a higher talent pool to see us perform.
Is there anything specific you hope to accomplish this week? Is there any specific weakness or something that's been pointed out to you that you're trying to improve?
HS:
No, not really. I'm just going out and doing what I know how to do and being the player that I pride myself on being: a guy that works hard, a guy that can do a lot of things for the team, a guy that's athletic and can definitely play special teams for you. So really just being a guy who can do what the coaches ask: understand the defense, make the calls, stuff like that.
What's the next step for you after this weekend? Are you going to go back home and continue to train, or do you have a next stop on your list?
HS:
I'm going back to Knoxville and training with Petrone and just getting after it until the combine.
I'm sure it will be a little crazier when you get to the combine, but how has this whole experience measured up to what you expected going in?
HS:
It's been pretty much what I expect. It's obviously going to be hectic and there's going to be a lot of eyes on you the whole process, and in the in-between time there's a lot of work to be done. You always got to get up and you just got to get after it every day, get ready for the next test. That's just what it's about. That's what being a football player's about. It's not any different than my past four or five years, it's kind of more intense and kind of just crammed into a couple months I guess.
January, 24, 2012
1/24/12
9:00
AM ET
Signing day is coming fast. Next Wednesday, the next round of players will sign up for their respective programs and start what could be storied careers.
Here's what each team across the Big 12 needs. You'll find Texas A&M and Mizzou on the SEC blog and West Virginia on the Big East Blog.

BAYLOR
Quarterback:
This one's pretty simple.
Robert Griffin III
is taking his talents to the NFL early.
Nick Florence
is waiting to take over, and the Bears have
Bryce Petty
behind him, but more reinforcements at quarterback are needed. Dual-threat quarterbacks, ideally.
Defensive tackle:
Baylor already was one of the nation's worst teams (102nd nationally) at stopping the run. Now it'll need to replace both its interior linemen,
Nicolas Jean-Baptiste
and
Tracy Robertson
.
Offensive linemen:
Baylor's offensive line, meanwhile, has been solid. It loses junior college transfer and two-year starter
Robert T. Griffin
, as well as All-Big 12 center
Philip Blake
.
John Jones
, a reserve guard, also has exhausted his eligibility.

IOWA STATE
Receiver:
This has been a weak spot for the team for several years, and its top overall talent,
Darius Reynolds
, is gone.
Darius Darks
is, too.
Aaron Horne
and
Josh Lenz
will be the team's best weapons in 2012, but the pair of shifty slot guys will be seniors. This position needs reinforcements.
Defensive back:
The DBs have been a quiet strength for ISU, especially in 2011. Cornerback
Leonard Johnson
and safety
Ter'Ran Benton
both have exhausted their eligibility, though, and defensive backs coach Bobby Elliott left for Notre Dame. You'll see plenty of new faces in the Cyclones' secondary next year.
Defensive line:
Experienced starters
Stephen Ruempolhamer and Jacob Lattimer are both gone, and Iowa State has struggled to stop the run consistently the past few seasons.

KANSAS
Quarterback:
Kansas landed high-profile transfers
Dayne Crist
(Notre Dame) and
Jake Heaps
(BYU), but this is still a huge position of need. Last year's starter,
Jordan Webb
, left the team.
Quinn Mecham
is out of eligibility. Heaps is sitting out his NCAA-mandated year after transferring. Crist is the starter, but he badly needs a backup, especially if
Brock Berglund
's transfer appeal allows him to leave.
Wide receiver:
Kansas lacks a big threat at this position. It needs a talent upgrade in a big way. Oklahoma transfer
Justin McCay
is joining the team, but he's no guarantee to a) be granted immediate eligibility or b) become an impact player.
Defensive tackle:
Kansas is thin here, too. Richard Johnson,
Patrick Dorsey
and
Michael Martinovich
are gone, and Kansas couldn't stop much of anything on defense. Some push up front could help make everything look better. A late addition to the 2012 class from a junior college seems like a no-brainer. The Jayhawks need physically mature players to contribute immediately.

KANSAS STATE
Offensive line:
K-State's offensive line was much better in 2011 and could be again in 2012. It needs help replacing All-Big 12 lineman
Clyde Aufner
, though. Starter
Colten Freeze
is also gone.
Defensive line:
Kansas State is bringing back about as many starters as anyone in the Big 12, but the biggest losses are along the defensive line. Kick-blocking specialist (five in 2011) Ralph Guidry is gone, along with tackle
Ray Kibble
. Juco transfer
Jordan Voelker
exploded onto the scene this year, but he's gone, too.
Defensive backs:
Cornerback
David Garrett
leaves a huge hole behind.
Tysyn Hartman
may not be as talented as teammate
Ty Zimmerman
, but his experience leaves a big hole. Zimmerman will have to mentor a younger safety in the near future.

OKLAHOMA
Receiver:
The Sooners are thin here in a big way. That was obvious late in the season when
Ryan Broyles
' storied college career ended a few weeks early with a knee injury. The team also lost Justin McCay (transfer) to Kansas.
Jaz Reynolds
and
Kenny Stills
are the likely top two targets, but they need help.
Tight end:
This position inspired a bit of panic at the end of the season. Seniors
James Hanna
and
Trent Ratterree
are gone.
Austin Haywood
wasn't allowed back on the team, and two more tight ends left the team for various reasons. That left the Sooners suddenly without a scholarship player at the position returning in 2012.
Offensive line:
Starting tackle
Donald Stephenson
must be replaced, as will guard
Stephen Good
, who moved in and out of the starting lineup throughout his career. The Sooners bring back a lot of talent and aren't dying for depth there, but those two will leave holes. Three more offensive line starters will be seniors in 2012.

OKLAHOMA STATE
Offensive line:
The Cowboys need a whole lot of help here to fill in behind young players stepping into the starting lineup. Starters
Levy Adcock
,
Nick Martinez
and
Grant Garner
are gone. Backup center
Casey LaBrue
is gone, too. Those are two All-Big 12 linemen who leave big shoes to be filled.
Receiver:
Justin Blackmon
surprised no one by leaving a year early, and
Josh Cooper
leaves with perhaps the most underrated career of any receiver in school history. In OSU's offense, there's always room for depth here. Nine receivers had at least 19 catches in 2011. Blackmon and Cooper combined for 192, though.
Defensive ends
: The pass rush was solid for Oklahoma State this year, but both starters,
Jamie Blatnick
and
Richetti Jones
, are gone. Replacing both is a necessity.

TEXAS
Receiver:
Texas lacks a true game-changer at the position, though
Jaxon Shipley
and
Mike Davis
may develop into that role in 2012. Former blue-chip recruit
Darius White
left for Missouri, too.
Quarterback
:
David Ash
and
Case McCoy
didn't show a ton of potential at quarterback this year, though Ash may grow with an offseason to prepare as starter. Garrett Gilbert got a big chunk of the work in the spring, summer 7-on-7 and fall preseason camp. Even if Ash does grow, the Longhorns need reinforcements at the position.
Linebacker:
Two senior impact players are gone. Texas is left trying to replace
Emmanuel Acho
and
Keenan Robinson
, though
Jordan Hicks
may mature into a star in 2012.
TCU
Offensive line:
TCU's offensive line is headed for some major turnover. OT
Robert Deck
, OG
Kyle Dooley
and OG Spencer Thompson are gone. Two more starters, OG
Blaize Foltz
and C
James Fry
, will be seniors in 2012.
Defensive linemen:
TCU isn't losing a lot at this spot, but
Ross Forrest
and
D.J. Yendrey
will be seniors in 2012. The Horned Frogs would be well-served to prepare, and offer some depth next year.
Specialists:
TCU will have to break in a pair of new starters on special teams next season. Kicker
Ross Evans
and punter
Anson Kelton
have exhausted their eligibility.
TEXAS TECH
Receiver:
The Red Raiders' offense requires a lot of depth here.
Tramain Swindall
is the only loss at the position, but three more (
Alex Torres
,
Cornelius Douglas
,
Darrin Moore
) will be seniors. Douglas moved to cornerback this year after the team was racked with injury, but we'll see whether he moves back this offseason.
Offensive line:
Tech has a huge need here. Four players won't be returning in 2012.
Lonnie Edwards
,
Mickey Okafor
and center
Justin Keown
must be replaced.
Defensive linemen:
Tech's
Donald Langley
and
Scott Smith
are both out of eligibility, and juco transfer
Leon Mackey
will be a senior.
December, 29, 2011
12/29/11
2:30
PM ET
Iowa State and Rutgers are set to meet at 3:20 p.m. ET Friday in Yankee Stadium on ESPN. Here are three keys for Iowa State to grab another bowl win, as it did in 2009 against Minnesota.


1. Keep Rutgers' quarterbacks shuffling.
Rutgers has moved
Chas Dodd
and
Gary Nova
in and out all season, and each has had pretty equal production and near identical passer ratings. Nova's had a few big games, but the rotation's been pretty unpredictable. Simply put, if these guys are still moving in and out during the game, Iowa State's defense is doing something right. If one gets comfortable, especially Nova, it could be a bad sign. We saw an inspired effort from this defense against Oklahoma State. It could use another on Friday.
2. Look to utilize Jared Barnett's legs.
I mentioned it earlier, but when Barnett gets loose, Iowa State's offense is dangerous. When he tops 70 yards rushing, Iowa State is 3-0. When he was limited to 21 and 26 yards late in the season, Iowa State lost to Oklahoma convincingly and Kansas State. He's not a precise passer and is inexperienced at reading defenses. He has to be able to make plays with his feet to keep the chains moving for the Cyclones.
3. Keep Mohamed Sanu as quiet as possible.
Leonard Johnson, this is your cue. The Iowa State corner is one of the most underrated in the league, and he can change that with a big game here. He'll draw the attention of NFL scouts too, who are already watching Sanu, Rutgers' big-time receiver. He's caught 109 balls this season for 1,144 yards and seven touchdowns. Those are positively Big 12-ian numbers, despite an uncertain situation at quarterback. Johnson helped limit Oklahoma's
Kenny Stills
(5 rec, 70 yards), Oklahoma State's
Justin Blackmon
(10 rec, 99 yards, TD), and
Kendall Wright
(8 rec, 69 yards, TD) this season. Just another challenge. This won't be much harder than any of those guys.
July, 14, 2011
7/14/11
9:00
AM ET
We'll move on to the cornerbacks today in our position rankings across the Big 12.
Here's what we've covered so far:
This group? Well, it's not very good. And considering the crazy depth in the Big 12 at receiver, it could be a long season for cornerbacks in this league. I love the upside of many of the Big 12 corners -- namely the guys at Missouri and Texas Tech (especially working with Chad Glasgow's 4-2-5 in Lubbock). Texas could also develop fast in its new defense, but outside of Texas A&M and Oklahoma, I don't see any Big 12 teams that should be completely comfortable with their cornerbacks.
Of course, for fans who love points, this could be a welcome development. For secondary coaches and defensive coordinators? Not so much.
[+] Enlarge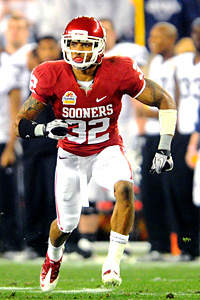 Mark J. Rebilas/US PresswireJamell Fleming returns as the Big 12's top cornerback.
1. Oklahoma
-- Jamell Fleming is the Big 12's top returner at the position and gives the Sooners a huge boost after being reinstated last week. Fleming had withdrawn from the university because of academic problems following the season. Aaron Colvin moved to safety during the offseason, but Fleming will still have to beat out Gabe Lynn in fall camp to start opposite Demontre Hurst. Julian Wilson also adds depth.
2. Texas A&M
-- Fleming's return pushed the Sooners over A&M as having the Big 12's best group of corners. But Coryell Judie and Terrence Frederick could both challenge for first team All-Big 12 honors at the position. They are ahead of reserves Dustin Harris and Lionel Smith, who will get plenty of time on the field.
3. Missouri
-- Missouri loses starters Carl Gettis and Kevin Rutland, but the coaches consider Kip Edwards a returning starter because of how much he played last season. Edwards could join E.J. Gaines in eventually becoming better than both Gettis and Rutland. Trey Hobson and Robert Steeples will get time in the rotation, too.
4. Oklahoma State --
OSU has to replace the Big 12's interception leader Andrew McGee , but Brodrick Brown's development should continue. He's likely a dark horse to earn first-team All-Big 12 honors after the season. The Cowboys didn't release a post-spring depth chart, but don't be surprised if return specialist Justin Gilbert edges out Devin Hedgepeth for the starting spot before the opener. Andrae May has earned playing time on special teams in both of his first two seasons on campus, but could be counted on for a much bigger role this year as the fourth corner.
5. Texas --
The Longhorns are fairly decimated at corner after losing three to the NFL in one offseason. Curtis and Chykie Brown joined Aaron Williams for one of the most talented sets of corners we've seen in this league, but now, secondary coach Duane Akina will have to replace them. Texas' depth chart is still as in flux as any in college football, but I'd be surprised if Carrington Byndom didn't emerge with a starting spot. True freshman Quandre Diggs might swipe the other, but Eryon Barnett and A.J. White will be on the field, too.
6. Texas Tech --
The Red Raiders are likely to ascend this list by season's end, but for now, find themselves at No. 6. Injuries were costly for the defense last season, but Tre Porter and Derrick Mays should be much better, and Tech fans can be encouraged by the upside in Jarvis Phillips, Jeremy Reynolds and Eugene Neboh.
7. Iowa State --
This group might be a bit underrated, but with Iowa State's defensive problems last season, it's a bit hard to tell. Jeremy Reeves and Leonard Johnson return with loads of experience, and Anthony Young is a great additional piece as the third corner. Matthew Thomas should be in the rotation, too.
8. Baylor --
The Bears return both starters. Chance Casey has 15 career starts to Tyler Stephenson's four, but the Bears secondary struggled last season, especially the corners. Tuswani Copeland should be on the field, and Romie Blaylock offers some experience as a senior under new coordinator Phil Bennett, whose work is cut out for him at this spot.
9. Kansas --
Kansas loses Chris Harris from last season's team, but Isiah Barfield is a playmaker at the position. Greg Brown, Tyler Patmon and Anthony Davis fill out the group.
10. Kansas State
-- The Wildcats have a huge talent in David Garrett, who led the team in tackles last season and was the nation's leader in tackles for loss, but he's still just one player at a position that needs lots of depth in this league. Also, his coverage leaves a bit to be desired. For now, K-State doesn't look like it has that necessary depth. Terrance Sweeney and Stephen Harrison are gone, but the Wildcats need to find more talents at the position in fall camp. Watch for Thomas Ferguson to emerge as the other starter.
January, 26, 2011
1/26/11
9:00
AM ET
Signing day is exactly a week from today, and it's time to take a look at who needs what in its 2011 class.
Some schools have addressed these with their current class. Some haven't. Others are still trying.
We'll kick things off with the artists formerly known as the Big 12 North and examine the South later today.

COLORADO
Cornerback:
Jalil Brown and Jimmy Smith were pretty reliable for the Buffaloes, but both are headed to the NFL, and the Buffaloes could definitely use some depth behind their first-year starters. It's not quite as pressing of an issue considering their move to the less pass-happy Pac-12, but they still like to sling it out west.
Receiver
: Colorado isn't exactly starving anywhere on offense, but receiver sticks out a bit.
Toney Clemons
was good, but maybe not quite what the Buffaloes hoped he'd be in 2010, but they caught a break in getting
Paul Richardson
back after a great freshman season. The Buffaloes need some complementary pieces around Clemons and Richardson to replace departed pass-catchers
Scotty McKnight
and
Travon Patterson
. Next year, that should be tight end
Ryan Deehan
and receiver
Will Jefferson
.

IOWA STATE
Receiver:
It's been a struggle for Iowa State in recent years, but they have to get better outside to help out their quarterback.
Sedrick Johnson
's transfer only worsens the Cyclones depth at the position, but
Jake Williams
and tight end
Collin Franklin
, the team's leading receiver, are gone.
Shontrelle Johnson
looks ready to become a big factor in the offense, but the Cyclones filling the space at receiver will make it easier for Johnson to replace running back
Alexander Robinson
.
Safety:
Both starters, David Sims and Zac Sandvig, are gone. So is the Cyclones top reserve at the position, Michael O'Connell. Sims was a top-notch talent that will be tough to replace, but Iowa State needs more depth here. They should be solid at corner with Leonard Johnson, Ter'ran Benton, Jeremy Reeves and Anthony Young, which could make the new safeties' jobs easier.

KANSAS
Defensive line:
KU is losing three of four starters on the line, including the team's only All-Big 12 talent, defensive end Jake Laptad. Turner Gill wants more speed, and this is a place to install it. Tackles that tip the scales at 320 pounds aren't too necessary in this league, but speed on the edge can go a long way in stopping the pass.
Quarterback:
Neither
Jordan Webb
or
Quinn Mecham
look like long-term answers at quarterback for the Jayhawks. Mecham will be a senior, and Webb might develop into a better player as a sophomore next year, but Kansas needs other options. The Jayhawks hope Brock Berglund, the top-rated recruit in Colorado, is the solution to the problem.

KANSAS STATE
Running back:
I hear your cries for
Bryce Brown
, Wildcats fans, but K-State can't expect to hitch their wagon to the former blue-chip recruit turned Tennessee transfer in the same way it did for
Daniel Thomas
. Thomas and his backup,
William Powell
, are gone, and the Wildcats need some depth at running back to show up.
Interior offensive linemen:
K-State loses both guards and its center from an offense that produced the Big 12's leading rusher in 2010. Don't expect them to do it again in 2011 without Wade Weibert, Kenneth Mayfield and Zach Kendall, as well as Thomas and Powell, but finding some new talent behind them will help them come close.
Cornerback:
David Garrett emerged as a budding star in 2010 ready for a breakout senior year in 2011, but the Wildcats lose Terrance Sweeney and Stephen Harrison, as well as safety Troy Butler. Like we've mentioned earlier, good secondaries are a must for success in the Big 12, and K-State had one of the league's worst in 2010.

MISSOURI
Receiver:
Missouri has some good ones ready to suit up in 2011, namely
Wes Kemp
,
Jerrell Jackson
and
T.J. Moe
, but the Tigers don't have a true gamebreaker. They have some younger players in
Marcus Lucas
and
Jimmie Hunt
who they hope will develop into big-time, All-American caliber receivers, a la Jeremy Maclin and Danario Alexander. In Missouri's system, though, adding a few receivers is always a good idea. They certainly don't need any more running backs.
Defensive backs:
Mizzou doesn't have any huge holes that need to be filled with recruiting, but the Tigers lose both corners, Carl Gettis and Kevin Rutland from their 2010 team. Kip Edwards and E.J. Gaines look likely to fill those roles, but the Tigers could use some depth and keep recruiting in the secondary to help add some talent around Tavon Bolden and Matt White, safeties who will replace departed Jarrell Harrison, who actually had to play some linebacker in 2010 because of injuries.

NEBRASKA
Every kind of kicker:
Alex Henery, the team's punter and kicker is gone. So is kickoff specialist and lover/producer of touchbacks, Adi Kunalic. Fan favorite Henery was hardly underappreciated by the Nebraska faithful, but they'll miss him even more if the Huskers can't find a suitable placekicker and punter. Bo Pelini was reportedly after Wake Forest commit Mauro Bondi this week.
Receiver:
Niles Paul
and
Mike McNeill
are gone. The Huskers need
Brandon Kinnie
to come through with another good year and it'd be nice if
Quincy Enunwa
broke through in 2011, but
Taylor Martinez
needs some more help at wide out, and a couple new recruits could provide it as Martinez's passing prowess matures.
April, 8, 2009
4/08/09
1:36
PM ET
Posted by ESPN.com's Tim Griffin
A productive day at College Station yesterday has me excited about spring football all across the Big 12.
As such, I couldn't wait to scan through the newspapers and Web sites early this morning to see what was happening around the conference.
Here are some of the more notable stories.
November, 3, 2008
11/03/08
12:00
PM ET
Posted by ESPN.com's Tim Griffin
Here are my rankings for this week:
1. Texas Tech -- Clear path to the national title game if it keeps winning. But that's a big if considering the Red Raiders' difficult closing schedule.
2. Texas -- Will Blake Gideon go down in history as this generation's Craig Curry after his critical dropped interception against Tech?
3. Oklahoma -- Not a good sign for the Sooners when they beat Nebraska by 34 points and still fall two places in the BCS standings.
4. Oklahoma State -- Haven't beaten Tech in Lubbock since 1944, although Cowboys did notch ties there in 1954 and 1956.
5. Missouri -- Near catastrophe in Waco averted by big defensive play by Brock Christopher. The Tigers still have the clearest path to the Big 12 title game among North contenders.
6. Kansas -- Jayhawks' North Division title hopes will depend on getting their first victory in Lincoln since 1968. This is probably the best Kansas team in recent memory to go there -- but that's some serious historical baggage.
7. Nebraska -- Uncharacteristic mistakes from Joe Ganz doomed the Cornhuskers early in Norman. But their bowl hopes remain strong -- particularly if they can knock off Kansas this week.
8. Texas A&M -- Modest two-game winning streak heading into game against Oklahoma. The Aggies have always played Bob Stoops closely there with all games settled by a touchdown or less since 2000.
9. Colorado -- Offensively-challenged Buffaloes have scored only 31 points in their last three games. And it won't get any easier with Rodney Stewart out for the regular season with a broken leg.
10. Baylor -- Two near-misses against Nebraska and Missouri probably won't prepare them much for a trip to an angry Texas team this week in Austin.
11. Kansas State -- It will be interesting if those "Save Ron Prince" chants that echoed through Memorial Stadium last week are heeded by the KSU administrators who will decide his job.
12. Iowa State -- Leonard Johnson's record-breaking kick-return performance at Oklahoma State was the lone bright spot in Cyclones' blowout loss. And he did have nine returns.
October, 28, 2008
10/28/08
1:45
PM ET
Posted by ESPN.com's Tim Griffin
This isn't the best season to be breaking in a new secondary in the Big 12.
Iowa State coach Gene Chizik, who made his reputation as a defensive wizard at places like Texas and Auburn, is facing that very difficult season with the Cyclones.
ISU has started cornerbacks Leonard Johnson and Ter'ran Benton at times this season. Both are heavily involved in the playing rotation. But this is no time to be breaking in new players in the Big 12.
Check out these pass defense statistics that the Cyclones have produced against Kansas, Baylor, Nebraska and Texas A&M in their last four games:
Iowa State Pass Defense (Last Four Games)
Team
Comp
Att
Yards
TD
Int
Pass rating
Conf rank
Kansas (Todd Reesing)

18
26
319
3
1
202.68
7
Baylor (Robert Griffin)

22
26
288
2
0
203.05
10
Nebraska (Joe Ganz)

27
37
328
1
0
156.36
6
Texas A&M (Jerrod Johnson)

31
39
381
4
0
195.39
8
TOTALS
98
128
1,316
10
1
187.14


Put together that four-quarterback combination of teams that the Cyclones have faced so far this season (see chart) and judge their pass-efficiency numbers. Their statistics over four games would rank second in the nation in pass efficiency, trailing only national leader David Johnson of Tulsa.
And remember that none of those quarterbacks that Iowa State has faced in conference play has ranked higher than sixth in the Big 12 in pass efficiency.
So, we could only imagine the struggle that ISU would have if it was facing the heavy concentration of top Big 12 quarterbacks that it has missed so far this season.
It won't be surprising to see Iowa State struggle even more as the season progresses. The Cyclones will face Okl
ahoma State's Zac Robinson this week, who ranks fourth nationally in pass efficiency. They also will meet Chase Daniel of Missouri, who ranks fifth nationally.
And it could be a lot worse. The Cyclones miss Colt McCoy of Texas and Sam Bradford of Oklahoma, who are second and third nationally behind Johnson.
Chizik's patience will be tested more during the final four weeks of the season. But he is committed to remaining upbeat as his young team learns as it goes.
"You can't beat them up," Chizik said. "We've got great kids who love the game. We've got to back [the players] and just be positive with them. We're going to pick them up and we'll go back to work on Tuesday. We'll be very positive, march on and have another game this week."
October, 22, 2008
10/22/08
11:36
AM ET
Posted by ESPN.com's Tim Griffin
Here are a few tidbits from across the conference heading into the games on Saturday.
The best sign for Texas in strong defensive performances has been the direct pressure the Longhorns have been producing without many blitzes. It's been a good sign for Texas defensive coordinator Will Muschamp that he hasn't had to gamble much in recent victories against Oklahoma and Missouri.

Missouri coach Gary Pinkel ripped into his team after his team's blowout loss at Texas and then continued the salvo the following day after it got back to Columbia. Of particular concern is the production for his defense that returned 10 starters and still dropped 41 places to 100th nationally after ranking 59th last season. Don't be surprised if defensive coordinator Matt Eberflus dials back on the number of blitzes and exotic stunts for a more conventional approach the rest of the season.

Texas A&M coaches say that quarterback

Stephen McGee

was about 80 percent recovered from his earlier shoulder injury when he was inserted into the Texas Tech game last week and couldn't have run with his typical abandon on option plays if it had been called for. They are hopeful that McGee will be close to 100 percent Saturday against Iowa State as

Jerrod Johnson

's backup.

Oklahoma's move of strong safety Nic Harris to middle linebacker was done merely to combat Kansas' aerial tendencies. Against more run-heavy remaining opponents like Oklahoma State and Texas A&M, don't be surprised if the Sooners use a more conventional approach that would include linebackers Mike Balogun and Austin Box in the middle.

Iowa State freshman cornerback Ter'ran Benton is expected to start with fellow freshman Leonard Johnson at cornerback against Texas A&M. Iowa State defensive coordinator Wayne Bolt told the Des Moines Register it's just the second time in his 30-season coaching career he's had a pair of freshman cornerbacks start for him.