NCF Nation:

Leonte Carroo
December, 26, 2014
Dec 26
9:30
AM ET
After a college football-less Christmas Day, the action gets going again Friday with three bowl games for your enjoyment, the second of which pits Rutgers versus North Carolina in the Quick Lane Bowl at 4:30 p.m. ET (ESPN) at Ford Field in Detroit. The first week of bowl season has been eventful and this game looks like a potential fun one. Let's take a glance at what's in store:
What's at stake:
North Carolina (6-6) is looking for a win to secure its seventh consecutive season with a winning record and second straight bowl win. The back-to-back bowl wins would be a first for the Tar Heels since 1996 to 1998, when they won three straight. Rutgers (7-5) is looking to finish with eight wins for the seventh time in nine years. A victory would be Kyle Flood's first bowl win as the Scarlet Knights' head coach and move the program to 6-4 all time in bowl games.
Players to watch:
Rutgers junior receiver
Leonte Carroo
was a first-team All-Big Ten selection by the media after turning in an impressive 53-catch, 1,043-yard, 10-touchdown season. His 10 touchdown catches tied the Scarlet Knights' single-season record and was second in the Big Ten. Though Flood listed him on the injury report with an upper body injury, Carroo is probable and according to Flood likely to be 100 percent by game time. North Carolina junior quarterback
Marquise Williams
, a second-team All-ACC media pick, led the Tar Heels in passing yards (2,870) and rushing yards (737) and has 32 combined touchdowns (20 passing, 12 receiving). His 3,607 yards of total offense is a single-season school record and he is responsible for five of the 12 highest UNC single-game totals for total offense.
Comeback kids:
North Carolina trailed in the second half in five of its six wins this season and four of those wins required a big play in the game's final five minutes to secure victory. The Tar Heels' closest call in a winning effort came against Georgia Tech, when
T.J. Logan
scored on a 2-yard run with 11 seconds left to complete a 48-43 victory. Rutgers can come from behind, too, and quarterback
Gary Nova
has shown a knack for rallying. He has led Rutgers to seven fourth-quarter or overtime comeback wins in his career, tied for the most of any active player in the country. He did it twice this season, rallying the Scarlet Knights to wins over Washington State and Maryland.
Piling up the points?:
With both teams featuring gifted quarterbacks in Nova and Williams and neither having what anyone would call a shutdown defense (North Carolina allows 38.9 points per game, 119th in the country; while Rutgers allows 30.9 points per game, 92nd nationally), this game could become a shootout in short order. Plus, North Carolina let go of associate head coach for defense Vic Koenning earlier this month (Dan Disch is running the Tar Heels' defense for the game). That should provide plenty of day-after-Christmas entertainment for those looking for it.
December, 12, 2014
Dec 12
9:00
AM ET
The Big Ten unveiled its official all-league teams last week, but we have our own thoughts and choices. Here is the ESPN.com All-Big Ten team for 2014:
Offense
QB: J.T. Barrett, Ohio State:
Barrett broke the Big Ten single-season record for touchdowns produced with 45. He would have added to that total if not for a broken ankle in the regular-season finale vs. Michigan.
RB: Melvin Gordon, Wisconsin:
All he did was lead the FBS in rushing, break the Big Ten single-season rushing record and earn the Big Ten's offensive player of the year honors.
RB: Tevin Coleman, Indiana:
Coleman joined Gordon as the only other player in the country to top 2,000 yards; he would have been a serious Heisman contender in another year or on a more successful team.
WR: Tony Lippett, Michigan State:
The Big Ten's receiver of the year led the league with 1,124 receiving yards and 10 touchdowns.
WR: Leonte Carroo, Rutgers:
Carroo joined Lippett at over 1,000 yards and averaged 19.7 yards per catch.
TE: Maxx Williams, Minnesota:
A John Mackey Award finalist, Williams was the Golden Gophers' top receiver and crucial cog in their run game.
OT: Taylor Decker, Ohio State:
Anchored a Buckeyes offensive line that developed into one of the league's best over the course of the season.
OT: Brandon Scherff, Iowa:
He was named the Big Ten offensive lineman of the year and is a surefire NFL first-round draft pick.
C: Jack Allen, Michigan State:
The Spartans gave up fewer sacks (10) than any Big Ten club and had one of the league's top offenses with Allen at the point of attack.
G: Kyle Costigan, Wisconsin:
An ESPN All-American, Costigan helped pave the way for Gordon's record-breaking runs.
G: Pat Elflein, Ohio State:
He was a sturdy performer all season on the Buckeyes' line as the offense scored at a rapid pace.
Defense
DE: Joey Bosa, Ohio State:
The Big Ten defensive player of the year led the league in sacks (13.5) and tackles for loss (20) and tied for the lead with four forced fumbles.
DE: Shilique Calhoun, Michigan State:
After a quiet start, Calhoun got back to his dominating ways and finished with 6.5 sacks.
DT: Anthony Zettel, Penn State:
With eight sacks and 15 tackles for loss from the defensive tackle position, Zettel was the most disruptive interior lineman in the conference.
DT: Louis Trinca-Pasat, Iowa:
LTP was a pleasant surprise for the Hawkeyes, leading the team with 11 tackles for loss and adding 6.5 sacks.
LB: Mike Hull, Penn State:
Hull was the Big Ten linebacker of the year and led the league with 134 tackles.
LB: Jake Ryan, Michigan:
Ryan turned in a strong senior season with 112 tackles and 14 tackles for loss.
LB: Derek Landisch, Wisconsin:
Any one of the Badgers' four "Chevy Bad Boys" linebackers could have made the first team, but Landisch led the team with nine sacks and 16 tackles for loss.
DB: William Likely, Maryland:
A big-play machine, Likely grabbed six interceptions and scored touchdowns on two of them.
DB: Briean Boddy-Calhoun, Minnesota:
Like Likely, he was always in the middle of the action with four picks and a key strip late to seal the Nebraska win.
DB: Trae Waynes, Michigan State:
Probably the best pure cover guy in the league, Waynes is asked to do a whole lot as the point man in the Spartans' "No Fly Zone."
DB: Michael Caputo, Wisconsin:
Caputo was the leader from his safety spot for a defense that was the best in the league during the regular season; he finished with 99 tackles.
Specialists
K: Brad Craddock, Maryland:
The Big Ten kicker of the year made his first 18 field goals this season, including a 57-yarder and a game-winner at Penn State.
P: Peter Mortell, Minnesota:
Mortell was a field-position weapon for the Gophers, leading the league with a 45.5-yard average per attempt
PR: De'Mornay Pierson-El, Nebraska:
The freshman scored three touchdowns on punt returns and had a preposterous 17.8 yard average for the season.
All-purpose: Ameer Abdullah, Nebraska:
We had to find a spot for Abdullah on the team, and since he returned kicks and was extremely versatile as a running back, this seemed like a good spot.
December, 7, 2014
Dec 7
10:00
AM ET
November, 16, 2014
Nov 16
2:00
PM ET
September, 15, 2014
Sep 15
11:00
AM ET
PISCATAWAY, N.J. --
Christian Hackenberg
flexed like a prizefighter at midfield, tilted his head back and let out a scream as his sideline erupted into smiles and chest-bumps.
Penn State's quarterback had just transformed Saturday night from a potentially historic one for Rutgers -- what could have been its first win in its first-ever Big Ten game -- into a footnote of his own, by leading his fourth career game-winning drive in
a 13-10 win
. His teammates couldn't hide their relief or delight, either: Defensive end
Deion Barnes
turned to the crowd and waved good-bye, wideout
DaeSean Hamilton
flung his gloves into the front row, and linebacker
Brandon Bell
leaped around with a grin.
[+] Enlarge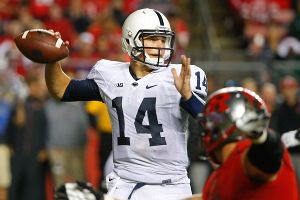 Jim O'Connor/USA TODAY SportsChristian Hackenberg led Penn State's late comeback win against Rutgers.
Maybe this is a rivalry; maybe not. But don't say this wasn't a big game -- and don't think players didn't take some things personally from this past week.
"I just felt they didn't respect us," Bell, a New Jersey native, said matter-of-factly.
Added PSU tailback
Bill Belton
, also from New Jersey: "They asked for a big-time game, and they got one."
This was Rutgers' chance at respect, for showing up that team from Pennsylvania and proving wrong the opposing fans who sneered at
their (lack of) tradition
. The importance of this game can't be minimized; Rutgers wideout
Leonte Carroo
told
the Asbury Park Press
a win could "change New Jersey and Rutgers football forever."
Instead, the contest sold out in record time, but question marks are now swirling around whether quarterback
Gary Nova
should remain the starter after throwing five interceptions. Instead, the crowd set the school's attendance record, but lingering Rutgers fans were forced to hear "We Are … Penn State!" chants after the final whistle. Instead of putting Rutgers atop the Big Ten East and halfway to bowl-eligibility, it's more of the same for a team that boasts the hardest schedule in the conference.
"This hurts. It should hurt," Rutgers coach Kyle Flood said. "But I will not allow them to be defined by their losses."
Bass from the loudspeakers thumped so hard you couldn't feel your own heartbeat, and the pageantry surrounding High Point Solutions Stadium served as the tinsel to what could have been an unprecedented Rutgers victory. One large, stenciled sign read,
"Enemies of the State"
and listed all the New Jersey natives on Penn State's roster. (Bell said word of the sign made its way around the locker room before the game.) And Penn State coach James Franklin added that Rutgers fans greeted the Nittany Lions' buses by waving their middle fingers.
There were plenty of similar ingredients here for a future rivalry -- disrespect, a close game, proximity -- but both teams walked off the field with completely different mindsets. Flood referred to this loss as "devastating," and Franklin summed everything up by saying he felt "really, really proud."
This could have been a dream start for Rutgers but, instead, it's a dream one for Penn State. Several thousand PSU fans
spilled into the street last Monday
, some crowd-surfing on mattresses, after the NCAA announced this team was once again postseason-eligible. Now it's nearly on the cusp of a bowl berth.
The Nittany Lions are playing for more than just dignity now, and Hackenberg and these Lions now stand -- improbably -- atop the Big Ten East. They are the only undefeated team in their division and just one of two undefeated teams left in the conference (Nebraska). If it wasn't for that final touchdown against Rutgers, all that could have been flipped upside down. And Hackenberg and these Lions knew it.
Hackenberg seemed to exorcise all that emotion and those "what-ifs" with that one, long yell on the field. Once he reached the postgame media room, his demeanor had already reverted back to its normal, calm self. He spoke as if the game had ended days before; he didn't even so much as grin while recounting his game-winning drive that came about 30 minutes prior.
You ever take time to enjoy these wins, Christian? It seems like you always just talk about how you guys have a long way to go.
"It's just one of those things, man. We do," he said, stone-faced. "Looking at that film after a win feels a lot better than looking back on that film after a loss. ...
"This is huge because a win's a win's a win. We're 3-0 right now, and we're confident. We haven't played our best ball yet."
September, 12, 2014
Sep 12
12:00
PM ET
Rutgers wideout
Leonte Carroo
knows there's no denying the importance of Saturday's game.
[+] Enlarge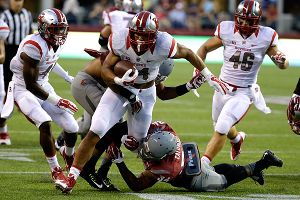 AP Photo/Ted S. WarrenPaul James and Rutgers hope to make a B1G statement against Penn State on Saturday.
The Scarlet Knights' first-ever Big Ten contest sold out
in record time
, and Carroo said the topic of "Penn State-Rutgers" has dominated classroom chatter this week. This isn't just a regular game for the Knights -- even if they're still trying to approach it like one -- so there's no sense in pretending. This is a chance for Rutgers to make a statement; it's an opportunity for Rutgers to prove it belongs.
"During the offseason and pretty much up until now, no team has respected us. No team still respects us," Carroo told ESPN.com. "We have nothing to lose here. Penn State is Penn State, and they've been disrespecting us in the media -- so this is a good chance to show what kind of Rutgers team we have here.
"We're going to show we're not just some team people can step over."
The Scarlet Knights received a lukewarm reception when they joined their new conference. And the players aren't deaf to all that criticism: Maybe RU didn't deserve an invitation, maybe RU isn't ready for the competition, maybe RU will go all season without winning a conference game.
Carroo knows all that chatter. He played against a handful of current Penn State players and New Jersey natives in high school, and it's impossible to miss all the social-media banter from those who follow
the team from Pennsylvania
. And he's right; Penn State fans don't respect Rutgers. One student publication penned a sarcastic
love letter to RU
on Thursday, poking fun of its academics and inferiority complex. A two-month old quote from PSU tailback
Bill Belton
was also dug up this week, when the New Jersey native implied RU
wasn't a "big-time" program
during Big Ten media days.
"People probably felt like Rutgers didn't deserve to be in the Big Ten," Carroo added, "but we're setting a tone and standard and, come Saturday, everyone will see that."
Few people even gave Rutgers a chance in its opener against Washington State. On this blog, five writers picked against the Knights. But they came out on top, 41-38, while running back
Paul James
turned heads with a 173-yard, three-TD performance.
Rutgers isn't a pushover -- but some players believe it must accomplish more to earn that respect.
"I don't think so far we've really changed anybody's minds, per se," linebacker
Kevin Snyder
said. "But I know a win in our first Big Ten game, it would make people look and know that we're here to play. I know that we have a team that's capable of beating a lot of people."
Head coach Kyle Flood didn't try to pretend otherwise earlier this week. He cautioned that the team will still go through the same process, that this game will be treated like any other.
But that doesn't mean this game is just like any other.
"The meaning of the game, to me, is that first impressions in life count," Flood said. "And this is our opportunity to make our first impression in the Big Ten conference."
The Knights' schedule won't get any easier as the season progresses. With Ohio State, Michigan, Michigan State, Nebraska and Wisconsin on the schedule, it's rated as the toughest slate in the Big Ten. Even Huskers wideout
Kenny Bell
chimed in a month ago and said the conference
disrespected RU with that setup
.
A win shows Rutgers can be a force in this conference, that a bowl game isn't just a pipe dream. A loss means that offseason chatter is only going to grow. And these players know that.
"I think a win this week would kind of cement that we're in the Big Ten, and we're not just here to play football," Snyder said. "We're here to win games."
August, 31, 2014
Aug 31
8:00
AM ET
Recognizing the best and the brightest from Week 1 in the Big Ten:

Rutgers RB Paul James:
It sure looks as if we can add James to the growing list of solid running backs in the conference. James was the constant in the Knights' offense Thursday and, whenever it faltered, he was the one to pick it up. His stat line: 29 carries, 173 yards, three TDs. He was the workhorse against Washington State, and he was the reason the Knights were able to match the Cougars' high-scoring offense. Maybe
Leonte Carroo
was a bit flashier -- maybe -- but James was Mr. Consistent.
Penn State QB Christian Hackenberg:
All he did was set a single-game school record with 454 passing yards. And, oh yeah, he went 4-of-6 for 55 yards and ran for another 8 yards on the game-winning drive. He took his share of hits in the pocket and didn't get much run support, but he did just about everything he could for the win. Did he force it at times? You bet. But he was the main reason PSU moved the ball downfield, and he is now the only player in the 127-year history of the Nittany Lions to reach the 400-yard passing plateau. How could we not give him a helmet sticker?
Penn State K Sam Ficken:
It's only fair. Hackenberg drove the offense; Ficken won the game. After missing four field goals in the 2012 loss to Virginia, Ficken redeemed himself by going 4-of-4 on Saturday -- and by nailing the last-second, game-winning 36-yard field goal. Kickers don't earn helmet stickers all that often, but kickers don't have days like Ficken too often, either. It's a
true underdog story
.
Michigan WR Devin Funchess:
Tell me if you see a pattern here. First score, first passing TD -- Funchess. Second score, second passing TD -- Funchess. Third score … OK, OK. You get it. Funchess finished with seven catches for 95 yards and scored the game's first three TDs. He helped ice this game before it really started. Props to
Devin Gardner
for getting him the ball, but Funchess has to get most of the credit on those last two tosses. He leaped, made an adjustment and broke a tackle
for the second TD
. And he came up with a catch in double coverage
for the third
.
Ohio State QB J.T. Barrett:
His video game-esque stats are a bit misleading, since a lot of his yards came after the catch. But Barrett didn't let up in his first career start. He kept a cool head in the second half and helped lead the Buckeyes to a comeback win. His final numbers? Check this out: 12-of-15, 226 passing yards, two TDs, one interception, 50 rushing yards. He really earned this helmet sticker with his final two quarters, going 4-of-4 for 130 yards and two TDs. It was a memorable first start.
Nebraska RB Ameer Abdullah:
The impressive part? Abullah rushed for 232 yards and a TD on just 21 carries. The more impressive part? He was pulled in the middle of the third quarter when the game was in hand. He was nearly perfect after the first drive; nine of his last 15 carries went for at least 10 yards. He's shifty, he's quick, and he just outright confused the hapless Florida Atlantic defense. We see many more helmet stickers in Mr. Abdullah's future.
October, 22, 2012
10/22/12
10:00
AM ET
One undefeated team took a fall in Week 8. Here's the best and worst of the weekend.
The good
: Rutgers and Louisville survived scares against Temple and USF, respectively, pulling away at the end to remain unbeaten as they appear poised on a collision course for the Nov. 29 finale.
The bad
: Cincinnati fell to Toledo, a very good MAC team that is, well, a MAC team. The conference has dealt the Big East three losses this year, and taking down an unbeaten team from a big-six conference is simply bad news for a Big East that is always fighting for respect.
[+] Enlarge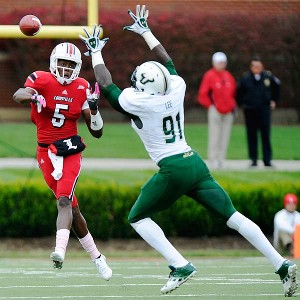 Jamie Rhodes/US PresswireWith a win against USF, Teddy Bridgewater and the Cardinals remain unbeaten at 7-0 on the season.
The ugly
: The weather at Buffalo? Temple's second half, in which the Owls were outscored 35-0 at home by a team allegedly short on offense? UConn surrendering 40 points at Syracuse, including 27 straight to close the game? Take your pick.
Special
: We tried
warning you
. Rutgers' special teams were at it again Saturday, as the Scarlet Knights blocked their fifth kick of the season.
Leonte Carroo
blocked
Brandon McManus
' punt attempt early in the fourth quarter, setting up a 10-yard touchdown pass from
Gary Nova
to
D.C. Jefferson
to make it 28-10.
Another one
:
Teddy Bridgewater
carried much of the load for Louisville's running game Saturday, but
Senorise Perry
still managed to sneak in a touchdown, his seventh of the last three games and 10th of the season. He has rushed for at least one score in all but one game this season.
Pick, anyone?
Bridgewater completing all 11 of his first-half passes and 21 of 25 overall doesn't make matters easy, but South Florida is
still
looking for its first interception of the season. For those keeping track, the Bulls are the only FBS team without one.
Unhappy homecoming
: Paul Pasqualoni probably won't be in a rush to return to his old stomping grounds anytime soon. The UConn coach watched his team get thrashed in the second half of a 40-10 defeat at Syracuse, its third straight loss. Questions are mounting about a Huskies squad that still has no offensive identity as it enters its bye week.
Feel-good story
: Pitt's
Dan Mason
recorded a tackle on fourth down on Buffalo's final offensive play to keep the Bulls out of the end zone. Mason made his first start since Sept. 11, 2010, and has torn two knee ligaments. He recorded a sack Saturday and tied a career high with 11 tackles.
October, 20, 2012
10/20/12
3:43
PM ET
Rutgers' brand of football is typically not conducive to blowouts. The Scarlet Knights reached the midpoint of the season unscathed on the backs of a strong ground game and opportunistic defense and special teams.


A double-digit halftime deficit Saturday at Temple surely had some shaking their heads at a program that has consistently stumbled when on the precipice of great things. But Rutgers may truly be different this season under first-year head coach Kyle Flood, a notion it suggested in a Week 4
shootout win at Arkansas and one it supported after its
35-10
win at Temple.
The defense and special teams were there, as always, with
Leonte Carroo
blocking a
Brandon McManus
punt early in the fourth quarter and
Khaseem Greene
later returning a fumble 19 yards for a score.
But Rutgers' offense stepped up again when needed most, with
Gary Nova
tossing four touchdown passes on a day he completed 17 of 27 passes for 232 yards with just one interception. Four different receivers accounted for the scores, with
Jawan Jamison
using a nasty move midway in the third quarter for a 32-yard touchdown that put the Scarlet Knights in front for the first time on the day.
Jamison was everywhere on the afternoon, rushing for a game-high 114 yards on 20 carries and adding game highs of five catches and 81 receiving yards. The running back has now rushed for more than 100 yards in six of seven games this season.
Rutgers' offense capitalized throughout the second half. Nova hit
Mark Harrison
for a 5-yard score in the third quarter after
Logan Ryan
picked off
Chris Coyer
, and the Scarlet Knights' signal caller later found
D.C. Jefferson
for a 10-yard score early in the fourth quarter following the blocked punt.
Temple entered the day riding a two-game winning streak and showed plenty of positive signs early, but the Owls received an up-close measuring stick of what it may take to win the conference this season. Rutgers is only 4-0 in the conference and 7-0 overall, but it learned a little more about itself in a 35-0 second-half rout.