April, 15, 2014
Apr 15
10:00
AM ET
WACO, Texas -- Last season, Baylor won 11 games, claimed a Big 12 championship and played in a BCS bowl game -- all first-time accomplishments for the once-woebegone program.
But as much as the Bears accomplished last season -- they also scored more points (52.4 per game) and gained more yards (618.8) than any other FBS team in the country –- their last performance left a bitter taste in their mouths.
Kind of like Texas dust.
After starting the 2013 season with a 9-0 record and then beating then-No. 25 Texas 30-10 to win a Big 12 championship, the Bears were embarrassed in a 52-42 loss to Central Florida in the Tostitos Fiesta Bowl. The Knights, who were 17-point underdogs, piled up 556 yards of offense and scored on four straight possessions after Baylor tied the score at 28 in the third quarter. The Bears were penalized 17 times for 135 yards.
[+] Enlarge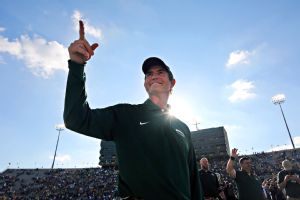 AP Photo/LM OteroArt Briles and Baylor have the talent to be considered the favorite to repeat as Big 12 champs in 2014.
"It was disappointing because that's the only game you remember," Baylor quarterback
Bryce Petty
said. "I had to be reminded that we won a Big 12 title. I didn't even remember it because of what happened in the bowl game, and it's the best thing that's happened to Baylor football in a long time."
Baylor coach Art Briles and his players haven't forgotten the ugly loss more than five months after the bitter defeat in the Arizona desert. It figures to provide the Bears with plenty of motivation as they head into an unexpected Big 12 title defense this coming season.
"I don't know how you describe sickening," Briles said. "You hate to have your motivation fueled by getting slapped in the face, but that's kind of what happened. We know [UCF] has a good football team, but we had to listen to how good we were for more than a month. Sometimes, reality isn't perception. There was a hungry team on the field and a happy one on the field. We were the happy one."
While its lackluster performance in the Fiesta Bowl might have sullied what had been a magical season, Baylor will enter the 2014 season as the team to beat in the Big 12. For a program that hadn't been to a bowl game for 13 consecutive seasons when Briles arrived in 2008, it's a rare position for the Bears.
"I think we take being the Big 12 champions as a challenge," Baylor receiver
Levi Norwood
said. "Guys are targeting us and wanting what we have. We have to go out and do it again. We all know that when we got here, we weren't that good and it's not normal for us to be winning. We're trying to make it normal."
There's nothing normal about Baylor under Briles. The Bears bring back much of the offense that shattered nearly every school record last season, although they'll miss leading rusher
Lache Seastrunk
(1,177 yards with 11 touchdowns in 2013), All-America guard
Cyril Richardson
and receiver
Tevin Reese
(38 catches for 867 yards with eight touchdowns).
Petty, a senior from Midlothian, Texas, is back after completing 62 percent of his passes for 4,200 yards with 32 touchdowns and three interceptions in his first season as a starter.
"He needs to be better and he should be," Briles said. "He's expected to be better. You can have a lot of money, but you can't buy experience. Some things should happen on pre-snap reads. We should know what happens before it happens. He's a good player and a great leader. That's why he's who he is."
Petty will be surrounded by plenty of proven playmakers in Briles' high-octane offense. All-America receiver
Antwan Goodley
is back after catching 71 passes for 1,339 yards with 13 touchdowns last season, and three other Bears wideouts caught at least 32 passes. Tailback
Shock Linwood
returns after running for 881 yards with eight touchdowns.
"We've got some people who can play," Briles said. "We feel really good about everybody who is around [Petty] offensively. We can be very diverse with everybody around him."
"

I had to be reminded that we won a Big 12 title. I didn't even remember it because of what happened in the bowl game, and it's the best thing that's happened to Baylor football in a long time.

"

-- Baylor quarterback Bryce Petty
The Bears must replace seven starters on defense, but Briles feels much better about his defensive front. Boise State transfer
Sam Ukwuachu
and sophomore tackle
Javonte Magee
, who sat out last season after unexpectedly leaving the team, are expected to bolster the defensive front.
"You'd have to shake the tree pretty hard to find three or four universities that have what we have up front," Briles said.
Now, Briles' challenge is to make sure his team doesn't become complacent after last season's unexpected success.
"That's the first thing we talked about when we got back to campus," Briles said. "We had to learn and grow up. We thought we were an accomplished football team and program. We lost [our edge] and got happy. We have to stay humble."
If the Bears don't, they might be a one-hit wonder. The Big 12 figures to be even more rugged this coming season. Oklahoma stunned Alabama 45-31 in the Allstate Sugar Bowl to finish 11-2 last season, and former Louisville coach Charlie Strong replaced longtime Texas coach Mack Brown.
"To be honest, we got too happy with where we were," Petty said. "We became complacent. Every game is a big game that you have to prepare for as a hunter. We kind of bought into what everybody was saying about us, and unfortunately UCF put us in our place. You don't lose; you learn. We learned a lot from that game, and we're not going to let it happen again. When you're building a tradition and dynasty, you can't talk about complacency. It's not something that Coach Briles is going to allow."
The Bears open the 2014 season against SMU on Aug. 31 at McLane Stadium, their new $260 million riverfront stadium. They'll play at Texas, West Virginia and Oklahoma and versus Texas Tech in Dallas -- opponents they defeated at home last year.
"I think it's always tough," Briles said. "If we jump back a year ago, I don't think people were picking us to be an outright champion. We've got to lock our doors and windows. Everybody is coming for us, but we're going to protect what we got."
December, 31, 2013
12/31/13
1:00
PM ET
Thirteen years ago,
Levi Norwood
was the 8-year-old kid running around at Texas Tech football practice, the one hanging out with the other coaches' kids.
His father, Brian Norwood, was the first-year defensive backs coach on Mike Leach's first staff in Lubbock. Norwood had moved his family down to Texas after five years of coaching at Navy.
And Art Briles, well, he was the cool guy.
"All the kids loved Coach Briles because he had all the current music and he listened to a lot of R&B," Brian Norwood said. "He just got in his big truck and would blast R&B. The old-school stuff, Motown, a little bit of everything."
[+] Enlarge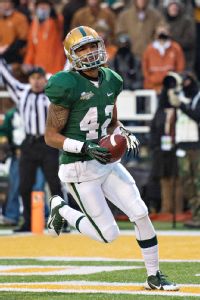 Jerome Miron/USA TODAY SportsLevi Norwood has six receiving touchdowns in his last five games for the Bears.
Levi was too young to remember much about Briles back then. All he knows is he's glad he plays for him today, as the breakout slot receiver in Baylor's No. 1 ranked offense.
He wouldn't be here today, a key cog in the Bears' dream 11-1 season, Big 12 championship and Tostitos Fiesta Bowl berth, if not for the bond his father formed with Briles back in 2000.
It took a serious leap of faith, too, to get the Norwoods to Waco, Texas.
Brian and his family had found plenty of happiness in Happy Valley. They spent seven years at Penn State after that one season at Texas Tech. They loved the community. He loved working for Joe Paterno. And his older son, Jordan Norwood, was one of the Nittany Lions' leading receivers. All in all, the Norwoods were thriving.
So why in the world would they give it up to go to Baylor? Why, in 2008, would Brian give up a good thing to join a program that hadn't surpassed five wins since 1995?
"When you talk about faith, it was literally what I call a God move," Brian said. "At Baylor, Coach Briles had given me this opportunity to be defensive coordinator and we really sat down and talked about teaming up and building something. That was really exciting."
Added Levi: "It was a leap of faith for anyone coming here. But if you know my dad, he's going to put all his faith into what he's doing. I don't think it was a very hard decision for him."
Mostly, Brian Norwood believed in Briles. They forged a strong bond in Lubbock, both on the practice field and the recruiting trail. And especially in the weight room, where they often lifted together.
"It was sort of competitive, because Briles is competitive at everything," Brian said. "I mean, I never did power cleans since I probably finished college. Art is doing all these other lifts and I'm thinking, 'What in the world?'"
When Briles was head coach at Houston, he tried to hire Norwood. The timing didn't work out. He tried again when he arrived in Waco, landing his old friend to serve as defensive coordinator for three years before bringing in Phil Bennett.
Briles sold Norwood on his vision. Briles earnestly and honestly believed he could bring a winning mentality to the Bears. He was passionate about the opportunity to change a woebegone program into a winner. Norwood bought in.
"It ended up being a great move for me and my family," Brian said. "We did have challenges with it, but definitely a good move."
And Levi eventually bought in, too. He wasn't thrilled about moving to Waco and originally signed with Penn State out of high school in 2010. He changed his mind three months later and went to Baylor.
After starting seven games for Baylor as a sophomore, Norwood has enjoyed his big break this season. He has accounted for 1,134 all-purpose yards as a receiver and returner, is No. 2 on the team in receptions with 43 for 670 yards and has scored nine touchdowns, including two on punt returns.
When speedster
Tevin Reese
went down, Norwood stepped up and kept the Bears' offense rolling. Norwood is proud of that, but more proud of the milestones this program achieved.
"It's awesome to see the change that's happening from where it was, even from last year," he said. "It's all exciting and really gets you motivated."
He's looking forward to visiting Penn State again and already has a trip planned for after the bowl game. He still calls the college town home. But he's glad his family found a new home in Waco.
"It was a huge blessing," he said. "I wasn't looking forward to it really at all. Looking back at where I am today, it's definitely been a blessing and a decision I appreciate."
December, 31, 2013
12/31/13
10:00
AM ET
A few years ago, Kendal Briles sent Facebook friend requests to prospective recruits knowing that expressing Baylor's interest might be a futile practice.
Plenty of those requests were denied. No, thank you. Not playing at Baylor.
"Now," Briles says proudly, "we're making some moves."
The Baylor receivers coach has a much easier time selling what the Bears have to offer these days. Kids want to play in this high-tempo offense. They're the ones befriending him now. The reason why is obvious.
[+] Enlarge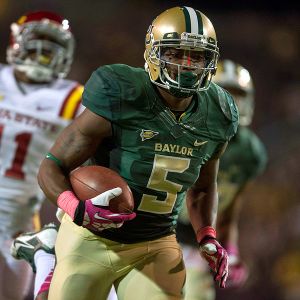 Jerome Miron/USA TODAY SportsAntwan Goodley and his Baylor teammates are picking up where their wide receiver predecessors left off.
Baylor is becoming the new Wide Receiver U.
Sorry, Tennessee. No offense, USC. But since arriving in Waco, Texas, in 2008, Art Briles has quickly built arguably the premier receiver factory in college football. The proof is all over, from his former players to current Bears to the next ones up.
What Briles' son is selling now is tangible proof that Baylor can turn receivers into stars. Just look at Kendall Wright, the Tennessee Titans slot man who surpassed 1,000 yards in his second season. Former Baylor teammate Terrance Williams finished third among rookies in receiving for the Dallas Cowboys.
And how about Josh Gordon? The former Bear led the NFL in receiving with 1,646 yards this season. You bet Briles and his son are throwing their names around these days when recruiting.
Baylor replaced those three with one of the top receiving duos in the country in All-Big 12 wideouts
Antwan Goodley
and
Tevin Reese
and one of the conference's best slot receivers in
Levi Norwood
. They have underclassmen
Corey Coleman
,
Robbie Rhodes
and
Jay Lee
on the way.
And coming soon, Baylor has three of the best wide receiver prospects in Texas in ESPN 300 verbal commits
K.D. Cannon
,
Davion Hall
and
Ishmael Zamora
. The surprisingly rich are about to get richer.
"There's no doubt you've got guys who are proven in the system and now proven on the next level," Kendal Briles said. "If you're a 16-, 17-, 18-year-old kid in high school and you're looking at where to play in college and you're looking at the things we're doing with throwing the football, it's a pretty good deal. You've got to take a pretty heavy look at us."
Art Briles' first receivers coach at Baylor, Dino Babers, just landed the Bowling Green head-coaching job this month. Briles' son has been on the staff from the start and now coordinates Baylor's passing game. He's had plenty of talent to work with in this gig.
This season, Goodley became the third consecutive Bear to lead the Big 12 in receiving. He insists his 1,319-yard, 13-touchdown breakout season wouldn't have been possible without his predecessors.
"I just knew you better show up to work every day, because those guys work hard every day," Goodley said. "They play with a passion and love being out there. They taught me a lot and built me into the receiver I am today."
In Wright, Williams and Reese, Baylor has three of the six most prolific receivers in the Big 12 since 2008. They all still send text messages to each other on a daily basis. Their position group is becoming a fraternity.
Gordon had the best hands of the bunch. Reese indisputably was the fastest. Williams was the superior route-runner. Goodley, at 222 pounds, might be the strongest. And Baylor cornerbacks say Wright was the most impossible to cover.
One thing nearly all of them had in common: They were not coveted recruits.
Goodley was a three-star prospect. Reese was a two-star recruit who weighed 138 pounds in high school. Gordon was ranked No. 128 among receiver prospects by ESPN. Only Wright was a member of the ESPN 150, but as a quarterback who'd never played receiver.
"We've been overlooked a little bit, but we like that," Goodley said. "We show guys what we can do. You don't have to be a five-star athlete to be a great receiver."
Baylor's approach to evaluating and recruiting receivers is no different than anyone else's: Get them in camp and see what they can do. Hitting on the trio of Wright, Williams and Lanear Sampson in the 2008 class gave Briles precisely the kind of weapons Robert Griffin III needed. Baylor loaded up on speed and more speed.
"Track speed, football speed, it's just speed, period," said Wright, who finished with 4,004 receiving yards at Baylor. "They just want somebody with speed. Everything else will come."
Kendal Briles would argue that Baylor's scheme is as easy as it gets for a receiver. Often times, Reese said he'll have three options on a route. A defender can't answer for all of them. With how wide the Bears split out their receivers, there's plenty of opportunity to get the ball in the open field.
What's remarkable is the fact that Baylor has built a top-five passing offense nationally while still running the ball on 55 percent of its snaps. Since Art Briles arrived, Baylor ranks No. 5 in the FBS in yards per catch at 13.7. Its best big-play threats, Williams and Reese, averaged a stunning 11.2 yards per target.
No wonder the big-name recruits are interested. Landing Rhodes, the No. 3 receiver in the class of 2013, was a coup. Getting Cannon and Hall on board was even better, and Zamora might have the most upside of the incoming three.
"Now you get some top-notch players in here," Kendal Briles said, "and it could be crazy what happens."
Only Reese is graduating, setting up Baylor to have a loaded group of wideouts in 2014. That will mean plenty of competition, and Reese frequently talks with Goodley and Norwood about becoming the vocal leaders when he's gone.
The way Reese sees it, there's a certain pay-it-forward mentality within the group. Wright took him under his wing and believed in him from the start.
He cares about maintaining what's quickly becoming a proud tradition.
"When we have wide receivers coming in, we're going to put it in their head: This is Wide Receiver University," he said. "You've got to play like it. Baylor produces the best wide receivers and the No. 1 offense in the nation."
And a few good pros, too. Wright is looking forward to seeing his successors join him at the next level soon. Together, they're planning to take over the NFL.
"That's what we plan to do, man," Goodley said. "They don't call us Wide Receiver U for nothing."
November, 24, 2013
11/24/13
10:00
AM ET
What we learned about the Big 12 in Week 13:
1. The Big 12 title now goes through Stillwater
: Before 2011, Oklahoma State had won just one conference title -- a three-way share in 1976 -- in 58 years. After a dominating 49-17 win over Baylor, the Cowboys are just a win over Oklahoma away from claiming their second Big 12 title in three seasons. The Oklahoma State defense has been the best in the Big 12 all year, and Saturday was no different. The Cowboys held the nation's top-scoring offense to just a field goal through the first three quarters. Cowboys QB
Clint Chelf
remained red-hot, too, completing his first 12 passes while ultimately accounting for four touchdowns. Oklahoma State now controls its own destiny in the Big 12. And if the Cowboys take Bedlam, they will take the Big 12 title again, too.
[+] Enlarge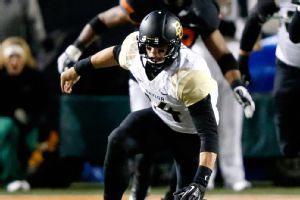 AP Photo/Sue OgrockiBryce Petty and Baylor's high-powered offense never got on track against Oklahoma State.
2. Baylor's offense is not invincible
: The Bears entered their Big 12 showdown at Oklahoma State leading the nation with an average of 61.3 points per game. Early in the fourth quarter in Stillwater, Baylor had just a field goal. The Bears had been fabulous offensively all season. But Oklahoma State completely shut them down. Baylor's vaunted vertical passing game was completely nonexistent, as
Antwan Goodley
and
Levi Norwood
failed to shake loose from the Cowboys' cornerbacks corps, which for the most part was without All-American candidate
Justin Gilbert
. The Bears also struggled to get the running game going, as Oklahoma State's defensive tackles controlled the line of scrimmage. No doubt, not having running back
Lache Seastrunk
and wideout
Tevin Reese
hurt. But Baylor had overcome such injuries against Oklahoma and Texas Tech. Against Oklahoma State, the Bears proved to be human. And against a top-notch defense, vulnerable, too.
3. OU might have found its QB of the future
: In place of the injured
Blake Bell
,
Trevor Knight
was terrific in Oklahoma's 41-31 win in Manhattan. Knight did most of his damage out of the read-option with
Brennan Clay
, who had a career day with 200 yards on the ground. But Knight was also precise with his passing, completing 14 of 20 passes, including 7 of 8 in the second half, for 171 yards. His throw of the day came in the first quarter when he found
Sterling Shepard
in the end zone with a bullet on third-and-goal from the K-State 12. It gave the Sooners a 7-0 lead. The Sooners have gotten inconsistent QB play all season. But the way Knight has performed the past two weeks, it's possible he just might be OU's long-term answer at the position.
4. K-State not quite in the Big 12's top tier
: The Wildcats entered their game with the Sooners as a favorite thanks to a four-game winning streak. But even with a freshman QB making his first career start on the road, OU controlled the game from beginning to end, piling up 301 yards on the ground while shutting down a K-State rushing attack that had been so good the last month. No doubt, the Wildcats made a great recovery from a 2-4 start to become bowl eligible. But after going 0-4 against the Big 12's top four teams, it's evident they don't quite belong in the league's upper tier.
5. Iowa State still better than Kansas
: With a spot in the Big 12 cellar on the line, Iowa State throttled the Jayhawks 34-0 for its first conference win of the season. A week after snapping a 27-game conference losing streak, Kansas resorted to its old ways in the frigid Ames weather. Freshman QB
Montell Cozart
completed only 4 of 12 passes for 20 yards, and
Jake Heaps
was not much better in relief in the second half. As a result, Iowa State rolled to its first Big 12 shutout since a 41-0 victory over Baylor in 2001. The Cyclones also racked up a season-high 502 yards of offense behind freshman QB
Grant Rohach
, who had 300 yards passing in the best game of his career. The Jayhawks might have ended their conference losing streak. But as Saturday showed, they are still the worst team in the conference. And apparently, it's not close, either.
November, 21, 2013
11/21/13
1:00
PM ET
WACO, Texas -- Art Briles has been saying it for nearly a year. After what his No. 4 Baylor team has endured this season, he definitely believes it too.
"We finally have Big 12-quality depth," said Briles once more after the Bears' 41-12 win over Oklahoma on Nov. 7.
In the two weeks since that game, he's needed all that depth to come through in a big way. Briles is proud of the fact his 9-0 Bears don't lean on any one person to succeed, and they've needed plenty of reserves to step up recently.
The Bears lost top deep threat
Tevin Reese
for the season to a dislocated wrist. Running backs
Lache Seastrunk
(groin) and
Glasco Martin
(knee) also went down against the Sooners and haven't played since.
[+] Enlarge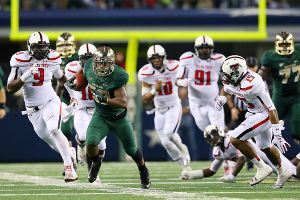 Ronald Martinez/Getty ImagesThird-string running back Shock Linwood starred against Texas Tech, rushing for 187 yards and a touchdown.
Like the rushing duo, linebacker
Bryce Hager
is questionable for this week's huge test at No. 10 Oklahoma State with a groin injury. Left tackle
Spencer Drango
had back surgery on Tuesday and is out indefinitely.
It's November. The guys that are practicing and playing are banged up, too. And Briles' confidence in just how deep these Bears are is being put to the test.
"I wish we weren't having to prove it," Briles said. "You hate to see anybody give so much time and effort and soul to a situation and then not be able to carry on."
And yet, Baylor keeps plugging in new parts and thriving.
Levi Norwood
replaced Reese and scored three touchdowns against Texas Tech. Redshirt freshmen
Shock Linwood
and
Devin Chafin
filled in at running back and each went for 100-plus yards. Another freshman,
Aiavion Edwards
, took over for Hager.
"The only thing that's changed is the name and the number," senior safety
Ahmad Dixon
said. "Guys are still running the ball as if Lache was there. Guys are still catching the ball as if Tevin was there."
And those are just the obvious spots, where injury created opportunity. How's this for depth: Defensive end
Shawn Oakman
leads the team with 12 tackles for loss and isn't even a starter. Fellow backup
Jamal Palmer
is second on the team in sacks.
True freshmen
Byron Bonds
and
Andrew Billings
are getting major minutes at defensive tackle and succeeding. The Bears' No. 3 cornerback,
Joe Williams
, has 22 career starts.
Baylor has been stockpiling talent like this for years in preparation for a season like this.
"It is critical. It's something our staff and everybody has done a great job recruiting to fill needs," Briles said. "That's the first thing you look at, what needs do we need to fill? We've been fortunate up to this point. I don't think you ever get to where you want to get, but we do have guys that can play on our roster."
The development of that Big 12-caliber depth begins with recruiting, but getting them to Waco was just the first step. Bears players say they wouldn't be ready to play whenever needed if not for strength coach Kaz Kazadi.
"We rely on Coach Kaz a lot," Chafin said. "Coach Kaz is our base and foundation. He has us ready physically."
Kazadi has been part of the Briles regime from day one and is renowned for his intensity and passion. Players say his offseason regimen is especially challenging. And borderline crazy.
Dixon offers this example: Kazadi tinkers with the atmosphere of his workouts every day. He'll crank the temperatures to hot one day and cold the next. Blast rap music one day, old-school reggae the next and the Baylor fight song the next, never at the same volume. He's trying to create chaos by any means necessary.
"He puts us in difficult situations, weird situations," Dixon said. "I mean, you sit there and you hear the fight song over and over, doing drills in the indoor during offseason. He's doing everything possible to try to throw our focus off."
There's another key reason why so many Bears are ready to ball: All those blowouts.
Only three foes have faced Baylor's starting offense in the fourth quarter.
Bryce Petty
has 11 pass attempts in the fourth. Seastrunk has two carries. The rest of the snaps have gone to backups and underclassmen, and those extra reps are proving valuable now.
Going into the Oklahoma game, Linwood and Chafin had a combined 86 carries. The third- and fourth-quarter snaps they shared early in the year brought needed experience.
"Us young people still have a lot to learn, but for us to step in at a big level like that just shows us how to prepare ourselves and all the depth we have," Linwood said.
Dixon can spot that depth and development every day on the practice field. The amount of talent on the Bears' roster has come a long way since he was a freshman. It's going to take a lot more than the best 22 to sustain this Big 12 championship run.
"That depth, that offseason, all of that work with Coach Kaz has helped us," Dixon said. "We're starting to turn elite."
November, 21, 2013
11/21/13
9:00
AM ET
So, I received this email from Charlie "Bear" Boyd, last week's guest picker:
I do not know how you pulled off that Kansas pick, but you better believe I will be launching an all-out investigation to see if there was any foul play involved. Seriously, though, well done! You were probably one of five people in the known universe who picked Kansas to beat West Virginia. Props where props are due.
I cannot confirm or deny whether foul play was involved. But Charlie is right about one thing -- props are due.
Like
Clint Chelf
in his return as Oklahoma State's quarterback, I'm back with a vengeance in the picks following a sparkling 5-0 week. Sources have told ESPN that KU officials are planning to erect statues of both me and Charlie Weis outside Memorial Stadium to commemorate the West Virginia victory.
Can I keep the train rolling against this week's guest picker, Wichita, Kan., resident Drew Hays?
Hey, I'm currently wrapping up my masters in sports management at Wichita State, however I graduated undergrad at Oklahoma State in 2012. I currently work in baseball, for an American Association Independent Baseball team called the Wichita Wingnuts (#GoNuts)! Currently, we are in our offseason, which means I get to sit around the house all-day on Saturday's doing nothing but watching football. You were one of two people that had the Jayhawks winning last weekend (very impressive pick I might add) -- my girlfriend was the other one. As a big Jayhawks fan, she likes to constantly remind me that her team beat the team that beat my team. So pick this Wingnut as your guest picker, so I can silence my girlfriend (until Marcus Smart does backflips again in Allen Fieldhouse).
Good luck silencing your girlfriend, Drew. Hope you have better luck than me with my wife (don't worry, I got permission before writing that).
This weekend, Brandon and I will be in Stillwater manning the game of the week in college football. It should be a good one.
To the Week 12 picks:
SEASON RECORD
Trotter last week:
5-0 (1.000)
Guest picker (Charlie "Bear") last week:
4-1 (.800)
Trotter overall:
52-15 (.776)
Guest picker overall:
38-12 (.760)


Kansas State 31, Oklahoma 24:
An early start with a freshman quarterback (
Trevor Knight
) with two more key offensive players (RB
Damien Williams
and WR
Lacoltan Bester
) out against a well-coached team? This is a tough spot for the Sooners. K-State is on a roll and playing with confidence, while 13 weeks into the season, Oklahoma is still trying to find its footing offensively. Even if QB Trevor Knight shines again, which he does, the Sooners lack the adequate firepower around him to keep up. Instead, K-State drops off 30 for the fifth straight week to thwart Bob Stoops' attempt to break the Oklahoma record for coaching victories. With a road trip to Stillwater and the bowl game (Holiday Bowl?) all that's remaining, it could be awhile before Stoops breaks that record, too.
Drew's pick:
Did anyone honestly think I would pick the dark side? The Cats are hot right now, and while the Sooners won't make this easy,
Jack Cantele
nails another fourth-quarter field goal to start the party in Aggieville.
K-State, 30-27


Kansas 28, Iowa State 24:
Usually this time of year, the Jayhawks are the only ones in full basketball mode. But last week, Iowa State fans stormed the court after a home victory over Michigan (come on, guys, it's November). Then again, given how south this season has gone in Ames, it's understandable. Meanwhile,
James Sims
shows again why he's one of the best running backs in the Big 12, while QB
Montell Cozart
makes enough plays with his feet to give Kansas -- that's right -- the third-longest winning streak in the Big 12.
Drew's pick:
As an OSU fan, seeing anyone play a night game at Jack Trice Stadium makes me feel queasy. I don't expect a repeat performance from Sims from last week, and Iowa State holds on for its first Big 12 win. This pick ensures I will be in the doghouse with my girlfriend for at least a week, but probably longer.
Iowa State, 24-17


Baylor 49, Oklahoma State 45:
Baylor coach Art Briles said this week that the Bears have played in comparable road environments this season. In actuality, Baylor has only played at Kansas State during the day and Kansas at night. A sold-out Stillwater, with "College GameDay" in town, will be a completely different animal. Especially against these Cowboys, who seem to be improving with every passing week. Especially against this veteran Oklahoma State defense, which is the class of the Big 12. This Baylor offense, however, is the class of college football. And with
Levi Norwood
emerging at wideout and
Lache Seastrunk
back to flank
Shock Linwood
in the backfield, the Bears outgun Oklahoma State in a Big 12 thriller to solidify their No. 3 ranking ahead of Ohio State in the BCS standings.
Drew's pick:
First, I would like to thank the Baylor faithful for returning almost your entire ticket allotment back to OSU. This will only make Boone Pickens Stadium louder. Behind the home crowd, "Choo-Choo" Chelf and
Desmond Roland
establish the run game early and the Oklahoma State defense keeps forcing turnovers, as the Cowboys prevail in another wild Stillwater shootout.
OSU, 45-42
November, 19, 2013
11/19/13
10:00
AM ET
WACO, Texas -- While
Levi Norwood
outran Texas Tech defenders on Saturday, his proud father sat back and, when he wasn't busy doing his job, made sure to savor the scene.
Brian Norwood watched from the coaches' box at AT&T Stadium. The night was all too perfect for the Baylor associate head coach, like one of those sunsets from back home.
"It's like you're looking at the ocean in Hawaii," he said. "Sometimes, you just sit back and take it all in."
[+] Enlarge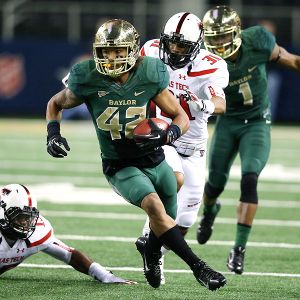 Matthew Emmons/USA TODAY SportsBaylor's Levi Norwood has always made big plays as a punt returner, but now he's also making them as a wide receiver for the Bears.
The message he delivered to his son after Baylor's 63-34 win over the Red Raiders was simple as usual: "Good job. Good game. That was a lot of fun."
For Levi, the fun might be just beginning. The fourth-year junior receiver and returner has quietly emerged as one of the Bears' biggest weapons. And like his punt returns, Norwood's journey to that big night against Tech has had twists and turns. You get used to that as a coach's kid.
He grew up in a household of wall-to-wall competition, and his older brothers held Levi to a high standard from the start. Gabe Norwood was on George Mason's 2005-06 Final Four team and plays pro basketball in the Philippines.
Jordan Norwood
finished as the No. 3 receiver in Penn State history and played in the NFL. Levi always wanted to beat them.
"Oh yeah, goodness yeah, it was always a little brother thing," Brian Norwood said.
And now Levi is making a name for himself for No. 4 Baylor, in an offense that needed someone to step up after losing
Tevin Reese
for the season. He had a career day against Texas Tech, with seven catches for 156 yards, touchdowns of 40 and 58 yards and a 48-yard punt return for a score that swung the game early.
"It feels really good," Levi said. "For the receivers, really we wanted to all step up and be able to do something special for Tevin."
In the locker room, his father reminded him to call his nana and granddaddy, the relatives and everyone else they consider family. They're spread out over Hawaii, Maryland, Virginia, Pennsylvania and plenty other places.
Growing up, Levi got used to moving. Brian, a native of Honolulu, had coaching stints at Arizona, Richmond, Navy and Texas Tech before spending seven years at Penn State. His son wasn't caught by surprise when, after the 2007 season, Brian agreed to become Baylor's defensive coordinator and reunite with Art Briles, whom he'd coached with at Tech and trusted.
Levi wasn't thrilled about uprooting and leaving his high school in State College, but he does remember being excited about the opportunity at first. Then he arrived in Waco.
"I got down here and the food was different, the people were different, the weather was different, the landscape -- there's no mountains or hills here," he said. "Everything was different. It took a couple years for me to adjust."
He didn't particularly want to stay. Norwood signed with Penn State in Feb. 2010 after his senior season at Waco Midway. Three months later, he had a change of heart. Penn State agreed to release Norwood from his scholarship so he could stay home and attend Baylor.
"I really just had a peace about staying here," he said. "The chaplain here, Wes Yeary, he didn't ever really say much but he had an influence on me, just talking to him and knowing how I could grow my faith here at Baylor. That was bigger than football, bigger than family. That was more important to me than going up to Penn State."
"

Levi is slippery. Extremely slippery. Its fun watching him because he can do so many things after he gets the ball.

"

-- Baylor QB Bryce Petty
If that meant sitting behind future NFL receivers
Kendall Wright
,
Terrance Williams
, Lanear Sampson and Reese, so be it. Norwood did catch 40 passes in 2012, but he's known more for the niche he carved out returning kicks.
"I think his versatility is the key word, without question," Baylor coach Art Briles said. "Here's a guy who returns kicks and punts, and returning punts is one of the hardest jobs on the field. It takes a special person to be able to do that on a consistent level."
Until this season, though, he'd never returned one for a score. He's done so twice as a junior, against Iowa State and Tech, and both runbacks have been eerily similar. Norwood gets trapped by oncoming defenders, stops, makes one miss, finds his crease and he's off to the races.
"Levi is slippery. Extremely slippery," quarterback
Bryce Petty
said. "It's fun watching him because he can do so many things after he gets the ball."
And after he gets to the end zone, Norwood likes to throw up a jump shot with the football. That's a tribute to the 2010-11 season he spent as a reserve on the Bears' basketball team. Basketball was always his first love.
As a coach and as a father, Brian Norwood loved every minute of his son's big game on Saturday, and he admits he did a fist pump or two in the box before shifting his focus back to the safeties he oversees. In fact, at one point he lost count of how many times Levi had scored. He was too caught up in the game.
In the days since, Brian has watched the 48-yard punt return touchdown more than few times. His son can't explain what made that run look so easy.
"I guess it's just instinct," Levi Norwood said. "I don't know how or why I'm good at doing that."
After years of playing a supporting role for Baylor, Norwood's experience with changing directions is finally paying off.
November, 18, 2013
11/18/13
11:00
AM ET
Taking stock of Week 12 in the Big 12:
[+] Enlarge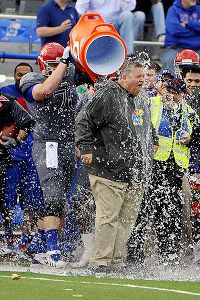 John Rieger/USA TODAY SportsKansas and coach Charlie Weis were finally able to celebrate a Big 12 win on Saturday, ending a 27-game conference losing skid.
Team of the week:
Oklahoma State was dominant in its 38-13 victory at Texas. But team of the week honors go to Kansas, which finally snapped a 27-game Big 12 losing streak with a 31-19 victory over West Virginia. The Jayhawks snapped the streak with authority, too, leading the Mountaineers 31-7 at one point in the fourth quarter. Kansas had been showing mild improvement throughout the season but couldn't string together a performance over the course of an entire game. Saturday, Charlie Weis' bunch finally did just that, giving the Jayhawks something tangible to build off moving forward.
Disappointment of the week:
The Longhorns had a chance to set up a de facto Big 12 title game with Baylor in the regular-season finale. Instead, Oklahoma State handed Texas its biggest home loss of the Mack Brown era. The Cowboys completely shut down the Texas offense, including quarterback
Case McCoy
, who threw three interceptions. Texas is still technically alive in the Big 12 title race. But Brown has a better chance of being the coach in Austin next year than Texas does of winning the Big 12 championship.
Big (offensive) men on campus:
Oklahoma State quarterback
Clint Chelf
, Kansas running back
James Sims
and Baylor receiver
Levi Norwood
.
Chelf delivered the second-highest adjusted QBR (97.3) of the weekend in college football while leading Oklahoma State to its biggest win of the season. He threw for 197 yards and ran for another 95 while accounting for four touchdowns.
Sims was phenomenal against West Virginia, with 211 yards and three touchdowns on 22 carries. His 68-yard scoring run 28 seconds before halftime proved to be the pivotal play in the game. Sims (914 yards) trails only West Virginia's
Charles Sims
(946 yards) for the Big 12 rushing title.
Norwood picked up where
Tevin Reese
left off. With Reese out with a dislocated wrist, Norwood exploded against Texas Tech with 156 yards receiving. Norwood also had touchdown receptions of 40 and 58 yards and a 58-yard punt-return touchdown.
Big (defensive) men on campus:
Oklahoma State cornerback
Justin Gilbert
and Kansas linebacker
Ben Goodman
.
Gilbert had maybe the finest game of his career, picking off McCoy twice. Gilbert leads the Big 12 with six interceptions.
Goodman halted a potential West Virginia scoring drive in the third quarter. He picked off quarterback
Paul Millard
at the line of scrimmage, then rumbled 54 yards to the Mountaineers' 14-yard line. Sims capitalized on the turnover with a 2-yard touchdown that put the Jayhawks up 24-7.
Special-teams players of the week:
Kansas State kicker
Jack Cantele
and Oklahoma returner
Jalen Saunders
.
Cantele had never attempted a game-winning field goal before. But when the time came, he delivered, nailing a 41-yard kick with three seconds remaining to lift the Wildcats to a 33-31 win over TCU. Cantele converted his other three field-goal attempts, too, and the Wildcats needed every one of them.
With Iowa State leading OU 10-3 in the second quarter, Saunders broke off a 91-yard punt return TD to tie the game. The Sooners scored 45 unanswered points the rest of the way to rout the Cyclones.
Play of the week:
Late in the second quarter of Oklahoma State's victory at Texas, Gilbert intercepted a McCoy pass intended for
Kendall Sanders
(who decommitted from Oklahoma State to sign with the Longhorns) and then raced 43 yards for his second pick-six of the season. The play put the Cowboys up 28-10 just 18 seconds before halftime, and Oklahoma State was firmly in control the rest of the way.
Stat of the week:
Baylor now has six 60-point games this season. The only other FBS team with more than two is Ohio State, which has three.
Quote of the week:
"I've warned them, this is different than the Big East. The days of just showing up and playing [are over]." -- West Virginia coach Dana Holgorsen, after his team became bowl-ineligible after a loss to Kansas
November, 17, 2013
11/17/13
9:00
AM ET
Recognizing the best of the best from the Big 12 in Week 12:

RB James Sims, Kansas
: The senior rushed for 211 yards and three touchdowns on 22 carries, and you know he would've traded the stats for a victory if given a chance. On Saturday he got both, as Kansas broke its 27-game Big 12 losing streak with a 31-19 upset of West Virginia. With freshman
Montell Cozart
at QB, Kansas ran the ball 55 times and threw on 12 plays, with just five completions. Going all-in on the run game paid off big, and the Jayhawks have Sims' monster day to thank.
WR Levi Norwood, Baylor
: The Bears were in need of a big-play threat after losing
Tevin Reese
for the year. They've found one in Norwood, who helped save the day in the first quarter with a 40-yard touchdown catch and a 58-yard punt return for a score after Baylor fell behind 14-0. Norwood finished with seven catches for 156 yards and two scores and 244 all-purpose yards in all.
CB Justin Gilbert, Oklahoma State
: Gilbert was the game-changer for OSU in a 38-13 win at Texas. He returned his first interception of
Case McCoy
43 yards in the final minute of the first half to put the Cowboys up 28-10, and he snagged another interception off McCoy on a deep ball late in the third quarter. He also finished second on the team with nine tackles on the day.
RB Damien Williams and QB Trevor Knight, Oklahoma
: Neither started the game for Oklahoma, but both got the Sooner offense running with their own running. Knight replaced
Blake Bell
and had a modest passing day, but he ran for 123 yards on 10 carries with a 56-yard score. Williams put up 128 yards and two touchdowns, with one coming from 69 yards out, to put Oklahoma back on track to a blowout win.
K Jack Cantele, Kansas State
: Let's give some love to a kicker for once. Cantele was a perfect 4-for-4 on his attempts against TCU, hitting the easy ones from 31, 34 and 23 and then making a 41-yarder with 3 seconds remaining to give K-State the 33-31 win and secure bowl eligibility.
RB Shock Linwood, Baylor
: We're giving a bonus one to Linwood for another stellar performance filling in for the injured duo of
Lache Seastrunk
and
Glasco Martin
. Linwood carried 29 times for 187 yards and one touchdown. The third-stringer remains No. 2 in the Big 12 in rushing at 101.5 yards per game. He got some help from freshman
Devin Chafin
, who ran for 100 yards and two scores on 11 rushes.
October, 20, 2013
10/20/13
9:00
AM ET
Recognizing the best and brightest from the Big 12 in Week 8:

WR Josh Stewart, Oklahoma State:
No matter who's playing quarterback for the Cowboys, they've got one of the best go-to receivers in Stewart. TCU had no answers for him on Saturday. He hauled in 10 passes for 141 yards and got the scoring started late in the first quarter with wild 95-yard punt return touchdown.
Oklahoma Sooners defense:
That's about as good a bounce-back performance as you could ask for from the Sooners, following last week's Texas loss. After the Jayhawks went ahead 13-0, they were held to 39 total yards on their final 10 drives of the day, including -2 passing yards. An inept day for KU, no question, but just what Oklahoma needed this week.
QB Bryce Petty, Baylor:
Petty threw for 343 yards and two scores on 23-of-31 passing and added a rushing touchdown in the Bears' 71-7 win over Iowa State. He had six completions of 20-plus yards and once again provided
Antwan Goodley
and
Tevin Reese
with 100-plus yard games. For a guy who'd never started a game entering 2013, he continues to impress.
TE Jace Amaro, Texas Tech:
The best tight end in the country played up to the hype at West Virginia, catching nine passes for 136 yards and two touchdowns, including the score to finish off Tech's 37-27 win. He's now the No. 2 receiver in the Big 12 and leads all tight ends nationally in catches and yards, but Amaro had only one touchdown entering the day.
Baylor returners:
For perhaps the first time in school history, Baylor got two returns for touchdowns on Saturday. The first was a 52-yard punt return from
Levi Norwood
that looked stopped 12 yards in until he cut across the field. In the game's final minute, the Bears responded to Iowa State's last-minute touchdown with a 97-yard kick return from
Corey Coleman
.