NCF Nation:

Lincoln Riley
May, 13, 2010
5/13/10
12:30
PM ET
Lincoln Riley wants to clear up a misconception -- the spread offense does incorporate a running game.
That seemed to come as a surprise to the running backs Riley inherited when he took over as the offensive coordinator at East Carolina, and that misconception seemed to take a little time to shake.
[+] Enlarge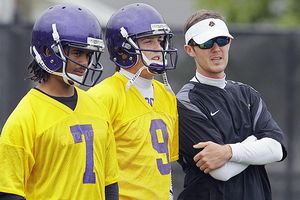 AP Photo/Gerry BroomeEast Carolina offensive coordinator Lincoln Riley, right, wants his running backs to know they will get the ball in the spread offense.
"The perception is that we throw it every snap and that the running back is just there to block, but I think when they really start to see how many times they're going to touch the ball and start to see how well we ran the ball at Texas Tech the last two years I was there and the amount of touches the running backs got in the bowl game when I called the game, I think that once they see that, the opportunities are going to be there," Riley said. "Our running backs are always going to have more touches than any player we have and its not going to be close. I think maybe in the beginning the spread played a part, but now I think its just adjusting to the scheme, to the coaches and to new expectations and that's the thing they haven't done as fast as I would have hoped. But I do think we have them on the right track."
Riley, a first-year offensive coordinator and the youngest offensive coordinator in the FBS, pulled no punches when talking about his disappointment with the running game this past spring. It started early in the spring when
Brandon Jackson
and
Giavanni Ruffin
were arrested for public intoxication, resisting a public officer and obstructing. Jackson was dismissed from the squad and Ruffin missed most of spring ball because of suspension. Then senior
Norman Whitley
, who led the team in rushing in 2008, struggled with various injuries. That left just three healthy backs -- senior
Jonathan Williams
, and freshmen Michal Dobson and Alex Owah -- available all of spring.
And while the backs showed a few flashes of being the backs for which East Carolina has been known, Riley said the majority of the spring was spent trying to coach effort more than the scheme.
"This position has been a little disappointing to me," Riley said of the running backs. "They've shown some big-play ability and they've shown some things where all three are capable of being running backs at this level, but that position really has yet to step it up. That would probably be the most disappointing position on offense right now.
"Part of it is because we have such high expectations for them. We really think that could be a big group for us, a special group for us, and I don't think their expectations are anywhere near what our expectations are for them. Their definition of working hard in practice is not even close to our definition as coaches. They need to rise up and get on the same page, so we've got some work to do with those guys because we definitely expect a lot out of them."
The Pirates had just 58 yards on 29 carries during the spring game and they finished spring without a definitive starter. Riley said he's hoping to get Whitley back healthy in the fall and he's looking forward to seeing Damonte Terry, who is the only incoming running back recruit. He didn't know when Ruffin would return from suspension.
Last season, East Carolina rushed for 152.07 yards per game behind departed senior Dominique Lindsay. Williams has shown flashes of being a top back the past couple years, but he's had a problem staying out of off-field trouble.
While Texas Tech got just 85 yards rushing per game last season, Riley is hoping for more production out of his new team.
"I think the expectation levels are way different on offense then what they've been in the past," Riley said. "In order to meet those expectations, you've got to increase your workout level. They just don't grasp what working hard is to us. They haven't grasped that yet. We've seen bits and pieces of it, some good runs, and I'm not going to sit there and say that their spring has been terrible and they haven't improved because that's not true, but to be what we need out of that position and to be as good as we expect to be, their expectations and our expectations are a little different.
"We're going to get them right, it's just beating it into their heads that, 'Hey, this is what you need to do to be that good.' They are a little behind a bit, but we are starting to see some improvements. But nobody's just jumped up and taken the job. It's still out there for somebody to take over."
May, 6, 2010
5/06/10
10:30
AM ET
2009 overall record:
9-5
2009 conference record:
7-1 (C-USA champions)
Returning starters
Offense:
5, Defense: 2, Punter/Kicker: 0
Top returners
WR/KR
Dwayne Harris
, WR
Darryl Freeney
, OG Cory Dowless, CB Emanuel Davis, CB/PR Travis Simmons, DT Josh Smith
Key losses
C Sean Allen, RB Dominique Lindsay, QB
Patrick Pinkney
, DE C.J. Wilson (drafted), DT Linval Joseph (drafted), DT Jay Ross, LB Nick Johnson, FS Van Eskridge, P Matt Dodge (drafted), PK Ben Hartman
2009 statistical leaders (* denotes returners)
Rushing
: Dominique Lindsay (239-1,180 yards, 6 TD)
Passing:
Patrick Pinkney (440-259-12, 2,947 yards, 15 TD)
Receiving:
Dwayne Harris* (83-978 yards, 7 TD)
Tackles:
Van Eskridge (102)
Sacks:
C.J. Wilson (5.5)
Interceptions:
Van Eskridge (6)
Spring answers
1. Bringing in new schemes:
Installing both the new offensive and defensive schemes this spring was the main priority for first-year head coach Ruffin McNeill. At the end of spring, he said he was pleased with the installation progress of new systems on both sides of the ball, moving from a pro-set scheme to a passing-oriented spread look on offense and implementing more of an attacking, blitzing and man-cover concept on defense.
2. Looking for more options:
Dwayne Harris emerged as the Pirates' go-to receiver last season, but in the offense, the Pirates need multiple weapons and found them in redshirt freshmen receivers
Mike Price
,
Reese Wiggins
and
Torrance Hunt
. Offensive coordinator Lincoln Riley even converted 6-foot-8 tight end
Justin Jones
to the "Big Y" position, which will utilize Jones as a third-down option or possession receiver.
3. Front-seven fiasco:
ECU lost its front seven from a year ago, but made big strides this spring in replacing those key players, especially on the line. Redshirt freshman end Matt Milner, tackles Josh Smith and Antonio Allison and hybrid rush end Marke Powell, who lined up as a true freshman linebacker in 2009, all made impacts this spring. Middle LB Steve Spence and WLB Dustin Lineback also have potential for 2010.
Fall questions
1. Can the walk-on hold on?
Sophomore walk-on quarterback
Brad Wornick
unexpectedly climbed to the top of the depth chart to earn the starting nod out of camp, but he'll have to earn the spot again in the fall against
Rio Johnson
,
Josh Jordan
, and transfer Dominique Davis, a former Boston College quarterback who attended spring workouts as an observer but did not play.
2. Running game woes:
The running game was a source of consternation for Riley, who was expecting better from a team that was known for its running efforts under former coach Skip Holtz. Senior
Jonathan Williams
could be the starter if he can stay out of off-field trouble and redshirt freshman Michael Dobson turned heads during spring drills. Seniors
Giavanni Ruffin
and
Norman Whitley
missed most of the spring and
Brandon Jackson
was removed from the team for disciplinary reasons.
3. Reloading on defense:
East Carolina's back-to-back Conference USA titles have been largely a product of stellar defense, but with nine starters gone, McNeill is really starting from scratch despite an encouraging spring. Only cornerbacks Emanuel Davis and Travis Simmons return, but everyone will be learning a new scheme.
March, 9, 2010
3/09/10
1:40
PM ET
Recently, several of my co-workers have been examining the strongest and weakest positions for each team this spring. I thought I would jump in on the action.
During the next few weeks, I'm going to look at the strengths and weaknesses of every team I cover. They'll be posted alphabetically by conference. So let's start with Conference USA and the spring superlatives for East Carolina.

Strongest position: Wide receiver
Key returners:
Senior
Dwayne Harris
(83 catches, 978 yards, seven touchdowns), junior
Darryl Freeney
(48 catches, 718 yards, three touchdowns), junior
Joe Womack
(12 catches, 141 yards), sophomore
Andrew Bodenheimer
(six catches, 87 yards)
Key departures:
Alex Taylor
(35 catches, 367 yards),
Jamar Bryant
(22 catches, 205 yards, two touchdowns),
Reyn Willis
(six catches, 107 yards, one touchdown).
The skinny:
The receiver position is the deepest of all positions for the Pirates this spring, and that depth will be critical as they switch to a Texas Tech spread style of offense. Harris is one of the most dynamic players in the country both as a receiver and as a kick returner, and he will be East Carolina's premier receiver yet again.
Weakest position: Quarterback
Key returners:
Sophomore
Josh Jordan
(three career games, 5 of 7 passing, 61 yards), redshirt freshman
Rio Johnson
.
Key departures:
Patrick Pinkney
(32 career starts, 6,980 career passing yards, 39 career passing touchdowns, 23 career interceptions)
The skinny:
East Carolina has just two scholarship quarterbacks heading into the spring and neither has significant experience. Offensive coordinator Lincoln Riley is looking for a quarterback who can spread the ball around and he might not find that guy this spring. On the bright side, the Pirates did get a commitment from former Boston College quarterback Dominique Davis in December, but he didn't enroll in January, which voided his letter of intent. However, hopes are high that Davis does end up in Greenville in August, joining true freshman Shane Carden.
March, 1, 2010
3/01/10
2:45
PM ET
February, 22, 2010
2/22/10
4:00
PM ET
Lincoln Riley's demeanor heading into his first spring as an offensive coordinator could best be described as cautiously optimistic.
Riley, the youngest offense coordinator in the FBS at 26, will spend the spring trying to implement Texas Tech's high-octane offensive system at East Carolina, a place that, under former head coach Skip Holtz, was best known for its potent running attack.
Riley, who was Tech's wide receivers coach the past three seasons, has no allusions the next six months heading into the Pirates season opener will be easy. East Carolina lost four offensive starters, including quarterback
Patrick Pinkney
. Riley doesn't have a reliable running back and he'll have only two scholarship quarterbacks this spring.
But Riley said the main obstacle wouldn't be finding the right players for the system, but rather getting players to believe that what he's trying to teach can work.
"The biggest thing here is going to be changing the mentality," Riley said. "They've been solid on offense, they've done some good things, but to do what we want to do, similar to Texas Tech, the mentality has got to change.
"We've got to get to the point where the word punt makes them sick to the stomach."
In the month Riley has been on campus, he's already laid down expectations to players. He's given players a skeleton of what the offense will look like and encouraged them to watch film of Texas Tech on their own. While Riley said East Carolina wouldn't be exactly like Texas Tech, a lot of concepts will be the same. He also said the offense is simple enough for players to pick it up during the five weeks of spring practice.
"By the end of spring we should have the whole offense in," Riley said. "I'm not going to say that there's not going to be a few special plays, a few trick plays, or something special we might do while we're gameplanning for North Carolina or Navy or something like that, but they're going to have 99 percent of the offense in once spring's over."
Riley's not going to put everything in on the first day. He'll break it down into three or four day segments, allow players to get used to what they've learned and then slowly introduce more twists.
One thing that has helped Riley win over his offensive players is promising that each will get a fair look in the system. Riley and his offensive coaches have watched some film to assess the talent they have remaining, but have limited their judgment of players. Just because a player didn't fit into Holtz's system doesn't mean he couldn't be perfect for what Riley is trying to execute.
"I've made myself and encouraged all the offensive coaches to form their own opinions about these guys," Riley said. "We don't want any preconceived notions. We gave all these guys a clean slate when we walked in. It's a fresh start and for some of these guys they probably needed a fresh start."
Riley is big on providing opportunities the way East Carolina coach Ruffin McNeill provided him one. Riley ran the Red Raiders' offense in the Alamo Bowl and led them to a 41-31 win over Michigan State. The audition was enough for McNeill to give the young offensive mastermind his own show.
Now Riley's ready to make the most of his moment.
"I can't even put into words how excited I am," Riley said. "I know I've worked hard to get to this point, but I'm not dumb. A lot of things have gone right for me to get to this point in my career. I'm so excited. I'm very, very fortunate and very humbled by it.
"To be able to turn this thing lose and be able to run it the way we want to run it is a great opportunity."
February, 22, 2010
2/22/10
10:00
AM ET
Here's a breakdown of three issues facing each program heading into the spring:

Central Florida Knights
Spring practice starts:
March 19
Spring game:
April 17
What to watch:
The Knights will need to develop offensive line talent after allowing 2.54 sacks per game and failing to block for a rushing offense that ranked 82nd in the country. The Knights return all but two offensive linemen and have one coming in the spring.
The quarterback battle will heat up with early enrollee Jeffrey Godfrey, who already has impressed coach George O'Leary. Godfrey will compete against Rob Calabrese for the starting role.
The Knights will have to find replacements for three key members of the defensive line -- DE Jarvis Geathers, RT Torrell Troup, LT Travis Timmons. The defense was the main reason the Knights finished 8-5 and won their final five games.

East Carolina Pirates
Spring practice starts:
March 22
Spring game:
April 17
What to watch:
With a new coach, a new system, and a crop of new starters, East Carolina will have its work cut out for it this spring. New head coach Ruffin McNeill needs to replace 15 players with starting experience, which won't be easy with just a month to work.
The most underrated positions the Pirates have to fill are punter and kicker. All-American Matt Dodge is gone as is kicker Ben Hartman, who set the school record for career scoring. Finding replacements for those two is a top priority.
New offensive coordinator Lincoln Riley will be implement Texas Tech's offensive system with just two scholarship quarterbacks and a team that relied on its running game. Riley is confident he can install all of his spread offense this fall, but there's no telling how quickly the Pirates will pick it up.

Houston Cougars
Spring practice starts:
March 27
Spring game:
April 24
What to watch:
The one thing that really kept Houston from an undefeated season was its defense. Brian Stewart, who was named the defensive coordinator in January, inherits a young team with a lot of talent, but he has some work to do to catch the defense up to the offense by September.
Quarterback Case Keenum returns for his senior season, but his center, Carl Barnett, does not. Barnett started 39 games, so Keenum will have to establish a good rapport with his new center this spring. Blake Sargent, who was the backup last year, appears to be the front-runner.
Even though the Cougars did not lose many starters on offense, coach Kevin Sumlin will look for more athletic players to rotate into the mix. Last season, 19 players had at least one catch and 12 had double-digit catches.
February, 18, 2010
2/18/10
3:00
PM ET
January, 22, 2010
1/22/10
12:48
PM ET
The questions about what type of offense East Carolina is going to run under newly named head coach Ruffin McNeill have been answered.
McNeill hired Lincoln Riley as his offensive coordinator Thursday evening. Riley, 26, becomes the youngest offensive coordinator in the country. He was the wide receivers coach at Texas Tech, but was the interim offensive coordinator for the Alamo Bowl when McNeill was the head coach. The Red Raiders defeated Michigan State 41-31.
Riley told the Fort Worth Star-Telegram that he would run the same version of the spread offense that he learned under former Texas Tech head coach Mike Leach.
"I'm excited, man,'' Riley told the Star-Telegram. "I'll get a chance to do some things and work for some great guys, so that's exciting.
"I'm just thinking about the opportunities and all the good things it has. It feels really good.''
ECU has to replace four players on offense, including quarterback
Patrick Pinkney
, who wouldn't have fit in to Texas Tech's style of offense anyway. Freshman
Josh Jordan
was the Pirates' backup quarterback last season. He completed 5-of-7 passes for 61 yards and no touchdowns in spot time in two games this season. It's unknown whether he'll be the favorite to start or whether ECU will look toward recruiting for a gunslinger.
"There's enough quarterbacks that want to go throw it, so we'll go find the best guy we can and go to work,'' Riley told the Star-Telegram. "Finding a quarterback won't be a problem.
"Whenever you have this (spread) offense, there will be quarterbacks, because they want to throw the ball.''
One player that will thrive in a pass-heavy offense will be all-conference receiver
Dwayne Harris
, who finished last season with 83 catches for 978 and seven touchdowns. Harris was not only the most dynamic player on East Carolina's roster, but by far one of the most dynamic players in the entire conference.
ECU going to the spread system will give them an advantage over other Conference USA teams on the East side of the conference. The East boasts more conservative offenses while the spread systems are usually reserved for teams on the West side. Both Houston and UTEP are known for their high-octane offensive styles in the West. Southern Miss and Tulane both run a version of the spread, but neither school puts up the types of numbers seen in the West.
January, 14, 2010
1/14/10
10:07
AM ET
By
Tim Griffin
| ESPN.com
The coaches who were most directly responsible for helping direct Texas Tech to the Red Raiders' victory over Michigan State in the Valero Alamo Bowl won't be a part of Tommy Tuberville's new staff.
Interim coach/defensive coordinator Ruffin McNeill and inside receivers coach Lincoln Riley were among six coaches who were let go by Tuberville.
McNeill served as the interim coach after Mike Leach was fired the week before the game. And Riley served as the Red Raiders' offensive coordinator, juggling the quarterback switch in which
Steven Sheffield
was inserted in place of
Taylor Potts
in the middle of the fourth quarter to direct the comeback victory.
Other coaches from Leach's staff who won't be retained include running backs coach Clay McGuire, safeties coach Carlos Mainord, cornerbacks coach Brian Mitchell and special-teams coordinator Eric Russell.
Among former members of Leach's staff who survived the coaching switch include offensive line coach Matt Moore, defensive ends coach Charlie Sadler and Sonny Cumbie, who is a graduate assistant for the offense. Wide receivers coach Dennis Simmons also will be retained in some capacity on Tuberville's staff.
McNeill directed the transformation of the Red Raiders' defense over the last two-and-a-half seasons. The Red Raiders finished 2009 ranked fourth nationally in sacks, but only 94th in turnover margin.
Alabama associate head coach/linebacker coach James Willis appears to have the inside track on becoming Tuberville's new defensive coordinator. The Fort Worth Star-Telegram reported that Willis
has been in Lubbock the last two days
with his family attempting to get settled in the area.
January, 3, 2010
1/03/10
1:57
AM ET
By
Tim Griffin
| ESPN.com
The absence of Mike Leach at the Valero Alamo Bowl overshadowed a dramatic victory by Texas Tech and its interim coach Ruffin McNeill. Here's how the Red Raiders claimed an impressive
41-31
triumph over Michigan State.


How the game was won:
The game turned when interim Texas Tech offensive coordinator Lincoln Riley decided to bench
Taylor Potts
after he sustained a finger injury on his non-throwing hand with about 8 minutes left.
Steven Sheffield
came off the bench to direct two consecutive scoring drives, wrapping up the victory with two gutsy fourth-down conversions on the game-clinching drive.
It's notable:
McNeill becomes the second interim coach in the last seven seasons to beat Michigan State in the Valero Alamo Bowl. The first was Nebraska's Bo Pelini in 2003.
Turning point:
After Tech had claimed the lead on Sheffield's 11-yard TD pass to
Detron Lewis
, the Tech defense provided the clinching play two plays later. Franklin Mitchem provided the interception of
Kirk Cousins
that iced the victory.
Player of the game:
Sheffield came off the bench to direct Tech's game-winning drive, completing 6 of 6 passes for 80 yards, capped by his scoring pass to Lewis for the go-ahead touchdown. Sheffield finished by hitting 9 of 11 passes for 88 yards as he directed two late scoring drives. His late charge gave his team the victory, even as Potts threw for 384 yards and two TDs to earn Most Valuable Player honors.
Unsung hero:
Leading Texas Tech wide receiver Alex Torres struggled with only two catches and had a critical drop late in the game. But on the next play, Torres made a critical 6-yard gain on fourth-and-5 that kept the drive alive, setting up the touchdown to ice the victory.
Stat of the game:
Tech rolled up 580 yards of total offense, including 472 passing yards. The Red Raiders averaged 461.8 yards of total offense and 380.7 passing yards with Leach.
Record performance:
Lewis produced a career-best 10 receptions for 114 yards and two touchdowns to help power Tech's victory.
What it means:
McNeill might have become this season's version of West Virginia's Bill Stewart by claiming an impressive victory as an interim coach. But how he did it was the most striking part of his team's performance, confidently converting two pivotal fourth-down plays with the swash-buckling nature his boss similarly brought to coaching. Texas Tech athletic director Gerald Myers still might want to go for a coach with more experience, but McNeill showed some moxie along the sidelines that appears to make him suited for a head-coaching shot somewhere.
January, 3, 2010
1/03/10
1:22
AM ET
A shorthanded Michigan State team put forth a great effort, but made too many mistakes on both sides of the ball to beat Texas Tech. The Spartans blew a fourth-quarter lead and didn't have enough offense to rally in the end, losing
41-31
. The Big Ten drops to 3-3 in bowls, so it all comes down to Iowa's performance Tuesday against Georgia Tech in the FedEx Orange Bowl.


How the game was won:
Michigan State couldn't hold a 31-27 lead as Texas Tech backup quarterback
Steven Sheffield
led an impressive scoring drive midway through the fourth quarter. The Red Raiders were more aggressive with their decisions down the stretch, and it paid off. Sheffield and starting quarterback
Taylor Potts
flummoxed Michigan State's defense and outplayed Spartans signal caller
Kirk Cousins
, who completed just 13 of 27 passes for 220 yards with a touchdown and two interceptions, and he imploded in the second half. Texas Tech too many times capitalized on a soft Spartans' secondary.
Turning point:
After Michigan State played it safe and settled for a field goal, Texas Tech interim head coach Ruffin McNeill and receivers coach Lincoln Riley played it bold down the stretch. They went to Sheffield for the first time, and the backup led an eight-play, 77-yard scoring drive. The Red Raiders completely regained the momentum, and Cousins threw an interception on Michigan State's ensuing series. The Spartans never recovered.
Player of the game:
For Texas Tech, it's got to go to Potts and Sheffield. For Michigan State, freshman running back
Edwin Baker
introduced himself to the college football world tonight. The heralded high school prospect had 12 carries for 102 yards and a touchdown. After being overshadowed by classmate
Larry Caper
for much of the fall, Baker showed that the Spartans have another solid option in the backfield.
Best call:
Down 27-21 in the fourth quarter, Michigan State lined up for a 43-yard field-goal attempt, but ran an excellent fake, as punter Aaron Bates threw to tight end
Charlie Gantt
for an 18-yard gain. Then, on first-and-goal from the 8-yard line, wide receiver
Keshawn Martin
found fellow wideout
Blair White
in the end zone. Both Bates and Martin played quarterback in high school.
Second guessing:
Michigan State led 28-27 and faced third-and-12 from the Tech 29-yard line, but called a simple run play that didn't gain much. The Spartans had been aggressive and innovative with their play-calling for much of the game, and playing it safe there seemed out of place, even with left tackle Rocco Cironi injured. Texas Tech responded with the go-ahead touchdown and reclaimed all the momentum. Lesson: you've got to go for touchdowns against Texas Tech.
What it means:
Few thought a Spartans team playing without 14 players would hold a fourth-quarter lead against Texas Tech. The Spartans deserve credit for fighting hard, but a 6-7 record wasn't what anyone had in mind heading into this season. There's a very exciting young nucleus in East Lansing, but this program still hasn't turned a corner yet. Cousins and
Keith Nichol
will continue to compete at quarterback, but the talent at running back and wide receiver is very good. Head coach Mark Dantonio's biggest offseason priority will be a defense that must get tougher, especially in the secondary.
September, 3, 2008
9/03/08
10:48
AM ET
Posted by ESPN.com's Tim Griffin
The worst scheduling week in Big 12 history might be approaching.
Four Big 12 teams will be playing opponents from the Football Championship Subdivision in contests that have euphemistically been termed by many coaches as "body-bag games."
Coaches of those FCS schools know what they have to do in these games. Mainly, collect a big check and hope they emerge out of the game relatively unscathed for the rest of the season.
A 12-game season makes these games more necessary for the big boys from the Football Bowl Series, even if they aren't necessarily appealing, according to Texas coach Mack Brown.
"It's probably better if we didn't," Brown said, "but I don't know if it's possible right now."
Brown knows about these games after once coaching at Division I-AA Appalachian State, which then played two games against Division I-A teams as financial salvation for the rest of the school's athletic department.
"As tough as it is with the score and kids being mismatched sometimes," Brown said, "it is a positive for the university from the standpoint of exposure.
"And a lot of the kids I've talked to like the experience of going into big stadiums, even though they lose."
But try telling that to fans who pay full price, with increasing full costs, to travel to stadiums in order to watch these glorified exhibitions.
The difference is more than just the 22 extra scholarships that the FBS teams have -- 85 scholarship athletes on a roster compared to 63 for FCS teams.
During the first week of the season, FBS teams went 31-1 against their siblings from the FCS. The lone FCS victory was Cal-Poly's 29-27 triumph over San Diego State, coached by former Oklahoma assistant Chuck Long.
Baylor, Colorado, Kansas State and Missouri can only hope not to join the Aztecs on that dubious list this week.
Until then, here are a few morning links that are always competitive.