March, 28, 2012
3/28/12
1:45
PM ET
Athletic directors don't last long when football and men's basketball struggle, and that appears to be what has happened to Lisa Love at Arizona State.
Love will be replaced as the Sun Devils athletic director by Steve Patterson, the
school announced Wednesday
. Patterson was hired in July as the athletic department's chief operating officer and managing director of the Sun Devil Sports Group.

The school's official release says Love "is leaving ASU to pursue other career opportunities." The
Arizona Republic
, however, reported that she was fired after meeting with school president Michael Crow on Tuesday.
Love was hired in April of 2005. While many of the the Sun Devils' nonrevenue sports have thrived, Love's big-name hires haven't, including Dennis Erickson for football and Herb Sendek for men's basketball. Love also had a contentious relationship with successful baseball coach Pat Murphy,
who was fired
in November of 2009 during an NCAA investigation. Further, the search for a replacement for Erickson, which eventually ended with Todd Graham's hiring away from Pittsburgh, was far from smooth.
Patterson's background is mostly in pro sports. He spent nearly a quarter of a century as an executive in the NFL with the Houston Texans, in the NBA with the Houston Rockets and Portland Trail Blazers, and in professional hockey with the Houston Aeros. Prior to joining ASU in July 2011, he was the president of Pro Sports Consulting.
Quotes from the press release:
"In his time at ASU Steve Patterson has shown a level of sports management expertise rarely seen at the college and university level," said President Michael M. Crow. "He is the ideal person to build on the foundation Lisa built and to take Sun Devil sports to the next level - to the highest level.
"I wish to thank Lisa for seven years of excellent service. During her tenure here ASU won seven national championships and the academic performance and graduation rates of our student-athletes improved dramatically."
"I'm excited that Dr. Crow gave me the opportunity to oversee Sun Devil Athletics," said Patterson. "We expect to have a program that consistently competes for Pac-12 championships, with athletes that graduate, connect and serve our community, and operate with integrity, discipline and respect. It's time for our men's basketball and football programs to compete for championships and perform at the same level as our successful spring sports."
More Patterson background from the release:
Steve Patterson has built championship professional teams and designed, financed, built and run stadiums and arenas. As General Manager of the Houston Rockets he built the 1994 NBA Championship team. Later, he successfully led the effort to bring the Houston Texans NFL team and Super Bowl XXXVIII to Houston, Texas. As President of the Portland Trail Blazers, The Rose Garden and Rose City Radio, Patterson refined his skills as a turnaround specialist, while garnering national recognition for his player acquisition skills player acquisition skills when he took over as the team's General Manager.
Patterson also served as the President, General Manager and Governor of the Houston Aeros hockey team. For his efforts he was named the 1995 winner of the Andy Mulligan Trophy as the IHL's Executive of the Year.
In addition to his roles with the Aeros, Patterson also acquired and served as President and Partner in Arena Operating Company, which managed and operated Compaq Center, Houston's home of the Rockets, Aeros and Comets.
Born and raised in Beaver Dam, WI. Patterson attended the University of Texas, graduating with honors earning a Bachelor's Degree in Business Administration in 1980. He graduated from UT's Law School in 1984.
Oregon and Oregon State fans may not provide glowing recommendations for Patterson, whose tenure with the Portland Trail Blazers was
stormy on multiple levels
.
December, 15, 2011
12/15/11
11:17
AM ET
There's the real world. There's the theoretical world. And there's the world of spin.
The real world
: Todd Graham left Pittsburgh for Arizona State and
didn't even get a notable raise
on his $2 million salary because he'd rather be the head coach at Arizona State than Pittsburgh. His reasons? Really, it doesn't matter in Tempe. That's a question Pittsburgh should ask of itself, not Graham. It could be revealing.
[+] Enlarge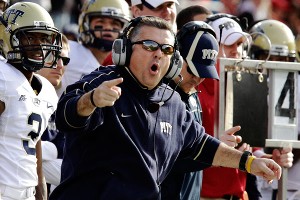 Garry Jones/AP PhotoFollowing one season at Pittsburgh, Todd Graham is now Arizona State's new football coach.
The theoretical world
: Todd Graham should have stayed at Pittsburgh because he said it was his dream job and he talked to his players about commitment and told boosters about his commitment to the future and because a high-character person would honor commitment above all else. And he certainly wouldn't announce a breakup with a text message.
The world of spin
: Todd Graham was Arizona State's first choice and everyone is thrilled. Graham feels horrible about the way he left Pittsburgh because he loves and respects everyone there. It just couldn't be helped.
You want absolutes of honor, character and integrity in college football? Two names: Joe Paterno and Jim Tressel. How are your absolutes doing now?
You believe in absolute honesty? When you last broke up with a girlfriend/boyfriend did you say: 1. It's not you, it's me; or, 2. You've gained 10 pounds since we started dating and your laugh drives me crazy. And I hate your friends. Except for the one I might ask out.
What did Todd Graham have to say about how he left Pittsburgh during his
introductory news conference
at Arizona State?
I want to first start and talk about my players from Pitt. The last few hours have been extremely gut wrenching for me, obviously for my family. I love those guys. I'm very proud of the growth that they had this year, both on the field, off the field, in the classroom and in the community. I'm very proud of them. You never want to leave a program, and I never dreamed that I would have to leave a program under these circumstances.

The timing of these processes are extremely rapid, and it did not allow for me to address the team, and that is very hurtful. I've never had to endure that, and I really regret that. I really regret that I didn't have the opportunity to do that. I reached out to them in the only way that I knew how, the only means that I had at my disposal because I absolutely did not want them to hear about this on the news. I wanted them to know first. The only other alternative I had was not to communicate at all, and that was just unacceptable to me.

I plan on my return to Pittsburgh to reach out to them and to communicate to them. Obviously my staff that's there has communicated, as well, and those young men, I just want them to know that I love them. Coaching and teaching is a passion to me, and that's something that's very, very important before I talk about anything else, that I want my players from Pitt to know that I love them and I'm proud of them.
You can believe it or not.
If Graham loved his Panthers and was proud of them, why did he not insist on delivering the news of his exit personally?
Well, obviously this transpired this morning in a rapid pace, and it was last night and this morning, and there wasn't an opportunity to have a team meeting and be able to meet with them.

Now, these processes move very quickly and very rapidly, and that's the tough thing about this business and about coaching. I've had experience with that before, and if there was anyway possible, again, that's — I never want to do that, and that's the greatest regret you can have, and it's the most horrible feeling that you have. But again, I reached out in the only way that I knew how because I absolutely was not going to just have them see this on the news.
In other words, Graham put what he termed "a gut-wrenching experience" in his left hand and the opportunity with Arizona State in his right and decided to endure the one because of the appeal of the other. He made a tough decision that many people make in the job market, only the news media wasn't Tweeting about it all day Wednesday. And there are, whether folks back East are willing to admit it or not, real world reasons why Arizona State held such great appeal to Graham.
ASU athletic director Lisa Love admitted she was aware of Graham's now even more justifiable reputation as a mercenary climber who constantly eyeballs better jobs.
Said Love: "I love the fact that [Graham's wife] Penny's parents are sitting right here and they drove up the road. I love the fact that Todd has family here. I love the fact that Desert Mountain was a place where they were investing and prepared to invest in property and believed him. I believed him. I can tell you that I saw that on job movement, but I believed him."
Trust. It's dangerous. But Love needed a coach after a muddled 17-day search that Wednesday's spin couldn't smooth over, and there was Graham -- eager, affordable and with a fairly solid resume. Ergo, leap of faith.
Of course, track records don't disappear. What if Georgia or Ohio State comes calling with $4 million a year? Why should Arizona State fans believe this is a better dream job than his last dream job, a phrase that the effervescent Graham throws around a lot.
Question: Because of your track record, how do you convince Sun Devil Nation, future recruits, the football team, everyone affiliated with ASU that you're here for the long haul?

COACH GRAHAM: I think the only way to respond to that is just being here. Obviously it was, like I said earlier in the remarks, that this is a dream opportunity for our family. It's obviously the first decision I've ever made that has actually benefited my wife and benefited our family. You know, I think that the only way you can do it is, like I said, I'm going to work hard to earn their trust, and I think trust is earned, so that's all I can do.
Right. Actions, ultimately, are real world tangible. Words are for worlds of theory and spin.
But words are all there are at present, and many of the words are going to be negative about Graham, and not completely without justification. Graham's perfect grasp of massaging talking points Wednesday evening often strained credulity. For example, he celebrated former Sun Devils greats Pat Tillman and Terrell Suggs. Suggs
took a shot at him on Twitter
, and Tillman, an absolutist on integrity in both word and deed, would not likely have been at the presser clapping for Graham had he not given his life for his country.
Graham also seemed to be unaware of the term "irony."
Question: When you get settled in, what's the first thing you do to get this program going in the Todd Graham way?

COACH GRAHAM: One word: Relationships. Start building relationships. That's a key component.
He's — officially — referring to the theoretical world. But he's — in reality — speaking of relationships of convenience. You do your best to get along with folks at your office whom you might not like. You talk as pleasantly as possible to annoying neighbors because, well, it seems smarter than telling them they are annoying gasbags. You nurture your world and love your family and friends.
A football coach enters relationships of convenience with a football program. He's got his AD. He's got his school president. He's got boosters who want to play golf with him. He's got to shake hands with lawyers who will offer unsolicited advice on using the tight end more and being more "attacking" on defense. He's got 85 scholarship players who need to be pushed, prodded and coddled in ways unique to their individuality. There is lots of talk of family but it ultimately is a business based on what the scoreboard says.
The real world will be more difficult for Graham because of his present standing in the theoretical world, and no spin can change that. He doesn't have a clean slate. Some will resist giving him the benefit of the doubt.
Relationships? What about those guys at Pitt?
But if Graham is who Love and school president Michael Crow say he is, "just being here" is a reasonable point A for hope. Point B be will be maintaining a recruiting class that seemed headed for a top-25 national ranking before Dennis Erickson was fired.
And the endgame? That's where the real world intrudes over all else: Winning, winning, winning.
November, 28, 2011
11/28/11
4:35
PM ET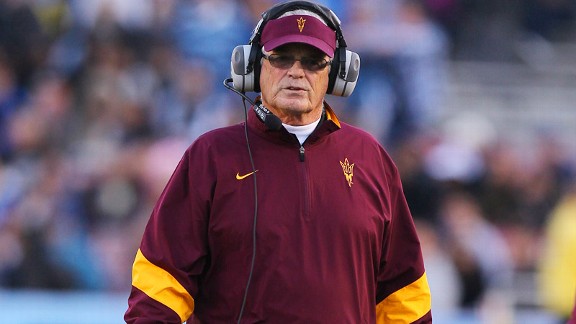 Adam Davis/Icon SMIThe Sun Devils won 10 games in Dennis Erickson's first season in 2007, but no more than six in each of the four years that followed.
The 2011 season was much like Dennis Erickson's tenure at Arizona State: fast start, then mediocrity and disappointment.
Erickson went 10-3 in his first season, but even that was a mirage of sorts, a product of a forgiving schedule. Some forget that the Sun Devils lost three of their final five games by an average of 16.7 points.
The Sun Devils started this season 6-2, posting quality wins over Missouri and USC. They were nationally ranked and 10 wins seemed likely with a forgiving schedule ahead. They seemed certain to win the Pac-12 South Division title.
But then the wheels came off. They lost their last four games, and now
Erickson is out of a job
.
Erickson's final record at Arizona State, which is 31-30 at present, will be determined after the Sun Devils' bowl game. Erickson, 64, opted to bow out gracefully, coaching the team he put together one last time.
"I will always cherish my memories here," he said in statement.
There was some conjecture that this would become a retirement instead of a termination for Erickson. Reached by phone Monday, Erickson said he has no plans to retire.
"Yeah, I'd like to coach again," he said. "I'm not done coaching. You know that. I'd certainly like to. It's just a matter of opportunity, of course."
Erickson also said there were no hard feelings between him and Arizona State administrators. He said he had "great respect" for athletic director Lisa Love and school president Michael Crow.
"We talked about it and they made the decision," Erickson said. "That's kind of how it is. The last part of the season didn't help us."
Of course, he doesn't walk away empty-handed. Under contract for another year, he will receive half of his $1.5 million annual salary.
What went wrong this year
? The easy answer is defense. During the four-game losing streak, the Sun Devils yielded 37 points per game. During the 6-2 start, they gave up 21.5 ppg.
But it has to be more than that. Arizona State started the season riddled with injuries, but it won despite them. The team that started losing was healthier than the team that started fast. Of the final four losses, only California comes close to having the athletic talent the Sun Devils have. Something went wrong in the team's collective head. Something yielded. The chemistry and unity that were cited as hallmarks of the Sun Devils' senior-heavy locker room during the successful early going somehow cracked.
Defensive tackle Bo Moos told the Arizona Republic's Doug Haller this after the Arizona loss. "We have a group of 30 seniors. You should expect it to be there, but something within the chemistry hasn't been right for the past month and I really cannot put my finger on what it is."
While Arizona State will play in its first bowl game since 2007, the Sun Devils need to win to eclipse .500 for the first time since that season. That's not what folks expected when Erickson was hired. Say what you want about his nomadic ways, he was a guy with a proven track record of winning at the college level. While Erickson's NFL coaching career was a wash, he was successful at every college stop. This is the first time he's been fired from a college job.
Erickson won a national title with Miami in 1989, a Fiesta Bowl at Oregon State in 2000 and was 148-65-1 (.695) in 18 seasons before arriving in Tempe. He posted nine-win seasons at five different schools. He is one of only three people (USC's Pete Carroll and Washington's Don James) to win Pac-10 coach of the year three times.
Erickson's legacy is on solid ground no matter what he does next. While he has a roguish reputation with some folks, he's been an open, accessible guy who almost always went for optimism and rarely dumped on his players, even when they probably deserved it.
As for what's next for Arizona State, it's definitely going to be a competitive market to find a new coach, with firings across the country dotting the blotter. It's unlikely the Sun Devils will secure a sexy prospect for what Erickson was making, and the school is notorious for paying assistant coaches poorly. Further, Sun Devils fans will at least want to match the positive buzz generated by hated rival Arizona, which hired Rich Rodriguez to replace Mike Stoops.
The first name everyone is saying: Houston's Kevin Sumlin. Two problems with that: 1. get in line; 2. the Cougars are likely going to a BCS bowl game, which means Sumlin won't be available until after Jan. 1. That could put a strong recruiting haul assembled by Erickson at risk.
The Pac-12 blog will throw out a name that's also been buzzing a lot of places: former Texas Tech coach Mike Leach. His pass-happy, spread offense is nearly identical to what the Sun Devils have been running the past two years under offensive coordinator Noel Mazzone.
Leach comes with baggage, but Arizona State is a big-city program that must compete with pro sports for attention. So Leach's attention-grabbing ways probably would be more of a positive than a headache.
Whoever gets the job will inherit a solid core of talent, including a promising quarterback in
Brock Osweiler
. The next coach also might give serious consideration to retaining Mazzone, who's done a fantastic job transforming an anemic offense in two years.
It's been a schizophrenic season in Tempe. Erickson started the year on the hot seat, but with a team that looked like the South Division favorites. Through eight games, they played like it.
Then things went splat.
Talk to 10 people and you'll get 10 different explanations on why things never worked out under Erickson, this season or the three after the promising debut in 2007.
But as far as divorces go, this certainly isn't the worst. Erickson doesn't walk away significantly diminished. And the next Sun Devils coach has a chance to win immediately.
Of course, Arizona State has been called a sleeping giant for years. Will the next guy finally wake Sparky up?
November, 27, 2011
11/27/11
12:00
PM ET
Rumors and reports are swirling that Arizona State coach Dennis Erickson, UCLA coach Rick Neuheisel and Washington State coach Paul Wulff will shortly be terminated.
From the
Arizona Republic
:
Vice President of Athletics Lisa Love did not return messages left by The Republic on Saturday, but multiple sources confirmed that the end is near for coach Dennis Erickson, and his dismissal could come soon.
From the
Los Angeles Times
:
Dan Guerrero, the Bruins' athletic director, will sit down with UCLA's football coach after the season is over to discuss the future. That could be as soon as next weekend, after the Bruins play Oregon in the Pac-12 championship game.
Neuheisel's chances of retaining his job are bleak, according to influential people close to the program who did not want to be identified publicly because the decision was not final.
The general gist is Neuheisel will coach the Pac-12 title game on Friday at Oregon. The Orange County Register named candidates to replace Neuheisel:
UCLA coach Rick Neuheisel is expected to be fired following Pac-12 championship game against Oregon with Boise State coach Chris Peterson, Houston's Kevin Sumlin and Cincinnati's Butch Jones the leading candidates to replace him.
From the
Seattle Times
, which names former Texas Tech coach Mike Leach as a top candidate to replace Wulff:
Sources close to the situation say Wulff, whose Cougars lost 38-21 to Washington on Saturday at CenturyLink Field, will be dismissed after a meeting with athletic director Bill Moos, barring a last-minute change of direction by Moos. It could happen as early as Sunday, possibly Monday.
A reversal of thinking is unlikely, and sources familiar with the process say the Cougars will have former Texas Tech coach Mike Leach at the top of their list of possible replacements. Leach has been out of coaching since 2009 after a controversial exit from Tech that resulted in him suing the school.
Sumlin and Leach also likely will be connected to the Arizona State job.
These three guys started the season on the hot seat. All three showed signs of getting off it at various times. But, alas, they couldn't make a turnaround stick.
Tough business. College coaches are paid well, but their job security is always precarious.
End result is it appears the Pac-12 will feature four new coaches -- Arizona has already hired Rich Rodriguez -- next fall.
July, 15, 2008
7/15/08
12:01
PM ET
Posted by ESPN.com's Ted Miller
Please, read these responsibly...
The development also muted rumors DeRozan would follow former Compton Dominguez High standout Brandon Jennings to play professionally in Europe. Awaiting his own SAT result, Jennings opted last week to forgo a season at Arizona before his expected 2009 entry into the NBA draft.