April, 10, 2012
4/10/12
4:46
PM ET
Year one was rough for Jon Embree and Colorado. Year two might be worse.
The Buffaloes learned that wide receiver
Paul Richardson
would be lost for the year with a torn knee ligament
-- an injury that occurred during a non-contact special teams drill.
[+] Enlarge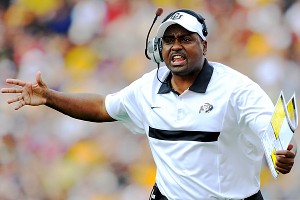 Ron Chenoy/US PresswireJon Embree's Buffaloes will need receivers to step up in 2012 in the wake of news that starting wideout Paul Richardson has a torn knee ligament.
Richardson is hands-down Colorado's best offensive weapon. And he will be again if/when he returns for the 2013 season as expected. He has a redshirt year to burn, which helps, but it doesn't change the fact the Buffaloes will be scrambling for playmakers this season.
"I told him that when I played, a torn ACL was doomsday for a skill position player," Embree said in statement. "Now, he'll be able to come back stronger and faster. He's obviously disappointed, but he is in great spirits about what happened and will make the most of his redshirt year available to him."
Last year's leading receiver, running back Rodney Stewart, is gone. The leading receiver who actually played receiver,
Toney Clemons
is gone. Richardson was third, he's gone. Tight end
Ryan Deehan
, gone. Wide receiver
Logan Gray
, gone.
Starting to get the picture? And hanging over all of this is, of course, a question mark at quarterback. Texas transfer
Connor Wood
is getting all of the work with the first team, though that will change when
Nick Hirschman
returns from a broken foot in the fall.
So with Richardson out who are these guys going to be throwing to?
Keenan Canty
probably has the most speed of anyone in the group. He caught 14 balls for 161 yards last season.
Tyler McCulloch
has pretty good size at 6-5, 210, but he's not as fast as Canty. McCulloch had 10 catches for 96 yards and a score last season.
Nelson Spruce
is coming off a redshirt year and there are a handful of walk-ons that could get into the mix.
Maybe that anonymity is a good thing and someone could emerge from that pack as a viable receiving option. But Richardson has the type of speed that defenses have to game-plan for. He could be counted on to draw extra attention which would have opened up more for the rest of the receivers.
Last year he set a school record with 284 receiving yards in Colorado's overtime loss to Cal. In that game he caught 11 balls -- matching a school record. In two years, he's climbed to 21st on Colorado's all-time list of receiving yards (1,069), 25th in receptions (73) and tied for ninth in touchdown receptions (9).
His loss is a significant one, and yet another challenge Embree must face in year two.
April, 18, 2010
4/18/10
6:42
PM ET
The margin for error at quarterback for Georgia just got a lot thinner.
The Bulldogs exited spring practice with two promising redshirt freshmen and a versatile junior who was one of the better all-around athletes on the team.
[+] Enlarge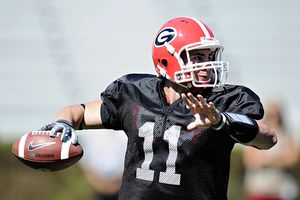 Dale Zanine/US PresswireFreshman Aaron Murray is the favorite to quarterback a veteran offense that returns 10 starters.
But with the dismissal of redshirt freshman
Zach Mettenberger
from the team on Sunday for a violation of team rules, the Bulldogs suddenly find themselves in a precarious position entering the fall.
In short, they'd better hope redshirt freshman
Aaron Murray
is as good as they think he is, and they'd also better hope that both Murray and junior
Logan Gray
stay healthy.
Otherwise, Georgia could be looking at an offense in 2010 with all the pieces to the puzzle … with the exception of a quarterback. The Bulldogs return 10 offensive starters.
Murray was the likely starter even before Mettenberger was booted. But Murray has never taken a snap in a college game, and Gray hasn't taken any meaningful snaps. Gray's a terrific athlete, but the jury's still out on whether or not he throws the ball well enough to be the every-down starter.
He may be better suited to come in and play situationally, which puts the onus back on Murray.
With Mettenberger around, the Bulldogs were going to have the luxury of those two pushing each other all season. Georgia coach Mark Richt could have also gone with the hot hand.
Now, his hands are pretty well tied.
It's Murray's show.
March, 9, 2010
3/09/10
1:52
PM ET
Aaron Murray
's idea of winning the starting quarterback job at Georgia for the 2010 season revolves around a couple of principles that he holds near and dear to his heart.
Playing with poise and playing to win.
Murray, a redshirt freshman, is going through his second spring with the Bulldogs. He's battling fellow redshirt freshman
Zach Mettenberger
and junior
Logan Gray
for the job.
[+] Enlarge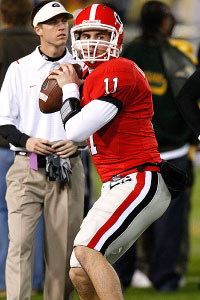 Kevin C. Cox/Getty ImagesAaron Murray has his sights set on winning the starting QB job.
Georgia coach Mark Richt doubts a starter will emerge this spring and that the race will probably spill over into the preseason. But if somebody does separate himself, so be it.
Murray has reminded himself several times that it's not a job he's going to win in a couple of practices or even a couple of weeks. He's also reminded himself that he has premium talent around him. The Bulldogs return 10 starters on offense.
"We have the kind of offensive line that we're going to be able to put a lot of it on their shoulders," Murray said. "We have great skill guys around us, so we're not going to have to throw a perfect pass every time. You put it anywhere in the vicinity, and they're going to make the catch.
"It's not going to be put totally on our shoulders. Coach [Mike] Bobo isn't going to turn the game plan into throwing it 40 times a game. He's going to balance it out, and it's up to us to make the plays when they're there."
The difficult part in a quarterback competition like this when nobody has any real SEC experience is finding that right balance of taking care of the ball, but also not becoming predictable.
"You've got to know your assignment and know what you need to do, but don't just go through it robotically," Murray said. "You make your reads. But sometimes, you're going to have to fit a ball in there. Sometimes you have to take chances.
"We have the athletes. If you make the right reads, someone's going to end up getting open. You just have to trust in your ability and trust in the ability of the guys around you."
The 6-foot-1, 212-pound Murray has gained more than 15 pounds since he arrived on campus last year from Tampa, Fla. He's well aware that he's not the ideal height for a prototypical quarterback, but he points out that neither is Super Bowl-winning quarterback Drew Brees.
"A lot of people compare us because of the whole height thing, and I like the way he plays the game," said the versatile Murray, who rushed for 932 yards as a junior in high school before suffering a broken fibula early during his senior season.
"Drew's a competitor and does whatever it takes to win. He works harder than anyone. He's in there preparing at 5 and 6 o'clock in the morning watching film. Everyone doubted him because of his size, and he's going to work as hard as he can. That's something I try to do, work hard and put that extra preparation in and hope it translates over to the field."
October, 2, 2009
10/02/09
9:39
AM ET

Posted by ESPN.com's Chris Low
The hit on Florida quarterback
Tim Tebow
and his subsequent concussion last week is a sobering reminder for everybody in college football how close they are to playing their backup quarterback.
Maybe it's a missed block, a blindside sack or a scramble that ends in a violent collision with a linebacker.
And sometimes, it's a freak thing that can cause your quarterback to go down.
You never know, which means the guy waiting in the shadows can turn out to be the most valuable player on the team.
Twice this decade, LSU has won SEC championships with backups leading the way in the title game –
Ryan Perrilloux
in 2007 and Matt Mauck in 2001.
How ready are the backup quarterbacks around the league this season?
Here's a quick look breaking them down into three categories:
Ready to roll
Mackenzi Adams, Vanderbilt:
It seems like Adams has been around for six or seven years now. He's been the ultimate go-to guy off the bench any time the Commodores have needed him. He's not a great passer, but is effective running the ball and knows the offense inside and out. He's been an integral part of some of Vanderbilt's bigger wins the last few seasons.
John Brantley, Florida:
As a pure passer, Brantley might be even better than Tebow. He gave Urban Meyer a ton of confidence with his performance this past spring and probably would be starting for several teams in the league right now. The Gators didn't look like they skipped a beat after he came in for Tebow in the Kentucky game, although their offense will look a little different with Brantley in the game.
Randall Cobb, Kentucky:
If
Mike Hartline
went down, it would be interesting to see which way Rich Brooks would go. The listed backup is junior
Will Fidler
, who improved in the spring, but still hasn't played any meaningful snaps in games. Ultimately, Brooks would probably go with Cobb, who took the job from Hartline toward the end of last season and is one of the premier athletes in the league. Cobb was a quarterback in high school and can throw it, but the Wildcats need him more right now at receiver.
Jarrett Lee, LSU:
One of the more experienced backups in the league, Lee started eight games last season as a redshirt freshman. He was 4-4 as a starter and passed for more than 1,800 yards and 14 touchdowns, but also threw 16 interceptions, seven of which were returned for touchdowns. The wild card for the Tigers is true freshman
Russell Shepard
, who's a dynamic threat as a runner but still working on his passing.
Chris Relf, Mississippi State:
He's already sharing some of the quarterback duties with senior starter
Tyson Lee
this season. A bigger, more physical player, the 6-foot-3, 235-pound Relf is more of a threat as a runner and is being used in that role some this season. He's already had some games where he's been close to 10 carries. True freshman
Tyler Russell
is waiting in the wings.
Nick Stephens, Tennessee:
Stephens started as many games as
Jonathan Crompton
last season, but neither was overly effective. The best thing Stephens does is throw the deep ball. He pushed Crompton during preseason camp this year. But so far, Tennessee coach Lane Kiffin has stuck with Crompton despite his eight interceptions through four games.
Has the hype
Neil Caudle, Auburn:
Some in and around the program felt Caudle might be the favorite to win the starting job entering preseason practice, but
Chris Todd
quickly shot down that theory. Caudle, a junior, has played very few meaningful snaps for the Tigers. The player the Auburn fans want to see is true freshman
Tyrik Rollison
, who would seem to fit well into what Gus Malzahn likes to do on offense.
Logan Gray, Georgia:
The Bulldogs have a package in place for Gray, who's one of the most versatile athletes on the team. He returned punts last season, and there was some talk leading up to the South Carolina game that he might play an expanded role against the Gamecocks. The jury is still out on his ability to throw the ball. The Bulldogs also have a pair of true freshmen they like --
Aaron Murray
and Zach Metterberger.
Star Jackson, Alabama:
The sophomore from Lake Worth, Fla., came to Alabama with all kinds of credentials. He's a 6-foot-3, 205-pound pro-style passer that can also run. He just hasn't played any meaningful snaps yet with the game on the line. Down the road, Jackson may have a hard time holding off true freshman
A.J. McCarron
, who was also highly touted coming out of high school.
Tyler Wilson, Arkansas:
Wilson has played a little bit this season for the Hogs, as Bobby Petrino wants to get the redshirt freshman some experience. He fits well into Petrino's system and is a talented passer, although he's still adjusting to playing under center. He operated exclusively out of the shotgun in high school.
Who knows?
Reid McCollum, South Carolina:
The Gamecocks could really be in trouble if something happened to
Stephen Garcia
. Redshirt freshman Reid McCollum is his backup and has thrown just one pass this season. He was sick last week with the flu, but Spurrier said he's going to try and get McCollum in the game this week in the first half just to get him some meaningful experience. McCollum's claim to fame is that he was A.J. Green's quarterback in high school.
Nathan Stanley, Ole Miss:
If something were to happen to
Jevan Snead
, the Rebels wouldn't have anybody behind him who's thrown more than five passes in his college career. Redshirt freshman Nathan Stanley would probably get the first shot. The 6-foot-5, 200-pound Stanley was one of Ole Miss' most improved players in the spring. Senior
Billy Tapp
would also be an option, although he's yet to throw a pass this season.
September, 10, 2009
9/10/09
4:50
PM ET

Posted by ESPN.com's Chris Low
No
Matthew Stafford
and no
Knowshon Moreno
, no problem.
At least, that was the party line coming out of Athens this offseason.
Georgia was going to play more as a team. The star of the team was going to be the team. There wasn't going to be as much standing around and waiting for Stafford or Moreno to make a play.
It all sounded so promising.
Until now.
Strange as it sounds, the Bulldogs' season is already teetering, and it's only Week 2. Their game Saturday night at home against South Carolina (ESPN2, 7 p.m. ET) is about as critical as it gets.
Going 0-2 to start the season is never a good thing in the SEC, especially at a place like Georgia. But doing so with a schedule the likes of which the Bulldogs have to play this season is football's version of a death sentence.
After South Carolina's visit comes a trip to Arkansas, followed by home games with Arizona State and LSU and then trips to Tennessee and Vanderbilt before Georgia gets its bye. The Bulldogs then have games against Florida and Georgia Tech to look forward to after the bye.
But with the problems the Bulldogs have right in front of them, particularly offensively, the last thing on their minds is what's down the road.
Senior quarterback
Joe Cox
was ineffective throwing the ball in the loss to Oklahoma State, and the offense sputtered after the touchdown drive to open the game.
There were varying reports Thursday that Cox might not play against South Carolina because of a problem with his arm/shoulder and would give way to sophomore
Logan Gray
.
Georgia officials quickly shot down those reports and said Cox would start. Either way, it sounds like the Bulldogs have at least been getting Gray ready for an increased role in the offense.
"If your quarterback doesn't play well, it's hard to win," Georgia coach Mark Richt said Wednesday. "That's just all there is to it. He's got to make plays. He's got to get his team in good situations and out of bad ones. In protections, Joe did a beautiful job. We've still got to be able to hit our target, and guys have to make plays on the other end, too."
As if the quarterback issues weren't enough, the Bulldogs will also be forced to go with a different combination in their offensive line. Left tackle Trinton Sturdivant is out for the second straight season with a knee injury after getting hurt against Oklahoma State. Vince Vance will replace Sturdivant in the starting lineup, but that's not the only change.
Justin Anderson will start at right guard this week, with Cordy Glenn moving from right guard to left guard. Chris Davis, who started last week, is the odd man out.
Georgia only had one run of longer than 10 yards against Oklahoma State.
Richt had said earlier this week that he hoped to get tailback
Caleb King
back for this game, but the offensive staff wasn't nearly as optimistic after seeing him practice Wednesday. King missed the opener with a hamstring injury.
Cox said a big part of Georgia's problems in the opener revolved around players being too tentative and playing "not to mess up."
That may be, but the mess that this season could become if Georgia doesn't win Saturday is something nobody in red and black wants to fathom.