NCF Nation:

Logan Thomas interview
March, 27, 2013
3/27/13
9:00
AM ET
The Hokies start spring practices today, and I spoke with Virginia Tech quarterback
Logan Thomas
recently to get his take on what's going on in Blacksburg. The
first part of this interview was posted on Tuesday
. Here is the rest of our conversation:

Logan Thomas
What do you think about opening up against Alabama?
LT:
Honestly, it will be the biggest game of my career. The bowl game against Rutgers was the biggest game of my career until this one comes up. Obviously we have a task in front of us, we're playing the best team in the nation the past few years. It will help push us through spring semester, spring ball and into the summer. It will help us continue to keep our eye on what's important because we know if we don't come out right, it could be a long day for us there. But if we come and play and prepare the way we can, we'll be just fine and we can compete with anybody. All the guys know that. Right now, that's what we're all working towards.
Have you studied them on film yet?
LT:
I haven't looked at them on film, but obviously I've watched many of their games on TV. You already have a feel for what they do, but coach Saban and his staff down there are going to have something different for every game. I'll definitely have to watch a lot more film when the time comes around.
Specifically, what have you done on your own this offseason to get better? Have you trained with anybody different or done anything like that?
LT:
Just been working myself, trying to get as good as I possibly can, trying to get in the best shape I possibly can, in the weight room and in the locker room trying to be the best leader I can. I'm trying to have guys be able to follow me, and trust in me that I'm going to get the job done.
Was there any overriding factor that caused you to come back?
LT:
The only thing I can say is I didn't feel like I was ready to go. I feel like I had a lot more room for improvement before I make that leap, especially with a new coach coming in, he's going ot help me in that department as well as getting another 14 games of experience.
What do you want to do better, in terms of technique, Xs and Os, and execution?
LT:
I think it's just consistency, I just have to be more consistent. I have to take every play one step at a time instead of looking at the whole picture because you can't control everything. I think that's going to be the most important thing for me.
March, 26, 2013
3/26/13
10:00
AM ET
Virginia Tech quarterback
Logan Thomas
is back. After considering the possibility of leaving early for the NFL draft, Thomas said he was swayed to return in part by the hire of offensive coordinator Scot Loeffler, and also by the humbling realization that he has room for improvement. Last year was a rough season in Blacksburg, Va., for everyone, but Thomas -- by nature of his position -- took the brunt of the criticism for the offensive struggles. Some of it was warranted, as Thomas threw for 2,976 yards, 18 touchdowns and 16 interceptions, but many of the problems stemmed from the inexperience surrounding him. He became the first quarterback since Bobby Owens in 1965 to lead the Hokies in rushing, running for 524 yards and nine scores. He also broke his own school record for total offense with 3,500 yards.
[+] Enlarge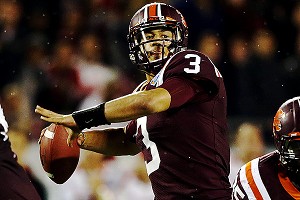 Rob Foldy/USA TODAY SportsHoping to put last season's 16 interceptions behind him, Virginia Tech quarterback Logan Thomas says he's ready to start anew in 2013.
I caught up with Thomas recently to get his take on spring ball and his decision to return. Here are the highlights of our conversation:
How much different will the offense look this year?
Logan Thomas:
I think it will be a little different just because we'll be able to change it up a little bit. Obviously it will be the first time teams in the league have seen us play this way. It will still have a lot of the same dimensions, but we can do things differently.
What do you like about that? I would imagine it has plusses and minuses to changing things your last year.
LT:
Yeah, obviously the minuses are having to learn a new playbook, but that can happen at any point in time, and it's going to help me. It's going to be a little bit of NFL verbage and NFL ways of doing things. Obviously there are a lot of positives in teaching me the same way that he (Loeffler) coached in the NFL. He's going to teach me the way he taught those guys. I think that will be a big help, not only this year but in the long run.
Did you sit down and talk to him before you made your decision?
LT:
We had a chat. They hadn't made a decision on him, and I hadn't made my decision yet, either. We talked and I felt like it was good for me to be able to come back and work with him.
What went wrong last year?
LT:
The leadership. We didn't have any one person or any group of people step up. That leader will drive a team as far as they want to go. I take some of the blame for that, and I think some of the other guys who are here take the blame for that. We're not going to let that happen for a second year in a row. Another thing is we got complacent with all of the winning that had gone on in the program, that it was just going to happen. Obviously we know it's not going to happen. We have to be better.
How tough was it for you, personally? You took a lot of heat, some of it fairly, some of it unfairly.
LT:
It's not tough. Most of the time I personally let things go. Obviously people are going to say a lot of things. They don't know what they're talking about at all times. Obviously there's no way of dodging it here. You just have to put it to the side and use it for when you need it. It didn't really get under my skin too bad. It's just going to help drive me for this year, and be the best player I can possibly be, and this team be the best team we can be.
Stay tuned for Part II of this interview.