September, 30, 2010
9/30/10
10:20
AM ET
Conference play finally kicks off this week, and here are 10 things to track on Saturday.
1. John Clay vs. Greg Jones:
The Big Ten's top running back (Clay)
goes up against the league's top linebacker
(Jones) in a matchup football purists will love. Clay has rushed for 253 yards and two touchdowns in two career games against Michigan State, while Jones has recorded 27 tackles in those matchups. After limiting Clay's carries a bit during nonconference play, Wisconsin likely will feed him a lot at Spartan Stadium, particularly in the second half. If Jones and the Spartans defense keep Clay in check, they'll have a good chance to win.
[+] Enlarge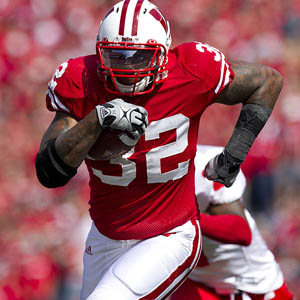 Jeff Hanisch/US PresswireWisconsin's John Clay has rushed for 501 yards and six touchdowns this season.
2. Roles reverse for Hawkeyes, Lions:
Iowa's recent dominance against Penn State is well known, as the Hawkeyes have claimed seven of the teams' last eight meetings. Unranked Iowa teams have knocked off top 5 Penn State squads in each of the last two seasons. This time, Penn State is the acknowledged underdog heading to Kinnick Stadium. Iowa has the senior quarterback (
Ricky Stanzi
) and the more accomplished team, but it also has the pressure to win. Penn State certainly boasts the talent to shock the Hawkeyes.
3. Fireworks in Bloomington:
Expect a ton of points in the Michigan-Indiana game, as quarterbacks
Denard Robinson
and
Ben Chappell
lead potent offenses against shaky defenses at Memorial Stadium. Robinson
will play
after suffering a bruised left knee against Bowling Green, and he faces an Indiana defense that ranks 10th in the league against the run (177 ypg). Chappell leads the Big Ten and ranks 10th nationally in passing (296.7 ypg). He and his talented receiving corps face the Big Ten's worst pass defense in Michigan (264.8 ypg allowed). This could easily become a basketball score.
4. Improved Illini defense tested:
All the early signs point to some genuine improvement with an Illinois defense that finished last in the league in both points allowed and yards allowed in 2009. But as coach Ron Zook said this week, "This will be the first major, major test." Ohio State's
Terrelle Pryor
leads the nation's No. 8 offense into Champaign on Saturday, and Illinois will be challenged to slow down the Heisman Trophy candidate, who accounted for six touchdowns (4 pass, 1 rush, 1 receiving) last week. To have any shot, the Illini need continued playmaking from defensive backs Travon Bellamy, Tavon Wilson and
Justin Green
.
5. Gophers on life support:
There's little joy in Minneapolis about the Golden Gophers after a 1-3 start that includes three consecutive home losses. Despite coach Tim Brewster's perpetual positivity,
players are aware of the gloom on the outside
. Minnesota really needs something good to happen early in Saturday's Big Ten opener against Northwestern. If things start to go bad, the boos likely will rain down and it's hard to imagine the team turning things around. Minnesota really could use some big plays to lift the mood in TCF Bank Stadium.
6. Clayborn digs in:
Penn State hasn't forgotten what
Adrian Clayborn did last September
at Beaver Stadium. Lions left tackle Quinn Barham put a picture of Clayborn on his cell phone as a reminder of what he'd face this fall. But Clayborn has been relatively quiet this season, as constant double teams have limited him to 15 tackles and no sacks through the first four games. Clayborn is due for a big night and he'll set his sights on Penn State freshman quarterback Rob Bolden. Penn State has protected Bolden well, allowing only one sack, but the Lions are shorthanded after losing right tackle Lou Eliades to a season-ending torn ACL.
7. Dantonio begins his return:
Michigan State's Mark Dantonio will be in the coaches' booth Saturday at Spartan Stadium less than two weeks after suffering a mild heart attack and undergoing surgery. Dantonio said Tuesday that offensive coordinator Don Treadwell will continue to handle head-coaching duties as needed, as Dantonio eases into his full-time role again. "Guys are really excited to see him around," Greg Jones told me. "You feel like the tempo's picking up even more. Guys are going to really, really feel his presence more than they did last week."
8. Northwestern turns to Trumpy:
Northwestern has been looking for an answer at running back for a year and a half. As good as quarterback
Dan Persa
has been, the Wildcats need a legit ground game to join the Big Ten's elite this fall. After
Arby Fields
' early struggles, Northwestern will turn to redshirt freshman
Mike Trumpy
, who provided a boost with 53 second-half rush yards last week against Central Michigan. Trumpy and
Jacob Schmidt
were elevated to co-starters on the depth chart, as Northwestern faces a Minnesota team that allowed Northern Illinois'
Chad Spann
to run wild (223 yards) last wek.
9. Cousins, Tolzien in crunch time:
Both Michigan State and Wisconsin are run-first teams boasting a multitude of capable backs, but I really believe Saturday's game comes down to which quarterback makes plays in the fourth quarter. Both
Kirk Cousins
and
Scott Tolzien
have played well the last two weeks, combining for 998 pass yards with eight touchdowns and only one interception. Cousins needs to prove himself in the clutch, while Tolzien looks for a signature road win in a place where Wisconsin has struggled. He'll get top receiver
Nick Toon
back from a toe injury.
10. Buckeyes need answers at RB:
Perhaps Buckeyes fans are nitpicking, or maybe they have a point about
Brandon Saine
and
Dan Herron
. Either way, Ohio State fans want to see more production out of the veteran running backs, or increased opportunities for dynamic redshirt freshman
Jaamal Berry
, who has 15 carries for 177 rush yards (11.8 ypc) this season. Coach Jim Tressel is loyal to his veteran players, and it will be interesting to watch what he does if Saine and Herron start slow against Illinois.
September, 25, 2010
9/25/10
10:53
PM ET
Penn State found a way to win against Temple, but in the process it lost a key member of the offensive line.
Senior right tackle Lou Eliades suffered a serious knee injury against the Owls. Coach
Joe Paterno said after the game
that Eliades likely tore his ACL, adding that the veteran is "probably out for the year."
Eliades started at right guard last season before moving to tackle.
"It definitely hurts," Penn State center Doug Klopacz said when asked about Eliades' injury. "We're losing a great player, we're going to miss him because he was a big part of our line. We were coming together as a unit, feeling good about ourselves."
Penn State's offensive line has been far from dominant this season, and Eliades' injury raises more concern. Eliades and Stefen Wisniewski provided veteran leadership up front, and Wisniewski and Klopacz now need to carry the burden.
Up next: a date with Iowa and arguably the nation's best defensive line.
August, 19, 2010
8/19/10
9:11
AM ET
The position rankings move to the offensive side of the ball, and the offensive lines are first up. Several Big Ten offensive lines are among the nation's best, while other units boast experience but must step up.
[+] Enlarge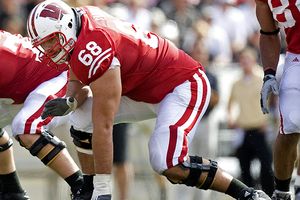 Jeff Hanisch/US PresswireThe Badgers' Gabe Carimi is entering his fourth season as a starter.
1. Wisconsin:
If this group stays healthy, I don't believe there's a better offensive line in college football this season. Left tackle Gabe Carimi is a bona fide NFL prospect who enters his fourth year as a starter. The Badgers boast another All-Big Ten selection at guard in senior John Moffitt, who can play both guard and tackle. Josh Oglesby should be ready to take the next step at right tackle. All the injuries last season forced Wisconsin to use a lot of linemen, and Peter Konz's return makes this one of the league's deepest units.
2. Ohio State:
The talent always has been there, and the physical play finally showed up late last fall. Ohio State's line finished 2009 on a very strong note and returns pretty much everyone for 2010. First-team All-Big Ten guard Justin Boren leads the group along with fellow guard Bryant Browning. Center Michael Brewster enters his third season as a starter, and right tackle J.B. Shugarts came along last year. If gifted left tackle Mike Adams effectively protects
Terrelle Pryor
's blind side, the Buckeyes will be extremely tough to stop.
3. Michigan:
The Wolverines boast one of the Big Ten's best interior line tandems in guard Stephen Schilling and center David Molk, who returns from an ACL injury. When Molk was healthy in 2009, Michigan consistently moved the football. His return is a major boost. The Wolverines need to solidify the tackle spots but have experienced options in Perry Dorrestein and Mark Huyge. Michigan's offensive line recruiting also should pay off as redshirt freshmen like Taylor Lewan solidify the depth.
4. Penn State:
The line had an average performance in 2009 and struggled against elite defensive fronts, but things should improve this fall. Stefen Wisniewski, who moves back to guard from center, is one of the nation's most experienced and polished offensive linemen. He leads a group that also features veterans Lou Eliades and Johnnie Troutman. Penn State needs big things from new starting left tackle Quinn Barham.
5. Northwestern:
All five starters return from 2009, but there's competition at three spots in camp. I see this as a testament to Northwestern's strong O-line recruiting the past four seasons. While experience is great, the Wildcats need to be more physical in run blocking and could benefit from some new faces (or some old ones hardened by competition). Left tackle Al Netter and center Ben Burkett are All-Big Ten candidates, and watch out for Patrick Ward, a heralded 2009 recruit who steps into the spotlight at right tackle this season.
Up next:
Running back/fullback
More rankings ...
August, 17, 2010
8/17/10
3:16
PM ET
For years, football coaches have motivated their players in practice by using images of upcoming opponents.
(Growing up in Berkeley, I remember sneaking onto Cal's practice field in the mid-1990s and seeing the face of Arizona quarterback Dan White -- that week's opponent -- taped onto blocking sleds.)
Penn State offensive tackle Quinn Barham is taking things to a new level this summer.
Every time Barham checks his cell phone, he sees Adrian Clayborn or Marcell Dareus. Barham put pictures of the star defensive ends from Iowa (Clayborn) and Alabama (Dareus) on his cell phone background.
[+] Enlarge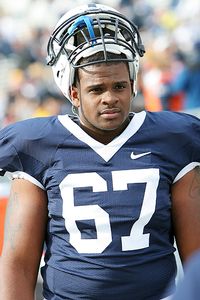 Matthew O'Haren/Icon SMIQuinn Barham is excited about the challenge of facing some of the nation's elite pass-rushers.
As Penn State's new starting left tackle, Barham will be assigned to block some of the nation's elite pass-rushers. He'll face Dareus in Week 2 at Alabama and Clayborn three weeks later in Iowa City.
"I've had [the pictures] up all summer, just as motivation," Barham told me last week. "Clayborn's a great player; the guy at Alabama, Dareus, he's a great player. So all those guys, just seeing what makes them great and learning how to beat them can also help me become a better player as well.
"I know they're going to be working just as hard as I am, if not harder. That's going to push me to work harder and learn different tricks and things to do to beat them and become a better offensive tackle."
You wouldn't blame Penn State players if they never wanted to see Clayborn again. The Iowa star had the decisive punt block and return for a touchdown in last year's Hawkeyes victory at Beaver Stadium.
But Barham sees an opportunity Oct. 2 in Iowa City.
"He's a great player," Barham said. "They say he's going to be a top-10 draft pick, so I would love to go against him."
Clayborn and Dareus won't be the only defensive ends to have their pictures on Barham's phone.
"I'm going to put up different defensive ends as each game goes by," Barham said. "I'm going to have a Youngstown State defensive end up pretty soon."
The 6-foot-3, 298-pound Barham is expected to make his first career start Sept. 4 against Youngstown State after backing up Lou Eliades as right guard this spring.
The cell phone pics are only one way Barham is preparing for an enhanced role. He has worked in camp on expanding his vision.
While he recognizes the importance of handling his individual assignment, Barham knows that the elite offensive linemen have total awareness of what's happening around them.
"In the past, I never would see everything on the field," he said. "Now I'm learning to see everything and how everything clicks: recognizing blitzes, recognizing coverages and different lineups, and how to adjust to them on the fly. As a young offensive lineman, you don't necessarily pay attention to all that at first. You're just so focused on your assignment. But once you see the field and how everything works together, you understand how to work together and how the chemistry can build.
"We're trying to be better than last year's O-line. We've got big goals, and we're trying to reach 'em."
April, 26, 2010
4/26/10
10:00
AM ET
Six Big Ten spring games took place Saturday, and our review begins with the Blue-White Game at Penn State.
As expected, the quarterback competition took center stage at Beaver Stadium, and the early returns weren't too promising.
Kevin Newsome
and
Matt McGloin
both struggled, while true freshman
Paul Jones
, seemingly an afterthought in the race before Saturday, had the best performance. Jones twice found classmate
Shawney Kersey
for 18-yard touchdown passes and finished 5-of-8 passing for 67 yards.
[+] Enlarge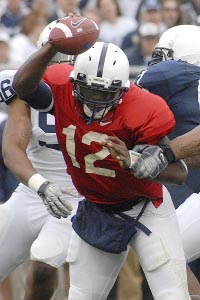 AP Photo/Ralph WilsonKevin Newsome entered the spring as the slight favorite to quarterback Penn State, but struggled in the Blue-White Game.
McGloin got the most work as a passer but completed just 10 of 23 attempts for 110 yards with two interceptions and nearly threw a third, which cornerback
Chaz Powell
dropped with a clear path in front of him. Newsome, who entered the spring as a slight favorite for the starting job, completed 5 of 12 passes with no interceptions and added 12 yards on the ground.
Although the quarterbacks didn't get much help from the offensive line (concerning) or the wide receivers (less concerning), Penn State's offense remains a major question mark entering the summer. To be fair, star running back
Evan Royster
didn't play Saturday
.
"I would rate my performance as we've got a lot of work to do," Newsome said afterward. "We've got a lot of work to do. We've got a lot of work to do. We're just going to keep working."
"A lot of eyes were on us today," McGloin said. "We didn't perform maybe up to par, maybe up to what people expected to see."
Penn State quarterbacks coach
Jay Paterno said after the game that it's wrong to eliminate Jones
from the race, and then added, "I checked my e-mail afterwards, and people are telling me Paul should be the starter. So it doesn't take long for people to make the decisions."
Paterno and the other coaches have more time to make the ultimate decision, and they'll look for improvement from all three signal callers by the time preseason camp rolls around.
Other nuggets from the Blue-White Game:
The offensive line's struggles can be attributed in part to the shuffling that went on this spring. It takes time to build chemistry, and Penn State has moved around several linemen, including first-team All-Big Ten selection Stefen Wisniewski. "Obviously, there's that chemistry we need to have,'' right tackle Lou Eliades said. "I think we're only going to get better in time. Chemistry will develop. I think, by September, we'll be ready to go.''
Nate Stupar sometimes gets overlooked when folks size up Penn State's linebacking corps for 2010, but he had a very nice performance Saturday. Stupar recorded seven tackles (six solo) and an interception.
Defensive ends Eric Latimore and Kevion Latham both found their way into the offensive backfield, and Latimore recorded two sacks in the game. Penn State's defensive line once again should be the team's strength, as end Jack Crawford and tackle Devon Still should have big seasons.
While backup running back Stephfon Green (4 carries, 10 rush yards) didn't do much, I liked what I saw from freshman Silas Redd, who recorded a 16-yard run and a 10-yard reception. Redd brings a nice combination of size and shiftiness.
Penn State brings back several proven veteran receivers, but Kersey and sophomore Justin Brown, who recorded a game-high four receptions for 35 yards, could work their way into the mix. Freshman Brandon Moseby-Felder led the White team with three receptions for 31 yards.
Wide receiver Brett Brackett, linebacker Bani Gbadyu and offensive tackle Quinn Barham received awards from the coaching staff for their performances this spring.
October, 3, 2009
10/03/09
5:17
PM ET

Posted by ESPN.com's Adam Rittenberg
I guess we shouldn't be totally surprised that Penn State and Illinois have combined for only 10 first-half points. The Lions have struggled up front all season, while Illinois came into the game with just one touchdown against an FBS team.
Defense has ruled the day so far as Penn State
leads 7-3
at halftime. Both teams have actually moved the ball, combining for 392 total yards, but both have stalled in plus territory. While
Evan Royster
has been kept at bay,
Stephfon Green
sparked the Lions' offense with a 52-yard touchdown run. He received a great block from lineman Lou Eliades on the play, and the sophomore has 81 yards on just seven carries. Credit Illinois' defense for hanging tough in this one.
For Illinois, it seems pretty simple: Turn
Juice Williams
loose and stretch the field. When Illinois attacks downfield to wideout
Arrelious Benn
and others, the offense seems to move well. When Mike Schultz gets conservative and calls zone run after zone run, the offense seems to stall. Penn State's linebackers have done a decent job, but the secondary looks vulnerable to me. Illinois really missed an opportunity for more points at the end of the half.