March, 31, 2014
Mar 31
5:30
PM ET
UCLA opens spring football on Tuesday with high hopes and a good chance to be ranked in the preseason top 10. This is the third spring for UCLA coach Jim Mora, who has led the Bruins to a 19-8 mark in two seasons. He took a couple of minutes to chat with the Pac-12 blog before spring kicks off.
This is your third spring. What have you learned during those first two, and are you going to be doing anything different this time around?
[+] Enlarge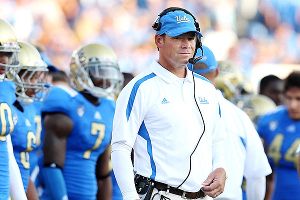 Stephen Dunn/Getty ImagesJim Mora believes spring is a great time to go hard and be physical.
Jim Mora:
Nope. Pretty much the same thing. It's a great time to develop your younger players and start to get a feel for what your team is going to look like in the fall and start to develop that bond you need to have success. We won't change anything. We go hard in the spring. It's physical. It's demanding. I think it's a great time to get physical work in.
After the 2012 season, you closed with the back-to-back losses to Stanford and the bowl loss. Last year you closed with a win over USC and a bowl win. Do you buy into the idea of offseason momentum?
JM
: No. To me, that first year, everyone says, "Oh, you lost three games in a row." But those were three pretty different games. It wasn't like we lost our last three regular season games. We lost our last regular season game, we lost in the Pac-12 championship game and we lost our bowl. It's not like we had this huge slump or something. Every season is a new season. You have to develop the identity of your team. You have to commit to a certain work ethic, and our guys have done that. To me, spring ball signifies the start of a new season.
As a coach, what position battle are you most interested in?
JM
: Outside linebacker, the guy who is going to replace
Anthony Barr
. I think that will be a good battle with
Kenny Orjioke
and
Aaron Wallace
and
Deon Hollins
. I'm excited to see how our defense adapts. We've got a new defensive coordinator. And as a staff we've learned a little bit more about our players and how to play in this conference and how to play college football with what teams are doing. We're going to have to adapt a little bit, but it's going to be fun to see.
With defensive coordinator Lou Spanos heading back to the NFL and Jeff Ulbrich being promoted from within, what kind of impact, if any, will that have on the defense?
JM
: Not a lot. Just like every year, you tweak some things. It's not going to impact it a lot. We've certainly made some changes. But we're going to make changes next year, too. You continue to adapt. You try to grow. You try to add things that will make you better. You try to improve upon things you didn't do well and you try to cut the fat so you're not teaching things you're not going to use throughout the year.
Was that a tough adjustment coming to the college game from the NFL? Every year in college there is going to be a lot of turnover and each season is a different team and a different personality.
JM
: It's interesting because it's very different than the NFL. You're right, there is more turnover. But at the same time, there is a little more certainty as well because unlike the NFL, where there is free agency so you're adding guys, and there's a draft where you're adding guys who should be ready to play right away, in college you know there is going to be a natural attrition and you have a pretty good idea of who you can count on and who still needs to develop going into a season. Hopefully some of the freshmen develop, but you can't always count on that. In some ways, as strange as it seems, it might be a little bit easier because you know what your team makeup is going to be a year in advance.
[+] Enlarge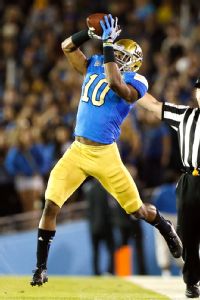 Ric Tapia/Icon SMIRising junior corner Fabian Moreau has earned positive reviews from Jim Mora.
Heading into spring, who is a player we haven't heard of yet, but you think we're going to hear his name a lot in 2014?
JM
: I don't know if you've heard his name a lot. Hopefully you don't hear it a lot because he's a cornerback and when you hear a cornerback's name a lot, that means he's making a lot of tackles because the ball is getting caught on him or he's giving up touchdowns. But I think we have a really fine player in
Fabian Moreau
. Defensive backs are where I've worked most of my career and I think this guy has some real special traits. I think he has a chance to be a great player.
You're big on leadership, as all coaches are. And you like to see players naturally develop into team leaders. Who are you eyeballing this year?
JM
: That's a great question. That's the point of most uncertainty for me is -- who is going to assert themselves on the team. Four of our six team captains return, which is a real positive because they were voted captains by their teammates. You've got
Brett Hundley
. You've got
Eric Kendricks
,
Jake Brendel
our starting center and Ryan Hoffmeister, a linebacker and special teams guy.
Xavier [Su'a-Filo]
and Anthony [Barr] leaving, those are huge voids. It will be fun to see who steps up. Guys like Fabian, even though
Myles Jack
is only a sophomore, I think he's got some leadership qualities to him. I don't want to point too many guys out because there are a whole lot of guys on our team who are capable of stepping into that role.
July, 12, 2013
7/12/13
9:00
AM ET
Your B1G and Pac-12 bloggers have been grinding away on their respective leagues' nonconference primer series. Here's
the Big Ten series
, and here's
the Pac-12 series
. Part of the fun is learning about other teams in other conferences and what they bring to the table. The Pac-12 and Big Ten face each other five times during the regular season. The Pac-12 got the better of the matchups last year. Will this year be different? Brian Bennett and Kevin Gemmell decided to talk it over.
Brian Bennett
: The first thing I look at for Big Ten-Pac-12 matchups in any given season is where the games are staged. Big Ten teams don't seem to think the West Coast is the Best Coast; they are just 5-20 in true road games against the Pac-12 since 2000, and that includes an 0-3 mark on the road versus the Pac-12 last year. (The league also has just one win in its past 10 Rose Bowls, but not all of those games came against the Pac-12.)
[+] Enlarge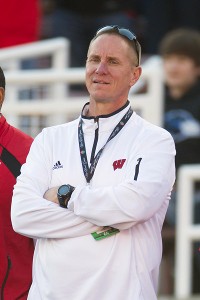 AP Photo/David StlukaNew coach Gary Andersen and the Badgers will have their hands full at ASU this season.
So it's not good news for the league that I cover that three of these five matchups are located far left of the Midwest. If there's any reason for optimism, it's that the Big Ten teams should be substantial favorites in two of the road games -- Northwestern at Cal in the opener and Ohio State against those same Bears in Week 3. Cal is intriguing because of new coach Sonny Dykes, but Northwestern and Ohio State are both legitimate Top 20 teams with conference-title aspirations; if they can shake off the jet lag and contain the Bears' passing attack, they should take care of business.
The two most interesting games -- and what look like virtual toss-ups -- are Wisconsin at Arizona State, and UCLA at Nebraska. The Badgers have a lot of returning talent, but a new head coach and different schemes on both sides of the ball. It's also going to be a clash of styles, with the Badgers' power running game going up against Arizona State's spread offense. Will Gary Andersen's team have its new systems figured out by then, and is Wisconsin's defense -- particularly its inexperienced secondary -- fast enough to handle the Sun Devils?
UCLA-Nebraska is probably not getting enough attention as a must-watch game this year. Last year's shootout in Pasadena, Calif., featured nonstop pingpong action, and both teams figure to have topflight offenses again. The Cornhuskers have a perilously young defense, but Bo Pelini's teams usually defend much better at home than on the road. Quarterback
Taylor Martinez
-- who grew up a Bruins fan but was recruited by them as a defensive back -- will be highly motivated to beat UCLA his senior year. This is Nebraska's only major test in the first seven games, and it's one I think the Huskers have to find a way to win.
Finally, there's Washington at Illinois. The Illini get the benefit of home turf, sort of, as the game will be played at Soldier Field in Chicago. We'll see if Tim Beckman's crew will inspire enough fans to show up by Week 3. While Washington has been mediocre for what seems like forever, I can't confidently pick Illinois to beat any half-decent power conference opponent at this point.
In the end, I say the Big Ten manages a winning record this time around against the Pac-12, taking the two games in Berkeley, Calif., and the one in Lincoln, Neb. A 3-2 mark sounds about right, though if Wisconsin can pull off the win in the desert, that could be a good sign for both the Badgers and the league as a whole.
Kevin Gemmell
: I'm going 3-2 also, but in favor of the Pac-12. After all, if we were in total agreement, it would make for a pretty boring Take 2. So I'll play the contrarian when it comes to UCLA-Nebraska.
[+] Enlarge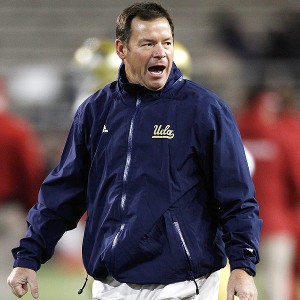 William Mancebo/Getty ImagesCoach Jim Mora and UCLA allowed just six points in the second half of last year's win against Nebraska.
We agree on the Cal games versus Northwestern and Ohio State -- though I think Cal is going to give both of those teams a better run than they are banking on. I like what Andy Buh is doing with a defense that could be sneaky good. And the Bears have
some explosive depth at wide receiver.
But ultimately it's a rookie quarterback -- whomever Dykes chooses among
Zach Kline
,
Jared Goff
and
Austin Hinder
-- and a team that will still have some growing pains as new systems are installed on both sides of the ball. Like you with Illinois, I'm not ready to give the Bears the green light yet. However, last year's game in Columbus, a 35-28 win for Ohio State, should serve as a reminder not to take Cal lightly. No doubt, the Buckeyes will remember
Brendan Bigelow
and his four carries, 160 yards and two touchdowns.
Both halves of the Pac-12 blog have been saying we believe Washington is going to get over that seven-win hump this year after three straight seasons of mediocrity. The Huskies have a lot of pieces in place with a returning quarterback, a 1,400-yard rusher, good receivers, a good line and the top tight end in the country. Their defense made huge strides last season in the first year under Justin Wilcox, and we're expecting another leap forward in 2013. What scares me is Washington's inconsistent play on the road the past few seasons. During the Huskies' trio of 7-6 seasons, they are 14-5 in Seattle (last year they played at CenturyLink Field) and 6-11 on the road. The past two years they are 11-2 at home and 3-8 on the road (0-2 in their bowl games at neutral sites). If the Huskies want to have a breakout year, they are going to have to win away from home. Steve Sarkisian actually talked about this
in a Q&A we did back in April
. But they certainly have the talent to win this game.
The ASU-Wisconsin game is really a critical one for the Sun Devils. It kicks off a four-game stretch (with no bye weeks) that also includes Stanford, USC and Notre Dame. ASU is another team looking for some national credibility, and this is its first opportunity to get some. You're right to talk about the ASU offense, but that defense -- which ranked first nationally in tackles for a loss and second in sacks last season -- is going to be crazy good with
Will Sutton
and
Carl Bradford
leading the attack. I'm banking on a good game, but ultimately one ASU wins at home.
That brings us to UCLA-Nebraska, a game I'm also surprised more people aren't geeked up about outside of the respective fan bases. This should be a fantastic showcase for both leagues.
Brett Hundley
impressed in his freshman campaign, and I think this game is going to be a spotlight for two of the country's most athletic quarterbacks. I was in Pasadena for the game last season, and what actually stood out to me was UCLA's defense -- particularly in the second half. The Bruins allowed only six points, and kept Martinez to 11 yards rushing and the Huskers to 106 total yards in the final 30 minutes. They should be improved in Year 2 under Jim Mora and Lou Spanos. If the Bruins pull this one off, it's going to be because of what they can do defensively.
April, 25, 2013
4/25/13
9:00
AM ET
LOS ANGELES --
Anthony Barr
came to UCLA with hopes of carrying the football. But when Jim Mora was hired, Barr was asked to give up those hopes and become a linebacker. You'd think that somewhere in the back of his mind he must be longing to carry the ball again -- at least a few more times. Suppose the coaching staff asked him to switch sides again and compete for the job vacated by
Johnathan Franklin
. Surely, he'd jump at that chance. Wouldn't he?
"Nope. It's too late for that. I'm a fully-committed, defensive-minded player," Barr said, soft-spoken but with a smile. "It was tough. When you've got the ball in your hands, people notice you. I think that's what guys get attached to. The limelight. The ego. You have to put that aside and do what's best for the team."
It's official. Barr's all in.
[+] Enlarge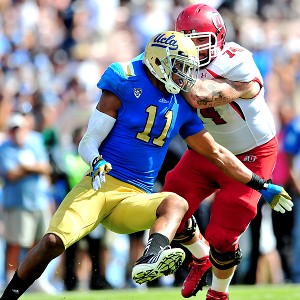 Cal Sport Media via AP ImagesUCLA's Anthony Barr had a Pac-12 best 13.5 sacks last season. He added 21.5 tackles for loss, 83 tackles, five passes defended, four forced fumbles, a blocked kick and a safety.
He said his goals for 2013 are pretty basic. "Get better at everything." Simple. To the point. Pretty universal.
No mention of being first-team all-conference (again). Not a word about Pac-12 Defensive Player of the Year -- which figures to be hotly contested between him and last year's winner,
Will Sutton
of Arizona State. And certainly not a peep about being a Heisman defensive darkhorse. Heisman talk, he said, is reserved for quarterback
Brett Hundley
.
But whether or not he chooses to recognize it, he is in the limelight -- more than he ever would have been had he stayed on offense.
"He's not exactly a secret," said UCLA defensive coordinator Lou Spanos. "He has to understand that every game we play, the first look is going to be where he's lining up. Everyone knows about him. Each game, he's going to have to be at his best."
When you lead the Pac-12 in sacks, people are going to know your name. In 2012, Barr posted a league-best 13.5 sacks and was second in tackles for a loss with 21.5. He was second on the Bruins with 83 tackles (a very distant second behind Pac-12 tackle king
Eric Kendricks
' 149). He also defended five passes, forced four fumbles, blocked a kick and tallied a safety.
"He's a complete player," Spanos said. "He can do it all."
Hard to believe that Barr has only been practicing as a linebacker for all of eight months. The switch was made before last spring, but an injury kept him out of spring ball so he didn't even start working his technique until the middle of fall camp. Coming off of a 2011 season where he carried all of nine times as a hybrid fullback/running back for 25 yards and a touchdown, the move to defense was going to take some getting used to.
"You have to play angry," he said. "You have to be more physical and aggressive. A lot of it was good coaching. They got me ready to play in a hurry."
Despite being ranked No. 10 at the time on
Mel Kiper's Big Board

, Barr announced on New Year's Eve that he would return to UCLA for another year -- much to the delight of his coaches and teammates. But Mora -- who probably knows the NFL better than any current college football coach -- believes it was the right call.
"He wasn't ready to go out yet," Mora said. "Obviously I'm glad he didn't go. But I think with another year, the potential is there for him to be a high, high first-round draft pick."
And as the Bruins prepare to break spring camp, Mora has even started
cranking up the Heisman talk
-- even if Barr won't.
However, Barr said that staying really wasn't that tough of a decision.
"I love my teammates and I love this coaching staff and I love this university," he said. "I felt like I owed it to them."
With a year of seasoning and working out as a linebacker, he's upped his weight about 10 pounds while retaining his explosive first step that gave so many offensive linemen fits last year. He's emphasized his pass coverage and believes that with another year in the 3-4 defense, the Bruins will be even better than last year -- when they were eighth nationally in sacks and 22nd in tackles for a loss. And though he'll be drawing much more attention in 2013, the coaches are confident he's poised for another oustanding season.
"He's a tremendous student and he wants to be great," Spanos said. "That's his goal. And our goal is to make him the best player he can be. He takes everything we ask and does extra. You can't say enough great things about Anthony. Really looking forward to seeing what he can do this year."
April, 11, 2013
4/11/13
9:00
AM ET
LOS ANGELES -- Sacks are good.
Sacks allowed are bad.
UCLA's defense at getting sacks in 2012? Really good.
UCLA's offense at allowing sacks in 2012? Really bad.
This was the schizophrenic personality of 2012 UCLA football. On one hand, a pressure-based 3-4 scheme installed by new head coach Jim Mora and defensive coordinator Lou Spanos was wildly effective at getting to quarterbacks and blowing up backfields. The Bruins jumped from 112th nationally in sacks in 2011 to eighth last year. They also improved from 87th to 22nd in tackles for a loss.
"Love this defense," said outside linebacker
Anthony Barr
-- who provided the Bruins with a league-high 13.5 sacks and 21.5 tackles for a loss, which was second in the Pac-12. "It's all about pressure and playing fast. It's so much fun."
Expect more production with a more-of-the-same approach in Year 2.
"The next step is all 11 playing as one," Spanos said. "Everyone knows the calls. Everyone understands the big picture. They have a sense of urgency. Each snap, they are playing like it's their last play. They are making all the calls and communicating much better than they were this time last year."
Sounds great. Now … about the other side of the ball …
[+] Enlarge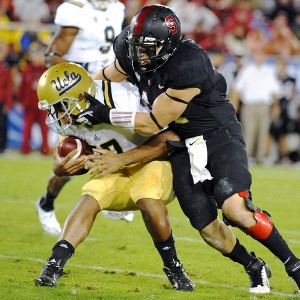 Kirby Lee/Image of Sport/USA TODAY SportsBrett Hundley and UCLA gave up more sacks per game than all but two FBS teams.
The Bruins stumbled all the way to 118th nationally in sacks allowed per game, from 67th in 2011. Only two schools were worse. Interestingly enough, both were from the Pac-12 -- Colorado and Washington State.
"Only two more spots and we can be the best of the worst," joked offensive coordinator Noel Mazzone -- who often speaks with tongue in cheek. "That's terrible. And it's a combination of things. It's a young quarterback. It's a young offensive line. It's having as many as seven freshmen on the field at once. And I don't want to take the onus off of me. I need to do better job preparing those guys.
"Part of it is also the way the NCAA records sacks. In the spread, if the quarterback looks to pass but pulls it on a zone read and runs, and he gets tackled behind the line of scrimmage, that's a sack. But that's not an excuse. We still had about 20-something too many."
It all evens out on the bell curve. Four Pac-12 schools were in the top eight nationally in sacks, Stanford (No. 1), Arizona State (No. 2), USC (No. 4) and UCLA. The Bruins faced all three of those opponents in 2012 and didn't do particularly well when it came to protecting Hundley. He was sacked five times against ASU, five times against USC, seven times in the first meeting with Stanford and three times a week later in the Pac-12 championship game.
The offensive linemen -- young when they started last year but recognizing that they are no longer pups -- know they have to do a better job.
"You can make all of the excuses you want and place the blame wherever. But at the end of the day, it falls on us. Protecting the quarterback is our responsibility," said guard
Xavier Su'a-Filo
.
The quarterback, for his part, acknowledges he has to get rid of the ball more quickly.
"That's one thing that I take on myself," Hundley said. "I try to help every aspect of this offense and it's on me to know when to throw the ball and know what to do when I'm pressured. Sometimes you have to say screw it and take off running. That's something that I'm working hard at this spring. We will be a lot better at that. … That offensive line is coming together really well this spring and they are going to be big and bad. I can't wait to be behind them."
And the head coach? Well, he finds the positive from the negative -- something not all head coaches are able to do.
"Brett had the mentality that he didn't want to ever give up on a play," Mora said. "I've seen that a lot in young quarterbacks. I would rather have that in a quarterback than a guy who gives up on a play too early, a guy that gets happy feet or gets afraid. Brett isn't afraid. The time clock in his head just needs to say 'Now it's time to move out of the pocket. Now it's time to move out of bounds and get to the next down.' He's maturing and he'll get there. They are all maturing."
December, 4, 2012
12/04/12
11:30
AM ET
The Pac-12 has never before had eight bowl teams. But so what? It's only been a 12-team league for two seasons. Eight bowl-eligible teams should become the standard.
What's more important is the final bowl record. And that should -- emphasis on
should
-- sparkle this bowl season.
While there is no line yet on the Arizona State-Navy matchup in the Kraft Fight Hunger Bowl, the Pac-12 is favored in six of the other seven games, including both BCS bowls (and the Sun Devils figure to be double-digit favorites). The lone underdog is Washington in the Las Vegas Bowl against Boise State, and I wonder if the 5 1/2-point spread is due largely to the Huskies' monumental choke against rival Washington State on Nov. 23.
In other words, 8-0 is a legitimate hope this bowl season. Going 7-1 would be good, too. And anything less than 6-2 will be disappointing.
[+] Enlarge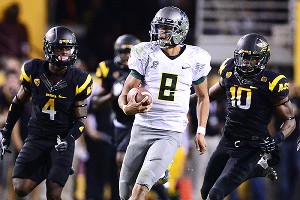 Mark J. Rebilas/US PresswireA bowl win by Marcus Mariota and Oregon over Kansas State would certainly help the Pac-12's national perception.
The first priority is the BCS bowl games. Those are high-profile matchups that everyone will watch. And pass judgment on the Pac-12.
Stanford is in a tough position. Wisconsin certainly looked better than its 7-5 record when it drubbed Nebraska, but the Cardinal won't get much credit for beating the Badgers after the Big Ten suffered through a horrible year. If the Cardinal should get upset, it certainly wouldn't boost the Pac-12's Q-rating.
But Oregon's showdown with Kansas State in the Tostitos Fiesta Bowl is the real measuring stick. The Pac-12 and the Big 12 have been battling all season for the spot of "Second Best AQ Conference" behind the SEC (the SEC could sweep its bowl games, so don't expect there to be much headway in the "SEC is overrated" argument). If the Ducks beat the Wildcats, the Big 12 champs, that would be the biggest step toward establishing supremacy.
Of course, then come two more Pac-12-Big 12 matchups: Oregon State-Texas in the Valero Alamo Bowl and UCLA-Baylor in the Bridgepoint Education Holiday Bowl. The Pac-12 is favored in each, but by less than a field goal in both cases.
If the Pac-12 wins two of three in these matchups, its claim to second-best conference would be legitimate, particularly if Oregon is one of those wins. Lose two of three, particularly if the Ducks take one of those losses, and this purely speculative trophy goes to the Big 12.
A couple more thoughts.
Before losing to Washington State, Washington was setting itself up as a team likely to generate plenty of 2013 buzz. The Huskies can recover considerable mojo and likely reserve a top-20 preseason ranking if they beat Boise State. But, really, it will be far more important for the Huskies to beat the Broncos in the 2013 season opener -- the re-opener for remodeled Husky Stadium -- than on Dec. 22 in the MAACO Las Vegas Bowl.

The Arizona-Nevada over-under started at about 75 points. I like the over.

Baylor averaged 578 yards and 44 points per game this year, totals that ranked Nos. 1 and 5 in the nation. But I'd rather have Arizona's offense (37 points, 522 yards, playing against much better defenses), and UCLA held the Wildcats to 10 points. To me, that's the great matchup in the Holiday Bowl: Coach Jim Mora and defensive coordinator Lou Spanos, longtime NFL guys, against one of the nation's most potent spread attacks.

Arizona State and USC both will be preparing for triple-option offenses. The extra time should help. But here's a guess the Sun Devils will be far more motivated than the Trojans, who certainly didn't anticipate ending up in the Hyundai Sun Bowl. And an unmotivated team trying to stop an option attack, which requires focused discipline, sometimes ends up looking bad. Really bad.

That said: It would be great if USC QB Matt Barkley comes back from the shoulder injury that knocked him out of the Notre Dame game and plays well. It hasn't been the season Barkley and his team imagined, but Barkley is a high-character, standup guy who remains a great ambassador for the game.

While it won't mean much of anything in either locker room, the Oregon-Kansas State scheduling "controversy" -- Kansas State canceled a home-and-home series with the Ducks, thereby killing a scheduled game for this season -- will be meaningful to both fan bases. The Ducks -- and a certain blog -- have trash talked the issue relentlessly, but now it's put-up or shut-up time, with each team's fan base knowing the postgame trash talk will be vociferous and seemingly unending.
And, again, here's the Pac-12 bowl schedule.
Sat., Dec. 15 Gildan New Mexico Bowl, Albuquerque, N.M. (University Stadium)
Arizona (7-5) vs. Nevada (7-5), 1 p.m. ET/10 a.m. PT, ESPN
Sat., Dec. 22 MAACO Bowl Las Vegas, Las Vegas (Sam Boyd Stadium)
Washington (7-5) vs. Boise State (10-2), 3:30 p.m. ET/12:30 p.m. PT, ESPN
Thurs., Dec. 27 Bridgepoint Education Holiday Bowl, San Diego (Qualcomm Stadium)
UCLA (9-4) vs. Baylor (7-5), 9:45 p.m. ET/6:45 p.m. PT, ESPN
Sat., Dec. 29 Valero Alamo Bowl, San Antonio (Alamodome)
Oregon State (9-3) vs. Texas (8-4), 6:45 p.m. ET/3:45 p.m. PT, ESPN
Sat., Dec. 29 Kraft Fight Hunger Bowl, San Francisco (AT&T Park)
Arizona State (7-5) vs. Navy (7-4), 4 p.m. ET/1 p.m. PT, ESPN2
Mon., Dec. 31 Hyundai Sun Bowl, El Paso, Texas (Sun Bowl)
USC (7-5) vs. Georgia Tech (6-7), 2 p.m. ET/11 a.m. PT, CBS
Tues., Jan. 1 Rose Bowl Game presented by Vizio, Pasadena, Calif. (Rose Bowl)
Stanford (11-2) vs. Wisconsin (8-5), 5 p.m. ET/2 p.m. PT, ESPN
Thurs., Jan. 3 Tostitos Fiesta Bowl, Glendale, Ariz. (University of Phoenix Stadium)
Oregon (11-1) vs. Kansas State (11-1), 8:30 p.m. ET/5:30 p.m. PT, ESPN
November, 4, 2012
11/04/12
9:00
AM ET
Pretty epic weekend in the Pac-12, so there are plenty of stickers to go around (and a few more who would probably be honored any other week). We're only supposed to do five or six each week, but sometimes you just have to give a little more love. (Shhh, don't tell Ted).
Austin Seferian-Jenkins, TE, Washington: Teammate Bishop Sankey could get the nod here also -- but Seferian-Jenkins' gutty performance on bum ankle was pretty darn impressive. He caught eight balls for 152 yards and a touchdown in Friday's 21-13 win at California.
Kenjon Barner, RB, Oregon: All he did was have more rushing yards in a game than any other running back in Oregon history. And he did it in the biggest game of the year to date. Barner finished with 321 yards and five touchdowns on 38 carries in the 62-51 victory over USC. Huh, so that's what it looks like when he plays four quarters. I've had him at No. 2 on my Heisman ballot the past three weeks. Guess who's moving up to No. 1?
Marcus Mariota, QB, Oregon: Poise, pure and simple. In the toughest test of his budding career, Mariota was a sterling 20-of-23 for 304 yards with four touchdown passes and 96 yards on the ground. Oh yeah, no interceptions.
Reggie Dunn, KR, Utah: He did it again, returning yet another kickoff 100 yards for a touchdown, this time in Utah's 49-6 win over Washington State. It's his third in two weeks -- which as of this posting is believed to be an NCAA record. The four for his career is an NCAA record.
Kevin Hogan, QB, Stanford: He injected some life into a middling Cardinal offense by completing 18 of 23 passes for two touchdowns with no interceptions. He was also Stanford's leading rusher with seven carries for 48 yards in the 48-0 victory at Colorado.
Johnathan Franklin, RB, UCLA: Kudos go out to his quarterback, Brett Hundley, but Franklin gets the nod in this game for becoming UCLA's all-time leading rusher. He carried 24 times for 162 yards and a pair of touchdowns in the 66-10 rout of Arizona.
UCLA's defense: First, cool seeing defensive coordinator Lou Spanos with eye black smeared across his face like war paint. Second, you hold that offense to 257 yards, and you earn a helmet sticker as a unit.
Sean Martin, CB, Oregon State: I know Cody Vaz or Terron Ward probably deserve stickers also, but was anyone else really impressed with the way Martin filled in for the injured Jordan Poyer? Looked like he was beaten on that long pass to Richard Smith at the end of the game, but he stuck with the play and ripped it loose. Six tackles (three solo) and a pass breakup is a pretty nice substitute for one of the best defensive players in the conference.
September, 13, 2012
9/13/12
10:15
AM ET
A few storylines to keep an eye on in Week 3.
[+] Enlarge

AP Photo/Rick ScuteriTodd Graham is one of three new Pac-12 coaches who has started out 2-0 this season.

These guys can coach: A pretty good start to the Pac-12 careers for the four new coaches -- who have a 7-1 record through the first two games. Arizona coach Rich Rodriguez, ASU coach Todd Graham and UCLA's Jim Mora are all perfect through the first two weeks at their schools. Mike Leach is 1-1 with Washington State. And there's a good chance the newbies will keep winning this weekend. Arizona, UCLA and Washington State are all facing easier competition, though Graham and the Sun Devils will be tested in their first road game of the year at Missouri. Of the 28 FBS teams with new head coaches, only six of them are undefeated through the first two weeks. Half of those six are in the Pac-12.

Speaking of newbies: Rough week for Utah and Colorado, who are both in their sophomore years with the conference. Utah loses to Utah State (and lost a quarterback along the way) and Colorado dropped a game to FCS Sacramento State -- archnemesis of the Pac-12. Let's not get too down on these guys. Oregon State lost to Sacramento State and a year later they are slapping down a ranked Big Ten team. With that said, both teams have quarterback issues -- Utah needs a new one, though will probably play two, and Colorado will dip its toe into the two-QB pool with the news that Connor Wood will get some snaps. Even though it's on the road, is this Colorado's best chance for a win? And Utah, well, they only play their biggest rival. A rivalry, by the way, that will be splintered starting in 2014.

The conference of offense: For all the talk and chatter about better defensive play in the Pac-12 this year, this is still an offense-first conference. Eight teams are averaging better than 30 points per game and six teams are averaging more than 440 yards of offense. UCLA leads the group. The Bruins are averaging 649.5 yards per game.

It's conference time: The first conference game of the year matches a pair of ranked teams. That's all kinds of cool. No. 2 USC travels to No. 21 Stanford in a game that has come down to the final play the past two years. Matt Barkley has a few demons to exorcise against the Cardinal -- the only Pac-12 team he's failed to beat. Stanford, after a strong bounce-back performance against Duke, wants to show it's better than the sluggish Week 1 performance. Great playmakers on both sides of the ball headline what could be another wild matchup.

Added pressure: UCLA and Arizona State are putting up defensive numbers unseen last year -- and a lot of it has to do with new defensive schemes and increased pressure. The Bruins lead the conference with nine sacks and could eclipse last year's total of 14 (ranked 11th in the conference) this week. And that was playing a 14-game schedule, mind you. ASU enters the week behind the Bruins with eight sacks. Last year ASU had 26, which was eighth in the conference. We do love our offense in the Pac-12, but it's time to start giving some snaps to Lou Spanos and Paul Randolph.

Protect the rep: Big weekend last week for the Pac-12 in terms of bumping up the national reputation of the conference. Cal has a chance to build off of that when it travels to Big Ten country to take on No. 12 Ohio State -- the only nonconference game this week against a ranked opponent [edit: from a BCS conference]. But the Bears have to clean up some things on defense. Cal ranks last in the Pac-12 in third-down defense (teams are converting 52.5 percent) and has given up the most touchdowns (6) of any Pac-12 team in the red zone. This is the kind of game that can salvage Cal's season -- and maybe Jeff Tedford's job. With USC on the docket next week, the Bears could be staring down the barrel of a 1-3 start.
February, 10, 2012
2/10/12
3:45
PM ET
It wasn't random that Jim Mora, a NFL coaching lifer, ended up in college football. It was his specific plan. When his ill-fated, one-year tenure as the Seattle Seahawks head coach ended, he almost immediately started eyeballing the college game.
There was, however, no rush to jump at the first new coaching opportunity. He almost immediately was hired for broadcast gigs with the NFL Network and Fox. And the Seahawks were on the hook for the final three years of his contract -- a cool $12 million. So he studied the college game from afar and waited for an appealing opportunity.
"I felt like [college football] would be a good fit for my personality and what I was trying to get out of my career," he said. "I feel like I've got a lot to give kids this age... What's happened in the NFL, to a certain extent, because of the money involved, because of free agency, is there is a little less trust at times between players and coaches. That was bothersome to me. These guys are anxious to use you as a source of wisdom. And that is appealing to me."
[+] Enlarge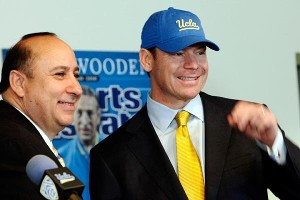 Nick Ut/AP PhotoJim Mora says the college game is different than the NFL because "these guys are anxious to use you as a source of wisdom. And that is appealing to me."
Mora went full-throttle after the UCLA job. He wasn't the first choice. Or even the second. And his hiring was initially greeted with skepticism. But the momentum is on a decided uptick.
First, he hired an
impressive staff
, tapping coaches with significant NFL and Pac-12 experience, as well as coaches known for being outstanding recruiters.
NFL experience? How about 90 years and five Super Bowl rings? Pac-12 experience? Five of the nine have either played or coached in the conference. Ace recruiters? Adrian Klemm and Demetrice Martin, hired away from SMU and Washington, respectively, are widely considered two of the best in the business.
And then Mora and his staff transformed what might have been the worst recruiting class in the conference when he was hired into one of the best. ESPN Recruiting ranked Mora's first-ever class ranked 19th in the nation.
"Everybody seems happy now and we haven't even won a game," said Mora, perhaps a bit surprised by how quickly recruiting can enliven a fanbase.
The NFL experience was a boon in recruiting. It gave Mora and his staff credibility. When asked how he overcame questions about UCLA's recent run of mediocrity, Mora just waved away the issue.
"I didn't worry about the past," he said. "It's irrelevant to me what any team has been in the past. It's what they are going to be in the future. We talked about future. We're not going to wait to win. You have a chance to get in on the ground floor of something that we believe can be special. If you're a competitor and you like challenges, this is for you."
Now the focus turns to spring practices and the football part of football. Mora said he'll watch film over the next few weeks to get an idea of his personnel. Heading his to-do list: He has to figure out who his quarterback is going to be, with incumbent starter
Kevin Prince
trying to fight off what figures to be a strong challenge from redshirt freshman
Brett Hundley
.
Richard Brehaut
might not be a factor because he plans to play baseball.
As far as new schemes, offensive coordinator Noel Mazzone is a spread guy and defensive coordinator Lou Spanos is a 3-4 guy, but Mora resists any attempt to pin him down on schemes. A defensive specialist, he's been successful with both 4-3 and 3-4 looks, and he said he expects the offense to be "multiple."
"We're going to do what our players do best," he said. "There is no name for what we do. We're not pistol. We're not West Coast. We're not spread. We're not wishbone. We're not this, we're not that. We're just going to be a good, fundamentally sound football that takes advantage of the skill sets our players present to us."
The college game is very different than the NFL. There's recruiting. There are limits on practice time. There are boosters to deal with and academic demands for players.
Still, Mora is well aware that the ultimate measure in Pac-12 football is just like the NFL: You've got to win.
January, 17, 2012
1/17/12
6:44
PM ET
UCLA has hired Washington Redskins linebackers coach Lou Spanos as the Bruins' defensive coordinator, the school announced Tuesday.

"I am thrilled a coach with Lou's NFL background and defensive pedigree has agreed to join our staff. Now that our coaching staff is complete, I'd like to thank Dan Guerrero for his support as we sought to bring the finest coaches in football to UCLA," coach Jim Mora said in a statement. "We have a collection of men that will not only be mentors to our student-athletes, but given their experience at the highest levels of football, will also be able to provide them a blueprint for competing and winning, and reaching their athletic potential."
Spanos' hiring was first reported by the
Los Angeles Times
. The Bruins' staff under Mora is now complete. You can
review the bios here
.
Spanos, not unlike Mora, has basically no college coaching experience. He likely will need a crash course in defending the spread and spread-option offenses that have proliferated in the Pac-12.
But this will impress incoming recruits about Mora and his staff: They have more than 90 years of experience in NFL as either players or coaches.
Here's the rest of the press release:
In 2011, under the tutelage of Spanos, Redskin inside linebacker London Fletcher led the NFL with 166 total tackles: Fletcher is slated to be the only Washington representative in the 2012 Pro Bowl. In Spanos' first season in Washington (2010), Fletcher (136) and fellow Redskins linebacker Rocky McIntosh (110) each recorded more than 100 tackles -- Fletcher and outside linebacker Brian Orakpo were named to the NFC Pro Bowl roster.
Prior to joining Mike Shanahan's staff in Washington, Spanos was an assistant with the Pittsburgh Steelers. During his 15 seasons in Pittsburgh, the defense ranked among the top 10 in the NFL 13 times, including four No. 1 rankings.
Spanos worked closely with the linebackers and secondary and was one of only three assistant coaches to be with the Steelers for their Super Bowl XXX, Super Bowl XL and Super Bowl XLIII appearances. He is the second Bruin assistant with extensive Super Bowl experience; Offensive Line Coach/Run Game Coordinator Adrian Klemm won three world championships as a member of the New England Patriots. All told, Mora and his staff have more than 90 years of experience in the NFL as either players or coaches.
Spanos coached nine different Steelers linebackers who combined for 19 Pro Bowl appearances -- Kevin Greene (2), Greg Lloyd (2), Chad Brown (1), Levon Kirkland (2), Jason Gildon (3), Kendrell Bell (1), Joey Porter (3), James Farrior (2) and James Harrison (3).
Spanos joined the Steelers in 1994 as an intern in the scouting department before being promoted to a defensive assistant after one season. A 1994 graduate of Tulsa, he was a four-year letterman and starter at center. After his playing career ended in 1992, he remained at Tulsa as a student assistant, working with the linebackers.