November, 9, 2010
11/09/10
5:03
PM ET
You saw my
bowl projections from Sunday.
Now here is a breakdown of the teams that have a shot at becoming bowl eligible this weekend.
Conference USA
Already eligible:
UCF, Tulsa, Southern Miss, UTEP.
Vying for a spot:
East Carolina, SMU and Houston each have five wins. The Pirates are hoping to bounce back after an embarrassing 76-45 loss to Navy at UAB. Houston hosts Tulsa in an important West division game, while SMU is off. SMU, Houston and Tulsa each have two league losses. SMU already beat Tulsa but lost to Houston. If there is a three-way tie atop the division when the season ends,
the first tiebreaker
is overall record to determine who plays in the Conference USA title game.
On the other end of the spectrum:
Tulane (3-6), Marshall (3-6) and UAB (3-6) have to win out. Rice (2-7) and Memphis (1-8) have been eliminated.
Guaranteed bowl spots:
Six.
MAC
Already eligible:
Temple, Toledo, Ohio and Northern Illinois.
Vying for a spot:
Miami (Ohio) is 5-4 and has a great shot at becoming bowl eligible in the next two weeks with games at Bowling Green (2-7) on Wednesday and at Akron (0-10) on Nov. 17. Kent State (4-5) needs to win two of its final three against Army (5-4), Western Michigan (3-6) and Ohio (7-3).
On the other end of the spectrum:
Western Michigan has to win out. Buffalo, Central Michigan, Bowling Green, Akron, Eastern Michigan and Ball State are out.
Guaranteed bowl spots:
Three.
Mountain West
Already eligible:
TCU, San Diego State, Air Force, Utah.
Vying for a spot:
BYU (4-5) plays at Colorado State in a critical must-win before closing against New Mexico and Utah.
On the other end of the spectrum:
Colorado State, Wyoming, UNLV and New Mexico have been eliminated.
Guaranteed bowl spots:
Five.
Sun Belt
Already eligible:
No one.
Vying for a spot:
Troy (5-3) is the only team with five wins. A home win against FIU on Saturday gets the Trojans bowl eligible. ULM (4-5) and Arkansas State (4-5) have to win two of three. The Warhawks have LSU, North Texas and Louisiana. Arkansas State has Western Kentucky, Navy and FIU.
On the other end of the spectrum:
FIU, Middle Tennessee and FAU are each 3-5. The Blue Raiders may have the easiest road with games against North Texas, Western Kentucky, FAU and FIU remaining. FAU has Troy and Texas on its schedule. FIU also has tough games against Troy, Arkansas State and Middle Tennessee. North Texas, Louisiana and Western Kentucky have been eliminated.
Guaranteed bowl spots:
Two.
WAC
Already eligible:
Boise State, Hawaii, Nevada, Fresno State. Hawaii has accepted an invite to the Hawaii Bowl.
Vying for a spot:
Idaho (4-5) has to win three of four against Boise State, Utah State, Fresno State and San Jose State. Since the Vandals have a 13-game schedule, they have to get to seven wins. Louisiana Tech and Utah State are both 3-6 and have to win out. The Bulldogs have New Mexico State, San Jose State and Nevada. Utah State has San Jose State, Idaho and Boise State.
On the other end of the spectrum:
New Mexico State and San Jose State (1-8) have been eliminated.
Guaranteed bowl spots:
Four.
Independents
Navy (6-3) became eligible for the Poinsettia Bowl. Army (5-4) needs one more win with games left against Kent State, Notre Dame and Navy. Army does not have an automatic bowl tie-in this year, but has backup agreements with the Armed Forces Bowl and Military Bowl. Notre Dame (4-5) needs two more wins with games remaining against Utah, Army and USC.
November, 1, 2010
11/01/10
4:49
PM ET
Here are the non-AQ players of the week, as selected by each conference:
Conference USA
Offense:
UAB running back
Pat Shed
, UCF running back
Ronnie Weaver
. Shed ran for a career-best 176 yards and a pair of touchdowns in a
50-49
double overtime win against Southern Miss. He finished with 235 all-purpose yards as the Blazers posted their first win in Roberts Stadium. Weaver ran for a career-high 180 yards on 30 carries with two touchdowns in a
49-35
win against East Carolina.
Defense:
Tulsa linebacker Shawn Jackson. His interception with 37 second left in the first half gave Tulsa the momentum in its
28-27
win against Notre Dame. He also had six tackles, a sack and two quarterback hurries.
Special teams:
Tulsa punt returner
Damaris Johnson
. Had a 59-yard punt return for a touchdown, the second of his career in the win. He is 25 yards shy of tying the Conference USA all-time kickoff return record.
MAC
East Division
Offense:
Miami receiver
Nick Harwell
. Had eight receptions for 97 yards and two touchdowns in a
21-9
win at Buffalo.
Defense:
Bowling Green defensive tackle Chris Jones. Had six tackles, five tackles for loss, three and a half sacks and recovered a fumble in a
17-14
win at Central Michigan.
Special Teams:
Kent State punter Matt Rinehart. Averaged 52 yards on four punts as the Flashes posted a 43-yard net in a
33-14
win against Ball State.
West Division
Offense:
Western Michigan receiver
Jordan White
. Had a career-high 14 receptions for a career-high 180 yards and one touchdown in a
28-21
loss to Northern Illinois.
Defense:
Northern Illinois defensive end Jake Coffman. He had four tackles and the game-saving interception on Western Michigan's final offensive play to seal the win.
Special Teams:
Toledo punter Vince Penza. Averaged 40.6 yards on five punts in the Rockets'
42-7
win at Eastern Michigan.
Mountain West
Offense:
San Diego State receiver
DeMarco Sampson
. Had seven receptions for 175 yards and two touchdowns in a
48-38
win against Wyoming. He has three straight 100-yard games.
Defense:
Utah safety Brian Blechen. Had a career-high nine tackles, an interception and a fumble recovery in a
28-23
win at Air Force.
Special teams:
San Diego State punter Brian Stahovich. Kicked the longest punt in San Diego State history at 89 yards in the second half against Wyoming. It was his only punt of the day.
Sun Belt
Offense:
North Texas running back
Lance Dunbar
. Ran for a season-high 215 yards and three touchdowns in a
33-6
win at Western Kentucky. The 215 yards was the most by any player in the Sun Belt this season and the third-highest rushing total in the nation this week.
Defense:
ULM Darius Prelow. Had six tackles and an interception in a
28-14
upset win against Troy. The defense held Troy to its lowest point total in a Sun Belt game since 2006.
Co-Special Teams:
Louisiana kicker Brett Baer, North Texas kicker Zach Olen. Baer made a field goal and four extra-point attempts, and had two perfectly placed onside kicks in a loss at Ohio. Olen made two field goals, including a 48-yarder, the longest by a North Texas kicker since 2005.
WAC
Offense:
Hawaii quarterback
Bryant Moniz
. Went 27-of-38 for 326 yards and three touchdowns in a
45-10
win against Idaho. He also rushed seven times for 43 yards and another score. Moniz is the first quarterback in the nation to reach 3,000 yards this season (3,247).
Defense:
Hawaii S Mana Silva. Had nine tackles (six solo), including one for a loss of 13 yards, and intercepted a pass in the win against Idaho.
Special teams:
New Mexico State kicker Tyler Stampler. Went 3-for-3 on field goal attempts in a
29-27
win against San Jose State. He made a 42-yard field goal as time expired in the first half and then added a 25- and a career-long 43-yarder in the fourth quarter of a tight game.
October, 14, 2010
10/14/10
12:30
PM ET
October, 4, 2010
10/04/10
3:01
PM ET
Here are all the non-AQ players of the week:
Conference USA
Offense:
Kyle Padron
, QB, SMU. Went 24-of-32 for 371 yards and three touchdowns with no interceptions as SMU won at Rice for the first time since 1986.
Defense:
Dezman Moses, DE, Tulane. Had six tackles and a team-high 2.5 tackles for loss and tied for a team-best 1.5 sacks for minus-8 yards in a 17-14 win against Rutgers.
Special teams:
Jonathan Ginsburgh, P, Tulane. Punted nine times for 382 yards for a 42.4 average and tied the school record for the seventh-longest punt in school history with a 73-yarder.
Mountain West
Offense:
Tim Jefferson
, QB, Air Force. Tied a career-high with two rushing touchdowns in a 14-6 win against Navy, helping the Falcons end a seven-game losing streak to the Midshipmen.
Defense:
Jordan Waiwaiole, LB, Air Force. Recorded a career and team-high 15 tackles, an interception and a sack in a 14-6 win against Navy.
Co-Special teams:
Jamil Cooks, LB, Air Force and Austin McCoy, P, Wyoming. Cooks had a blocked field goal and blocked punt in the win against Navy. Cooks is the first Falcons player to block two kicks in a game since Robert Kraay blocked two point-after attempts against Notre Dame in 2006. McCoy limited the Rockets to zero return yards on eight punts and placed two kicks inside the Toledo 10-yard line.
Sun Belt
Offense:
Chris Masson
, QB, Louisiana. Threw for a career-high 310 yards and tied his career mark with two touchdown passes in the Cajuns' road win at North Texas.
Defense:
Javon McKinnon, LB, Arkansas State. Recorded a career-high 16 tackles, including a career-best two tackles for loss, against Louisville for the most stops by a Sun Belt Conference player since the 2008 season.
Special teams:
Jermaine Rogers, DT, Louisiana. North Texas appeared to be sending the game into overtime after scoring a touchdown with 31 seconds remaining in regulation, but Rogers blocked the extra-point attempt to seal the win.
MAC
East Division
Offense:
Matt Brown
, RB, Temple. Had a career-high 226 yards on 28 carries and four touchdowns in a 42-35 win at Army.
Defense:
Khalil Mack, LB, Buffalo. Had a team-high nine tackles and a career-best four tackles for loss in a 28-26 win at Bowling Green. Mack also had two quarterback hurries, one forced fumble, one pass break-up and one sack.
Special teams:
Trevor Cook, K, Miami. Had a 36-yard field goal and 21-yarder, making him 9-of-10 on the year in a win against Kent State.
West Division
Offense:
Chandler Harnish
, QB, Northern Illinois. Went 16-of-20 for 281 yards and tied a career-high with three touchdowns in a 50-14 victory at Akron.
Defense:
Robert Eddins, DE, Ball State. Had a career-high 4.5 sacks plus had seven total tackles and one quarterback hurry in a 31-17 win at Central Michigan.
Special teams:
Ben Armer, P, Western Michigan. Had three punts of more than 50 yards, including a career long 65-yard punt in a 33-13 loss to Idaho.
WAC
Offense:
Kealoha Pilares
, WR, Hawaii. Set a school record with 18 catches in a 41-21 win against Louisiana Tech and had a career-high 217 receiving yards and two touchdowns.
Defense:
Robert Siavii, LB, Idaho. Had a team-high nine tackles in the 33-13 win at Western Michigan. Siavii added 1.5 tackles for loss, including a half sack, and also broke up two passes and had one quarterback hurry.
Special teams:
Shawn Plummer, LB, Fresno State. Blocked his first career punt in a 38-17 win against Cal Poly. The punt was recovered in the end zone.
October, 3, 2010
10/03/10
10:00
AM ET
There were not too many dramatic matchups among the non-AQs during Week 5, but there are a few things we learned:
1. Navy is beatable.
Folks suspected that might be the case going into its game against Air Force, but Navy had won a record 15 straight games against the service academies, including seven straight over the Falcons. But Air Force won 14-6, setting the stage to wrest control of the Commander-In-Chief Trophy from Navy for the first time since 2002. Air Force ran for 292 yards, but more impressively, held Navy quarterback
Ricky Dobbs
without a touchdown for the first time in his 17 career starts. In fact, it was Navy's lowest point total since getting shutout 34-0 to Rutgers in October 2006. Going into the season, many thought Navy had a great chance to go undefeated. Now the Midshipmen are 2-2, while Air Force is 4-1.
[+] Enlarge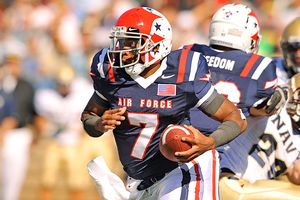 Ron Chenoy/US PresswireAir Force quarterback Tim Jefferson scored both of the school's touchdowns (50 yards, 1 yard) in a win over Navy.
2. TCU may not be impressive, but it is winning.
For the second straight week, the Horned Frogs were less than impressive. This time, it was a 27-0 win over one-win Colorado State. The defense did record the first road shutout in the Gary Patterson era, but the offense was not terrific and had only six points at the half. TCU suffered through dropped passes and much inconsistency.
Andy Dalton
was just 11-of-24 for 109 yards with a touchdown. But the running game came through with 346 total yards. A win is a win and TCU will take it.
3. No letdowns for Boise State, Nevada.
The WAC frontrunners had little trouble on Saturday after big weekends. No. 3 Boise State beat lowly New Mexico State 59-0.
Kellen Moore
played a little more than a half and improved to 30-1 as a starter as the Broncos rolled up 608 yards of total offense. No. 25 Nevada, ranked in the both polls for the first time ever, handled UNLV 44-26. The Wolf Pack beat their instate rival for a record sixth straight time. The Broncos and Wolf Pack will collide Nov. 26 in Reno.
4. Temple, Northern Illinois appear to be the class of the MAC headed into their big game this week.
The Owls (4-1) had a come-from-behind win over Army 42-35 thanks to
Matt Brown
, who became the first player in school history with over 200 yards rushing and four touchdowns in one game. Temple was down 15 before scoring 29 straight points to win. Coach Al Golden said, "That's the biggest win since I've been here, make no mistake." Meanwhile, Northern Illinois (3-2) beat Akron 50-14 behind
Chandler Harnish
. Toledo and Western Michigan had disappointing losses. Meanwhile, watch Miami (Ohio). The RedHawks are 3-2 and off to their best start since 2003.
5. Louisiana-Lafayette can sure play special teams.
The Ragin' Cajuns got a blocked extra point with 31 seconds left to beat North Texas 28-27. The block was the 42nd under coach Rickey Bustle and the 12th extra point block over that span. The Cajuns rank fourth in the nation in blocked kicks since the start of the 2002 season. They did lose starting running back
Kevis Streeter
(knee) and starting tackle Jonathan Decoster (ankle). Tight end
Ladarius Green
(ankle) also sat out. Louisiana is 2-1 in the Sun Belt.
6. Conference USA is better than the Big East.
Well, at least it was on Saturday after Tulane upset Rutgers 17-14. It was the Green Wave's first win over a team from an automatic qualifying conference since 2006, when they beat Mississippi State 32-29.
October, 3, 2010
10/03/10
1:09
AM ET
Yes, Hawaii is still playing, but we are going to give out our non-AQ
helmet stickers anyway:
Temple running back Matt Brown:
Brown started in place of
Bernard Pierce
, who missed the game with a sprained ankle, and had a career day. Brown ran for a career-high 226 yards on 28 carries and added a career-high four touchdowns to help Temple come from behind to
beat Army 42-35
. His four rushing TDs tied the Michie Stadium record first set by Tony Dorsett in 1975. The last time a Temple player had four rushing touchdowns in a game was Walter Washington against West Virginia in 2003.
Air Force coach Troy Calhoun.
The Falcons broke a seven-game losing streak to Navy with
a 14-6 win
to put them ahead in the race for the Commander-in-Chief Trophy. It was Calhoun's first win over Navy, and broke the Midshipmen's 15-game service academy winning streak. Air Force held Navy quarterback
Ricky Dobbs
for the first time in his 17 starts.
SMU linebacker Ja'Gared Davis.
Davis had a blocked field goal returned 77-yard for a touchdown in
a 42-31 win
over former Southwest Conference rival SMU. It was his first career touchdown. Davis also had a sack and has six this season. He has had at least one sack in each game this season.
Idaho quarterback Nathan Enderle.
Enderle completed a career-high 30 passes on 49 attempts and threw for 380 yards and three touchdowns in
a 33-13 win over Western Michigan
. Enderle hit 10 different receivers, and his TDs went for 30, 24 and 4 yards. The Idaho defense stepped up, too, with three sacks, four tackles for loss, six pass breakups, four quarterback hurries and two turnovers.
Louisiana defensive lineman Jermaine Rogers
. Rogers blocked an extra point with 31 seconds remaining to help the Ragin' Cajuns hold on to
defeat North Texas 28-27
. Louisiana nearly blew a 28-14 fourth-quarter lead but have Rogers to thank. Quarterback
Chris Masson
had 310 yards passing and two TDs in the win.
Nevada running back Vai Taua.
Taua ran for a season-high 188 yards and three touchdowns in
a 44-26 win over UNLV
. It was his fourth straight 100-yard game, and his highest rushing total since gaining 263 yards against Fresno State on Nov. 7, 2008. Taua also added a 22-yard touchdown reception late in the second quarter.
September, 30, 2010
9/30/10
10:15
AM ET
There are only a few marquee games on the schedule for this week. Air Force vs. Narvy tops our top 10 non-AQ storylines to watch:
1. Air Force defense vs. Navy quarterback Ricky Dobbs.
In the biggest game of the week featuring the non-AQs, Air Force has a good shot at beating Navy for the first time in eight seasons. Dobbs has not returned to his 2009 form, and part of the reason is because he has been hobbled with a sprained ankle. Teams are keying in on him and forcing him to pitch the ball out. Air Force did a good job against him last year, holding him to less than 100 yards. But the Falcons lost a heartbreaker in overtime.
[+] Enlarge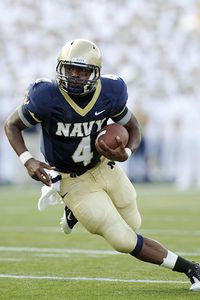 Chris Gardner/US PresswireAn ankle injury and added defensive attention have slowed Ricky Dobbs. He's rushed for 174 yards in three games after netting 1,192 last season.
2. Is BYU or Utah State the second-best team in the Beehive State behind Utah?
We will get our much-anticipated answer in a nationally televised game Friday night. This has not been a competitive game in the past, but BYU is struggling now, having lost three straight. It has experience going against running quarterbacks. The Cougars allowed
Colin Kaepernick
and Nevada a big first half last week, but adjusted well in the second half. That should give them some confidence going into the game against
Diondre Borel
.
3. Welcome to conference play Boise State and TCU.
Let us introduce you to your opponents -- two of the worst teams in college football. Boise State gets winless New Mexico State, while TCU gets one-win Colorado State. This is why a lot of people have a hard time buying their rise to the top of the polls.
4. How much will Boise State miss Winston Venable?
The starting safety is suspended for a half after a helmet-to-helmet hit gave
James Rodgers
a concussion last week. The Broncos are playing offensively challenged New Mexico State so the answer here is easy. They could have afforded to have him suspended the entire game, which is what WAC commissioner Karl Benson initially ruled before an appeal.
5. Will TCU give up almost 200 yards on the ground again?
Considering Colorado State is the worst rushing team in the country, averaging 59 yards on the ground, the answer is no. But the way
Pete Thomas
can throw the ball, the Rams may be able to get their yards through the air.
6. Will there be a Top 25 meltdown for Nevada in its big rivalry game with UNLV?
No. That win last week for UNLV was really nice and all, but it came against New Mexico. The Rebels have a long way to go if they want to catch up to the way Nevada is playing right now. The Wolf Pack are deserving of that No. 25 ranking.
7. Will a fourth starting quarterback make a difference for Louisiana Tech?
The Bulldogs are going with
Tarik Hakmi
, who threw for 262 yards in a narrow loss to Southern Miss last week. But he is going to have a hard time trying to keep up with the Hawaii offense.
Bryant Moniz
has 1,337 and 11 touchdowns already this season.
8. Will two of the top running backs in the MAC be available on Saturday?
Temple coach Al Golden says
Bernard Pierce
(ankle) is a game-time decision against Army after getting hurt against Penn State. Kent State coach
Doug Martin
didn't sound as optimistic about
Eugene Jarvis
(groin), who has missed the past two games.
9. Can SMU bounce back against Rice?
This will be the 88th meeting between the two Texas schools and former Southwest Conference rivals, making it the most-played rivalry in Conference USA. SMU has the edge in this one. The Mustangs played valiantly in their loss to TCU.
Zach Line
ran the ball well, but coach June Jones would like to see more consistency out of his passing game.
10. Any of the six winless teams remaining have a shot to win?
Five are playing this weekend -- Eastern Michigan, FIU, Akron, New Mexico and New Mexico State. I would not say any have a realistic shot, but watch for FIU against Pittsburgh and Eastern Michigan against Ohio. The Bobcats have not played up to their potential yet, at 1-3, and are still juggling quarterbacks.
September, 30, 2010
9/30/10
9:00
AM ET
»
Predictions
:
ACC
|
Big 12
|
Big East
|
Big Ten
|
Pac-10
|
SEC
|
Non-AQ
My picks in Week 4 were not too bad. Took a risk with the upset special and lost it, but what is life without risk? Still hoping to improve on 7-3 this week. With a 28-16 overall record, I am ready for what Week 5 has to offer -- even though it is not much in the way of marquee games.
Also, several readers have emailed me asking about why I leave certain teams out of the picks. My assignment is to make picks for 10 to 12 games featuring non-AQ teams, at least one from each conference. I try to look for the best games on the schedule. I could pick the easy ones, but what fun is that? So for that reason, Utah has not been in the picks for a few weeks. The competition has not warranted a spot, and I wanted to give myself something other than a guaranteed win.
On to the picks!
BYU 24, Utah State 20
. Can BYU really lose four in a row? The Cougars have never lost three in a row under Bronco Mendenhall until last week, so anything is possible with the way the season is going for BYU. They lost their best defensive player, Romney Fuga, last week after a low hit against Nevada.
Jake Heaps
gets his first career start on the road. Neither unit has been overly impressive. Both teams are actually desperate for a win at 1-3. But the Cougars have won 10 straight in the lopsided "rivalry" and have more talent.
Air Force 21, Navy 20
. I went back and forth on this one. I know Navy has won seven straight. I know Navy always finds a way to win these games. But there is a reason Air Force is the favorite. The Falcons have simply played better than Navy this season.
Upset Special

: Army 24, Temple 23
. Giving out a little service academy love here. Running back
Bernard Pierce
is a game-time decision. Without him, Temple could be hurting. Yes, Army has not beaten a tough opponent yet, but I like the way the Black Knights are playing. They are creating turnovers and
Trent Steelman
has found his groove.
Miami (Ohio) 28, Kent State 21
. The Golden Flashes have had a tough schedule to open the season, with back-to-back games at Boston College and Penn State before the bye. They might be without RB
Eugene Jarvis
once again. Miami has played well at home, and the battle to watch here is
Thomas Merriweather
against the No. 1 rushing defense in the country. Miami gets the edge at home.
North Carolina 33, East Carolina 30
. This game is going to be closer than a lot of people think because the Pirates can score and the Tar Heels are still undermanned. Still, East Carolina has problems on defense, and that is going to be the deciding factor in the end.
Pittsburgh 20, FIU 10.
The
Pittsburgh Panthers
looked pretty awful in a loss last week at Miami. Now they face another team from Miami. Luckily for them, the FIU Panthers don't pose the same type of threat. Nonetheless, FIU has played its nonconference opponents tough, almost beating Rutgers and Texas A&M. They will keep this one close.
Toledo 24, Wyoming 20
. The Cowboys made a rare trip East to Toledo, where coach Dave Christensen spent nine seasons as an assistant. They are struggling while Toledo has reeled off three straight wins on the road, including one over Purdue. Going with the hot team in this one.
North Texas 27, Louisiana 17
. The Mean Green unleashed their run game last week with
Lance Dunbar
,
James Hamilton
and quarterback
Riley Dodge
, rushing 54 times for 257 yards against FAU. Seems like a good strategy, considering the team is down to its third quarterback. Louisiana, meanwhile, struggled to stop Middle Tennessee on the ground. Sensing a possible light at the end of the tunnel for North Texas.
Western Michigan 34, Idaho 30
. Idaho is a tough team to figure out, after losing on the road to Colorado State. Given the way the Vandals struggled to stop the pass last week, and how
Alex Carder
is playing for Western Michigan, the Broncos should have the advantage.
Southern Miss 28, Marshall 13
. Southern Miss leads the series 4-1 against Marshall, but the only loss game at home two seasons ago in the conference opener. The same scenario awaits this week, but Marshall has struggled all season to find any semblance of consistency.
September, 23, 2010
9/23/10
12:50
PM ET
September, 13, 2010
9/13/10
5:44
PM ET
Here are your non-AQ players of the week:
Conference USA
Offense:
Bryce Beall
, RB, Houston. Ran for a career-high 195 yards and tied a career-high with three touchdown runs in a 54-24 win over UTEP.
Defense: Vinny Curry, DE, Marshall. Had 11 tackles, two sacks and two forced fumbles in a loss to West Virginia on Friday night.
Special Teams:
Kevin Fitzpatrick
, K, Tulsa. Tied a career-best when he made four-of-four field goals, including two in each half.
MAC
East Division
Offense:
Thomas Merriweather
, RB, Miami. Ran for 100 yards for the second time in his career, getting 105 yards on 15 carries and tied his career high with three touchdowns in a win over Eastern Michigan.
Defense: Muhammad Wilkerson, DT, Temple. Had six tackles, a career-high two sacks, a career-high three tackles for loss and one forced fumble in a 13-10 overtime win over Central Michigan last Thursday.
Special Teams: Freddy Cortez, K, Kent State. Made field goals from 45 and 41 yards in a 26-13 loss at Boston College. It was the first time in his career Cortez has made two field goals of 40-plus yards.
West Division
Offense:
Alex Carder
, QB, Western Michigan. Completed a career-high 24-of-33 passing for 298 yards and five touchdowns in a 49-14 win over Nicholls State. Carder became the sixth Bronco quarterback with five passing touchdowns in a game and the first since Oct. 8, 2005.
Defense: Dan Molls, LB, Toledo. Had a career-high 11 tackles, 2.5 tackles for loss, one sack and two interceptions in a 20-13 win at Ohio.
Special Teams: Jay Karutz, P, Eastern Michigan. Set a school record with a 49.5 punt average against Miami with three of the four inside the 20-yard line, including two that were downed inside the 1. His fourth punt was a 56 yarder that went out of bounds.
Mountain West
Offense:
Ronnie Hillman
, RB, San Diego State. Rushed for 150 yards and four touchdowns in a 41-21 victory over New Mexico State. The four rushing touchdowns set a conference freshman single-game high and are the most by a San Diego State player since Larry Ned had four touchdowns against Wyoming in 2001.
Defense: Alex Ibiloye, S, TCU. Forced three fumbles and added a team-high tying nine tackles in a 62-7 win over Tennessee Tech. Ibiloye became the first Horned Frog to force more than one fumble in a game since Jerry Hughes forced two against BYU in 2008.
Special teams:
Shaky Smithson
, WR/PR, Utah. Returned five punts for 128 yards, including a 77-yard touchdown, to help Utah beat UNLV 38-10. He is the first Utah player to return a punt for a touchdown since 2007.
Sun Belt
Offense:
Ryan Aplin
, QB, Arkansas State. Threw for a single-game school record 438 yards in a loss to Louisiana. That is the highest total for an FBS player this season. He currently has the second-most passing yards in the country with 716.
Co-Defense: Maurice Rolle, DB, Louisiana; Jonathan Massaquoi, DE, Troy. Rolle had a key interception of Aplin with 1:59 remaining to secure the win. Massaquoi had eight total tackles, a sack, a forced fumble and fumble recovery in a loss to Oklahoma State.
Special Teams:
Jerrel Jernigan
, KR, Troy. Became the fourth player in league history to return a kickoff 100 yards for a touchdown in a loss to Oklahoma State. Jernigan finished the game with 277 all-purpose yards and moved past former Middle Tennessee star Desmond Gee into fifth place on the SBC career list with 4,362 career all-purpose yards.
WAC
Offense:
Bryant Moniz
, QB, Hawaii. Completed 25 of 36 passes for 343 yards and three touchdowns in a 31-28 win at Army. Moniz led the Warriors to touchdowns in three of their first four possessions.
Defense: James-Michael Johnson, LB, Nevada. Had a team and career-high nine tackles, including 1.5 sacks in a 51-6 win at Colorado State. Nevada notched its first shutout since 2006.
Special teams: Anthony Martinez, K, Nevada. Made all three of his field goal attempts and six extra point in the win over Colorado State. The field goal attempts were the first of his college career, while the 15 points he scored in the game are tied for the third most of any kicker in the nation in a game this year.
September, 10, 2010
9/10/10
9:00
AM ET
Now for a bit of Did You Know? going into Week 2:
When Memphis visits East Carolina on Saturday, it will mark the first time since 2003 that two first-year coaches are facing each other in Conference USA play. Larry Porter dropped his opener last week when Memphis lost to Mississippi State, while Ruffin McNeill saw his cardiac Pirates pull off a 51-49 win over Tulsa on a Hail Mary.
TCU coach Gary Patterson had the quote of the week when discussing his team's upcoming game against Tennessee Tech: "We don't want to be the Ole Miss of this week," he said. Tennessee Tech and Jacksonville State, which upset the Rebels last week, play in the same conference. Incidentally, Patterson got his first paying job as a coach at Tennessee Tech in 1983.
The Western Michigan football team stepped up in a big way to help a student-run organization that provides free rides home for members of the community Thursday-Saturday late nights. Drive Safe Kalamazoo realized it had no funding for this weekend because of a clerical error. Each member of the football team decided to donate $1 from per diem they received during a day of training camp to help close the gap. The organization ended up getting enough money to be funded for this weekend, and the football team's donation paid for one car in the seven-car fleet.
When Arkansas State plays Louisiana-Lafayette on Saturday, it begins a three-game stretch against conference opponents. The last time Arkansas State opened its season against conference opponents in three of its first four games was in 1995 as a member of the Big West.
Army plays Hawaii Saturday and several of its coaches have ties to the Warriors. Head coach Rich Ellerson lettered four years at Hawaii as a center and linebacker and graduated in 1977. He served as a graduate assistant there in 1977 and later as a defensive assistant from 1981-83 and defensive coordinator from 1987-91. Co-defensive coordinator Chris Smeland coached at Hawaii from 1991-94.
Things don't get much easier for San Jose State this week. After losing to No. 1 Alabama, the Spartans play at No. 11 Wisconsin on Saturday. This is the second straight year the team is opening the season against two ranked opponents. San Jose State hasn't beaten a ranked opponent since defeating No. 9 TCU 27-24 in 2000.
Utah State quarterback Diondre Borel needs 69 passing yards against Idaho State to reach 5,000 for his career.
Four FBS quarterbacks threw five touchdown passes in Week 1 -- three are from Conference USA: Houston's Case Keenum had five in the first half against Texas State before sitting out the second half; East Carolina's Dominique Davis threw five in his first start for the Pirates against Tulsa; in the same game, Tulsa QB G.J. Kinne also had five.
Utah has a chance to set the Mountain West record for consecutive home wins. The Utes have won 18 straight, tied with BYU, which set the mark from Sept. 9, 2006, to Nov. 8, 2008. Utah hosts UNLV this weekend. The current home winning streak began Sept. 15, 2007 with a 44-6 victory over UCLA. The 18-game streak is the third-longest active home winning streak in the country behind Oklahoma (31) and Boise State (26).
September, 9, 2010
9/09/10
10:15
AM ET
Week 2 is almost here! With that, here are 10 storylines to watch among the non-AQ teams:
1. Can Air Force put pressure on BYU's two quarterbacks
? Part of the reason
Riley Nelson
and
Jake Heaps
were so successful last week against Washington was because their offensive line protected them so well, giving up no sacks. Air Force has experience up front, led by defensive end Rick Ricketts. If they can get to the young quarterbacks, the Falcons have a shot of breaking their six-game losing streak to BYU.
2. How does Wyoming handle the tragedy of this week against Texas
? The Cowboys were facing a hard enough game as it was, but now they go into Austin after the tragic death of a teammate. Ruben Narcisse was killed in a car accident and three players were injured. The team has tried to maintain its normal routine, but coach Dave Christensen has no idea what to expect at kickoff. They will wear decals on their helmets with Narcisse's initials.
[+] Enlarge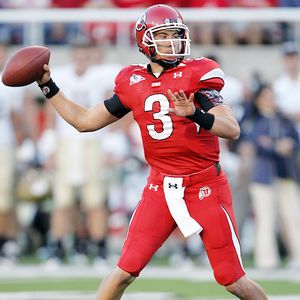 Paul Jasienski/US PresswireJordan Wynn's status for Saturday's remains uncertain.
3. Does Utah quarterback Jordan Wynn play against UNLV
? Wynn is listed as day to day with a sprained thumb on his throwing hand and could be a game-time decision for the Utes. He got hurt early in the opener last week against Pittsburgh but still threw for 283 yards. Backup
Terrance Cain
is capable, having started the first eight games of last season. Cain had a good day against UNLV last season, going 17-of-24 for 174 yards with two touchdown passes.
4. Can Tulane pull a Jacksonville State
? Ole Miss is going to go into its game against Tulane looking to make up for an embarrassing home loss to Jacksonville State last week. Tulane was one of the worst teams in Conference USA last season and was not overly impressive in its opener. Southeastern Louisiana had more total yards (266-252) and more first downs (17-15) and Tulane had three turnovers but still won. Chances for an upset are unlikely, but hey, there is always Jacksonville State for inspiration.
5. How is New Mexico going to respond after losing 72-0 to Oregon last week
? Coach Mike Locksley said his team isn't dwelling on the terrible loss in which New Mexico gave up 720 yards of total offense and had five turnovers. But it's not as if the Lobos get a break this week with a high-powered passing offense in Texas Tech coming to town.
6. Hawaii has a mighty looooong road trip
. Hawaii is playing in the Eastern time zone for just the sixth time when it faces Army on Saturday. How will the Warriors respond when the game kicks off at 6 a.m. Hawaii time? The Warriors have been on the mainland since Wednesday to get used to the time change. Though they gave USC fits last week, Army can run the ball, and Hawaii had a hard time slowing down the ground game against the Trojans. But will Army slow down a passing attack that will have
Bryant Moniz
behind center?
7. Will UTEP RB Donald Buckram play against Houston
? Buckram missed the season opener against Arkansas Pine-Bluff after bruising his knee in practice, and coach Mike Price doesn't know whether his starting running back will be available this week. Without him last week, UTEP used
Joe Banyard
and
Vernon Frazier
, who combined for 183 yards rushing. Buckram gashed Houston for 262 yards rushing last year in the upset win.
8. Can Colorado State beat Nevada for the second straight year
? The last time the Rams won a game was nearly a year ago, against Nevada last Sept. 19. They were able to slow down Nevada quarterback
Colin Kaepernick
, holding him to 24 yards on the ground, and forcing him into three turnovers. But this year, they go to Reno with freshman starting quarterback
Pete Thomas
. The Wolf Pack are improved, but it's unclear whether the Rams are after losing to Colorado last week.
9. Can Eastern Michigan win a road game
? The Eagles go to Miami (Ohio) this week looking for their first road win since Oct. 4, 2008, a 24-21 win at Bowling Green. They played a good game against Army, losing with 38 seconds to play. Running back
Dwayne Priest
and quarterback
Alex Gillett
both ran for more than 100 yards, the first time two Eagles backs went over 100 yards since 2005. Miami played it very close to the Gators last week and presents a more balanced attack than Army.
10. Are we in store for another close game between Arkansas State and Louisiana
? This is the first conference matchup in the Sun Belt between teams that have played it pretty close the past few years. Eight of the last 10 meetings have been decided by six points or fewer, including the last two. Last year, Arkansas State rallied to within three after trailing 21-3, but ended up losing in the final minutes. The Red Wolves haven't won at Louisiana in 18 years, but their new offense put up 26 points last week against Auburn, their second-highest point total against a Top-25 opponent since 2002.