NCF Nation:

Louisville to ACC
November, 28, 2012
11/28/12
5:00
PM ET
Maryland is out, and
Louisville is in
.
Upgrade? The ACC seems to think it could be.
Like it or not, this was
a necessary move for the ACC
, as Maryland is leaving for the Big Ten in 2014, and the ACC had to find an answer quickly to help reassure current league members of stability.
But will this move win the people's choice award? Cincinnati and Connecticut also made a case to join the ACC, but Louisville won the popular vote among ACC presidents, who unanimously voted on Wednesday to make Louisville the league's newest member.
Now it's time to cast your vote.
Was this a good move for the ACC?
November, 28, 2012
11/28/12
3:00
PM ET
North Carolina chancellor Holden Thorp put it bluntly when asked why the ACC Council of Presidents chose to add Louisville over Cincinnati and UConn.
Forget academics.
This was all about sports. You have got to appreciate the honesty in his comments.
"It was really all of the presidents who discussed it, and I think that what we felt was that what the ACC needed the most was to add the most exciting sports program that we could," Thorp said on an ACC teleconference Wednesday discussing Louisville's addition. "That is the way to ensure that the success of the ACC in sports was successful enough to allow us to keep our group together and we talked about that extensively.
"But Louisville, [president] Jim Ramsey is an excellent leader in higher education and he's done a lot with their university. It's on an upward trajectory. We feel very good about the addition of Louisville in every respect, but our logic was that we wanted to make the ACC as exciting a sports conference as we possibly could and we felt that Louisville unambiguously did that for us the best."
Commissioner John Swofford was then asked specifically about whether football was the deciding factor in adding the Cardinals.
"The answer would be that we felt Louisville was the best fit for the Atlantic Coast Conference at this point in time in every respect," Swofford said. "When you look at Louisville, you see a university and an athletic program that has all the arrows pointed up. Tremendous uptick there, tremendous energy, so that's my response to that. It's always an overall fit in every respect, and I think that's what we found."
So does this ensure a stable ACC moving forward?
"In working with our presidents over the last 10 days and listening to them and their commitment to the league and to each other, and now adding Louisville and the collective strength of this conference athletically and academically, I couldn't feel any better about the future of this league," Swofford said.
A few other notes from the call:
Louisville will take Maryland's spot in the Atlantic Division, placing the Cardinals in the same grouping as Florida State, Clemson, NC State, Boston College, Wake Forest and Syracuse. Louisville also will take Maryland's spot as Virginia's crossover scheduling partner. The Atlantic is lookin' pretty tough these days.
Swofford said there has been no discussion about raising the $50 million exit fee.
As for the possibility of the ACC creating its own television network, Swofford said there had been some preliminary discussions but added, "You don't do that just for the sake of doing that. You do that because it's the right thing for your league financially and from an exposure standpoint moving ahead. ... We'll continue to look at that. It seems to be the sexy thing in today's world, but it also needs to be the right thing and the thing that's best for our particular conference."
November, 28, 2012
11/28/12
1:42
PM ET
Connecticut
released statements Wednesday afternoon following the departure of Louisville to the ACC
. Here they are:

UConn President Susan Herbst
: "I know this may seem like a tough moment for our fans, but we need to focus on the fundamentals of academic success across the university and in our athletic program as well. We are winners -- we win, we like to win and we will continue to play the best possible opponents. We will be athletically successful, regardless of our conference, because of our successes in NCAA competition. We will keep building our winning record through the lens of a great university, that focuses on academics, not on the fluid and unpredictable nature of
conference realignment. Again, I realize this is a difficult day, but when we focus on research, discovery, and student success, we'll never go wrong."
UConn Director of Athletics Warde Manuel
: "Conference realignment is a prominent national issue in collegiate athletics and will continue to be so into the future. UConn has established a rich history as a very successful academic and athletic institution. We understand that because of that UConn will continue to be brought up in the discussion regarding potential schools considered in realignment. We have and will continue to monitor the situation regarding conference realignment and work to ensure that UConn is in the best position for the continued success of our athletic programs. We are proud of the success of our coaches and student-athletes and the tradition that has been established of winning conference and national championships. We are proud and appreciative of our great Husky fan base. Husky Nation is strong all over the country and the world. UConn has one of the most captive audiences of any school in the country and we have strong penetration in several of the nation's largest television markets."
November, 28, 2012
11/28/12
1:15
PM ET
Big East commissioner Mike Aresco has issued this statement on Louisville's departure to the ACC:
We enjoyed having Louisville in the Big East conference and we wish them well.

The Big East has anticipated the continuing realignment that is reshaping college athletics and has already made important additions as part of our vision for the future. We will continue moving forward to fulfill that vision, which includes a strong national football conference and a strong and storied basketball conference. Big East teams will continue to compete and succeed at the highest level and, as always, will combine athletic and academic excellence. With schools stretching from coast to coast and in many of the top U.S. media markets, the Big East has become a truly national conference with outstanding young men and women competing across a full range of sports.

We are committed to a vibrant and dynamic future for the Big East conference.
November, 28, 2012
11/28/12
12:35
PM ET
This move was not about TV sets, or TV deals or dollar signs floating in the sky.
No. The ACC added Louisville for one reason, and one reason only: football.
It was a no-brainer for both sides.
The ACC needs a boost to its football brand, and it needs to keep football powers Florida State and Clemson happy. This week, folks got the idea that the ACC was on the verge of collapse with speculation circulating that North Carolina and Virginia would follow Maryland out the door.
Speculation grew so intense, in fact, that both North Carolina and Virginia
released statements
vowing their undying commitment and everlasting love to the ACC (dated: Nov. 27, 2012). Another concern loomed, too: potentially losing Florida State and Clemson, ACC football cornerstones. Remember the chatter this summer about potential interest in the Big 12? Remember Florida State voted against the $50 million buyout?
[+] Enlarge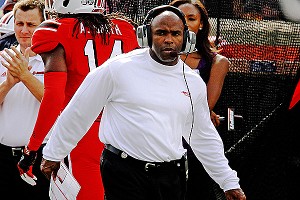 AP Photo/Garry JonesLouisville's football program has had a renaissance under coach Charlie Strong, who led the Cardinals to as high as No. 9 in the BCS standings this season.
Yes, the ACC had to keep these two schools happy, and keeping these two schools happy meant putting football first. Nearly every single move done during realignment has been made with an eye toward increasing league footprints into bigger television markets.
Not this one.
The ACC gladly trades in a Top 10 TV market in Washington, D.C., for Louisville -- ranked somewhere around No. 50. Academics? For this proud conference, they were an afterthought.
Louisville ranks No. 160
in the latest U.S. News & World Report college and university rankings. For once, on-the-field product came first. That is the overriding reason the Cardinals got the nod over UConn, believed to be the favorite headed into this process.
UConn brings a terrific basketball product, but several factors surely worked against the Huskies. There is an academics scandal that has hung over the men's basketball program. And football has slipped the past two seasons. The Huskies are on the verge of not making a bowl game in consecutive years -- after going to the BCS in 2010.
Louisville, meanwhile, is on the rise -- reaching as high as No. 9 in the BCS standings this season following a 9-0 start to the season. The Cardinals play Rutgers on Thursday night for a shot at their second BCS berth since 2006.
Coach Charlie Strong is one of the hottest rising coaches in the country. Moving from the down-in-the-doldrums Big East to the ACC should help guard against a potential move to a bigger school. Strong has been very clear about his commitment to Louisville. Joining what appears to be a more stable conference -- at least today, anyway -- only increases his chances of staying.
The bottom line is Louisville has made a huge commitment not just to football but to its overall athletics department. It has the biggest athletics budget in the Big East, and is about to make major improvements to its football facility. Athletic director Tom Jurich has made no bones about one fact -- money is not really an issue for him when it comes to building and sustaining his department.
For good measure, of course, Louisville is a basketball power, too. Forbes reports the Louisville basketball program is the
NCAA's most valuable basketball team
, unseating North Carolina. The additions of Louisville, Pitt, Syracuse and Notre Dame make the ACC the hands down No. 1 basketball conference in America.
It also has brought the Big East to its knees. The ACC has now taken six former Big East members, leaving the Big East to die a slow death. Louisville is the absolute back-breaker. Last year, the Cardinals tried desperately to escape, losing a down-to-the-wire battle with West Virginia to get into the Big 12.
The Big East thought it would have the Cardinals to build their future around, as the top overall athletic department remaining in the Big East. But when Jurich saw the ACC opening, he went for it, realizing he had a second chance at escape. Now UConn, Cincinnati, Temple and USF are the lone remaining Big East members that began the football season back in September, left to wonder whether they will get escape opportunties of their own.
As for the ACC, there will be those who wonder whether this addition does anything to keep another school from bolting, should another (ahem, richer) league come calling (again). There are no guarantees in the hard-to-fathom world of conference realignment.
But there is one certainty today: Adding Louisville was the best possible move the ACC could make today.
November, 28, 2012
11/28/12
11:06
AM ET
The ACC Council of Presidents has unanimously voted to accept the University of Louisville as its newest member, the conference
announced on Wednesday
. The vote followed the submission of Louisville's letter of application.
From the release:
"With the addition of the University of Louisville, the ACC continues to be well positioned for the future competing at the highest level in all facets of the collegiate experience," said the ACC Council of Presidents in a joint statement. "The ACC continues to be a vibrant conference that remains steadfast in its commitment to balancing academics and athletics."

"With its aggressive approach to excellence in every respect, the University of Louisville will enhance our league's culture and commitment to the cornerstones we were founded on 60 years ago," said ACC Commissioner John Swofford. "The University of Louisville is an outstanding addition to the Atlantic Coast Conference and I commend the Council of Presidents for continuing to position our league for the long-term future. If you look at what has been done over the last 15 months, the ACC has only gotten stronger with the additions of Louisville, Notre Dame, Pitt and Syracuse."

"The University of Louisville is honored to join the ACC, a conference with a long history of excellence in athletics and academics," said Dr. James Ramsey, President, University of Louisville. "The ACC will be a great home for UofL and our commitment to great academics, groundbreaking research and top-notch athletic teams."

"When it became apparent to us that we needed to make a move, the ACC is the perfect fit for us and we are so elated to be joining this prestigious conference," said Tom Jurich, Vice President and Director of Athletics. "Under John Swofford's leadership, the ACC continues to prosper. We sincerely appreciate this opportunity. This will open so many more doors for us both athletically for all of our sports programs, and academically for our university. What I really like about this move is it's terrific for our fans, with the proximity of the institutions and we never have to leave the Eastern time zone. This is a credit to everyone at the University of Louisville and our community, as we have all pulled together to position ourselves for this opportunity. It's amazing what has happened here over the last 15 years. We appreciate so much what the BIG EAST Conference has meant to us."
Andrea Adelson will have more on this announcement, so stay tuned.
November, 28, 2012
11/28/12
8:20
AM ET
The ACC is expected to add Louisville to replace Maryland, an industry source told ESPN.
Conference presidents and chancellors are holding a morning teleconference to make the decision, as first reported by ACCsports.com.
The source said the vote is expected to add just one member, though Cincinnati and UConn have lobbied hard to get into the league. Neither school has another league option, so they would most likely be available later on if the ACC lost another member.
For more on the story,
click here
.