September, 30, 2013
9/30/13
8:00
AM ET
TUSCALOOSA, Ala. -- There was no dipping a toe in the water for preseason No. 1 Alabama. The Crimson Tide instead had to jump right in, battling sharks every week in the first month of the season.
The early stretch was brutal at times. Sure, Alabama looked like the best team in the country and got through the first four games undefeated, but there were certainly some blemishes revealed along the way. Each week and each win was a struggle.
Virginia Tech opened the season by stifling Alabama's offense in Atlanta, getting into the face of quarterback
AJ McCarron
by applying constant pressure on the backfield. The offensive line, a group that featured three new starters, looked nothing if not inexperienced.
[+] Enlarge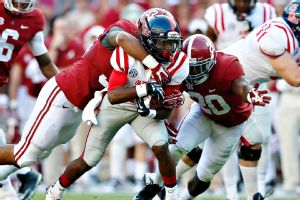 Kevin C. Cox/Getty ImagesThe Crimson Tide defense had its most complete effort of the season on Saturday.
Ninth-ranked Texas A&M then lit up Alabama two weeks later.
Johnny Manziel
and
Mike Evans
tore apart the secondary, abusing the Tide with the deep pass. UA set a kind of record you don't want to see, allowing the most yards in school history.
Even Colorado State, the $1.5 million cupcake courtesy of the Mountain West Conference, gave Alabama trouble. The Tide defense made too many mistakes and the offense was terribly inconsistent, failing to convert on a single third-down attempt in the first three quarters.
Then came No. 24 Ole Miss, an undefeated team playing with house money against Alabama. But this time, mercifully, the Tide put together a complete game and won, ending a four-game streak that tested the mettle of the championship contenders.
Now it's time to exhale. Alabama survived the early onslaught and can now take a breath to regroup with Georgia State, Kentucky, Arkansas and Tennessee up next. None of the four is ranked, and only the Razorbacks and the Vols are above .500, albeit at just one game over each. The four teams' combined record (7-11) is noticeably worse than the combined record of the first four teams Alabama faced (13-6) and the last four teams Alabama will face to end the season (11-6).
To make matters even more favorable for the Tide, Alabama will get a bye to start the month of November before hosting LSU on Nov. 9.
No team in the SEC has an easier next five weeks than Alabama. South Carolina is a close second and the only other school in the conference that won't face a ranked team over that time, but at least the Gamecocks don't have a cupcake like Georgia State to snack on. Instead, Steve Spurier's team will be tested somewhat by Kentucky, Arkansas, Tennessee, Mississippi State and undefeated Missouri. In fact, if one-loss South Carolina plays like it did against unranked UCF this past weekend, it might not be much of a championship contender come November.
The rest of the league's title contenders don't have it so easy. Georgia has rival Florida to contend with, LSU has Florida and Ole Miss in back-to-back weeks, and Texas A&M has to deal with the same explosive Rebels on Oct. 12.
Ole Miss is one of seven SEC schools to play two ranked opponents over the next five weeks. Only Tennessee and Missouri have it worse with three ranked opponents each in the month of October.
While Nick Saban might not be fond of focusing on records, it's hard to ignore the obvious -- if Alabama doesn't make it to November undefeated, it would be a shock. The Crimson Tide's coach isn't one to admit those things and he won't ever say an opponent is overmatched, but he and his staff do have the luxury of not stressing over serious competition the next few weeks.
Instead, they can budget their time wisely, resting banged up starters such as
Ryan Kelly
and
T.J. Yeldon
while working out the kinks with some younger guys for the stretch run, especially those on defense such as rookie cornerbacks
Eddie Jackson
and
Maurice Smith
.
"I'm looking more at the standard, not the record," Saban said following his team's shutout of No. 24 Ole Miss on Saturday night. "And I think it's important that our players do the same so we can continue to improve."
Improvement, though, might be the best Saban can hope for. Making another statement like his team did by thumping Ole Miss doesn't appear to be possible against the forthcoming carousel of unranked, overmatched opponents. Rather, building up some level of consistency over the next few weeks will be the challenge as the scoreboard certainly doesn't figure to be.
"We have high expectations for the standard of how we play," Saban said. "And I think more than what the record is, I think and our team thinks, what do we need to do so we can continue to improve so we can play the the standard on a more consistent basis.
"I would say if there's any criticism of myself, our staff and our team, it would be the fact that we have not been as consistent as we'd like to be."
Saban got through a rough, inconsistent start to the season intact and in the driver's seat for another run to the national championship. For the next month, he'll be in the enviable position of fine-tuning his team's mistakes against lesser competition.
While the rest of the SEC slogs through the ghoulish month of October, Alabama will be playing trick or treat each Saturday. All that remains now is reaching LSU on Nov. 9 without slipping on the proverbial banana peel.
November, 17, 2012
11/17/12
8:05
PM ET
BATON ROUGE, La. -- Regardless of their records, it's never a dull affair when LSU and Ole Miss get together in Tiger Stadium. LSU overcame a seven-point fourth quarter deficit to survive an Ole Miss upset bid and down the Rebels,
41-35
. The Tigers' last five home wins against Ole Miss have come by margins of one, three, three, seven and six.


Here's how it happened in Death Valley:
It was over when:
LSU running back
Jeremy Hill
dove over the goal line with 15 seconds remaining to put LSU on top for good. The Tigers bungled the ensuing extra point, which made the dying seconds slightly more tense for the home crowd, but the Rebels' desperation touchdown drive ended in a frantic hook and lateral attempt, which was ultimately stopped on their own 35-yard line.
Game ball goes to:
Even in a losing effort it's got to be Ole Miss wide receiver
Donte Moncrief
, who had a career outing in the Rebels' most high-profile game of the season. Moncrief picked on anyone and everyone in the LSU secondary, be it cornerbacks
Tharold Simon
and
Jalen Collins
or safety
Eric Reid
. He hauled in six receptions for 161 yards and two touchdowns -- the second of which gave Ole Miss a 35-28 fourth quarter lead.
Game ball, part II:
Hill led the Tigers' ground game for the fifth straight week, as he carried the ball 20 times for 86 yards and three touchdowns. The freshman plowed into the end zone on two different 1-yard carries, and he also broke a 27-yard scoring romp in the first quarter.
Key play:
Odell Beckham
finally made the big special teams play the Tigers have been waiting for, and it came at just the right time. Beckham fielded an Ole Miss punt at his own 11-yard line with nine minutes to play and proceeded to reverse field for an 89-yard touchdown return. The score knotted the game at 35-35, and LSU would not trail again.
Key stat:
After going 16 quarters without a turnover, the LSU offense coughed up the ball three times against Ole Miss. The Tigers and Rebels combined for seven turnovers on the day.
What it means for LSU:
Style points only matter when you're in the national title hunt. The Tigers are not, so they'll gladly take the win. The victory keeps alive a very slight chance that the Tigers could win the SEC West -- provided Alabama loses to a bad Auburn team next week. If that miracle doesn't work out, LSU at least kept pace in the race for an at-large BCS bowl bid.
What it means for Ole Miss:
The Rebels held the lead in the fourth quarter for a second straight week, and for a second straight week they failed to close out. First-year coach Hugh Freeze and his Ole Miss squad are still searching for an elusive sixth win to reach bowl eligibility, and they're down to their final game to find it. Next week's Egg Bowl against arch-rival Mississippi State will determine if the Rebels go bowling or not.
August, 24, 2012
8/24/12
9:00
AM ET
By
Jon T. Stewart, ESPN Stats & Information
| ESPN.com
AP Photo/Gerald HerbertLSU QB Zach Mettenberger will look to turn around a passing attack that struggled last season.
With six starters returning on offense and five on defense from a team that reached the BCS National Championship Game, it's no surprise the
LSU Tigers
are No. 3 in the Associated Press Preseason Top 25. That's even with the loss of cornerback Morris Claiborne and defensive tackle Michael Brockers – both NFL first-round picks – and the dismissal of All-America cornerback Tyrann Mathieu, who won the 2011 Bednarik Award as the nation's top defensive player and finished fifth in the Heisman Trophy voting.
A major reason for the high expectations is at quarterback, where LSU fans believe it's a matter of addition by subtraction. Redshirt junior
Zach Mettenberger
replaces Jordan Jefferson and Jarrett Lee, who shared the starting job last season. Who would've guessed that would be the case for a school replacing two players with a combined 50 career starts (32 for Jefferson, 18 for Lee) since 2008 with one who has never started an NCAA game?
With Jefferson and Lee as the primary starters over the last four seasons, the Tigers' passing attack has struggled mightily. They finished in the bottom half of the SEC in four key passing statistical categories during that span.
In 2011, LSU nearly became the second team to beat four AP top-3 opponents in one season (Notre Dame did it in 1943) since the poll came into existence in 1936. The Tigers beat No. 3 Oregon, No. 2 Alabama and No. 3 Arkansas before losing to the second-ranked Crimson Tide in their rematch in the BCS National Championship Game. In four of its key games – the season opener against the Ducks, both Alabama matchups and the SEC Championship Game against Georgia – LSU got almost nothing from its passing attack yet managed to win three of those contests.
Enter Mettenberger, a strong-armed, pure pocket passer and the most highly touted quarterback to arrive on the LSU campus since JaMarcus Russell (ranked sixth), the first pick of the 2007 NFL Draft, signed in 2003. Mettenberger, the ninth-ranked quarterback in the 2009 signing class, first signed with Georgia but was dismissed from the team in 2010 before ever playing a down for the Bulldogs after getting into legal trouble.
Mettenberger then transferred to Butler (Kan.) Community College, where he led his team to the national title game in his lone season there and was the top-ranked quarterback in the junior college ranks before signing with LSU in 2011. Last season, Mettenberger completed 8-of-11 passes for 92 yards and a touchdown in five games.
LSU already possesses arguably the best set of running backs in the country and one of the nation's most ferocious defenses. If Mettenberger can improve LSU's oft-anemic passing attack, it's easy to envision the Tigers in South Florida playing for the national championship for the second straight season.
June, 14, 2012
6/14/12
11:14
AM ET
ESPN.com college football writers and bloggers are
writing about escalating facilities costs in college football
and also
ranking school facilities
.
As they note, building, renovating and expanding stadiums can cost tens of millions of dollars. So how does all of that get paid for given how few athletic departments are financially self-sustaining?
The answer is not as exciting as watching De'Anthony Thomas of Oregon score a touchdown. But how costs are covered can certainly be more important to the program in the long run.
The most common way to pay for stadium improvements is the issuance of tax-exempt bonds. A bond isn't all that different from a loan in the sense that it is, in its most basic form, a contract to repay borrowed money with interest at fixed intervals. Municipalities, counties and state governments can generally issue bonds, which are governed by federal and state law. The purchase of a bond by an investor provides the money needed for a stadium project, with the investor gaining tax-free interest payments in return.
January, 8, 2012
1/08/12
10:10
AM ET
The retail market for licensed collegiate apparel is, quite simply, a behemoth of a business that brings in about $4.3 billion annually.
Seemingly everyone wants a piece of it, which is why so many people at so many major events hawk items of all shapes, types and sizes -- whether the items are legitimately made and licensed or counterfeit.
[+] Enlarge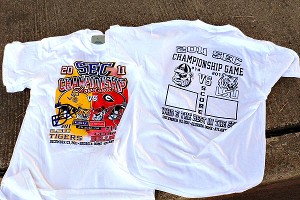 Kristi Dosh/ESPN.comSome counterfeit shirts look more authentic than others.
Vendors selling counterfeit goods mixed right in with legitimate vendors at the SEC Championship game in December in Atlanta. They did it at the Rose Bowl, too. And they'll do it again Monday night at the 2012 Allstate BCS National Championship Game.
Last year, more than 60,000 pieces of counterfeit merchandise valued at more than $1 million overall were seized by Collegiate Licensing Company. While CLC represents nearly 200 colleges, universities, bowl games, athletic conferences, the Heisman Trophy and the NCAA, it's not the only licensing agency around; Learfield Sports, Licensing Resource Group, and Silver Star Merchandising represent collegiate properties in their licensing efforts as well.
At the 2011 SEC championship Game, CLC took possession of 1,012 pieces of unlicensed product with an estimated retail value of more than $15,000. That's up from 2010, when 541 pieces of unlicensed produced were seized or voluntarily surrendered by vendors. More than twice that many products were seized last January at the Rose Bowl by CLC.
CLC officials said that on average, nearly 5,000 counterfeit items, from T-shirts to hats to bracelets, are seized outside the host stadium of the BCS title game each year.
Some of the items are obvious: In December in Atlanta, a roaming vendor on Mangum Street south of the Georgia Dome peddled T-shirts, gold letters emblazoned on purple reading: "BATON [expletive] ROUGE." The back of the shirt warned: "IF YOU DON'T BLEED PURPLE AND GOLD TAKE YOUR [double expletive] HOME!"
Most people wouldn't consider such a shirt an officially licensed product of Louisiana State University because of the vulgar language. But another vendor sold shirts proclaiming a "2011 SEC Championship Showdown" and featured the trademarked logos for LSU and Georgia. Few buyers would be able to determine the shirts were counterfeit.
CLC investigators team with local police at major events and seize such material, give citations to the vendors or arrest them. Companies like CLC conduct such enforcement activities because federal law requires trademark owners to "police" their mark. Trademark law is largely enforced through private lawsuits, although there are also criminal penalties for counterfeiting goods. Failure to police a mark by attempting to prevent infringing uses can result in a loss of protection for a trademark.
[+] Enlarge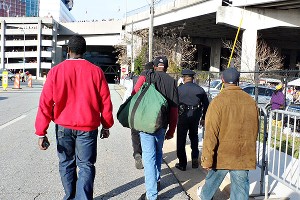 Kristi Dosh/ESPN.comAtlanta police and investigators from Collegiate Licensing Company walk a man accused of selling counterfeit apparel away from the SEC championship game in December.
The most clear-cut violations by vendors are those involving the use of trademarks that are registered at the state or federal level. Trademarks include more than just the university, conference or BCS logo. For example, University of Georgia lists the following trademarks: "Georgia," "University of Georgia," "Georgia Bulldogs," "Bulldogs," "Dawgs," "UGA," "University of Georgia Athletic Association," "Between The Hedges," "How Bout Them Dogs," "Go You Silver Britches," "Hairy Dawg," the oval "G" mark and many others.
In addition to registered trademarks at the state or federal level, universities can also claim common law rights to marks or wording typically associated with the university.
In 2008, the Fifth Circuit Court of Appeals upheld a decision by a Louisiana federal district court against Smack Apparel for intentional trademark infringement based on its use of school colors in combination with other designs and words that made it apparent the references were designed to associate with a particular school. For example, one shirt featured the following: "Got Seven?" "We do! 7 Time National Champs." The shirt included a depiction of the state of Ohio and a marker noting Columbus, Ohio, on the back. The court decided the shirt referred to the seven college football national titles claimed by Ohio State University.
The court ruled that the schools involved in the suit owned trademark rights in their color schemes and that combined with other indicia on the various shirts, such as the reference to Ohio State's location in Columbus and national titles in the example above, trademark infringement had occurred, even without use of the school name or logo.
So, who are these vendors?
One of them cited in Atlanta was the man selling the shirts with the expletives. He said he planned to keep $8 of the $20 shirt cost, with $12 going to his boss. He expected to make $1,500 to $2,000 that day before he was stopped by CLC investigators and Atlanta police for vending without a permit.
The man said he was based out of Cleveland but traveled nearly every weekend for major sporting events. He said he worked for a company named Street Talk Tees, which is registered as a business in Ohio for "novelty tees and apparel." The vendor said his company employs about 30 people who travel to events -- two others also worked the SEC game.
Requests for comment from Street Talk were not answered.
[+] Enlarge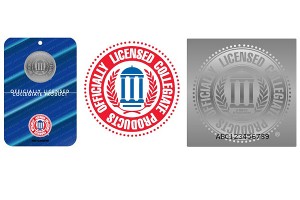 CLCThese tags and holograms can be found on licensed collegiate apparel and items.
CLC says buyers have a few ways to determine the authenticity of their purchases:
• Look for an "Officially Licensed Collegiate Products" hologram on the product or hangtag.
• Consider taste of the product, as distasteful designs are not approved by trademark holders.
• A torn or missing tag usually is evidence of a second-hand garment.
• The name of the manufacturer will be on the product somewhere, either in the form of a hangtag, a neck label, or screen-printed directly.
• All merchandise should have appropriate trademark designations next to a specific name or design.
Why be so conscientious when you buy collegiate merchandise? Each year, universities depend on millions of dollars in royalties to fund athletic programs and other university initiatives. For example, the University of Florida showed more than $6 million in licensing revenue on its audited financial statement for 2010-11, with just $40,000 of that going to CLC in marketing fees.
Ohio State budgeted for $3.5 million in licensing revenue for 2011-12 and projects $1.58 million of that will move from the athletic department to the university, to be used for academic programming and scholarships.
November, 3, 2011
11/03/11
10:49
AM ET
The price to see
No. 1 LSU vs. No. 2 Alabama
in person is growing alongside the hype for this weekend's matchup.
The average ticket price of $402 prior to the season is starting to look like a bargain, as fans are now looking at an average of $508 -- a 28% increase.
The cost is even more impressive when compared with ticket prices to the SEC Championship Game, annually college football's most financially successful conference championship game. A ticket to last year's game between Auburn and South Carolina went for an average of $460 on StubHub. Games in 2009 and 2008, which pitted Alabama against Florida, went for an average price of $573 and $488.
Glenn Lehrman of StubHub said this week's matchup has become the highest-demand ticket his company has seen for an Alabama home game. It's on pace to be the highest-selling college football game of the season and is only trailing the LSU-Oregon season opener. The highest-priced ticket Thursday morning was selling for about $5,000.
The hotel industry in Tuscaloosa is benefitting as well, although surprisingly there were still rooms available as of last week. A search last Thursday on Hotels.com indicated 22 hotels in Tuscaloosa ranging from $40 to $200 for the night of the game, and a search on Travelocity.com showed 20 hotels ranging from $40 to $215. Didn't buy then? You're out of luck -- the closest you'll get now is Birmingham, about 55 miles away.
Media members aren't faring much better in terms of trying to
cover the game
. Alabama expects approximately 600 credentialed media members. For an average game, roughly 350 credentials are granted.
September, 24, 2011
9/24/11
11:12
AM ET
PITTSBURGH -- Greetings from Heinz Field, where Notre Dame will look to get to .500 against a Pitt team coming off a devastating loss at Iowa last weekend.
Lots of action in town this weekend. Fans from Notre Dame -- and from LSU -- have done their part to make a dent in this city, with two major football games taking place within an hour's distance of each other. I'd say it's about 50-50 outside right now between Fighting Irish fans and Panthers fans, and it should be an exciting atmosphere come kickoff.
A key matchup in this game will be in the trenches, where the Irish will look to replicate their performance from a week ago against a Pitt offensive line that has surrendered 12 sacks so far this season, the third-most in the nation. Things may only get more troubling for Panthers signal-caller
Tino Sunseri
, as Pitt announced Friday that left guard Chris Jacobson would be sidelined the rest of the season following knee surgery.
Don't go anywhere, as we're just about an hour from kickoff and I'll have live analysis from today's action.
September, 24, 2010
9/24/10
11:30
AM ET
We've got big games from coast to coast in Week 4, so let's check out the top 10 storylines to watch heading into Saturday:
[+] Enlarge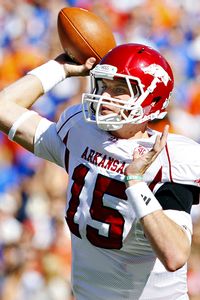 Kim Klement/US PresswireCan Arkansas quarterback Ryan Mallett lead his team to a win over the No. 1 team in the nation?
1. Does Arkansas have what it takes to beat Alabama?
Certainly the Razorbacks are much improved on defense, and
Ryan Mallett
has lived up to his Heisman Trophy billing. But does this team have a killer instinct? This is a team that had a 7-0 halftime lead over ULM, then blew a 24-10 fourth-quarter lead against Georgia last week before rallying for 31-24 the victory. Alabama will try to confuse Mallett the way it did last season. Offensively,
there are so many options for the Tide
, the Razorbacks are going to have to prove just how good they have become on defense.
2. Does Oregon State have a chance to beat Boise State?
Absolutely the Beavers have a chance. Is it going to happen? That is another question. Some keys to watch: Oregon State might not be able to run into the heart of that Boise State defensive line. Do the Beavers try to run sweeps to the outside with their speedy receivers to loosen them up? The Rodgers brothers, James and Jacquizz, are always a threat to take it the distance. The Boise State secondary has been vulnerable at times, so if
Ryan Katz
has time to throw, he could connect for some big plays.
3. Can Notre Dame close out a win?
So far 2010 has looked a lot like 2009 for the Fighting Irish, what with losing games in the closing seconds to Michigan and Michigan State. They could just as easily be 3-0 with a few more plays going their way. Instead, they are staring at the prospect of a 1-3 start, given the way Stanford has played going into the game. This could be a national statement game for Stanford quarterback
Andrew Luck
, who has 674 yards passing with 10 touchdowns and no interceptions.
4. Can the Big East represent in big nonconference games?
Pittsburgh, one of the popular preseason picks to win the Big East, fell flat on its face Thursday night in a 31-3 loss to Miami. That leaves Cincinnati and West Virginia this weekend in huge national profile games. Oklahoma visits the Bearcats, who have fallen on hard times just one season removed from an undefeated regular season. They hardly resemble the outfit that made it to the Sugar Bowl last season, having already lost to Fresno State and NC State. West Virginia, meanwhile, travels to LSU. The Mountaineers might be the best hope to win the Big East, but then again they nearly lost to Marshall.
5. How does Michigan State respond without coach Mark Dantonio?
Luckily, the Spartans play Northern Colorado, not exactly the toughest challenge. Dantonio suffered a heart attack in the hours after the Spartans' overtime win over Notre Dame, and offensive coordinator Don Treadwell will lead the team in his absence. A big game looms next week at home against Wisconsin. The bigger question is whether Dantonio will be back in time for that one.
6. Does South Carolina need to prove that it is for real even after beating Georgia?
Some believe the answer is yes. Well here it is, perhaps an even bigger test because the Gamecocks must play a better Auburn team on the road. Last week, Auburn struggled to stop Clemson running back
Andre Ellington
, who had 140 yards and a touchdown. This week, the Tigers face a bigger, more physical back in freshman stud
Marcus Lattimore
. The key for the Tigers: shutting him down to force
Stephen Garcia
into trying to win the game. South Carolina has the defense to be able to slow down Cam Newton.
7. How does Iowa respond after its heartbreaking loss to Arizona?
The Hawkeyes get an easier challenge this week against Ball State, but they are beginning life once again without
Jewel Hampton
, out for the season with a torn ACL. This game serves as an excellent tune-up headed into next Saturday's big game against Penn State. Iowa has to figure out how to get its offensive line going, perhaps the most glaring weakness on the team, which was completely exposed against the Wildcats.
8. How does Arizona respond after its big win over Iowa?
We can ask the question both ways. The Wildcats are up to No. 14 in the polls after that win, and now all of a sudden are a team everyone believes is right there in the mix for the Pac-10 title. They play a California team that lost to Nevada last week. What was striking in that game was the way Nevada dominated on both lines. That doesn't bode well going into this game, considering how strong Arizona looked on the offensive and defensive lines against the Hawkeyes.
9. Can Virginia Tech win at Boston College without Ryan Williams?
This is a crucial game for the Hokies, who could drop to 1-3 with a loss. Without Williams,
Darren Evans
and
David Wilson
will carry the load. But Evans has lost two fumbles in two weeks, and the Hokies traditionally struggle running the ball against the Eagles. That was until last season, when they had 235 yards on the ground. They are going to need another performance like that to win, but it's going to be much harder without their top runner.
10. Can Oregon keep up its scoring pace?
Hard to imagine the Ducks will be able to hang half a hundred on Arizona State, a team that came
thisclose
to beating Wisconsin on the road last week. Oregon has averaged over a point a minute in its three games this season, but the Sun Devils are no New Mexico and are certainly no Tennessee. Still, Arizona State has to be better in the red zone to have any shot at the upset.
September, 3, 2010
9/03/10
11:30
AM ET
Our esteemed conference bloggers gave us their top 10 storylines to watch yesterday. Today, we present the top 10 storylines to watch across the country.
1. How does North Carolina recover emotionally from losing so many players?
We know North Carolina is going to be depleted on the field against LSU on Saturday.
Twelve players have been declared ineligible
, including six starters. Of those six, five are on what is supposed to be one of the best defenses in the country. Players are going to have to step up, yes, but you have to wonder what type of toll this is going to take on the team from a mental standpoint. North Carolina is going into one of the biggest national games in the country with one arm tied behind its back. Surely the players know this. Surely coach Butch Davis knows this. He is going to have to do one heck of a coaching job to get his players to focus on the actual game and not all the outside distractions.
2. Big debut for Notre Dame coach Brian Kelly:
Opinions are mixed on just how well Kelly will do in his first season as Irish coach. There are some who believe a 10-win season is possible. Others think seven wins is more likely. We will have to see how
Dayne Crist
does in the new spread offense, but more importantly -- how much better is the defense going to be this season? This is a team that returns nine starters from a defense that ranked 86th in the country last season. Yes, there is another new defensive scheme in place, but it should get a big test from Purdue and pass-happy quarterback
Robert Marve
.
3. How much of a home-field advantage will Virginia Tech have against Boise State?
We have gone over some of the matchups, most notably the Hokies running backs vs. the Boise State defense. But intangibles are going to play a role here. How does Boise State handle traveling across the country and going into what should be a hostile environment? It has practiced for the heat and humidity, but it is hard to simulate actual game conditions with 90,000 fans -- most of whom are against you. Boise State has played in front of hostile crowds before, but this should be especially loud.
4. How does Year 3 of the Rich Rodriguez era start?
Rodriguez could have the hottest seat of any coach in the country right now, what with NCAA sanctions looming and two straight losing seasons on his resume. Michigan fans want to win yesterday, let alone now. There is still uncertainty at quarterback, where up to three players could play against Connecticut. Every game Michigan plays these days feels like a must-win, but especially this one because of all the distractions outside the program.
5. No Tim Tebow, now what?
The
Florida Gators
are ranked so high in the preseason polls this year largely because of the expectations on new quarterback
John Brantley
. He has a different style to be sure, more of a drop-back passer with a much stronger arm, but many expect him to step in and keep the Gators offense rolling along. He will have to do it without two of the team's top receivers, Riley Cooper and Aaron Hernandez. Who is going to step up to be the leader of that receiving group? Will the Gators have an effective way to run the ball with Tebow gone? After all, Tebow led the team in rushing the past three seasons.
6. How does Alabama handle playing without Mark Ingram and defensive end Marcell Dareus?
Yes, the Tide is only playing San Jose State, but a big game against Penn State looms and the Tide could potentially be without both players in that one. Alabama has a capable back in
Trent Richardson
, and Damion Square is expected to play in Dareus' place. Both are going to need to get comfy out there before Sept. 11.
7. Does Nebraska have an offense to match its defense?
The Cornhuskers are getting much love based on the way their defense played last season, and their near-upset of Texas. But their offense was atrocious, ranking 99th in the entire country. Once again, there is quarterback uncertainty, so that does not exactly project the confidence that this unit is going to magically be better. In its four losses last season, Nebraska averaged 11 points.
8. Can Oregon State put enough pressure on TCU quarterback Andy Dalton?
Much of the focus on this game has centered around the Rodgers brothers and their return to Texas.
Jacquizz Rodgers
vs. the always strong TCU defense is a great matchup to watch. But another one is how Oregon State defends Andy Dalton. The last time we saw Dalton, he was frazzled into throwing three interceptions, including one that was returned for a touchdown in the Fiesta Bowl against Boise State. He threw only five in the regular season.
9. Georgia breaks in a new quarterback and new defense:
How are the Bulldogs going to look with a redshirt freshman in
Aaron Murray
leading the offense, and a new defense playing the 3-4? Georgia is going to need answers fast with a road game at South Carolina looming. The Gamecocks looked pretty good Thursday night.
10. Charlie Strong vs. Joker Phillips:
It's great to see two African-American head coaches making their debut in such a huge rivalry game. Their rise has helped increase the number of minority head coaches to 13 going into the 2010 season, up from nine in 2009.
August, 16, 2010
8/16/10
12:00
PM ET
Today we gave you 20 games to watch this season. Three from opening weekend made the Top 20 list. But there are several others that just missed the cut:


USC at Hawaii, Sept. 2.
We have got to know how Lane Kiffin does in his opener with the Trojans, right? So much melodrama has followed this program since Kiffin took over, you can bet he and his players will be thrilled to start playing games -- even though they are ineligible for postseason play. We will get to see what strides QB
Matt Barkley
has taken, and take a look at the retooled Monte Kiffin defense. USC freshman RB
Dillon Baxter
won't be there -- he is suspended for violating team rules.


LSU vs. North Carolina, Sept. 4.
Huge game for both teams ranked in the bottom portion of the Top 25. Both teams have great defenses but mediocre offenses. There are some high expectations for North Carolina this season. If the Tar Heels can open with a win against a top-quality SEC team, their confidence will no doubt grow.


Purdue at Notre Dame, Sept. 4.
Two intriguing storylines here -- Brian Kelly makes his debut as Irish coach with high expectations and plenty of pressure. We'll see how his new offense looks with
Dayne Crist
under center.
Michael Floyd
could have a tremendous season. For Purdue, Miami transfer
Robert Marve
makes his debut. If Marve has a good season, the Boilermakers could surprise.


Connecticut at Michigan, Sept. 4.
When the Huskies were put on the schedule, a faction of Michigan fans scoffed. But the Huskies come into the Big House with a shot at winning the game. The Michigan defense has been atrocious and is lacking depth in the secondary. The specter of NCAA sanctions loom above the program as well. Could this be the last season opener Rich Rodriguez coaches with the Wolverines?


Washington at BYU, Sept. 4.
Steve Sarkisian returns to his alma mater with a quarterback who would fit right in at BYU.
Jake Locker
is receiving early Heisman and NFL draft buzz. Meanwhile, the Cougars have quite the opposite situation at quarterback, where
Jake Heaps
and
Riley Nelson
are competing for the starting job. If coach Bronco Mendenhall doesn't have his mind made up before the opener, watch for both to play.
Of course, the following weekend is shaping up to be even better, with Michigan-Notre Dame, Florida State-Oklahoma, Miami-Ohio State, Penn State-Alabama, Oregon-Tennessee and Stanford-UCLA all on the schedule.
August, 6, 2010
8/06/10
10:28
AM ET
Let's take a closer look at the newly released
preseason coaches' Top 25
:
Biggest snub
: Boise State at No. 5. How does a team that finished the season with a Fiesta Bowl win and a No. 4 ranking with 21 starters returning drop a spot in the preseason poll? Not only that, how does it start the year ranked behind Florida and Texas? Both the Gators and Longhorns had great 2009 seasons obviously, but both are missing several of their key players. Florida is without Tim Tebow and much of its defense; Texas is without Colt McCoy and many of its top defensive players.
Yes, starting No. 5 is huge for Boise St., because it means the Broncos will not have to climb as far if they are in the national championship hunt later in the season. Alabama and Florida play each other Oct. 2 as well (there also is the possibility of another SEC championship game). But Boise St. should have been at least No. 3 based on its accomplishments last season and the players returning. That would have made it easier to stay in the top 3. Now much more is going to have to happen for Boise St. to have any real shot of becoming the first non-AQ team to play for a BCS title. Of course, this could all be a moot point if it loses to Virginia Tech to open the season.
Overrated
: Florida, Texas, Virginia Tech. We listed reasons for the over-ranking of Florida and Texas. Now to the Hokies, who are at No. 6. It seems expectations are too high for the Hokies every season. Yes, they return a very talented RB duo and
Tyrod Taylor
at QB, but the defense only returns four starters and the schedule is brutal. This seems a bit high for a team that has averaged three losses over the past six seasons.
Overrated, Part II
: Penn St. at No. 14 and LSU at No. 16. Penn St. lost lots of defense and has uncertainty at QB; LSU has a great defense, but everybody is waiting on
Jordan Jefferson
to step up. This was also a team picked to finish fourth in the SEC West in the preseason media poll.
Underrated
: Boise St. (see above); Iowa (No. 10). The Hawkeyes made an impressive run last season and beat Georgia Tech in the Orange Bowl. They return 14 starters, including eight on defense. Perhaps coaches took into account all the close games Iowa won last season.
Non-AQs
: Only three ranked in the preseason this year after five finished last season ranked in the final coaches' Top 25. Notably absent: Houston.
Breakdown
: The SEC led the way with six teams; the ACC has five; Big Ten has four; Big 12 has three; Big East and Pac-10 each have two.
Who would be in your Top 25 poll? Check out this
poll generator
, and leave your comments below.
August, 5, 2010
8/05/10
12:51
PM ET
Southern Miss and Navy will play a home-and-home series starting next fall.

The teams are set to kick off Oct. 8, 2011, in Annapolis, Md. Navy then makes a return trip to Hattiesburg at a date that has not be determined. These will be the first two meetings between the schools in football.

The addition of Navy completes the 2011 non-conference schedule for Southern Miss, but it also pushes back a previously scheduled game against LSU to Sept. 3, 2016.

The Golden Eagles start the 2011 season at home against Louisiana Tech on Sept. 3, and play host to Southeastern Louisiana on Sept. 17 -- moving the game up three weeks from the previously announced date – before traveling to Virginia on Sept. 24 and then Navy.
November, 8, 2008
11/08/08
4:51
PM ET
Posted by ESPN.com's Chris Low
BATON ROUGE, La. -- Wow, a new concept for Alabama's football team.
The No. 1-ranked Crimson Tide are behind, and not only are they behind, but they were completely out of character in the first quarter.
LSU took a 14-7 lead into the second quarter thanks in large part to two costly turnovers by the Crimson Tide and an offensive line that has clearly come to play in this game.
Now we get to see what everybody has been wondering all season about this Alabama team: Can the Crimson Tide come from behind to win a football game?
Alabama trailed for the final 5:57 of the first quarter after LSU's Charles Scott ripped through a huge hole to the right side and sprinted 30 yards for a touchdown. Previously, Alabama had trailed for only 1 minute and 15 seconds all season.
LSU took over on the Alabama 30 after Javier Arenas lost a fumble on a punt return while trying to get something extra on the return when there was nothing there.
Alabama came into this game with the reputation of being one of most physical teams in the country, but LSU is the one setting the tone right now as far as laying the crunching licks. The LSU defense has also been able to get some good pressure on Alabama quarterback John Parker Wilson and force him out of the pocket a couple of times.