NCF Nation:

Lucas Oil Stadium
February, 20, 2013
Feb 20
3:25
PM ET
When Indianapolis and Chicago made bids to host the first set of Big Ten football championship games,
Indy won in a landslide
, as the Big Ten awarded it the title game through 2015.
A first-rate indoor facility (Lucas Oil Stadium) surrounded by restaurants and hotels certainly helped Indianapolis, but the
Indiana Sports Corp
-- the city's sports promotional and organizing arm -- put it over the top. Not only is Indiana Sports Corp the nation's first sports commission (founded in 1979), it's also one of the best,
bringing events
like the Super Bowl, the Final Four and the Olympic Trials to Naptown.
Marketing matters and so does logistics, and Chicago fell well short of Indy in those areas. But things are changing.
Chicago launched its own sports commission in 2011. It's part of
Choose Chicago
, the city's official tourism organization. Don Welsh, the president and CEO of Choose Chicago, previously had led the Indianapolis Convention and Visitors Association, which works directly with Indiana Sports Corp., and had held a similar post in Seattle, working with the Seattle Sports Association to bring major events to the Emerald City.
"He called and said, 'Where's your sports commission person?'" said Sam Stark, the executive director of the Chicago Sports Commission. "And people were like, 'We don't have a sports commission person.' So he said, 'Well, we will soon.' It's a big niche, and he wanted to make sure Chicago is at the table."
[+] Enlarge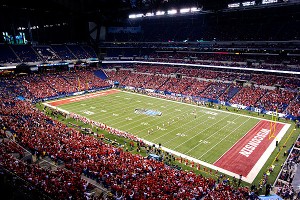 AP Photo/David StlukaA crowd of just over 41,000 watched the 2012 Big Ten title game in Indianapolis' Lucas Oil Stadium. Would a title game in Chicago pack the seats?
That person turned out to be Stark, who had
previously served as president and CEO
of the Central Florida sports commission in Orlando.
Advisory board members
for the Chicago Sports Commission include Chicago Cubs chairman Tom Ricketts, Chicago Bulls executive vice president Steve Schanwald and several marketing chiefs of pro teams in the city.
The Chicago Sports Commission is partnering with the Big Ten for the league's upcoming men's basketball tournament at the United Center. Along with Mayor Rahm Emanuel, the commission on Monday
announced a series of events
to be held in conjunction with the tournament, including a fan fest downtown at Daley Plaza, a tip-off luncheon and a VIP/alumni party. Chicago didn't have these events in the past, which hurt when the Big Ten moved the basketball tournament to Indianapolis in 2006. Indy and Chicago are co-hosting the event through 2015.
Indianapolis will host the football championship for at least another three seasons, but Stark would love to bring the event to Chicago in 2016.
"Just the synergy between the Big Ten and Chicago warrants a discussion about the event," Stark told ESPN.com. "The amount of alumni here in this market, it's an event that we need to look at. We'll first talk to the folks at [Soldier Field Management] and the Bears, and get their interest level. But on the surface, it certainly seems like an event that has a place in Chicago."
The bid process for the next set of football title games is at least a year away, and Stark hopes the upcoming basketball tournament will help his group formulate what works and what doesn't. The Chicago commission is working closely with the Big Ten and local Big Ten alumni groups leading up to next month's event.
"This is our first effort as a sports commission to welcome in the Big Ten in a way that hasn't happened before," he said. "This will allow us to sit down with them afterward and get feedback. This will really be the starter on those kinds of discussions."
One big difference between Chicago and Indy is the lack of an indoor facility, where many league title games are played. Weather can be a factor on the first Saturday of December, when the league title game will be held. But as many Big Ten fans have pointed out, it's part of the league's football fabric.
"Every school plays outdoors," Stark said, "so one week later, they can't play one more game outdoors? It's doable."
Attendance has been a challenge in Indianapolis for the first two Big Ten football championships -- last year's event drew only 41,260 -- and also for some recent basketball tournaments. Chicago could have an easier time there because there are
so many more Big Ten fans in the area
. A bigger obstacle for the city could be logistics, as Soldier Field isn't nearly as centralized as Lucas Oil Stadium.
But Stark is confident his group can "shrink Chicago."
"It's a different footprint, and that's fine," Stark said. "But with good planning and with good logistics, transportation and other elements, it's a very manageable city. That's been the bogeyman of Chicago, 'Aw, it's too big, the parking ...' It's really not.
"Once you have a group that's focused and dedicated on those things, you'll see we'll have a city that helps the fans, the athletes, the media, everybody."
Chicago has that group, and it should give Indy some real competition when the bidding process comes around again.
September, 24, 2012
9/24/12
3:45
PM ET
Most of us saw this coming, but the first championship game in the playoff era won't take place in Big Ten country.
Colleague Brett McMurphy reports today that
six cities are under consideration to host the title game
on Jan. 12, 2015 -- and all six currently host major bowls. In addition to the four current BCS bowl sites -- Pasadena, Calif; Tempe, Ariz.; New Orleans and Miami -- the BCS brass is evaluating Arlington, Texas (site of the Cotton Bowl) and Atlanta (site of the Chick-fil-A Bowl).
Although the BCS commissioners initially discussed having the title game bid out to any city -- having a true national game, as Big Ten commissioner Jim Delany put it -- I'm not surprised to see them looking at the bowl sites for the initial event. It's all about comfort and having a major event go off without a hitch. Like it or not, they're comfortable with the bowl sites. They'll open up the bidding process soon enough.
It's unlikely a Midwest city would have landed the initial title game anyway, especially after Indiana Sports Corporation, which has brought countless major sporting events to Indianapolis, announced this summer
it likely wouldn't bid on the first few title games
. Although Indianapolis should eventually bid on the college football championship, it has a full plate in the coming years with the U.S. Olympic Trials in 2016 and the NFL's Super Bowl in 2018.
Other Midwest venues such as Detroit's Ford Field and St. Louis' Edward Jones Dome have
expressed interest in hosting the college football title game
, and have hosted major sporting events like the NCAA Final Four before. But the Indianapolis group has the strongest track record and national respect. Maybe I'm wrong, but I really think the first time the BCS czars put the title game in the Midwest, it will take place at Lucas Oil Stadium. Big Ten fans can talk about outdoor venues all they want, but they need to realize the logistical headaches are ones the BCS brass probably wants to avoid.
McMurphy's report reconfirms what Big Ten fans have lived with for decades. All nationally significant postseason games once again will take place far from the league's footprint when the playoff era begins.
Wish it were different? Let your local organizing committee know. Or just send a bunch of letters to Indiana Sports Corp., which has the best chance of bringing the title game to Big Ten territory.
July, 18, 2012
7/18/12
8:45
PM ET
The possibility of a nationally significant college football game taking place on Big Ten soil has been dealt a significant blow, at least in the short term.
The Indianapolis Star reported Wednesday afternoon that
it's "highly unlikely" Indianapolis will bid on the future national title game
, at least initially. Lucas Oil Stadium had been viewed as a strong candidate to be part of the rotation to host college football's national title game beginning in the 2014 season.
Indiana Sports Corporation president Susan Williams told reporters Wednesday that the group's plate is full in the coming years, as it will bid to host a U.S. Olympic trials event in 2016 as well as the 2018 Super Bowl. The Big Ten football championship game will be played at Lucas Oil Stadium through 2015, and possibly longer.
"Therefore, just for purposes of the press, and to tie a ribbon around this topic, it is highly unlikely that Indianapolis will pursue the BCS national championship in the near future,'' said Williams, who leaves her post later this year. "And I underline, near future."
While Indy could be in the mix down the road, this is disappointing news for Big Ten fans hoping to have the national title game closer to home. Officials from Detroit's Ford Field and St. Louis' Edward Jones Dome
told ESPN.com in April that their groups would be interested
in bidding for college football playoff games, but Indianapolis undoubtedly has the strongest track record and can make the most impressive bids for these types of events.
Chicago's Soldier Field also is an option, but it brings logistical concerns as an outdoor venue in a cold-weather city, and it hasn't hosted many major national sporting events in recent years.
With campus-sites proposal for the playoff dead and Indy expressing reservations, the future looks a lot like the present -- Big Ten teams and their fans will travel a long way for the most important games.
April, 27, 2012
4/27/12
9:00
AM ET
If the BCS brass opens the bidding process to host future college football playoff games, three venues in the Big Ten footprint would be interested.
Officials from Indianapolis' Lucas Oil Stadium, Detroit's Ford Field and St. Louis' Edward Jones Dome confirmed to ESPN.com that their groups would explore the possibility of bidding to host a semifinal or a championship game if college football's future postseason structure allows it. The
BCS meetings took place
this week in Hollywood, Fla., and a four-team postseason setup is inevitable. The preferred model, colleague Mark Schlabach reports, is to have both semifinals and the championship game at neutral sites.
The big question is whether these neutral-site games will be held at existing bowl sites like Pasadena, Calif., or New Orleans, or whether non-bowl sites like Indianapolis, St. Louis and Detroit will be able to bid on them.
[+] Enlarge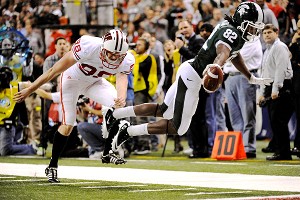 Richard Mackson/US PresswireLucas Oil Stadium hosted a thrilling Big Ten title game in December. Will the Indianapolis facility host a college football playoff game in the future?
The preference of Big Ten commissioner Jim Delany -- and most Big Ten fans, as
our recent poll
shows -- is to have semifinal games at campus sites. But
that plan, unfortunately, is all but dead
. As Bennett and I wrote earlier this week, the Big Ten would
benefit greatly from having nationally relevant games closer to its campuses
and fans in late December or early January. Rather than playing some virtual road games, Big Ten teams and their fans could make short trips to venues like Lucas Oil Stadium -- site of the inaugural Big Ten football championship game in December -- the Edward Jones Dome or Ford Field.
Outdoor venues like Chicago's Soldier Field would delight some Big Ten fans, but they're highly unlikely to be considered. Those venues bring too many potential risks and logistical headaches that the indoor venues don't.
"We'd definitely be interested," said Brad Michaels, events coordinator at Ford Field. "With all the other events we get here, we're always open to those kinds of ideas."
Ford Field hosts the Little Caesars Pizza Bowl every year and also has hosted a Super Bowl and a Final Four.
Indianapolis boasts an extensive resume for hosting major sporting events, which includes the most recent Super Bowl and six NCAA men's Final Fours. The Big Ten selected Lucas Oil Stadium to host its first five football title games.
John Dedman, vice president of communications for Indiana Sports Corp, which spearheads the campaigns to bring major events to Indy, said the group has been monitoring the BCS meetings this week.
"When you look at the interest around the BCS and around college football, we would be very interested in taking a look at [making a bid] once all the decisions are made," Dedman told ESPN.com. "... A BCS championship game, a BCS semifinal, whatever those options are, that would rank right up there with the best things that we've done over the last couple of years."
The Edward Jones Dome hosted the first Big 12 championship game in 1996 and another in 1998. The venue also hosted six Illinois-Missouri football games between 2002-10, in addition to the 2005 men's Final Four.
"A definite yes," said Donna Andrews, director of public relations for the St. Louis Convention & Visitors Commission, which manages the Edward Jones Dome. "We are a neutral site and the kind of city and venue the NCAA looks at for events like this. If there's an opportunity to bid on this, it's a win for St. Louis and a win for the community."
Andrews noted that the dome is connected to the America's Center convention complex, which could host the supplementary events that would take place alongside a football playoff game. Lucas Oil Stadium has a similar setup with the Indiana Convention Center.
The other advantage of Midwest-based sites is their accessibility for all fans, unlike the major bowl sites, which are only in the south and west.
"I'm pretty sure the people looking to revamp bowl system are looking how easy is it to get for students and fans to get to these games," Andrews said. "St. Louis' accessibility is in the heart of the country."
Dedman said the excitement for football in central Indiana has grown after Super Bowl XLVI and the Big Ten title game, which he said provided "momentum" heading into the Super Bowl.
As for a college football playoff, Indiana Sports Corp is waiting, like the rest of us, for a decision.
"As we do with every bid that is presented to us, you really have to look through all the nuts and bolts of it and make sure that it's a good fit for what we do," Dedman said. "Without having those documents in front of us, without knowing exact dates and what they would be looking for, we're talking about the hypothetical of a hypothetical.
"But it's something we would have to take a very strong look at because obviously it's a marquee event."
June, 6, 2011
6/06/11
5:00
PM ET
The Big Ten championship game is
headed to Naptown
for the foreseeable future. Bloggers Adam Rittenberg and Brian Bennett break down the league's decision to play its signature event in Indianapolis from 2011-15.
Adam Rittenberg:
I know you're behind this, Bennett. You wanted the shorter drive up I-65 to Indianapolis every December. One day on the blog and you're already making demands. I see how you roll.
Seriously, it's notable that the Big Ten has committed to Indy for the first five years of its new signature event. The league had two good options in Lucas Oil Stadium and Soldier Field, and ultimately made the safer and possibly smarter choice with Indy. Lucas Oil is a first-rate facility and won't provide the logistical headaches of an outdoor venue.
What was your initial take on the Big Ten's announcement?
[+] Enlarge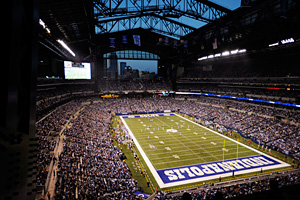 AP Photo/Tom StricklandThe Big Ten championship game will be played in Lucas Oil Stadium from 2011-15.
Brian Bennett:
That's right, Adam. Jim Delany is already throwing flowers at my feet to make my transition as smooth as possible. Smart move.
Getting back to reality, my reaction to the league choosing Indy was this: It's perfectly understandable, totally defensible on every level and yet just a bit ... uninspiring. That's no knock on Indianapolis -- anyone who's attended a Final Four or another big event there knows how well that city pulls those things off and how convenient everything is downtown for the fan experience. I certainly can't tell fans they should sit outside instead of indoors when I'll be snugly nestled in a warm press box regardless.
Still, as someone who until this point has viewed the league from afar, I've always associated the Big Ten with rugged football played outdoors, not on turf in a dome. I think of Chicago as the center of the Big Ten spoke, not Indianapolis. I see Chicago like the Big East sees New York for its basketball tournament: the league mecca.
But I'm the new guy here. What do you think?
Rittenberg:
Brian, I totally agree about Chicago, and I'm not just saying that because I live here. Chicago is the epicenter of Big Ten interest, as almost every league member, including Nebraska, boasts a significant base of fans/alums.
It comes down to whether the Big Ten wants the championship game to be a true reflection of its brand or a mostly stress-free tune-up for bigger and better things. Cold weather is an integral part of Big Ten football, plain and simple. But if you want the title game to simulate what teams will face in BCS bowls and in the national title game, Indianapolis makes more sense because they'll never play a national championship at a cold-weather venue. And, as you write, Indianapolis has the track record of being able to host successful major events.
I guess I was a little surprised that Delany mentioned "brand" as one of the elements where the Big Ten benefits by going to Indy. As you write, the Big East basketball tournament at Madison Square Garden is a tremendous brand. It should never move from MSG. And while playing outside is a different deal, a championship at Soldier Field could have provided a tremendous branding opportunity for the Big Ten.
As Delany said, this was a conservative move for a new event. It makes sense.
What do you think happens down the road? Do you think Soldier Field will ever host this event? What about other venues like Cleveland Browns Stadium and Ford Field?
Bennett:
I got the sense from Delany's comments on Sunday that he wants Chicago eventually to be the home of the Big Ten title game, but that the city has some questions to answer first.
You and I were there at the Palmer House when both Indianapolis and Chicago made their pitches to the league, and Indy brought Gov. Mitch Daniels, Colts president Bill Polian and Clark Kellogg as part of its contingent. Chicago didn't break out any heavy hitters. While Delany said that wouldn't necessarily have made a difference, Chicago clearly didn't have the all-out, integrated effort that Indianapolis brought. And Soldier Field's choppy turf may have to be addressed in the future.
Ultimately, I think Chicago will get a crack at it somewhere down the road, even if it's part of a rotation. Moving around the title game may have hurt the ACC, but the Big Ten will get a huge crowd no matter where it's located. I don't see Cleveland or Detroit or even Minneapolis or Green Bay getting the game anytime soon; Delany has made it pretty clear that Indy and Chicago are the two horses in this race.
[+] Enlarge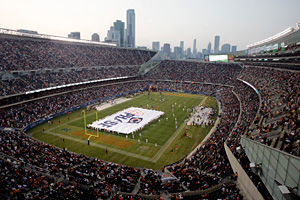 AP Photo/Charles Rex ArbogastChicago's Soldier Field was a candidate to host the Big Ten championship game.
Hey, maybe by 2016, global warming will ensure that Chicago is balmy in the first week of December. If not, do you think Indianapolis can become the Big Ten's version of Atlanta for the SEC title game? And won't a prime-time Big Ten championship game be super awesome (technical term) regardless of the site?
Rittenberg:
Hey, I wouldn't complain about a balmy December around here. Or a balmy May, for that matter.
Indianapolis has an opportunity to make it very difficult for the Big Ten title game to leave its city limits. I have little doubt this will be an extremely successful event, on par with the SEC championship game, especially if there are national-title implications. Having the game in prime time is a must, given the growing popularity of prime-time college football in the past five years. If Indianapolis can successfully run the event and enhance it during the five-year span, it will be tough for the Big Ten to consider a move. This can truly be a main event in Indy, while I'm not sure Chicago can offer the same type of top billing.
Still, I'd be surprised if this event remains in one city for, say, 10 years. Chicago seems like the next option after Indianapolis, but the Soldier Field folks should take a cue from the Indiana Sports Corporation in how to present a unified bid for an event like this. Indianapolis' experience in hosting national sporting events certainly came to light during this process. But I agree with you about Delany: A part of him wants this event in Chicago. I even think he'll be proactive in working with the city's parks department and the Soldier Field folks to present a better bid the next time around.
I also would like to see the Big Ten consider seriously other venues after 2015, particularly Cleveland and Detroit. If those groups show that they have what it takes to have the title game, they should be in the mix.
OK, Bennett, you get the last word. What are the biggest keys to long-term success for the Big Ten championship game?
Bennett:
Wow, I get a virtual home game until 2015 and the last word in this debate on my first day. It's probably all downhill from here.
I think the formula for success is pretty simple: Good games. We know Indianapolis is going to put on a first-class event and that the fans are going to eat it up. As in any sporting championship, the long-term reputation depends on memorable moments, whether that's a huge upset or two or some down-to-the-wire thrillers. The Big Ten would also like to see its marquee programs like Ohio State, Michigan, Penn State, Wisconsin and Nebraska make the game as much as possible (and bring their considerable fan bases with them).
The bottom line is you could put this thing in Gary, Ind., or Spokane, Wash., and the odds are it will be a smashing success.