NCF Nation:

Lucas Patterson
June, 30, 2011
6/30/11
9:00
AM ET
Heading into the season, I see five teams in the Big 12 with a realistic chance to win the league. I'll be breaking them down in order (which
won't be the same as my post-spring power rankings
) of their chances to leave the season with the Big 12 title.
No. 1 on the list was
the favorites: Oklahoma
Today, we take a look at my No. 2: Texas A&M.
Why the Aggies will win the Big 12
[+] Enlarge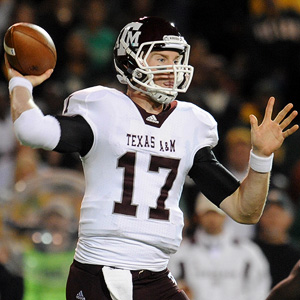 AP Photo/Rod AydelotteQuarterback Ryan Tannehill will be crucial to Texas A&M's success in 2011.
1. They've got the most complete offense.
Center Matt Allen is the only offensive starter not returning, but the Aggies have a solid line, headlined by a maturing, but already talented pair of bookends with big potential, tackles Luke Joeckel and Jake Matthews. At the skill positions, you won't find anything close to a weakness. Texas A&M returns the best running back corps in the league and maybe the best 1-2 punch in the nation with
Christine Michael
and
Cyrus Gray
. All of the team's top five receivers return, and
Jeff Fuller
, who chose to return for his senior season, is arguably one of the five best in the country.
Ryan Tannehill
doesn't have a ton of starts (six) under his belt, but he was great in a tight spot last year, and led the team in receptions his first two years on the field.
2. They're especially strong in great places on defense.
Those places: Secondary and pass-rushers. That's huge in the Big 12. New joker Damontre Moore, defensive end Tony Jerod-Eddie and linebacker Sean Porter should combine for more than 15 sacks this year and tons of quarterback pressures that could result in some big plays for another defensive strength: the secondary. All four starters return, and Terrence Frederick, Coryell Judie are experienced seniors at corner, while Trent Hunter and Steven Campbell hold down the safety spots.
3. They made it hard to win nine games last year.
Texas A&M already won a share of the Big 12 South last year, despite ranking 10th in the Big 12 in turnover margin at minus-5. Its 30 turnovers (15 INTs, 15 fumbles lost) were the most in the Big 12 and 111th most in the nation. You'd have to think that number will drop this year with Tannehill at quarterback. He struggled in the loss to LSU, throwing three interceptions, but he had just three in his six previous games at quarterback, compared to 11 touchdowns. Five of those 30 turnovers came from
Jerrod Johnson
in a loss to Oklahoma State, and if the Aggies take care of the ball then, or this time around, they're likely Big 12 champions.
Why the Aggies won't win the Big 12
1. The defensive losses will be too much.
Damontre Moore should slide in and replace Von Miller. I'd expect him to do well, but what about middle linebacker? Michael Hodges was the heart of the defense in 2010 and its leading tackler. When a knee injury forced him out of the Cotton Bowl against LSU, the Tigers gashed the Aggies' defense, which for the few weeks to end the season, looked like one of the Big 12's best and topped the league in rush defense. Hodges is gone for good now, and the Aggies left spring without a solid replacement. For now, it looks like Jonathan Stewart will slide in, but it could end up being true freshman Donnie Baggs. Either way, A&M won't be as strong there, and teams that can run the ball (i.e., OSU, OU) may take advantage. Lucas Patterson is the only other loss on the defensive side of the ball, but my money is on Hodges being missed the most on the field, even though Miller was the No. 2 pick in the NFL draft.
2. They have to travel to Norman.
Texas A&M has been outscored 107-24 in its last two trips to Norman, and Les Miles at Oklahoma State in 2001 is the only Big 12 coach to ever beat Bob Stoops at Owen Field. The odds are definitely against Mike Sherman becoming the second. The Aggies knocked off Oklahoma in College Station last year, but did it largely on the strength of the linebackers, and Hodges and Miller, who helped orchestrate those three goal-line stops to beat the Sooners, are gone.
3. Hype and the Aggies are not happy bedfellows.
Texas A&M looked like a possible Big 12 South contender last year, but the Aggies lost all three of their first real tests, and nearly lost to Florida International in College Station, erasing a 21-7 fourth-quarter deficit to avoid embarrassment. After being written off by most, they rallied for a share of the Big 12 South, but this year, the attention is back on the Aggies, who will likely be toting a top-15 ranking into the preseason. How will the team handle big games early in the season against Oklahoma State and an early trip to Lubbock before the showdown in Norman? Their recent history suggests "not well."
April, 1, 2011
4/01/11
10:30
AM ET
COLLEGE STATION, Texas -- It's tough to plan around which practices I'll get to see when I come to campuses during the spring or preseason camp, but it was a pretty ideal situation at Texas A&M on Wednesday. The team was in full pads, practiced for about an hour and a half, and the vast majority of it was 11-on-11 team drills.
Texas A&M's practices are open to the public, something that's increasingly rare in college football, but there were probably 70-80 fans who made it to the afternoon workout on a gorgeous day for spring football. To my knowledge, the only teams in the new Big 12 that open up spring practice to fans are Texas A&M, Missouri and Baylor.
Additionally, it takes a lot for women's hoops to generate buzz, but there was definitely a bit out at practice. The Aggies beat rival Baylor, featuring arguably the game's biggest star, 6-foot-8 Brittney Griner, in Dallas earlier this week to reach the first Final Four in school history. I'm sure there will be plenty of maroon in the stands in Indianapolis this weekend. (
More on that here
from colleague Mechelle Voepel.)
But back to football.
A few thoughts and observations from practice:
Two guys a bit under the radar who had great days: Receiver
Kenric McNeal
and running back
Ben Malena
. With all the skill-position talent at Texas A&M, both get a bit overshadowed, but Malena, at least for one day, looked every bit as good a runner as the backs ahead of him on the depth chart,
Christine Michael
and
Cyrus Gray
. He has a lot of development to do in things like feeling creases in the line but when he got a chance to get to the second level and let his instincts take over, he was giving the defense fits. He looked solid in the open field.
Additionally, McNeal has a reputation as a shifty slot receiver who works best underneath, but he was stretching the field on Thursday like I hadn't seen from him before. His two longest plays of the year (27 and 32 yards) came late last season, but he had a couple of deep catches in the end zone after slipping past the safeties and bringing it in behind the defense. He got open a few more times, and quarterback
Ryan Tannehill
missed a couple of deep balls to him, but it has to be encouraging for the offense to see him break a few off like that.
Michael looking confident on healed leg
[+] Enlarge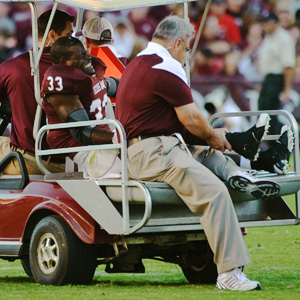 AP Photo/Dave EinselChristine Michael is working his way back from a broken tibia he suffered against Texas Tech.
Michael was one guy I wanted to see, and it was tough to get a read on his mobility -- he didn't get into the open field very much. But one encouraging sign was he didn't look like he was shying away from contact at all. That's exactly what A&M wants to see. Michael brings a mean running style that no other back on the roster can provide. Early in the conference season last year, he was running over plenty of linebackers. He looks like he wants to get back to doing exactly that, and he did it on Thursday, dragging a couple of defenders at times.
I don't think the mental side of returning from the injury will be an issue. He's never been quite as shifty as Cyrus Gray, but he runs with power that you won't find anywhere else in the Big 12, and considering how the rest of the league defended the run during the bowl season -- especially power runners -- the Aggies will once again be glad he's on their team this fall.
Wrecking Crew missing a few members
Diehard A&M fans are surely already aware, but the Aggies' defense is missing quite a few key pieces this spring, especially in the back seven. Defensive backs Terrance Frederick and Coryell Judie are both sidelined after offseason shoulder surgery and linebacker Sean Porter is out with an injury to his left foot from earlier in spring practice.
Lionel Smith is also out for spring ball.
Former Aggies on hand
It's always good to see alums and former coaches on hand for spring practice. Former Aggies linebacker Michael Hodges was milling around the practice field. He's one of just three defensive starters (Von Miller, Lucas Patterson) the Aggies have to replace this spring.
Additionally, former Aggies coach R.C. Slocum was in attendance.
January, 7, 2011
1/07/11
2:09
PM ET


David Ubben talks to Texas A&M defensive end Lucas Patterson.
January, 5, 2011
1/05/11
1:15
PM ET
IRVING, Texas -- A little less than a year ago, Tim DeRuyter signed up to coach Texas A&M's defense. When he got to College Station he saw a young unit, albeit one full of playmakers. He saw the worst defense in the Big 12, one that let opponents ring up almost 34 points a game and one that gave up an average of more than 425 yards each time it stepped on the field.

Worst of all, he saw a defense with a glass jaw.

"When adversity hit them, they struggled, which is very stereotypical of young football players," DeRuyter said. "They don't understand, 'Hey, there's going to be some give and take in a game.'"

Said defensive tackle Lucas Patterson: "We were immature as a team. When things started to go bad, we kind of went in the tank. We were expecting, 'Oh, here we go again.'"

Opponents scored 40 points against the Aggies five times. Twice, Texas A&M gave up at least 60.

"There was a time where they were, I don't want to say embarrassed to be a defensive player, but they'd been beaten down a little bit," DeRuyter said. "So when I first came in here, there was that attitude of let's just try to slow someone down."

Said senior linebacker Michael Hodges: "We needed something new. We were coming off a season that none of us were pleased with, and so when you get an opportunity to do something new, you've got to jump all over it ... the best way to do that is to buy in to what coaches have."

Enter DeRuyter and his 3-4 defense that better fit the Aggies personnel.

"It really paid off on Day 1 of spring ball," Hodges said. "You trust a guy like him and he keeps delivering, the next promise he brings forward you're going to give it a shot, and sure enough, that one pays off.

"We bought in fully from the beginning because we had nothing to lose."

The Aggies defense looked dominant at times early against Stephen F. Austin, Louisiana Tech and Florida International, but that was, well, Stephen F. Austin, Louisiana Tech and Florida International.

Dates with offenses like Oklahoma State, Arkansas and Missouri meant the adversity had arrived. With it, three losses.

"If you want to play at a championship level, then you better play with your chin out there saying, 'Bring it on,'" DeRuyter said.

A year ago, Texas A&M sat at 3-3, and did it in the exact same way as in 2010. A 3-0 start preceded a three-game losing streak that brought them down to earth. The Aggies finished 6-7 in 2009 and looked headed for a similar finish once again.

Not this team.

"The big game was Oklahoma. We had some situations where we were backed up and had to make plays, and our kids did," DeRuyter said.

Three times, the Aggies stuffed Oklahoma's physical offense at the goal line, igniting the Kyle Field crowd. In 2009, the Aggies left Owen Field in Norman as 65-10 losers. This time, they were 33-19 winners who left to chants of "Wrecking Crew."

"I think our kids started feeling, 'Hey, if we can do this to Oklahoma, who laid one on us the year before, it doesn't matter who lines up against us, we can compete with anybody when we play well,'" DeRuyter said.

It continued with a physical 9-6 win over Nebraska two weeks later before beating arch rival Texas in Austin and finishing as Big 12 South co-champions. Now, with a win against LSU in the Cotton Bowl on Friday, the Aggies will have their first 10-win season since 1998.

How? By turning the team's biggest weakness into one of its strengths in just one season.
December, 8, 2010
12/08/10
10:30
AM ET
There were definitely plenty of tough calls in this group, and a lot of deserving guys who got left off, but here is my All-Big 12 team for the 2010 season. For reference, here is
how the media voted
, and
how the coaches voted.
OFFENSE
QB:
Brandon Weeden
, Oklahoma State
RB:
Kendall Hunter
, Oklahoma State
RB:
Daniel Thomas
, Kansas State
WR:
Justin Blackmon
, Oklahoma State
WR:
Ryan Broyles
, Oklahoma
TE:
Michael Egnew
, Missouri
C:
Tim Barnes, Missouri
OL:
Levy Adcock, Oklahoma State
OL:
Nate Solder, Colorado
OL:
Ricky Henry, Nebraska
OL:
Danny Watkins, Baylor
DEFENSE
DE:
Jeremy Beal, Oklahoma
DT:
Jared Crick, Nebraska
DT:
Lucas Patterson, Texas A&M
DE:
Sam Acho, Texas
LB:
Von Miller, Texas A&M
LB:
Lavonte David, Nebraska
LB:
Orie Lemon, Oklahoma State
CB:
Prince Amukamara, Nebraska
CB:
Alfonzo Dennard, Nebraska
S:
Quinton Carter, Oklahoma
S:
Byron Landor, Baylor
SPECIALISTS
P:
Quinn Sharp, Oklahoma State
K:
Alex Henery, Nebraska
KR:
Coryell Judie, Texas A&M
PR:
Niles Paul
, Nebraska
I'll stop short of listing who I had to snub on my own team, but the easiest positions for me to pick were receiver, linebacker, kicker and tight end. The most difficult were cornerback, kick returner, safety, defensive tackle and quarterback.
Here's how it shook out by team:
1. Nebraska (7)
2. Oklahoma State (6)
3. Texas A&M (3)
3. Oklahoma (3)
5. Missouri (2)
5. Baylor (2)
7. Texas (1)
7. Kansas State (1)
7. Colorado (1)
10. Kansas (0)
10. Iowa State (0)
10. Texas Tech (0)
November, 21, 2010
11/21/10
1:43
AM ET
COLLEGE STATION, Texas --
Cyrus Gray
said earlier this week he was playing for two people.
He was way off. Like, 90,077 off -- and then some.
Gray was referencing himself and his teammate, friend and fellow running back
Christine Michael
, who is expected to miss the rest of the season with a broken leg after leading the Aggies in rushing in their first eight games.
On Saturday night, the 12th Man showed up in force, and Gray didn't disappoint the 90,079 in attendance, giving Texas A&M a
9-6 win
over No. 8 Nebraska -- the Aggies' second signature win this season.
[+] Enlarge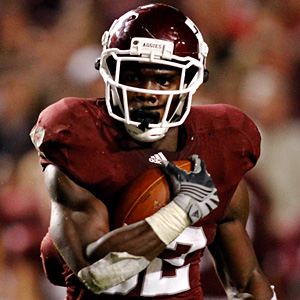 Brett Davis/US PRESSWIRECyrus Gray rushed for 137 yards on 26 carries and caught nine passes for 65 yards against Nebraska.
"I thought he had an extraordinary night, with his catches, his runs, picking his holes," said coach Mike Sherman, whose team also beat then-No. 8 Oklahoma earlier this year. "If he didn't play the game he did, we wouldn't be able to do what we did."
No player in Saturday's slugfest came close to Gray's 202 yards of total offense. Texas A&M's entire team amassed only 310 yards against a stingy Nebraska defense.
Gray carried the ball 26 times for 137 yards. He caught nine passes -- quarterback
Ryan Tannehill
only completed 19 -- for 65 yards. On all three of Texas A&M's scoring drives, the Aggies leaned on Gray. He carried them.
"The defense we played was tough, they weren't giving much up," Tannehill said. "We knew we needed to run the ball, and Cyrus carried that load. He got so many tough yards today. It seemed like he was going to get a 3-yard gain, and he took it 15. Those are huge plays for us on offense, especially when times are tough and yards are tough. He fought for every yard."
Gray's longest run went for just 18 yards. Rare were his opportunities to reach the deeper levels of Nebraska's defense. But he punished Nebraska's linebackers with powerful runs, all while Michael coached him up on the sideline in street clothes.
"He was my eyes for the night," Gray said. "It was great to have him on the sidelines tonight. He was just telling me to be patient."
Without Gray's efforts, his teammates never could have posed for those postgame photo ops with fans who rushed the field. The well-deserved chants of "Wrecking Crew" as the defense left the field once again would have been non-existent.
"My face will hurt tomorrow from smiling so much," said defensive tackle Lucas Patterson.
The 12th Man would have gone home with its head in his chest after a legendary, relentless, towel-waving performance.
"The 12th Man was three-quarters of the victory," said safety Trent Hunter, who picked off two passes after snagging three in practice on Thursday. Sherman called the practice "an omen."
If the 12th Man was three-quarters of the win, Gray certainly accounted for most of the remaining 25 percent. Gray has racked up five consecutive games of at least 100 yards rushing since Michael went down, becoming the first Aggie to do so since 1990.
Gray woke up at 10 a.m. on Saturday morning with a text from the defense's leader, Von Miller, that told him to "Play all out. Ball out and let's get this win." Gray, a junior, wanted nothing more than to send out Texas A&M's group of 12 seniors with a win.
"We knew going into the game that it would be a battle throwing the football. They're a heck of a defense," Sherman said. "We wanted to stay true to the run."
They did, thanks to Gray. After the game, the team huddled in the locker room and yelled "Family!" after a short count. Gray found Michael, and told him he loved him.
"There's nothing else to be said," Gray said.
After a performance that will be forever logged in Aggie lore, the feeling from the 12th Man is mutual.
October, 9, 2010
10/09/10
9:25
PM ET
ARLINGTON, Texas -- The last time Texas A&M lined up against Arkansas, the Aggies gave up 30 points in the first half, ending any real chance of a win early, despite a double-digit lead to open the game.
On Saturday, the defense allowed just three points in the second half, and any remaining thoughts of an upset remained realistic through the final snap solely because of the defense's play.
But a Texas A&M offense that sputtered with turnovers, false starts and incompletions, sandwiched around two long passes to receiver
Jeff Fuller
that resulted in points, couldn't make enough plays to upset No. 11 Arkansas,
losing 24-17
.
Last week, five turnovers produced a loss to Oklahoma State. This week, the Aggies will be blaming a lack of execution and offensive miscues that didn't allow the defense's play to spark a win.
[+] Enlarge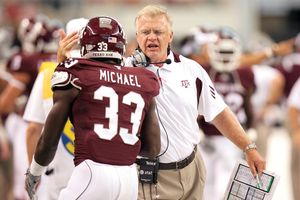 AP Photo/Mike FuentesMike Sherman expects his team to grow from Saturday's loss to Arkansas.
"It's not so much what we did, it's who we did it with," said coach Mike Sherman. "Last year, we did it with 18 freshmen, and those guys are sophomores this year."
The good news for Texas A&M is obvious: If the offense catches up to a clearly improved defense, the Aggies can rebound from a frustrating 3-2 start. But a year ago at this time, the thought of Texas A&M's offense being the reason for a loss -- two consecutive losses, to be exact -- was unthinkable.
The Aggies' offense entered the season quarterbacked by the Big 12's preseason player of the year,
Jerrod Johnson
, who led an team that ranked No. 5 nationally in total offense a year ago. But on Saturday, the offense produced just 324 yards of offense, almost 200 beneath its average.
Meanwhile, the defense was outside the national top 100 last season but sat inside the top 15 this year entering Saturday's game. That defense handed the ball back to the offense with a chance to lead or tie six times in the second half.
"It's obvious we've made some big strides," said senior linebacker Michael Hodges. "We're older. That helps. We've definitely grown a lot since our last two seasons. But really the mindset we take into it, we just build on it in practice, that fanatical effort we're always talking about. That really pushes us to be that defense that can stop anybody at any time."
But with that maturity came defensive coordinator Tim DeRuyter, who has put to good use the experienced talent Texas A&M already had, like Hodges, linebacker/defensive end Von Miller, safety Trent Hunter and defensive tackle Lucas Patterson.
They hassled Johnson throughout fall camp and did the same thing to Arkansas' Heisman hopeful,
Ryan Mallett
, who was just 10-of-16 for 81 yards in the second half.
[+] Enlarge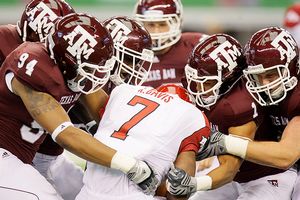 AP Photo/Mike FuentesThe Texas A&M defense did enough for the Aggies to win, but the offense couldn't come through when needed the most.
"The constant movement of the defense makes it hard. One thing Coach [DeRuyter] is constantly saying in practice is don't show anything too soon. They show you one thing and then give you something else. They run every type of coverage you can think of," Johnson said. "They just do so much, they throw so much at you, but at the same time, they're sound and they're covering all their gaps."
The defense gave up a 45-yard run to Arkansas as part of an 80-yard drive to open the game. It gave up a 71-yard touchdown pass to fall behind 14-7. It had to defend its side of the field three times when the offense turned it over on the Texas A&M side of the field, limiting Arkansas to just three points on those turnover.
"The past years we've been hit and just shut down," said defensive back Terrence Frederick.
That's clearly not the case this year, when twice, the offense has been given chances to win with timely defensive stops late in the fourth quarter.
This is a different Texas A&M defense. Most importantly, this is a better Texas A&M defense.
"I just go back to maturity; that's really the big difference," Hodges said.
But without the offense behind it, clicking like it did in 2009, this is the same Texas A&M team, headed for the middle of the Big 12 South and a low-level bowl game.
Next week, it'll host a Missouri team that may come to College Station undefeated and ranked. The opportunities for the Aggies will be there. But to win, both sides of the ball will have to take advantage of them.
"You always have to take something from every time you play the game; you either get better or you get worse," Sherman said. "Did we win the game? No. Did we improve during the course of the game? Yes. Do I think they lack confidence because they lost the game? No. If we catch the last pass instead of them, and have a chance to win the football game [in overtime], are we an entirely different football team? No, I don't think so. So I think we take a lot from today into next week."
August, 10, 2010
8/10/10
10:00
AM ET
1. Texas:
Texas' big-time freshmen receiving recruits Darius White and Mike Davis are on campus to compete with the remainder of the Longhorns receivers after the departures of Jordan Shipley and
Dan Buckner
. Whoever develops solid chemistry with quarterback
Garrett Gilbert
first should have a nice advantage heading into the season. Very few questions surround the Longhorns on defense, who also have exciting freshman Jordan Hicks competing for playing time at linebacker.
2. Oklahoma:
Honestly, my gut tells me to slide the Sooners above the Longhorns based on
coach Bob Stoops comments at media days
, but I'll give the champs their due entering the preseason. Oklahoma loses its top three blockers from a season ago, and any growth from Oklahoma's eight-win team last season will have to start on the offensive line. Stoops believes it will. If it does, look for the Sooners and Longhorns to switch positions if Oklahoma earns wins against Florida State and Cincinnati while Texas beats up on Rice and Wyoming. A convincing win at Texas Tech might keep the Longhorns on top.
3. Nebraska:
The Huskers quarterback issues can't end soon enough. The Big 12 blog's pick:
Zac Lee
. With its offensive line and quality running backs, Nebraska will be able to run the ball. If Lee can establish himself as the best passer of the group, his skills will better serve the offense than the more athletic
Cody Green
and
Taylor Martinez
. We won't know very much about how good the defense will be again this year until the Huskers' date with
Jake Locker
and the
Washington Huskies
on Sept. 18 in Seattle.
4. Missouri:
A solid contender in the North, Missouri's key to hopping over the Huskers lies in the secondary. That group returns all four starters and has another experienced player in junior Kenji Jackson entering camp as a new starter at safety. If it solidifies, Missouri will be a force that spends most of the season in the top 25.
Jerrell Jackson
and
Wes Kemp
should share the spotlight catching balls from
Blaine Gabbert
along with slot man
T.J. Moe
and tight end
Michael Egnew
.
5. Texas A&M:
The Aggies have
the conference's best player
, but its worst defense. Both will need to improve for the Aggies to earn a South title. On defense, new defensive coordinator Tim DeRuyter will have to build around tackle Lucas Patterson, linebacker Von Miller and safety Trent Hunter. Three freed-up offensive line spots -- which might all be filled by freshman -- will have to be solid and consistent for the offense to remain one of the Big 12's best, despite the Aggies' talent at the skill positions.
6. Kansas State:
Running back
Daniel Thomas
led the Big 12 in rushing with almost no help from the quarterback spot last season, so the competition between
Carson Coffman
,
Collin Klein
and
Sammuel Lamur
isn't immensely important to Kansas State's success. No doubt, they'll be a lot better with great play from one of those three, but they won't be a bad team without it. Two of the Wildcats' top four tacklers will be junior defensive backs in 2010, Emmanuel Lamur and Tysyn Hartman.
And yes, I am very proud that I'm still batting 1.000 in not mixing up Sammuel and Emmanuel Lamur. Stay tuned, though.
7. Texas Tech:
The Red Raiders have a great chance to move up this poll after hosting Texas on Sept. 18. Whoever wins the quarterback competition between
Taylor Potts
and
Steven Sheffield
should excel, which not every team in the Big 12 with a quarterback battle can say. Tech's aggressive new defense will have to limit big plays to see success in the first year under coach Tommy Tuberville and defensive coordinator James Willis. A convincing opening-week win against SMU will look better in December than some Tech fans might think after the team's Sunday, Sept. 5 debut.
8. Oklahoma State:
One of the conference's wildcards, the Cowboys bring back just eight starters from last season, and will showcase a radical new offense in Dana Holgorsen's version of the Air Raid. Oklahoma State's receiving corps, led by
Hubert Anyiam
and
Tracy Moore
, is extremely underrated and could surprise plenty of folks in 2010. Their first real test comes Sept. 30, when they'll get a chance to knock off media darling Texas A&M in Stillwater.
9. Iowa State:
The Cyclones nonconference schedule has made plenty of headlines this offseason, and Iowa State isn't shying away from its dates with Northern Illinois, Iowa and Utah. The legal issues surrounding defensive star
David Sims
appear to be resolved with an opening-game suspension, and running back
Alexander Robinson
looks ready for another big season after rushing for over 1,000 yards in his 2009 breakout season. Iowa State will need to steal a few games like last season to qualify for a second consecutive bowl game.
10. Baylor:
Freshman safety Ahmad Dixon is impressing early in camp with a few big hits, and is making good on his status as one of the best recruits in Baylor history. Another -- Robert Griffin -- is already dealing with the pressures of delivering a bowl game to Waco. Coach Art Briles will need more players like Dixon and Griffin to move the Bears goals past just making a bowl game.
11. Colorado:
The only team to move up from its position in
the post-spring power rankings,
Colorado simply brings back more talent than Kansas, and added two new receivers in UCLA non-qualifier Paul Richardson and
Travon Patterson
, whose transfer from USC was finalized on Monday. The offensive line has a lot of talent in Nate Solder and Ryan Miller, but the other three members will have to improve if the Buffs are going to rush for more than 1,055 yards like in 2009 (11th in the Big 12) and give up fewer than 43 sacks, 11 more than any other team in the Big 12.
12. Kansas:
Losing your three best players from a team that finished last in the Big 12 North a season ago -- plus implementing a new coaching philosophy -- is a recipe for a rebuilding year. That's where the Jayhawks sit to begin 2010. They've got good young talent in linebacker Huldon Tharp and receiver
Johnathan Wilson
, who are both sophomores, but they face major questions at quarterback with inexperienced candidates
Jordan Webb
and
Kale Pick
battling for the No. 1 spot. Last season's leading rusher,
Toben Opurum
, is also nowhere to be found on the depth chart after battling injuries throughout the spring. The Jayhawks were the only team in the conference to return all five starters on the offensive line, but
a season-ending injury to tackle Jeff Spikes
eliminated that status. Brad Thorson, who played both guard and tackle last season, is also recovering from a broken foot. A win against Southern Miss and a competitive loss to Georgia Tech would earn the Jayhawks some more respect.
July, 14, 2010
7/14/10
11:57
AM ET
Big 12 Media Days in Irving, Texas are only a couple weeks away, and the schedule for the three-day gabfest has been released.
First thing I noticed: Nebraska (first) and Texas (last) are as far away as possible. Though I don't think the week is going to be as conducive to fireworks
as some believe
, it should still be plenty entertaining.
Media Days run July 26-28, and here's when to look for who on your team. (all times ET)
Monday, July 26
2:00
Nebraska
: Coach Bo Pelini, WR
Niles Paul
, DE Pierre Allen, CB Prince Amukamara
2:45
Baylor
: Coach Art Briles, LB Antonio Johnson, OT Danny Watkins
3:30
Iowa State
: Coach Paul Rhoads, QB
Austen Arnaud
, RB
Alexander Robinson
, DE Rashawn Parker
4:15
Texas A&M:
Coach Mike Sherman, QB
Jerrod Johnson
, LB Von Miller, DT Lucas Patterson
Tuesday, July 27
10:00
Missouri
: Coach Gary Pinkel, QB
Blaine Gabbert
, RB
Derrick Washington
, CB Kevin Rutland
10:45
Oklahoma State
: Coach Mike Gundy, QB
Brandon Weeden
, LB Orie Lemon, DE Jamie Blatnick
11:30
Kansas State
: Coach Bill Snyder, RB
Daniel Thomas
, S Tysyn Hartman, OL Zach Kendall
12:15
Texas Tech
: Coach Tommy Tuberville, QB
Taylor Potts
, QB
Steven Sheffield
, DL Colby Whitlock
Wednesday, July 28
10:00
Kansas
: Coach Turner Gill, DE Jake Laptad, CB
Chris Harris
, OL Brad Thorson
10:45
Oklahoma
: Coach Bob Stoops, DE Jeremy Beal, LB Travis Lewis, WR
Ryan Broyles
11:30
Colorado
: Coach Dan Hawkins, CB Jalil Brown, WR
Scotty McKnight
, OL Nate Solder
12:15
Texas
: Coach Mack Brown, QB
Garrett Gilbert
, OT Kyle Hix, DE Sam Acho, DT Kheeston Randall
A few quick thoughts:
Definitely surprised that Texas' Garrett Gilbert will be making the trip. I saw firsthand how well-spoken he was this spring on my visit to Austin, but I'm still surprised Brown would trot out his first-year starting quarterback for the media horde outside Dallas. Although his presence guarantees there should be plenty to talk about with the Longhorns.
Tommy Tuberville probably had to bring two or none of his quarterbacks, lest he tip his undecided hand at his starter and get people talking about a nonexistent decision. He chose the former. Interesting to note that Colorado's Dan Hawkins went with the latter.
Not sure why DE Jamie Blatnick will be one of Oklahoma's State's representatives instead of DE Ugo Chinasa or S Markelle Martin. Chinasa is a senior two-year starter heading into his third, while Blatnick is a junior who started only part-time last season. Martin is one of the conference's rising stars.
Baylor is the only team in the league bringing just a three-man contingent, and in Waco, they're the closest team to Media Days. A little surprised that Robert Griffin III won't be making the short drive, but at least that forces everyone to ask questions not about Griffin's knee. For that, I thank you, Art. But throwing WR Kendall Wright in the car at the last minute wouldn't be a terrible idea.
Meanwhile, Texas is the only team with a five-man crew. Everything's bigger.
Pretty good representation elsewhere, no real complaints. What do you think?
May, 26, 2009
5/26/09
10:15
AM ET
Posted by ESPN.com's Tim Griffin
All questions aren't settled during the course of spring practice as teams still have much work to upgrade their weaknesses heading into the season.
Obviously, some will receive a boost from incoming freshmen who will arrive later. But here's how each team's biggest liability shakes out heading into the summer.
Baylor: The Bears are desperately looking for help at offensive tackle after losing No. 2 overall draft pick Jason Smith and Dan Gay as their starters. Former Canadian firefighter Danny Watkins has established himself at Smith's old position protecting Robert Griffin's blind side. And on the right side, junior Chris Griesenbeck and redshirt freshmen Cameron Kaufhold are competing for the starting job with Tyler Junior College's Phillip Blake and Blinn College's Marquis Franklin set the arrive later this summer.
Colorado: Wide receiver has been a question mark for the Buffaloes throughout Dan Hawkins' coaching tenure. The Buffaloes return four scholarship wide receivers and had a chance to work out several new players with Scotty McKnight injured during the spring. Josh Smith and Markques Simas are the top playmakers coming out of the spring. Non-scholarship players like Jason Espinoza and Ryan Maxwell emerged, but the Buffaloes definitely need a big upgrade at the position from their arriving freshman class.
Iowa State: The Cyclones will be facing a big hole at left tackle, where two-year starter Doug Dedrick departs. It could be filled by Matt Hulbert, who started two games last season when Dedrick was hurt. Or it could be massive 354-pound junior Hayworth Hicks or freshman Brayden Burris at the position. Whoever emerges will face a huge challenge in filling Dedrick's experience as he protects the blind side of the Iowa State quarterbacks.
Kansas: Coach Mark Mangino will be facing a few huge rebuilding job at linebacker, where the Jayhawks lose key contributors Joe Mortensen, Mike Rivera and James Holt from last season. Mangino is talking about using a two-linebacker set as his base defense with fifth-year senior Jake Schermer and senior Arist Wright getting the starting jobs leaving spring practice. Sophomore Steven Johnson and converted running back Angus Quigley were competing for playing time during the spring and another boost is expected when junior linebacker Justin Springer, who is recovering from a torn ACL last season, returns in the fall.
Kansas State: Carson Coffman appeared to have claimed the starting job at quarterback -- at least for a few weeks -- after a strong effort during the latter stages of spring practice. But Coffman's late binge has to be tempered considering he is playing against the weak Kansas State secondary. So it's fair to say there are some lingering questions at the position. Coffman apparently has beaten back the challenge of challengers Collin Klein, Joseph Kassanavoid, Trey Scott and Milton McPeek. But the arrival of South Florida transfer Grant Gregory and heralded junior-college transfer Daniel Thomas will mean more competition in the summer.
Missouri: The Tigers will be facing a challenge of replacing NFL first-round draft pick Evander "Ziggy" Hood at defensive tackle to play opposite nose tackle Jaron Baston. Redshirt sophomore Terrell Resonno appeared to have claimed the job out of the spring, with Dominique Hamilton, Chris Earnhardt and converted linebacker George White perhaps earning their way into the rotation.
Nebraska: After the graduation of top receivers Todd Peterson and Nate Swift from last season, the Cornhuskers need to fill both positions. Leading returning receiver Menelik Holt appears to have a hammerlock on one position, but Niles Paul lost a chance to take a big step forward after missing the spring after he was suspended for driving under the influence. Antonio Bell was the biggest surprise, but converted I-back Marcus Mendoza, Chris Brooks, Wes Cammack and Curenski Gilleylen all showed flashes during the spring.
Oklahoma: There was concern before spring practice, considering the Sooners were replacing four-fifths of their starting offensive line with only Trent Williams back from last season's starters. And it got worse when Bob Stoops called out the young replacements because of their lack of diligence in their preseason conditioning. Williams emerged at left tackle with Brian Simmons and Stephen Good at guards, redshirt freshman Ben Habern at center and either LSU transfer Jarvis Jones or Cory Brandon at right tackle. The depth took a hit when center Jason Hannan left early in training camp and sophomore guard Alex Williams chose to leave after spring practice. The group struggled against the Sooners' talented defensive line, allowing Sam Bradford to be touch-sacked twice in three possessions in the spring game and produced only 27 rushing yards in 52 carries.
Oklahoma State: The loss of veteran center David Washington produced a huge hole in the center of the Cowboys' interior line. Andrew Lewis returns to his natural position, leaving Oklahoma State needing two new starters at guard. Noah Franklin and Jonathan Rush have staked claims to the starting positions with Anthony Morgan and Nick Martinez getting repetitions inside. This group needs to improve if it hopes to equal the standards of previous seasons, when the Cowboys led the Big 12 in rushing each of the last three seasons.
Texas: The tight end was rarely used for the Longhorns after Blaine Irby dislocated his kneecap last season against Rice. He still wasn't ready to go during the spring as Greg Smith, Ahmard Howard, Ian Harris and D.J. Grant all got work. None of them emerged. And with Irby's return remaining iffy, it means the Longhorns again could reduce the use of the tight end and utilize four-receiver sets when they want to move the ball. Don't look for the Longhorns to use the tight end much unless this production improves.
Texas A&M: The Ag
gies were wracked with injuries during the spring as projected starters Lee Grimes, Kevin Matthews and Lucas Patterson were sidelined all spring as A&M was down to only nine healthy offensive linemen for some practices. It still doesn't excuse the lack of offensive production for A&M's starting unit, which produced only 9 yards rushing on 24 carries against Texas A&M's first-string defense. Coach Mike Sherman will be counting on immediate production from an impressive group of incoming freshman at fall practice, but it's fair to characterize the Aggies' offensive line as the team's biggest spring concern -- especially after allowing 39 sacks last season and ranking last in the conference in rushing yards per game.
Texas Tech: The loss of productive starters Daniel Charbonnet and Darcel McBath left a gaping hole at safety for the Red Raiders. Junior Franklin Mitchem earned the free safety position leaving spring practice and redshirt freshman Cody Davis emerged at strong safety.Jared Flannel , Brett Dewhurst and converted linebacker Julius Howard also got some snaps at safety. It will still be a challenge to combat the explosive Big 12 defenses with such an inexperienced group at the position.
November, 28, 2008
11/28/08
3:11
AM ET
Posted by ESPN.com's Tim Griffin
AUSTIN -- So much for grabbing the bully pulpit.
| | |
| --- | --- |
| | |
| | Jamie Squire/Getty Images |
| | Mack Brown thinks the Longhorns should play in the Big 12 title game, but if they don't, he said they "won't pout about it." |
Texas coach Mack Brown resisted the chance to openly campaign for his team's inclusion in the Bowl Championship Series or next week's Big 12 title game after an impressive 49-9 victory over Texas A&M.
Starting quarterback Colt McCoy was taken out of action with 11:23 left in the fourth quarter and most of his starters even earlier.
And unlike in 2004, when his late lobbying helped push the Longhorns into the Rose Bowl -- the first BCS appearance in school history -- Brown left a lot unsaid Thursday after his team's impressive victory.
"I think voters have a tough decision because there's a lot of really good football teams out there," Brown said. "Oklahoma is a great team. Texas Tech is a great team. I do not want to sit up and take anything from any one of those teams.
"It would really be classless for me to sit here and say they aren't a great team. I don't want to say Oklahoma and Tech aren't deserving too, because they are really, really good football teams."
The decision to remove McCoy was an easy one for Brown, even though he had to convince his quarterback to go along with it.
"I can't sit here and say we believe in sportsmanship and sit there and throw it every snap at the end," Brown said. "And if the difference in 49-9 and 56-9 is going to make the difference, the system is more screwed up than I think it is."
The Longhorns are involved in a three-team conundrum in the South Division. Texas beat Oklahoma, 45-35, on a neutral field. Oklahoma smacked Texas Tech last week in Norman, 65-21. And Tech beat the Longhorns, 39-33, on a play settled in the final seconds.
If the Red Raiders and Sooners both win on Saturday, it will result in the first three-team tie in Big 12 South Division history. And it end up being settled on the fifth tiebreaker -- with the team with the highest standing in the BCS advancing.
November, 28, 2008
11/28/08
1:52
AM ET
Posted by ESPN.com's Tim Griffin
AUSTIN -- Revenge was sweet for Texas quarterback Colt McCoy, even if he didn't have to say anything.
| | |
| --- | --- |
| | |
| | AP Photo/Erich Schlegel |
| | In addition to completing 23 of 28 passes for 311 yards, Colt McCoy ran for 49 yards and two scores. |
After losing to Texas A&M in each of the last two seasons, McCoy's personal losing streak to the Aggies came to a crashing halt Thursday night.
And in the process, he boosted some life into his Heisman Trophy candidacy while pushing his team to the brink of another BCS appearance and a potential berth in the Big 12 title game.
McCoy was the ringleader in an impressive Texas performance as the No. 2 Longhorns claimed a 49-9 victory over the Aggies.
Two years ago, McCoy had been carted off the field against the Aggies after sustaining a neck injury. He saw his team struggle last year in a disappointing upset loss at College Station.
But those bad memories didn't faze McCoy as much as energize him Thursday night.
"Every time you go out on the field, you have to treat it like it's a new game," McCoy said. "You have to be focused the whole time. We've been unfortunate the last couple of years, but tonight, we left it all out on the field. A win is a win and I'm excited for them all."
McCoy completed 23 of 28 passes for 311 yards and two touchdowns and added 49 yards rushing yards to key the Longhorns' attack that jumped on the Aggies from the opening possession.
His value was best shown at the end of the first half, shortly after he had been stunned by a hard hit by Texas A&M defensive end Von Miller that left him gasping for breath.
What did he do after that play? He rebounded to hit his final three passes of the first half, including a pair of dramatic improvisational plays capped with a 9-yard touchdown pass to Quan Cosby for Texas' last touchdown with 12 seconds left in the half.
McCoy's early play helped pump some life into a lethargic start for the Longhorns. But he clicked on two long third-down plays on Texas' first possession to get the Longhorns pointed to an opening scoring drive capped by his own 14-yard TD run.
August, 16, 2008
8/16/08
12:57
PM ET
Posted by ESPN.com's Tim Griffin
Few schools have the rich historical base of Texas. And that's why the recent addition at Darrell K. Royal/Texas Memorial Stadium is so neat.
School officials have installed an exhibit in the stadium's north end zone that will list and honor the five retired numbers in the school's football history. Players who have been honored include Vince Young, Ricky Williams, Bobby Layne, Earl Campbell and Tommy Nobis.
Other schools have done this. I always have a fond remembrance of the past when I see Johnny Roland's or Kellen Winslow's number at Faurot Field or Rashaan Salaam at Folsom Field. It's a great way to recall the past.
I'm still waiting for some school to erect its own version of Monument Park like I saw at Yankee Stadium. Walking up to the bronze plaques of Babe Ruth, Lou Gehrig and Mickey Mantle left me with a lump in my throat. And I don't even like the New York Yankees.
Here's hoping that the Texas architects have arranged for these retired numbers to be prominently displayed where it will occasionally be noticeable on television broadcasts and be clear enough for people in the stadium. Because schools need to remember great players and their history.
And hopefully, these links will be as similarly cherished in 50 years.
TOP 25 SCOREBOARD
Thursday, 12/5
Friday, 12/6
Saturday, 12/7