NCF Nation:

Luke Lippincott
January, 13, 2010
1/13/10
2:00
PM ET
The 2009 non-AQ football season will be remembered for the many historical moments that occurred during the year. From teams breaking postseason droughts, to records falling, to the leveling of the playing field, the non-AQs made many strides this season.
With that in mind, it's hard to pinpoint just 10 moments that made up the 2009 season, but here's a look back at some of the moments that shaped the year.
1. TCU and Boise State both make the BCS:
For the first time in the history of the BCS system, two non-AQ teams were selected to play in a BCS bowl in the same year.
2. BYU beating Oklahoma to open the season:
The Mountain West needed a statement win after spending most of the offseason fighting for BCS equality. BYU's big win over the Sooners gave the conference a measure of validation.
3. The punch heard round the world:
Boise State's win over Oregon was exactly what the Broncos needed to start the season off right, but it was quickly overshadowed by Oregon running back
LeGarrette Blount
's sucker punch of Boise State defensive lineman Byron Hout.
4. Barnes makes history:
Bowling Green receiver
Freddie Barnes
had been plagued with injuries most of his career, but had a breakout season that included 22 catches for 278 yards and three touchdowns against Kent State. Barnes went on to set the FBS single-season receptions record.
5. SMU ends 25-year drought:
SMU defeated Tulane in the final regular-season game to secure the school's first bowl berth since 1984. The Mustangs went on to defeat Nevada in the Sheraton Hawaii Bowl and notch eight wins for the first time since that 1984 season.
6. Hall lashes out:
After defeating Utah in a dramatic overtime game, BYU quarterback
Max Hall
soured the win with a tirade that degraded Utah and its fans and added more fuel to an already tense in-state rivalry.
7. Idaho's two-point conversion:
Robb Akey's call for Idaho to go for two and the win with a few seconds remaining in the Humanitarian Bowl gave the Vandals their first bowl win since 1998.
8. Navy beats Notre Dame -- again:
The Mids' 23-21 win over Notre Dame was the second in the past three seasons and might have been the final nail in the coffin of Notre Dame coach Charlie Weis. Prior to the last two wins, Navy hadn't beaten Notre Dame since 1963.
9. Nevada's three 1,000-yard rushers:
Nevada quarterback
Colin Kaepernick
and running backs
Luke Lippincott
and
Vai Taua
became the first trio in NCAA history to each rush for 1,000 yards in the same season.
10. Houston beats three AQs:
Houston was the only team this season to defeat three teams from automatic qualifying conferences during the nonconference season. It kept the Cougars in the national rankings almost the entire season.
Other notable moments:
Fresno State offensive lineman catches a pass and scores a touchdown to beat Illinois; Central Michigan quarterback
Dan LeFevour
sets passing and scoring records; Troy notches its fourth consecutive Sun Belt title; Middle Tennessee becomes the first Sun Belt team to win 10 games in a season; Temple wins nine consecutive games this season and goes to its first bowl since 1979; Navy quarterback
Ricky Dobbs
sets record for touchdowns by a quarterback.
November, 26, 2009
11/26/09
12:00
PM ET
Backyard Brawls. Clean, old-fashioned hate. Bedlam.
College football offers a Thanksgiving Day-like buffet of intriguing games this week, including a number of contests that will affect the BCS national championship race and conference titles.
From Auburn, Ala., to Boise, Idaho to Morgantown, W. Va., state rivalries and matchups between bitter rivalries take center stage.
Here are 10 things to watch this week:
1.
Is there any way Texas A&M can upset No. 3 Texas on Thanksgiving Day night?
Probably not, but the Aggies have given Longhorns quarterback
Colt McCoy
fits during his career. McCoy was on the losing end of his first two games against Texas A&M, throwing four interceptions and only one touchdown combined in losses in 2006 and '07.
But McCoy completed 23 of 28 passes for 311 yards with two touchdowns in last season's 49-9 rout of the Aggies in Austin, and he's playing better than ever right now. In his last five games, McCoy completed 76.9 percent of his passes for 1,487 yards with 14 touchdowns and only two interceptions. His passer rating during that stretch is 175.8.
With only the Texas A&M game and a Dec. 5 meeting against Nebraska in the Big 12 championship game standing between Texas and a chance to play for the BCS national title, McCoy should be more than focused on Thursday night.
2.
Should Alabama be concerned about the Iron Bowl?
It's an intense rivalry game and it's going to be played on the road at Auburn's Jordan-Hare Stadium on Friday, so there's always concern. But No. 2 Alabama is clearly the better team this season.
The Crimson Tide ended a six-game losing streak to Auburn with last season's 36-0 rout in Tuscaloosa, Ala. Alabama's No. 1-ranked defense might be tested by Auburn's spread offense. Both defenses will try to slow down the opponent's running game -- Auburn's
Ben Tate
has run for 1,209 yards; Alabama's
Mark Ingram
has run for 1,399 -- and force the opposing quarterbacks to beat them.
3.
Does Florida State even have a chance against Florida?
Probably not. The No. 1 Gators are two victories away from having a chance to defend their BCS National Championship, and Saturday's game will be quarterback
Tim Tebow
's final home game at the Swamp.
FSU became bowl eligible with last week's 29-26 win over Maryland, but its defense is probably far too porous to slow down Florida's offense. The Seminoles rank 106th nationally in total defense (434.4 yards per game), 105th in rush defense (193.5), 106th in pass-efficiency defense (149.3 rating) and 95th in scoring defense (30.2 points per game).
4.
Should No. 6 Boise State be on upset alert?
The Broncos face their most difficult opponent since beating Oregon in their Sept. 3 opener when Nevada plays at Bronco Stadium on Friday night.
Nevada has won eight games in a row and averaged 55.6 points in its last five games. The Wolf Pack have been running wild during their winning streak, averaging 445.6 rushing yards per game in their last eight games.
Nevada's "Pistol" offense tries to attack defenses in myriad ways. Last week, the Wolf Pack became the first team in NCAA Division I history to have three 1,000-yard rushers in a single season. Quarterback
Colin Kaepernick
(1,129 yards) and tailbacks
Luke Lippincott
(1,028) and
Vai Taua
(1,185) have all accomplished the feat this season.
The Broncos have won 54 regular-season games in a row at home and have to win their final two home games (they play New Mexico State in Boise on Dec. 5) to stay in the hunt for a lucrative BCS bowl game.
5.
Can West Virginia turn the tables in the Backyard Brawl?
Two years ago, Pittsburgh stunned then-No. 2 West Virginia 13-9 in the regular-season finale in Morgantown, W. Va., costing the Mountaineers a chance to play for the BCS National Championship.
The Panthers are 18-5 since that upset victory and are in great position to finally clinch a spot in a BCS bowl game. Pittsburgh will host No. 5 Cincinnati at home on Dec. 5 and the winner will claim the Big East title.
West Virginia would probably love nothing more than to spoil Pitt's breakthrough season in the 102nd edition of the Backyard Brawl.
6.
Can Georgia's defense slow down Georgia Tech?
In only two seasons, Paul Johnson has turned around the Georgia-Georgia Tech rivalry. Last season, he ended the Yellow Jackets' seven-game losing streak to the Bulldogs with a 45-42 victory in Athens, Ga. Georgia blew a 28-12 halftime lead and allowed 26 points in the third quarter of that game.
This season, the No. 7 Yellow Jackets are 10-1 and already have clinched a spot in the Dec. 5 ACC championship game in Tampa, Fla. The Bulldogs are among the country's biggest disappointments with a 6-5 record. They blew a 20-6 lead in a 34-27 loss to Kentucky at home last week.
Saturday night's game at Bobby Dodd Stadium might be a high-scoring affair. Georgia's defense has surrendered 30 points or more five times this season; the Yellow Jackets have scored 28 points or more in seven straight games.
7.
Will Oklahoma State finally beat Oklahoma?
The No. 12 Cowboys are in position to receive an at-large BCS bowl bid, most likely from the Fiesta Bowl, but they'll have to beat rival Oklahoma on the road on Saturday to have a chance.
The rivalry is the most lopsided between in-state schools, with the overall series record depends on who you ask. The Sooners list the overall series at 80-16-7 while the Cowboys have it as 79-17-7 in favor of OU. The Sooners have won the last six games in the series, including a 61-41 victory in Stillwater, Okla., last season.
With a 6-5 record, defending Big 12 champion Oklahoma is trying to salvage a winning record in the regular season.
Oklahoma State quarterback
Zac Robinson
, who missed last week's closer-than-expected win over Colorado with a sprained shoulder, is expected to return to action against the Sooners.
8.
What's at stake for Arkansas against LSU?
With record-setting quarterback
Ryan Mallett
flourishing in coach Bobby Petrino's pass-happy offense, the Razorbacks have become the hot SEC team in the eyes of bowl scouts.
If Arkansas can win its fifth straight game by beating LSU at Tiger Stadium on Saturday, there's a good chance the Hogs could be selected to play in the Cotton Bowl.
Mallett is playing as well as any quarterback in the country, throwing for 10 touchdowns in his last two games. In his first season in Petrino's offense, the Michigan transfer has thrown for more than 3,000 yards with 28 touchdowns.
LSU has lost two of its last three games, including last week's deflating 25-23 loss to Ole Miss.
9.
Who wins the Holy War?
The BYU-Utah series is one of the country's most underrated rivalries. Simply put, these schools just don't like each other very much.
The No. 21 Utes have won five of the last seven games against BYU and six of the last eight played at Lavell Edwards Stadium in Provo, Utah. Both teams are 9-2 and have been eliminated from the Mountain West Conference title race.
BYU quarterback
Max Hall
will be looking for redemption, after throwing a career-high five interceptions in last season's 48-24 loss at Utah.
10.
Will Saturday's trip to Stanford be Charlie Weis' final game at Notre Dame?
A loss to the Cardinal would leave Notre Dame with a 6-6 record, and even Weis admits that performance isn't good enough at his alma mater.
Athletics director Jack Swarbrick has said repeatedly that he would wait until the end of the season to decide Weis' fate. A decision could come pretty quickly after the Fighting Irish play at Stanford.
A victory over the Cardinal might put Notre Dame back into the Gator Bowl discussion, but a 6-6 record might leave them without a postseason destination. Under that scenario, teams with 7-5 records would be given bowl priority over Notre Dame.
November, 25, 2009
11/25/09
11:55
AM ET
At the beginning of the season, Nevada touted its backfield as having three 1,000-yard rushers.
Quarterback
Colin Kaepernick
and running back
Vai Taua
had each rushed for more than 1,000 yards last season, and running back
Luke Lippincott
, who missed last year with a knee injury, had rushed for more than 1,000 yards in 2007.
But Nevada would have never imagined that it would be claiming that same statistic about all three players in the same backfield in the same year.
[+] Enlarge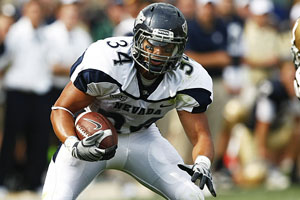 Joe Robbins/Getty ImagesVai Taua leads a trio of Nevada backs who have rushed for more than 1,000 yards this season.
After last week's game against New Mexico State, Nevada became the first school in NCAA history to have three 1,000-yard rushers in the same year. Heading into Friday's game against Boise State, Taua has rushed for 1,185 yards, Kaepernick for 1,129 and Lippincott for 1,028. The Nevada running game ranks first in the country with 373.18 yards per game and it constitutes 70 percent of Nevada's total offense.
"I don't think there's anyone in the country that would think that in particular in one season," Nevada coach Chris Ault said about having three 1,000-yard rushers this season.
The feat is especially impressive considering Lippincott started the season as the team's X receiver and didn't start playing running back full time until the fourth game. Through the first three games of the season, the Wolf Pack had amassed 540 yards on the ground. When they committed to moving Lippincott back into the backfield, the Wolf Pack had 559 rushing yards against UNLV, their first win of the season.
The Wolf Pack have won eight consecutive games since the switch.
"They wanted to spread our offense a little bit more, and for a couple weeks before the Notre Dame game I started working out at receiver," Lippincott said. "I was doing pretty good at receiver. But then, we went 0-3 the first couple games and they decided to put me back [in the backfield]. We've just been running with a full head of steam ever since."
Ault said he moved Lippincott to receiver because of his athleticism, but it was also because the Wolf Pack were trying to become more balanced on offense. In the spring and throughout the summer, Kaepernick devoted almost all of his time toward refining the passing game. Through his first two seasons as starter, he'd shown that he had some zip in his arm, but he had a hard time controlling where he put the ball. So he worked on his touch and his rapport with his receivers. The goal coming into the year was to allow him to show off that part of his game.
But in doing so, the Wolf Pack got away from the one area that has made them successful the past few years. Only 47 times in NCAA history has a team had two 1,000-yard rushers in the backfield and Nevada has done it twice, including last year with Taua and Kaepernick.
The Wolf Pack quickly realized that while being balanced was important, playing toward the team's strengths was going to win games.
"The holes that our offensive line started opening up were ridiculous, and three backs over 1,000 yards proves it," Taua said. "Because of that, it's not just one guy who can do it, all three of us can. ... And when you look over to the side and there's a guy that can do just as good if not better than you waiting, it makes you feel a lot better and helps the team out a lot."
Since Nevada started committing to its running game after the third game of the season, the Wolf Pack haven't rushed for fewer than 312 yards. They have rushed for at least 400 yards five times this season and more than 500 yards three times. In the past three games, Nevada has rushed for a combined 1,552 yards, which is almost as many yards as several FBS teams have rushed for in an entire season.
However, the Wolf Pack will face their biggest challenge this week against Boise State in a game that will determine the Western Athletic Conference title. Boise State has the best rushing defense the Wolf Pack have faced this season, but Nevada is confident that if it keeps running as hard as it has the past eight games, that it might be able to beat Boise State for the first time since 1998.
"I definitely think this is the best overall team that we've had in the past couple years, even better than the team we had when we won the WAC championship a few years ago," Lippincott said.
Added Taua: "I think this is the best chance we have."
October, 23, 2009
10/23/09
1:08
PM ET
Posted by ESPN.com's Graham Watson
Nevada was supposed to challenge for the WAC this season, but those dreams seemed to fade as the Wolf Pack struggled to find their game and sunk to a 0-3 start.
But in the past few weeks, something has changed. The Wolf Pack have started to find a rhythm, they're taking better care of the ball and the plays that they weren't making in the first three games, they started to make now.
This week, the Wolf Pack head into the second half of the season against Idaho, which, like Nevada, is undefeated in conference play and needs a win to keep its conference title hopes afloat.
| | |
| --- | --- |
| | |
| | Matt A. Brown/Icon SMI |
| | Luke Lippincott and the Wolf Pack are riding a three-game winning streak into Saturday's game against Idaho. |
I chatted with running back
Luke Lippincott
about the change in the team's mentality and its current streak.
What has been the change is this team that has prompted the three-game winning streak?
Luke Lippincott:
There's been a lot more focus on perfection and winning in practice. We like to talk about winning during practice and that carries over into the game. We talk about perfection in terms of not having any fumbles during practice or having every pitch on the option being perfect. We've really focused a lot on making the little mistakes that would have changed these other games. The team always knew what we were capable of and it was kind of frustrating how those first couple weeks turned out and we all just sort of took it upon ourselves. Everyone just kind of made that change and everything's been clicking since then.
Did you guys figure out what it was that maybe stunted this season a little bit the first few games?
LL:
I don't know. I can't really make that call. It was just a combination of us making big, big mistakes, like fumbles, turnovers and then not capitalizing on big plays like we've had the last couple games. We've had a lot of big plays the last couple games, stepped our run game up a lot and that's where our focus has been.
How do you feel like you've fit in to this run game? Obviously, you're role as a rusher has increased over the last few games or so.
LL:
I just feel like I'm going out there and I might get limited carries compared to a couple years ago, but that also gets me a heightened sense that I've got to do the best I can on every play and try and break one every now and then. Try to have a long one. And definitely the battle between me and Vai [Taua] is still going and that 's making us both better.
You talk about Vai and your competition with him you've also had a couple other guys come in. Has it been great developing the depth of this running group?
LL:
Yeah, it has. In terms of all of us being able to get rested. That's a plus. If Vai needs a rest during a game, I can go in and that's how you wear out defense. New guys sub in and he's 100 percent and the defense is all of a sudden like, 'Whoa, this guy is running after me hard just like the guy before.' So, it's a constant onslaught and a constant rush of healthy fresh legs rolling out there, which is a good thing for games and for practice.
Is this team starting to play like the team everyone expected at the beginning of the season?
LL:
I think we're getting there, but I don't think we're where we could potentially be. But, I see improvement every week. We're not there yet because I know we can do even better in terms of rush offense. I think I can do better. And we'll see as the season progresses.
How big is this week's game against Idaho for you guys, not just in the standings but in terms of turning this year around?
LL:
Right now, we have a one-game season every week. Every game, every week is our whole season especially starting 0-3, which I think is what kind of spurred this on. Every week is a new game and every game for us is a championship game. So, that's how we're seeing it.
September, 30, 2009
9/30/09
6:57
PM ET

Posted by ESPN.com's Graham Watson
Sixth-year senior running back
Luke Lippincott
will start for Nevada against UNLV this weekend.
Lippincott replaces starter
Vai Taua
, who suffered a shoulder injury against Missouri last weekend. Coach Chris Ault said although Taua had his arm in a sling during that game, the injury wasn't as serious as originally thought.
"Vai is doubtful for this week," Ault said. "Hopefully he'll be OK the following week, but he's doubtful this week at this particular time."
Lippincott has 32 carries for 166 yards so far this season and 114 of those yards came against Missouri last week. However, Lippincott fumbled on the 3-yard line with Missouri leading 21-13 in the fourth quarter. The Tigers scored on the subsequent drive and pushed the game out of reach.
Still, Ault was pleased with Lippincott's play and the play of sophomore running back
Lampford Mark
, who had three carries for 16 yards.
"Luke came in and really did a great job for us," Ault said. "He fumbled on the 3-yard line going in, which is uncharacteristic of him, but I thought Luke played very well and I thought our sophomore running back Lampford Mark did a real nice job."
September, 26, 2009
9/26/09
10:40
AM ET

Posted by ESPN.com's Tim Griffin
Blaine Gabbert
's development took another step forward Friday night.
The Missouri sophomore quarterback helped the Tigers blow the game open by orchestrating drives on four-straight possessions in the second half that enabled the Tigers to claim a
31-21 triumph
over Nevada.
The Tigers put the game away in the second half by muscling through Nevada's defense on scoring drives of 80, 71, 97 and 51 yards.
Gabbert finished by passing for a career-best 414 yards and three touchdowns, making it look easy against a gasping Nevada secondary.
Some thought that Gabbert would crumble under the pressure of his first true road contest. The Wolf Pack ratcheted up the pressure by stacking the line to contain Missouri's running game, daring Gabbert to beat them with his arm.
He did just that, taking advantage of
Danario Alexander
running through the Nevada secondary for a career-best nine catches for 170 yards.
The game turned when Nevada running back
Luke Lippincott
fumbled at the Missouri 2-yard line on the second play of the fourth quarter. Nevada was trailing 21-13 and appeared poised to pull closer when linebacker Brian Coulter pounced on the fumble.
But instead, the Tigers took the ball 97 yards on a drive that was jump-started by two critical third-down conversions.
Gabbert confidently hooked up first with Alexander and then with
Wes Kemp
on plays deep in his own territory that young starting quarterbacks aren't supposed to be able to make.
The fumble marked the second straight season that Nevada appeared to have a Big 12 team on the ropes before a critical second-half miscue killed their momentum.
Last season, Nevada quarterback
Colin Kaepernick
fumbled at the Texas Tech goal line as the Wolf Pack were poised to take the lead over the Red Raiders. Graham Harrell took advantage of the break by driving for three touchdowns after the mistake to give them a 35-19 victory.
Lippincott's fumble was just as critical.
And Gabbert stepped on their throats to lead the clinching offensive burst -- just like Harrell did last season.
No wonder it seemed like every time I saw Nevada coach Chris Ault during the game, he was grimacing and yelling into his headset. Critical turnovers -- especially when they occur over and over -- have a way of irritating coaches.
September, 4, 2009
9/04/09
12:23
PM ET

Posted by ESPN.com's Brian Bennett
One of the first things Notre Dame's players see when they enter the Guglielmino Athletics Complex every day is a statue of the famed Four Horsemen.
And when the Irish open their 2009 season on Saturday, they'll get an up-close look at the Three Horsemen.
OK, so maybe Nevada's
Colin Kaepernick
,
Luke Lippincott
and
Vai Taua
don't yet have the legendary status of Stuhldreher, Miller, Crowley and Layden. But they've sure got the stats.
Taua rushed for 1,521 yards last season, while Kaepernick became one of only five quarterbacks in Division I history to rush for more than 1,000 yards and throw for 2,000 in the same season. And Lippincott ran for 1,420 yards two years ago before missing most of last season.
Throw in the Wolf Pack's confusion-causing pistol formations and their ability to throw the ball downfield, and Notre Dame's defense figures to have its hands full in the opener.
"It's a little bit different because it's not like anything we've ever seen before," safety Kyle McCarthy said. "There is obviously some option mixed in, so there's a little bit of Michigan and Navy in there. But they're more than capable of passing the ball with success, too. So we've got to be ready for anything."
Just how ready is the Notre Dame defense?
That side of the ball has gone through some changes since last season, most notably with the promotion of Jon Tenuta to defensive coordinator. Before coming to Notre Dame as linebackers coach, Tenuta shaped Georgia Tech into one of the top defenses in the nation annually. He's known for an aggressive style that heavy on the blitz.
"All you've got to to do is go watch some of my reels, and yeah, I'm going to be a pressure guy," he said last month.
Head coach Charlie Weis felt so comfortable in handing the defensive reins over to Tenuta that Weis decided to go back to being his own offensive coordinator. Still, Tenuta's preferred pressure system might have to be dialed back a bit against the Nevada option-based offense.
"We have to zero in on our reads and our keys and stay in position, not try to do too much," McCarthy said.
Weis said the Wolf Pack asks Kaepernick to do similar things that Vince Young used to do for Texas but from a different formation. Nevada likes to use a lot of pre-snap motions and shifts as well.
"You can say it's window dressing," Tenuta said, "but it's part of how they attack you."
Stopping the run, as always, is the first priority, especially because Notre Dame doesn't want Nevada to bleed the clock and keep
Jimmy Clausen
and his receivers on the sidelines. The Irish lived out that headache in last year's opener against San Diego State, whom they squeaked by for an unimpressive 21-13 victory.
Everyone is expecting a whole lot more out of this year's team, and it will have to slow down the Three Horsemen before accomplishing anything else.
"I envision the game going just the way we envision it," Weis said. "You're playing at home, you're playing against a formidable opponent. If we can come out and play really well right off the bat, it could set a good precedent as we go forward."
September, 2, 2009
9/02/09
10:00
AM ET

Posted by ESPN.com's Graham Watson
Colin Kaepernick
isn't afraid to admit he was a little raw when he arrived at Nevada.
He was a baseball pitcher who threw the football sidearm and, consequently, didn't get many looks from schools to play football.
But Nevada coach Chris Ault liked Kaepernick's athleticism and invited him to a select quarterbacking camp before Kaepernick's senior season. While Kaepernick didn't have the best accuracy or the best delivery, he did have some zip, which was something a coach couldn't teach.
| | |
| --- | --- |
| | |
| | Julie Scheidegger/US Presswire |
| | Colin Kaepernick has tweaked his mechanics in an effort to become a more accurate passer. |
"He was a wing-T guy, threw the ball like a baseball pitcher, but he had a gun on him," Ault said. "You could see he was a really good athlete. We just felt that regardless we were going to offer him a scholarship and if he wasn't going to play for us as a quarterback, he'd be a starting free safety."
It's the athleticism that has made Kaepernick one of the most dynamic quarterbacks in college football. Although Kaepernick wasn't a running quarterback at Pittman High School in Turlock, Calif., he's showed uncanny speed and quickness during his first two seasons with the Wolf Pack and has become a true dual-threat quarterback.
Last season, in his first full year of starting, Kaepernick finished with 2,849 yards passing and 22 passing touchdowns and 1,130 yards rushing and 17 touchdowns on the ground.
And while those numbers were enough to earn him 2009 preseason WAC Offensive Player of the Year honors and Heisman mentions, it wasn't enough for Ault or Kaepernick, who saw deficiencies in the junior quarterback's game.
Kaepernick completed just 54.3 percent of his passes last season, which was third-lowest in the WAC behind Idaho's
Nathan Enderle
and Louisiana Tech's
Ross Jenkins
. Although Kaepernick had as quick of a release as anyone in the country, sometimes he wasn't exactly sure where the ball was going.
So when Ault challenged Kaepernick to fix his mechanics and work on his accuracy, the Wolf Pack's team leader took the challenge to heart.
"Accuracy is one of the main focuses I've had this summer," Kaepernick said. "I've thrown just about every day that I can and I've also been working on my touch ball, down the sidelines, down the middle of the field, things like that.
"I think you could ask my receivers, right now I feel like I'm up to the point where I can put the ball pretty much anywhere I want to. That's where I wanted to be at the start of the season."
Ault said he's never had a player respond to a challenge the way Kaepernick did. He was in the weight room and on the practice field every day throughout the summer. He straightened out his arm so that his delivery was more over the top and less to the side. He texted each of his receivers, running backs and defensive backs daily to come out and run routes with him as an opportunity to get better and build team unity.
It wasn't just about accuracy for Kaepernick, it was about being able to harness the zip that had made him so intriguing to Ault. Running back
Luke Lippincott
, who had been working with Kaepernick all summer while preparing for a role as an H-back, said Kaepernick threw a ball harder than any other quarterback he'd ever seen and sometimes last season it would be too much for some of the Wolf Pack receivers to handle.
Kaepernick acknowledged that there were times last season where his inaccurate fastballs cost the Wolf Pack games.
"It was frustrating because there were times I needed to make throws that I didn't for my team," Kaepernick said. "I let my team down and I wasn't going to let that happen again this year."
Despite Kaepernick's newfound passing skills, Nevada isn't going away from running the ball. With three 1,000-yard rushers in the backfield, including Kaepernick, Lippincott and starting running back
Vai Taua
, the Wolf Pack knows its strength. But the passing game does allow for a different dimension and should take some of the pressure off Kaepernick to be the go-to source for offense.
"We know people are going to design defenses to stop Kap, we know that," Ault said. "The key for us this year is the talent around Kap -- the running backs, the receivers, the tight ends. They now have a chance to utilize their talents and be more exposed because of what we're trying to do offensively. Of course, Kap's stuff will come when it's there, but there's no question that those other guys have to take that pressure off and I think Kap likes it because it's going to hopefully create an even more versatile attack."
Seeing Kaepernick work hard in the offseason to shore up his shortcomings forced the rest of the Wolf Pack to join in. Kaepernick's work ethic has become infectious to the rest of the team and he's become a vocal leader on both sides of the ball.
Kaepernick thinks with the advances in the offense, the Wolf Pack could challenge for their second-ever WAC title.
"I think our passing game has developed over the past couple years and this year it's going to continue to improve. We have a lot of talented wide receivers that have to step up for this year and I think they're waiting to just fill that void.
"I think we do a lot of things that are different from what opponents are used to seeing and I think that might catch them off guard."
July, 28, 2008
7/28/08
7:52
PM ET
Posted by ESPN.com's Graham Watson
| | |
| --- | --- |
| | |
| | Otto Greule Jr/Getty Images |
| | Boise State's Ian Johnson is looking to build on his football legacy. |
There are several tough running backs in the WAC, but few who have the celebrity status of Boise State's Ian Johnson.

His game-winning two-point conversion in 2006 to beat Oklahoma in the Fiesta Bowl solidified his football legacy. His proposal to his now-wife Chrissy Popadics, made him a household name.

But is he the best running back in a stacked WAC?

"I've seen a lot of these guys and you look at (Nevada's Luke) Lippincott and all the guys from La Tech and even the guys from Fresno, these guys are very different running backs from myself," Johnson said during WAC Media Days last week. "These guys are gifted with muscles and talent that I don't think I even have. And I think I am the best for my for my team and that's the truth."

Johnson was the best running back in the WAC during his glory year in 2006 and was even considered a darkhorse for the Heisman Trophy. But those numbers trailed off last season as Johnson was plagued with injuries.

Lippincott led the WAC in rushing with 1,420 yards, 245 yards better than the league's next best rusher. Despite playing in 11 games (and not even 11 full games) Johnson was third in the WAC with 1,041. He also led the league with 16 touchdowns.

"Those guys, I see nothing but potential and great ability, and whether or not it comes to numbers deals with what team you're playing with and what program you're playing with, what system of running style you're running with, and whether or not these teams are using these guys to their potential," Johnson said. "Do I think I put up more numbers? That's obvious. The numbers have been there. I think I've been the most fortunate running back in the WAC."

This year, Johnson said he's ready to be better than he was his sophomore season when he led the WAC with 1,714 yards and 25 touchdowns, and erase any doubts about the league's strongest rusher.

"I've done my part for me, now it's about getting this team to the next level," Johnson said. "I'm going to be everything I can be for us to take back that WAC, take back that ring. Get that ring on our finger and that's starting with getting those question marks out of everyone's head."

July, 24, 2008
7/24/08
12:33
PM ET
Posted by ESPN.com's Graham Watson
SALT LAKE CITY -- Football players will try anything to get an edge. Some have done ballet, yoga, and gymnastics. But how about hypnotism?
Nevada running back Luke Lippincott said he is one of three or four players on the Nevada Wolf Pack who are hypnotized by Lippincott's father, Brian, the night before games.
"It's not follow the magic thing," Lippincott said. "Hypnotism, I like to think of it as just like getting your body in a totally relaxed state and thinking of a game-time situation to the point where you're in the game-time situation in a real-life game and you're calm."
Brian Lippincott is the director of the psychology department at John F. Kennedy University. He told the Nevada Sagebrush, Nevada's student newspaper, that he'd practiced hypnotism on his son when he was a younger.
"Of all three of them, he was the most hypnotizable," Brian said of Luke and his two other children. "I practiced with my own kids when Luke was 7 or 8. I found out that he really responded.
"The key thing in football is to relax at a moderate level. Sometimes, people get too pumped up. You have to get that happy medium to be aggressive and not make those mistakes."
Brian Lippincott travels to every game -- home and away -- and hypnotizes players in their hotel rooms.
Lippincott said his father will sit a player down, speak slowly and softly to get the player to calm down and focus on football. Then, according to Lippincott, his dad will take each player through a specific play that's relevant to his position. The whole process takes about a half hour.
Lippincott said his father hypnotized Nevada safety Uche Anyanwu prior to the New Mexico Bowl and asked the junior to envision stripping the ball from a running back. In the second quarter, Anyanwu did just that.
"He came to me on the sideline and said, 'That's exactly how I pictured it.'
"[Teammates] can honestly say that it's really helping them. It really calms them in the moments that get you and it calms them down and keeps them in the state of flow."
Lippincott is no stranger to trying new things to get an edge. This summer he took up yoga and gymnastics to work on speed, flexibility and muscle control. Lippincott, last year's WAC leading rusher, said last season he had the power to push through the defensive line and linebackers, but when he got to the secondary he was often brought down.
He's hoping the speed and flexibility work, as well as studying tape of Vikings' running back Adrian Peterson, will help him juke would-be defenders or speed past them.
"Last summer I thought I did the most that I could do in terms of getting ready for the season," Lippincott said. "It's changed. Last year, I was trying to gain toughness and really push through it. This year, I'm trying to gain the finesse that I was really missing last year."