March, 28, 2012
3/28/12
9:00
AM ET
With Notre Dame a week into spring practice, the fifth-year players officially returning and the 2012 recruiting class finalized (we think), let's break down the Irish's complete roster, position-by-position, as it gears up for Year 3 under Brian Kelly.
We'll start with the offense today and delve into the defense tomorrow, with special teams coming Friday.
QUARTERBACK
The players:
Tommy Rees
,
Andrew Hendrix
,
Everett Golson
, Gunner Kiel
The incoming:
None
The breakdown:
Experience is the only real way to rank these guys, as Rees has 16 starts, Hendrix has played in five games, Golson has sat a year learning the offense and Kiel arrived on campus just two months ago. Nonetheless, that likely won't matter as Kelly goes to a square-one approach, opening the playbook from the beginning to allow for a fair chance for everyone. The decision -- which will likely be up in the air deep into the summer -- may prove to be Kelly's biggest so far with the Irish.
RUNNING BACK
[+] Enlarge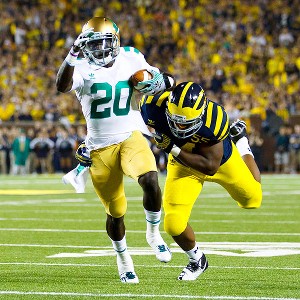 Rick Osentoski/US PresswireCierre Wood is still the clear favorite in Notre Dame's backfield, but the Irish have other running backs ready to vie for playing time.
The players:
Cierre Wood
,
Theo Riddick
,
George Atkinson
,
Amir Carlisle
, Cam Roberson,
Tyler Plantz
The Incoming:
Will Mahone, KeiVarae Russell
The breakdown:
Wood is the clear No. 1, as he was heading into last season as well. Riddick broke off a pair of huge runs toward the end of Saturday's scrimmage, and Kelly wanted both him and Atkinson to see more time back there as Wood rested with a minor quad injury. (Kelly said Wood did go in the rodeo drill earlier.) Both Riddick and Atkinson are capable of playing in the slot, and may end up seeing more time catching balls this season than taking handoffs, though Tony Alford will coach both regardless.
Carlisle, the USC transfer, is eligible to play in 2012 but out for the spring with a broken ankle. Where he fits in will be interesting, as carries may be hard to come by if Atkinson really progresses this spring in the backfield. The 5-foot-10, 185-pound Carlisle was featured on kickoffs last season with the Trojans, and there, or on the punt return team, may prove to be the fastest way on the field for him.
WIDE RECEIVER
The players:
John Goodman
,
T.J. Jones
,
Robby Toma
,
DaVaris Daniels
,
Daniel Smith
,
Luke Massa
,
Eric Lee
,
Nick Fitzpatrick
,
Ryan Liebscher
The incoming:
Justin Ferguson, Davonte Neal
The breakdown:
Goodman has talked about making the most of this last chance, and the coaching staff would not have invited him back for a fifth year had it not believed in him. Whether he can be a top target is up in the air, but he should bring some stability and leadership to a group loaded with youth. Jones has been solid through two years and Kelly has said he is on the cusp of breaking out. Toma has done everything asked of him and then some in the slot when replacing the oft-injured Riddick, and he may have the position to himself this year.
Daniels has the complete package physically, but he has yet to take a snap after redshirting last season. He was seen running with the 2s to start spring, but that could easily change with a strong showing. Smith, too, ran with 2s to open spring, but he must stay healthy first. Ferguson has the tools to compete for playing time upon arrival, but that could likely depend on how the incumbents step up in front of him. Neal is pegged as an athlete, but Kelly said there are no plans right now to play him at corner upon his arrival. He could possibly be a playmaker at receiver or on special teams.
TIGHT END
The players:
Tyler Eifert
,
Troy Niklas
,
Alex Welch
,
Ben Koyack
,
Jake Golic
,
Arturo Martinez
The incoming:
None
The breakdown:
We all know what Eifert can do, which is why he almost entered the draft this year. Niklas is the big question mark. And by big, we mean it literally. A switch from linebacker -- where he started one game last fall as a freshman -- to tight end for the 6-7, 252-pounder has many excited to see what the offense can do with a potential two tight end set. Everyone saw what the
New England Patriots
did last year with
Rob Gronkowski
and
Aaron Hernandez
.
It would be foolish to expect that much so soon -- both without
Tom Brady
as the Irish's quarterback and without Niklas having played the position since high school. How quick Niklas can master the playbook and blocking could go a long way in seeing some of these sets come to fruition. The move does leave some to wonder what this means for Welch and Koyack, but the duo is young and, according to tight ends coach Scott Booker, up for the challenge.
OFFENSIVE LINE
The players:
Zack Martin
,
Chris Watt
,
Braxston Cave
, Mike Golic,
Tate Nichols
,
Christian Lombard
,
Bruce Heggie
,
Jordan Prestwood
,
Matt Hegarty
,
Conor Hanratty
,
Nick Martin
,
Brad Carrico
,
Matt Tansey
,
Dennis Mahoney
The incoming:
Mark Harrell, Ronnie Stanley
The breakdown:
Cave will not be playing much, if at all, this spring as he recovers after injuring his foot last season. Golic, who started in his place, is the center with Cave out, but it would not be surprising to see Golic move to right guard upon Cave's return. Right now Lombard is manning the right guard spot, with Nichols at right tackle. How the second unit gets shuffled upon Cave's return to the starting unit remains to be seen, but to open spring, it consisted of Heggie, Prestwood, Hegarty, Hanratty and Martin.
March, 22, 2011
3/22/11
3:00
PM ET
The absence of
Michael Floyd
isn't the only noticeable difference for Notre Dame as it prepares to begin spring practice on Wednesday. Here are some other changes and tidbits that head coach Brian Kelly outlined on Tuesday:
Austin Collinsworth has moved from receiver to safety. Kelly said the coaching staff loved Collinsworth's tackling and instincts on kickoff coverage last year.
Early enrollee Brad Carrico, listed as a defensive lineman when recruited, will move to offensive line. "He showed us in a short period of time in conditioning that he has quick feet and moves well," Kelly said. "He's a guy who we'll be able to get out in space, and he gives us some size and athleticism on the offensive line."
As previously reported, quarterback Luke Massa is headed to wide receiver, while Bennett Jackson goes from receiver to cornerback.
Assistant coach Kerry Cooks will move from outside linebackers coach to working strictly with the cornerbacks. Defensive coordinator Bob Diaco will handle the outside linebackers. Chuck Martin now will oversee the safeties. Ed Warriner becomes the running game coordinator, allowing offensive coordinator Charley Molnar a little more time for overall planning.
Defensive lineman Sean Cwynar is in a boot after surgery on a foot fracture and will not participate in the spring. Cwynar also had back surgery in the offseason and recovered well from that, Kelly said.
Star linebacker Manti Te'o had a scope done on his knee, and the Irish will be cautious with him this spring. "I think it's pretty safe to say right now we know a lot about what Manti Te'o can do," Kelly said.
As for the quarterbacks, Kelly said Dayne Crist (knee surgery) will be limited but should follow the same plan as he did last spring when he was recovering from an ACL surgery. That means he'll go through most drills but be held out of live contact. Andrew Hendrix and Everett Golson, who are more mobile quarterbacks, will get tackled some this spring to get a true evaluation of what they can do while running. Kelly said Crist's availability should make for a true competition this spring and that hopefully a pecking order would be established by the end of spring. But he said he had no idea of how the competition will go.
Though Theo Riddick will stay at slot receiver, there will be some packages where he and running back Cierre Wood are moved all over the field.
March, 22, 2011
3/22/11
2:03
PM ET
Notre Dame coach Brian Kelly held his pre-spring news conference on Tuesday, and the last thing Kelly had hoped to talk about on the eve of spring drills was losing his star receiver and a team captain.
But that's the situation now as
Michael Floyd
has been suspended indefinitely after his arrest early Sunday morning on a DUI charge. Kelly didn't offer a lot of specifics on Floyd's future but said the team is moving on for now without him.
"Every time, whether there's an injury or somebody is not with us, our focus is strictly on the guys who are here," Kelly said. "We're preparing our football team around the guys who are here."
It's almost inconceivable that Floyd would return before spring practice, and whether he's on the field to start the 2011 season depends largely on how Notre Dame's Office of Residence Life rules. Floyd has previous alcohol-related offenses on his record, too. Asked what might happen, Kelly said, "I'm not really certain what timetables have been put in place. Those are questions I could not answer."
Kelly had anointed Floyd a team captain and praised his work ethic. When Floyd decided to return for his senior year instead of entering the NFL draft, Kelly called him a "six-star" recruit. So you can imagine how he felt when he got the call about the arrest on Sunday.
"There's a range of emotions that you have," he said. "I think it's a lot like a parent would have. From anger to disappointment to making sure that something like that in his life never happens again. We want to be able to support Mike, but also to understand that this was a serious, serious offense."
Without Floyd, the Irish will look to
John Goodman
to step forward into a bigger role, and they'll hope the 6-foot-4, 215-pound
Daniel Smith
emerges this spring. Kelly had contemplated moving slot receiver
Theo Riddick
to running back, but in part because of Floyd's absence, Riddick will stay in the slot along with
Robby Toma
. Former quarterback
Luke Massa
could get some of Floyd's reps, and T.J. Jones is another guy who should have a major impact at wideout.
Kelly also said that
Deion Walker
, who's had a disappointing career after being a highly touted member of the 2008 signing class, may have turned a corner.
"He's a changed young man in the way he goes to work every day," Kelly said. "I questioned last year his love for the game and his commitment. He has shown a totally different side in our workouts up to this point. Quite frankly, Deion is a guy that I want to see."
Kelly and the Irish faithful would love to see Floyd back at some point. Regardless of whether that happens, Notre Dame has to move on.
"I really want to put the 11 players on the field that give us the best chance to beat South Florida [in the '11 opener]," Kelly said. "So we immediately have to be able to look at that when we step out on the practice. You don't get much time in the spring. If you're waiting around, dreaming and hoping, you're going to miss great opportunities to develop your players."
February, 16, 2011
2/16/11
10:34
AM ET
Notre Dame's quarterback derby continues to get thinner by the day.
One day after the school confirmed that
Nate Montana
had transferred to the University of Montana, the South Bend Tribune reports that
Luke Massa
will be
moved to wide receiver
.
Massa was one of three freshmen quarterbacks who joined the program last year, along with
Tommy Rees
and
Andrew Hendrix
. Like Hendrix, Massa did not play in 2010.
Massa clearly had fallen behind Hendrix, who had drawn praise late last year from head coach Brian Kelly. And with Rees and
Dayne Crist
back, along with incoming freshman Everett Golson, Massa looked like the No. 5 option out of five quarterbacks.
So instead he'll put his 6-foot-4, 215-pound frame to other use at wide receiver. Here is what his high school coach told the Tribune:
"As far as how good he can be? Well he's faster than people think. He can jump as high or higher than anybody on that team. He has phenomenal body control. I would not bet against Luke Massa."
February, 15, 2011
2/15/11
10:49
AM ET
Forget for a moment the brilliant synchronicity of a guy named Montana playing quarterback at Montana.
Regardless of where he went,
Nate Montana
made the right decision to leave Notre Dame. School officials at Montana confirmed Monday night that he had
transferred and been admitted
to the FCS program.
It's questionable whether the quarterback would have ever made the roster had his name been Nate Wyoming. But as the son of Joe Montana, he was going to be given a shot. And the Irish were glad to have him last season after he transferred back in from junior college, because Montana was the most experienced quarterback on the roster after
Dayne Crist
.
Montana played in three games in 2010, going 9-for-18 for 116 yards with an interception. When Crist got hurt against Michigan and
Tommy Rees
looked nervous and shaky, Montana was the one who had to finish the half.
But once Rees improved and wound up starting and finishing the final four games victoriously, Montana clearly became the odd man out. The Irish brought in highly regarded freshman Everett Golson in this recruiting class and have
Andrew Hendrix
and
Luke Massa
from last year's signing class, plus the return of Rees and Crist. Brian Kelly said that there was no way to get six quarterbacks reps in practice and that the group would be thinned. It didn't take a genius to see that Montana needed to find a new home.
So Nate Montana ends his Notre Dame career without the glory his father produced in South Bend. But he did provide value in 2010.
December, 17, 2010
12/17/10
3:17
PM ET
Notre Dame will scrimmage on Saturday and head full bore into preparation for Miami, its opponent in the Dec. 31 Hyundai Sun Bowl, on Monday. But the question that holds the most intrigue for the Irish -- and the one I hear most from fans -- is who will be quarterbacking this team in 2011.
Dayne Crist
was the unquestioned starter this year. But after he blew out his knee, true freshman
Tommy Rees
went 3-0 as the starter. Then there are freshmen
Andrew Hendrix
and
Luke Massa
, who have redshirted this year but could be ready to compete in the spring. Head coach Brian Kelly was asked on Friday if the quarterback situation for 2011 was murky, but he chose to look at it a different way.
"I think we have a lot of players we believe we can develop into being frontline quarterbacks," he said. "We clearly have a number of quarterbacks who will be competitive, and that's exciting for me."
Of course, Crist first needs to get healthy before he can re-enter the equation. Kelly said Crist dealt with an infection in his repaired knee that set back his rehabilitation process about a week to 10 days but that otherwise he should be fine by the time the season starts. Kelly stopped short of naming Crist the starter next year but indicated that he may be tough to beat out.
"If he comes back physically able to compete at the highest level, he's got obviously a great deal of experience," Kelly said. "There was a lot of time we spent together, a lot of information he's been able to digest in his first year as a starter. As long as he's physically able to come back -- and I believe he will; he's a tough kid, now -- he's got a great amount of experience that will serve him well."
Kelly said he thought Crist had some mental hurdles to get over last year while rehabbing another knee injury. Crist had to deal with wearing a knee brace and having confidence on it. This time around, Kelly said "there's a different look in his eye. He's like, 'Coach, I will get through this and be stronger because of it.'"
In the meantime, Rees still is the starter and will likely be under fire from Miami's athletic, aggressive defense. Kelly said it will be crucial for Rees to get rid of the ball quickly out of the shotgun, something he has done extremely well in his three starts.
Time will tell if this is the beginning of the Rees era or merely an interruption of Crist's starting career.
October, 31, 2010
10/31/10
4:53
PM ET
At least Notre Dame quarterback
Dayne Crist
knows how to go through physical rehab.
Unfortunately for Crist and the Irish, Crist is facing another long slog back to health, after he
tore his left patellar tendon
in Saturday's loss to Tulsa. Crist ruptured his right ACL in the middle of last season.
This time, according to head coach Brian Kelly, Crist could need as much as six months recovery time. If that timetable holds, it means Crist would probably miss most if not all of Notre Dame's spring practice.
It's not fair, but at this point you have to wonder if Crist is going to keep his starting job. He has now suffered through two season-ending injuries and struggled with his consistency this season. True freshman
Tommy Rees
is now the starter and can make a push to hold that job into the spring.
Meanwhile, Kelly will be getting true freshman
Andrew Hendrix
and
Luke Massa
ready to go so one of them can be the third quarterback, though he'd still like to redshirt both and keep
Nate Montana
as the No. 2. It's possible Massa or Hendrix could compete for the starting job in the spring. A healthy Crist is probably still the Irish's best option, but it's going to be a while again before he's healthy.
The bad news keeps on coming for Notre Dame, too. Top-rated recruit Aaron Lynch has told media outlets that he has
decommitted from the Irish.
ESPN had rated Lynch the No. 7 defensive end nationally, and Kelly's rebuilding efforts have been centered on increasing the talent in the trenches. Two other major line prospects have also withdrawn their commitments to the Irish in recent weeks.
September, 14, 2010
9/14/10
4:19
PM ET
As of Tuesday afternoon, Notre Dame coach Brian Kelly said he didn't know which quarterback would get the first call if something happened to
Dayne Crist
again this Saturday at Michigan State. But Kelly hopes that whoever he turned to would be better prepared than last week against Michigan.
[+] Enlarge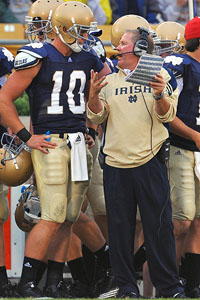 Matt Cashore/US PresswireNotre Dame coach Brian Kelly is hoping his back up quarterbacks are more prepared this week than they were last week against Michigan.
Kelly blamed himself for not having
Tommy Rees
and
Nate Montana
properly ready and put in the right situations last week when Crist had to leave the game in the first half with blurred vision. Rees threw an interception on his first pass attempt on a flea flicker, while Montana's first two throws were batted down at the line of scrimmage. Combined, they went just 8-of-19 for 104 yards and two interceptions and the team did not score before Crist re-entered the game in the second half.
Kelly said he would evaluate both quarterbacks this week to determine who is the No. 2 guy. Rees came in first on Saturday but played only two series before being pulled for Montana.
"We're going to settle on a package that suits both of them," Kelly said. "I think we have to have something that really allows both of those guys to feel comfortable out there and still run our offense in a productive manner. I'm certain we'll be in a much better place this weekend if we have to go to them when they go in the game."
Yet there's no getting around the fact that Notre Dame is in trouble if that happens. Though he enrolled in January, Rees is still a true freshman who looked wide-eyed on Saturday. Montana was a walk-on who probably wouldn't be on the team if his name was Nate Smith. He completed less than 40 percent of his passes in junior college a year ago.
True freshmen
Luke Massa
and
Andrew Hendrix
likely have more pure talent than either Rees or Montana, but both arrived this summer and still face a steep learning curve. Offensive coordinator Charley Molnar said in August he'd like to have one of those two move up into the top three of the depth chart by the end of fall practice, but it hasn't happened yet.
So the main goal remains protecting Crist, whom Kelly said had some swelling in his face on Sunday but is otherwise fine. Unfortunately, Notre Dame can't put protective bubble wrap around Crist without hurting its offensive goals.
"You want to keep Dayne Crist in the game at the end of the day," Kelly said. "But I think that our offense is such that I don't think you're ever going to be conservative in what you do. I think we have to be careful not to play scared."
Crist ran some zone-read plays in the first half, and the play in which he got hurt was a quarterback sneak for a touchdown. The more he runs, the bigger chance he gets hurt.
"But we have to keep it in because of the spread offense," Kelly said. "We have to run option because of the spread offense. If we were going to protect him, we would have to change the way we run our offense. We would have to put another back in the backfield or another tight end on the field so we could protect him at all times."
Kelly is not going to change the entire offense just to make sure Crist stays healthy. So instead he's changing the plan of attack in case Rees or Montana have to play.
Meanwhile, Notre Dame fans everywhere hope Kelly doesn't have to go to his backup plan again anytime soon.
August, 17, 2010
8/17/10
1:38
PM ET
Tuesday was media day in South Bend, and here's a quick recap of what head coach Brian Kelly had to say in his 40-minute news conference:
[+] Enlarge

AP Photo/Joe Raymond"All the players have done exactly what we've asked them to do," said Brian Kelly in a 40-minute press conference on Tuesday.

Kelly said his spread offense has a place for the Wildcat formation. The three guys he's looking at to run the Wildcat are tailback Armando Allen, receiver Theo Riddick and somewhat surprisingly, tight end Kyle Rudolph.
Kelly said there has been little resistance from the players since he came in to replace Charlie Weis. "All the players have done exactly what we've asked them to do," he said. "They knew there had to be a sense of urgency. They were sick and tired of being sick and tired too. It's just different leadership styles."
Riddick and Cierre Wood will be the kick returners, and Kelly called them "dynamic." Allen leads John Goodman for punt return duties.
Plenty of young players could see the field right now. Kelly identified nine true freshmen which his staff is preparing to play this year. They are, on offense, Rees, receiver T.J. Jones, linemen Tate Nichols, Christian Lombard tight end Alex Welch and receiver Austin Collinsworth, who will play a lot on special teams. On defense, freshmen Lo Wood (cornerback) and Prince Shembo (linebacker) and Danny Spond (safety/special teams) have impressed. Kelly said this is the most true freshmen he's readied to play in his career.
Injured linemen Dan Wenger and Matt Romine (concussion symptoms) have returned to practice, but Kelly said Nichols and Lombard asserted themselves in their absence. Mike Ragone (heat illness) and Rudolph (hamstring) are back to doing individual work.
The battle for the inside linebacker job continues to rage on between Anthony McDonald and Carlo Calabrese. Both bring separate strengths."Mac needs to be more physical, and Calabrese needs to be more finesse," Kelly said.
In maybe the most interesting exchange, Kelly said he thought star receiver Michael Floyd was "overhyped" when he first watched film upon taking the Irish job. His opinion has changed 180 degrees."In 20 years, I have not had a player who has worked as hard as Michael Floyd has worked," Kelly said. "He has outworked everybody on the offensive side of the ball to the point where he has singlehandedly set the bar for where everybody else needs to bring their play. He's been dominant."
Finally, Kelly said his goal is for his team to "be better in November than they are in September." That certainly hasn't been the case in recent years.
August, 7, 2010
8/07/10
4:12
PM ET
SOUTH BEND, Ind. -- Notre Dame hit the practice field at 3 p.m. Saturday for its first official fall workout under new coach Brian Kelly.
The media was allowed to watch the first 30 minutes of practice, and I'd be lying if I said it was an illuminating time (we saw mostly stretching and some positional work, and of course the players are just in shorts and jerseys at this point). But here are a few minor observations from the first Irish practice of the 2010 season:
Much of the spring was about the players getting used to Kelly's fast-paced drills. They look better equipped to handle that today. The first drill after stretching for the offense is called "Tempo," where the quarterback, running back, receivers and linemen sprint through a series of plays down half the field. The pace is dizzying, and a few players were breathing heavily after the first couple of minutes. But they got through it.
Well, maybe they're not totally accustomed to the pace. During a drill where teammates try to strip the ball from each other, wide receivers coach Tony Alford screamed, "Is that as fast as you can run? Because if not, you're screwing the drill!"
Quarterback Dayne Crist wore a brace on his surgically-repaired right knee, but he ran full speed and looked sharp. Health is no longer a concern for him.
Kelly spent most of his time in the open part of practice with the quarterbacks, which isn't surprising since that position needs a lot of attention. Freshmen Luke Massa and Andrew Hendrix got their first indoctrination into a Kelly practice, and their arrival gave the team six quarterbacks to work with. Massa is tall -- listed at 6-foot-4 -- and very lanky at 215 pounds.
There weren't any depth chart surprises. Freshman TJ Jones lined up with the first-stringers at receiver instead of senior Duval Kamara, who was listed at No. 1. The starting offensive linemen, as expected, were Zack Martin at left tackle, Chris Stewart and Trevor Robinson at guard, Dan Wenger at center and Taylor Dever at right tackle. Kelly said Friday that the offensive line is the one position where there could be a lot of moving and shaking, though Stewart and Robinson sure seem like locks.
Freshman defensive tackle Louis Nix is listed at 350 pounds and if it's possible, looked even bigger. He appeared to be struggling in some of the basic conditioning drills to start practice. It's too early to say he won't contribute this year, but Nix has a long way to go at a position that lacks depth.
Not much to glean from the defense on a day when it isn't in pads or hitting anybody or even covering an offense during the open period. I did notice that nose guard Ian Williams -- whom Kelly singled out on Friday as one of the biggest weight room gainers -- appeared noticeably bigger than a year ago and certainly passes the look test for a run-stuffer.
Only four weeks until the 2010 opener against Purdue.
February, 16, 2010
2/16/10
11:30
AM ET
Notre Dame players will get their first experience of what it's like to play for Brian Kelly this spring.
It will be an important time for the Irish and their first-year coach as he uploads his spread offense, evaluates roles and generally instills a new way of doing things.
Here is a primer on what to watch for during spring practice in South Bend.
Notre Dame Fighting Irish
Spring practice starts:
March 26
Spring game:
April 24
What to watch:

• The quarterback situation. There's no more important position on the field, especially in Kelly's system, and he usually likes to have gobs of quarterbacks available. However, he'll have to undergo his first spring at Notre Dame shorthanded. Sophomore
Dayne Crist
, the presumed starter in 2010, is recovering from a torn ACL he suffered midseason, and just how much he'll be able to do remains a question. Certainly the coaching staff won't want him to endure contact or risk further injury, because the depth behind him is almost nonexistent.
Signee Tommy Rees enrolled early and can chip in, and perhaps receiver
John Goodman
can go under center for some reps. Notre Dame will likely just have to get through the spring until reinforcements -- from the likes of signees Andrew Hendrix, Luke Massa and possibly multi-talented athletes Derek Roback and Danny Spond -- arrive in the summertime.
• Defense, defense, defense. Quite simply, the Irish didn't play much of it in 2009, and how they fare in 2010 will likely depend largely on the improvement Kelly and new defensive coordinator Bob Diaco can bring to the unit. Diaco will install the 3-4, which will put a premium on defensive linemen like Ethan Johnson and Ian Williams continuing to make strides.
Going into his first spring after a promising rookie year, linebacker Manti Te'o could be ready to take the next step toward superstardom. The secondary was hit hard by graduation, and early enrollees Chris Badger, Spencer Boyd and Lo Wood may be given a shot to win playing time there. Most of all, Kelly and Diaco need to find out who the playmakers are and figure out the best way to utilize them.
• The offensive line transformation. The Irish started four seniors on the offensive line last year, and super sub Dan Wenger also graduated. Only guard Trevor Robinson returns, though luckily for the team he had a strong sophomore season. Replacing longtime starters like Sam Young and Eric Olsen won't be easy. And though the previous coaching staff planned for the eventual departure of the '09 starters, Kelly wants more athletic, faster offensive linemen for the spread system than Charlie Weis needed for his pro-style attack. The spring will be a key time for that changeover to begin to take root.
February, 1, 2010
2/01/10
1:42
PM ET
Notre Dame coach Brian Kelly has added four commitments since the Irish's final recruiting weekend began, including a versatile athlete today.
Three-star recruit
Danny Spond
picked Notre Dame over TCU and others. Scouts Inc. rates him as the No. 43 athlete in this class and says the 6-foot-2, 221-pounder could play several positions, including linebacker. He could also play quarterback, as he did in high school in Colorado.
The Irish also landed defensive end
Bruce Heggie
from Mount Dora, Fla., quarterback
Derek Robak
from Waverly, Ohio, and quarterback
Luke Massa
from Cincinnati. Massa had committed to Kelly last summer when Kelly was coaching Cincinnati.
Massa, Robak and Spond add to previously signed Tommy Rees and previous commitment Andrew Hendrix to give Notre Dame five players who can play quarterback in this class. The Irish currently only have one quarterback, sophomore Dayne Crist, on the roster, and he's recovering from a torn ACl.
Kelly has always liked having many quarterbacks on the roster, and his experience at Cincinnati in a injury-riddled 2008 Orange Bowl campaign taught him that you can never have too many.