August, 15, 2013
8/15/13
10:15
AM ET
By
Isabelle Khurshudyan
| Special to ESPN.com
South Florida Bulls
Coach
: Willie Taggart
2012 record
: (16-20 career)
Key losses
: QB B.J. Daniels, RB Demetri Murray, LB Sam Barrington
Key returnees
: LB
DeDe Lattimore
, WR
Andre Davis
, DT
Luke Sager
Newcomer to watch
: TE
Sean Price
Biggest games in 2013
: at Michigan State (Sept. 7), Miami (Sept. 28)
[+] Enlarge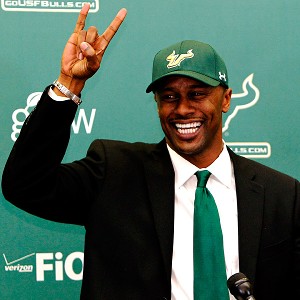 AP Photo/The Tampa Bay Times, Daniel WallaceOne of the top priorities for first-year USF coach Willie Taggart: finding the right fit at quarterback heading into the season opener.
Biggest question mark heading into 2013
: South Florida is the only American Athletic team that doesn't return its quarterback from last season. Under Taggart's new reign, the Bulls will look to
Bobby Eveld
,
Matt Floyd
, incoming freshman
Mike White
or
Steven Bench
-- a Penn State transfer. Taggart has been mum on who's leading the quarterback race thus far, telling the quarterbacks he won't make his decision until later in training camp. Having lost the three top rushers from last season, the Bulls are looking for an identity on offense under Taggart and the quarterback that will lead the young unit.
Forecast
: While many teams in the American Athletic boast a powerful offense with a rebuilding defense, South Florida has the opposite. In Taggart's first year, the Bulls have two senior defensive ends with
Ryne Giddins
and
Aaron Lynch
. Lattimore was third on the team last year with 76 tackles and is on the preseason watch list for the Butkus Award, and USF returns both of its starting safeties. In contrast, the Bulls have just three returning offensive players who started at least half of USF's games last year. Taggart will set the tone offensively, having four quarterbacks to choose from for the starting role. The most established player will be Davis, who tallied six touchdowns on 534 receiving yards.
With some of USF's players on their third coach with Taggart, he said one of the challenges has been getting players to buy into his training regimen and his system. With a schedule that has the Bulls traveling to Michigan State in the second week of the season, then hosting the Hurricanes in the same month of September, USF needs to find its chemistry sooner rather than later if it wants to capitalize on its challenging schedule.
"If we're going to be big time like I say we are, we got to play big-time people," Taggart said. "And we have great opportunities this year to do it."
In the preseason media poll, the Bulls were picked to finish fifth in the conference, just behind in-state rival UCF. Taggart took Western Kentucky from a 20-game losing streak to the school's first bowl appearance, and he wants to build the program at USF in similar fashion.
"We're a program that really hadn't lived up to our potential," Taggart said. "But it's on us. And a big reason why I'm the head coach there now is to try to get our guys to live up to the potential."
August, 23, 2012
8/23/12
11:30
AM ET
USF defensive end
Aaron Lynch
had his NCAA waiver for immediate eligiblity denied and will sit out this season, coach Skip Holtz said Thursday.

Lynch transferred to the Bulls from Notre Dame during the offseason, after playing in 12 games for the Irish last season as a freshman, with six starts. He ended the year with 33 total tackles, seven tackles for loss and 5.5 sacks.
USF held out slim hopes that the NCAA would rule in his favor. Now he must wait to be eligible in 2013.
When he is able to play, the Bulls should have some outstanding players on the defensive front.
Ryne Giddins
is going into his second year as a starter, and is poised for an outstanding season. USF also has linemen
Elkino Watson
,
Tevin Mims
,
Todd Chandler
,
Clavion Nelson
, JuJu Forte and
Luke Sager
.
The only significant player the front loses after this season is senior tackle Cory "Pork Chop" Grissom.
One other note: Holtz said reserve tight end Isaac Virgin has decided to transfer.
April, 3, 2012
4/03/12
8:00
AM ET
I had a chance to visit USF all day Monday, checking in on the Bulls to see where they stand in their quest to move on from a disappointing 5-7 season a year ago. Everybody was really great, from coach Skip Holtz, to the players, to the coordinators, so stay tuned for plenty of videos and posts in the coming days. And special thanks to everyone at USF.

Here are a few quick notes:
Holtz says he will be ready to reveal his first depth chart after the first major scrimmage of the spring Friday. The scrimmage will feature eight- to 10-play scrimmages, and there will be a set number of plays for everybody, that way each player can be evaluated. Plays will be called to get the ball in specific players' hands. One big key for the offense -- there will be no designed runs called for B.J. Daniels. Offensive coordinator Todd Fitch said he wants to see his offense run without relying on Daniels. In each of the past three seasons, Daniels has had more than 100 carries.
Two players who have stood out on the defensive line this spring: junior college transfer Tevin Mims at end and Luke Sager at tackle. Mims initially signed with Texas before transferring to Navarro Junior College. Holtz praised him for his early progress this spring. Sager, meanwhile, has done a nice job in competition with Elkino Watson for the open tackle spot. It's not a foregone conclusion that Watson wins the starting job.
Sophomore Austin Reiter has done a nice job stepping in at center for Chaz Hine, and looks to be the front-runner to win the starting job. Fitch had high praise for Reiter, who played sparingly a season ago.
Fidel Montgomery, Josh Brown, Kenneth Durden and George Baker are competing for the open cornerback spot. Coaches are pleased with how far Montgomery and Brown have come in their short time on campus since transferring in from junior college. Working on building depth in the secondary is a major spring priority.
Linebacker play was a strong part of the Kansas State defense last year under defensive coordinator Chris Cosh, and he really is working with his group this spring to make sure there is much better communication between the front and the back end. He highlighted DeDe Lattimore in particular, as a player who is starting to play much better against the pass. Depth is an issue at this position.
Stay tuned for plenty more!
April, 4, 2011
4/04/11
9:30
AM ET
South Florida held a spring game on Saturday that wasn't really a spring game, as the Bulls still have another scrimmage next weekend. But they were in Raymond James Stadium and getting after it in front of the fans, so let's review the particulars.

The unexpected star of the show was true freshman quarterback Matt Floyd, who finished 20-of-34 for 233 yards and a touchdown. That included 6-of-7 passing against the first-team defense, as Floyd saw more snaps than planned because
Bobby Eveld
got hit in the jaw early. With
Jamius Gunsby
taking the rest of the spring off to fix his academics, Floyd could rise to No. 3 or even higher on the quarterback depth chart.
Starting quarterback
B.J. Daniels
was less sharp, completing just 13 of 29 passes for 145 yards and an interception. Dropped passes marred the offense's day, and head coach Skip Holtz was not happy about it. Consistency in the passing game, of course, was a big problem for last year's team.
"It was pretty discouraging watching the passing game," Holtz said. "Defensively, they ran every blitz known the man. But I thought just the way we executed the passing game was really poor. ... We're definitely going to have to get better at that if we're going to have any shot as an offensive football team."
Demetris Murray
led the team in rushing with 10 carries for 57 yards. Transfer
Darrell Scott
didn't get much of a chance to impress; he pulled a hamstring early on and will miss the rest of the spring.
The defense controlled things most of the way. Luke Sager had two sacks, while Quenton Washington and Mark Joyce each had interceptions.
"It was ugly to watch," Holtz said of the scrimmage.
The game drew only 2,493 fans, a staggeringly low turnout for a spring game. Perhaps fans are waiting to attend this Saturday's on-campus scrimmage.
February, 16, 2011
2/16/11
9:00
AM ET
Here is Part II of my pre-spring interview with South Florida coach Skip Holtz, in which we look forward to spring practice and the 2011 season. You can read Part I
here
. And if you missed Holtz's comments on his quarterback situation, you can find those
here
.
You don't bring back a lot of starters. But considering how many guys you played last year, how comfortable do you feel with your returning experience this season?

Skip Holtz:
I do feel like we return quite a bit of experience. You look at a guy like Mark Popek on the offensive line, who didn't start but played quite a bit, and Danous Estenor played quite a bit. Obviously
Bobby Eveld
started one game. I'll just use the quarterback position: last year in the spring, we had one quarterback on scholarship; this spring we're going to have four. I look at the improvements we've made there from a competitive standpoint.
[Tight ends]
Andreas Shields
and
Jeff Hawkins
played. We had a number of running backs play. I look on the defensive line and we played four defensive ends and even though we graduated two of them, Ryne Giddins, Patrick Hampton and Julius Forte played just as much as the starters did. We played about seven linebackers a year ago, so even though we lost three, you return four with a significant amount of experience. I think we redshirted some really good players. We return all four of our safeties a year ago. We played three cornerbacks and two of them return.
So I think we have a great nucleus to build on. I definitely feel like we're much farther ahead than we were a year ago at this time.
You brought in three transfers from other BCS programs last year. Can you tell me about each of them?

SH:
I'm really excited, and I'll start with the running backs. When we came in here a year ago, all of a sudden [Mike] Ford and [Jamar] Taylor were dismissed from the team. You start looking ahead and say Mo Plancher is going to graduate, and we're going to have a hole at the running back position. So we brought in some transfers in
Darrell Scott
from Colorado and
Dontae Aycock
from Auburn, and I think they're both very very talented players who are working extremely hard. They were both very impressive on the scout team with their attitudes and their work habits.
Darrell Scott came in about 240 [pounds]; he's down to about 226 and looks great. I think both of them are definitely going to be guys who make an immediate impact, and that's why we didn't sign a lot of junior college guys -- there was only one junior college player in our class. I think guys like Aycock and Scott are going to make a huge difference. And then a young man who transferred from Notre Dame,
Spencer Boyd
, is going to bring some depth to us in the secondary, where we graduated Mistral Raymond. He's a great athlete, and he's going to have an opportunity to come in and compete for time.
You had a good running game but not a lot of explosive gains there last season. How much can the new guys help that?

SH:
We didn't have a lot of big plays there, you're right. Both Dontae Aycock and Darrell Scott are bigger running backs. Mo Plancher was about 200, Demetrius Murray was about 200 pounds, where Darrell Scott is 226 and Dontae Aycock is about 230. I think they're bigger, stronger running backs who are going to be able to break more tackles maybe than we have in the past, and when I watch those two guys run, they've shown me some big-play potential. So I'm really excited to see how they develop and mature as we go through spring practice and fall camp.
How are receivers A.J. Love and Sterling Griffin coming along from the injuries that kept them out all of last season?

SH:
Well, it's nice to have them both back. A year ago we had four players returning with any type of experience at receiver, and Carlton Mitchell left early for the NFL before we got here. All of a sudden A.J. Love gets injured in the spring game, and Sterling Griffin gets injured in the summer.
Dontavia Bogan
had a great year for us, and what happened was a lot of these young guys got a chance to get experience last year. And then when you add A.J. Love and Sterling Griffin back to the mix, I think we'll be much deeper there. Plus, I'm excited about a couple of young signees we have that are coming into the program this season. But I think we'll be much deeper at that position, we'll be more experienced and we'll have more playmakers than we had a year ago.
Did it feel like, offensively, you were playing with one arm tied behind your back at times last year?

SH:
It really did, with our limited big-play potential in the running game and how inexperienced we were at the receiver position. But
Evan Landi
came on and gained some great experience. Terrence Mitchell converted over to wide receiver halfway through the year and made an impact. Steven Bravo-Brown got better,
Joel Miller
had a great game against Miami. And with those guys gaining that kind of experience and then being able to throw A.J. Love and Sterling Griffin in there, it may be one of the most experienced positions on our football team.
[+] Enlarge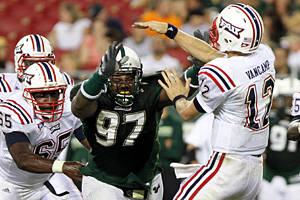 Kim Klement/US PresswireSouth Florida's departing defensive tackle Terrell McClain leaves big shoes to fill this coming season.
Defensively, it seems like Terrell McClain will be the hardest guy to replace. I know Bruce Feldman had some nice words about Todd Chandler the other day. How do you see the defense being able to replace McClain?

SH:
It's hard to replace a guy like Terrell McClain as a senior, whom they're talking about as a possible first-day draft pick, with a redshirt freshman. Keith McCaskill was solid for us last year and he's going to have to play more for us. Cory Grissom is going to be a year older as a starting nose guard. We're going to have to get a little more out of him.
Anthony Hill
is a guy who played a limited role for us a year ago that's going to be a junior; both him and Luke Sager, I expect more out of them. And then you hope Todd Chandler continues to mature into that position. And then there's a signee like Elkino Watson, who came in with an awful lot of accolades and is a talented player.
There are an awful lot of players there, and I don't think we're going to ask just one player to pick up that slack, that hole in the bucket left by Terrell McClain. We're going to ask a number of players to step their game up and fulfill that void.
Your season opener this year is at Notre Dame. How much does that help motivate everybody this offseason?

SH:
I think it's huge as a far as a motivational factor. I remember being at Notre Dame, and we used to open with Michigan every year, when I was at East Carolina, we opened with Virginia Tech. And what that does for your players' focus as they go into winter workouts and spring practice and summer conditioning and fall camp, it just keeps their focus maintained with what's on the horizon. Having the opportunity to play Notre Dame as a young football program like we are, I think it creates an awful lot of excitement in our program, and it's something I know the players are looking forward to.
Have you talked much with your dad about that game yet?

SH:
No, not enough yet. We'll get into that more as we get into summer breakdown. Right now, as we started winter workouts and are getting into out new practice facility, we're just trying to see where our players are and what we can do. Every team has a life expectancy of one year, and this time of year you start to put the pieces together. We're working on our own strengths and weaknesses before we start looking at our opponent and what they can do.
But I know they finished the season with wins at Southern Cal and a lopsided win against Miami. So I know it's going to be a great challenge, it's going to be a tall order. But it's going to be something as a young program that our players and fans are really looking forward to. It's going to be interesting to see what colors Dr. Lou is wearing that Saturday.
The team is drawing some offseason buzz because of how you finished. How do you address that, if at all, with the players?

SH:
I think it's a huge compliment to what this team has accomplished and a huge compliment to this program for what we've been able to accomplish in such a short period of time. The thing for us is, we've just got to stay focused on the task at hand. You start sitting around reading the newspaper articles and drinking the Kool-aid and start believing what everybody starts writing about you, your focus isn't where it needs to be as far as getting a team ready, getting it focused and getting ready for a season. I think it's nice to be able to have that type of exposure for our program, for our fan base and for our players, that they've earned and deserved.
But I think there are two aspects of building a program: I think you have to start by learning how to win, and then once you learn how to win as we started to do toward the end of last season, I think there's a whole another process that goes into being able to handle winning. That becomes maintaining your focus and not getting sidetracked by the circus of college football that goes with the media exposure and everything else.
I suppose that's a nice problem to have.

SH:
I'd much rather be here than still trying to learn how to win.