October, 8, 2013
10/08/13
9:00
AM ET
Jared Abbrederis
was initially set to join Wisconsin's track and field team until he was offered a preferred walk-on football spot shortly before camp started in 2009. He has since grown from a guy with no FBS offers out of high school to a guy few FBS secondaries have been able to slow down over the past four years.
In between, he has grown, well, kind of old. He got married two springs ago. He will be 23 if and when Wisconsin closes its season in a bowl game. Three years ago, he hosted his current quarterback,
Joel Stave
, on Stave's official visit. The two have since connected for seven scores over the last two seasons, and even Stave sometimes gets that
you again?
feeling that Big Ten defensive coordinators have become all too familiar with.
"That seems like forever ago for me," Stave said of his visit. "And the fact that he's still the playing is pretty incredible. But he's continued to do such a good job for four years. He's one of those guys you don't mind having stick around."
[+] Enlarge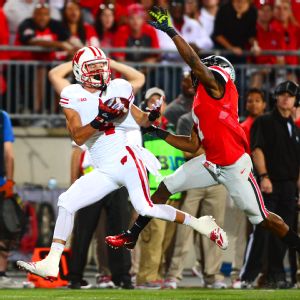 Andrew Weber/USA TODAY SportsJared Abbrederis has gone from walk-on to go-to wide receiver for the Badgers.
Abbrederis has stuck around for three Big Ten titles. He is one of the conference's top receivers, trailing only Penn State's
Allen Robinson
in catches and receiving yards per game, and he is coming off a career day at Ohio State, where he torched All-America corner
Bradley Roby
for 10 catches, 207 yards and a touchdown.
But Abbrederis would rather avoid such sidebars. That Buckeye game was a loss -- his Badgers' second this year, two weeks after an officiating gaffe cost them a chance to win at Arizona State -- and that was all that mattered. Wisconsin's last 12 losses since 2010 have all been decided by a touchdown or less, including three tight Rose Bowl defeats, leaving an admonition that continues to drum inside the senior's head.
"He's been around for some unbelievable losses," Wisconsin receivers coach Chris Beatty said. "So that's where I think a lot of it comes from -- 'Hey, I just want to win,' and it doesn't matter.
"He's one of those guys that says, 'Hey, if it means I've got to push, crack and go block a safety, I'll go block a safety. I just want to win. It doesn't matter if I'm catching passes or not.' And that's the most evident thing to me, is he's just a winner. Stats and all that stuff are secondary."
Abbrederis leads the Badgers in receiving yards (114.4 ypg) for the third straight season. His exploits as a return man were highlighted in 2011, when he finished third nationally in punt return average (15.75). He was still a walk-on that season, just like his first two years in Madison, paying to play while enduring a nagging toe injury as his seemingly imminent scholarship was delayed a year after Wisconsin added a quarterback transfer by the name of Russell Wilson.
Both Beatty and first-year Wisconsin head coach Gary Andersen were familiar with Abbrederis before their arrivals in Madison, since their former schools (Illinois and Utah State, respectively) faced Wisconsin last year. Abbrederis missed the meeting with the Aggies because of a concussion and a chest injury. That was the only college game he has sat out.
This past July, he showed up to Big Ten media days in Chicago sporting marks under both eyes, a result of a broken nose suffered during summer workouts.
"You get what you see with Jared," Andersen said. "There are no secret agendas, no hidden agendas. He comes to work every day and he has a smile on his face. He loves life. That was my first impression of him and that carries through today."
Beatty was initially struck by the size of Abbrederis, who is listed at 6-foot-2, 190 pounds and whose prep coach said he was 175 pounds soaking wet as a high school junior. Then, he was hanging with some of Wautoma High's offensive linemen by squatting upward of 390 pounds. One year earlier, a broken right femur and ACL injury had cost him most of his first year as the varsity's starting quarterback, leaving him wheelchair-bound for parts of his recovery before he made it back in time to place in that spring's state track and field meet.
"That was the start of seeing that 'If there's a challenge, I'm going to rise above it,'" said former Wautoma assistant and current head coach Mike Klieforth. "And he's done that every time he's had that challenge; he's met it and exceeded it."
"

You get what you see with Jared. There are no secret agendas, no hidden agendas. He comes to work every day and he has a smile on his face. He loves life. That was my first impression of him and that carries through today.

"

-- Wisconsin coach Gary Anderson
Abbrederis has risen from walk-on to go-to threat while playing for three offensive coordinators in the last three years, but signature wins have remained just out of reach -- be it the trio of shortcomings in Pasadena, the three different overtime defeats in 2012 or the 2011 loss at Michigan State, a game that ended with Abbrederis, moonlighting as a defensive back, mistiming his jump on a Hail Mary that deflected into a completion for the Spartan win.
"We've been in some big games, some close ones, came up in short in a lot of them," said Abbrederis, who gained 346 all-purpose yards but lost a fumble late in a Rose Bowl loss to Oregon two seasons ago. "But I think that's just Wisconsin. The way we work, you always kind of have that chip on your shoulder to improve and get better, kind of always the underdog. So it's just the mentality, and also just being a walk-on, you kind of have that chip on your shoulder to make it and get better."
Abbrederis has caught the attention of former Badger walk-on receiver Luke Swan, now in his third year with the program as a graduate assistant. Swan sees a lot of himself in Abbrederis -- another undersize, in-state native with a strong Christian faith who grew into a starting role. And Swan appreciates his new pupil's need for feedback and initiative to get better.
"He really takes things personal, whether it's individual failures or team failures, they're very much links for him," Swan said. "He sees the small margin for a win and a loss, the small margin between being good and being great as a team. So I think he kind of has that constant quest of understanding that big perspective."
Five years ago, before his final high school game, Abbrederis wanted to show his teammates how much they meant to him. He penned a letter thanking them all, and it was passed around on the 90-minute bus ride to Camp Randall for the WIAA Division 4 state title. Then Wautoma went out and blanked previously undefeated Big Foot, 20-0, with Abbrederis rushing for one touchdown, throwing for another and picking off two passes.
Said then-Wautoma coach Dennis Moon: "You just want to play to the best of your abilities, above and beyond your abilities, when you've got a guy like that around you."
March, 27, 2012
3/27/12
10:30
AM ET
Two springs ago, a walk-on wide receiver with a funny name began generating buzz at Wisconsin's practice.
Some who watched
Jared Abbrederis
quickly brought up the name Luke Swan, another Badgers walk-on receiver who eventually became a starter and a team captain. Two years later, the comparisons don't seem far off at all.
"That feels like it was a decade ago," Abbrederis recently told ESPN.com. "It's crazy how it works. I feel so much older, so much more confident on the field and with this team. Now I'm just trying to get better."
[+] Enlarge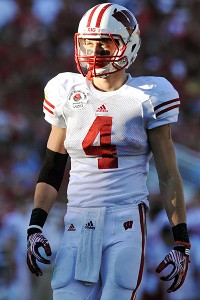 AP Photo/Cal Sport MediaJared Abbrederis is now the Badgers' top receiver after starting his Wisconsin career as a walk-on.
He'll start by getting healthy as a toe injury has sidelined him for the start of spring drills. Abbrederis played through the injury for part of last season but will sit for a chunk of spring ball to fully heal.
When he does, he'll move into a new role as Wisconsin's No. 1 wide receiver. The Badgers must replace top wideout
Nick Toon
(64 catches, 926 yards, 10 touchdowns), and with a new, yet-to-be-named starting quarterback stepping in, they need a big year from Abbrederis, who led Wisconsin with 933 receiving yards and finished second in both receptions (55) and touchdown receptions (8).
While Abbrederis (pronounced ab-bruh-DAIR-is) already has far exceeded expectations for a former walk-on -- he
received a scholarship in January
-- Wisconsin will lean on the junior even more in 2012.
"I miss not being out there, attacking the defense and having fun, playing football," he said. "I'm excited to get back and be that No. 1 guy."
For now, he's helping Wisconsin's younger receivers and the walk-ons who dream of following his path. He's also getting acquainted with Wisconsin's revamped offensive staff, which features four new assistants, including coordinator Matt Canada and receivers coach Zach Azzanni.
Although the Badgers' offensive structure will remain more or less in place, Azzanni is bringing a different voice to the receiver room.
"He's really big on fundamentals," Abbrederis said. "In order to run a dig, we'll have three different steps into it. It's good to have some new advice coming because I've been around the other coaches for three, four years. Now if I get a new set of ideas in here, I can take my game to another level."
Abbrederis elevated his play in 2011, more than doubling his totals for receptions, receiving yards and receiving touchdowns from the previous season. Arguably no player benefited more from quarterback
Russell Wilson
's arrival than Abbrederis, an outside speed threat who thrived in Wisconsin's dynamic downfield passing game. The lone downside: Wilson's arrival from NC State
prevented Abbrederis from getting a scholarship sooner
.
Wilson is gone now, and while Abbrederis likes what he sees from Wisconsin's quarterbacks early in spring ball, there is plenty of uncertainty under center.
"People are going to grow up, younger guys are going to step up," he said. "That's what college football is all about."
Wisconsin's success is largely about players like Abbrederis, who had no FBS offers coming out of high school despite leading Wautoma High to a state title in football and twice winning state titles and setting the state record in the 110-meter hurdles. Wisconsin invited him to walk on at receiver but also play some quarterback on the scout team.
Three years later, he's the Big Ten's leading returning receiver entering the 2012 season. He also excels as a punt returner, leading the Big Ten and ranking third nationally in average runback (15.8 ypr).
Abbrederis played quarterback and defensive back at Wautoma, and the coaches didn't want to risk him as a return man. Wisconsin had no such reservations, and Abbrederis returned seven punts in 2010 before becoming the primary returner last fall.
"It was kind of like being a quarterback in the shotgun," he said. "You've got all these guys coming to you, and you've got to try and make them miss. Once you make one or two of them miss, you should have the whole field to go score. So it kind of comes natural."
Abbrederis should return to the field before the end of spring practice. He'll then take an important step off the field May 26, when he gets married. Abbrederis has received some marital tips from Wilson, who tied the knot in January. Badgers coach Bret Bielema, whose wedding took place earlier this month, might be another resource.
"We haven't talked about it yet," Abbrederis said. "I figure I'll leave him alone for a little bit. Maybe once I get married, I can take some advice."
Indeed, the spring of 2010 feels long ago. But Abbrederis is focused on the future, and helping Wisconsin maintain the momentum it has generated with back-to-back Big Ten titles.
"Growing up as a Wisconsin kid, you want to see the Badgers do well," he said. "It's something that weighs heavily on me. I've got to make sure we keep this tradition going."
Abbrederis already has.
Posted by ESPN.com's Adam Rittenberg
Here's what's happening in your neck of the woods.