May, 23, 2012
5/23/12
10:30
AM ET
Our theme today, as part of our "Love to hate" week at ESPN.com, is "Left in the lurch." This is about coaches who bailed out on a Pac-12 program at an unexpected or awkward time. We're not including Urban Meyer leaving Utah for Florida or Jim Harbaugh leaving Stanford for the San Francisco 49ers because their departures were not unexpected and came only after unprecedented success.
Of course, these situations vary greatly in terms of circumstances and reaction. There aren't many college football jobs out there considered better than one in the Pac-12, so most of the coaches who bailed out on their programs left for the NFL.
But here is a sampling from the Pac-12. Feel free to provide your own thoughts below.
[+] Enlarge

AP Photo/Don RyanPete Carroll stunned USC fans when he left after the 2009 season to coach the Seattle Seahawks.

California got dogged twice. First, after going 10-2 in 1991, Bruce Snyder bailed on the Golden Bears for Arizona State. It's rare for a coach to jump from one conference program to another, and it certainly hurts more. Then, in 1996, Steve Mariucci lasted just one year in Berkeley before jumping aboard with the San Francisco 49ers.

Dennis Erickson twice left Pac-12 teams for sunnier pastures (at least in theory). After two years at Washington State, Erickson bolted for Miami after the 1988 season. Then, after a strong run at Oregon State from 1999-2002, Erickson left Corvallis for the San Francisco 49ers. He has repeatedly said that was the worst move of his career.

Dick Vermeil lasted two seasons at UCLA. After going 9-2-1 in 1975 and upsetting No. 1 Ohio State in the Rose Bowl, he left for the Philadelphia Eagles.

Rick Neuheisel shocked many when he left Colorado for Washington before the 1999 season for a million-dollar contract, which was at the time considered exorbitant. He left behind NCAA sanctions for the Buffaloes and immediately got into trouble with the Huskies. It didn't make folks in Boulder feel any better when the Huskies and Neuheisel swept a home-and-home series over the next two years.
But two departures really stand out.
Don James is on the short list of greatest college football coaches of all time. In 18 seasons at Washington, from 1975 to 1992, he won a national title and four Rose Bowls. He went 153-57-2 (.726) and set a then-record of 98 conference victories. From 1990-92, the Huskies won 22 consecutive games.
He is the Dawgfather.
And that's why many Huskies fans will tell you the lowest moment in program history is when he resigned in protest of NCAA and Pac-12 sanctions on Aug. 22, 1993. (James really, really didn't like Washington president William Gerberding and athletic director Barbara Hedges, either).
His resignation just before the season forced Washington to promote defensive coordinator Jim Lambright, a good man and a good defensive coordinator but not an ideal fit as head coach. Other than a Rose Bowl victory after the 2000 season under Rick Neuheisel, things have never been the same in Husky Stadium. Not yet, at least.
A more recent shocker: Pete Carroll bolting USC after the 2009 season for the Seattle Seahawks.
Carroll's hiring in 2001 was widely panned, but all he did thereafter was build a college football dynasty, winning national championships in 2003 and 2004 and falling just short of a third consecutive title in 2005 in a thrilling loss to Texas. He went 97-19 (.836) in nine seasons (11-2 versus rivals Notre Dame and UCLA), won six BCS bowl games and finished ranked in the AP top-four seven times. He won 34 consecutive games from 2003-05 and coached three Heisman Trophy winners and 25 first-team All-Americans.
So, yeah, he accomplished a lot. And many thought he would coach USC for life, though many others also suspected the lure of the NFL would prove too much.
It was the timing of his sudden, stunning departure that frustrated many Trojans fans. While Carroll has repeatedly denied oncoming NCAA sanctions had anything to do with his decision to leave, that's a hard line to buy. He skipped town after a 9-4 season that featured blowout losses to Stanford and Oregon and left behind a team with a two-year bowl ban and deficit of 30 scholarships over three seasons.
Still, not unlike how James is viewed by Huskies fans, Carroll is mostly spared the wrath of Trojans fans because of what he accomplished.
There's no question, however, that both programs were left in the lurch.
May, 23, 2012
5/23/12
9:13
AM ET
Leaving one's job can be pretty awkward. For college football coaches, it usually is. Rarely do we see an amiable mutual parting in these situations.
As we continue to take a look at the coaches we love to hate this week, we're looking at SEC coaches who have left their respective schools in a lurch.
We already discussed Bobby Petrino's
more than awkward departure at Arkansas
, so we're going with three other recent departures that happened unexpectedly.
Let the bad memories return:
[+] Enlarge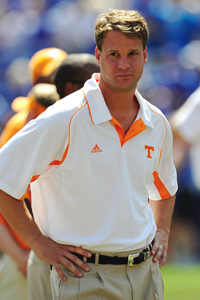 Sam Greenwood/Getty ImagesLane Kiffin was 7-6 in his one season at Rocky Top and was cited for failure to monitor an atmosphere of compliance within the Vols program.
Lane Kiffin, Tennessee:
He left for USC in 2010 after one season at Tennessee. Kiffin replaced longtime Tennessee coach Phil Fulmer in 2009 and was immediately confrontational with other SEC coaches, and that sort of arrogance was something that had to be a little attractive to Tennessee's fan base. However, his lack of production on the field made his pompous attitude laughable. Through all the chirping, he delivered a 7-6 season, which might go down as the most celebrated 7-6 season in SEC history. He talked so much about all the good things he'd do at Tennessee, but whined about not having enough talent. Then he built up his first signing class, but it eventually turned into nothing more than a paper tiger. Kiffin suddenly left Tennessee for USC just three weeks before national signing day in 2010. During his uncomfortable news conference, in which he announced his departure, Tennessee fans showed up in droves to wish him a not-so-safe trip to Cali. Kiffin left under the protection of police and left Tennessee with an NCAA cloud hanging over its head, which got the school a visit from the NCAA infractions committee. Kiffin and his staff's recruiting practices prompted an investigation that resulted in two years of probation for Tennessee. The NCAA found that Kiffin and his staff had committed 12 secondary violations, but Kiffin wasn't penalized. Derek Dooley took over for Kiffin in 2010 and has dealt with a laundry list of player and attrition issues. He has gone 11-14 in his two years.
Urban Meyer, Florida:
He announced that he'd be stepping away from coaching in 2010, but is now coaching at Ohio State. There was no question that Meyer was one of the best coaches to swing through Gainesville. During his six-year tenure, he won two national championships and took the Gators to three SEC championship games. But it was the way he left that sent Gator Nation into a frenzy. First, he announced his retirement for health reasons a couple of weeks after the loss to Alabama in the 2009 SEC championship game. His retirement barely lasted 24 hours, but Meyer and Florida were never the same. The 2010 season was a major step back, as Florida went 8-5, and Meyer stepped away again after the regular season concluded. Meyer said he was taking time off because of his health and his desire to spend more time with his family. Then, he took over at Ohio State (one of his dream jobs) for the fired Jim Tressel. But it wasn't just leaving Florida for a Big Ten school barely a year later that upset Florida fans. It was the fact that he left new coach Will Muschamp with what Meyer himself deemed a broken program. Muschamp dealt with discipline and attrition issues during his first season, in which he went 7-6. While Meyer was the king of winning the recruiting ranking game, he too often missed on character.
Tommy Tuberville, Ole Miss:
He left Ole Miss after the 1998 season for Auburn. Tuberville took over a struggling Ole Miss program in 1995 and helped the Rebels to three winning seasons in four years. But four years wasn't what the Ole Miss faithful expected to get from Tuberville; he made it seem that he would be there for much longer when he uttered those now-infamous words: "They'll have to carry me out of here in a pine box." That pine box apparently had to be filled with money, as just a couple days after he emphatically stated that he wanted to stay in Oxford and be the Rebels' coach, he took a pay raise that doubled his salary and headed off to Auburn. Soon after Tuberville left without so much as telling his players, Ole Miss fans donned T-shirts inspired by the movie "Liar, Liar" with Tuberville's face on them instead of Jim Carrey's. Tuberville went 7-3 against his old team during his time at Auburn. David Cutcliffe, Tuberville's replacement, guided Ole Miss to five winning seasons in his six years, including a 10-win season that ended with a Cotton Bowl victory.
May, 23, 2012
5/23/12
9:00
AM ET
Don't you just hate it when a coach suddenly leaves, and your team is left in the lurch? The future of the program seems to hang in the balance without a sense of direction or leadership.
Imagine how North Carolina's players feel. First Butch Davis was fired, and then they had to prepare for and play in a bowl game knowing interim coach Everett Withers was leaving for Ohio State.
Our "coaches we love to hate" theme continues today with coaches who have left teams in a lurch -- at unexpected or awkward times. It might have been for another job, because of a scandal, or a disagreement with the administration. Whatever the reason, they're no longer coaching in the ACC.
Here are three of the more memorable departures in recent years in the ACC, and you'll notice a trend here: They're all in the Atlantic Division:
[+] Enlarge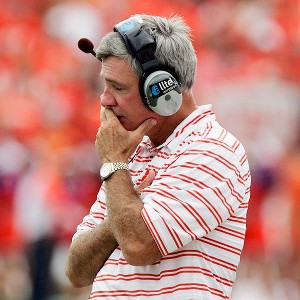 AP Photo/Mary Ann ChastainFailing to meet lofty expectations cost Tommy Bowden his job at Clemson in 2008.
1. Former Clemson coach Tommy Bowden:
There's getting fired, and then there's getting fired in October. In 2008, Bowden was fired four days after Clemson lost to Wake Forest. The Tigers were ranked No. 9 that year in the Associated Press preseason Top 25 and had been favored to win the ACC. Instead, Clemson started out 3-3, including a thud on the national stage with a 24-point loss to Alabama. Quarterback Cullen Harper added to the drama when he said Bowden deserved to be fired. After a decade of coming up short, Bowden offered to resign. Even though it happened midseason, it didn't come as much of a surprise, considering Clemson had lost to Maryland and Wake Forest, starting out 1-2 in conference play. Dabo Swinney was named interim head coach for the rest of the season and took over the team heading into the Georgia Tech game. It was an emotional week for the Tigers, who lost to the Jackets 21-17. Swinney instituted a new tradition in the Tiger Walk. He started a new quarterback, Willy Korn. And eventually, he did what Bowden could not, and won the school's first ACC title since 1991.
2. Former Boston College coach Jeff Jagodzinski:
This story was about defiance. Athletic director Gene DeFilippo had specifically told Jagodzinski he could not interview with the Jets. He would be fired if he did. Jagodzinski did it anyway. And he was fired in January 2009. "I did everything in the spirit of the contract," Jagodzinski told ESPN that year. DeFilippo said Jagodzinski was fired "without cause." Jagodzinski lasted only two years at BC, and he had three years remaining on his contract. He was a smug coach, but he was also successful. In just two seasons, Jagodzinski led the Eagles to back-to-back ACC title games, losing both to Virginia Tech. They were 11-3 his first season, and ranked as high as No. 2 nationally. (Yes, we're still talking about Boston College). It was Jagodzinski's first head-coaching job. A year later, Jagodzinski was fired by Tampa Bay. The following year he was fired by the UFL's Omaha Nighthawks. Interviewing with the Jets was one costly decision.
3. Former Maryland coach Ralph Friedgen (and his coach-in-waiting):
This one is still puzzling. The ACC's 2010 Coach of the Year was fired and replaced by the Big East Coach of the Year. The ACC's 2010 Rookie of the Year was benched in favor of an inexperienced backup. Under that game plan, a nine-win bowl season deteriorated to a two-win disaster.
Huh?
"It didn't need to end this way," Friedgen told Mike Wise of the Washington Post.
Ironically, it didn't end after his 2-10 season in 2009. Instead, Friedgen was given the opportunity to pull the program together, and he managed to do that with a respectable eight-win regular season and a win in the Military Bowl, Friedgen's final game as head coach.
Athletic director Kevin Anderson, who at the time was new to the job, originally told Friedgen he would return for 2011. Anderson had issued a written statement saying that Friedgen would be allowed to coach the final year of his contract.
Friedgen called for an extension, and Anderson called an audible and gave Friedgen his buyout notice. Meanwhile, Friedgen's successor, James Franklin, left to become head coach at Vanderbilt. In a matter of a week, Maryland went from having the coach of the year and his successor, to having no coach at all -- intentionally.
May, 23, 2012
5/23/12
9:00
AM ET
It is well documented that coaches leave the Big East -- in less than graceful ways.
But I contend that nobody left their program more in the lurch than Todd Graham at Pitt.
What he did was cold and callous, resigning after he was not given permission to interview at Arizona State last December. Refusing to open the door when Pitt officials came knocking. Sending out a goodbye text to his players, the very ones he sold on honor, loyalty, trust and commitment. Now, this does not make him different than many other head coaches, who say one thing today and are gone tomorrow.
[+] Enlarge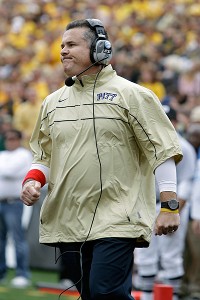 AP Photo/Charlie NeibergallTodd Graham's departure forced Pitt to find its fourth head coach in a two-year span.
What makes his situation different are the circumstances surrounding his departure. Yes, Greg Schiano left Rutgers in the lurch for the Tampa Bay Bucs, less than a week before signing day. But he had been at Rutgers for 11 seasons and built a successful program on his own. Maybe you overlook some of the more unsavory details about the way he left because you can appreciate what he did while in New Jersey.
Graham? He stuck around for one miserable 6-6 season. He did nothing but hurt Pitt. Because his one-year tenure left the Panthers looking for their fourth head coach in a two-year span. No other program has had to deal with that type of coaching turnover. Most importantly, no player has had to deal with that type of coaching turnover.
If college football is supposed to be about the student-athlete experience, then I cannot imagine anybody at Pitt can say they have had an unbelievable time when you consider the drama.
Dave Wannstedt recruited this group of seniors. Then he got fired after delivering a share of the Big East title. New coach Mike Haywood came along from Miami (Ohio). He was then fired after less than three weeks on the job after an arrest on domestic violence charges. In came Graham, who arrived selling high-octane football in a blue-collar Pennsylvania town. Was he all about the Pitt student-athletes?
Not if you consider billboards around the city with his face on it. Not when you consider the way he criticized his players for failing to pick up his prized system. Not when you consider the way he treated quarterback
Tino Sunseri
. It was
always about Graham
, which is why he ultimately left. The job was a mistake, he says now. His kids did not like Pittsburgh, he says now. Yet during the season, his wife proudly posted photos of herself and her kids in Pitt jerseys before games and practices.
He failed Pitt, and he failed his players, who came out on Twitter to blast him publicly for the way he left. Not one player ripped into Schiano. That shows you the big difference between the two.
Now, the Panthers players have to start over again. Sunseri has to learn his third offensive system in three years. Who can blame him for being slow to pick it up this spring? Changing playbooks once in four years is hard enough. Doing it three times in three years is almost too much to ask. Credit the Pitt players for not complaining about the lot they have been given.
They are happier to have new coach Paul Chryst, a man who at least seems to want to put roots down in Pittsburgh. He is going back to the way Pitt likes to play offense, another positive step. If hindsight is 20/20, Pitt should have just hired Chryst instead of Haywood when it had the chance. Instead, the Panthers went through an unnecessary and overly straining rigmarole.
Pitt is hoping all that is in the past. It cannot afford to have another coach leave it in the lurch yet again.