January, 1, 2010
1/01/10
11:44
AM ET
LOS ANGELES -- Ohio State's greatest teams this decade are usually remembered for having a featured back.
In 2002, Maurice Clarett rushed for 1,237 yards and 16 touchdowns as Ohio State went on to a national championship.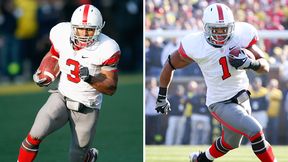 Getty ImagesBrandon Saine and Dan Herron have accounted for about 53 percent of the Buckeyes' rushing attempts this season.
In 2005 and 2006, Antonio Pittman carried the load for the Buckeyes, combining for 2,564 rushing yards and 21 touchdowns.
Pittman turned things over to Chris Wells in 2007 and 2008, and "Beanie" combined for 2,806 rush yards and 23 scores.
Those ball carriers had support, whether it was another running back like Lydell Ross or Wells (for Pittman) or a quarterback like Troy Smith (for Pittman) or
Terrelle Pryor
(for Wells). But Ohio State usually boasts a clear-cut bell cow in its backfield.
The 2009 Buckeyes won't be remembered for a featured back, but they could be remembered for a tandem that helped to end the school's BCS bowl slump.
Junior
Brandon Saine
and sophomore
Dan Herron
shared the rushing load this fall along with Pryor, who leads Ohio State with 142 attempts and 707 yards. Pryor accounts for 27.7 percent of Ohio State's rushing attempts, while both Saine (131 attempts, 25.6 percent) and Herron (139 percent (27.1 percent) have similar pieces of the carries pie.
Saine and Herron played huge roles in Ohio State's November surge to the Big Ten title. They combined for 200 rush yards and three touchdowns in Ohio State's
27-24 overtime win
against Iowa, which clinched the league championship. One week later, the two backs combined for 180 rush yards and a score against Michigan.
"As the season went on, we got better together," Saine said. "We know we have a huge role in these games, so we really work together."
Herron played a more prominent role last year after Wells missed three games with a toe injury, and he started the first four games of this season. Saine, who battled injuries throughout his first two seasons, took on a lead role after Herron had ankle problems early in Big Ten play.
But throughout the fall, the two backs kept the communication lines open and helped each other prepare for a critical November push.
"It's helped me just to have a guy who's out there just like you are, who sees things when he's not in and I'm in," Herron said. "We fed off each other, telling what we can get better, picking up blocks, whatever it is. At the beginning of the season we had a little slow start. We both had a couple injuries we went through.
"The last couple games, things really picked up for us."
Though Saine is bigger (6-foot-1, 217), he's more of a big-play threat on the edges, as he showed with touchdown runs of 49 and 29 yards against Iowa and Michigan, respectively. He has the nickname "Zoom" for his breakaway speed.
The 5-foot-10, 193-pound Herron is a hard-charging, low-to-the-ground, between-the-tackles runner, and goes by the childhood nickname "Boom" for obvious reasons.
"He's got a quick first step and a burst," Saine said of Herron. "That works well for him. He can get through the hole before the defenders are ready."
Herron never senses any jealousy between him and Saine, and when one back succeeds on the field, he motivates the other to do the same.
"To have a good team, you need to have a couple good guys ready to carry the mail, and those are two good ones," head coach Jim Tressel said. "They don't care how many carries they get, they don't care who gets called upon when, they just want to do what they can to help the team, and we're fortunate to have two kids like that."
November, 19, 2009
11/19/09
11:32
AM ET
As they do every season, Ohio State fans had plenty of burning questions about a Buckeyes running back this fall.
Jaamal Berry
.
[+] Enlarge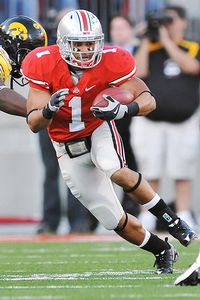 Jamie Sabau/Getty ImagesDaniel Herron had a heavy workload against Iowa, carrying the ball 32 times.
They wondered when Berry would see the field, how his injured hamstring was progressing and whether head coach Jim Tressel would end up redshirting the highly touted freshman from Miami. These questions peppered Tressel at his weekly news conference and filled up my inbox.
As the wait for Berry continued, it was clear that many Buckeye fans had seen enough of running backs
Brandon Saine
and
Dan Herron
. Chris "Beanie" Wells was sorely missed, and for the first time since 2004, when Lydell Ross and Antonio Pittman shared the carries load, Ohio State lacked a dominant runner.
Could the Buckeyes win the Big Ten without a bell cow in the backfield? The answer arrived last Saturday at Ohio Stadium.
Saine and Herron turned in their best performances of the season in the biggest game of the season. The two backs combined for 200 rush yards and three touchdowns against a stout Iowa defense as Ohio State rode a run-heavy offense to a 27-24 overtime victory.
"Those are two tough kids and the seniors mean a lot to those two," Tressel said after the game. "They were not going to let those seniors down."
Ohio State didn't hide its intentions on offense from the get-go. Tressel didn't want to throw downfield against an Iowa defense that ranks second nationally in interceptions (19).
So the Buckeyes ran the ball a season-high 51 times, with 43 attempts going to either Saine or Herron. Ohio State's offensive line, which, like Saine and Herron, has drawn plenty of criticism this season, imposed its will against the Iowa defensive front.
"Boom [Herron] and Brandon were running the ball," quarterback
Terrelle Pryor
told reporters. "We really didn't need to pass."
The two backs accounted for almost all of Ohio State's big plays on offense.
Saine gave the Buckeyes their first lead with a 22-yard scoring burst late in the second quarter. After Iowa tied the score at 10-10, Herron sprinted 11 yards to the end zone out of the Wildcat formation. Moments later, following a Ross Homan interception, Saine scooted down the sideline for a 49-yard score.
"We were really just having fun out there and stepping up and doing what we knew how to do," Saine said. "We weren't trying to overthink anything. We were trying to be in the moment the whole time."
It has been a mixed bag this year for both Saine and Herron. Both have had decent performances -- Saine against Indiana and Illinois, Herron against Illinois and New Mexico State -- and both have battled injuries (concussion for Saine, ankle for Herron).
But when Ohio State needed to lean on the run game, both backs stepped up.
"They both learned their way as they backed up Beanie over the years," Tressel said. "They waited their turn and kept trying to improve along the way, and they're playing good football."