NCF Nation:

Lyndell Gibson
October, 9, 2012
10/09/12
11:11
AM ET
By
Donald Hunt
| Special to ESPN.com
There are a number of NFL prospects in the MEAC, and they could hear their names called next April in the NFL draft. If they don't get selected, there's still a good chance they'll find their way on to an NFL roster.
The MEAC has a great history of producing good players such as Antoine Bethea (Indianapolis Colts, Howard), Justin Durant (Detroit Lions, Hampton) and Rashean Mathis (Jacksonville Jaguars, Bethune-Cookman) just to name a few. They may not be big names to many college football fans, but these players can play the game.
Here's a list of this season's seniors who could play on Sundays. Not to mention Mondays and Thursdays, too.
Travis Davidson, RB, Morgan State
6-0, 180 pound senior
Davidson has good speed, can turn the corner and has the ability to run between the tackles. He also has nice moves in the open field and leads the MEAC in rushing (514 yards and seven touchdowns). He averages 5.2 yards a carry.
Travis Harvey, WR, Florida A&M
6-2, 185 pound senior
Harvey is a game-breaking receiver who can catch the ball over the middle and go deep to make the big play. He leads the conference in receptions (41 catches, 562 yards and 7 TDs) and is averaging 13.7 yards per catch.
Lyndell Gibson, LB, Hampton
6-0, 230 pound senior
Gibson has good size and quickness and plays the run extremely well. He knows how to come up and turn the play inside. He has 20 solo and 40 total tackles this season.
Brandon Hepburn, LB, Florida A&M
6-4, 235 pound senior
Hepburn has great range and strength and can cover a lot of ground with his athletic ability. He can play the run, drop back into pass coverage, and he does a great job of reading the play. He has 30 solo and 50 total tackles, including 3 sacks.
Keith Pough, LB, Howard
6-3, 240 pound senior
Pough has been one of the best players in the MEAC -- and in the nation. He has been a consistent player throughout his career, and he knows how to pick his spots in terms of rushing the passer. He has three sacks this season and is a great run stopper. He has 25 solo and 18 assists for 43 total tackles.
Next week we'll talk about the SWAC.
Notes
2012 Boxtorow HBCU Football Media Top 10 Poll
1. Tennessee State
2. Alabama A&M
3. Winston-Salem State
4. Bethune-Cookman
5. Howard
6. Alabama State
7. Arkansas-Pine Bluff
8. Miles
9. Tuskegee
10. North Carolina Central
Contact Donald Hunt with HBCU questions, comments or story ideas at dhunt37261@aol.com.
January, 3, 2011
1/03/11
8:04
PM ET
MIAMI -- There are no lineup changes for Virginia Tech, other than the ones you already know about --
Darren Evans
starting at tailback, and former walk-on Jack Tyler will get his first start at mike linebacker with Bruce Taylor sliding over to the backer spot.
It will be an unusual rotation at linebacker, as Taylor started all 13 games this year at the mike spot and will replace Lyndell Gibson, who started all 13 games at the backer spot, but was injured in the ACC championship game. Tariq Edwards will play backer as well, allowing Taylor to move back to the mike spot during the game. Taylor had said earlier this week he couldn't ever remember another time he had played two positions, but he was eager to try it.
Stanford had no lineup changes, but offensive guard James McGillicuddy, who likes to switch jerseys to keep things interesting, could be wearing No. 11 Monday night. Just look for the 307-pound guy moving around back there.
December, 23, 2010
12/23/10
5:00
PM ET
You couldn't ask for much more from the Hokies right now, considering they'll enter the Discover Orange Bowl on an 11-game winning streak after having gone undefeated in ACC play. They're one of the best teams in the country since their 0-2 start, but there's one position that's a little unsettled heading into the matchup against Stanford.

Who's going to have to step up?
The linebackers.
With starter Lyndell Gibson out with a fractured shoulder blade, Tariq Edwards is likely the next man up. He has 21 tackles, one interception, one forced fumble and one fumble recovery this year. There could be a rotation at linebacker, though, with Bruce Taylor and Jack Tyler, who has 20 tackles, including five for loss this year. Taylor could be playing two positions, as he is listed as the starter at mike but also the backup to Edwards. Edwards and Tyler, both redshirt freshmen, will see increased playing time against an offense that ranks No. 8 in the country with 40.33 points per game.
December, 4, 2010
12/04/10
9:53
PM ET
CHARLOTTE, N.C. -- Virginia Tech linebacker Bruce Taylor is questionable to return with a stinger in his shoulder, and linebacker Lyndell Gibson is probable to return, according to a school spokesman. It looks like Rashad Carmichael (ankle) will see some playing time in this half.
February, 11, 2010
2/11/10
9:20
AM ET
The Hokies' defense will be one of the biggest questions in the ACC this preseason, as Virginia Tech has to replace six starters. Still, expectations are high heading into 2010 that Virginia Tech will be one of the best teams in the country. Much of that confidence comes from defensive coordinator Bud Foster's proven ability to reload.
Can he do it again?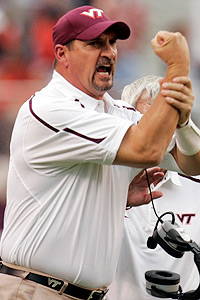 AP Photo/Steve HelberBud Foster will have some new pieces to work with this season.
Here's a closer look at exactly what Virginia Tech's situation is on defense heading into spring practice, and how much work the Hokies have to do:
Overall, Virginia Tech needs to replace three of four starters up front, outside linebacker, cornerback and free safety.

The only defensive ends with any significant playing time are Chris Drager, who the staff wanted to move back to tight end, and Steven Friday. There are a few redshirt freshmen you might get to know: Duan Perez-Means, Tyrel Wilson, James Gayle and J.R. Collins. Of course, the only problem with redshirt freshmen is that they haven't played yet. Isaiah Hamlette is the only other defensive end who has played, but that was extremely sparingly. It's possible the staff could move tackle John Graves back to end, where he practiced last spring, or possibly look at moving other players.

At defensive tackle, Antoine Hopkins will be the front-runner to replace Cordarrow Thompson, and he has experience so that shouldn't be too much of a concern.

At outside linebacker, Cody Grimm and Cam Martin have to be replaced, leaving a wide open competition.

At cornerback, Jayron Hosley or Cris Hill will likely take over for Stephan Virgil. No worries there.

At free safety, Eddie Whitley was Kam Chancellor's backup, and the staff is confident in him. Antone Exum will also be given an opportunity.

The good news? Virginia Tech returns cornerback Rashad Carmichael, rover Davon Morgan, Graves at defensive tackle, and Lyndell Gibson at inside linebacker.
It's a lot to ask for a team that faces Boise State's offense on Labor Day, but the Hokies wouldn't be so highly ranked this preseason if people didn't think they could do it.