NCF Nation:

Mackensie Alexander
March, 26, 2015
Mar 26
12:00
PM ET
Last year, the No. 1 passing defense in the country belonged to Clemson.
This shouldn't be a huge surprise. The Tigers' defense was tops in the nation in 11 categories, and its 157 passing yards per game and 5.3 yards per attempt averages were just the icing on the cake.
But the common wisdom is, despite returning a hefty dose of young talent in that secondary, it's a unit that's apt to take a step back in 2015. The reason is the loss of stars like Vic Beasley, Grady Jarrett and Stephone Anthony in the front seven.
"They need to be better than what they were," Clemson defensive coordinator Brent Venables said. "That ball may not come out [as fast]. They'll need to be tighter in their coverage, play better awareness and eliminate some mistakes. They need to make marked improvement."
If Venables says it, it's surely true. Then again, the engineer of Clemson's remarkable defense doesn't mind using blunt pessimism as a means of motivation. Venables wants Mackensie Alexander, Jayron Kearse and Co. to get better, regardless of how good they were a year ago.
But there should be no question that this secondary is ready to play a leading role in 2015 after enjoying the spoils of Beasley's pass rush in 2014. In fact, the numbers suggest that, even if Clemson's front seven hadn't been so dominant last year, the secondary would've been awfully good.
According to ESPN Stats & Info, Clemson's D affected the quarterback (via either a sack or a hurry) on 29.6 percent of dropbacks last season, which ranked second in the ACC to Virginia Tech. That type of disruption obviously helps the DBs -- forcing the ball out faster and increasing the probability of an offline throw.
But what about the other 70 percent of the time when the quarterback wasn't under pressure?

The numbers show a pretty consistent performance for the Tigers' DBs regardless of the pass rush, with the ACC's lowest yards per attempt and fewest plays of 20-plus yards.
When the QB remained in the pocket, no team allowed a lower completion percentage than Clemson (53.7 percent) and the Tigers' YPA allowed (5.5) was nearly a yard better than any other ACC defense.
In other words, this was a secondary that held up well in coverage.
"I felt this way last year," Kearse said. "We want to show that we're the most talented on the field every time we step out there. It was great to have those guys up front and do what they did, but we held our own in the back end -- and we're going to do the same this year."
Still, Venables' concerns aren't without merit.
Last year, Clemson brought more than four rushers on just 24.7 percent of passing plays, according to ESPN. That was among the lowest rates in the ACC, a course made possible because Beasley and the rest of the line were so effective without additional help. That strategy might not be as effective this season, and Venables said he's willing to open things up if necessary.
"If four doesn't get there, you bring five," he said. "If five doesn't, you bring six. If you're desperate, bring seven. We're aggressive by nature. We want to be able to get there out of our base, but we're not afraid to bring pressure."
So there might be more times this season when the corners are left out on an island, and after Clemson's first spring scrimmage Wednesday, Venables wasn't entirely enthusiastic with his options there.
But perhaps the biggest worry for Venables isn't the shortcomings of Clemson's DBs when the pressure isn't there, but rather the amazing success when it was.
As good as Clemson performed when opposing QBs had time to throw, the numbers when they were hurried were absolutely off the charts -- an 18.1 percent completions percentage, 2.0 yards per attempt, no touchdowns and just one completion of more than 20 yards.
Clemson had 83 such plays last year. If that number is cut significantly in 2015, even those same solid stats the Tigers managed in non-pressure situations last year would be a serious step back.
So perhaps it's not fair to say that the DBs will suffer if the pass rush isn't as good. The numbers suggest they won't. What's more accurate is that if the pass rush isn't there as often in 2015, the DBs simply need to do more to make up for that lost production.
March, 6, 2015
Mar 6
10:00
AM ET
It's never too early to break out the Magic 8-Ball and make some predictions for the spring. We'll see how much egg I have on my face when the season starts!
1. Florida State will not have an answer at quarterback.
The last time Florida State had a quarterback competition, the spring ended without an announced decision in the race between
Jameis Winston
,
Clint Trickett
and Jacob Coker. Even after Trickett announced his decision to transfer, coach Jimbo Fisher maintained Winston and Coker would go into the fall competing for the starting job -- though it was generally assumed Winston would win it. So why should anything be different this spring, with
Sean Maguire
,
J.J. Cosentino
and
De'Andre Johnson
? Add freshman Deondre Francois into the mix in the summer and there's little upside in Fisher making an announcement when spring practice ends in April.
[+] Enlarge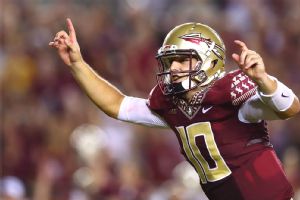 Ronald Martinez/Getty ImagesSean Maguire will try to take the reins in Tallahassee as Florida State's starting quarterback.
2. Same story in Louisville.
The Cards go into the spring with an open competition between
Reggie Bonnafon
,
Tyler Ferguson
and
Kyle Bolin
. That does not even take into consideration
Will Gardner
, who is rehabbing his third major knee injury. Bonnafon has the experience edge, but Ferguson just sat out the 2014 season because of NCAA transfer rules. Coach Bobby Petrino may want to give him more than 15 spring practices to truly compete and win the starting job. If Gardner is healthy in the fall, perhaps he gets a chance to rejoin the mix as well after starting seven games last season. There is no slam dunk decision here given the ups and downs we saw from Gardner, Bonnafon and Bolin a year ago and the inexperience Ferguson has headed into 2015.
3. The Miami defensive line will be better.
The Hurricanes have had no significant pass rush since Al Golden arrived in Miami, but that will change this year. Miami has made big strides toward upgrading its tackle and end positions, and coaches feel good about the depth they have been able to develop because they were able to redshirt players last year for the first time under Golden. Miami is noticeably much bigger up front, which cannot be understated. Coaches are high on guys like
Michael Wyche
,
Ufomba Kamalu
,
Trent Harris
and
Chad Thomas
. Quan Muhammad is back at rush end and has had a good camp. The expectation is for this group to bump up the sack totals compared to the past several years.
4. Watch for Andrew Brown.
The highly touted defensive tackle enrolled early last year at Virginia, but injuries cut his spring and freshman season short. Now, coach Mike London says Brown is in better shape and ready to take on a starting role. If he can make an impact the way
Quin Blanding
did last year, the Virginia defense should be in good shape.
5. The Clemson defense will remain elite.
Despite losing the bulk of their defense, the Tigers should remain one of the best groups in the ACC and a top-10 defense nationally for a few reasons. First, the new players stepping into starting roles have game experience. Guys like
Shaq Lawson
,
D.J. Reader
and
Carlos Watkins
have played in big games before. Linebacker
Ben Boulware
has terrific upside. And the secondary is on track to be one of the strongest groups in the league behind potential All-American Mackensie Alexander.
6. Don't be surprised if Marshawn Williams redshirts.
The Virginia Tech running back was having an outstanding freshman season before a torn ACL sidelined him in mid-November. He is out for spring, and his status for the start of fall practice remains up in the air. Each player recovers differently from ACL injuries, so there's no telling how Williams will come back. But if
J.C. Coleman
,
Trey Edmunds
and
Joel Caleb
can handle the back duties adequately, there's no sense rushing Williams back.
7. Florida State will win 10 games, but it will be a "down" year.
It's all about perspective. The Seminoles will keep their streak of 10-win seasons going despite breaking in new starters at virtually every position. The schedule is forgiving enough for another double-digit victory total, though. But they won't be in the national championship conversation. Whether that should be considered a "down" year is up to your interpretation. Wait for 2016 to arrive. Florida State should be back in the hunt then.
8. Georgia Tech will make history in July.
For the first time, Georgia Tech will be picked as the preseason Coastal Division champions. The Jackets return enough talent and were impressive enough in 2014 to make believers out of the usually skeptical voters. Since the ACC split into divisions in 2005, Georgia Tech has finished atop the Coastal five times but has never been picked to win. That changes in 2015.
9. No ACC team in the playoff.
I'm probably not going out on a limb with this one, but this would mark the first time in three years the league won't have a chance to compete for a national championship. Florida State will be young, with a new starting quarterback, four new offensive linemen and new starters at tight end, receiver, defensive end, defensive tackle and in the secondary. Clemson and Georgia Tech play tough schedules and have questions of their own to answer. Louisville also is rebuilding on defense and has uncertainty at quarterback, receiver and offensive line.
10. Dabo Swinney joins Twitter!
Can Swinney really let Steve Spurrier get the best of him on Twitter? Now that the HBC is all aboard, time for the Clemson head man to join up too. If their verbal jabs are any indication, the potential of their back-and-forth tweets is nothing short of epic.
March, 2, 2015
Mar 2
10:00
AM ET
Spring football is off and running at several ACC schools, with many more set to kick things off in the coming days and weeks. There is no shortage of storylines throughout the league, but here are the questions that stand out above all else:
1. Does the ACC have an embarrassment of quarterback riches?
It's not every day a league can withstand losing a Heisman Trophy-winning quarterback to the pros (more on FSU later), but the ACC has a ton of talent coming back under center in 2015. Georgia Tech, Louisville, Miami, NC State, Pitt, Syracuse, Virginia, Virginia Tech and Wake Forest all return players who started at quarterback in 2014.
Thomas Sirk
is the frontrunner at Duke, and he saw extended time last year as a change-of-pace quarterback, too. Then there's Clemson and North Carolina, whose talented signal-callers from last fall will miss this spring, giving others a chance to prove themselves and build depth. Which brings us to …
2. What about the No. 2 quarterbacks?
Deshaun Watson
may be way ahead of schedule in his recovery from ACL surgery, as Dabo Swinney said Friday, and we all know what the sophomore is capable of when he is healthy. But this spring will see others get a chance at Clemson, as last year's No. 3 signal-caller,
Nick Schuessler
, leads a trio of quarterbacks that includes early enrollees Kelly Bryant and Tucker Israel. At North Carolina, meanwhile, the Tar Heels will have to go through spring drills without starter
Marquise Williams
, who is sidelined with a hip injury. That means
Mitch Trubisky
, who split time with Williams in the early part of the 2014 season, will run the first team this spring.
3. How does FSU replace Jameis?
More quarterback talk, you say? Why of course! Florida State lost just one game in two years with
Jameis Winston
as its starter, so replacing him is no easy task.
Sean Maguire
is back after an uneven performance in his lone start last year, but he will have to battle it out with redshirt freshman
J.J. Cosentino
, a former ESPN four-star prospect, and early enrollee
De'Andre Johnson
, another four-star prospect.
[+] Enlarge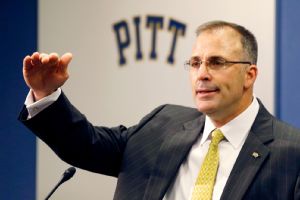 AP Photo/Keith SrakocicPat Narduzzi spent the past eight seasons as Michigan State's defensive coordinator.
4. What does Narduzzi bring to Pitt?
There is just one new head coach in the ACC this time around. And, once again, he resides in the Steel City. Pat Narduzzi is the fourth different head coach to open a spring in Pittsburgh since 2010, but he walks into a pretty good situation. The Panthers boast junior studs in
James Conner
and
Tyler Boyd
on offense, and Narduzzi's defensive roots should prove valuable to a Panthers unit that struggled down the stretch last season.
5. How will BC's offensive makeover look?
Few coaches have had as much early success at new stops as Steve Addazio has had at Boston College, taking a two-win team from 2012 to consecutive 7-6 seasons. In 2013, he rode Heisman finalist running back Andre Williams to a strong finish. In 2014, he relied on dual-threat transfer quarterback
Tyler Murphy
. This season Addazio promoted receivers coach Todd Fitch to offensive coordinator after Ryan Day left for the Philadelphia Eagles, and he is looking for a more balanced attack. This could be more challenging considering he'll be without a senior signal-caller for the first time.
6. Will early enrollees make an impact?
We already mentioned Johnson at FSU, but five-star safety Derwin James could have an easier path to the field, given the Seminoles' openings in the secondary. So, too, could five-star receiver George Campbell. Similar circumstances at North Carolina could allow four-star linebacker Andre Smith to start early, especially on a Tar Heels defense that had a staff makeover and is in need of a massive turnaround from 2014.
7. Can Clemson's defense again be dominant?
The Tigers boasted the nation's No. 1 defense last season, but they said goodbye to plenty of talent. Coordinator Brent Venables will have his work cut for him, but bringing back
Shaq Lawson
,
D.J. Reader
,
Ben Boulware
, Mackensie Alexander and
Jayron Kearse
is certainly a good starting point for a team that appears to be the early league frontrunner in 2015.
8. Will Louisville keep it going defensively?
The Cardinals' defense was one of the bigger surprise of 2014, Bobby Petrino's first year back with the program. But all of those playmakers came from the past regime, and Petrino will be counting on transfers with troubled pasts to pitch in this year: former Georgia safety
Josh Harvey-Clemons
, former Georgia corner
Shaq Wiggins
and former TCU linebacker Devonte Fields.
9. Can Miami take advantage of the talent at its disposal?
Brad Kaaya
,
Joseph Yearby
,
Gus Edwards
and
Stacy Coley
give the Hurricanes a great starting point this spring. But Miami likely has to figure out its retooling offensive line in order to take advantage of its weapons.
Questions on how this team went 6-7 last year continue to mount
, and now will be as good of a time as any for the Canes to get things going and change the conversation.
10. Will Notre Dame get a quarterback answer?
The Irish's inaugural year of quasi-ACC membership helped bring us arguably the game of the year, at Florida State. This year the Irish, who return 19 starters, will face six ACC teams, including contests against potential division frontrunners Clemson and Georgia Tech. But who is directing the offense under center will likely be determined this spring, as
Everett Golson
and
Malik Zaire
will battle it out after splitting reps in Notre Dame's bowl win over LSU. There is also always the chance that Golson, who said he graduates this spring, could transfer and play his fifth season elsewhere this fall.
February, 9, 2015
Feb 9
3:00
PM ET
Take a glance at the
latest Way Too Early Preseason Top 25
from colleague Mark Schlabach, and one thing becomes pretty clear: Ohio State and TCU are the obvious top two teams in the country.
Beyond them? The field is completely wide open, presenting a huge opportunity for Clemson and coach Dabo Swinney.
That's right. The Tigers -- the only ACC team in the top 10 -- could very well be dark horse contenders to make the College Football Playoff. Here are a few reasons why.
[+] Enlarge
John David Mercer/USA TODAY SportsThe health of quarterback Deshaun Watson will be a major key next season for Clemson.
1. Quarterback.
Look at the teams ahead of Clemson. Five of them -- Alabama, Baylor, Oregon, Georgia and UCLA -- will all have new starting quarterbacks. That automatically puts a question mark next to each team. Alabama takes perhaps the biggest hit on offense: The Tide have to replace their top quarterback (
Blake Sims
), running back (
T.J. Yeldon
is gone, but
Derrick Henry
returns) and receiver (
Amari Cooper
).
Clemson, meanwhile, should return a completely healthy
Deshaun Watson
, who is reportedly ahead of schedule in his rehab from a torn ACL. The biggest question mark here is whether Watson can stay healthy for the entire season. He sustained three different injuries in his first year on campus, and the Tigers were completely handicapped when he was on the bench. A healthy Watson gives Clemson a good shot at being in playoff contention.
2. Schedule.
Clemson has to play four teams ranked in the Early Top 25, plus in-state rival South Carolina. Three of the games against ranked opponents are at home -- Notre Dame on Oct. 3; Georgia Tech on Oct. 10; and Florida State on Nov. 7. Louisville on Sept. 17 and South Carolina on Nov. 28 are on the road. On paper in February, the schedule looks strong enough to vault the Tigers into contention if they are unbeaten deep into October.
3. Uncertainty with everyone from 3-9.
Schlabach has USC ranked No. 3 and Alabama ranked No. 4. There is little doubt the Trojans are one of the most talented teams in the country, so this could be the year they get back into the national championship conversation. But there remain many unknowns about Steve Sarkisian as a head coach. Is he on an elite level? Can he put all the talent together into a playoff run?
Alabama has holes, too, but we have become so programmed to automatically include the Tide in any and all playoff discussion that there they are, at No. 4. Michigan State has made its name on defense. But the brains behind that group, defensive coordinator Pat Narduzzi, is now head coach at Pittsburgh. Georgia … do we really need to go into how the Dawgs underachieve every single season? (Much more than Clemson!)
Yes? Well, OK. … Since 2008, Georgia has finished higher than its preseason top 25 ranking just once; the Bulldogs have lost three or more games six times over that seven-year span. That should automatically knock them from way too early contention.
Clemson has won 10 or more games four straight years and counting. Yes, the Tigers have essentially their entire No. 1-ranked defense to replace. But there was so much depth on the defensive line the past two years, the hope is that the backups can step in and become starters without a huge drop off.
Shaq Lawson
has big-time potential. Cornerback
Mackensie Alexander
is a rising star.
4. Offense rules.
If last season is any indication, teams with superior offenses are the ones that now have an edge. Ohio State, Oregon and Florida State made the College Football Playoff with offenses that were better than their defenses. Including Alabama, all four teams that made the playoff had offenses that ranked in the top 35 in the nation, including two in the top 10. But on defense, none ranked in the top 10; Oregon and Florida State ranked below 60.
If this trend continues, then Clemson could have an edge even with a defense that takes a step back. In addition to returning Watson, the Tigers bring back their top three rushers (
Wayne Gallman
,
C.J. Davidson
,
Adam Choice
PLUS a healthy
Tyshon Dye
) and top three receivers (
Mike Williams
,
Artavis Scott
,
Germone Hopper
PLUS
Charone Peake
). Chad Morris is gone, but co-coordinators Jeff Scott and Tony Elliott have been learning under him over the past four years. Both have produced multiple All-ACC players during their time with the Tigers.
Clemson is far from a finished product. There is plenty of uncertainty with the Tigers, too. But no more than the other teams jockeying for a College Football Playoff spot.
August, 5, 2014
8/05/14
10:30
AM ET
»
More team previews:
ACC
|
Big 12
|
Big Ten
|
Pac-12
|
SEC
Previewing the 2014 season for the
Clemson Tigers
:
Key returners:
DE
Vic Beasley
, DT
Grady Jarrett
, LB
Stephone Anthony
Key losses:
QB
Tajh Boyd
, WR
Sammy Watkins
, RB
Roderick McDowell
Most important 2014 games:
Aug. 30 at Georgia, Sept. 20 at Florida State, Nov. 29 vs. South Carolina
[+] Enlarge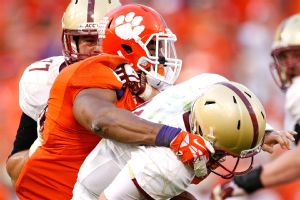 Tyler Smith/Getty ImagesAll-ACC defensive end Vic Beasley returns to the Clemson defense for his senior season.
Projected win percentage:
72.5 percent
Over/under Vegas odds:
8½ wins
Instant impact newcomers:
QB
Deshaun Watson
, CB
Mackensie Alexander
. Coach Dabo Swinney has repeatedly said Watson will play this season behind starter
Cole Stoudt
. Simply put, Watson's athleticism makes him too valuable to leave on the bench, and the belief is he will get better as the season goes on. Alexander, a redshirt freshman, is listed among the starters on the depth chart and is expected to have a breakout season.
High point from 2013:
Beating Ohio State 40-35 in the Discover Orange Bowl. The season-opening win against Georgia was big too, but the victory over the Buckeyes was one of the best under Swinney. The game was intense, competitive and thrilling and featured one of the best single-game performances of the season from Watkins.
Low point from 2013:
Losing to Florida State 51-14. Clemson was the preseason choice to win the ACC but saw its conference championship hopes vanish after an embarrassing loss to the Seminoles. The Tigers were never even in the game, falling behind 27-7 at halftime. Boyd had three turnovers in one of the worst games of his career.
Best-case scenario for 2014:
Watson emerges as one of the best freshmen in the nation, answering all questions about an offense supposedly in transition. His emergence, combined with a top-five defense, helps propel Clemson further than everybody predicts. Clemson ends up with a winning record against its toughest triumvirate (Georgia, Florida State and South Carolina) and snags a spot in the College Football Playoff.
Worst-case scenario for 2014:
The offense has a tougher time than expected replacing Boyd, Watkins, McDowell and
Martavis Bryant
, failing to generate much production. The defense is not as good as advertised, thanks to inconsistency at linebacker and in the secondary. Losses to Georgia and Florida State mean a 1-2 start, and things only get worse with additional losses to Louisville and South Carolina. Clemson finishes with fewer than 10 wins for the first time since 2010.
They said it:
"I personally believe, when it's all said and done, we're still going to be one of the best offenses in the country because I love the personnel we have. That's what makes college football fun. Everybody looks at what has left, and they make an assessment because they don't really know who these guys are that are coming in. Good players have to lead and new guys emerge, and we've got good personnel and good candidates to fill some of those voids." -- coach Dabo Swinney
August, 30, 2013
8/30/13
8:00
AM ET
No. 5 Georgia and No. 8 Clemson will end a 10-year hiatus in their historic rivalry Saturday when the Bulldogs visit Death Valley n in one of the most intriguing matchups of opening weekend.
Let's examine five key elements involved in a game that could impact this season's BCS championship chase:
Big-play offenses:
Las Vegas is predicting two of the nation's most-prolific offenses to combine for around 70 points on Saturday night. And research provided by ESPN Stats and Information gives us plenty of reasons to see why many analysts expect a high-scoring game between the Bulldogs and Tigers.
Beyond simple scoring and total offense stats, they both ranked among the nation's top big-play offenses a season ago. Georgia ranked first nationally or tied for first in touchdowns of at least 20 yards (31), 30 yards (22) and 50 yards (12) and led the nation with an average of 7.09 yards per play.
Clemson, meanwhile, led the nation in completions of 25 yards or more (51) and touchdown passes that covered at least 25 yards (20). Clemson's
Tajh Boyd
had 11.2 percent of his passes go for completions of at least 25 yards, which was the highest of any quarterback in the country who attempted at least 150 passes.
Georgia quarterback
Aaron Murray
led the nation in yards per pass attempt (10.1) and percentage of attempts to gain 20 yards or more (16.1).
Both quarterbacks improved their accuracy on passes of 20-plus yards last season, with Murray completing 46 percent of such throws (an increase of 17.3 percent) and Boyd hitting on 51 percent (an increase of 14 percent).
Will Watkins step up?:
With Georgia breaking in a largely rebuilt secondary, this game would seem like a prime opportunity for Clemson's 2011 All-American receiver
Sammy Watkins
to exploit the Bulldogs' youth.
Watkins talked a big game about beating Georgia during the offseason, but will he reclaim his spot as the Tigers' top receiving target after losing that title last fall to DeAndre Hopkins. Watkins was third nationally in all-purpose yards (2,288) in 2011, but totaled fewer than half as many a year later (1,073). His touchdowns-per-touch ratio dropped from 1-in-9.6 to 1-in-17.8, as well.
Clemson quarterbacks targeted Watkins 44 fewer times (from 123 in 2011 to 79 last year) and his catch (82 to 57), receiving yardage (1,219 to 708) and touchdown (12 to three) totals all dropped severely.
Hopkins led the nation with 11 touchdown catches of 25-plus yards last season, so the Tigers desperately need Watkins to live up to the standard he set in 2011 and replace some of the departed star's production. Watkins is more than capable, posting 11 TD catches of 25-plus yards in his first two seasons as a Tiger.
Pound the run?:
An interesting subplot to Saturday's game is how Georgia offensive coordinator Mike Bobo will attack Clemson's defense. The Tigers also have some concerns in the secondary -- this on the heels of surrendering 7.32 yards per pass attempt a season ago. But conventional wisdom seems to dictate that Georgia uses its powerful running game -- paced by All-SEC pick
Todd Gurley
and
Keith Marshall
-- to extend drives and provide time for its defense to rest between series against Clemson's up-tempo offense.
Both players averaged better than 6 yards per carry last season, due in large part to their capabilities as home-run threats. They combined for 12 runs of 25-plus yards, eight of which went for touchdowns. Gurley alone had 27 carries that went at least 15 yards, which tied for fifth in the FBS.
Clemson ranked 57th nationally against the run last season, surrendering 155.92 yards per game on the ground in Brent Venables' first season as the Tigers' defensive coordinator. The Tigers were 71st against the pass at 240.3 ypg.
Murray on the big stage:
Fair or unfair, Saturday's game -- and the upcoming matchups with South Carolina and LSU in September -- will serve as another referendum on Murray's status as a big-game performer.
[+] Enlarge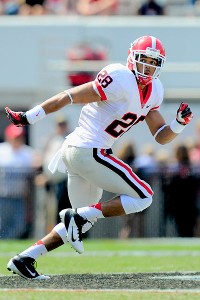 Dale Zanine/USA TODAY SportsDespite big-name offensive talent, Georgia-Clemson could come down to young defenders like Tray Matthews.
Georgia's quarterback caught plenty of guff over shortcomings against ranked opponents well into last season. He's 3-11 in his UGA career against teams that ended the season ranked in the AP Top 25 with 23 touchdowns versus 16 touchdowns against those teams. He's 25-2 with 72 touchdowns and 16 interceptions against teams that finished unranked.
The positive sign for Murray is that he has won two of his last three games against opponents that finished the season as a ranked team: Florida and Nebraska last season. Following an atrocious first half against Florida last season, Murray has tossed seven touchdowns against three interceptions in 10 quarters against ranked opponents, including the SEC championship game loss to Alabama.
Fresh-faced defenses:
Let's have some fun with numbers concerning Georgia and Clemson's defensive depth charts.
After losing 12 key players from last season's defense, Georgia defensive coordinator Todd Grantham appears set to trot out a large group of newbies. Of the 22 players listed on the Bulldogs' defensive two-deep in this week's game notes, 16 of them have never started a college game. Heck, nine of them, including seven true freshmen, have never PLAYED in a college game.
But a number of them -- including outside linebacker
Leonard Floyd
, defensive lineman
John Taylor
, safety
Tray Matthews
and cornerbacks
Brendan Langley
and
Shaq Wiggins
-- could play big roles on Saturday.
Meanwhile, Clemson has some experience issues of its own. Ten of the 22 players on the defensive two-deep have never started and three of them are freshmen. They're expected to be without injured freshman cornerback
Mackensie Alexander
, who at No. 4 in the 2013 ESPN 150 was Clemson's highest-rated signee in its most recent recruiting class.
It's easily conceivable that Saturday's outcome could be determined by which team's young defensive personnel acquits itself more effectively in its first game in leading roles.
February, 8, 2013
2/08/13
9:00
AM ET
Here's a quick look back on the ACC's signing day highlights:
Best closer:
Clemson coach Dabo Swinney. The Tigers reeled in their top prospect, CB
Mackensie Alexander
, on Wednesday. The five-star recruit should be able to contribute immediately, and it's a position in which Clemson is thin. Swinney also beat Georgia for ESPN 150 OG
Tyrone Crowder
, who also announced on Wednesday. Swinney came into signing day with a reputation as a closer, and he added to his résumé Wednesday with two more elite recruits.
Biggest surprise:
Alexander. He had taken visits to Mississippi State and Auburn in January, leading some to think the SEC had the edge. His twin brother sat there wearing his Auburn hat as Alexander announced his decision. He had been very quiet during his recruiting process, though, so nobody was really sure which direction he was leading. He added to the drama when he pulled out a Mississippi State hat, then a Clemson hat, before revealing his choice with a second Clemson hat.
Biggest winner on signing day:
Florida State won big-time on signing day, getting four ESPN 300 prospects -- three of them in the top 150. The Seminoles won two of them over in-state rival Miami, making those signings even bigger. The day started with the No. 6 overall player in the nation,
Matthew Thomas
, announcing for the Noles. They then got the No. 4 cornerback in the nation,
Jalen Ramsey
, to flip from USC. ESPN 150 defensive tackle
Keith Bryant
chose Florida State over Miami next. ESPN 300 linebacker
E.J. Levenberry
rounded out the day.
Who flipped/biggest loss:
Miami ended up losing out on some of the biggest targets it coveted: Thomas and Bryant are headed to Florida State; ESPN 300 defensive tackle
Jay-nard Bostwick
chose Florida; and running back
Alex Collins
eventually ended up at Arkansas. Bryant and Collins were one-time Miami commitments. These all were double-stings: Every single one of these players hails from South Florida; the Canes lost some to their bitter in-state rivals; and former coach Randy Shannon just so happens to be an Arkansas assistant. Miami did get ESPN 150 receiver
Stacy Coley
and ESPN 150 linebacker
Jermaine Grace
to sign, but this class could have been better.
February, 6, 2013
2/06/13
2:30
PM ET
Clemson already had a top-15 class when signing day began, but the Tigers made it even better with some major pickups Wednesday.

The
most notable
-- cornerback
Mackensie Alexander
, the No. 4 overall prospect in the nation. He joined ESPN 300 athlete
Adrian Baker
and three-star safety
Korrin Wiggins
as big additions Wednesday, easing any disappointment there may have been when ESPN 150 defensive tackle
Montravius Adams
committed to Auburn over Clemson.
Alexander was the biggest commitment the ACC got in the early going Wednesday, and fills a major need for the Tigers, who emphasized upgrading their secondary. Though there was some thought that he and his twin brother, Mackenro, could end up going to the same school, Mackensie maintained that was not necessarily the case.
That was the only clue folks got about the recruiting process. Mackensie kept his thoughts and options to himself,
never once saying
where he may or may not be leaning. But he did have Clemson on his list of finalists, and many thought he would end up choosing the Tigers. During his announcement he pulled out two hats -- Clemson and Mississippi State -- before donning the orange one. His brother ended up choosing Auburn.
Clemson now has five players among the ESPN 150 and nine among the ESPN 300, and is getting major defensive help. In addition to Alexander, the Tigers signed the No. 3-ranked inside linebacker
Ben Boulware
, the No. 8-ranked outside linebacker
Dorian O'Daniel
and the No. 10-ranked defensive end
Ebenezer Ogundeko
, who is already enrolled.
As for the other news Wednesday, Baker chose Clemson over Oklahoma. The former Florida State commit is ranked No. 197 on the ESPN 300.
Wiggins
was a long-time North Carolina commitment, but flipped his decision to the Tigers on signing day. He is rated the No. 30 safety in the nation.
Clemson could wind up with one more member in its class. ESPN 150 offensive lineman
Tyrone Crowder
will announce his choice between the Tigers and Georgia at 4:05 p.m. ET.
February, 6, 2013
2/06/13
1:05
PM ET
Cornerback
Mackensie Alexander
of Immokalee (Fla.) High School, the No. 2 corner and No. 4 overall prospect in the ESPN 150, selected Clemson on Wednesday in a ceremony at his high school. Alexander, the No. 2-ranked player in Florida, visited Auburn and Mississippi State late but settled on a school to which he made an official visit in November.
He said he connected with Clemson coach Dabo Swinney.
"He's a church guy like me," Alexander said in an interview on ESPNU. "I trust in them guys. I'm going to be in a great position."
February, 5, 2013
2/05/13
3:30
PM ET
We are only hours away from fax machines screeching off the hook. National signing day officially starts at midnight, but the real fun kicks off Wednesday at 7:30 a.m. ET, when ESPNU will bring the announcement ceremony of the nation's No. 1 recruit -- defensive end Robert Nkemdiche (Loganville, Ga./Grayson).

ESPNU will have wall-to-wall coverage of recruiting's version of Christmas morning all day, as 18 ESPN 300 prospects will announced their college destinations live on air.

Here's the complete schedule for ESPNU's coverage of live announcements:


February, 1, 2013
2/01/13
12:49
PM ET
By
ESPN RecruitingNation
| ESPN.com
National signing day is just around the corner on Feb. 6. That day, a number of the nation's top football recruits will announce their college destinations, and 18
ESPN 300
prospects are scheduled to do so on ESPNU.
Below is the full schedule of announcements on ESPNU, which kicks off with the nation's No. 1 overall prospect, Robert Nkemdiche, making his long-awaited decision at 7:30 a.m. ET.
Note: All times are Eastern