NCF Nation:

Malcolm Gladwell
March, 14, 2013
3/14/13
1:00
PM ET
If someone had asked me before spring practices began who California's starting quarterback would be in 2013, I would have quickly said with my all-knowing look: "
Zach Kline
."
If that someone had gently protested with a "But what about..." I would have interrupted with another all-knowing look, "No. It will be Zach Kline."
Unfortunately, that would have been the same all-knowing look I gave while asserting USC's national championship prospects before the 2012 season. It might be wise for me to mothball that all-knowing look, and I just want to add that my wife and children owe Lane Kiffin and the 2012 Trojans an eternal debt of gratitude.
[+] Enlarge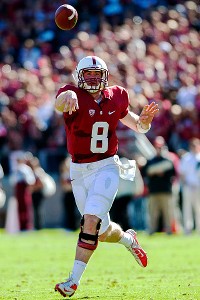 Ed Szczepanski/US PresswireThe success of young QB's like Stanford's Kevin Hogan is no longer a rarity in college football.
Kline might well end up the Bears' starting quarterback, but that's not what this is about. It's about Cal's quarterback battle looking like it's going to be
a showdown between
Kline, a redshirt freshman, and true freshman
Jared Goff
, who opted to graduate early from high school, skip all the riotous things high school seniors do during their final spring frolic and begin the serious business of Pac-12 football.
A redshirt freshman is the "veteran." A true freshman is the challenger.
There are two notable things about the Conference of Quarterbacks this spring: 1. There's an impressive crew of talented and already accomplished ones returning; 2. Youth now rules a position where that very quality was nearly a disqualifying negative not too long ago.
California is not the only school that might tap a true freshman. Arizona has Anu Solomon coming in this fall, and the look on both coach Rich Rodriguez's and co-offensive coordinator Rod Smith's faces when talking about him suggest his candidacy is legitimate.
"If the kid is good enough and he can handle it," Smith said." Some kids transition better than others. Anu is a kid who was a four-year starter in high school. That doesn't mean anything for college, but at least he's been in the mode when he's the new kid on the block competing with older kids and he performed well. He was 56-4 as a starter. The kid is a winner. He knows how to move the football and win."
That is not too far from the case Pete Carroll made in 2008 when he opted to go with true freshman
Matt Barkley
, only Carroll went all Pete Carroll-y and made Barkley into
some metaphysical quarterbacking beast
, citing Malcolm Gladwell and labeling Barkley an "outlier."
Still, that was a precursor to the new reality.
A redshirt freshman, Texas A&M's
Johnny "Football" Manziel
, won the Heisman Trophy, and a redshirt freshman, Oregon's
Marcus Mariota
, was first-team All-Pac-12, over seniors Barkley and Arizona's
Matt Scott
. Stanford's season transformed when it handed its offense to redshirt freshman
Kevin Hogan
. Utah started a true freshman,
Travis Wilson
, a few games into the season. Redshirt freshman
Brett Hundley
led a UCLA resurgence.
Further, USC again has a early arriving true freshman who is a legitimate candidate to win the starting job in Max Browe. More than a few folks believe the front-runner to win the job at Colorado is redshirt freshman
Shane Dillon
.
We might not be at the end of 2013's youth movement. While Washington and Washington State both welcome back veteran quarterbacks in
Keith Price
and
Connor Halliday
, there is a sense they both could be threatened by, yes, true and redshirt freshmen challengers.
The only Pac-12 teams certain to start upperclassmen at quarterback: Arizona State with junior
Taylor Kelly
, and Oregon State with junior
Sean Mannion
or senior
Cody Vaz
.
This youth movement doesn't include a sacrifice of quality and high-prospects. It's not primarily about a failure of the older guys. Does any conference offer a better array of returning quarterbacks than Mariota, Kelly, Hundley and Hogan? The answer is no.
There are many explanations for this youth movement. First of all, quarterbacks are better prepared in high school. They get private coaching, go to summer camps, play 7-on-7 in the offseason, etc. In high school, they don't just show up in August for two-a-days and draw plays in the dirt anymore.
Further, a player's recognition of and respect for the natural pecking order has been reduced, as has patience. If a touted guy loses out in a quarterback competition, he seems more likely to transfer now in search of playing time. A couple of coaches also have told me it's more difficult to recruit the position when a team has an entrenched, underclass starter. That then means the junior and sophomore quarterbacks on the roster might not be as good as the younger players who sign only when the starter is a junior or senior.
Or the job will be vacant, as is the case with Browne at USC.
Yet just because a guy starts as a freshman doesn't mean the death of the upperclassman quarterback. In fact, it should in most cases increase its likelihood of occurring.
The logic is simple: If a guy is good enough to start as a freshman and plays well, then you can project forward two or three years of improvement and future success. The most important position on the field is locked down and secure and worry-free. A good thing.
It doesn't always work out like that -- see Price at Washington this past season. Or the Barkley of 2011 versus the lesser version in 2012.
That noted, it's not unreasonable to hold high hopes. Know that just about every Oregon fan has projected improvement for Mariota over the next two years, though he could enter the NFL draft as a third-year player after this season. Even moderate improvement sets him up as an All-American and Heisman Trophy candidate. Same could be said for Hogan, Hundley and Kelly, by the way.
The youth movement at quarterback is a substantial shift in thinking. An experienced, veteran quarterback used to be the first preseason measure of a team. Now all a team needs to be highly esteemed is a returning starter, even if that's just a sophomore.
It's getting to the point, in fact, that youth at quarterback will be weighted less as a potential problem by prognosticators.
At least, it's possible that the next time someone frets a lack of experience at quarterback being a problem, I'll resurrect my all-knowing look and say, "No, it's not!"
September, 22, 2011
9/22/11
12:56
PM ET
USC's
Matt Barkley
and Arizona State's
Brock Osweiler
are both juniors and they are both talented quarterbacks, but they are obviously very different.
Barkley is the polished, pedigreed Trojan -- a touted recruit since before his senior year of high school who is almost certain to enter the NFL draft this spring, when he is expected to be picked in the first round.
Osweiler? Only over the past two weeks has his play overshadowed his height, which you might have heard is 6-foot-8.
Osweiler is raw. Basketball was his No. 1 sport growing up. Barkley has been groomed most of his life to be an NFL quarterback. Former USC coach Pete Carroll repeatedly referred to him as an "outlier," Malcolm Gladwell's term for exceptional people, during Barkley's true freshman season.
[+] Enlarge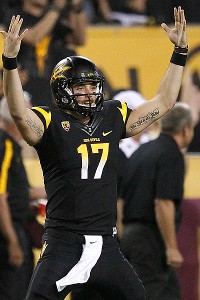 AP Photo/Matt YorkQuarterback Brock Osweiler had a breakout game against Missouri, passing for 353 yards and three touchdowns.
But if this were a quarterback horserace, Osweiler would be gaining on Barkley. As nice as Barkley's numbers have been, and as impressive as he is throwing the football, he hasn't had many (any?) performances better than Osweiler's against Missouri in Week 2, when the Sun Devil completed 24 of 32 passes for 353 yards with three touchdowns and no interceptions and rushed five times for 34 yards and a score against a nationally ranked team. And that was Osweiler's third career start.
Said USC coach Lane Kiffin: "Big, powerful, strong arm. Really is doing a better job of moving to his second and third progressions in his reads than a year ago ... It's shocking to play this well. A big-time NFL talent."
Of course, Osweiler wasn't nearly as in control at Illinois the next week. He completed 25 of 45 passes for 256 yards with a touchdown and two interceptions. He again rushed for a score but also fumbled and was sacked six times. Coach Dennis Erickson didn't entirely blame his offensive line for that, either.
"We didn't get rid of the football," Erickson said. "In our offense, you've got to get rid of the football. That's just part of it. There were times when the ball should've been out and it wasn't out, and we held it and got sacks."
Very few quarterbacks avoid bumps in the road in their development. Barkley certainly can identify during his two-plus years as a starter. During USC's meandering 20-9 record with him under center, he's been spectacular -- three games with five touchdown passes -- and inconsistent, see 27 career interceptions.
At present, Barkley ranks sixth and Osweiler seventh in the Pac-12 in passing efficiency. Will that order stay the same after the Sun Devils and Trojans tangle Saturday, with the No. 1 spot in the Pac-12 South Division on the line (USC isn't eligible for the postseason, so it can't play in the conference championship game)?
While many football players say stats don't matter -- only wins do, Barkley has made no secret that he keeps up with other quarterbacks.
"I definitely have them on the radar," Barkley said in April about other "name" Pac-12 quarterbacks, such as Stanford's
Andrew Luck
. "I'm aware of them. It is competition. Every quarterback wants to be the best at what they do. When I hear their name, I'm always trying to one-up them."
While Barkley didn't know who Osweiler was then, he probably does now. Osweiler, however, said he doesn't compete with the other Pac-12 quarterbacks. Or he sorta said that.
"Obviously, I know what other quarterbacks are doing around the conference," he said.
The primary focus is inside the locker room. The Sun Devils took the loss at Illinois hard, as they should have since they lost a game they should have won. Nine possessions inside Illinois' territory netted just two touchdowns. They had three turnovers, missed a chip shot field goal, gave up six sacks and had eight penalties in a 17-14 defeat in which they outgained the Illini 362 yards to 240.
"Guys were pretty hurt," Osweiler said. "It was pretty gut wrenching for me. But the positive thing is as hurt and as down as everyone was in the locker room after the game, by the time we hit the buses to go to the airport everyone was like, 'Hey, this one is behind us. We've got USC this week. We're at home. Let's go have a great week of practice.' It was pretty cool to see guys bounce back so quickly."
When asked if some fans might say, "same, old Sun Devils," he added: "A lot of people are looking at this loss like it's the end of the world. It's just one loss early in the season. It's a nonconference game. It's a great learning tool for us."
Learning is about experience, and that's what Osweiler lacks compared to Barkley.
"I don't care how athletic you are or how good you are, experience makes you better," Erickson said. "He'll learn from what happened."
That means getting rid of the football faster against a Trojans defensive line that is more talented than Illinois'.
The Sun Devils seemingly have more to play for. A win over the Trojans would put them in good position in the Pac-12 South, seeing that Utah already lost at USC. It might push them back into the national rankings. It certainly would energize a fan base hungry for success. It would get the critics off Erickson's back.
Oh, and it would end an 11-game losing streak in the series. And yes, that span of futility has come up this week.
"Obviously that talk is going around the building, reminding us how long it has been," Osweiler said.
Ending that streak may come down to Osweiler, the surging new guy, outplaying Barkley, the established star.
April, 22, 2011
4/22/11
12:00
PM ET
LOS ANGELES, Calif. -- Last summer, four guys with a lot in common hung out in Manhattan and at the ESPN offices in Bristol, Conn. They had a good time. They traded war stories. But, no,
Matt Barkley
,
Nick Foles
,
Jake Locker
and
Andrew Luck
did not become good buddies. They didn't start firing off text messages talking smack to each other the way young men do when they bond. They didn't plan a Vegas get-away so they could radiate awesomeness as a foursome.
Locker is a likely first-round NFL draft pick next week. Luck will be touted as the likely top overall draft pick in 2012. Foles could join him in the first round, as Barkley likely would if he opted to leave after his junior season at USC.
"We're all good [with each other]," Barkley said. "But we're all kind of doing our own thing."
[+] Enlarge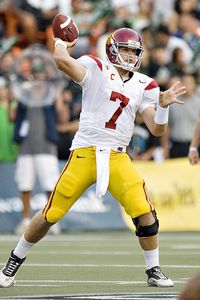 AP Photo/Eugene TannerMatt Barkley was rated the No. 1 high school prospect in the country in 2009 by ESPN Recruiting.
And, for Barkley, he admits that "our own thing" includes competing to be the best of the group.
"I definitely have them on the radar," Barkley said. "I'm aware of them. It is competition. Every quarterback wants to be the best at what they do. When I hear their name, I'm always trying to one-up them."
The best quarterback in the Pac-12 next fall likely will be the best quarterback in the nation. The second-team all-conference quarterback could end up a second-team All-American. Luck entered the offseason as the leading Heisman Trophy candidate. Barkley, Foles and Oregon's
Darron Thomas
will make most preseason watch lists for the award.
It seems a bit odd that the USC quarterback, a position in recent years that almost automatically included front-runner status for the bronze statue, is an underdog in the group. Luck is the decided front-runner. Thomas was second-team All-Pac-10 in 2010 and led the Ducks to the national title game. Foles has the best supporting cast of receivers of them all and could end up with the biggest numbers.
And Barkley? He's been running for his life this spring behind a patchwork offensive line.
Last year, Barkley went 1-3 against the group. He put up bigger numbers than Luck in a
37-35 nail-biting defeat
at Stanford -- Luck was more efficient -- but put up inferior numbers against the other three, including a
win over Foles and Arizona
.
The first priority for Barkley and the Trojans is reversing those numbers and winning those games. But Barkley also is honest enough to admit that he wants to eclipse the other Pac-12 quarterbacks and, yes, he wants to push into the Heisman discussion.
"You grow up wanting to be the best and the Heisman Trophy is the mark of the best player in the country. So, yes, I've dreamed of that," he said. "It's kind of what you expect here."
Barkley has been the quarterback of record during a tumultuous time at USC. He won the job as a true freshman over
Aaron Corp
and
Mitch Mustain
after Mark Sanchez surprised then-coach Pete Carroll by opting to leave early for the NFL. Carroll went from being perturbed with Sanchez to gushing over Barkley in rapid fashion, calling Barkley, the No. 1 high school prospect in the nation in 2009, an "outlier," a term Carroll adopted after reading Malcolm Gladwell's
book titled the same
.
"This is not a typical kid," Carroll said after Barkley won his first start over San Jose State.
Then Carroll bolted for the Seattle Seahawks, Lane Kiffin was hired and NCAA sanctions hammered the program. Along the way, Barkley's ride hasn't always been smooth. When his numbers are viewed from the perspective of being a starter as a true freshman and sophomore, 5,526 passing yards, 41 touchdowns and a 61 percent completion rate sound pretty darn good. But Carroll set him up as a mutant quarterback and he turned out to just be flesh and bone like everyone else -- see: 26 interceptions.
Further, going from Carroll's over-the-top praise to Kiffin's unadorned feedback was a challenge for Barkley. One of the first things Kiffin did was talk about how Barkley needed to lose some weight, and Barkley never seemed to be thrilled with his weight being an issue, even after he lost a few pounds.
"It was definitely different," Barkley said of the transition to Kiffin. "I didn't expect it. But you've got to learn to go with it and know how to react to him, what works with him and what doesn't."
But the tit-for-tat -- Barkley has made fun of Kiffin's inexperience on Twitter a couple of times this offseason -- doesn't seem to indicate tension between quarterback and coach.
"Everybody would ask me, 'What do you think of Kiffin?' expecting me to bash him. He's awesome," Barkley said. "He's a great playcaller. He pushes you to be the best."
And Kiffin likes what he's seen this spring from Barkley, who's the team's only returning captain while still being a young player (second semester sophomore).
"He's doing a really good job of being a leader," Kiffin said.
Other players have noticed. Said safety T.J. McDonald, "He's the centerpiece that's putting that all together, and you can see that by how the offensive members are responding."
Barkley wants to be the best. He admits that is a primary goal. He expects to become a Heisman Trophy candidate. And he expects to become a high NFL draft choice; though it's not a topic he will talk about, more than a few folks figure this is his last season at USC.
But the best way to accomplish his personal goals is to reverse the downward course of what had been a college football dynasty. Barkley's Heisman chances and perhaps even his NFL prospects will decline if the Trojans don't win.
"All that doesn't mean anything unless this year produces results," he said. "If this season doesn't produce what I want to do, which is be the best in the country, then it's worth nothing. If I'm playing my best football, it gives our team the best chance to be successful."
And if he plays his best football, Barkley believes he'll become the best quarterback in the land.