NCF Nation:

Malcolm Moulton
March, 28, 2012
3/28/12
1:00
PM ET
Brandon Green
has been
MarQueis Gray
's roommate for the past two years, and the two Minnesota teammates share many of the same classes. So Green has a close friendship with his quarterback. But even strangers could tell that Gray needs a little more support on the field in 2012.
Gray got much better as the season went along in 2011 and has the potential to develop into a star this year for the Gophers. He carried a heavy workload last year, though, as he led the team in both rushing (966 yards) and carries (199) as well as throwing the ball. In the last two games of the season, he rushed 27 times each.
[+] Enlarge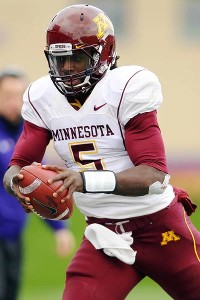 Dennis Wierzbicki/US PresswireThe Gophers are planning to have quarterback MarQueis Gray run less and throw more in the upcoming season.
"We want to cut that down some so he can throw some more," Green said. "I feel like with the running backs and receivers we've got back, we can make plays for him and reduce the load down on him."
That confidence is based more on potential than past evidence this spring. Minnesota's top receiver the past couple of seasons,
Da'Jon McKnight
, was a senior last year. The leading returning pass catcher is Green, who had just 15 receptions in 2011. The Gophers also lost last year's leading rusher at tailback, departed senior
Duane Bennett
, and
Donnell Kirkwood
is injured this spring.
Still, Minnesota -- which lacked a lot of big plays on offense in head coach Jerry Kill's first season -- is hopeful that more options and more comfort at the skill positions will translate into a more diversified attack.
"If we have nothing else, all the way around we have competition," offensive coordinator Matt Limegrover said.
The Gophers need someone to emerge at running back, both to take the pressure off Gray to carry the ball and to turn their rushing game into a two-pronged danger. It's an unproven group this spring, which is a big reason why Minnesota brought in junior college transfer James Gillum, who ran for 1,042 yards at Mississippi Gulf Coast last year.
"The thing about I like about him was that he was down in Mississippi playing against SEC linebackers and defensive ends," Limegrover said. "And no offense to his offensive linemen, but sometimes those are in-state guys. So a lot of times he was making something out of just nothing, and he was still grinding out 130, 140 yards per game.
"I feel like he brings kind of a grit as a guy who can say, 'OK, hand me the ball and I'll do my thing.'"
Kill also pointed to
David Cobb
, who played sparingly as a true freshman, as a 220-pound standout athlete who could contribute at tailback.
The receiver position has more bodies than this time a year ago but no true leader. But Green, who's now a senior, wants to change that.
"Now that Da'Jon is gone, I've got the most experience," he said. "I feel like it's my time to step up and lead the receivers and do what I need to do to help us win."
Other possibilities in the passing game are
Devin Crawford-Tufts
, who played as a true freshman in 2011;
Marcus Jones
, who's coming off an ACL injury;
Malcolm Moulton
, who played some as a junior-college import last year; and new juco transfer Isaac Fruechte.
"There's a lot of depth, and different receivers can do different things," Green said. "I feel like we've got a lot of weapons where MarQueis can go out and pass the ball around."
If so, his roommate might have less of a burden to carry in 2012.
August, 23, 2011
8/23/11
5:00
PM ET
Jerry Kill is in the middle of another reclamation project. After bolstering programs at Northern Illinois, Southern Illinois and other stops along the way, Kill has brought his turnaround tactics to the Twin Cities. He takes over a Minnesota program that went 3-9 last year and has suffered some roster attrition. Most project the Gophers to finish at the bottom of the Legends division this season.
Unlike his predecessor, Tim Brewster, Kill isn't one to make bold preseason predictions. He's trying to build a program "on concrete, not sand," and the process could take some time.
I checked in with the first-year Gophers coach Tuesday to get his thoughts on preseason prep.
What has been your top priority in camp?
Jerry Kill:
The biggest thing is when you take over a new team, you go through spring ball, but they haven't been through two-a-day camp with you. They're not familiar with what you do and how you do things. So getting everybody into a routine and familiar with the way we approach things, it's been a challenge but the kids have handled it pretty well.
Do you feel like you're still starting over?
[+] Enlarge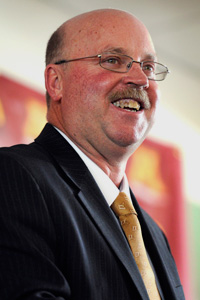 AP Photo/Craig LassigJerry Kill opened up practice for a few weeks because he believes players work harder in public.
JK:
It's a new coaching staff, and we haven't been through it. Until we go through a full year, people aren't going to understand what you expect or what you want. You can't get to know somebody in three or four months. It takes time, and trials and errors, so we are starting over. It is what it is. We've never been through two-a-day camp together, we've never been through the first game together, we've never been through a season together. Once you go through it for a year, you can get all the things figured out. That's just the way it is. And you hope you win some games along the way.
You've had quite a few open practices and scrimmages this month. What has the atmosphere been like?
JK:
I remember asking Bobby Ross, back when I was coaching Saginaw Valley State and the Detroit Lions were having training camp and Coach Ross was in charge. They had the open practices. I asked him why he did that and he said because players will practice harder. I don't think there's any question about that. So we opened up our first two weeks, it's closed now, but we had 200 people at probably every practice at least. So it's a good atmosphere for the kids to practice. They don't want to be embarrassed when there's people around, so I thought it was a good deal.
You were pleased with MarQueis Gray coming out of the spring. How has he looked to you so far this camp?
JK:
He's still going through the learning process, and he will for a while. He's never been in a game at quarterback. He has played some Wildcat or whatever, but he has never been a true quarterback in a game. There's learning going on every game, and it's certainly different from spring ball to two-a-day camp because we're getting closer to game day, and there's a lot more to do at that position. But he's working his tail end off to do something that's pretty darn near impossible, to go from a wide receiver to a quarterback.
He's worked hard at it, we're making progress. Will we be real complicated early in the year? We can't be. We've basically got four freshmen quarterbacks. So we'll have to simplify things. He's athletic enough to do some special things once we get him in the right position. He's what you look for in a quarterback and he's got the skill set to do it, but the other people around him have got to do a good job also.
How many young players do you anticipate playing, true freshmen and redshirt freshmen?
JK:
Too many. It is what it is. We've got a situation where we've got one recruiting class that only has five players left. There's a reason things are open. We've got one senior running back [
Duane Bennett
] and four freshmen, whether they're redshirt or true freshmen. We've got one senior wide receiver [
Da'Jon McKnight
] and the rest are freshmen and a junior college player. Offensive line, we've got three seniors and the rest of them are freshmen and redshirt freshmen, a couple sophomores sprinkled in there. So it's a young football team.