NCF Nation:

Malik Generett
July, 1, 2010
7/01/10
1:47
PM ET
Connecticut coach Randy Edsall held a summer update teleconference today before he and his coaching staff go on vacation. Edsall said it's been an uneventful summer in Storrs, but he also announced that two receivers won't be with the team this fall.

Redshirt freshmen Marcus Aiken and Malik Generett will both have to try to work their way back next year. Aiken was dismissed from the university, while Generett is ineligible. Edsall would only say the two ran afoul of university policies without elaborating, but he indicated there were no legal issues involved and that the departures were related to academics.

"It's unfortunate that some guys just don't take care of things they should take care of," he said. "If guys took care of their business, they wouldn't put themselves in that situation."

Aiken worked out at safety this spring but was moved to receiver at the end of spring ball. Generett showed some promise during spring, and at 6-foot-4 he was the team's lone true big target at wideout.

The injury news is more positive for the Huskies. Offensive lineman Jimmy Bennett, who missed the spring with a knee injury, should be ready to go for fall camp. UConn's coaches loved Bennett's potential to be a big-time player at tackle before he got hurt.

"He has worked extremely hard," Edsall said. "I think can he be every bit as good as we thought he could be."

Cornerback Blidi Wreh-Wilson and linebacker Jesse Joseph, who both had shoulder injuries this spring, are full go, as is receiver Nick Williams (hip). The status of defensive lineman Greg Lloyd, who suffered a serious knee injury near the end of last season, is still up in the air.

"A lot depends on how hard Greg wants to work in the next month," Edsall said. "If he works really hard, he should be OK to get started."

Defensive tackle Alex Polito, who tore his labrum this spring, will be back toward the end of preseason camp, Edsall said. Backup linebacker Emmanuel Omokaro is out until about late September.

Edsall said all of the freshmen reported Sunday and are eligible. Wide receiver Geremy Davis has a knee injury that he suffered while working out this summer, and that may force him to sit out this season, the coach said.

All in all, the news is more positive than negative for the veteran-laden Huskies. While Aiken and Generett would have added depth to the receiving corps, neither was being looked at as a starter. Getting Wreh-Wilson and Joseph back is key to the defense, and if Bennett regains his form it will add to an already imposing O-line.

Sounds like Edsall issued a challenge to Lloyd to work hard on his rehab; the former linebacker could give the defensive line some needed strength on the edge if he's sound.
March, 8, 2010
3/08/10
8:55
AM ET
This could be a big year for Connecticut.
The Huskies were playing as well as anybody in the Big East down the stretch and finished the 2009 season with a victory over South Carolina in the Papajohns.com Bowl. They bring back a wealth of starters and plenty of depth. I caught up with UConn coach Randy Edsall last week to talk about the beginning of spring practice, which starts March 16. This is part I of my interview. Check back later for part II.
First of all, you have to be feeling pretty good about where the program is given all the players you bring back from last year, right?
[+] Enlarge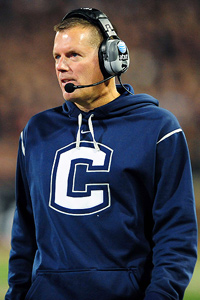 Andrew Weber/US PresswireRandy Edsall led the Huskies to an 8-5 record in 2009.
Randy Edsall:
We do. We have a lot of guys back and we only have 12 seniors on the roster, so that bodes well for us. We're going to have more depth than we've ever had. The thing about this spring that's going to be a little different is, we're going to have a lot of guys who won't be doing things because of injuries. So we'll be able to get a lot of work in, but some of the kids won't be out there with us because of injury. But the thing I'm excited about is that we're going to give some of these young guys a lot of work to even develop more depth in the program.
Do the injuries cause a little less of a concern this spring just because you have so much experience coming back?
RE:
Yeah, it really does. Just looking at our depth chart and our board ... even though Jesse Joseph is not going to go through the spring, Greg Lloyd is not going to go through the spring, Blidi Wreh-Wilson is not going to go through the spring on defense, with those guys out we still have so many guys and we know what those guys can do because they played for us. And now get some other kids more repetitions and kids we know are going to be available to play next year. For me, it's a plus for us. And we had six kids who came in at midyear, so it's another plus that those kids are going to get a lot of reps.
We're not going to be the finished product coming out of spring, because like with Jimmy Bennett and Mike Ryan on offense, they're not going to be practicing due to the injuries that they had in the fall and
Robbie Frey
will be limited and won't be full go. That's where in terms of the offensive line, it's going to give us a chance to work with some of our young guys and really get them a lot of reps to develop them so if they've got to get into a game, they're going to have some experience there.
Let's talk about the quarterbacks. Zach Frazer played well for you at the end of the year, but Cody Endres also played well before his injury. Is Frazer the No. 1 guy right now or is it more of a competition?
RE:
As we came out of the season, we won four straight there with Zach and I thought he did some good things. Cody did, too, I think, so we're in a good situation. But as we go into the spring, Zach's the No. 1 guy and it would be his job to lose. He knows there's always competition, but he's the No. 1 guy as we start practice on the 16th.
What did you like about the way Frazer played at the end of the year?
RE:
I thought he really just played within himself. I thought he was relaxed, he was poised and I thought he made a lot of good decisions He wasn't forcing the ball; he was taking what the defense was giving and throwing the ball where it should have been thrown. And when it wasn't there, he threw the ball away as opposed to trying to make a great play, squeeze a ball into somewhere you shouldn't. I really thought he did a good job of what we asked him to do in the game plans we had for those games.
People may forget that you put in a new offense last year, and there must have been some adjustments along the way.
RE:
You could see the improvement as the season went on with what we did offensively, and I think one of the keys this spring is now the kids are going to be more comfortable in the offense. There are going to be some things that we're able to do to add or to tweak where we think it will make us better. But I was pleased with the development of the offense as the season went along. Our point production and passing yardage was up from a year ago, and we maintained what we wanted to do in the running game.
It took two guys to replace Donald Brown, but that's fine. And we want to keep building on the positives we had last year and keep moving forward, and the good thing is we only lost Andre [Dixon], and we still have
Jordan Todman
coming back. We lost Brad [Kanuch] and
Marcus Easley
, but we feel we have receivers to step in and do the job. And up front the only guy we lost was Mike Hicks. We really feel good about the guys we have coming back and what we can do to improve upon the production and the output we had a year ago.