NCF Nation:

Malik Jackson
February, 7, 2012
2/07/12
11:57
AM ET
We turn our attention to defense today, specifically the top defensive lines in the SEC during the 2011 season.
Year in and year out, strong defensive line play is what separates the SEC from other leagues, so there's no shame in finishing in the bottom half of these rankings.
You can see our preseason rankings
here
.
Now onto our postseason rankings:
[+] Enlarge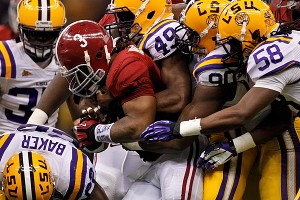 Derick E. Hingle/US PresswireEnd Barkevious Mingo, 49, and tackle Michael Brockers, 90, led a stout LSU defensive line.
1. LSU:
The Tigers overwhelmed teams this season up front with numbers, power and speed. They had the luxury of running fresh guys in and out of the game and not dropping off one bit. Michael Brockers was one of the top interior linemen in the league, while Sam Montgomery and Barkevious Mingo combined for 28.5 tackles for loss, including 17 sacks, off the edge. Finding a better collection of defensive linemen anywhere in college football would be difficult.
2. Alabama:
Even Nick Saban said before the season that Alabama didn't have that dominant difference-maker up front this season in the mold of a Marcell Darius, but it didn't matter. The Crimson Tide's play up front was still dominant. Nose guard Josh Chapman courageously played through a torn ACL and plugged the middle, and nobody got any push against the Alabama front when it came to running the ball. The Tide led the country in rushing defense with opponents managing just 2.4 yards per carry.
3. South Carolina:
The Gamecocks' specialty was rushing the passer, and they ended the season with six sacks against Nebraska in the bowl game. Senior defensive end Melvin Ingram was a consensus All-American with 10 sacks, but he had plenty of good players around him. Freshman defensive end Jadeveon Clowney is next in line for All-America honors. He tied for the lead in league games with five forced fumbles.
4. Georgia:
Not only were the Bulldogs one of the best defensive lines in the league, but they were also one of the most improved. Junior college newcomer John Jenkins made a huge difference at nose guard, and junior end Abry Jones had a breakout season with seven tackles for loss and 20 quarterback hurries. The Bulldogs were a lot bigger up front this season, too, which comes in handy when you're playing a 3-4.
5. Florida:
The Gators could have used some more depth in their defensive line, but they held up surprisingly well this season despite getting very little help from their offense. Sophomore Dominique Easley emerged as one of the more active defensive tackles in the league before tearing his ACL against Florida State, and Sharrif Floyd played both inside and outside for the Gators. With just about everybody back, Florida should have one of the top lines in the SEC next season.
6. Vanderbilt:
A few eyebrows might be raised to see the Commodores ranked in the top half of the league when it comes to defensive line play, but look at the numbers. In SEC games, Vanderbilt held opponents to an average of 111 rushing yards per game, which was fourth in the league. Senior defensive end Tim Fugger might have been the most underrated player in the league with 13.5 tackles for loss, including eight sacks. Junior tackle Rob Lohr wasn't too far behind with 11.5 tackles for loss, including five sacks.
7. Mississippi State:
It wasn't the best start to the season for Mississippi State's defense, but the Bulldogs closed with a flurry thanks in large part to the way they played up front the last half of the season. Tackle
Fletcher Cox
led the charge down the stretch and led all SEC interior linemen in league games with 12.5 tackles for loss. Cox's running mate inside,
Josh Boyd
, also did his share of damage with eight tackles for loss.
8. Arkansas:
Coming into the 2011 season, the Hogs looked like they had one of the deepest defensive lines in the SEC. But star defensive end
Jake Bequette
was plagued by a nasty hamstring injury early in the season, and his sidekick on the other end,
Tenarius Wright
, broke his arm in the fourth game against Alabama. Bequette still responded with seven sacks in seven SEC games, and Wright also returned late in the season. The Hogs' weakness was stopping the run. It was a problem all season long.
9. Auburn:
The Tigers had some decent sack numbers, but that's where it ends for them up front defensively. Sophomore defensive end Corey Lemonier was second in the SEC in league games with 8.5 sacks, but the Tigers were carved apart up front more times than not. They allowed more than 200 rushing yards per game to SEC foes, and had a terrible time getting off the field on third down. Auburn was painfully young up front defensively this season, but everybody returns in 2012.
10. Tennessee:
The Vols had trouble getting to the passer this season, and they also weren't especially good at stopping the run. That's a combination that's difficult to overcome for any defense. They finished with just 10 sacks in SEC games, which was 11
th
in the league, and they also gave up an average of 178.8 rushing yards per game to league foes. The Vols were hurting at tackle, which is why
Malik Jackson
played inside. He led the team with 11 tackles for loss.
11. Kentucky:
As a whole, Kentucky improved defensively under first-year coordinator Rick Minter, particularly when it came to forcing turnovers. The Wildcats collected 16 in eight league games. They still need to get better up front after allowing an average of 203.8 rushing yards per game to SEC opponents. They also managed just 13 sacks in eight SEC contests. This is a big offseason for guys like
Mister Cobble
and
Donte Rumph
.
12. Ole Miss:
One of the biggest blows for the Rebels was senior defensive end
Kentrell Lockett
not being able to make it all the way back from his knee injury. Ole Miss was left without any finishers up front and also couldn't stop the run. In SEC contests, the Rebels gave up an average of 256.5 rushing yards per game, which ranked them last in the league and was 50 yards more than the 11
th
place team.
October, 24, 2011
10/24/11
9:25
AM ET
»
Power Rankings
:
ACC
|
Big 12
|
Big East
|
Big Ten
|
Pac-12
|
SEC
We are closer and closer to the historic clash between Alabama and LSU. Both are off this weekend, so we'll have to wait two weeks before our top teams return to the playing field.
It should be well worth the wait.
Let's check out the rankings for Week 9:
1. LSU (8-0, 5-0):
The Tigers just keep getting stronger each week. Even when you take key guys out of the lineup, LSU just bounces back even better. LSU might have played its best game of the season when it ran Auburn out of the bayou before the third quarter was even over. Some have doubted LSU because of the distractions and some inconsistency on offense, but the Tigers haven't missed a beat this season. They are at the top of the BCS standings for a reason and that is just adding even more hype to the Tigers' showdown with Alabama.
2. Alabama (8-0, 5-0):
For 30 minutes Saturday, we realized that Alabama was human. The Crimson Tide had just six points at halftime against a battered Tennessee team and we quickly realized that even one of Nick Saban's best teams can be susceptible to looking ahead or having a lack of focus. But the Alabama team we've seen consistently run over and through opponents showed up in the second half and pummeled the Vols by scoring 31 straight points in the last two quarters. Now, the Tide can rest before their epic battle with LSU. Some Alabama players tried to downplay their excitement for this game, while others seemed relived that it was finally time to focus on LSU.
3. Arkansas (6-1, 2-1):
The Razorbacks were lackadaisical coming out against Ole Miss and it almost resulted in their second loss of the season. That exciting passing game was nonexistent and the running game continued to struggle. But like Alabama, the Hogs rallied at halftime and blew past Ole Miss in the third on their way to a closer-than-expected victory. This isn't the first time Arkansas has gotten off to a slow start, and with a few tough games remaining, that is a concern going forward. Still, the Razorbacks have the best passing game in the league, so
Tyler Wilson
's arm will keep the Hogs in any game. We still need to see more out of the running game and more consistency on defense.
4. South Carolina (6-1, 4-1):
The Gamecocks were off over the weekend, giving them time to regroup and find some more weapons to help soften the blow of losing running back
Marcus Lattimore
. South Carolina will have to heavily lean on its defense from here on out and that might not be such a bad thing. The Gamecocks rank fourth in the SEC in total defense (278 yards per game) and have forced a league-high 24 turnovers. This group went from flaky to fierce, which has to be comforting for South Carolina's staff. The Gamecocks will have to rely on
Brandon Wilds
at running back from here on out. Remember, he was fifth on the depth chart coming into the season. He'd better stay healthy because the depth isn't great at all and there are former walk-ons waiting in the wings.
5. Georgia (5-2, 4-1):
The Bulldogs were off as well before they take on Florida in what should still be referred to as the World's Largest Outdoor Cocktail Party. Georgia will come out of the bye feeling a little healthier as well with linebacker Alec Ogletree coming back and wide receiver
Malcolm Mitchell
probably returning as well. Georgia has the least taxing schedule remaining in the East, and if the Bulldogs win out, there's a strong chance they will represent the East in the SEC championship game. South Carolina still needs to lose at least one game, but with Arkansas and Florida remaining, that's a definite possibility. Georgia needs to focus on itself, and it's done a great job of that since starting off 0-2. The Bulldogs can thank their tenacious defense for this turnaround.
6. Auburn (5-3, 3-2):
The Tigers have been fun to watch all season because of the heart and resiliency they have played with. However, we quickly realized just how young this team was against LSU. This group of Tigers was blasted over the weekend, and not even making a change at the quarterback spot could save it.
Clint Moseley
was abused against LSU's defense and Auburn totaled just 248 yards and the defense let LSU move up and down the field with relative ease. We know this team has some nice talent, but the youth is starting to catch up with it.
7. Florida (4-3, 2-3):
The Gators had to be thrilled that they were off over the weekend. Florida stumbled into its bye week with three straight losses and an offense that seems to have regressed to what last year's looked like. The hope in Gainesville is that quarterback
John Brantley
(lower leg) will be back for the Georgia game, but that isn't a given. With an extra week to prepare for the Bulldogs, you'd think that offensive coordinator Charlie Weis could cook up a decent game plan for his two freshmen quarterbacks. A week hasn't been enough for him or his youngsters since Brantley went down. Florida has the mental edge over Georgia after winning 17 of the past 20 meetings, but not getting a win this weekend against the Bulldogs will send Florida into a deeper downward spiral.
8. Vanderbilt (4-3, 1-3):
Coach James Franklin made the right decision when he started
Jordan Rodgers
at quarterback against Army. Sure, Army isn't the most imposing team, but the Commodores totally clicked on offense for the first time in a while. Rodgers can sling the ball around the field and he can also make plays with his legs. He got nearly 200 yards passing and 100 yards rushing over the weekend, and the more snaps he takes out there, the more comfortable he'll be. This defense continues to impress as it forced three more turnovers Saturday. This isn't the Vanderbilt opposing teams have come to know and love.
9. Tennessee (3-4, 0-4):
The Vols kept up with Alabama for the first half Saturday, but after the half it became painfully obvious that Tennessee just doesn't have the manpower to sustain such life against bigger, better teams. The Vols have a lot of young talent, but it is all starting and the depth issues are very much a concern right now. Sure, Tennessee is out of the SEC East hunt, but you can tell that the wheels are moving in the right direction for this team. Coach Derek Dooley has instilled the right mindset into his players, but it's just tough that there aren't able bodies to consistently come in and help out on both sides of the ball. Not having four of your best players --
Tyler Bray
,
Justin Hunter
, Herman Lathers and Janzen Jackson -- doesn't help, and it has showed in the past few weeks.
10. Mississippi State (3-4, 0-4):
The Bulldogs have had a ton of offensive problems since Week 2, and the hope is that a lot of those execution issues were cleared up during the bye week. Coach Dan Mullen can't be happy with how his spread offense has looked of late and making personnel changes, starting with the quarterback spot, wouldn't surprise anyone.
Chris Relf
was benched for
Tyler Russell
against South Carolina, but nothing really changed for the offense, meaning that he quarterback battle should continue until someone runs away with the position. This team was supposed to make noise in the SEC West this year, but it has yet to get a conference win. A trip to Lexington, Ky., could help deliver that first win, but even the Wildcats' offense looked better Saturday than Mississippi State's has since September.
11. Kentucky (3-4, 2-5):
After a strong offensive showing against Jacksonville State on Saturday, the Wildcats are out of our SEC cellar. No, Jacksonville State isn't SEC competition, but coming off the bye, Kentucky had the performance it needed to get out of its rut and stop its four-game slide. Kentucky put up a season-high 445 yards. The passing game wasn't great, but quarterback
Morgan Newton
was as efficient as ever and took a step in the right direction against the Gamecocks. But Kentucky still has a long way to go. Mississippi State is the next opponent and it has its own struggles to work out. Can the Wildcats squeak by at home to get its first conference win of the year?
12. Ole Miss (2-5, 0-4):
The Rebels fought for four quarters against Arkansas, but just couldn't hold up with depth issues plaguing them on both sides of the ball. The offense was clicking early, but got nothing going in the third quarter and trudged along in the fourth. If not for a badly thrown pass from
Randall Mackey
that was intercepted to seal the game for the Hogs, Ole Miss might be grinning from ear to ear after a major upset. But that didn't happen and the Rebels remain winless in the SEC. Ole Miss is having to use a plethora of youngsters, especially from its freshman class, and that means tons and tons of growing pains. Houston Nutt's seat in Oxford is only getting hotter and hotter with each week that passes by.
August, 23, 2011
8/23/11
2:30
PM ET
It's a touchy subject in college football.
We can thank Ohio State for that.
Just talking about selling college memorabilia immediately triggers beads of sweat to form on athletes' foreheads. Not because they might be guilty of it but because they're afraid anything they say could incriminate them.
After all, according to the NCAA, selling or trading memorabilia by college athletes is deemed illegal. The NCAA equates getting money for memorabilia to receiving improper benefits.
But it belongs to the athletes, right?
When Florida wide receiver
Deonte Thompson
was recently approached with the question of college athletes being allowed to sell their game-worn jerseys or championship rings, he hesitated for a few seconds before reeling off a string of "I don't know" responses as he shook his head.
A common response, but there were some who didn't shy away from confronting the issue.
Tennessee defensive tackle
Malik Jackson
feels as though the jerseys, socks, belts, pants and rings given to players should be considered their property. And in this country, you're allowed to sell your property.
"If they give it to us, it's ours. We should be able to do what we want," Jackson said. "You have coaches making millions and players who gotta wonder what they're going to eat toward the end of the month because we're not getting paid.
"I feel like if it has my name on the back of the jersey, I should be able to do what I want with it."
Jackson transferred from USC last summer. In his time there he went to a Rose Bowl, getting a special bowl jersey and ring for winning. To his credit, he hasn't needed the extra money and said he has never thought about selling his Rose Bowl ring or jersey.
And that's the general consensus from players around the league. Most feel as though players should be able to sell what is rightfully theirs, but most would rather keep their items for memory's sake.
Arkansas wide receiver
Jarius Wright
agrees with Jackson, but personally doesn't think selling memorabilia is right. He'd rather "cherish it and give it to his kids."
Mississippi State defensive tackle Fletcher Cox said he wouldn't sell any of his items, but didn't consider it wrong for players to be able to. For some players, Cox said, affording everyday comfort items is hard because of financial hardships. If players are struggling for money, Cox thinks they should be able to sell their gear in order to get by.
He's also in favor of student-athletes receiving some sort of extra compensation because he sees college football as actual work.
"The way I look at it, football is a job to us," Cox said. "We always talk about it as a job. We're in football all day. You really don't have time for a part time job, like a regular student would."
We heard and read about proposals to give student-athletes extra funds, but that process is still in the ground stages. So, why not put in the hands of the athletes? If they own their jerseys, gloves and championship rings, why shouldn't they be able to sell them for some extra cash?
Will it transform a 4.4 guy into a 4.2 guy? Will a quarterback have a tighter spiral because he sold the jersey he wore in the national championship?
No, but it will help those in need, and while Wright might not agree with the idea, he understands the sense it makes to allow athletes to sell what belongs to them.
"I know I don't have much say so in that, but in a way they should be able to sell it because once the school gives it to them, it's theirs," he said.
July, 21, 2011
7/21/11
8:25
PM ET
HOOVER, Ala. -- Derek Dooley doesn't mind saying it.

Somewhere along the way a year ago, his team lost sight of what the standard is at Tennessee.

"I thought it was very important that we turn the page after last season to redefine the standard of excellence that Tennessee has had for so long," said Dooley, whose Vols were 6-7 in his first season in Knoxville.

At the heart of that standard is winning an SEC championship, something Tennessee hasn't done in 13 years.

"The fans expect us to go out there and compete for the championship and get one of those banners, and we're going to work on that," Dooley said.

Notice, he didn't offer up a timetable.

Dooley said he got out of the prediction business a long time ago, but he does go into the 2011 season feeling like his Vols can contend for the Eastern Division championship.

Never mind that more than 70 percent of the roster will be comprised of freshmen and sophomores.

"We entered this spring saying we're not going to let our youth be an excuse for failure, and we're not," Dooley said. "So it's going to be everybody's responsibility not to act like freshmen and sophomores and not to play like them, and we'll see if they can do that."

Defensive tackle Malik Jackson is one of only 10 seniors on the team, and while he understands the Vols will be lacking in experience, he looks around at the rest of the East and says, "Why not us?"

And he means now as opposed to later.

"I know we have the talent, and we also have the leadership on this team," Jackson said. "The East is wide open this year. We just have to take care of everything right in front of us and not get caught up in what's on down the road."

Dooley has already made a pact with this team that he's not going to coach it like a young team.

It's something they all agreed on the very first meeting last spring.

"I told them we can do this one of two ways," Dooley recalled. "I said, 'I can coach you like a freshman and kind of coddle you along, and you're probably going to have to play and you'll go out and embarrass yourselves, but you might like me a little better.'"

Needless to say, his second option was a runaway winner -- coaching the team as though it's upperclassmen and holding some expectations that younger players often don't have.

"It's going to be hard on you," Dooley told his players. "But it might make you a little bit better and give you a better chance to succeed on the field."
June, 20, 2011
6/20/11
11:30
AM ET
We take a look at the interior players on the defensive line next. The frightening thing about this area is that there is a lot of young talent that could be just as good as the veterans around the league.

That just goes to show you how good the recruiting is in this league. There are a couple of junior college players who could also make instant impacts on SEC lines in this league.

Here's a look at some of the big fellas in the middle:

1. Jaye Howard, Florida, Sr.: Howard has never wowed people with his stats, but when he's playing to his potential, he's one of the toughest interior linemen to stop in this league. The athletic 300-plus-pounder is already a top NFL draft prospect at tackle. He had just 29 tackles and three sacks in 2010, but would have added to that had he not suffered a nagging ankle injury. He had his ankle cleaned out this spring and should be back to full strength for two-a-days.

2. Malik Jackson, Tennessee, Sr.: Jackson will be the center of attention on Tennessee's line. He's not only talented but he makes those around him better, and the Vols' line should greatly improve around him. Jackson had 48 tackles and five sacks a year ago after transferring from USC and making the switch from end to tackle.

3. Fletcher Cox, Mississippi State, Jr.: Cox started four games as a freshman and was a staple on the defensive front last season for the Bulldogs. He managed 29 tackles and 2.5 sacks and improved even more during the spring. Cox had a solid spring and looks to be even more of a force in the middle this fall.

4. John Jenkins, Georgia, Jr.: Jenkins has resided in the JUCO world for the past two years, but he arrives at Georgia as someone expected to have a profound influence on the Bulldogs' defense. He's perfect for Todd Grantham's 3-4 defense and will be immediately thrown into the noseguard battle. At 6-foot-4, 340 pounds, Jenkins will be a player who stuffs the run and collapses the pocket.

5. Josh Chapman, Alabama, Sr.: He's the anchor on the line and started 12 games a year ago after backing up and learning a lot from Terrence Cody in 2009. He's not as big, but he's more athletic than Cody and improved his strength this spring. Chapman enters the fall as the Tide's most-experienced lineman.

6. Travian Robertson, South Carolina, Sr.: Robertson returned in 2010 after a season-ending knee injury cost him most of 2009. All Robertson did was record 42 tackles, including 10 for loss and four sacks. He's become more of a leader on defense and should improve on his solid numbers from a year ago.

7. Josh Boyd, Mississippi State, Jr.: Boyd is the second part of Mississippi State's talented duo in the middle. He was right behind Cox with 24 tackles and also had 2.5 sacks. Boyd has been a tremendous player since his freshman year and seemed to grow even more throughout the spring.

8. Sharrif Floyd, Florida, So.: Floyd was the most consistent of Florida's much-heralded freshmen defensive linemen last season. The thing is that he could have been even better, but it took him some time to adjust to the college game. He'll battle for time at noseguard when Florida is in the 3-4 and will be a regular on the line when the Gators go back to the 4-3.

9. Ego Ferguson, LSU, Fr.: He redshirted last season, but people on the Bayou expect him to be a big-time player this fall. He has tremendous size and strength and should be an excellent run-stopper in the middle. His spot in the middle hasn't been guaranteed, but it will be hard to keep him out of the lineup.

10. Robert Thomas, Arkansas, So.: Sure, Thomas has yet to play a down of SEC football, but coach Bobby Petrino said this spring that Thomas might be the most-talented player in the middle for the Hogs. Thomas had 48 tackles, including 15 for loss, and 4.5 sacks as a JUCO standout last year. The coaches gushed over his athleticism after he took advantage of the reps he got with Byran Jones and DeQuinta Jones injured this spring.
June, 20, 2011
6/20/11
9:55
AM ET
Today we look at the big uglies that cause all the mayhem in the trenches. The SEC consistently spits out nasty defensive linemen and this year has more of an athletic feel.
Here's how the teams stacked up:
1. South Carolina:
The Gamecocks return a defensive line that would make any offensive line shutter. Plus, incoming freshman Jadeveon Clowney comes in as the top high school player in the country and could be one of the best ends in the league this fall. Devin Taylor leads the group at end and was second on the team with 7.5 sacks as a sophomore. Helping on the outside is Melvin Ingram, who plays inside on passing downs, and led South Carolina with nine sacks a year ago. Senior Travian Robertson, who came off injury to get four sacks last year, is solid in the middle as well.
[+] Enlarge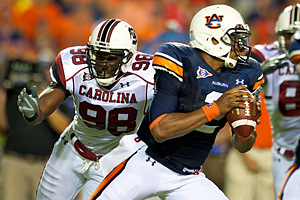 Dale Zanine/US PresswireDevin Taylor made a habit of harassing quarterbacks last season.
2. Arkansas:
The Razorbacks might have the best pass-rushing group Arkansas has seen in a while. Things revolve around defensive end Jake Bequette, who was one of the more unheralded players in the league last year, despite having seven sacks. On the other side of the line is Tenarius Wright, who will make up the second part of a formidable outside duo in Fayetteville with his speed and athleticism. In the middle, there are plenty of options. Byran Jones and DeQuinta Jones missed spring due to injury, but will be back this fall and there's a wealth of depth behind them. Junior college transfer Robert Thomas might be the best and most athletic option in the middle is primed to break out.
3. LSU:
There are some questions about the experience the Tigers bring back, but no one will question the talent and athleticism in Baton Rouge. Sam Montgomery is back at defensive end, after suffering a serious knee injury. He hasn't played much, but the coaches believe he's got what it takes to be a top end in this league. Kendrick Adams started 11 games last year at end, while Lavar Edwards filled in for Montgomery. Ego Ferguson redshirted last year, but should get a ton of playing time in the middle this fall. He is already one of the most athletic tackles in the SEC. Don't forget about five-star early enrollee Anthony Johnson, who made very strong impressions on his coaches this spring and will be in the rotation inside.
4. Florida:
This unit was criticized for lacking toughness last season, but will be full of that and even more athleticism in 2011. Jaye Howard is returning from spring ankle surgery and is already considered a top defensive tackle prospect in next year's NFL draft. Alongside him are youngsters Sharrif Floyd and Dominique Easley. Floyd was the most consistent of the much-ballyhooed freshman class last fall, while Easley struggled with attitude problems. Easley has rebounded and both excelled this spring. Omar Hunter is finally healthy and will share time with Floyd at noseguard and senior William Green will occupy an end spot. This group is even better when Ronald Powell lines up at end in the 4-3.
5. Alabama:
On paper, there are a few questions with this group, but it's hard to drop Alabama very far on this list. The 3-4 scheme will have senior Josh Chapman at noseguard. Chapman started 12 games in the middle last fall, totaling 31 tackles, including 3.5 for loss. Damion Square will compete for time on the outside, and since returning from his ACL injury, he's gained a lot more playing confidence and could be a budding star in the league. Junior college transfers Quinton Dial and Jesse Williams will compete for time on the line as well, while sophomore Ed Stinson will stay at end after starting last season at Jack linebacker.
6. Mississippi State:
The Bulldogs have arguably the top returning tackle tandem in the SEC. Fletcher Cox and Josh Boyd are the behemoths in the middle who combined for 53 tackles, 13 for loss and five sacks last year. Finding any sort of inside running game against Mississippi State will be extremely tough. Developing a pass-rusher is the next step for the Bulldogs' staff. Sean Ferguson occupies one side, but the other is still up for grabs. Trevor Stigers and Shane McCardell battled for the spot this spring, but neither has really pushed ahead.
7. Georgia:
There is a lot of talent in Athens, but there could be a lot of movement on the line. JUCO transfer John Jenkins is the big -- and we mean big -- name up front and he's yet to play a down in the SEC. He arrives with a ton of hype, but is perfect at noseguard in Todd Grantham's 3-4. DeAngelo Tyson moves to his natural position outside after playing noseguard last year. Kwame Geathers played in the middle this spring, but could be usurped for Jenkins this fall and move outside. Abry Jones is still maturing after moving to end and recording 34 tackles including 3.5 for loss last season and had a 16-tackle performance against Georgia Tech.
8. Auburn:
The Tigers must replace three starters this season. Inside, Auburn is talented but inexperienced with Kenneth Carter and Jeffrey Whitaker having 13 combined tackles from a year ago. There's less concern on the outside with lone returning starter Nosa Eguae on one side and sophomore Corey Lemonier on the other. Eguae might have more experience with 11 starts, but Lemonier appears to be more athletic and should be near the top of the defensive end pool this year. After that, the Tigers are young across the board.
9. Tennessee:
The Volunteers' line will grow with senior Malik Jackson running things in the middle. He had 48 tackles and five sacks a year ago and some think he'll be even better this fall. A lot will also be expected from incoming JUCO transfer Maurice Couch. He's pretty athletic at 6-foot-4, 327 pounds and he'll be greatly needed, considering the dismissal of Montori Hughes. Jacques Smith has All-SEC potential and will hold one of the end spots. After that, Tennessee has some young, but encouragingly talented bodies at each position.
10. Ole Miss:
Some of the best news of the spring coming out of Oxford was the return of Kentrell Lockett at defensive end. Lockett was granted an extra year of eligibility by the NCAA and will not only be the Rebels' top lineman but possibly their best defensive player. After that, the questions roll in with four tackles gone and youth coming in. Tackle Justin Smith has yet to really emerge as the All-SEC talent he was expected to be and Ole Miss is smaller up front. JUCO transfer Gilbert Pena could add some size in the middle. Gerald Rivers returns to get time at end, but has played in just 15 career games in two years.
11. Vanderbilt:
This was supposed to be a strength for the Commodores last year until injuries hit. Still, Vanderbilt returns three starters. Experience is there, but this unit has to continue to improve, especially in the pass-rushing department where the Commodores had just 20 sacks in 2010. Rob Lohr led Vanderbilt with four sacks a year ago and had 35 tackles. T.J. Greenstone is coming off of injury and will line up inside. Tim Fugger was one of the Commodores' most consistent players at end, playing in every game and registering three sacks and four forced fumbles.
12. Kentucky:
End Collins Ukwu and tackle Luke McDermott return with the most experience on Kentucky's line. Ukwu improved not only on the field but in the weight room this spring and is expected to be a more consistent pass-rusher. McDermott is a walk-on currently ahead of Donte Rumph, who has the talent to be one of Kentucky's top defenders, but has yet to fully buy in to the program. The coaches are also waiting for tackle Mister Cobble to finally break out of his funk and be a regular contributor. The rest of Kentucky's linemen have some developing to do and are inexperienced.
April, 18, 2011
4/18/11
10:28
AM ET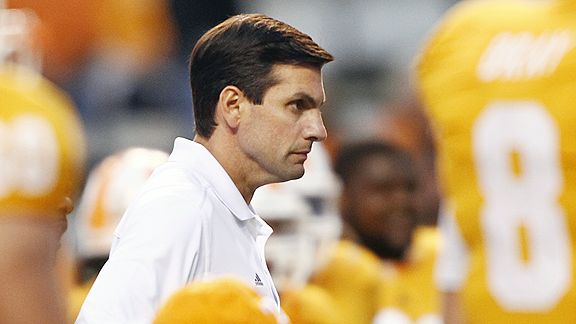 AP Photo/Wade PayneDerek Dooley is working to get Tennessee back among the elite programs in the nation.
KNOXVILLE, Tenn. -- Don't bother looking for another three-year stretch in Tennessee's proud football history where the Vols have lost 20 games.
There isn't one.
In fact, the only thing that comes close is the end of the Bill Battle era and beginning of the John Majors era from 1976-78.
And while those were lean times in Big Orange Country, they don't compare to the Vols' most recent plunge into football wasteland.
They're 18-20 over the past three seasons. They're coming off their third losing season in the past six years. They've had three head coaches in the past three years and have a date with the NCAA's Committee on Infractions in June.
That last one was Lane Kiffin's going-away present before bolting for the West Coast.
The guy brought in to clean up the mess, Derek Dooley, would like to leave behind his own present, one that endures.
He'd like to give the program its soul back, because in a lot of ways, Tennessee has been a program the past several years that lost its way.
"The situation that I walked into last year … I don't think there's any head coach that's ever walked into something like that at this kind of place, where the resources are what they are and the expectations are what they are and you had three head coaches in three years," said Dooley, whose Vols concluded spring practice last Saturday with the annual Orange & White spring game.
It was the first time since 2008 that the same head coach had guided the Vols through spring practice for the second year in a row.
Dooley has worked diligently to upgrade the talent in this program, and following back-to-back signing classes ranked among the top 15 nationally, he feels like he's done that.
With much of the roster gutted when he arrived, though, he's quick to point out that 70 percent of the Vols' players will be freshmen and sophomores next season.
Of course, where he's spent much of his time the past year or so is changing what he called a disruptive culture at a program that had been the essence of stability for more than 30 years under Majors and then Phillip Fulmer.
But when it turns for the worst in this league, it does so quickly and usually harshly.
"The fan base was so on edge," said Dooley, who was able to steer the Vols to a bowl game last season despite a 2-6 start. "The two coaches who were here before me [Fulmer and Kiffin] … their personalities were so different and then you had the attrition on the team. The team was decimated from a roster standpoint. It was a challenge, and I was proud of what we accomplished down the stretch there. But we also know that's not the standard for Tennessee football."
That standard soared to dizzying heights in the 1990s under Fulmer when the Vols went 45-5 from 1995-98 with two SEC championships and a national championship. They're still the last school to repeat as SEC champions in 1997 and 1998.
"When we go into the complex to work out and look at all those SEC championship banners and the national championship banner hanging up there, we don't need to be reminded," said All-SEC defensive back Prentiss Waggner, who signed under Fulmer and is now on his third head coach. "We're just looking forward to getting Tennessee on the right track and are going to work as hard as we can to get there."
Dooley, who was raised on SEC football, has gone to great lengths to educate the players in what it means to play for Tennessee.
"I do think we lost that somewhere along the way," Dooley said. "We lost sight of what the standards are here."
And while this is a different SEC, a much tougher SEC with greater parity than it was when the Vols repeated as league champions in 1997 and 1998, those standards don't change.
Neither do the expectations of the Tennessee fans, who are well aware that it's been more than a decade since the Vols last played in a BCS bowl game.
"When you go through that kind of turmoil we have for the last few years, your players begin to go through a self-preservation mode," Dooley said. "When there are failures, they retreat in a protectionism way, to protect each other, instead of working together for a common purpose. Our team was not working to go compete for an SEC championship, and that's the way we have to start thinking."
From a talent standpoint, Dooley feels like the Vols are much closer to getting back into that race.
Still, he worries about the lack of experience, and he worries about depth, particularly on defense.
Despite a poor spring game by sophomore quarterback
Tyler Bray
, the pieces would seem to be in place on offense. The offensive line, with three true freshman starters returning from a year ago, has a chance to be special, and everybody in the league is looking for two athletes on the perimeter who can go get the football the way sophomore receivers
Justin Hunter
and
Da'Rick Rogers
can.
But on defense, the Vols will have to lean heavily on new faces in 2011. In fact, a trio of junior college newcomers -- tackle Maurice Couch and defensive backs Bryon Moore and Izauea Lanier -- may be starters the day they walk onto campus this June.
The Vols will also need some help at linebacker among the three freshmen they signed in this class, and they're keeping their fingers crossed that junior safety Janzen Jackson will get his personal issues straightened out and rejoin the team next fall.
It may be that Tennessee has to win a lot of shootouts next season, and that's never a good way to roll in the SEC.
Dooley, who certainly hasn't lost his wit, cracks, "My fear is that we can't stop anybody and that we can't score. That's the ultimate fear."
But he agrees that defense is where it begins and ends in this league.
"The fact of the matter is that if you can't play good defense game in and game out, you're not going to compete for a championship unless you just absolutely have a ridiculous offense," Dooley said. "You don't build programs or teams on exceptions. The rule is you better have stout defenses."
And make no mistake. Dooley's committed to building back Tennessee's program the right way … and his way.
"Last year, not everybody was buying in," senior defensive tackle Malik Jackson said. "But this year, everybody is buying in and knows that it's Coach Dooley's show. You can't fight that.
"He's grown on us, and we're trying to do what he says and take it a day at a time."
August, 12, 2010
8/12/10
10:16
AM ET
The good news for USC fans? At some point, there has to be good news. Just not today.
The latest issues? First, impressive freshman running back
Dillon Baxter
has been suspended for season opener against Hawaii on Sept. 2 for
violating team rules
.
And it doesn't sound like coach Lane Kiffin and Baxter are on the same page here. Said Kiffin: "He wasn't happy by any means but he has two choices. This is adversity right now for him and he can deal with it two ways, like I told him. He can sit around and pout and think that he's being picked on, used as an example and he can stay over there and we can move on without him or he can take this and move on from here and work to get ready for the Virginia game."
The
LA Times reported
this as the violation:
A source with knowledge of the situation said Baxter was the unnamed individual cited in a USC Department of Public Safety incident report for "violating a team curfew" and "being under the influence of a controlled substance" that was filed at 2:47 a.m. Tuesday. The report, which could be viewed over the Internet, indicates the incident occurred at Fluor Tower, where USC football players are housed for the first few weeks of training camp.
But that's not even potentially the biggest issue.
More troubling is the health of two starters: end Nick Perry and guard Butch Lewis.
Perry hurt his knee and ankle and
was carted off the field on Wednesday
. Lewis has been missing practices with a hip problem and was scheduled to see a specialist Wednesday night, according to the Orange County Register.
Perry recorded eight sacks as a backup in 2009. The Trojans are deep and talented on the defensive line, but paired with the loss of tackle Christian Tupou to a season-ending knee injury in the spring and the transfer of backup end Malik Jackson to Tennessee, things are starting to look a bit thinner.
Unlike the D-line, the offensive line can't afford too many injuries. With Lewis out, redshirt freshman Kevin Graf moves up the depth chart, though there could be some shuffling of the few bodies the Trojans have on the line.
It's been an eventful first few months for Kiffin, both on and off the field. Training camp was supposed to be an escape but
so far it hasn't been
.
July, 7, 2010
7/07/10
9:10
PM ET
Redshirt freshman safety
Byron Moore
is leaving USC for a junior college,
USCfootball.com reported
.
Moore was listed No. 2 on the post-spring depth chart behind
Jawanza Starling
.
Moore will have to sit out a year before transferring to another FBS program. As a freshman, he's not eligible to take advantage of the NCAA waver that allows Trojans juniors and seniors to transfer to another program and be eligible to play this fall.
Moore is the third player to opt to transfer after the program was hit with NCAA sanctions, joining linebacker Jordan Campbell (Louisville) and defensive end Malik Jackson (Tennessee). Also, the Trojans released touted offensive lineman
Seantrel Henderson
from his scholarship commitment, and linebacker signee
Glen Stanley
reportedly
also wants a release
.
September, 17, 2008
9/17/08
11:15
AM ET
Posted by ESPN.com's Ted Miller
A look inside the Pac-10 this week.

Arizona State: Sun Devils fans cringing at the defensive performance against UNLV, particularly the 18-play, 88-yard drive in the fourth quarter for the game-tying field goal, will be glad to hear the defense will restock a bit with Georgia coming to town. First, middle linebacker Gerald Munns, whose physical performance against Stanford earned him conference defensive player of the week honors a week ago, returns after surgery on his pinkie finger, though he's going to sport a cast for about five weeks. Also, the Sun Devils welcomed back LB Morris Wooten and DE Jamarr Robinson, who both return from suspensions for undisclosed reasons. Wooten, a 245-pound senior, will add a physical presence behind Munns, while Robinson, a 233-pound sophomore, had three sacks in the spring game and will add another athletic threat on the perimeter.

Oregon: Forget for a second that that Oregon's QB position will be split between a pair of first-year players in JC transfer Jeremiah Masoli and true freshman Chris Harper against Boise State. Both of those guys have seen action at home and on the road. With starter Justin Roper sidelined for at least one game, their holy-cow-this-is-D-I-football jitters are mostly gone. The more interesting matchup here is the Broncos redshirt freshman QB Kellen Moore vs. the Ducks defense, which boasts one of the nation's best secondaries. Oh, and that little thing known as the chummy Autzen Stadium crowd. Moore is making his first start on the road. At Autzen. Not easy. Moreover, with four new offensive line starters, it won't be easy to rely on veteran RB Ian Johnson. Boise State only gained 340 yards at home last weekend in a 20-7 win over Bowling Green.

Arizona: After two games, Arizona QB Willie Tuitama was 11th in the nation in pass efficiency with five TDs and no INTs. But after the loss at New Mexico, his rating dropped 30 points because he threw a pair of picks and barely completed 50 percent of his passes. He also was sacked three times and fumbled twice against the Lobos. Two words: Bad night. So how will the senior bounce back at UCLA? The good news is he's getting a huge target back because TE Rob Gronkowski will play for the first time this season since he got sick (strep throat, mono). BYU QB Max Hall made the supposedly stout UCLA defense look like warm butter; can Tuitama regain his confidence and do the same?

UCLA: Remember how the media pounded home the questions about UCLA's offensive line during the preseason? Well, score one for reporters because we were right: This is a lousy O-line. Look no further than the rushing attack: Worst in the nation with 19 yards per game and 0.8 per carry. Longest run of the season? Seven yards. Yuck. Oh, and here's some more bad news. Center Micah Reed, one of two starters with significant experience, will be out two to four weeks with a partial tear of his MCL. The Bruins are scrambling for answers on offense, which includes trying a variety of combinations up front during a time when most teams are trying to create continuity with the same starting five. The visit from Arizona probably will go a long way toward answering this question: Was the Tennessee game a total fluke?

USC: So USC loses a pair of defensive linemen to the first round of the NFL draft -- Sedrick Ellis and Lawrence Jackson -- and then, nonetheless, turns in a pair of dominant performances to start the season. How do the Trojans do it? Well, depth of course. And look no further than the ledger from the 35-3 win over Ohio State. It wasn't just tackle Fili Moala and company whipping the Ohio State offensive line; it also was three true freshmen: tackle Armond Armstead, who recorded a sack, nose tackle Jurrell Casey and end Malik Jackson. That's the future D-line. The present, by the way, had five total sacks and 24 tackles against the Buckeyes.
August, 20, 2008
8/20/08
2:26
PM ET
Posted by ESPN.com's Ted Miller
| | |
| --- | --- |
| | |
| | AP Photo/Kevork Djansezian |
| | Pete Carroll and the Trojans have their sights set on a Pac-10 title. |
LOS ANGELES -- Sat down with USC coach Pete Carroll on Sunday night. He ate ice cream and answered questions.
What's your feeling on this scenario: Let's say Mitch Mustain starts at quarterback against Virginia and has a lights out game. Do you have a philosophical opinion on whether an injured starter [Mark Sanchez] always retains his job or do you go with the hot hand against Ohio State?
Pete Carroll: I would never... I can't even answer a question about that. To surmise what's going to happen with one guy and then what we're going to do with the next guy? I wouldn't even tell you what the first stage of it is let alone the second or third. So I'm not going to answer that. Too much conjecture there.
You talk about getting better and growing every year. What have you changed in the past couple of years about how you do things?
PC: Not very much. We do mostly the same stuff with just small changes. It depends on our staff continuity. This year, we've got 99 percent staff continuity so it's really easy [only staff change was the GA who works with the secondary]. We're able to do more things with that. When we're bringing new people along, we can't do that. We can't afford to go off and experiment. This year, we've done more things but it's kind of like if you have a philosophy then why would you change? The consistency is part of the philosophy -- how you recruit, where you recruit, who you recruit. The consistency of what the expectations are, the consistency of the standards for practice, the offseason programs. All of those things are the same. We get better at them. We get better versed on knowing what we want and getting more astute as we go along but we don't change much.
I know this is going to sound pretty stupid, but you're the only coach who can be asked this: Is winning the Rose Bowl ever not enough?
PC: No. You've got to understand that our mindset is to focus only on what we can control. We can only control getting to the Rose Bowl. Winning our conference and going to the Rose Bowl is what our goal is every year. Our goal isn't about national championships, because we don't have control of that -- that's in somebody else's hands. We found that out years ago [2003], when we were No. 1 but then we were No. 3. We already knew that but that just proved it. If we win our games and we're out there and they want us to go somewhere else, then we'll go. We love the Rose Bowl.
Does it ever register with you that there's such a small margin for error for USC that if you don't win the national championship then some believe it hasn't had a successful season?
PC: I know people say that but I don't care. They can say whatever they want.
Could you give me a couple of names of younger guys who have stepped up in preseason practices?
PC: A guy who's had a really good camp is Travon Patterson, a wide receiver. He's caught touchdowns on every big day, every big scrimmage we've had. He's playing fast and has made a lot of plays for us. The guys who have done a lot of good stuff are the freshmen -- [TE] Blake Ayles is a guy you might not have expected to but he's looked great. The other guy is [RB] Allen Bradford. He's had a great camp again. I really like [WR] Jordan Cameron. All four of the freshmen defensive linemen [Armond Armstead, Jurrell Casey, Wes Horton and Malik Jackson] -- they look great. These guys have a chance to play early. Uona Kaveinga has been playing second-team "Mike" linebacker. [Safety] Drew McAllister has looked really good -- he's had three or four picks in big, scrimmage-type situations and hit well. It's been a really solid freshmen class. The offensive linemen have looked good but it's going to take them some time.
Things get a little juicer in Part II, when Carroll talks about new UCLA coach Rick Neuheisel, his future and what he thinks of his legacy.