May, 9, 2013
5/09/13
9:00
AM ET
Northwestern's offense has been rooted in the same philosophy -- players, formations, plays -- since coordinator Mick McCall arrived in 2008. McCall shapes his scheme around the players first before choosing formations and plays that maximize their skills.
In the first four seasons under McCall, most of the players ended up being wide receivers and quarterbacks. Most of Northwestern's formations highlighted the wideouts and most of the plays were passes. Northwestern's offense had a clear passing lean, especially in 2009, when the Wildcats ranked 13th nationally in pass offense. The Wildcats didn't neglect the ground game, but when it came time to identify the best players, the running backs didn't make the cut.
[+] Enlarge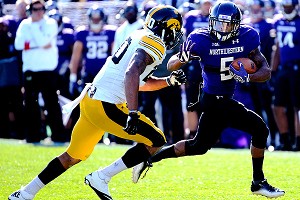 Mike DiNovo/USA TODAY SportsLast season Venric Mark became the first Northwestern running back to eclipse 1,000 yards in a season since Tyrell Sutton in 2006.
"There's been some times in the past at Northwestern in the running back room where there was one guy, and that was it," Matt MacPherson, the team's running backs coach since 2006, told ESPN.com.
MacPherson clearly has his one guy in senior
Venric Mark
, who earned second-team All-Big Ten honors in 2012 after rushing for 1,366 yards and 12 touchdowns. Mark, who earned All-America honors as a return man, was Northwestern's first 1,000-yard rusher since Tyrell Sutton in 2006.
But MacPherson thinks Northwestern's options in the backfield go beyond Mark.
"I feel like we have four or five guys in my room right now that we can go win Big Ten football games with," MacPherson said. "That gives you a lot of flexibility, and it allows you to do a lot of different things. I came out of spring very pleased with the way they performed."
Mark remains the undisputed starter and will get the lion's share of the carries in the fall. He sat out most live-tackling drills this spring as a precaution, which allowed the other backs --
Mike Trumpy
,
Treyvon Green
,
Stephen Buckley
and
Malin Jones
-- to get more reps.
Trumpy racked up 349 yards and three touchdowns on 76 carries as Mark's primary backup in 2012. Green endured a tough season with injuries and personal issues but bounced back and "had a great spring," MacPherson said. Both Buckley and Jones redshirted in 2012 but likely worked their way into the carries rotation with good springs.
"Our running back room has gotten deeper," McCall said. "We've got some guys that can play in a lot of different situations there. We've continually gotten better in that room."
Northwestern made a noticeable shift toward the run last fall behind Mark and dual-threat quarterback
Kain Colter
. After finishing no better than 45th nationally in rushing in McCall's first four seasons as coordinator, Northwestern surged to 19th nationally last year (225.4 ypg).
The rushing focus should continue as long as more running backs meet the first principle of McCall's philosophy. MacPherson thinks they will, and Northwestern might go with a two-back formation, which it used for 10-12 plays per game in 2012, more often this season.
"In my room, those eyes light up when they know we're going to start running the ball a bunch," MacPherson said, "and we're going to have two running backs on the field at the same time. That's something for them to get excited about. That just gives another aspect of competition, knowing that, OK, Venric may be the guy, but when we get into the two-back set, who's going to be the other guy?"
It's a question MacPherson is glad to be asking.
March, 13, 2013
3/13/13
2:00
PM ET
EVANSTON, Ill. -- Northwestern running back
Venric Mark
stands just 5-foot-8 and weighs only 171 pounds, but he has a nose tackle-sized chip on his shoulder.
It's why his favorite run play is the inside zone. It's why he often gets in the face of defenders half a foot taller after between-the-tackles runs. It's why he runs to contact rather than away from it, like many backs his size.
"There's no question on Venric's toughness," Northwestern coach Pat Fitzgerald said. "He's a tough, tough guy."
But is he a durable Big Ten running back? Mark suffered some minor injuries during the second half of the 2012 season, in which he rushed for 1,366 yards and 12 touchdowns and led the Big Ten with 2,171 all-purpose yards.
[+] Enlarge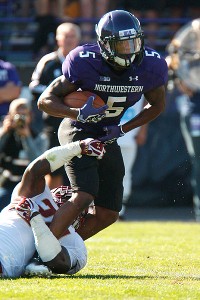 AP Photo/Matt QuinnanNorthwestern running back Venric Mark led the Big Ten with 2,171 all-purpose yards last season.
Although Mark started all 13 games at running back for the Wildcats, he got banged up against Boston College, Nebraska, Michigan and Michigan State and eclipsed 18 carries just once in the final six games.
Some question whether
Mark -- with his size and style of play -- is built to last, even though he tied for fourth in the Big Ten in carries (226) last fall.
Mark greets the durability doubts much like he does those bigger, seemingly badder defenders -- head on.
"They're always talking about, 'Is he durable? Is he durable?'" Mark told ESPN.com. "That was my first year playing running back. People see that I played my freshman and sophomore year. Yeah, but I wasn't an every-down back. So this year, I know what to expect from myself, being my last year, and everybody's going to say, 'Can he last? Can he last?'
"I'm going to let them do their job and talk. I'm just going to play."
He also won't forget what has been said or written.
"It gets on my nerves," he said.
Mark also isn't na´ve about the wear and tear his body will take this coming season. Just because he has been through a season as a No. 1 back doesn't mean he'll last through another. And he can't do a whole lot about his size. This winter, he has
gained
seven pounds to check in at 171 after losing some weight because of injury during the season. He hopes to play this season around 175 pounds.
To prepare himself for the pounding, Mark has been running and cutting with a 20-pound weight vest. Mark wants to emulate how Northwestern quarterback
Kain Colter
uses his vision to scan the field while still keeping his shoulders square when running between the tackles.
"For instance, if Kain and I, we're running 2-Knife, and I'm running inside zone, and a defender sticks his arm to turn me, [the vest] will help me keep my shoulders square," said Mark, a second-team All-Big Ten selection at running back and an All-American at punt returner. "That way, if a linebacker comes to my right or left, I can plant and still cut instead of running like this [shows his shoulders turning] where I can't make that move."
Mark also talks about the need to play smarter.
"Instead of trying to always run over people, at my size, I need to dip and drive, I need to sometimes cut back, juke," Mark said. "That will help me last longer, of course."
Mark averaged 17.4 carries per game in 2012 and had 20 carries or more just four times. He said 16 carries is the "minimum, minimum" amount he'd like to have in 2013 and would "prefer to get close to 20."
Wildcats offensive coordinator Mick McCall puts a greater value on overall touches than carries. This especially applies to a player like Mark, who averaged 18.7 yards on punt returns with two touchdowns, also serves as Northwestern's primary kick returner and had 20 receptions last season. And McCall doesn't just look at total touches, but what types of plays are being run.
"If it's inside zone 16 or 17 times, that might be a little high for Venric," McCall said. "If it's 20-25 touches but half of those are out in space, that's not bad. So we've got to manage him, how many touches he gets but more so, where he touches the ball.
"Some of it's got to be inside, there's no doubt. He does a great job in there. And as much as you want to manage it, he's still going to get dinged up. If he was a 225-pound back, look at the big backs from a year ago in our conference, they still get dinged up. That's part of that position."
McCall fully expects to play multiple running backs and multiple quarterbacks every year. And he has been pleased with the emerging depth this spring at running back with senior
Mike Trumpy
, junior
Treyvon Green
, and redshirt freshmen
Malin Jones
and
Stephen Buckley
.
But Northwestern's coaches have no doubts about their No. 1 back. And Mark expects to prove he's built to last this fall.
"He took some hits last year that he didn't need to take," Fitzgerald said. "It was similar to a quarterback going through his first year. V learned a lot on how he's got to take care of his body. The next step is just being smarter.
"He doesn't need to prove his toughness to anybody. That's always been his trademark."
February, 23, 2012
2/23/12
10:15
AM ET
Adonis Smith
's decision to transfer from Northwestern might not mean much come September.
But his exit adds to the questions surrounding a position that hasn't provided enough definitive answers in the past few seasons.
Smith appeared in 17 games the past two seasons, racking up 462 rush yards and three touchdowns. He might have evolved into the Wildcats' featured back, but he also might have been a career backup. It's tough to tell. Coach Pat Fitzgerald announced Smith's departure Wednesday.
[+] Enlarge

Jerry Lai/US PRESSWIRERunning back Adonis Smith has decided to transfer from Northwestern.

"We're disappointed to see Adonis leave Northwestern," Fitzgerald said in a statement. "He is an outstanding young man and we wish him nothing but the best in his future endeavors."
Wildcats fans will forget about Smith if, say,
Mike Trumpy
returns from a torn ACL and surges as the starter. Or if true freshman Malin Jones emerges in preseason camp. Or if
Treyvon Green
builds on a freshman season in which he rushed for 362 yards and four touchdowns.
But if Northwestern can't identify a featured back and fails to generate a consistent rushing attack in 2012, Smith's name likely will be brought up.
While a struggling defense should be coach Pat Fitzgerald's top priority in the offseason, running back shouldn't be too far down his checklist. Northwestern's offense has made strides under Fitzgerald's watch, producing a steady stream of quarterbacks and wide receivers in recent years. But the running back position, once a program strong point, has declined.
Fitzgerald's predecessor at Northwestern, the late Randy Walker, left an indelible mark on the position he played in college. Walker had a 1,000-yard rusher in 25 of his 30 seasons in coaching, including each of his final four seasons as Northwestern's head coach (2002-05). Northwestern produced a 1,000-yard rusher in five of Walker's final six seasons.
But since Tyrell Sutton finished with exactly 1,000 yards in 2006, Fitzgerald's first season as Wildcats coach, Northwestern has failed to produce a 1,000-yard rusher.
Here are the team's leading rushers the past five seasons:
2007: Sutton, 451 yards

2008: Sutton, 890 yards

2009: Arby Fields, 302 yards

2010: Trumpy, 530 yards

2011: Kain Colter, 654 yards
Colter, by the way, plays quarterback for the Wildcats. Fields transferred following a disappointing 2010 season when he struggled to hang onto the ball or a favorable spot on the depth chart.
Why can't Northwestern produce featured backs anymore? An offense rooted in high-percentage passes and accurate quarterbacks has something to do with it. But the Wildcats have run the spread since 2000, and it didn't stop them from producing standout backs under Walker.
Northwestern has run the ball better as a team the past two seasons, rising from 95th nationally in rushing in 2009 to 58th in 2010 and 45th in 2011. But the team had a league-low 3.8 yards-per-carry average last fall.
Jones, the team's first commit in the 2012 recruiting class, could be the answer, much like Sutton was in 2005, when he captured Big Ten Freshman of the Year honors. Perhaps Trumpy bounces back from injury or Green takes steps in his development. Maybe a committee system is the best approach.
If not, you might hear some grumbling about Adonis Smith in September.
February, 6, 2012
2/06/12
11:10
AM ET
The Big Ten recruiting classes are signed and sealed, and although a few more recruits could come aboard, we have a good idea of what the rosters will look like heading into the 2012 season.
That means it's Power Rankings time. Again.
We're taking a post-signing day look at where the league stacks up. There aren't too many changes from our
previous rundown
, but some teams received a bump from strong recruiting classes.
As they say on Twitter, #legooo.

1. Michigan State:
The Spartans' recruiting class didn't crack ESPN's top 25, but it features several strong prospects and is loaded up at wide receiver and defensive back. Mark Dantonio tells us he can't remember recruiting 10 athletes like the ones Michigan State added in the class. Michigan State already is one of the Big Ten's most athletic teams, so this bodes well for the Spartans as they look for another big season.
2. Michigan:
Brady Hoke and his staff rode a fast start to 2012 recruiting and finalized a class ranked No. 7 nationally. The Wolverines started three freshmen on defense in 2011 and added several more who can contribute early in their careers, including linebacker Joe Bolden, cornerback Terry Richardson and defensive tackle Ondre "Pee Wee" Pipkins. If Michigan can maintain its momentum on defense after losing several stud linemen, it will be very tough to beat in 2012.
3. Ohio State:
Urban Meyer announced himself with a superb recruiting class featuring arguably the nation's best crop of defensive line prospects. Ohio State would have been an improved team in 2012 after its first seven-loss season since 1897, but the recruiting class boosts the Buckeyes even more. The defensive front seven should be a deeper and stronger unit, and players like Noah Spence, the Big Ten's top-rated recruit, have a chance to contribute immediately.
4. Nebraska:
The Huskers missed on their top signing day target (offensive lineman Andrus Peat) but still inked a solid class that should help at positions like linebacker, where Big Red lacked size and depth. Linebacker Michael Rose could contribute early in his career. Nebraska also addressed the departure of standout cornerback Alfonzo Dennard with talented juco addition Mohammed Seisay.
5. Wisconsin:
Quality not quantity was the theme for Wisconsin, which signed only 12 players, the Big Ten's smallest class by five recruits. The Badgers lost two offensive line commits to other schools but added a decorated quarterback in Bart Houston and some solid players to the defensive back seven, including linebacker Vince Biegel. This is the type of season that will test Wisconsin's ability to reload and provide a true gauge of the program's progress under Bret Bielema.
6. Penn State:
New coach Bill O'Brien and his staff had to scramble to keep the class together, and the 2012 recruiting haul didn't quite match what Penn State adds in most seasons. The coaches were able to keep some good prospects and fulfilled a need at wide receiver with Eugene Lewis and others. It'll be interesting to see how quarterback Steven Bench turns out after Penn State lost verbal commit Skyler Mornhinweg to Florida.
7. Purdue:
The Boilers added speed in their 2012 class, and they loaded up on quarterback prospects for the future with four signal-callers. But Purdue also beefed up along the offensive line with Jordan Roos and others. With coaching changes and personnel changes throughout the Leaders Division -- not to mention Ohio State's bowl ban -- Purdue has an excellent chance to make some noise in 2012.
8. Iowa:
The big story in Iowa City isn't so much the recent recruiting class but the seismic changes going on in one of the nation's more stable programs. After having the same coordinators for the past 13 seasons, Kirk Ferentz must replace both Norm Parker and Ken O'Keefe, who left late last week for a post on the Miami Dolphins' staff. Iowa will have new leadership on both sides of the ball, creating some uncertainty but also some excitement. The Hawkeyes added some nice pieces in the 2012 class, such as running back Greg Garmon and defensive end Faith Ekakitie.
9. Northwestern:
Although the Wildcats' class didn't crack the national rankings, it looks like the best haul in Pat Fitzgerald's tenure as head coach. Northwestern picked up a potential difference-maker on defense in defensive end/linebacker Ifeadi Odenigbo. Malin Jones could be the team's answer at running back, a spot that has suffered during Fitzgerald's tenure. The Wildcats also added the league's top transfer in former USC receiver Kyle Prater.
10. Illinois:
It might take a year for Tim Beckman and his staff to make a big splash on the recruiting scene. Illinois' 2012 haul didn't receive great reviews, but the Illini are pursuing several nationally elite 2013 prospects from within the state. Linebacker recruits Tajarvis Fuller and Tyrone Neal should help Illinois in the defensive back seven. There's enough talent on the squad to get back to a decent bowl, but Beckman and his staff have plenty of work ahead.
11. Minnesota:
The Gophers inked a class that drew good reviews from ESPN's analysts. Jerry Kill and his staff retained several top in-state prospects, including offensive lineman Isaac Hayes, wide receiver Andre McDonald and quarterback Philip Nelson. McDonald and fellow wideout Jamel Harbison could be immediate contributors for an offense that needs more options. But defense must be the top offseason focal point for Minnesota, which added several juco defenders.
12. Indiana:
Although the Hoosiers remain at the bottom, we liked their recruiting class, which should first and foremost provide immediate help on defense. Junior college defenders like Tregg Waters and Jacarri Alexander likely will step in right away for a struggling unit. Indiana also will increase the competition at quarterback with heralded prep prospect Nate Sudfeld and juco addition Cameron Coffman.