NCF Nation:

Manasseh Garner
September, 16, 2014
Sep 16
5:11
PM ET
Manasseh Garner
was playing a different position at a different school in 2010, so forgive him if he does not know exactly how to attack Iowa's defense. But the former Wisconsin defensive end and current Pitt receiver is in a familiar spot this week as his Panthers ready to welcome the Hawkeyes to Heinz Field.
"It seems long, but it really seems like it was just yesterday," Garner laughed.
[+] Enlarge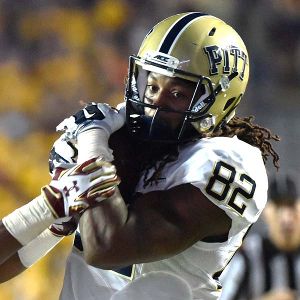 Gregory J. Fisher/USA TODAY SportsPanthers WR Manasseh Garner and his head coach will face a familiar opponent in Iowa in Week 4.
He's not alone.
Garner and third-year Pitt head coach Paul Chryst will recognize what they see across the field Saturday, having become quite familiar with Iowa in their previous lives at Wisconsin, where Chryst was the offensive coordinator. Chryst went 3-3 when the Heartland Trophy was up for grabs against Iowa, with the effects of the game usually leaving marks on his players in one fashion or another. The Badgers averaged just 18 points in those six games, and they failed to crack even that much on four different occasions.
There are new faces now, sure, most notably with Phil Parker having taken over as Iowa's defensive coordinator in 2012, replacing Norm Parker (no relation), who died this past January. But many of the hallmarks of 16th-year head coach Kirk Ferentz's program remain the same.
"I have a tremendous amount of respect for Kirk Ferentz, and it's going to be a well-coached team," Chryst said. "He believes in physical offense, physical defense. It's always going to be a challenge. I'm excited for our guys to play. It's going to be a good atmosphere. It'll be a good physical game, and we've got to rise up and meet that challenge. It's a great opportunity for us. The amount of success that he's had for a long time -- there's a lot of programs across the country trying to do that."
Chryst and Garner have had the last laugh against Iowa since 2010, escaping Kinnick Stadium with a 31-30 win that helped propel their Wisconsin squad to the first of three straight Rose Bowls, two of which they were a part of.
Four years later, Garner remembers the feeling of his lone meeting with the Hawkeyes.
"Just the physical nature that they bring -- I feel like Big Ten teams, they pride themselves on being physical, physical, physical," Garner said. "Relentless, four quarters, smash mouth. So that's one of the things I really got to see in my two years up in the Big Ten. That was something at Wisconsin, something we took pride in, wear and tearing you, and beating you to the punch, making sure that you felt the beatdown through four quarters. I'm sure that's what Iowa's preaching to their players as well. We're a physical team, smash-mouth and we want to wear you down. And that's one of the things that I've seen and I've witnessed, I went through it when playing them at their house. They're definitely a physical team and I respect them for being the team that they are."
Saturday will be akin to the unstoppable force meeting the immovable object, as Pitt enters as the nation's No. 3 rushing team (1,086 yards), while Iowa ranks seventh against the run (65.67 yards per game).
James Conner
, the burly 250-pound sophomore, leads the nation with 544 rushing yards, and is the ideal antidote for a stout front-seven.
Chryst said he looks forward to facing teams like Iowa, knowing that every yard comes with a price. Asked if he sees Chryst putting a similar stamp on the Panthers, Garner couldn't help but laugh.
"Oh without question, yeah," Garner said. "That's one of the main things Coach emphasizes: Let it go, let it go. Don't hold anything back. Just be instinctive and be physical. You have nothing if you're not physical, especially in this type of offense. Your front men, if they're not laying a foundation, (if) they're not winning the fight at the line of scrimmage, you really have nothing."
August, 18, 2014
Aug 18
2:00
PM ET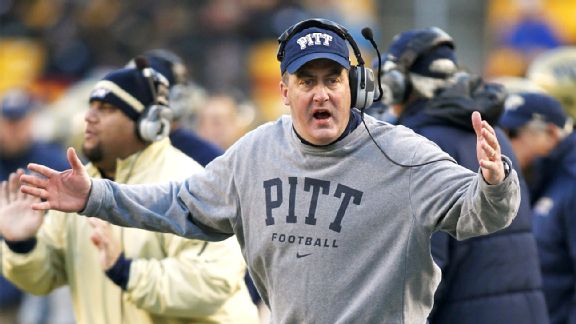 Charles LeClaire/USA TODAY SportsPaul Chryst's commitment to his players has helped make Pitt an attractive option for transfers.
GREENSBORO, N.C. -- Paul Chryst was canvassing Heinz Field before last year's Notre Dame game when he made a beeline for David Robinson, whose son played for the Irish. Chryst re-introduced himself to the NBA legend, who was at Navy when Chryst's brother, Rick, worked for the Midshipmen's media relations staff. Robinson laughed during the conversation, and he could not help but relay it to Rick minutes after.
"He goes, 'David, Paul Chryst. I'm Ricky's brother,'" Rick recalled. "David goes, 'I thought you were the head coach.'"
Perhaps no story better encapsulates Chryst's understated approach as the public face of a storied program. The son of a Div. III coach, he has been in coaching his whole life, with his only "real" job coming as a teenager when he helped his two brothers on their paper routes. He has had 12 different gigs as a college and pro assistant at 10 different stops, including three separate stints as a player and coach at Wisconsin, where he ended up playing for three different head coaches as a result of the death of Dave McClain.
His background is familiar to a Pitt program that he has brought some stability to now in Year 3, as the Panthers remove further away from the unceremonious exits of Todd Graham and Mike Haywood. And it might also explain the ease with which Chryst has handled one of the team's biggest building blocks: transfers.
It's not that Chryst has welcomed in others at an alarming rate; it's just the success he's had doing so. Super Bowl-winning quarterback Russell Wilson thriving after joining the Badgers from NC State is one thing. Turning a nearly-broken Tom Savage last year into an attractive NFL quarterback — while relying this year on three different starters who began their careers elsewhere — is quite another.
Chryst insists he hasn't drawn up a secret formula for properly integrating newcomers, saying that simply doing enough homework raises the odds of them turning into success stories.
"If you're bringing someone in, we are truly spending time — even when Russell came in — spending time getting to know them," said Chryst, who was the Badgers' offensive coordinator for Wilson's lone year in Madison. "Spend time talking to people that know them, people that don't necessarily have a vested interest in them, and finding out who they are. Knowing if you have a need. Do they fit a need?"
This year's Pitt starters are expected to include a former Michigan safety (
Ray Vinopal
), a former Ohio State end (
David Durham
) and a former Wisconsin receiver (
Manasseh Garner
).
Vinopal had transferred before the 2011 season, sitting out during Graham's lone year at Pitt. A product of Youngstown, Ohio, powerhouse Cardinal Mooney, Vinopal found a sense of familiarity with Chryst when the coach initially addressed his new players.
"When I first met him, it was like he was saying everything that I did in high school, just on a grander stage," Vinopal said. "And that's when I knew — I had success in the past with it, and I know that Pitt's going to have success with it, in the future and this year."
Chad Voytik
saw enough of the same in Chryst in a short amount of time to resist bolting for greener pastures after the coach he committed to, Graham, left for Arizona State. The quarterback even went as far as to help patch the rest of Pitt's 2012 class back together, sold on Chryst's refreshing blueprint to rebuild the program from the inside-out.
Chryst cited the wayward career of Voytik's predecessor, Savage, as an example of why he feels the need to make things right when players enter a new program. Savage sat out two straight seasons before 2013, having been at Rutgers and Arizona before departing the Wildcats due to a coaching change.
"I think you owe that to the player, too," Chryst said of his due diligence. "I know what happened to Tommy when he had to transfer again. That's not right. And so I think you maybe have to be a little more sure that it is a good fit for them and for us, because they don't have another opportunity. That's it."
Rick said his brother took a cue in his approach from their late father, George, who coached Wisconsin-Platteville for 14 years and, like Paul, reveled in camp two-a-days and other fundamental aspects of the profession. Rick said that mentality served the brothers well as they worked their ways up in the sports world. (Rick is a former Mid-American Conference commissioner, while their other brother, Geep, is the 49ers' quarterbacks coach.)
"Whatever we were doing or wherever my dad was, that seemed like it was the biggest thing at the time," Rick said. "The Platteville Pioneers were playing Whitewater, and what could be bigger than that?"
When Pitt athletic director Steve Pederson had trouble one day reaching Chryst out at the Rose Bowl shortly after hiring him, Chryst called back the next morning apologizing, saying that Wilson had pulled him aside for a film session that went late into the night.
"You never have to apologize to me for that," Pederson said. "And I said that's exactly what you want. [He's] just totally committed to his players."
Vinopal echoed that sentiment, saying his ability to approach Chryst is night and day from that of past coaches. Chryst likes to think his open-door policy is more than just a saying, and the success rate of others walking through those doors to Pitt speaks to that.
"I think you're a better coach if you know your players better," he said. "And I don't think by any stretch that I've arrived or any of our coaches have arrived. I think we still need to do a better job of getting to know our players, and them getting to know us. And to me that's part of the fun of it, and there's nothing wrong with enjoying it."
March, 7, 2014
Mar 7
9:00
AM ET
Breaking down the spring in the ACC Coastal division:

Duke
Spring practice over
What we learned:
Momentum rolls on. It's hard to believe the Blue Devils are already done with spring ball, but coach David Cutcliffe opted to open practice in February to capitalize on the momentum that was created last season. After the spring game ended Saturday, he praised the way his players handled the practices. There was a great deal of retention and not a lot of re-teaching, so coaches were able to get much more out of their players this spring.
Max McCaffrey emerges. Jamison Crowder had a spectacular 2013 season, but it was essentially him and then everybody else in the receiver group. That may not be the case this season. McCaffrey earned praise from coaches and teammates for the way he improved during the spring. Offensive coordinator Scottie Montgomery said McCaffrey made as many plays as anybody else on the offense this spring.
Stepping up on the line. The Blue Devils lost three starters on their defensive line -- both ends in Kenny Anunike and Justin Foxx, and defensive tackle Sydney Sarmiento. But it appears as if the players behind them are ready to step up and make a seamless transition. Defensive ends Jordan DeWalt-Ondijo and Dezmond Johnson each had two sacks in the spring game. Kyler Brown also made the switch from linebacker to defensive end and had a sack in the spring game as well.

Georgia Tech
Spring start:
March 24
Spring game:
April 18
What to watch:
Justin Thomas takes over. After Vad Lee announced his transfer from Georgia Tech, the quarterback reigns fell to Thomas, who played in 10 games this season. The Jackets had their share of highs and lows under Lee, but what the staff is going to be looking for first and foremost is Thomas' ability to hold on to the football. Georgia Tech had 24 giveaways and ranked No. 12 in the ACC in turnover margin.
Defensive line questions. The Jackets lose three starters on the defensive line, including All-ACC defensive end Jeremiah Attaochu -- who had 22.5 sacks over the last two seasons. Who will step up and fill that type of production? The most experienced backups returning are sophomores Tyler Stargel and Patrick Gamble. Also, Travin Henry will get a look at defensive end after playing wide receiver last season.
Offensive line questions. Georgia Tech also loses three starters on the offensive line -- tackles Ray Beno and Will Jackson and center Jay Finch. The trio combined to start 117 games in their careers, so there is no doubt this is going to be a much less experienced unit in 2014. The good news is All-ACC guard Shaq Mason returns to help anchor the new-look line.

Miami
Spring start:
Started March 1
Spring game:
April 12
What to watch:
Quarterback derby. Stephen Morris is gone, but the Canes do have at least one experienced quarterback on the roster in Ryan Williams, a Memphis transfer who has served as Morris' backup the last two seasons. As a true freshman with the Tigers, Williams started 10 games -- all the way back in 2010. Challenging Williams is redshirt freshman Kevin Olsen, who had a bit of a rocky first year in Miami, along with Gray Crow.
Defensive improvements. Perhaps more than what happens at quarterback, Miami must see improvements out of its defense this season. Embattled defensive coordinator Mark D'Onofrio kept his job but the status quo cannot persist. Every single area of the defense must be upgraded. Ranking No. 13 in the ACC in total defense just can't happen again.
Defensive improvements, Part II. To try and help the secondary, Miami already moved Dallas Crawford over to safety, where the Canes could use the help. But Miami must be stronger on the defensive front. The Canes only had 12 sacks in eight conference games. By comparison, BC led the way with 25 sacks in conference games. This is a big opportunity for guys like Al-Quadin Muhammad, Tyriq McCord and Ufomba Kamalu to really step up.

North Carolina
Spring start:
Started March 5
Spring game:
April 12
What to watch:
The quarterbacks. Marquise Williams took over as the starter when Bryn Renner was gone for the season and ended up helping the Tar Heels make a bowl game after a 1-5 start. But coach Larry Fedora said the competition is open this spring. Look for Mitch Trubisky and Kanler Coker to give Williams a major push.
Defensive line questions. Kareem Martin and Tim Jackson are both gone, leaving big holes in the North Carolina front. Martin ended up notching 21.5 tackles for loss to rank No. 3 in the ACC. So who are the next guys up? At end, Junior Gnonkonde and Jessie Rogers are the top two contenders, while Shawn Underwood, Devonte Brown and Justin Thomason will compete for one of the tackle spots.
Replacing Ebron. Eric Ebron was dynamic at tight end for the Tar Heels last season, leading the team with 62 receptions for 973 yards, while adding three touchdowns. Will the Tar Heels be able to replace that type of production with just one player? Jack Tabb would be next in line among the tight ends, but this is a huge opportunity for the North Carolina receiving group as well. We saw plenty of promise out of young guys like Bug Howard, T.J. Thorpe and Ryan Switzer.

Pitt
Spring start:
March 16
Spring game:
No spring game. Last day of practice April 13
What to watch:
The quarterbacks. Chad Voytik played really well in relief of an injured Tom Savage in the bowl game, but coach Paul Chryst said the competition to win the starting job is open headed into the spring. At this point, Voytik and Trey Anderson are the only scholarship quarterbacks on the roster. So you can bet the biggest goal of all is to keep them both healthy.
Replacing Aaron Donald. One of the biggest surprises in all of college football this past season was the emergence and utter dominance of Donald at defensive tackle. Donald swept every major defensive award after notching 28.5 tackles for loss, 11 sacks, 16 quarterback hurries and four forced fumbles. Darryl Render is the next man up.
Complementary receiver. Devin Street is gone, leaving Tyler Boyd as the only standout receiver on the roster. Not only do the Panthers have to develop a consistent No. 2 receiver, they also have to develop some depth. Watch for Manasseh Garner, a former H-back who moved to receiver late last season when Street got hurt. He is more physical than Boyd, and has some extended playing experience.

Virginia
Spring start:
Started March 1
Spring game:
April 12
What to watch:
The quarterbacks. David Watford is not guaranteed to win his starting job back after last season, when he threw eight touchdown passes to 15 interceptions. Greyson Lambert and Matt Johns are also in the mix and reps with the first team will be split. In fact, Lambert got the first-team reps when the Hoos opened spring ball last weekend.
Andrew Brown. The highly-touted freshman will have every opportunity to win a starting job at defensive tackle, and it all starts in spring ball. The No. 3-ranked player in the ESPN 300 comes in with tons of hype; now can he translate that into on-field success? He, Donte Wilkins and Chris Brathwaite will be competing to start next to David Dean.
Mr. McGee. Jake McGee was the best player the Hoos had among the group of tight ends and receivers a year ago, leading the team with 43 catches for 395 yards. This spring, McGee has now moved over to receiver so the Hoos can take advantage of his athletic ability. Plus, Virginia is lacking playmakers at the position, so we'll see how much this move benefits both McGee and the offense.

Virginia Tech
Spring start:
March 27
Spring game:
April 26
What to watch:
Quarterback. Mark Leal heads into the spring with a leg up in the quarterback competition but make no mistake, there is no set starter. He will get competition from freshmen Andrew Ford and Brenden Motley in the spring, with freshman Chris Durkin and Texas Tech transfer Michael Brewer arriving in summer. This competition will likely drag on into the fall.
Front seven. The Hokies are losing five terrific players up front, including ends James Gayle and J.R. Collins, and linebacker Jack Tyler, who racked up 100 tackles in back-to-back seasons. There is no doubt a major priority this spring is finding their replacements and building depth along the line and at linebacker. Who will step up as the leader of this group with Tyler gone?
Skill players. This has been an ongoing theme over the last two seasons and will continue to be a theme until the Hokies have consistently good players at running back and receiver. Offensive coordinator Scot Loeffler is excited about the return of tight end Ryan Malleck, and his entire tight end group for that matter. A healthy Malleck and improvement from Kalvin Cline means the Hokies could simultaneously improve their run and pass game.
June, 11, 2013
6/11/13
10:30
AM ET
Freshmen are not the only players with an opportunity to make an immediate impact in the ACC this season. Let's not forget about several transfer players now eligible and ready to make their own mark.
Here is a look at the top eligible transfers in the league with the most potential to turn some heads:

Drew Allen, QB, Syracuse.
The Orange actually have three transfers eligible this year -- receiver
Quinta Funderburk
and defensive tackle
John Raymon
are the other two. But neither are listed as a starter on the post-spring depth chart. Allen isn't either, but he hasn't yet had an opportunity to show what he can do. Allen will arrive in time for fall practice after deciding to come in from Oklahoma. He has immediate eligibility, and joins the mix to win the starting quarterback job with
Terrel Hunt
and
Charley Loeb
his primary competition.

Kellen Jones, LB, Clemson.
We all know the Tigers need some help on defense, and they are hoping Jones fits the bill. Jones transferred from Oklahoma and sat out last season because of NCAA rules. During his time at Clemson, Jones has learned all three linebacker spots in order to make himself much more valuable to the team. He is athletic and familiar with coordinator Brent Venables from their time with the Sooners. If he's as good as coaches expect him to be, Clemson's D should be better.

Deon Long, WR, Maryland.
The Terps already were expecting an immediate contribution from Long, a junior college transfer who began his career at New Mexico. But you can bet expectations will be even higher now that second-leading receiver
Marcus Leak
has left the team for personal reasons.

Brandon Mitchell OR Pete Thomas, QBs, NC State.
Mitchell is in a similar spot to Allen -- he has immediate eligibility this season for the Wolfpack after transferring in from Arkansas and joins an open quarterback competition. Thomas himself transferred in last year but had to sit out a season because of NCAA rules. In that season, the head coach and offensive style changed, so his pro-style gifts do not necessarily match what Dave Doeren wants to do. Still, Thomas showed some flashes this spring though Doeren is reluctant to give anybody the edge just yet. With Mitchell now joining Thomas and
Manny Stocker
in the mix, it's anybody's guess who will start the opener.

Pat O'Donnell, P, Miami.
Scoff if you must, but O'Donnell is a terrific punter and a
workout warrior
, and fills a gaping hole on the Hurricanes' roster. Miami may return nearly all its starters on offense and defense, but not on special teams, where the Hurricanes have to replace both punter
Dalton Botts
and kicker
Jake Wieclaw
. Getting a punter the caliber of O'Donnell, who transferred from Cincinnati and is immediately eligible, helps ease a big concern.

Matt Patchan, OL, Boston College.
The Eagles need major help on the offensive line and could get it in the form of Patchan, who has immediate eligibility after transferring in from Florida. He will be available for fall practice. The only issue to keep in mind is he has been injury prone for his entire career.

Tom Savage, QB, Pitt.
It's been a long road back to the football field for Savage, who transferred twice after leaving Rutgers in 2010. Now here he is with one season of eligibility remaining and an opportunity to win the starting job. Though coach Paul Chryst has yet to declare a starter, Savage at least has starting experience. Still, he and
Chad Voytik
remain in an open competition headed into fall practice.
Another Pitt player to watch:
Wisconsin transfer tight end Manasseh Garner.
October, 15, 2011
10/15/11
12:00
PM ET
Wisconsin will be
without its top receiver
today against Indiana.
Senior
Nick Toon
is out with a sore left foot. He sustained the injury Oct. 1 in Wisconsin's win against Nebraska and is being held out as a precautionary measure. Toon is expected to return next week for Wisconsin's showdown at Michigan State.
Toon's absence shouldn't hurt too much against Indiana, as Wisconsin figures to run the ball a lot today. The concern here is Toon underwent surgery on his foot during the offseason and missed three games last year because of turf toe.
He leads Wisconsin in receptions (25), receiving yards (447) and receiving touchdowns (6). Expect
Manasseh Garner
to see more action as Wisconsin's No. 2 receiver alongside
Jared Abbrederis
.
August, 10, 2011
8/10/11
8:56
AM ET
Wisconsin has good to great depth at several key positions, but wide receiver isn't one of them.

After projected starters
Nick Toon
and
Jared Abbrederis
, the Badgers lack proven players and are hoping to build depth in camp. Sophomore
Manasseh Garner
looked like a good option for the No. 3 receiver role, but he'll miss the next 3-4 weeks following hernia surgery.
Garner will have surgery today and will miss the season opener Sept. 1 against UNLV but should be back for a Week 2 matchup against Oregon State. The 6-foot-2, 210-pound Garner, considered a receiver-tight end hybrid, impressed me during spring ball and should provide a boost when he gets healthy.
Who steps up no alongside Toon and Abbrederis?
"Up for grabs," coach Bret Bielema told reporters Tuesday. "You've got [Jeff] Duckworth, you've got Kenzel Doe, I'm not ruling out any of the three freshmen. I haven't seen somebody step forward that I would like to come out of the pack."
Doe, a 5-8 freshman projected to be a factor on returns, is an intriguing prospect who enrolled early and turned some heads this spring. Freshman Jordan Fredrick also is a name to watch.
But as good as quarterback
Russell Wilson
could be this fall, he'll need more options to develop in the passing game.
April, 20, 2011
4/20/11
10:00
AM ET
MADISON, Wis. -- A layer of snow or freezing rain or something yucky covered the Camp Randall Stadium field on Tuesday afternoon. Thankfully, Wisconsin held its practice inside the McClain Center, and I was there for most of it.

Some quick thoughts and notes from the Badgers' 13th workout of the spring.
Quarterback Jon Budmayr had a live arm and he showcased it several times during the practice, especially in team drills. Budmayr made a nice throw to a leaping Kenzel Doe, and he also found Jared Abbrederis for a good gain. The downside is he often looked hesitant in the pocket, which will cost him in games. Although he moves decently and can extend plays, he needs to get rid of the ball faster. It's important to note that top receiver Nick Toon isn't practicing following offseason foot surgery, and Budmayr doesn't have a ton of options at his disposal. Some will point to Budmayr's lack of size as a concern, but he can get it done if his decision making gets a bit better.
I don't think Budmayr will be pushed much for the starting job. Although redshirt freshman Joe Brennan and true freshman Joel Stave both have nice size and can spin it, their youth shows up at times and both players threw interceptions. Unless Curt Phillips makes amazing progress by fall camp, this will be Budmayr's team.
Senior cornerback Devin Smith had a very impressive practice. Smith, who served as Wisconsin's nickelback last season after starting in 2009, stepped in front of a receiver to intercept a Stave pass. Moments later, he won a 50-50 ball against Abbrederis for another interception. The Badgers should have the Big Ten's top cornerback tandem this fall with Smith and All-Big Ten selection Antonio Fenelus. Aaron Henry enters his second full season at safety, while sophomore Dezmen Southward seemed to get the most time as the second first-team safety, while second-team cornerback Peniel Jean recorded an interception. The secondary could be Wisconsin's strongest unit on defense this fall.
Wisconsin likely will account for its lack of wide receivers with more tight ends on the field this fall. Toon and Abbrederis are the team's only proven receivers, and I didn't see a clear No. 3 option Tuesday. The good news: there are quite a few options at tight end. Sophomore Manasseh Garner stood out to me Tuesday. Listed as a tight end, the 6-foot-2, 213-pound Garner can play on the edges and made several nice catches. The Badgers will use him as a pass-catcher.
Speaking of tight ends, no player impressed me more Tuesday than senior tight end Jake Byrne. He made several nice plays on vertical passes in the middle of the field. Byrne can really stretch the defense. Wisconsin should feature multiple tight ends a lot this fall as Byrne, Jacob Pedersen and Garner all are good options.
The pass game only needs to be serviceable because Wisconsin's rushing attack once again should be scary good. Top backs Montee Ball and James White looked good Tuesday, along with the mammoth offensive line. Both Ball and White transformed their bodies during the winter -- Ball slimmed down to 214 pounds and White strengthened his lower body -- and the gains are noticeable when you see them.
For depth chart aficionados, the first-team defensive line typically consisted of Louis Nzegwu and Brendan Kelly at the end spots and Patrick Butrym and Ethan Hemer at the tackle spots. Defensive end David Gilbert seemed to be dealing with some sort of ailment. The top linebackers were Mike Taylor, Kevin Claxton and redshirt freshman Marcus Trotter, a star of the spring who made some nice plays.
March, 21, 2011
3/21/11
4:30
PM ET
Wisconsin will be without its top returning receiver this spring as
Nick Toon
sits out following offseason foot surgery.
Coach Bret Bielema announced Monday that Toon, who ranked second on the team in both receptions (36) and receiving yards (459) last season, will be sidelined for the spring. The Badgers open spring ball Tuesday.
Toon, a two-year starter, missed three games in 2010 with turf toe and saw his production decline from 2009, when he racked up 805 receiving yards. He made the right call to return to Madison for his senior season and provides a proven target for Wisconsin's new starting quarterback.
The Badgers return two starting receivers in Toon and
Jared Abbrederis
, although they're looking for more options.
Bielema also said Monday that quarterback
Curt Phillips
and offensive tackle
Josh Oglesby
both will have limited participation in spring ball following knee surgeries.
February, 4, 2010
2/04/10
9:37
AM ET
Wisconsin Badgers
The class
Recruits:
24 (all high school seniors, one enrolled early). Wisconsin also signed six preferred walk-ons.
Top prospects:
Safety
Frank Tamakloe
was on the fringes of the ESPNU 150 rankings. Defensive tackle
Beau Allen
could be a force on the defensive line very early in his career.
Sleepers:
Offensive lineman
Joe McNamara
, a late arrival to the class, could end up being a steal. Another late arrival, wide receiver
Isaiah Williams
from Miami, provides a big target for the quarterback.
Needs met:
Wisconsin needed defensive tackles and got three of them, including Allen. The Badgers also addressed the secondary with four defensive backs, including Tamakloe and
Peniel Jean
.
Analysis:
For the second consecutive year, Wisconsin has to feel very good about its recruiting class. Rankings don't matter to Bret Bielema and his assistants, who got a lot out of unheralded young players in 2009 and likely will do so again in 2010. The Badgers added depth in the defensive backfield and the offensive line, filled a need on the interior defensive line and picked up another quarterback in
Joseph Brennan
. This was an unusually good year for in-state recruiting, and Wisconsin capitalized at home before polishing off the class with Florida prospects.
What Bret Bielema said:
"We expected to take four DBs, which we did. We expected to take three linebackers, so we oversigned by one there. And then the defensive line, it was just an exceptional year for us to get kids on campus and get an opportunity to recruit them. I'm really pleased with the progress there. And then on the offensive side, we had smaller numbers, but we went after specific targets and were able to get them."
"Obviously, Dallas Lewallen, the young man from Wisconsin, fits our mode, and then Robbie Havenstein comes our way from Maryland, but in reality, his mom and dad were born and raised in Michigan, Midwest people through and through. They really fit into what we try to do offensive-line wise. And then with the tight ends, same deal. Manasseh [Garner] is more of a Travis Beckum, Lance Kendricks type, and Sherard [Cadogan] is more of a Garrett Graham type, he can do a lot of different things."
"Frank [Tamakloe] was a kid who came in during the summer and went on a whirlwind tour, looked at a lot of places that had great academics and a good football reputation. We're excited to get him in here, especially the inroads we're making in that part of the country [Washington D.C.]."