NCF Nation:

Manny Stocker
June, 11, 2013
6/11/13
10:30
AM ET
Freshmen are not the only players with an opportunity to make an immediate impact in the ACC this season. Let's not forget about several transfer players now eligible and ready to make their own mark.
Here is a look at the top eligible transfers in the league with the most potential to turn some heads:

Drew Allen, QB, Syracuse.
The Orange actually have three transfers eligible this year -- receiver
Quinta Funderburk
and defensive tackle
John Raymon
are the other two. But neither are listed as a starter on the post-spring depth chart. Allen isn't either, but he hasn't yet had an opportunity to show what he can do. Allen will arrive in time for fall practice after deciding to come in from Oklahoma. He has immediate eligibility, and joins the mix to win the starting quarterback job with
Terrel Hunt
and
Charley Loeb
his primary competition.

Kellen Jones, LB, Clemson.
We all know the Tigers need some help on defense, and they are hoping Jones fits the bill. Jones transferred from Oklahoma and sat out last season because of NCAA rules. During his time at Clemson, Jones has learned all three linebacker spots in order to make himself much more valuable to the team. He is athletic and familiar with coordinator Brent Venables from their time with the Sooners. If he's as good as coaches expect him to be, Clemson's D should be better.

Deon Long, WR, Maryland.
The Terps already were expecting an immediate contribution from Long, a junior college transfer who began his career at New Mexico. But you can bet expectations will be even higher now that second-leading receiver
Marcus Leak
has left the team for personal reasons.

Brandon Mitchell OR Pete Thomas, QBs, NC State.
Mitchell is in a similar spot to Allen -- he has immediate eligibility this season for the Wolfpack after transferring in from Arkansas and joins an open quarterback competition. Thomas himself transferred in last year but had to sit out a season because of NCAA rules. In that season, the head coach and offensive style changed, so his pro-style gifts do not necessarily match what Dave Doeren wants to do. Still, Thomas showed some flashes this spring though Doeren is reluctant to give anybody the edge just yet. With Mitchell now joining Thomas and
Manny Stocker
in the mix, it's anybody's guess who will start the opener.

Pat O'Donnell, P, Miami.
Scoff if you must, but O'Donnell is a terrific punter and a
workout warrior
, and fills a gaping hole on the Hurricanes' roster. Miami may return nearly all its starters on offense and defense, but not on special teams, where the Hurricanes have to replace both punter
Dalton Botts
and kicker
Jake Wieclaw
. Getting a punter the caliber of O'Donnell, who transferred from Cincinnati and is immediately eligible, helps ease a big concern.

Matt Patchan, OL, Boston College.
The Eagles need major help on the offensive line and could get it in the form of Patchan, who has immediate eligibility after transferring in from Florida. He will be available for fall practice. The only issue to keep in mind is he has been injury prone for his entire career.

Tom Savage, QB, Pitt.
It's been a long road back to the football field for Savage, who transferred twice after leaving Rutgers in 2010. Now here he is with one season of eligibility remaining and an opportunity to win the starting job. Though coach Paul Chryst has yet to declare a starter, Savage at least has starting experience. Still, he and
Chad Voytik
remain in an open competition headed into fall practice.
Another Pitt player to watch:
Wisconsin transfer tight end Manasseh Garner.
March, 19, 2013
3/19/13
9:00
AM ET
NC State opens spring practice today with many questions to answer on both offense and defense. The biggest, of course, is at quarterback, where the race is on to replace
Mike Glennon
.
Manny Stocker
and
Pete Thomas
are your top two candidates.
I had a chance to catch up with new coach Dave Doeren to ask him about a wide variety of topics leading into spring. Quarterback dominated the conversation. Here is a little of what he had to say.
On offense, you have a rebuild job with Mike gone and some questions at receiver, along with a lack of depth at running back. How do you see yourselves developing an offensive identity, knowing you have to find some playmakers?
[+] Enlarge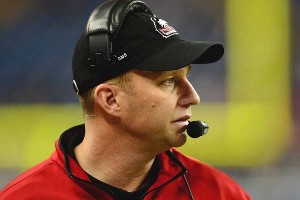 Andrew Weber/USA Today SportsNew NC State coach Dave Doeren has a quarterback competition on his hands.
DD:
It won't happen overnight. There's going to be competition, as you mentioned, the quarterback. Looking forward to watching how that unfolds. Those guys have been great this offseason, getting around (offensive coordinator Matt) Canada, and trying to learn all the new terminology and the way he likes things done at the position. Playmakers will definitely show up. Some of the guys are starting to emerge already. Some of these seniors are seeing the light. You're starting to see them emerge and become the guy I'm sure everyone wanted them to be all along. We will not be a shell of what we're going to be during the spring. That's a big learning process not just for the players because they've got to know what we expect from practice but from the coaching standpoint we're going to do what we do and then we're going to tweak it after we know what the strengths and weaknesses of our club are.
So how are you going to evaluate the quarterback competition when you have a pro-style guy in Pete Thomas and Manny can be more of a dual-threat?
DD:
They're totally different guys. All the run game we have because we are a Pistol offense, we have the ability to turn around to hand off just like you would under center as a pro-style quarterback, and we also have the ability to read those plays. So nothing will change for the backs, or the o-line or the tight ends or the receivers. It's just based on what quarterbacks' in there, it could be a zone read in a zone, it could be a power read. All those things, both quarterbacks will have to know both.
Do you envision having an answer at quarterback at the end of spring?
DD:
From a coaching standpoint, it'd be great to know by the end of the spring, but I'm not sure that's realistic yet, until we go out there and see the guys compete.
What are you looking for out of each guy once you get to see them on the field?
DD:
Well, the quarterback has to manage the game. He has to put us in positions not to hurt our defense. Obviously, you want to see him run the offense the way Matt wants it run from an efficiency standpoint, making good decisions, not forcing throws. Just really playing within the system. It doesn't have to be anything special it just can't be somebody that screws it up. Until they can let their God given ability take over, sometimes a guy will press and try to do too much and end up hurting the team. Early on, can you manage the game, can you get the ball to the playmakers, and do the things the offense tells you to do based on numbers. Hopefully those guys will be able to do it, but I know it takes time. The last two guys I had didn't walk in and play great the first day of practice.
Is Pete going to be asked to run a little bit more than he has in the past because of some of the things you like to do?
DD:
Possibly. He's not going to do what
Jordan Lynch
did. Pete's not Jordan. They're different guys. But we're also going to use defensive numbers and if people want to take everybody out of the box, there's times when he can run a draw and things like that. It's more what you saw probably with what Matt had to do as Wisconsin when he had guys who weren't as agile. We'll just have to see until we get out there and watch the move around with people chasing him how well he can avoid guys and run the football.
Collin Klein
wasn't a guy who ran a 4.5 either and he ran the ball pretty good for K-State. Pete's a tough kid so if he can help us running the ball some, he will.
March, 15, 2013
3/15/13
10:30
AM ET
Here is one trend to keep an eye on this spring in the ACC.
The potential rise of dual-threat quarterbacks.
Last season, four teams had true dual-threat signal-callers starting --
EJ Manuel
at Florida State,
Tajh Boyd
at Clemson,
Logan Thomas
at Virginia Tech, and
Tevin Washington
at Georgia Tech. Depending on how some of the open quarterback competitions go, the ACC could see as many as nine dual-threat starters at the position.
[+] Enlarge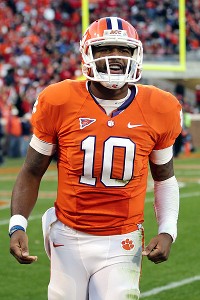 Streeter Lecka/Getty ImagesDual-threat quarterbacks like Clemson's Tajh Boyd are becoming the norm in the ACC.
We already know that Duke is trying to install some option principles with
Anthony Boone
taking over for pro-style
Sean Renfree
. Wake Forest has said it wants starter
Tanner Price
to run more
out of designed plays. NC State coach Dave Doeren has succeeded the past two years at Northern Illinois with a dual-threat quarterback. Syracuse and Virginia also have dual-threat quarterbacks competing for the starting job.
Duke coach David Cutcliffe explained his
decision to shift philosophy
in an interview earlier this month with fellow blogger Heather Dinich.
Cutcliffe said of Boone, "He is the new era of quarterback. Anthony is going to change our run game a good bit. He can prolong plays better. Just watch football, I don't care what level -- it's not just the zone read. Ben Roethlisberger is not that kind of guy, but he prolongs plays really well for the Steelers through the years. That's how a lot of big plays occur. That wasn't Sean's strength. It is Anthony's. Anthony is always dangerous back there. I think that adds a little bit of life to your offense."
Here is a look at the type of quarterback each team has across the ACC.
Boston College:
Pro-style with
Chase Rettig
. The Eagles are sure to feature a running quarterback in the future as coach Steve Addazio prefers dual threats to run his spread offense.
Clemson:
Dual threat. Boyd is one of the best in the nation.
Duke:
Dual threat with Boone. Changed from pro-style.
Florida State:
Dual-threat
Jameis Winston
will compete for the starting job against pro-style QBs
Clint Trickett
and
Jacob Coker
.
Georgia Tech:
Triple-option, with
Vad Lee
taking over.
Maryland:
Pro-style,
C.J. Brown
.
Miami:
Pro-style,
Stephen Morris
.
North Carolina:
Pro-style
Bryn Renner
.
NC State:
Dual-threat
Manny Stocker
competing against pro-style
Pete Thomas
. Dual-threat Jacoby Brissett also transferred from Florida but has to sit out a year.
Pittsburgh:
The only school with an open competition featuring two pro-style quarterbacks:
Tom Savage
and
Chad Voytik
.
Syracuse:
Pro-style
Charley Loeb
is competing with dual-threat quarterbacks
John Kinder
and
Terrel Hunt
.
Virginia:
Pro-style
Phillip Sims
is competing with dual-threat
David Watford
and pro-style
Greyson Lambert
this spring.
Virginia Tech:
Dual-threat with Thomas.
Wake Forest:
Working toward making Price more dual threat.
February, 15, 2013
2/15/13
9:00
AM ET
Pete Thomas
packed his bags and moved across the country for the opportunity to play quarterback at NC State, deciding to leave Colorado State behind after his coach was fired.
The draw at NC State? Tom O'Brien and Dana Bible, two coaches who run a pro-style scheme that best suits what Thomas can do. He knew he had to sit out 2012, but with
Mike Glennon
playing his final season, Thomas would be able to compete for a shot to start in 2013.
Perfect timing. Until the end of November.
What do they say about the best-laid plans?
[+] Enlarge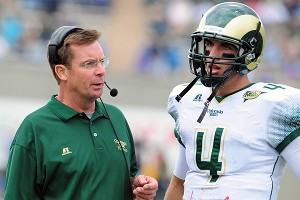 Ron Chenoy/USA TODAY SportsQB Pete Thomas, who started his college career at Colorado State with coach Steve Fairchild, left, is now competing for the starting job at NC State.
O'Brien was fired. Bible did not return. De ja vu hit Thomas, going through his second coaching change in three years. Now all of a sudden the coach he came to play for was gone, and Thomas had to swallow hard and find a way to stay positive.
"Obviously, when I decided to come here, I was hoping to play for Coach O'Brien and committed here to play for Coach O'Brien and their staff," Thomas told ESPN.com in a recent phone interview. "A lot of guys have a lot of respect for them and like them, but it didn't work out that way. Everybody loves the new staff, and we're all excited to finally get on the field with them."
Thomas and
Manny Stocker
, who served as the backup last season, appear to be the early front-runners headed into spring practice. But along with the staff change comes a scheme change. Where Thomas fits perfectly into a pro-style offense, new coach Dave Doeren is more known for his spread offense and mobile quarterbacks.
When asked how he would fit into this particular scheme, Thomas brushed off any concerns.
"Coach (Matt) Canada's offense and Coach Doeren, they've shown they can do multiple things," Thomas said. "At Indiana, they threw the ball a lot, at NIU they had running quarterbacks, at Wisconsin, they had a drop-back passer. They adapt to what their players can do, and they're going to continue to do that through the spring and the fall."
Thomas was one of the highest rated quarterbacks coming out of high school in California, and decided on Colorado State because he liked then-coach Steve Fairchild and thought he would have the chance to play right away. He did, starting as an 18-year-old true freshman. Though there were ups and downs, Thomas threw for 2,662 yards and broke the school single-season record with a .647 completion percentage.
His sophomore season was tougher. Colorado State went 3-9; Thomas missed the final three games of the season because of an injury. Fairchild was fired at the end of the season. Thomas said that was the overriding factor in his decision to transfer.
Sitting out last season was difficult. But at the same time, he had a chance to take a step back and work on his own game, and learn from Glennon. Because Thomas was thrown right into the lineup as a young player, he had to learn on the job. His mistakes were there for everyone to see. Sitting out made him a little bit wiser.
"I liked playing early," Thomas said. "I got a lot of experience on the field, but you can gain a lot from redshirting and sitting out the year and developing. I also got to grow physically, something I never really got to do playing right away."
It has not been lost on Thomas that Fairchild is now in the ACC, too, as an assistant at Virginia. Years after their lives went in different directions, both will now attempt to start over, thousands of miles away from Colorado.
January, 17, 2013
1/17/13
2:00
PM ET
The ACC's crop of 2013 quarterbacks will be an interesting blend of old and new. Veterans
Logan Thomas
and
Tajh Boyd
both decided to return for their senior seasons instead of leaving early for the NFL draft, but several big names -- like
EJ Manuel
and
Mike Glennon
-- will be missing. Here's a quick rundown of the position heading into the 2013 season:

IN GREAT SHAPE
CLEMSON:
Boyd returns. The record-setter should be a Heisman candidate, considering he led the ACC in passing efficiency, was second in passing average/game, and threw for 36 touchdowns with just 13 interceptions.
MIAMI:
Stephen Morris
returns. Morris should be one of the best quarterbacks in the ACC, and he might have the best offensive line in the conference to work with. Last season, Morris started all 12 games and threw for a career-best 3,345 yards and 21 touchdowns, completing 58.2 percent of passes. He set the school single-season total offense record with 3,415 yards.
NORTH CAROLINA:
Bryn Renner
returns. He was No. 3 in the ACC last season in passing average per game (279.7), and he was No. 3 in passing efficiency. He finished with 3,356 yards, 28 touchdowns and seven interceptions.
VIRGINIA TECH:
Thomas returns. This was a huge boost to the Hokies' offense. Thomas has started the past 27 games for the Hokies, passing for 6,096 yards and 37 touchdowns, and running for 1,015 yards and 20 scores.
WAKE FOREST:
Tanner Price
returns. He threw for 12 touchdowns and seven interceptions last season, and he'll be helped by the fact that standout receiver
Michael Campanaro
returns. Price completed 55.6 percent of his passes for 2,300 yards.
IN GOOD SHAPE
VIRGINIA:
Phillip Sims
returns, but
Michael Rocco
transferred. Sims is the most likely starter, but how much playing time will
David Watford
see? While sharing time with Rocco last season, Sims finished with nine touchdowns and four interceptions. He completed 56.2 percent of his passes for 1,263 yards.
MARYLAND:
C.J. Brown
, who tore his ACL before the start of the 2012 season, is the most likely starter. This position can only get better for Maryland in 2013, as the Terps were down to their fifth-string quarterback last season. He started five games in 2011, but this would be his first full season as starter.
BOSTON COLLEGE:
Senior
Chase Rettig
returns. He started all 12 games last season, completed 54.2 percent of his passes, threw for 3,065 yards, 17 touchdowns and 13 interceptions. The reason BC isn't in the "great shape" category is because Rettig will have his 103rd offensive coordinator. The good news is that Ryan Day is a former BC offensive assistant, so it's not like they just met.
DUKE:
Veteran
Sean Renfree
has to be replaced.
Anthony Boone
isn't a rookie, but this will be his first season as a full-time starter. Boone has had the strongest arm of any of the quarterbacks on the roster, including Renfree. Boone played in 11 games in 2012, completed 51.6 percent of his passes (49 of 95) for 531 yards, five touchdowns and two interceptions. He also ran for 82 yards and two touchdowns.
COMPETITION IS ON
FLORIDA STATE:
Manuel must be replaced.
Clint Trickett
is the leading candidate heading into the spring, and he has the edge in experience, but he will compete with
Jacob Coker
and
Jameis Winston
. Trickett started two games in 2011, filling in for the injured Manuel, but this past season he only threw the ball 34 times. Coker played in four games and threw it five times.
GEORGIA TECH:
Tevin Washington
must be replaced.
Vad Lee
is the front-runner heading into the spring, but
Justin Thomas
will give him plenty of competition. Lee didn't start any games in 2012, but he got plenty of meaningful snaps and ran for 544 yards and nine touchdowns, and threw for 596 yards, four touchdowns and three interceptions.
NC STATE:
Glennon must be replaced. This position is a huge question mark for the Pack, especially considering the program has gone through a staff change, with Dave Doeren taking over.
Manny Stocker
and
Pete Thomas
are the front-runners heading into spring ball. Stocker threw the ball just twice in 2012 as a true freshman, and Thomas has two years of eligibility remaining after sitting out the 2012 season per NCAA rules because he transferred from Colorado State.
PITT:
Panthers fans rejoined when the final seconds ticked off the clock in the BBVA Compass Bowl because they won't have to watch
Tino Sunseri
play another down. Sunseri did start for three seasons, but this program is looking for a major upgrade at the position. Competition in the spring should focus on transfer
Tom Savage
, a former Freshman All-American, and redshirt freshman
Chad Voytik
, a four-star recruit from the class of 2012.
SYRACUSE:
The Orange have to replace record-setting quarterback
Ryan Nassib
, who just had the best single-season passing year in school history. They
thought they had
an incoming stud in Zach Allen, but the Texas recruit de-committed after coach Doug Marrone left for Buffalo, and Allen pledged to TCU. That leaves the job wide open in the spring between backup
Charley Loeb
, junior
John Kinder
, and dual-threat
Terrel Hunt
.
Ashton Broyld
, who moved to running back in 2012, could be in the mix as well.
August, 23, 2012
8/23/12
4:00
PM ET
Now that we are closing in on the start of the season, we have a much better idea of how many true freshmen could make an impact in the ACC this season based on preseason practice time and early depth charts.
Maryland could end up playing the most, and having players who make the biggest impact. You have quarterback
Perry Hills
starting in place of the injured
C.J. Brown
. Highly touted athlete
Stefon Diggs
has had an outstanding preseason camp. Don't forget about running backs
Albert Reid
and
Wes Brown
, who also have looked really good.
Here are a few young players to keep an eye on at each school.
Boston College: Justin Simmons, DB.
Defensive back is an area where Boston College needs help, especially after the loss of
Al Louis-Jean
, who's out six to eight weeks with a foot injury. Simmons already has made his presence felt. In a scrimmage last weekend, he had two interceptions. Also watch for defensive back
Bryce Jones
and linebacker
Steven Daniels
.
[+] Enlarge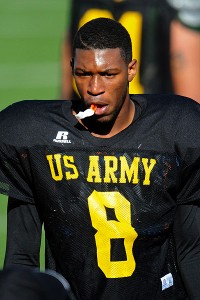 John Albright / Icon SMI The versatile Travis Blanks may line up at a number of positions on defense for the Tigers.
Clemson:
Travis Blanks, DB.
One of the top defensive backs in the country out of high school, Blanks enrolled early and had an impressive spring showing. He has followed that up with a great preseason, and will line up in a variety of positions -- nickelback, cornerback and some linebacker as well. On offense, watch for
Germone Hopper
, who has had some pretty explosive plays this fall.
Duke: Jela Duncan and Shaquille Powell, RBs; Ross Martin, PK.
Duncan and Powell have turned heads during the preseason, and coach David Cutcliffe said he would feel comfortable using both players in the opener against FIU. Martin is sure to get plenty of game experience as the starting kicker this year. Others to watch: receiver
Max McCaffrey
, tight end
Erich Schneider
and safety
Dwayne Norman
, who had an interception return for a touchdown in one scrimmage.
Florida State:
Ronald Darby, CB.
Do not be surprised if Darby ends up starting in the spot vacated by
Greg Reid
. Darby and
Nick Waisome
are competing for the starting job. Coaches like both players, but there is
something special
about Darby. Said coach Jimbo Fisher: Darby is "going to be a very, very good one." Also watch for defensive tackle
Eddie Goldman
and tight end
Christo Kourtzidis
.
Georgia Tech:
Anthony Autry and Micheal Summers, WR.
Georgia Tech only has four other scholarship wide receivers, so that increases the chances for Autry and Summers to play this season. Autry seems to have a slight edge over Summers. Others to watch: defensive back
D.J. White
.
Maryland:
In addition to Hills, Diggs, Brown and Reid, several others could make an impact this year. Punter
Brad Craddock
is competing for the starting position with redshirt freshman
Nathan Renfro
; and cornerback
Sean Davis
could be starting on opening day because he has done well, and there are some injuries on defense.
Miami:
Ereck Flowers, OL.
Flowers is listed as a starter right now at right tackle, helped in part because of
Seantrel Henderson
's absence. Offensive line coach Art Kehoe has been
extremely impressed
. Others to watch: defensive back
Tracy Howard
and running back
Duke Johnson
. Howard is listed on the two-deep behind
Ladarius Gunter
but has drawn raves so far and so has Johnson, who should also return kickoffs this year.
Deon Bush
is in the mix for a starting safety spot.
North Carolina: Quinshad Davis, WR.
Davis missed some early practice time because of a medical issue but has returned in the last week and has a big chance to make some noise. The Tar Heels are lacking depth at this position, and the way Larry Fedora likes to spread the ball around, he will take as many good receivers as he can.
NC State:
Charlie Hegedus, WR.
Receiver is a position of need for the Wolfpack, and Hegedus has seen more reps during fall camp with the injury to
Bryan Underwood
. One player NC State hopes you do not see this year is backup quarterback
Manny Stocker
, a true freshman behind veteran
Mike Glennon
.
Virginia:
Maurice Canady, CB.
Coaches are extremely high on Canady, who is in the mix to earn a starting spot in a secondary that has to be rebuilt this year. He has been working with the first team recently. Others to watch:
Michael Moore
at outside linebacker, and
Eli Harold
at defensive end.
Virginia Tech: J.C. Coleman, RB; Donaldven Manning, DB.
Both players enrolled in January and are virtual locks to play this season. Coleman has separated himself from another true freshman,
Trey Edmunds
, despite a hand injury. He has had an outstanding fall camp. Manning has had to deal with a hamstring injury, but his early enrollment works in his favor.
Wake Forest:
The Deacs rarely play true freshmen. But if there is one player who has a shot this year, it is defensive end
Tylor Harris
, who has stood out this fall for his pass-rushing ability -- something Wake Forest needs help improving this year.