August, 13, 2013
8/13/13
10:30
AM ET
This year Tulsa has decided to introduce a dog ambassador for games and among the most important of Goldie the golden retriever's tasks will be actually retrieving the kickoff tee after kickoffs -- reason enough to tune in for at least one game.
TULSA GOLDEN HURRICANE
Coach:
Bill Blankenship (19-8, 19-8 at Tulsa)
2012 record:
11-3 (7-1 Conference USA)
Key losses:
LB DeAundre Brown, C Trent Dupy, OG Brian DeShane, OT Jared Grigg, and the entire defensive line -- DE Jared St. John, DT Daeshon Bufford, DT Derrick Jackson and DE Cory Dorris
[+] Enlarge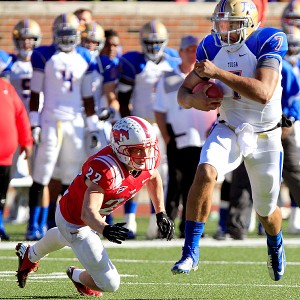 AP Photo/John F. RhodesCody Green is one of the few returning starters that will have to lead a young Tulsa team.
Key returnees:
QB
Cody Green
, WR
Keyarris Garrett
, WR
Jordan James
, RB
Trey Watts
, DB
Marco Nelson
, LB
Shawn Harris
Newcomer to watch:
CB
Will Barrow
. Tulsa lost three top guys in its secondary (including both corners) and Barrow comes in as the Golden Hurricane's top defensive back in the 2013 class. This one-time Texas Tech commit has great instincts for the ball and is a player who could step in and contribute immediately.
Biggest games in 2013:
at Oklahoma (Sept. 14), vs. Rice (Oct. 5), at East Carolina (Nov. 9), vs. Marshall (Nov. 16)
Biggest question mark heading into 2013:
Can Tulsa get the same kind of defensive pressure while attempting a wholesale change of its D-line? Last season, the Golden Hurricane defensive line could regularly get to opposing quarterbacks without needing to blitz. This freed up its linebackers and secondary to make plays, specifically Brown, who accounted for 125 tackles during his senior campaign.
The starting D-line accounted for 144 tackles (including 41.5 for losses), 26 sacks and four forced fumbles. But with those four players gone, the chances that the D-line can build that kind of chemistry and accomplish the same amount for the defense just seems farfetched.
Forecast:
A lot of production -- both on the offensive and defensive sides of the ball -- are gone and fresh faces will be replacing those. And with the number of replacements that Blankenship needs to make, it seems doubtful that this year's Golden Hurricanes will be the same as last season.
The defense, which ranked in the top 25 nationally in several categories -- tackles for a loss (fifth), red zone defense (fifth), sacks (third), total defense (25th), rushing defense (16th) -- just won't be the same.
Even with that kind of changeover, though, another run at the Conference USA title isn't out of the question completely for the Golden Hurricane.
Green returns for his senior season. In 2012 he threw for 17 touchdowns and more than 2,500 yards. Like much of the team, his receivers will be new but the run game (which actually does return some experience) will open up the passing game for Tulsa.
And Green isn't the only bright spot -- their kickoff return game could be freakishly good. Tulsa finished the season last year as the third best return team in the nation with an average of 27 yards per return. Place kicker
Daniel Schwarz
also returns. He was 12-of-18 on field goals last season and 52-of-59 on extra points made. Another year of practice and maturity should help both of those numbers go up.
So while there are several question marks surrounding this transitioning team, it's not all bad news. In its final year in Conference USA, Tulsa could definitely make a run for the title. Or they could end up being nowhere close. That's the joy of a young team and Blankenship gets to try and make it work.
August, 12, 2011
8/12/11
11:07
AM ET
Here is a look at your non-AQ preseason team. All five conferences, BYU, Army and Navy were considered.
Offense
QB
Kellen Moore
, Boise State
RB
Ronnie Hillman
, San Diego State
RB
Doug Martin
, Boise State
OT Nate Potter, Boise State
OT Matt Reynolds, BYU
C Scott Wedige, Northern Illinois
OG Chris Barker, Nevada
OG Braden Hansen, BYU
TE
Ladarius Green
, Louisiana
WR
Damaris Johnson
, Tulsa
WR
Patrick Edwards
, Houston
Defense
DE Vinny Curry, Marshall
DE Jonathan Massaquoi, Troy
DT Logan Harrell, Fresno State
DT Billy Winn, Boise State
LB Tank Carder, TCU
LB Corey Paredes, Hawaii
LB Tanner Brock, TCU
CB Josh Robinson, UCF
CB Leon McFadden, San Diego State
S Marco Nelson, Tulsa
S George Iloka, Boise State
Specialists
K Danny Hrapmann, Southern Miss
P Brian Stahovich, San Diego State
KR
T.Y. Hilton
, FIU
PR
Eric Page
, Toledo
May, 18, 2011
5/18/11
10:30
AM ET
Tulsa has gotten a lot of buzz this offseason as a potential BCS buster, even with one of the toughest nonconference schedules in the country. The Golden Hurricane ended last season with seven straight wins -- that included four games in which they scored 50-plus points. Tulsa ended the season with the No. 5 total offense in the nation, No. 6 scoring offense and a No. 24 ranking in the final AP poll. With 18 starters returning, expectations are high for at least a Conference USA championship.

Why they have a shot:
The Golden Hurricane return two of the best players in C-USA in quarterback
G.J. Kinne
and all-purpose man
Damaris Johnson
. Kinne is on his third new offensive coordinator at Tulsa, but hopefully there will be an easy transition because of the familiarity new coach Bill Blankenship has with him and what he can do. Johnson already owns the NCAA record for career all-purpose yards and has the potential to get to 10,000. The defense got better as the season went on, with freshmen Marco Nelson, Shawn Jackson and
Cody Wilson
stepping up in a big way. Linebacker Curnelius Arnick should have a breakout season. The nonconference schedule is incredibly difficult, but if the Golden Hurricane manage to win all their games, they would have an excellent shot at getting into a BCS game, especially since one of those wins will be against Boise State.
Why they won't make it:
See above, brutal nonconference schedule. The Golden Hurricane open the season at Oklahoma, then travel to Tulane before playing Oklahoma State at home and Boise State on the road. That means Tulsa has to play three teams projected to be in the Top 10. Of course, SEC fans are reading this thinking their teams have to do that every year. If you are good enough, you win every game. Aside from the nonconference schedule, Tulsa also must travel to play C-USA champ UCF. SMU and Houston come to Tulsa, so that could make the difference for a division title.
Previously profiled:
Houston
SMU
Southern Miss
May, 10, 2011
5/10/11
8:00
AM ET
2010 overall record:
10-3
2010 conference record:
6-2, second in West

Returning starters
Offense: 10, defense 8, punter/kicker 1
Top returners
QB
G.J. Kinne
, AP
Damaris Johnson
, LB Curnelius Arnick, CB Marco Nelson
Key losses
FB
Charles Clay
, WR
Trae Johnson
, LB Tanner Antle
2010 statistical leaders
(* denotes returners)
Rushing:
Kinne* (158 carries for 561 yards, 7 TDs)
Passing:
Kinne* (275-of-460 for 3,650 yards, 31 TDs, 10 INTs)
Receiving:
D. Johnson* (57 catches, 872 yards, 4 TDs)
Tackles:
Arnick* (115)
Sacks:
Shawn Jackson* (8.5)
Interceptions:
Nelson*, Dexter McCoil* (six each)
Spring nswers
1. Trey Watts could be a go-to running back.
The Golden Hurricane have had a hard time getting their running backs going, but Watts showed flashes this spring. Perhaps a running back will end up leading the team in rushing this season.
2. Jordan James emerged.
After finishing last season with just one catch in limited action, James caught the eye of new coach Bill Blankenship this spring. James had 65 yards and a touchdown in the spring game and could be a playmaker this season, especially after Jameel Owens left the team.
3. Lowell Rose impressed.
The transfer cornerback out of UCLA had a good spring and is near the top of the depth chart to start in place of the departed Charles Davis.
Fall Questions
1. How does the coaching change impact the team?
Kinne will be playing for his third offensive coordinator at Tulsa, making you wonder just how many plays he has had to memorize over his career. He had a breakout year in 2010, but with somebody else in charge once again, will he be able to keep up the pace?
2. How will the defense do in the new 4-3?
New defensive coordinator Brent Guy switched the defense up this spring and now the Golden Hurricane will feature four starting down linemen. Blankenship thought his front seven dominated the spring scrimmage, so that is a good sign.
3. Can Tulsa survive a tough nonconference schedule?
Many believe Tulsa could be poised for a breakout year (myself included), but the nonconference schedule is highly challenging with games against Oklahoma, Oklahoma State and Boise State.
April, 14, 2011
4/14/11
12:00
PM ET
January, 24, 2011
1/24/11
4:30
PM ET
Earlier today I did a post with the
top non-AQ offensive players
, according to the final NCAA stats. Now let us take a look at the top NCAA defensive players from the non-AQs.
We start with tackles. Seven of the top 10 leaders in tackles per game came from non-AQ teams:
No. 3 Jamon Hughes, Memphis, 12.25
No. 4 Mario Harvey, Marshall, 11.92
No. 5 Archie Donald, Toledo, 11.23
No. 6 Dwayne Woods Jr., Bowling Green, 11.17
t. No. 7 Bobby Wagner, Utah State, 11.08
t. No. 7 Craig Robertson, North Texas, 11.08
No. 10 Dan Molls, Toledo, 11
Only three of these players return for next season -- Woods, Wagner and Molls. Donald and Molls formed one of the best linebacker duos in the nation if you want to look at their numbers alone. Donald finished with 146 total tackles, while Molls had 143. The only other school with two tacklers in the top 30 was Akron with Brian Wagner (130) and Mike Thomas (113).
Next up: sacks. Five of the top 10 in the NCAA stats are from non-AQ schools.
No. 4 Jonathan Massaquoi, Troy, 13.5 (1.04 pg)
No. 5 Vinny Curry, Marshall, 12 (1.0 pg)
No. 7 Jamari Lattimore, Middle Tennessee, 11.5 (0.88 per game)
No. 8 Mario Addison, Troy, 10.5 (0.88 per game)
No. 9 Chris Carter, Fresno State, 11 (0.88 per game)
Just missing the list is Kent State true freshman Roosevelt Nix, who will most definitely be a player to watch for 2011. Nix had 10 sacks and 20 tackles for loss in his debut season, en route to winning MAC defensive player of the year honors. Troy will lose one member of its sack duo -- Addison just finished his senior season. So did Lattimore and Carter. Massaquoi is an early candidate for Sun Belt defensive player of the year. The honors went to Lattimore this past season.
Finally, we take a look at interceptions. Many non-AQ players made the list here if you want to count total interceptions:
No. 3 Mana Silva, Hawaii, 8 (0.57 pg)
t. No. 5 Dexter McCoil, Tulsa, 6 (0.5 pg)
t. No. 5 Sean Baker, Ball State
t. No. 5 Domonic Cook, Buffalo
t. No. 10 Marco Nelson, Tulsa (.046 pg)
t. No. 13 Evan Harris, Miami (Ohio), (0.43 pg)
t. No. 13 Dayonne Nunley, Miami (0.43 pg)
Everybody on the list but Silva had six interceptions this past season. Impressive to see duos from Tulsa and Miami on the list. Each of those players returns for 2011. There were only three seniors on this list -- Baker, Cook and Silva.
January, 10, 2011
1/10/11
4:02
PM ET
Tulsa coach Todd Graham emerged as the leading candidate to take over at Pittsburgh over the weekend, and now it appears the two sides
are close to hammering out a deal.
ESPN's Joe Schad is reporting that Pittsburgh is attempting to meet financial considerations for Graham and his staff. A
Tulsa team meeting
has been called for this afternoon.
The Panthers were put a in serious bind after Mike Haywood was arrested on domestic violence charges, just a few weeks after the school hired him. Pittsburgh fired Haywood and reopened its search. Graham had spoken to Pittsburgh during the first coaching search, and has now emerged from a group that also included Penn State assistant Tom Bradley and Virginia Tech assistant Bud Foster.
I just posted a video talking about
Tulsa's future without offensive coordinator Chad Morris
, who has left for Clemson, and the possibility of losing Graham. It would definitely be a tough blow for Tulsa, which just finished a 10-3 season and returns 16 starters for 2011. Graham has posted a 43-23 record in four seasons at Tulsa, and won 10 or more games in three of those four seasons, including two C-USA West Division titles.
Whoever steps in as the new coach has plenty of talent returning on offense -- C-USA Offensive Player of the Year
G.J. Kinne
, NCAA career all-purpose yards record holder
Damaris Johnson
and the entire starting offensive line. The defense has plenty of young talent as well, including Freshman All-America safety Marco Nelson.
But given how late it is in the game, Tulsa should no doubt act quickly when finding its new head coach. One possibility could be former head coach Steve Kragthorpe, whom Graham replaced at Tulsa in 2007. Kragthorpe left to coach at Louisville and was fired after the 2009 season. He left his job as a Texas A&M receivers coach this past summer to deal with an unspecified family medical issue.
January, 10, 2011
1/10/11
3:28
PM ET
San Diego State running back
Ronnie Hillman
and six other players from non-AQ schools made the Football Writers Association of America Freshman All-America team Monday.
Hillman set the school record for rushing yards by a freshman with 1,532, breaking the mark of 1,429 yards Marshall Faulk set in 1991. In addition, Hillman also won Mountain West Freshman of the Year honors.
The other non-AQ players honored on the Freshman All-America team:
TCU WR
Josh Boyce
-- 34 catches, 646 yards, 6 touchdowns
Kent State DT Roosevelt Nix -- 10 sacks, 20 tackles for loss, 8 QB hurries, 43 tackles, 4 forced fumbles, MAC Defensive Player of the Year
San Jose State LB Keith Smith -- 116 tackles, 14 tackles for loss, WAC Freshman of the Year
Tulsa S Marco Nelson -- 86 tackles, 6 interceptions, Conference USA first-team
Memphis P Tom Hornsey -- 42.7 yards per punt
Western Kentucky KR
Willie McNeal
-- 968 yards in kickoff returns for 22-yard average, 1 TD
You can see the rest of the Freshman All-America team
here
.
December, 23, 2010
12/23/10
11:15
AM ET
You saw my preview and prediction. Now here are three keys each for Hawaii and Tulsa in the Sheraton Hawaii Bowl:
Tulsa (9-3)

1. Balance.
G.J. Kinne
is the key here, as he leads the team in passing with 3,307 yards and rushing with 557 yards and seven touchdowns. The Conference USA Offensive Player of the Year has grown tremendously, and is athletic enough to make plays with his arm and his feet. Boise State threw for more than 500 yards on this Hawaii secondary, so that is a blueprint to follow. But Tulsa knows it cannot win with passing alone.
Alex Singleton
, at 249 pounds, could present a serious matchup problem for Hawaii because of his size and power.
Damaris Johnson
can also make plays in the run game.
2. Get after Bryant Moniz.
Hawaii has given up 34 sacks this season. In its worst game of the year, a 42-7 loss to Boise State, Moniz was sacked seven times. The Tulsa defensive front is not nearly as strong as Boise State's, but it needs to get Moniz out of his rhythm and force him into making uncomfortable throws. If you come with a lot of corner blitzes, you leave yourself exposed against a talented Hawaii receiving corps. So Tulsa is going to have to mix up its fronts and disguise its coverages so it does not leave itself vulnerable.
3. Protect the football.
Hawaii gives up its fair share of big plays – 53 that have gone for 25 yards or more this season. But the Warriors also lead the nation in turnovers forced (36) and interceptions (23). The defense has at least two picks in each of the past 10 games after not recording an interception in its first three games. Kinne and his teammates are going to have to be extra aware of a defense that is opportunistic and always looking for a way to knock the ball loose.
Hawaii (10-3)

1. Change it up.
Tulsa is going to be so focused on stopping the pass, don't be surprised if Hawaii starts out giving the ball to
Alex Green
, who is perfectly capable of breaking off some big runs. Green has 13 runs of 25 yards or more this season, and became the first 1,000 yard runner at Hawaii since 1992. In his 327-yard rushing performance against New Mexico State, Green was able to take advantage of gaping holes in the middle of the defense because the Aggies used extra defenders to cover the receivers. Tulsa has to watch for this.
2. Slow down Kinne.
Hawaii did an exceptional job slowing down another mobile quarterback it faced this season in
Colin Kaepernick
. Though these two offenses are different, Kinne is a big threat to run and pass. Hawaii is going to have to bottle him up in the run game to make Tulsa more one-dimensional. If he throws more than he wants, then the Warriors have the ability to keep on intercepting passes.
3. Take advantage of Greg Salas.
Hawaii always does, as he ranks No. 2 nationally in receiving yards per game (128.8) and third in receptions per game (8.15). Salas has 12 touchdowns this season. He needs three receptions to break Davone Bess' single-season record of 108 set in 2007, and 39 yards to eclipse Ashley Lelie's single-season mark of 1,713 set in 2001. At 6-2, he has a size advantage over both starting cornerbacks and strong safety Marco Nelson, so he could be in store for yet another big day.
November, 15, 2010
11/15/10
4:51
PM ET
Here are your non-AQ players of the week, as announced by each conference:
Conference USA
Offense:
Tulsa QB
G.J. Kinne
. Had 344 yards of total offense and three touchdowns in a 28-25 win over Houston. He had the fourth-highest rushing game in Conference USA this year and the third-highest total ever by a quarterback with 190 yards and one touchdown on 31 carries. Kinne also completed 65 percent of his passes for 154 yards and two scores.
Defense:
Tulsa DB Marco Nelson. Starting his ninth game as a true freshman, Nelson had seven tackles and tied single-game school and conference records with three interceptions at Houston.
Special teams:
Rice KR
Charles Ross
. Broke the school record with 261 yards on seven kickoff returns against Tulane. His effort sparked the Owls to a conference record total of 344 yards on 10 kickoff returns, bettering the mark of 303 set by East Carolina earlier this year.
MAC
East Division
Offense:
Miami WR
Nick Harwell
. Caught 10 passes for 125 yards and one touchdown in a 24-21 win over Bowling Green. He has 43 receptions for 600 yards over the last five games, after making just two catches (15 yards) in his first five games.
Defense:
Bowling Green LB Dwayne Woods. Had 13 tackles in a loss to Miami. The 13 tackle effort marked his fifth double digit tackle performance this season.
Special teams:
Miami K Trevor Cook. Came back from a knee injury to kick the 33-yard game-winning field goal at Bowling Green.
West Division
Offense:
Northern Illinois QB
Chandler Harnish
. Had 311 yards of total offense in a 65-30 victory over Toledo. Harnish completed 11 of 16 passes for 162 yards and one touchdown, and ran for 149 yards on 13 carries with a rushing touchdown.
Defense:
Ball State S Sean Baker. Intercepted two passes and returned a fumble 26 yards for a touchdown in Ball State's 20-3 win at Buffalo.Baker is now the school's career interceptions leader with 16.
Special teams:
Ball State K Ian McGarvey. Became the school's all-time leading scorer at Buffalo with 284 points. McGarvey made field goals of 40 and 32 yards and made two extra point attempts.
Mountain West
Co-Offense:
BYU WR
Luke Ashworth
, UNLV RB
Tim Cornett
. Ashworth had four receptions for a career-high 113 receiving yards and four touchdowns in BYU's 49-10 win at Colorado State. All four scores came in the first half, making Ashworth the first player in BYU history to tally four touchdowns in the first 30 minutes of action. Cornett had 82 all-purpose yards and four touchdowns in a a 42-16 victory over Wyoming. He was him the first Rebel to score four touchdowns in a game since 1994.
Defense:
BYU S Andrew Rich. Had a team-high nine tackles (three solo stops), an interception and a forced fumble in the win over Colorado State.
Special teams:
BYU K Mitch Payne. Made all seven of his point-after attempts, tying his season high.
Sun Belt
Offense:
North Texas RB
Lance Dunbar
. Had the best rushing performance in the nation this week, with 226 yards on 36 carries with one touchdown in a 23-17 win at Middle Tennessee. Dunbar had a total of 272 all-purpose yards. He went over the 1,000-yard rushing mark, making him the second back in school history to have back-to-back 1,000-yard rushing seasons.
Defense:
FIU DB Anthony Gaitor. Limited top Sun Belt all-purpose player
Jerrel Jernigan
to 32 receiving yards in a win over Troy. Also had eight tackles.
Special teams:
North Texas K Zach Olen. Went 3-for-3 on field goal attempts and 2-for-2 on PAT attempts for a total of 11 points in the victory.
WAC
Offense:
Nevada quarterback
Colin Kaepernick
. Had 324 yards and two touchdowns in a 35-34 win at Fresno State. Kaepernick completed 16-of-26 passes for 171 yards and rushed for 153 yards and two touchdowns on 16 carries.
Defense:
Louisiana Tech safety Javontay Crowe. Had a team-high nine tackles, including six solo, and his first career interception in a win at New Mexico State.
Special teams:
Boise State punt returner
Chris Potter
. Returned a punt 76 yards for a touchdown within the first minutes of the game at Idaho. He ended the night with four punt returns for a total of 106 yards.
November, 14, 2010
11/14/10
1:51
AM ET
Time for a few non-AQ helmet stickers:
Tulane QB Ryan Griffin.
Threw for 314 yards and three touchdowns, including a 73-yard score to
Ryan Grant
for the go-ahead score with 1:46 remaining to beat Rice
54-49
.
FIU offensive line.
The Panthers had three players rush for more than 100 yards for the first time in program history, and racked up a program-record 448 rushing yards.
Darriet Perry
had a career-high 186 yards, while
T.Y. Hilton
had 158 and Darian Mallary had 118 in the
52-35 win
over Troy.
North Texas RB Lance Dunbar.
Gained 226 yards and a touchdown in a
23-17 win
over Middle Tennessee. Dunbar has gone over 200 yards rushing in two of his past three games.
Western Michigan WR Jordan White and Juan Nunez.
Each went over 100 yards in the same game for the third time this season in a
45-30 win
over Eastern Michigan. White had 134 yards and one TD, while Nunez had 110 yards on four catches and two touchdowns.
BYU WR Luke Ashworth.
Had four catches for a career-high 113 yards in a
49-10 win
over Colorado State. All four catches went for touchdowns -- 62, 7, 36 and 8 yards. BYU has won three straight and is one win away from becoming bowl eligible.
Navy QB Kriss Proctor.
Ran 20 times for a career-high 201 yards and a touchdown in a
38-37 win
over Central Michigan. Proctor started in place of
Ricky Dobbs
, who was held out with a slight concussion. Navy clinched its eighth straight winning season, the longest streak since 1952-61.
Tulsa safety Marco Nelson.
The true freshman had three of the Golden Hurricane's five interceptions in a
28-25 win
over Houston. He now has six interceptions on the season.
Fresno State RB Robbie Rouse.
Ran for 215 yards and two touchdowns in a
35-34 loss
to No. 21 Nevada. Rouse has posted back-to-back 200-yard games after rushing for 286 last week against Louisiana Tech.
Colin Kaepernick
had 324 total yards and two scores for Nevada.
October, 1, 2010
10/01/10
12:00
PM ET